Willkommen (Welcome) to Germany Footsteps!
Your definitive source for in-depth travel advice and inspirational guides to Germany.
From the pulsing streets of Berlin to the serene valleys of the Rhine, Germany Footsteps is dedicated to uncovering and sharing the myriad jewels nestled within one of Europe's most diverse nations.
Our Mission
At Germany Footsteps, our goal is to empower your travel decisions with expertly curated content that brings the essence of Germany to your fingertips. We are your go-to resource for navigating the enchanting landscapes, cultural festivities, and historical wonders of this central European gem.
Our aim is to provide you with a complete resource for your visit to Germany, as well as the encouragement to go!
What We Offer
We feature articles about Germany so you can plan your own trip including inspirational articles as well as information on accommodation, transport and more.
Our comprehensive guides reach into every corner of German travel. We zero in on destinations, handpick the best accommodations, and assess tours and experiences with an eye for quality. This is where well-researched information meets practical travel know-how.
Our content is written from our personal experience. We travel around Germany as much as we can to ensure the content on this site is up-to-date, incredibly informative and helpful for you. It's a hard job but someone has to do it 😀
Our Story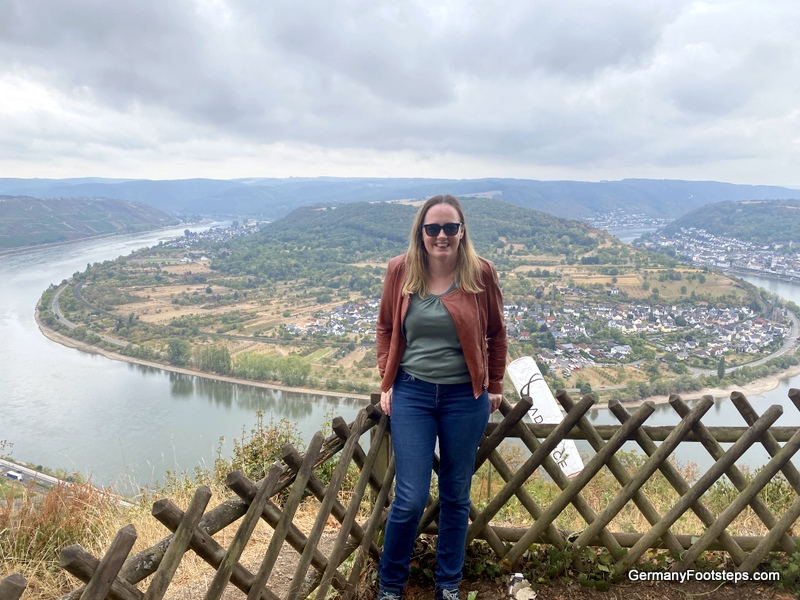 My name is Sharon Gourlay, and I love Germany! I am the main writer on this site.
Germany Footsteps started life in January 2021 as I researched a 3 month trip to this great country. I found many resources online lacking especially for smaller towns and places outside the southern part of the country. I had already traveled the country extensively in the past, and I knew there was more on offer than a beer hall in Munich 🙂
I took this passion for planning and sharing travel experiences and started this site. It's based on in depth research + personal experiences of both traveling alone and with my husband and three kids currently aged 7, 11 and 13 + a love of Germany.
In fact, we love German culture so much that our older kids attended a full-time German primary school in Australia, and they both speak German.
We can't recommend this country highly enough as both an awesome tourist and family destination. We love the culture, the food, the attractions and the countryside. It's all stunning.
We especially love Berlin and towns with charming Old Towns like Celle and Quedlinburg. I have a Certificate III in International Travel Sales from AFTA (Australian Federation of Travel Agents) Education and Training, and I understand the nitty gritty of travel planning. I also used to be a high school maths and humanities teacher which helps me explain everything to you here.
I previously worked as a full-time family travel blogger, but I am happier now focusing on my love of Germany and Malaysia. I work full-time on these sites, and I always aim to share the most useful information possible.
I know how difficult planning travel can be, particularly with a family, so I'm here to help lessen the burden and ensure you have an awesome time in Germany whether this is your first or tenth trip to this great country.
I also work with other writers that are currently in Germany to ensure the information you find here is always current and useful.
Who We Are
Meet the heart and soul behind Germany Footsteps:
Sharon Gourlay: Founder & Chief Explorer – With years of wandering through Germany's urban and rural landscapes, Sharon shares her vast knowledge through captivating articles and informative resources.
Elsa Meyer: Local Culture and Hotel Expert – German born and educated, Elsa loves exploring her native country and writing guides to ensure others love it oo.
Editorial Integrity
We pride ourselves on our commitment to editorial integrity. Our reviews and guides are uninfluenced by external sponsorships, ensuring our content remains honest and unswayed. We do not receive anything in exchange for our reviews and do not accept free stays, etc either. Our hotels, tour guides, etc do not know we are reviewing them when we visit.
Our editorial team, led by Sharon, ensures that our narratives remain engaging, insightful and most importantly, useful to you.
Responsibility and Ethics
Mindful travel matters to us. That's why Germany Footsteps champions environmentally friendly and ethical travel practices. With each article and guide, we encourage our readers to embrace sustainability and consideration for the local environment and culture.
Connect with Us
Journey through Germany with a partner that values trust and thoroughness. We're eager for your feedback and stories at feedback@germanyfootsteps.com.
Sign up for our email list to join a vibrant community of Germany aficionados and stay informed with regular updates and tips for your next adventure.
Join Germany Footsteps, and carve a path of memorable experiences in the heart of Europe.
Getting Started?
If you are just getting start on this site, you can find our:
Contact us
If you'd like to get in contact, please find our details here. Let us know what you would like to read next on this site!