Looking for apartment-style accommodation in an historic half-timbered house in an unbeatable location in Quedlinburg's Old Town?
This is the option for you. And doubly so if you would like some free, on-site parking thrown in!
Quedlinburg is one of the best preserved Medieval and Renaissance towns in Europe (according to UNESCO who added it to their World Heritage List) and an amazing place to explore. The best way to do it is from your own home away from home in one of the well-preserved half-timbered buildings.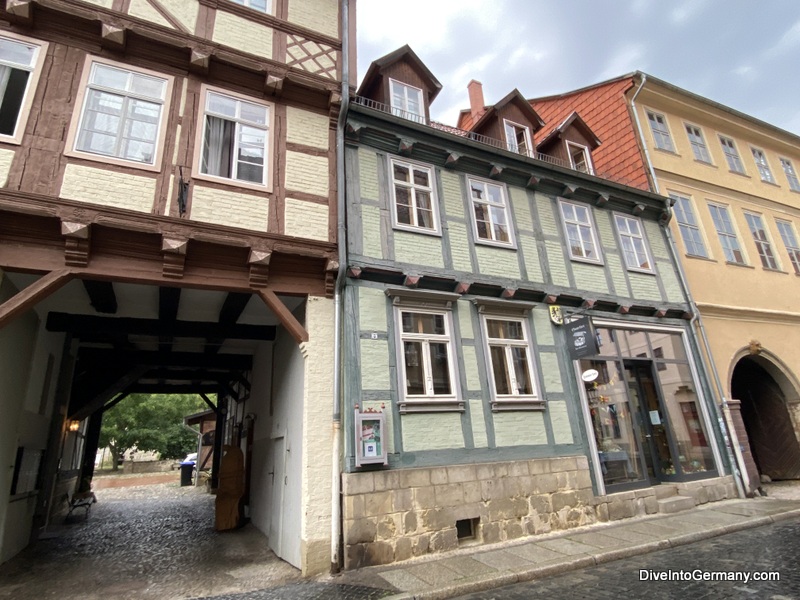 We chose to the stay at Quartier am Brunnen for this exact reason as well as the fact that it's a great price and such an easy location.
So did it live up to our expectations? Keep reading to find out!
Click here to see the latest prices.
Traveling to Germany? Click here to download your free Germany Trip Planning checklist. We'll help you get ready for your trip! 
Quartier am Brunnen Quedlinburg Review
As mentioned previously, Quartier am Brunnen is housed in a half-timbered house from 1650. It was renovated in 2005 and it adds to the atmosphere of visiting in Quedlinburg to stay here.
Check-in is quick and easy but you do need to arrive by 5pm.
Location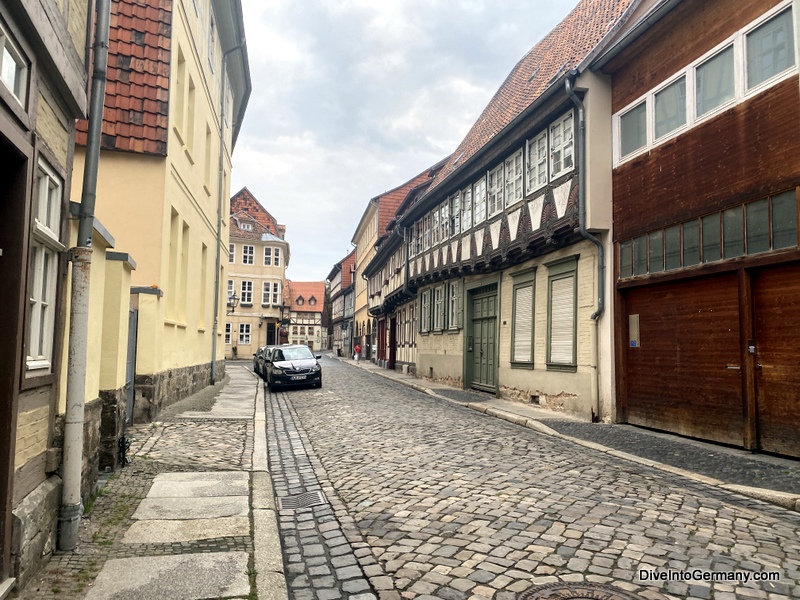 Quartier am Brunnen is in an excellent location in Quedlinburg's Old Town just a couple of minutes walk from the central Markplatz. You can easily visit all the Old Town attractions on foot from here.
We loved this spot. Pictured above is the street leading up Quartier am Brunnen. It's a pretty area.
There are also many restaurants and shops in the surrounds.
Address: Hohe Str. 26, Quedlinburg 06484
Rooms
There are five apartments here which range from studios to one and two bedroom apartments.
The studios are on the small side but all apartments have everything you need including cable TV, private bathrooms and fully equipped kitchens with microwaves along with dining and sitting areas.
They are older style but comfortable.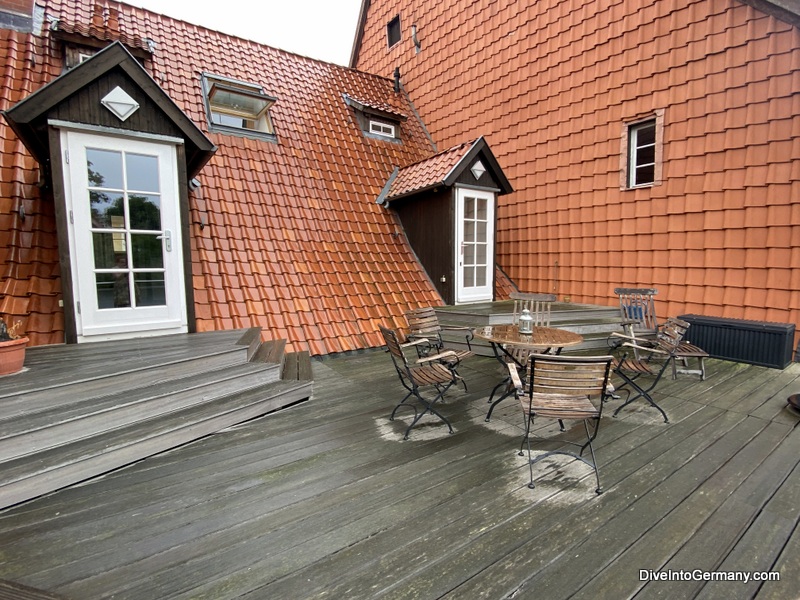 The two bedroom apartment has a room with a double bed and one with a bunk bed and its own terrace. It can sleep up to six adults if you use the sofa bed in the living room as well. You can read more about this in the next section as it's where we stayed.
Click here to see the latest prices.
Two Bedroom Apartment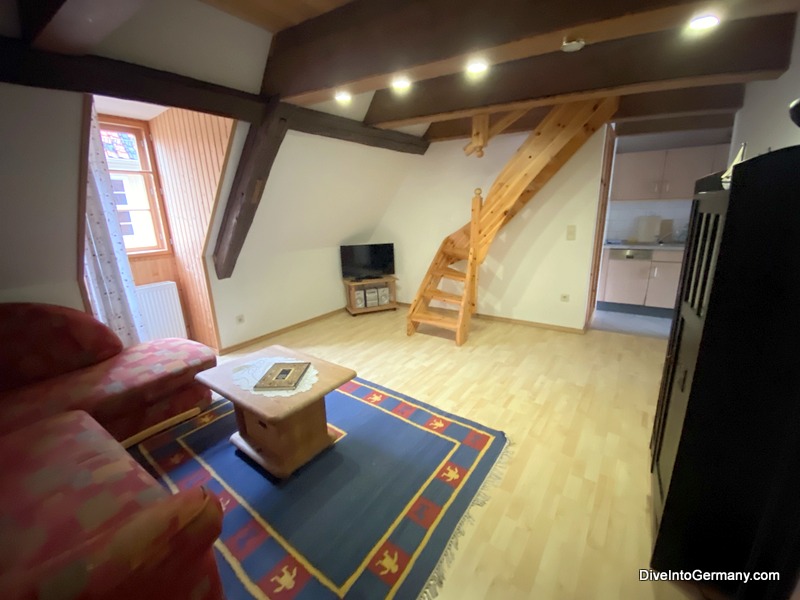 We stayed in the two bedroom apartment as we travelled here with our six and ten year olds and because we loved the look of the terrace. We weren't sorry!
It's on the top two floors of the building so you do need to walk up a couple of levels to get to the front door of the apartment. It's worth it though.
This apartment has a living room (with possible sofa bed), two bedrooms (one with queen bed and one with a bunk bed). The kitchen is well equipped and spacious and included a small fridge, microwave and everything we could need. There is a bathroom and also some extra space where you could easily put any excess luggage.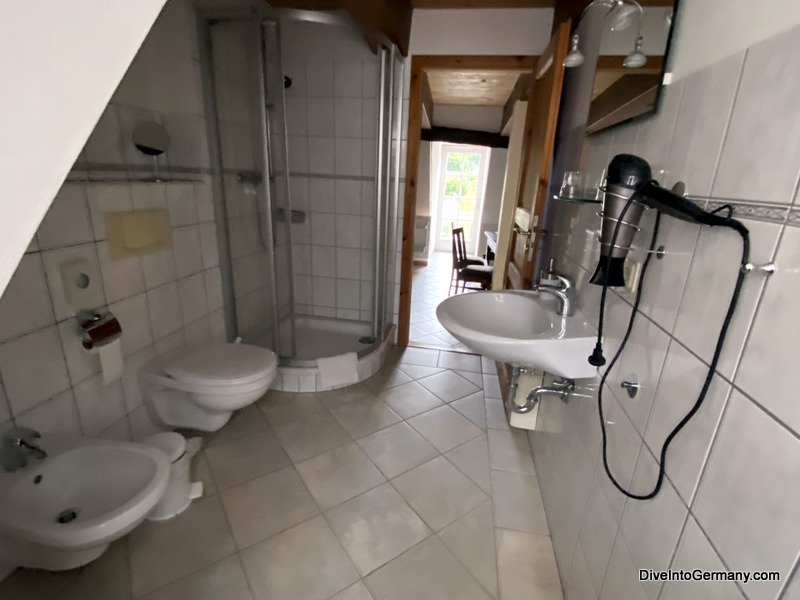 On entry to the apartment, you are in the living room with a big couch/sofa bed and TV. This is where the (steep) stairs are to the second level. The TV was missing a cord to the aerial so we couldn't use it.
Next up is the kitchen area with a decent sized dining table. We found the kitchen well equipped. The bathroom comes off this room with shower, basin and toilet.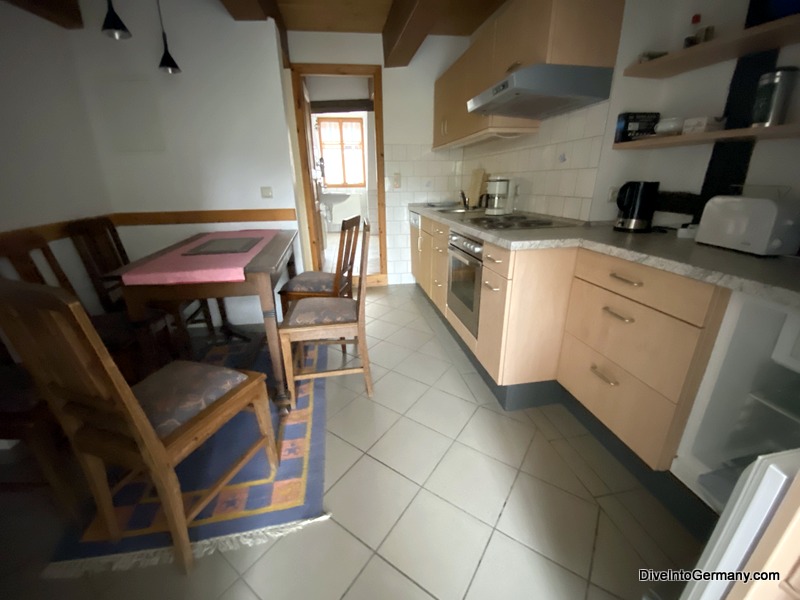 The dining room then warps round into a storage area with some baby equipment.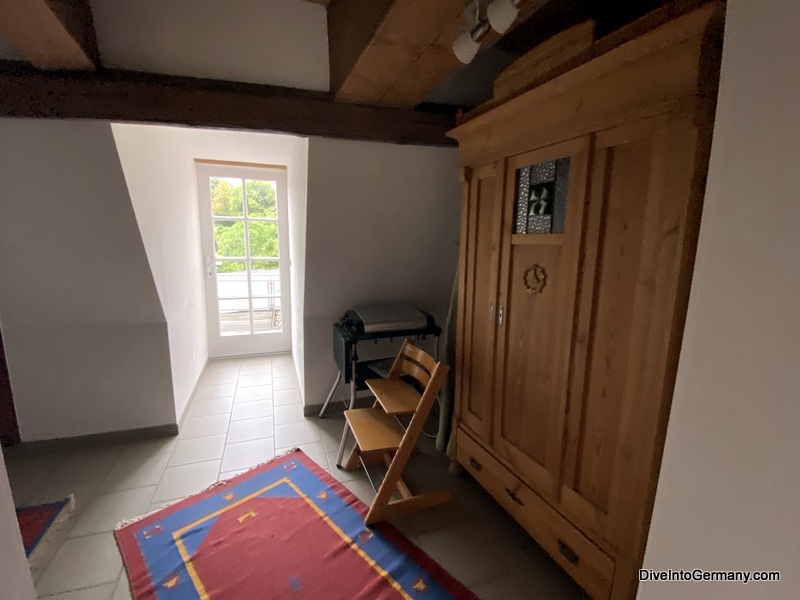 Finally, you keep walking round to the bedroom with the bunk beds. The ground level basically works its way around the stairwell in this apartment so this bedroom is next to the living area as well.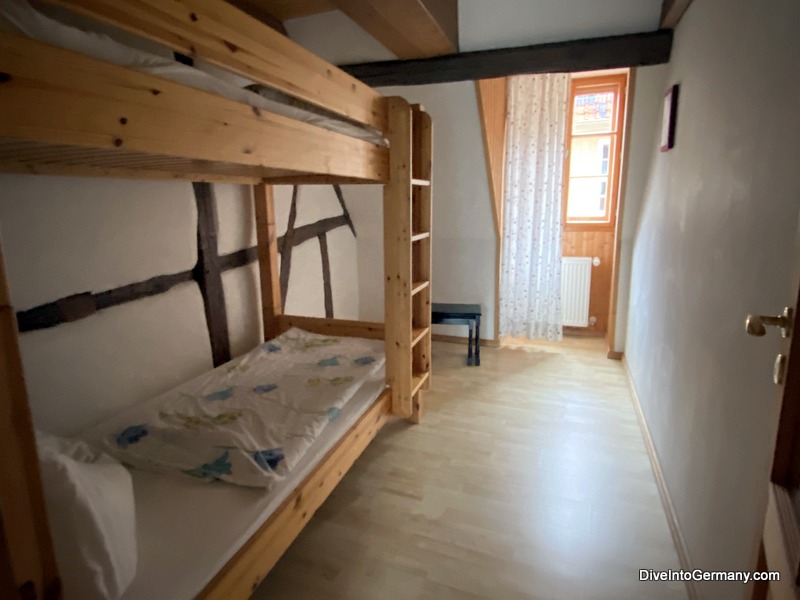 On this level is also the amazing terrace. It's a big 40sqm and has plenty of places to sit making for a great area and chill out spot. Even better is that there is a BBQ here as well. It's worth booking this apartment just for the terrace.
The upstairs of the apartment is home to the double room. There's some hanging space, bedside tables and a baby cot. There's plenty of space, but the ceiling does slope (you are in the roof space after all) so watch your head at times. I found it quiet and comfortable.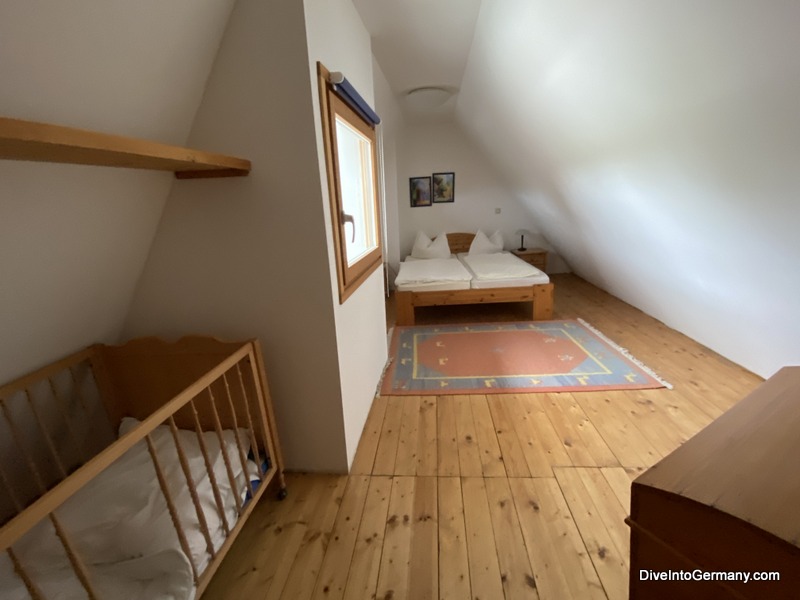 The stairs up are steep and don't have the best hand rails to hold onto. I have a bad ankle so I didn't really enjoy walking down them, but it's fine for able bodied people.
A downside is that the curtains in the living area and second bedroom are thin and only really for privacy, not keeping light out. There's also a glass door in second bedroom that we had to hang a towel over to keep the light out. The main bedroom also has a small window without a curtain.
The apartment is furnished in an older style but is quite comfortable and we enjoyed our time here. It's a quiet and easy place to stay.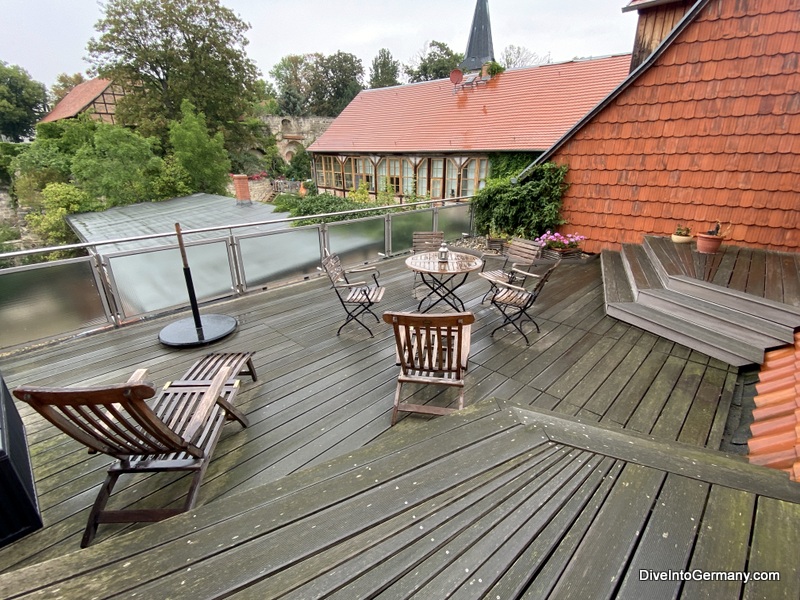 Facilities
Quartier am Brunnen is simply a house split into apartments and you won't find a hotel-style reception here. Instead, the owners run a shop downstairs where you can easily check-in or ask questions during business hours.
A huge pro of this accommodation is the parking lot out the back where you can park. There is a decent driveway to this from the street as well. We are so used to having to drive into tiny spaces in Europe that can be stressful. That is not the case here. It's very easy to use this parking and it felt quite luxurious to have space around our car when parked 😀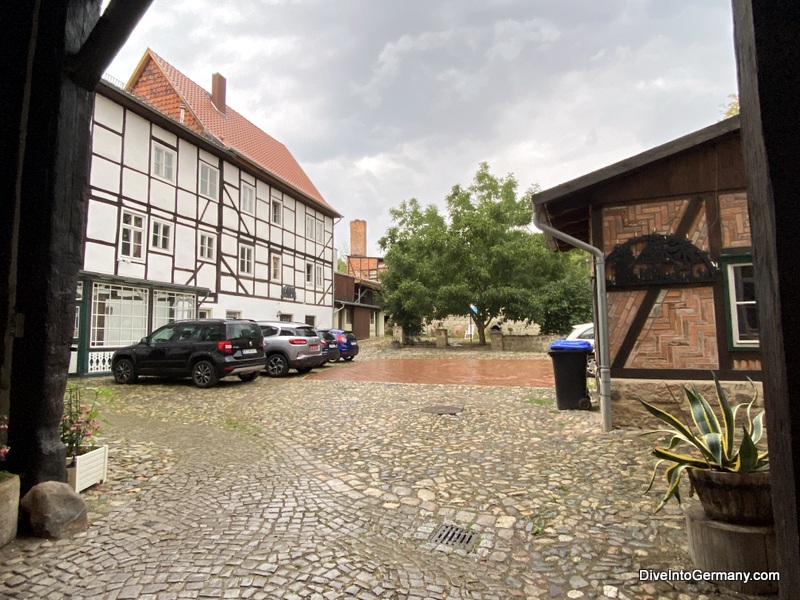 Probably the biggest problem we had with this accommodation is that it stated that there was a washing machine that you could use on request. This does not exist and we couldn't find a laundromat nearby which was a big hassle. So be aware of this limitation.
There's also mentions on the listing for this hotel on booking that there is a garden with BBQ and table tennis. The garden does exist, but was overgrown and not really somewhere I could imagine hanging out. The BBQ didn't look functional and there was no table tennis table.
I also read there was bike hire but I saw no evidence of this.
There is free wifi which was slow and cut out at times. It's fine for casual use, however.
As an added bonus, you can also request breakfast in your room (at an extra charge).
Final Words
Quartier am Brunnen is the perfect place to stay for anyone looking for apartment style accommodation in an historic house in an unbeatable location. Especially if you want parking!
My only real problem is that there isn't the advertised washing machine, but otherwise I loved staying in this accommodation.
It had everything else – great location, comfortable apartment, amazing terrace and parking. It's also one of the cheapest places we have stayed in Germany. It's very easy to stay here.
I'll 100% stay here again next time we are in Quedlinburg!
Click here to see the latest prices.
Looking for what to do while you are in Quedlinburg? Find our full guide to things to do in Quedlinburg here and all our guides to eastern Germany travel here.