Translating to Car City, Autostadt Wolfsburg Volkswagen isn't just THE place to go if you are a car lover, but an awesome place to visit even if you know nothing about cars. It's a huge site with so many interesting things. It is like a whole Autostadt theme park.
I first heard of this attraction in a kid's book which had photos of amazing things around the world. It had a photo of the Volkswagen Autostadt car tower located here (more about this below) and it looked so cool, I knew we had to go some day.
Add in the fact that I'm a long time fan of Volkswagen beetles (I still miss mine!), and there was no way we were missing this attraction in the northern part of Germany.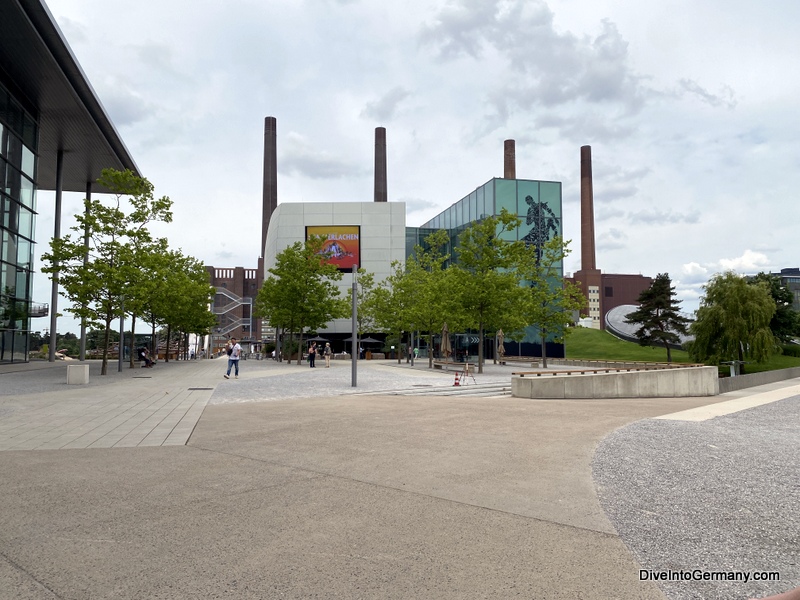 Especially once I learned more about it. This place not only celebrates the history of Volkswagen, but it also has a ton of activities and it definitely has the coolest way to store cars ever in the car towers.
If you are wondering if Autostadt Wolfsburg Germany is somewhere you might like to visit or what exactly you will find there, keep reading! I cover all the attractions here (there are a lot) and our experiences visiting them.
It is a huge site with so much to see and do so it's best to visit with some understanding what is there so you don't get overwhelmed – and you have the right expectations. Mine were a little off which did lead to some disappointment.
So keep reading, as I'm going to help with that here! I also include details on the hotels on-site, restaurants and shops. The name Autostadt or Car City is definitely very appropriate – it is like a whole world.
You can also find our full guide to nearby Celle here.
It's worth stopping by if you love cars, have kids or just find anything I have said interesting. I'm not a car person (beyond being in love with beetles) and I still enjoyed it a lot.
Traveling to Germany? Click here to download your free Germany Trip Planning checklist. We'll help you get ready for your trip! 
What Is Autostadt Wolfsburg Volkswagen?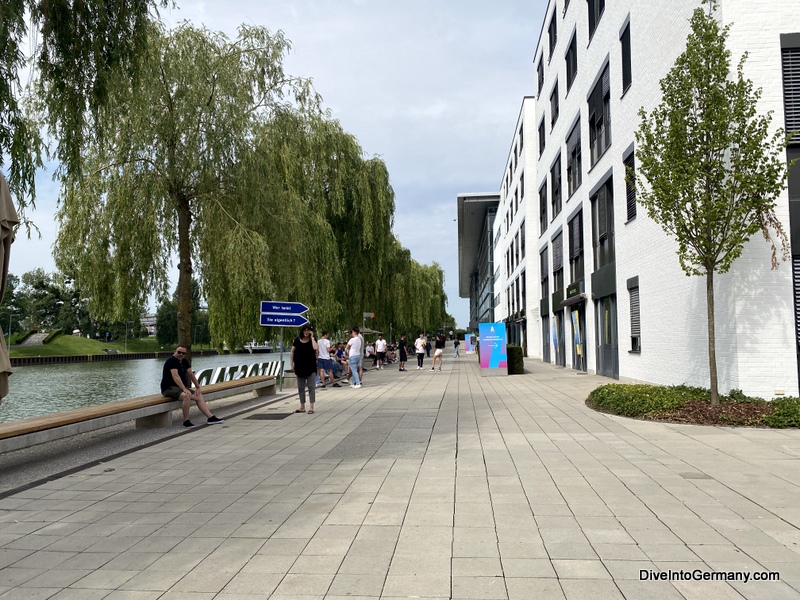 Autostadt Volkswagen Wolfsburg is a massive car themed attraction adjacent to a Volkswagen factory in Wolfsburg, Germany.
With around 20 buildings on a 28-hectare site, it's much more than a Volkswagen museum Wolfsburg and has so many things to see and do.
There are museums, the engineering of the car towers, massive slides and playgrounds, car pavilions that don't just cover Volkswagen but also Porsche, Lamborghini, Audi and more.
You can learn (and experience) anything you've ever wanted to know about cars.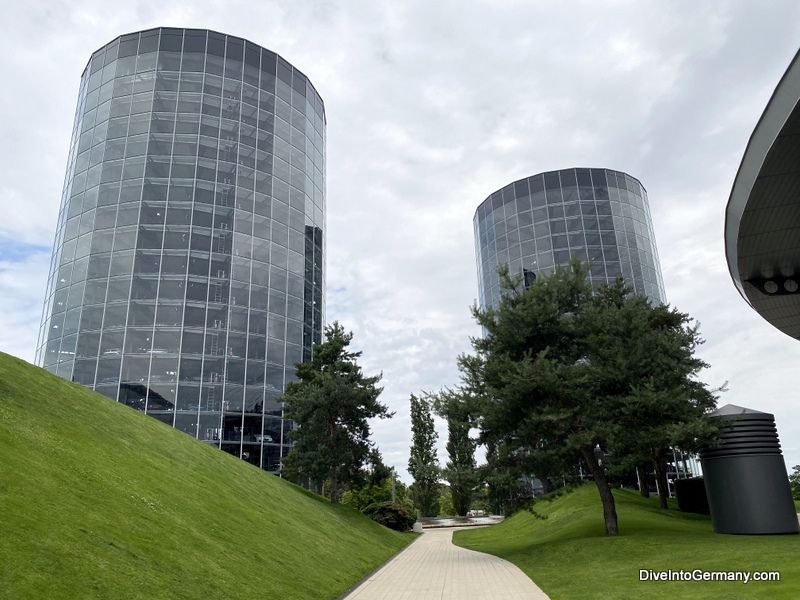 It's also great for kids with some kid focused exhibits and attractions and huge slides and playgrounds to let off some steam. Most pavilions have something for kids to do as well while adults look like colouring in or a foosball table.
The architecture of the buildings is great and there are some great gardens as well which all comes together to make Autostadt Wolfsburg an awesome place to be.
Their site says the average visitor spends 4-6 hours. I recommend this as well. We spent just over 4 hours including some time for a picnic lunch. We somewhat rushed through and could have spent longer.
Autostadt Wolfsburg Review
We visited the Volkswagen Autostadt complex in late June with our three kids aged 6, 10 and 12.
It was quite the experience. The buildings at VW Autostadt Wolfsburg Germany were built to imitate car manufacturing design values and more and every detail seems considered. The exhibits are bright and interesting and it's quite the experience.
The grounds are some of my favourite parts and are beautifully landscaped with water features, parks, chairs and more.
It's a beautiful place to be and this extends to the inside. Everything is in German and just about everything is in English too.
There are tons of staff members – this was something that really stood out to me as they seemed to be everywhere with little to do. They are friendly and helpful and keep a watchful eye on you in the exhibits but are also happy to answer questions. Still, I find it a little hard to relax when I am being followed around.
On arrival, you need to head to Groupforum to buy your tickets, ensure you get a map (you'll need it) and start your journey.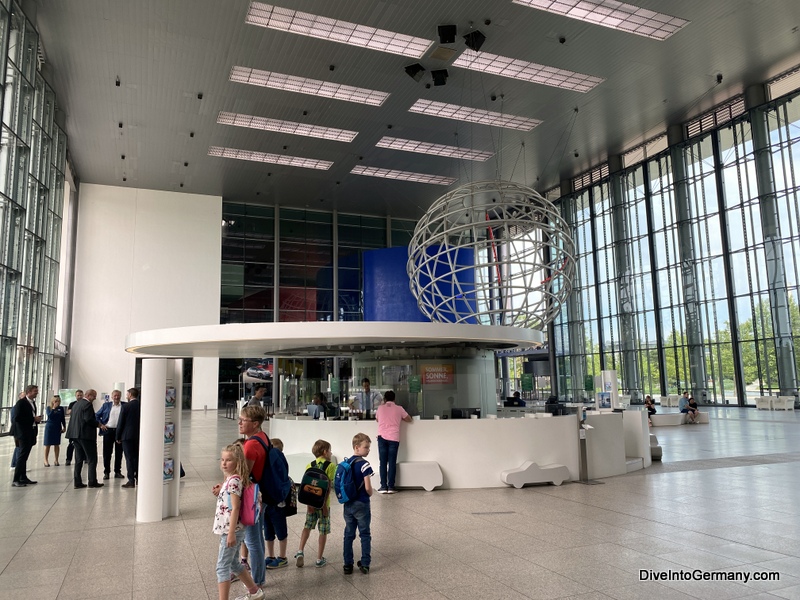 Below, I walk you through everything you can see. It is a lot, but actually many of the pavilions are quite quick to visit and don't contain all that much.
A mistake we made was rushing through the first parts which were actually the best parts thinking we had so much more to get through. I recommend you take your time through Groupforum and Zeithaus. Don't rush!
Groupforum
This is the first place to head on arrival as it has the Welcome Desk and all the information you need for your visit. This is where you can buy your tickets. You can also find a few restaurants here.
It's actually quite a beautiful building itself with a huge wire globe with a diameter of 12 metres hanging high above the "piazza" found here.
There are also two attractions in this building worth taking a look at.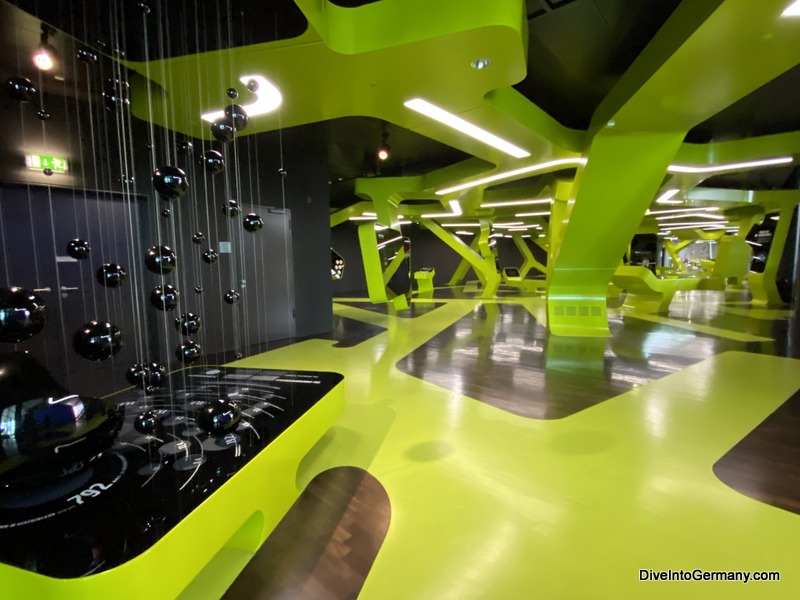 On the second floor is Groupworld. This is all about electric cars and transport, sustainability related to cars and information about Volkswagens' all-electric models.
In their first floor exhibits, people 10 years old and over can test their driving skills on Sim Mobility race simulators (at an extra charge) as well as explore many exhibits on sustainable development.
This floor was quite interactive and we had fun playing the games as a family while we learned more about sustainability. This is somewhere I wish we had spent more time.
On the ground floor is MobiVersum. This area is specifically for families where they can learn about mobility. My kids absolutely loved this level, even the 12 year old who barely likes anything these days.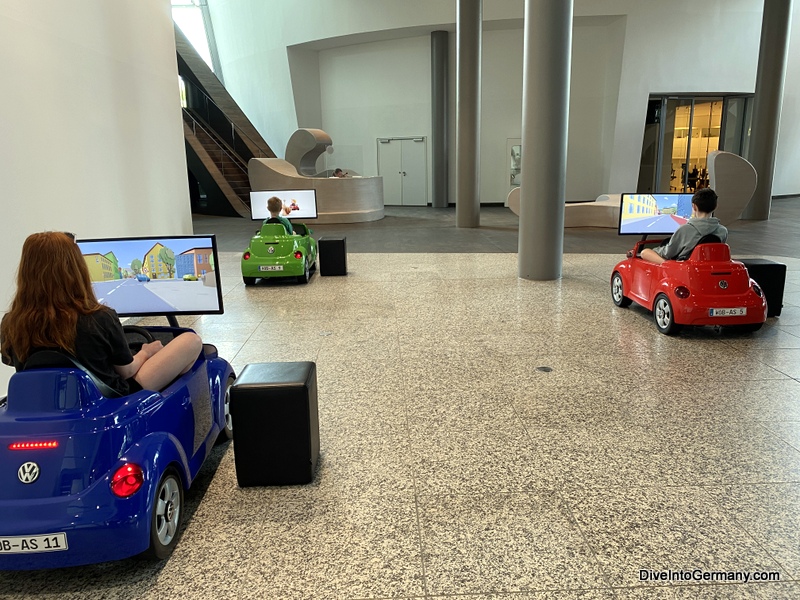 There are little cars where they were taught to drive before driving round a simulated village, real scooters and bikes on a big track and a huge play structure. There was also some type of activity set up with wood and soldering irons which I couldn't work out.
VW Autostadt Car Towers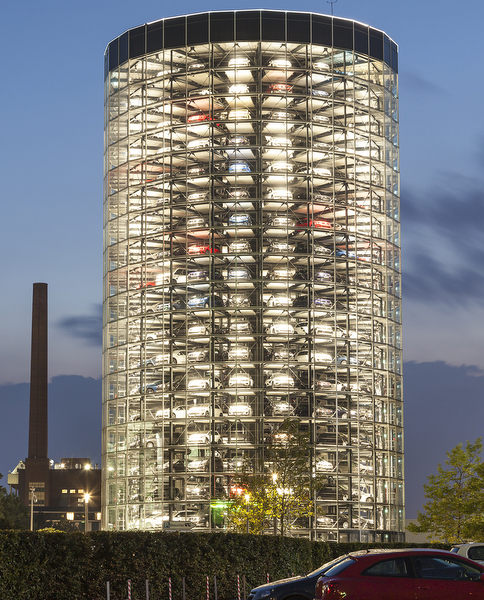 The Car Towers must be the most famous part of Autostadt. It's what put it on our radar.
There are two of these 60 metres high, round glass towers where VW cars are kept in between being manufactured and before they are shipped to their new owners. There's a big tunnel that connects the towers to the factory.
Inside each Autostadt tower are lifts moving at a crazy 2 metres per second that park the cars and remove them again from one of the 400 spots in each tower. It only takes a minute and 44 seconds to park a car on the top floor!
If you want to check this out, you can. There is an elevator for visitors in one of the towers as well as an observation deck 48 metres up for views of the towers and over Wolfsburg.
Unfortunately, this was closed during our visit! Not happy, but what can you do. Hopefully, it's open when you visit. And if it's not, there is still so much to do.
Autostadt Museum – ZeitHaus Car Museum
An unmissable attraction is this Autostadt Wolfsburg museum so make sure you make time for it on your visit.
This is where you can see and learn more about Volkswagen's past, car manufacturing and technology with more than 100 cars, information and more as well as contemporary art. Not all cars are VW as it details car history in general and displays cars that illustrate developments towards today's cars. It basically walks you through from the beginning of cars until today. There are over 60 different brands of cars!
On the first floor is also an exhibit in this Autostadt museum Wolfsburg specifically on the Lamborghini, the first premium brand of the Volkswagen Group. It discusses the past and present design of these cars and the influence this design had on other brands.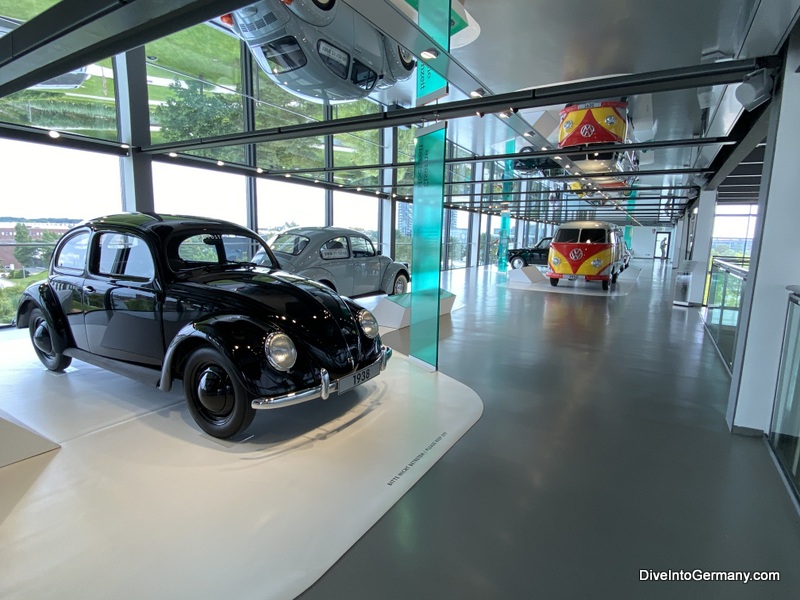 There are also temporary exhibits and a shop here.
Note that in this Autostadt Volkswagen museum, the exhibits tell the story. By this, I mean the cars. I had expected a more comprehensive and complete presentation of information from when cars were first invented to today but the museum jumps around a bit in eras as it describes different elements of the evolution of cars.
It's not a problem and I liked how the cars told the story (and there are so many of them), but it's something to be aware of to have the right expectation.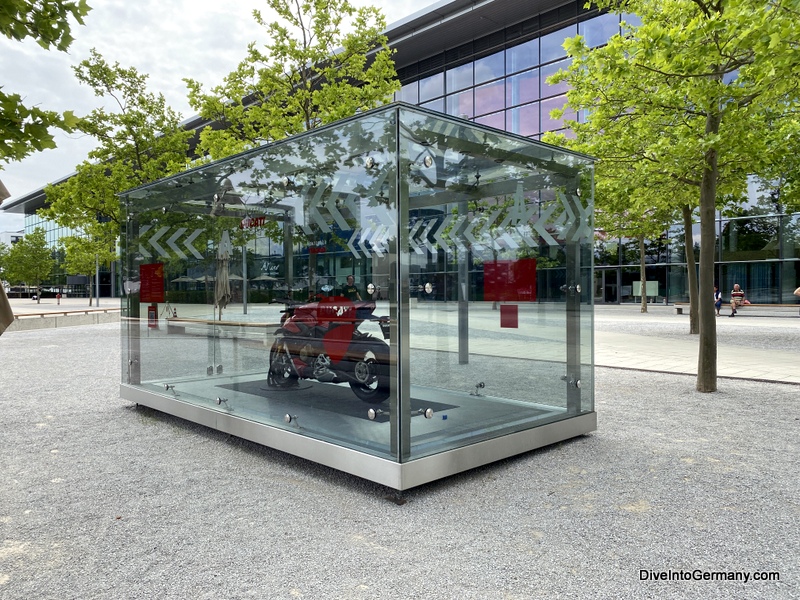 If you are interested in Ducati, keep a look out as you walk around the grounds. Three latest models are on display in glass boxes in front of here.
Autostadt Volkswagen Commercial Cars Pavilion
The Volkswagen Commercial Cars Pavilion is the one area that disappointed me at Wolfsburg Autostadt museum. I read beforehand that I would see current VW vehicles, concept designs, digital exhibitions and where car manufacturing may go in the future over three levels. Plus, a big kids exhibit that sounded amazing.
However, it was really just one level, with a walkway on another level but no exhibits. There were some campers, and it was much like the other car pavilions (coming up).
It was hugely disappointing as we had rushed through and left this to last to really soak up the activities and then there was nothing. The building is not that big so I don't know how these things could have ever been there.
Autostadt Germany Car Pavilions
There is a range of other car pavilions as well. They generally contain a few cars, well displayed, and a bit of information. Visiting them is quick.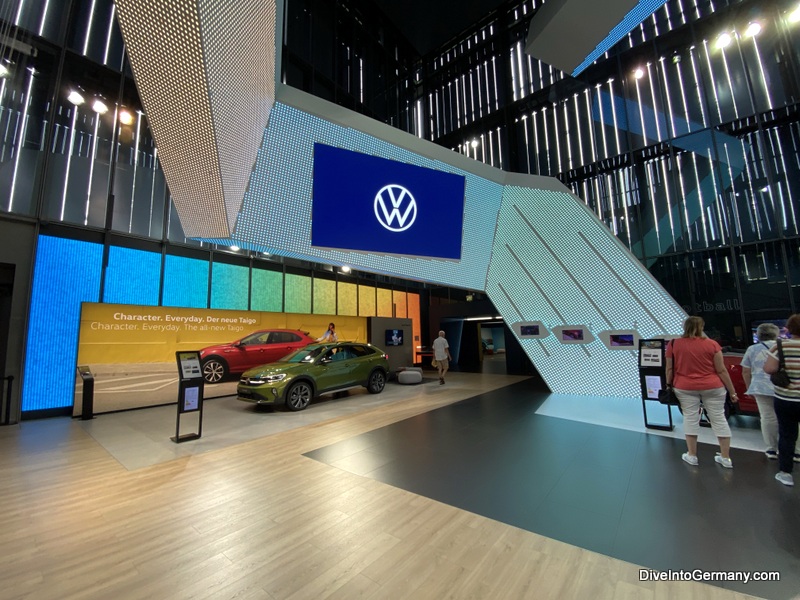 You can visit the Volkswagen Pavilion which shows and discusses the current Volkswagen models and concept vehicles.
In the centre of this building is the Markenkern (brand sculpture). It's 27 tons and has around 700,000 LEDs on the outside which make the sculpture shine in many different colours. I found this underwhelming.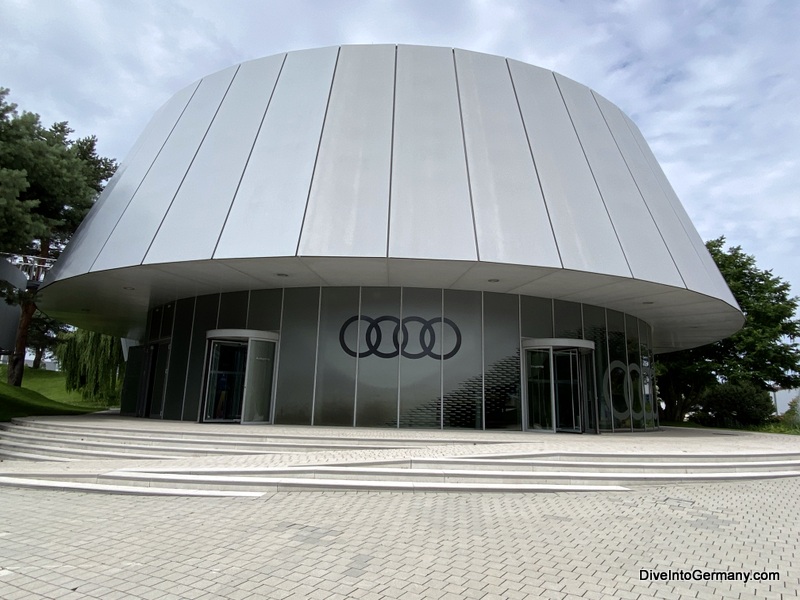 The Audi Pavilion is designed to show the brand values of design and dynamism. The exhibit inside focuses on the new areas of innovation of Audi such as e-tron, ultra and their design.
There are also some of the latest models of Audi cars on display.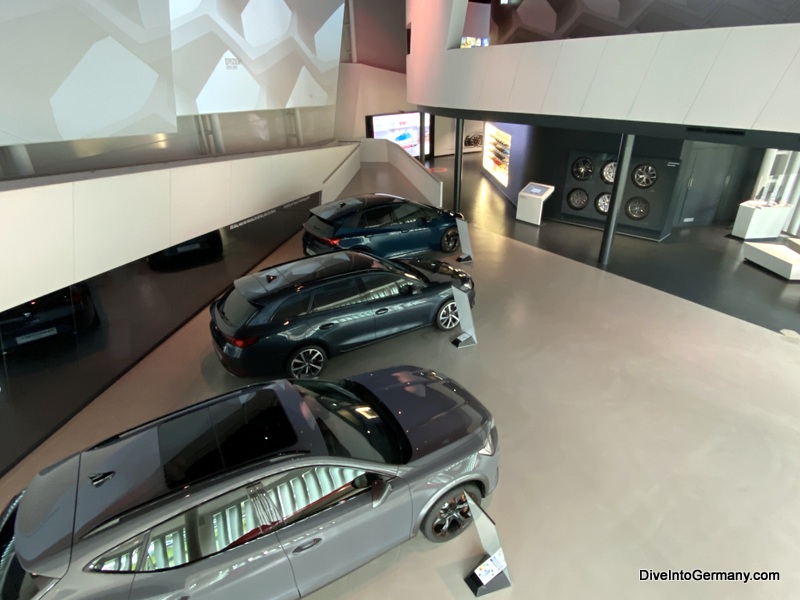 The SEAT pavilion was built to imitate the geography of the Iberian Peninsula thanks to SEAT being Volkswagen's Spanish subsidiary. Inside, the exhibits here have the theme "Technology to Enjoy". There are information boards, photos and, of course, cars to see from the SEAT and CUPRA brands.
The second part of this pavilion is about SEAT's technology and you can learn all about how SEAT's Car Configurator is able to build a vehicle with all of your personal preferred features. It's very cool.
One of my favourite parts of Autostadt was here – we were able to pick different informative films to watch, and we picked on how their cars are made. We watched from the car's perspective how it was made along this big conveyer belt as many people and machines added more and more to it. Super interesting.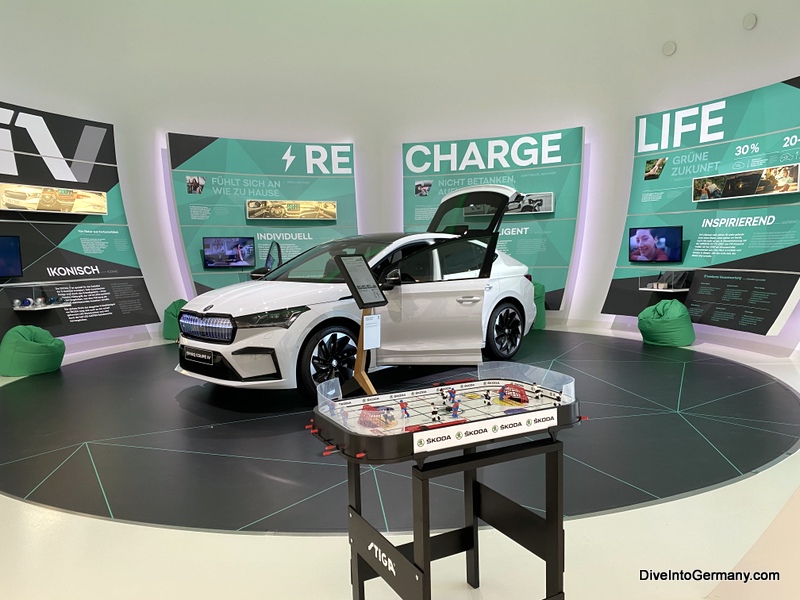 The ŠKODA pavilion is built so that a bird's eye view looks like their winged arrow logo. Inside, there are exhibits on ŠKODA's work with the Tour de France. I read there is a fun scavenger hunt activity for children, but I didn't personally see this.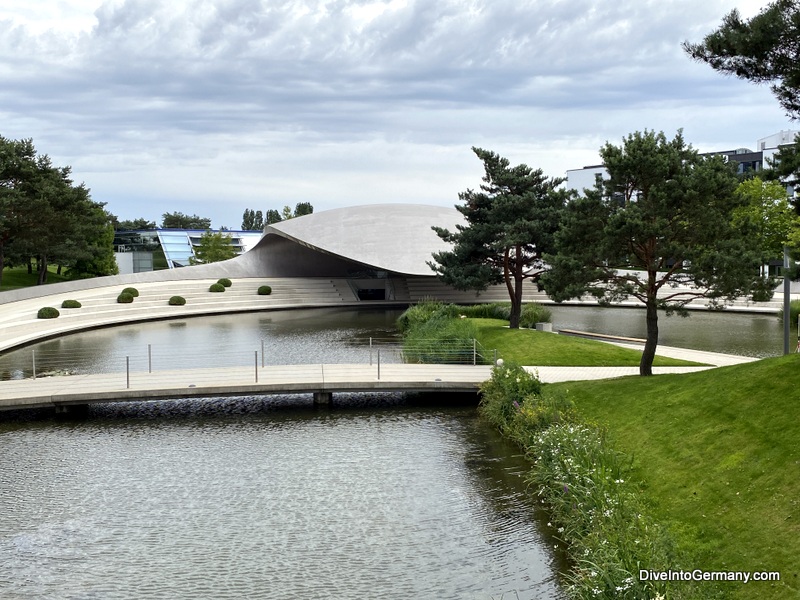 The Porsche Pavilion looks quite unique from the outside – it has a lightweight, unique roof in line with Porsche's tradition of lightweight construction. The hope is that the lines of the building plus the stainless steel surface evokes similarities to Porsche styling.
Inside, there are three current Porsche models as well as 1:3 scale models of 28 other models. This is to help illustrate the history of Porsche design and how it has developed over time. There are also films and media installations to share more about Porche's history and their brand values and philosophy.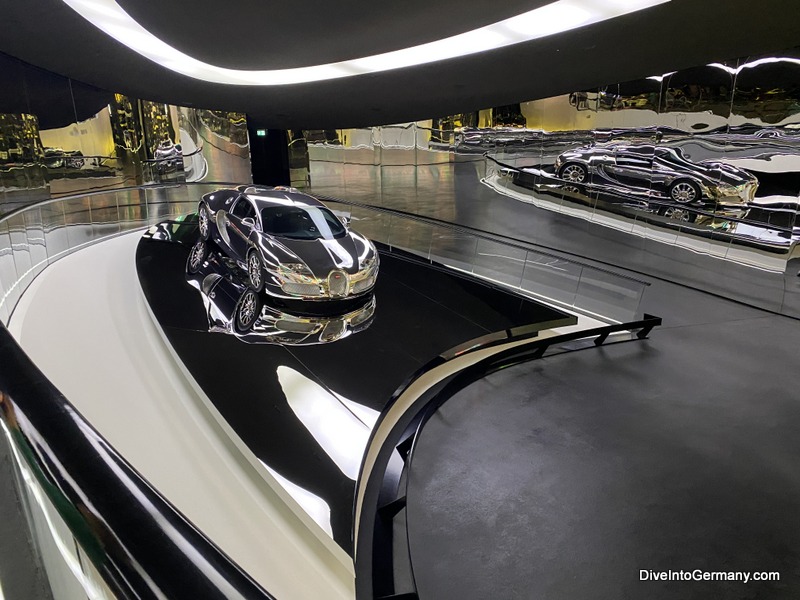 The Premium Clubhouse is another pavilion you may wish to visit. It's inspired by the Le Mans race track. Inside, it's all about the idea of what is premium in car manufacturing. I loved the car on display here.
I didn't think we would have time to visit all of these pavilions as there are so many, but they were generally pretty quick and it wasn't an issue.
Driving Experiences
Of course, this wouldn't be much of a Car City without the opportunity to drive some cars! There are a range of driving experiences here.
The downside is that most experiences are only in German. If you don't speak German, it's best to contact Autostadt and see if they have anything you can do. Any driving experiences require a valid driver's license although a learner's license is enough for some experiences.
You can take a test drive of an electric vehicle included in the day ticket price. This lasts for about 45 minutes with the first 15 minutes being a safety talk.
There are also various safety and training drives as well as all-terrain drives to try out the all-wheel drive vehicles.
If you don't have a license or want something more stationary, you can try out the Sim Mobility racing simulator in GroupForum. These are used by racing professionals and are quite an experience.
All of these experiences should be booked ahead of time on their site.
Autostadt VW Playgrounds And Giant Slides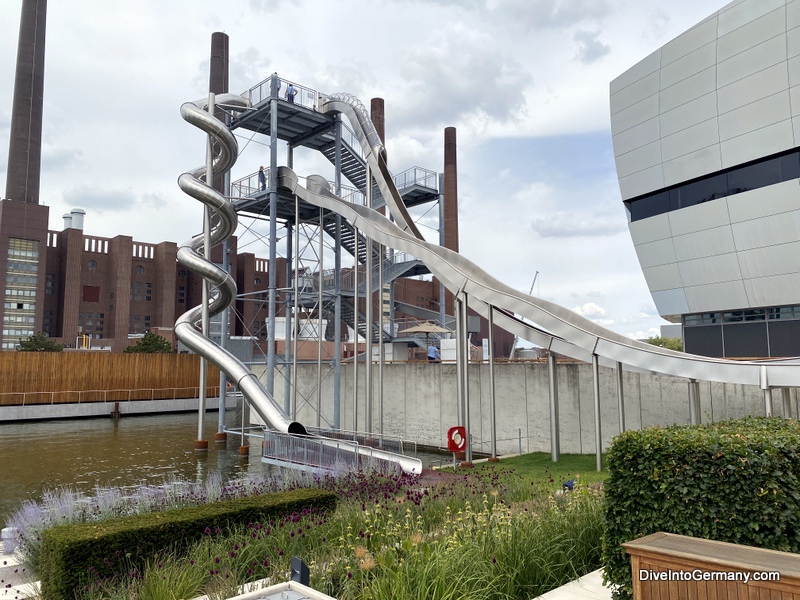 If you can tear yourself away from all the exhibits, families will love the fantastic outside play areas.
Outside GroupForum is a fantastic playground for kids around 3 – 6 years old with seesaw, swings, slides, a climbing frame and more.
This is next to Netzwerk and Holzwerk which is designed for 5+ year olds with big climbing nets and other wooden structures.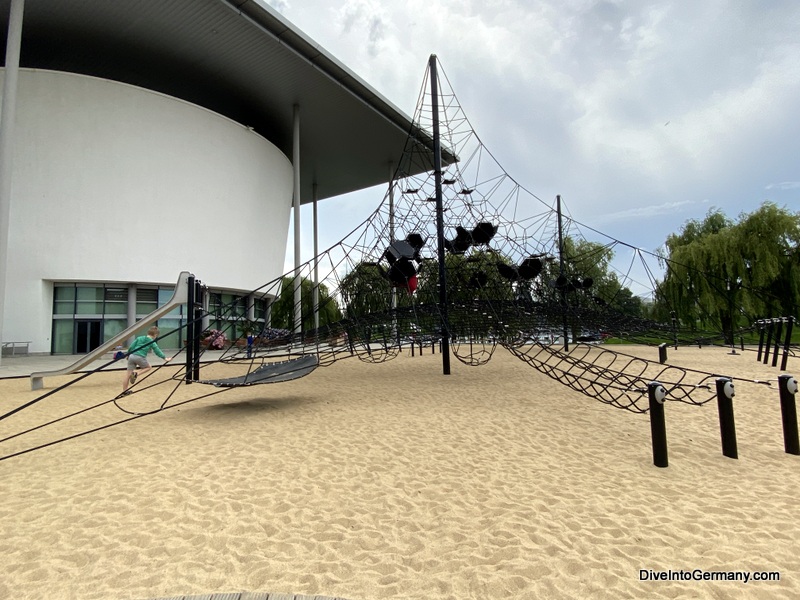 Then there are the giant slides which are up to 18.5 metres high 😮
The slide tower is next to Zeithaus and even my too-cool-for-school 12 year old loved this and there are a few options to choose from. Kids under 6 need to go with a parent. It was a lot of fun.
This is also next to the kids area at Groupforum and the kids spent some very happy time between the two.
There is also a fake beach area here with entrance into the river.
There is a smaller (but still great) playground outside the VW Customer Centre as well.
VW Autostadt Wolfsburg Scent Tunnel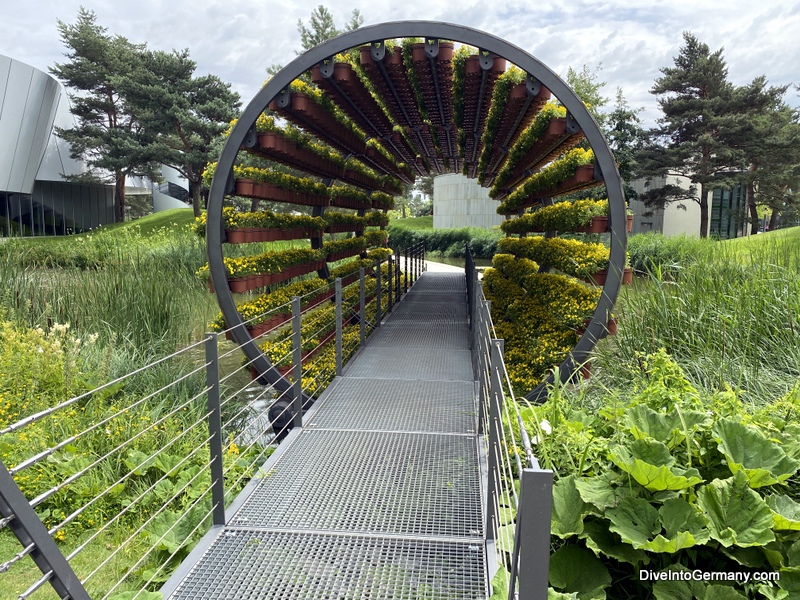 The Scent Tunnel is a contemporary art work that is reconstructed every Spring. It basically forms a bridge between the Audi and Lamborghini Pavilions over a waterway and is made with a variety of plants.
The tunnel rotates, moving the plants around and creating a great smell. It's in operation from Spring until the start of Autumn.
Autostadt Restaurants
There are quite a few Autostadt Wolfsburg restaurant options and you can also take a picnic and enjoy it in the beautiful gardens – or grab something from the on-site bakery. There are tables and chairs by the playgrounds.
The options are:
Amano – Pizza, pasta, salads and focaccia is served here. Kids can actually knead their own dough and decorate their pizzas too!
Beefclub – Specialist meat restaurant
Lagune – Breakfast, lunch and dinner is served here in a restaurant that specialises in serving local products
Erste Sahne – Cafe with coffee, pastries and Danish style smørrebrød (open sandwiches)
Das Brod – Bakery with fresh bread and rolls – perfect for a picnic
Bisstro – Coffee and breakfast is served here
Mondo Italiano – Italian bar serving small meals and snacks all day
There are also restaurants in the Ritz-Carlton.
Autostadt Shop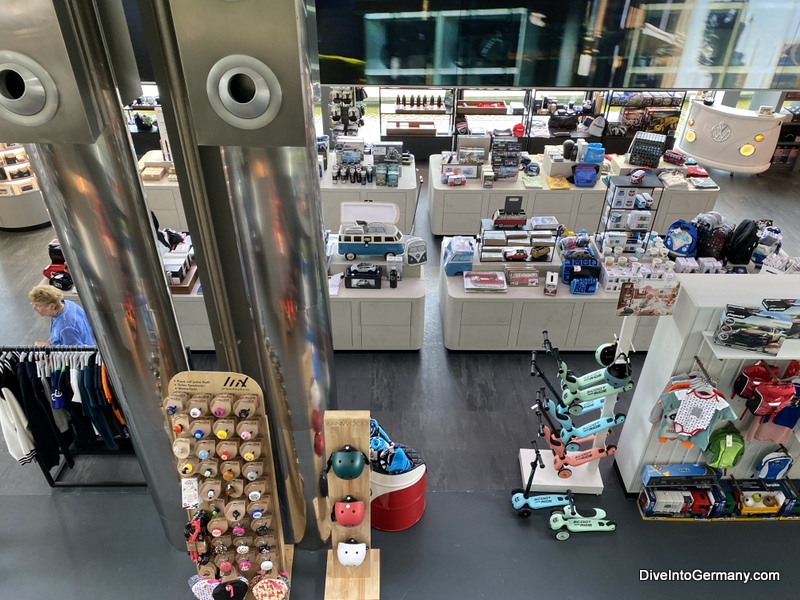 There are four shops at Autostadt, so there is no problem picking up a souvenir of your experience particularly if you are a car enthusiast or collector.
There are historic models, books, original parts and everything Volkswagen you could want. Even practical things like child car seats.
Volkswagen Autostadt Wolfsburg Map, Getting Here And Parking
It is easy to get to Volkswagen Autostadt, Wolfsburg, Germany either by private car, bus or train. It's not far from the centre of Wolfsburg and it's an easy walk from the main Wolfsburg station which has trains from many places in Germany. Below is an Autostadt map.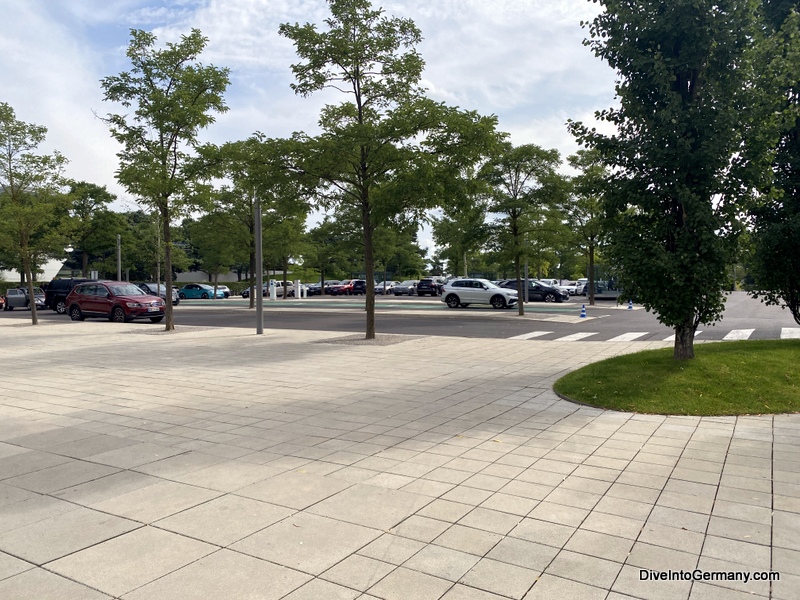 We drove and used the Autostadt parking. There is plenty of this. Where it failed is that we read on the site that it only cost 3 Euros for the day as long as you have a day ticket to Autostadt (which we did) and you get it validated at the Welcome Desk.
However, when we got to the Welcome Desk, they had no idea what we were talking about and we couldn't get it validated. We expected then to have to pay 6 euros as that's what signs said when we entered the car park and the website. However, when we went to pay, somehow it was 10 euros. This did leave a bad taste in our mouths when we left which is a shame.
Some car hire providers offer rental car drop off here. Make sure you don't have to pay parking 😀
Address: Stadtbrücke, Wolfsburg 38440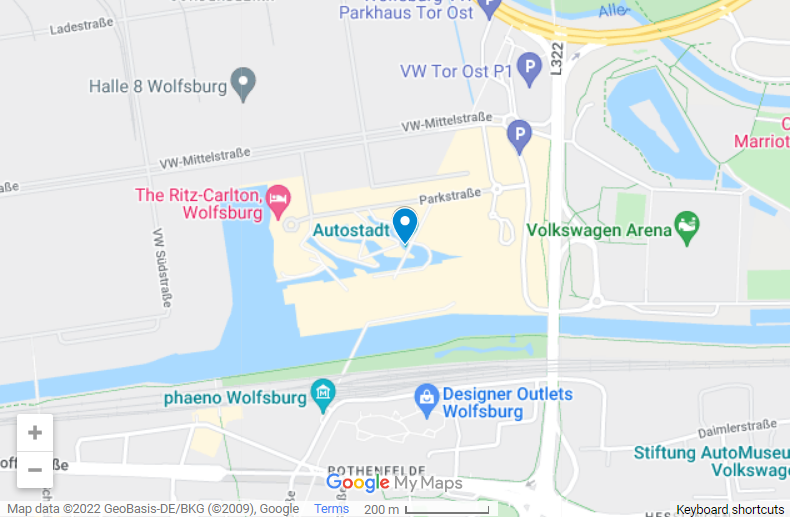 Autostadt Opening Hours
The Volkswagen Autostadt in Wolfsburg Germany is open daily 10am to 6pm. There can be different hours for car collection and the restaurants.
Autostadt Tickets
Autostadt Wolfsburg tickets are easy to get both online or at the site. You buy a day ticket which gets you access to basically everything. You pay extra for experiences like the driving experiences or to go up the Car Tower.
There is also a guided Autostadt tour option. In a 60-minute tour, you can be introduced to the site and background of Autostadt. This is an extra fee and you need a day ticket to the Autostadt to take part in this.
There also used to be Autostadt factory tour options, but they were no longer running when we visited. I'm not sure if they ever plan to bring them back.
At some times of the year, it's also possible to get an evening ticket when you pay a reduced price to enter after 4pm. I don't recommend this though. It's worth spending more time here.
Autostadt Wolfsburg Hotel?
If you really want some time to soak up your Autostadt visit, you can stay on-site at the Ritz-Carlton Wolfsburg Autostadt hotel.
This 5-star hotel not only gives you easy access to everything Autostadt offers but has two restaurants (Including a three Michelin star option), a lounge, a pool, spa and sauna area and much more.
You'll love a stay here.
Click here to see the latest prices of this Autostadt hotel now.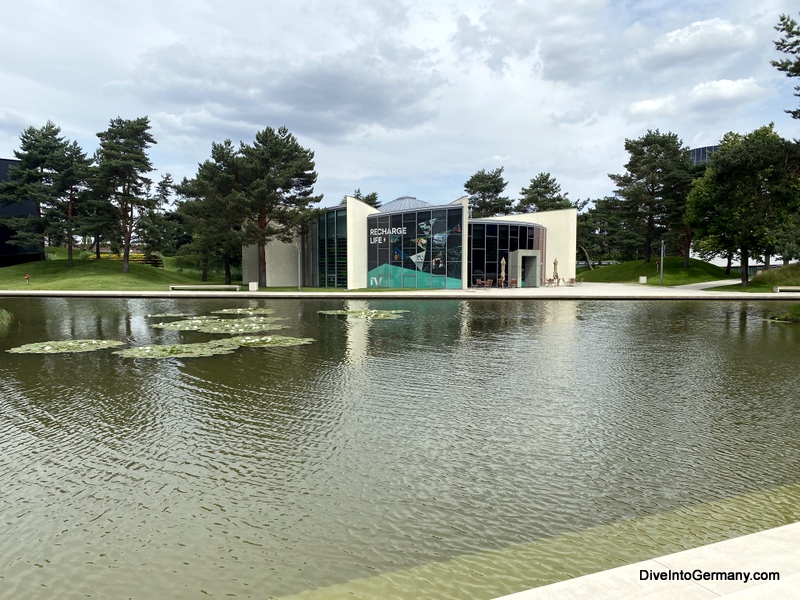 Final Words
Autostadt Wolfsburg is a fun place to visit which is quite a festival for your eyes with the great architecture, gardens and displays. There is so much here and it's fun. Some of it is highly innovative and I enjoyed just looking at the outsides of the buildings.
While it was disappointing to not go inside the Car Towers, there is so much here that it didn't really matter.
However, I did leave disappointed – a combination of us leaving the VW Commercial Cars Pavilion for last and it not living up to our expectations and the parking being much more expensive than advertised.
I also think it could have been more informative and I am not sure I left having learned much. The pavilions can feel more like brand marketing than anything that useful and the way the Zeithaus was structured didn't help me learn as much as I had hoped.
Still, the kids had fun and this is a unique place that we really enjoyed. If you are in the area, I definitely recommend visiting here.
Looking for more? You can find our full guide to nearby Celle here and all our guides to travelling northern Germany here.