Travelling around Germany and want to know all the best things to do in Hameln? We have you covered! Below you will find our guide to all the best attractions in Hameln to plan your ultimate trip.
More popularly known as Hamelin in english-speaking countries, Hameln is more famous than most German towns thanks to the very famous tale of the Pied Piper of Hamelin. This tale, which has been a legend for hundreds of years, is rooted in mystery and the fact that records make it seem like 130 children did once go missing from Hameln back in 1284.
The reason why most people visit Hameln is because of this famous tale, told in many places in the world thanks to the Brothers Grimm. Even growing up in Tasmania on the opposite side of the world, I was intrigued by this story when I was a kid so I couldn't miss the chance to visit.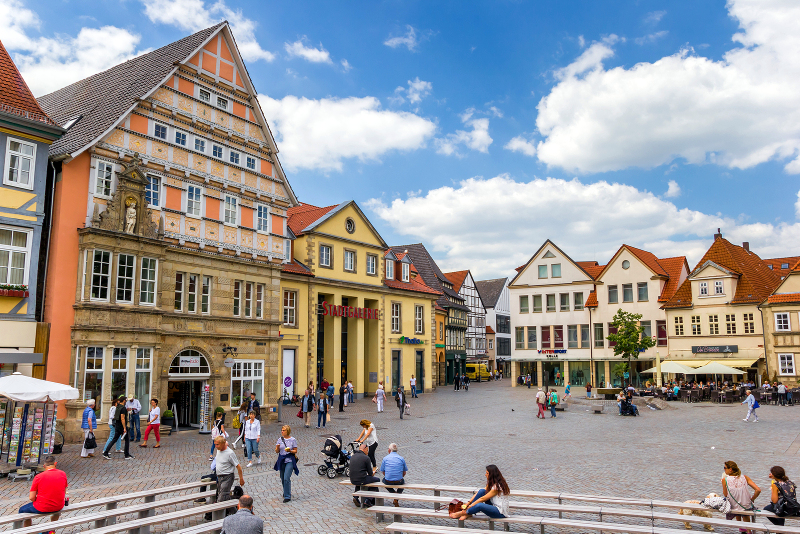 While much of Hameln's tourist industry is based on this tale, there is more to Hameln than this.
It's Old Town is lovely and does look straight out of a fairy tale with half-timbered houses, cobblestoned roads and a colourful Markt Platz (Market Square).
It's a fun place to visit and well worth a stop when exploring Germany or taking the Fairy Tale Road. We stopped here on our way to Bremen and it's well worth the effort.
It is a more low key destination and there aren't tons of places to visit in Hameln. To me, this is part of the charm as it's more about chilling and enjoying the destination (while looking out for rats!) than racing around to Hameln attractions.
There are some things to do Hameln offers that are worth visiting though. Below, you will find my full guide to Hameln including the best things to see, where to stay, a handy map and more.
Let's start!
Traveling to Germany? Click here to download your free Germany Trip Planning checklist. We'll help you get ready for your trip! 
An Introduction To Hameln
Hameln is a city of over 50,000 people in Lower Saxony in the north central part of Germany. It's on the Weser River southwest of Hannover.
Hameln was a market centre that started around the Abbey of St. Boniface which was founded at the end of the 8th century. It later became a member of the Hanseatic League.
Hameln is a commercial centre still today and has a river port and a railway junction. Many things are manufactured here including chemicals, machinery, electrical products and textiles. Tourism also plays a role in the local economy.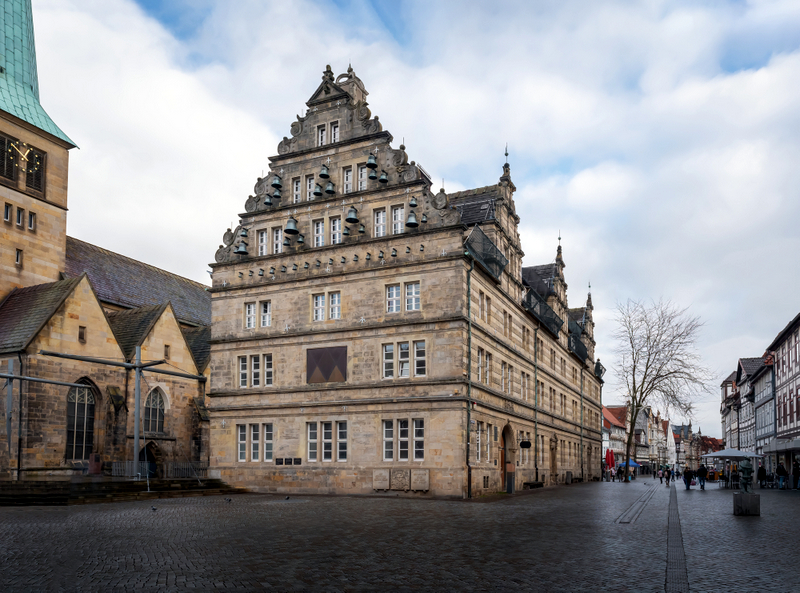 It's well known for the tale of the Pied Piper of Hamelin although no one knows exactly what happened to the children, but there are many theories and you can see some of the evidence around it in Hameln.
Top 6 Things To Do In Hameln Germany
Here are the Hameln tourist attractions…
Pied Piper Play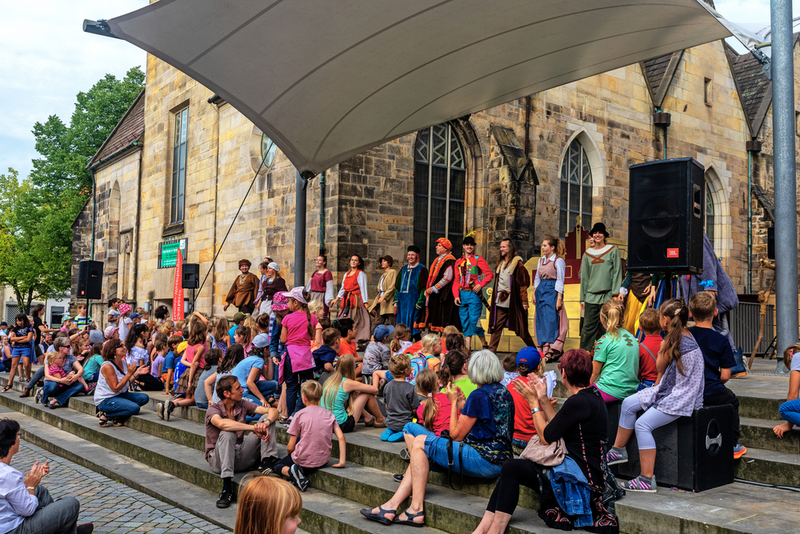 If you are in town on a Sunday during the warmer months, you are in for a treat! For more than 60 years, it's been possible to watch a live show of the Pied Piper of Hamelin for free.
Taking place outside the Hochzeithaus (Wedding House), amateur actors portray all the drama of this classic tale.
The show starts at 12pm and runs for about 30 minutes. Afterwards, the Piper leads the group through the city on a paid tour. Join them if you dare!
While it's in German, it's still lots of fun and we enjoyed it. Definitely try to make it if you can for the ultimate Hameln experience!
You can find more information (including dates) here.
Hameln Glockenspeil
If you aren't lucky enough to visit Hameln on a day when you can watch the Pied Piper of Hamelin show, you can watch it on the Glockenspeil on the gables of the Hochzeithaus (Wedding House).
These bells ring while characters come out of the doors. First, the Piper leads away a pack of rats. Next, a scarier looking Piper appears leading all the children out apart from two. You can watch the story and hear the bells in the video above.
This happens day at 1:05pm, 3:35pm and 5:35pm. The bells also ring at other times but these are the times you want if you want to see the Pied Piper story.
Hameln Museum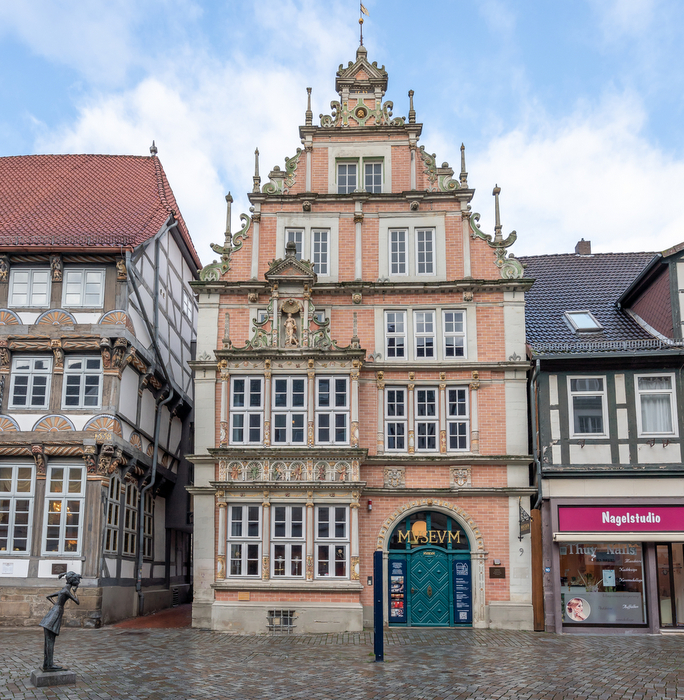 This is the place to head to learn more about the history of Hameln as well as everything you could want to know about the legend of the Pied Piper.
Housed in two of Hameln's best buildings, this museum has more than it looks like from the outside with excellent exhibits and artifacts on regional history including literature, statues and paintings.
There's also an automated mechanical puppet show which gets top marks along with historical documents and theories surrounding the missing children.
The downside is that the exhibits are only in German although there is an English pamphlet with information.
There is a nominal entry fee.
Pied Piper's House (Rattenfängerhaus)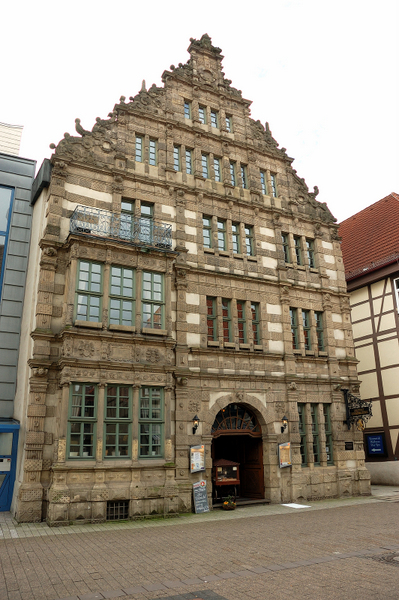 The Pied Piper's House is so called because of an inscription on the side of the building which mentions the loss of the Hameln children in 1284 making it the oldest version of this tale.
It talks about how 130 children were kidnapped on 26 June 1284 by a rat-catcher with a pipe.
Built in 1602-1603, it's also a great example of Weser Renaissance architecture. Today, it's home to an Indian restaurant.
Rat Spotting
It seems the Pied Piper didn't rid Hameln of all its rats – there are many you can spot as you explore this town! Especially in the Old Town.
All through this area, you can find bronze rat stones on the ground. They can lead you to some of the Hameln attractions. Originally, these were painted on, but since 2011-2013, they are three-dimensional bronze artworks.
There's also rat paintings and other signs of rats – including many rat souvenirs! It's definitely a different take on this animal that we'd usually rather avoid.
Pied Piper Statues (Rattenfängerstatue)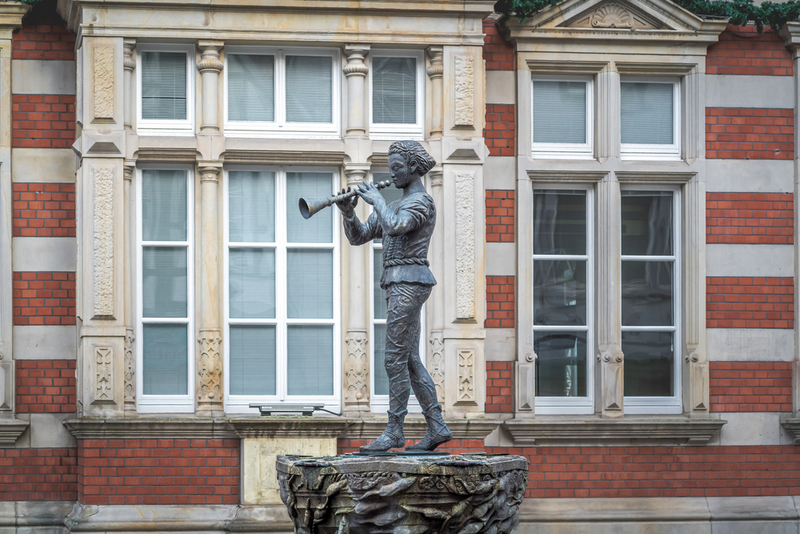 While in town, you'll want to find the Pied Piper Statue. This bronze statue in on a fountain was given to the city of Hameln in 1998.
You can find it on Osterstraße 15.
There is also a fountain with statues of the Pied Piper and children which you can find at Rathausplatz.
This was designed as part of a competition and was presented by Karl Ulrich Nuss in 1975.
Things To Do In Hameln In December
Unfortunately, there is no Pied Piper play in winter, but you can visit the other attractions above.
Thankfully, there is another great Hameln attraction to take its place…
Hameln Christmas Market
Hameln holds a Christmas Market with about 70 stalls with plenty of food, drinks, crafts and products usually from the end of November until the end of December. It's known for being beautiful and you can find it around the Hochzeithaus.
While I unfortunately have not been to this Christmas Market myself, you can check it out in the video above.
What To Do In Hameln In One Day
There are not a ton of attractions in Hameln and you can easily check out everything above in the one day.
Hameln Tourist Attractions Map
You can find all the attractions above and places to stay below in Hameln on this map.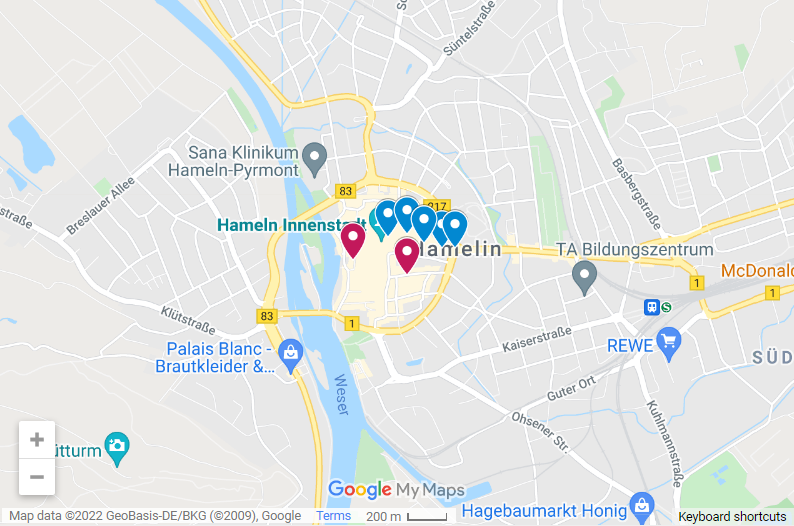 Best Place To Stay In Hameln
Have more than one day? Lucky you! There's a reasonable range of accommodation in Hameln and I'm sure you can find something to suit you.
Accommodation is particularly busy here on weekends in summer and when the Christmas Market is on so book ahead.
Below, I've listed a couple of different places to consider that are both in great locations in the Old Town for a good price.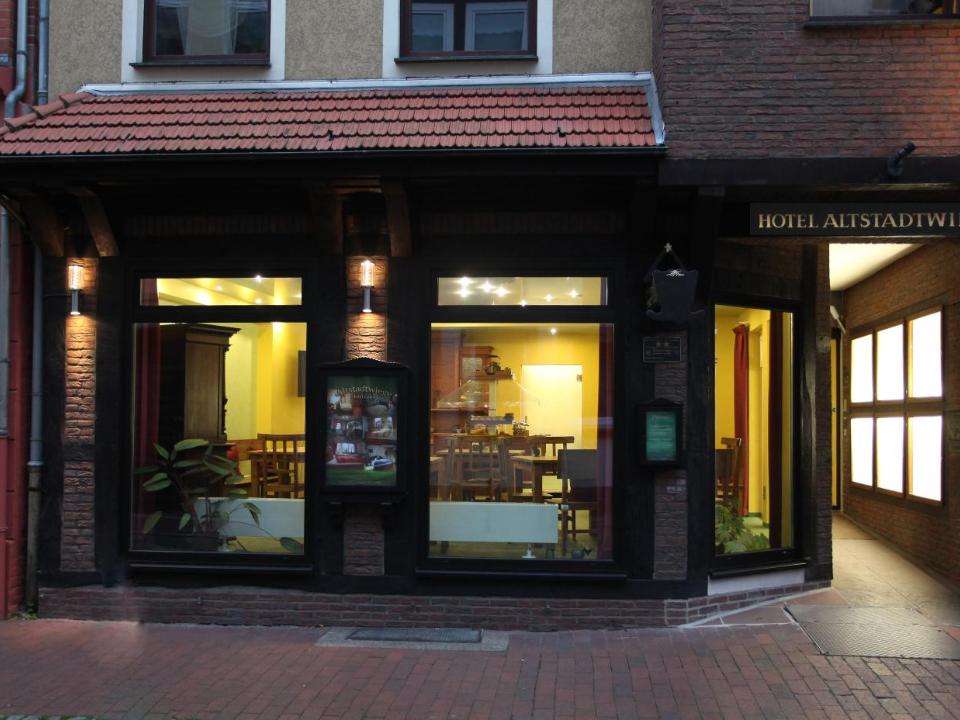 If you are looking for a good value accommodation option in a central location in the Old Town, consider Hotel Altstadtwiege. Despite being centrally located, it's nice and quiet.
Rooms here start at single size and go up to four person quad rooms. All rooms have private bathrooms and TV with all but single rooms having decent seating areas. The rooms could do with an update but are clean and comfortable.
There is a Pied Piper theme at the hotel. A good breakfast is included in room rates and there's a nice outdoor terrace. Parking is possible for an extra charge and wifi is included.
Click here for the latest prices.
Located in a historic, half-timbered house, Hotel La Principessa adds some extra atmosphere to its Old Town location not far from the Weser River.
Rooms range from single rooms to four-person suites with TVs, wifi and small fridge. Bigger rooms have seating areas and the suites have spa baths. Rooms are simple but tastefully decorated in an Italian style.
Breakfast is included. Parking can be requested.
Click here for the latest prices.
How To Get To Hameln
Hameln is not hard to get to. There are great roads, trains and buses.
If you are flying in, your best option is to fly to Hannover Airport. From here, you can take a direct train to Hameln which takes about an hour.
We drove to Hameln as part of exploring the Fairy Tale Road – a popular route in Germany through many sites in the Brothers Grimm tales.
You can hire a car to get you there by clicking here.
There are regular trains and buses here. You can find timetables and all your options here. Most trains are to and from Hannover and there are regular departures.
All of the Hameln attractions are easy to see on foot.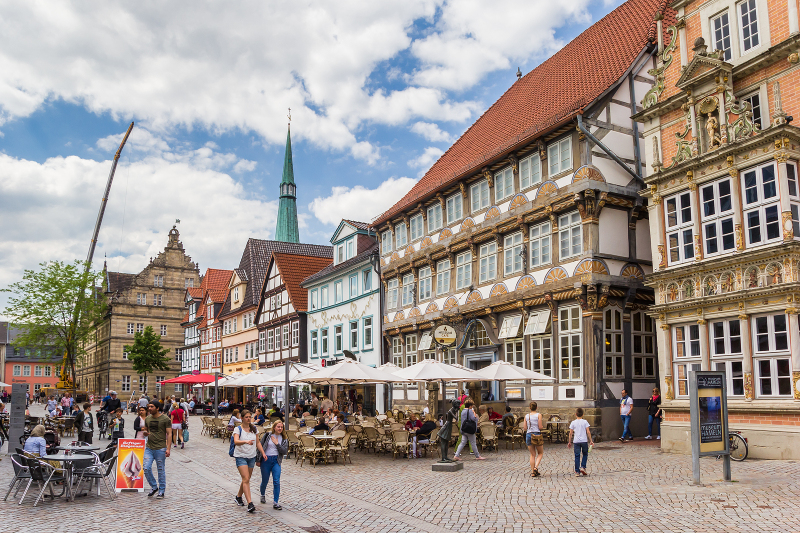 Hameln With Kids
Hameln is a great destination with kids. If they don't know the Pied Piper story yet, make sure you tell them (there's many versions to watch on YouTube) before you go.
The attractions are low key and very family friendly so Hameln makes a great outing.
Our kids loved looking for the rat tiles on the ground so we made that a competition which made their legs last longer.
While two of my kids are bilingual German/English, my 6 year old does not know any German and he still enjoyed the play. It's all fun 🙂
Final Words
I hope you find this full Hameln travel guide useful. Hameln is a fun stop and we enjoyed soaking up the city while learning more about the Pied Piper of Hamelin.
We visited Hameln on our way to Bremen. Read more about Bremen here or nearby Celle here. You can also read about Lübeck here and find all our guides to Northern Germany here.