Going to be in Germany in the lead up to Christmas?
Then there is one thing you must do and that's visit a Christmas market (or 11)!
German Christmas markets have a great repuation all over the world and for good reason. There really isn't anything more magical than walking around a great Christmas market, listening to carols, trying local foods and carrying a nice hot mug of Glühwein while looking at the stalls.
In fact, I think it may be my favorite activity in Germany and one I can't wait to do again soon. Especially being from Australia, there is something just so festive about the winter weather and the lights, sounds, smells and sights of a German Christmas market.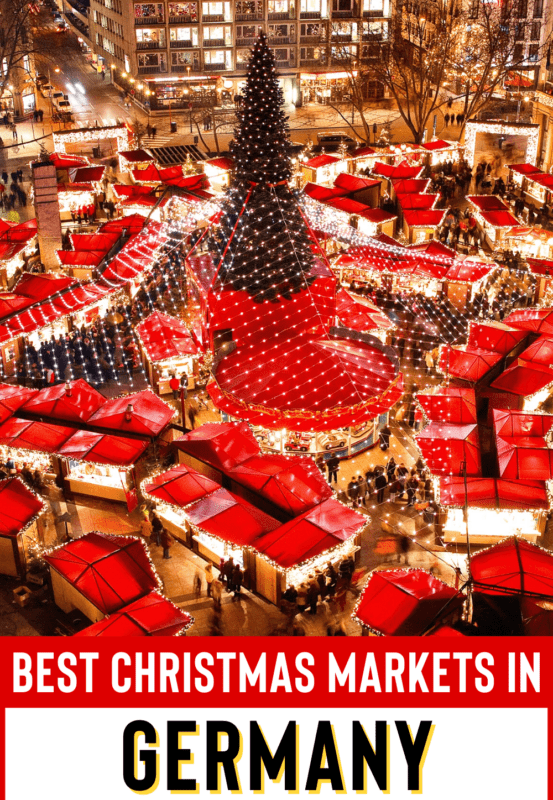 But don't take my word for it, make sure you visit at least one.
There are many, many Christmas markets in Germany, however, so your choices can feel overwhelming. To make it easier for you, I asked my blogging friends to help me come up with this list of all the top choices. From huge city Christmas markets to smaller affairs in villages, we have it all covered for you here.
So let's start – here are the top Germany Christmas markets!
Looking for other reasons to visit Germany at Christmas time? Find our guide to all the reasons why Germany is so special to visit in December here.
Traveling to Germany? Click here to download your free Germany Trip Planning checklist. We'll help you get ready for your trip! 
Best Christmas Markets In Germany
Ravenna Gorge Christmas Market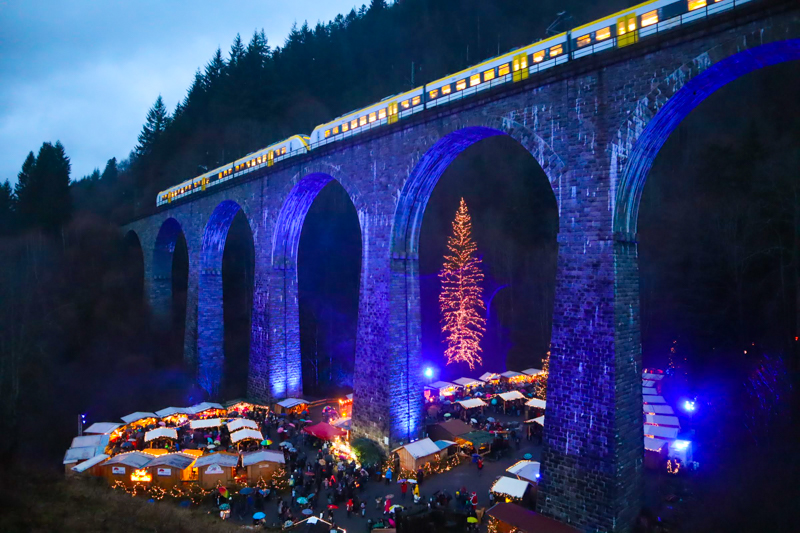 The Ravenna Gorge Christmas Market (Weihnachtsmarkt in der Ravennaschlucht) is located in the Black Forest region of Germany, not far from the city of Freiburg im Breisgau. It's completely unique because of its location directly underneath the 40-metre-high viaduct of the Devil's Valley Railway.
It's a truly magical sight with the usual delicious regional food and craft stalls, thousands of twinkling lights and when a train passes overhead, it's like something from a Harry Potter novel!
The market has around 40 stalls so isn't huge, but it has a great selection of local delicacies including sausages, game meat, organic fruit and chocolate, regional schnapps, and of course gluhwein.
It's worth noting the market is only open on Friday, Saturday and Sunday afternoons and evenings during Advent until the Sunday before Christmas. There is a small admission fee to enter the market and you can pre-purchase tickets online.
The market is located in the steep Ravenna Gorge so parking is extremely limited and must be pre-purchased. The best option is to visit is via one of the free regular shuttle buses from Hinterzarten and Himmelreich train stations, Titisee Kurhaus car park, or the Freiburg concert hall. Tickets are timed and can be purchased online when booking your market entry ticket.
While at the market, be sure to make time to walk up the short hill behind the market for an amazing birds-eye view of everything. If you're patient, you may even snap the perfect shot of a train passing overhead too!
The best options for accommodation near the Ravenna Gorge market are located in Freiburg.
Contributed by Kylie from Visiting Dordogne
Stuttgart Christmas Market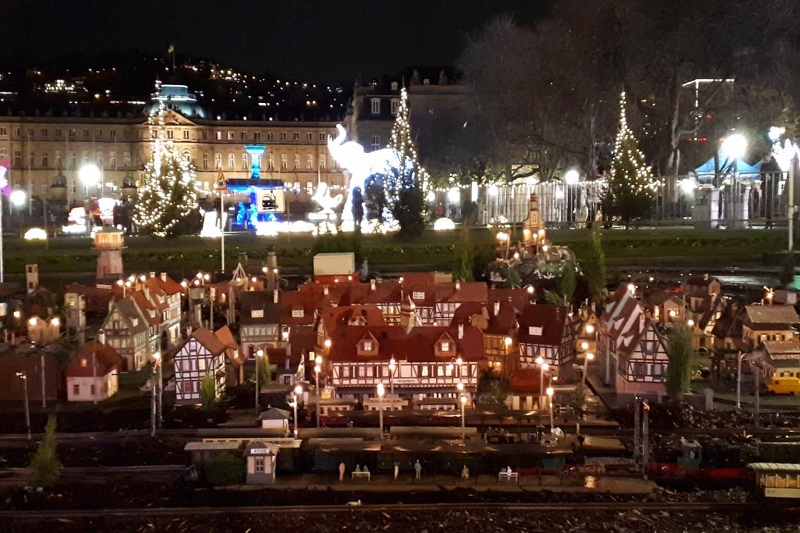 The Stuttgart Christmas Market isn't one of the most well-known Christmas Markets in Germany, but it's one of the oldest markets in Europe. There's been a Christmas market in Germany for over 300 years!
Held in the centre of town at the Schlossplatz, the Stuttgart Christmas Market also stretches to Schillerplatz and Marktplazt, as well as the streets in between.
Stuttgart's market is known for a few things that set it apart from other Christmas Markets in Germany: elaborately decorated rooftops, a giant advent calendar, large illuminations set on the lawn of the Schlossplatz and even a Finnish market.
There are over 300 wooden stalls with creatively decorated roofs. In fact, there's a competition each year for the best decorated rooftop and some of the rooftop decorations are elaborate.
On the windows of the Rathaus – City Hall – a large advent calendar is displayed starting on December 1st. Each day, a new window is opened to reveal a different coat of arms, representing the districts in Stuttgart.
There's also an outdoor skating rink, large illuminated displays on the grass in front of the Neues Schloss and a mini steam train village for kids to enjoy, which they can ride too! And, of course, you'll find other rides for kids, plenty of stalls serving gluwhein and other hot drinks and all kinds of unique crafts.
Stuttgart is also known for its Finnish market – the only one of its kind in Germany. Sip on hot glogg, or try flammkuchen!
Stuttgart is definitely a Christmas Market to visit, but it also makes a good base to visit other Christmas Markets nearby. The Ludwigsburg Baroque Christmas is a short train ride away and the Esslingen Medieval Christmas Market is one not to miss too!
The Christmas Market starts in late November and is open every day for the holiday season, ending on December 23.
Contributed by Erin from Wanderlust with Kids
Berlin Christmas Market
Looking for a festive and magical Christmas market to visit this holiday season? Then head to Berlin! The German capital is home to some of the best Christmas markets in the country, where you can find everything from traditional hand-crafted gifts to delicious mulled wine.
There are many different Christmas markets in Berlin, each with its own unique charm. Some of the most popular markets include the Charlottenburg Palace Christmas Market, the Winter World at Potsdamer Platz, and the Gendarmenmarkt Christmas Market.
At the Charlottenburg Palace market, there are more than 250 stalls selling delicious holiday snacks, hot mulled wine, and traditional souvenirs.
Winter World at Potsdamer Platz is a full-on Christmas wonderland, featuring a toboggan ride, ice skating, and plenty of stalls.
At Gendarmenmarkt, you'll find one of the city's most beautiful markets, with market stalls and live entertainment located in one of the city's prettiest squares.
Opening dates vary between markets, but Berlin Christmas Markets generally open in mid-November and close shortly after New Year's Day. Some of the smaller markets may only be open on weekends.
The Hilton Berlin, near Gendarmenmarkt, is a perfect hotel for a Berlin Christmas getaway. The hotel is steps away from the Gendarmenmarkt Christmas Market. Potsdamer Platz is also a short walk away.
Contributed by Sydney from A World in Reach
Goslar Christmas Market
The Christmas market in Goslar is definitely one of the most beautiful Christmas markets in all of Germany. It is not without reason that it ranks among the ten most beautiful Christmas markets in Germany almost every year.
Even if it is not one of the most visited Christmas markets in the country and a rather small market in general, it definitely is worth a trip to the Harz Mountains to visit this charming little Christmas market.
Matching the scenery of the small medieval town of Goslar, the Christmas market is held in a medieval style.
Fittingly, the Christmas market is always located in the town's medieval market square, surrounded by magnificent buildings. Also, in the rest of the city, you can find numerous old half-timbered houses and idyllic alleys, which seem to have hardly changed since past times.
If you visit the medieval Christmas market, in addition to the typical German Christmas treats offered here, you should undoubtedly taste the traditional medieval pastries, such as the flatbreads baked in a stone oven – it's worth it!
Every year, a small Christmas forest is constructed from real trees in the adjacent square. The trees are then decorated and illuminated for Christmas. A few small wooden huts are waiting for you in this forest, where you can enjoy typical German hot mulled wine and similar hot drinks. These will warm you up and contribute to the typical festive Christmas market atmosphere.
The Christmas market in Goslar takes place every year from the beginning of December until a few days after Christmas Eve.
Contributed by Vicki from Vickiviaja
Aachen Christmas Market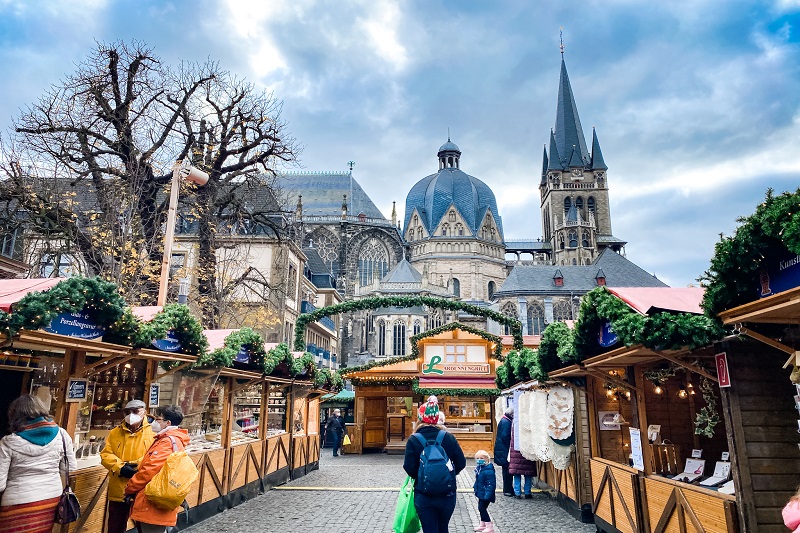 The Aachen Christmas Market, a small but mighty market, consistently ranks high among must-see Christmas markets each year. More than one million people venture out each holiday season to experience this iconic Christmas village that dates back to the 1970s, and it's easy to see why.
This market's setting—sandwiched between the stunning cathedral (go inside if you have time) and beautiful Rathaus (climb the stairs for an amazing view), is charming and just big enough that you can explore for a few hours without getting overwhelmed.
Keep an eye out—and follow your nose—for a special treat called printen; a local take on gingerbread that uses sugar beats as sweetener instead of honey. You'll find these holiday-spiced cookies everywhere to purchase (highly recommend the ones dipped in chocolate), including a giant 6-metre inflatable "printenmen" (like a gingerbread man) greeting visitors to the market.
Wash all that printen down at Hexenhof with some glüwein in a colorful boot mug. They come in an array of colors, making it an extra fun experience.
While this market lacks a big ferris wheel like other markets, Aachen has a couple carousels for kids, and plenty of treats to keep them occupied and having fun.
Aachen is located about an hour west of Cologne and Dusseldorf, and is easily reached by car or train. If you're arriving by car, use the Parkhaus Am Dom for easy access to the market. Go left directly out of the garage, then hang another left at the street and you'll see the market on your right.
The Aachen Christmas Market typically lasts for about four weeks, beginning mid-November and wrapping up just before Christmas.
Contributed by Jessica from JessicaLynnWrites
Leipzig Christmas Market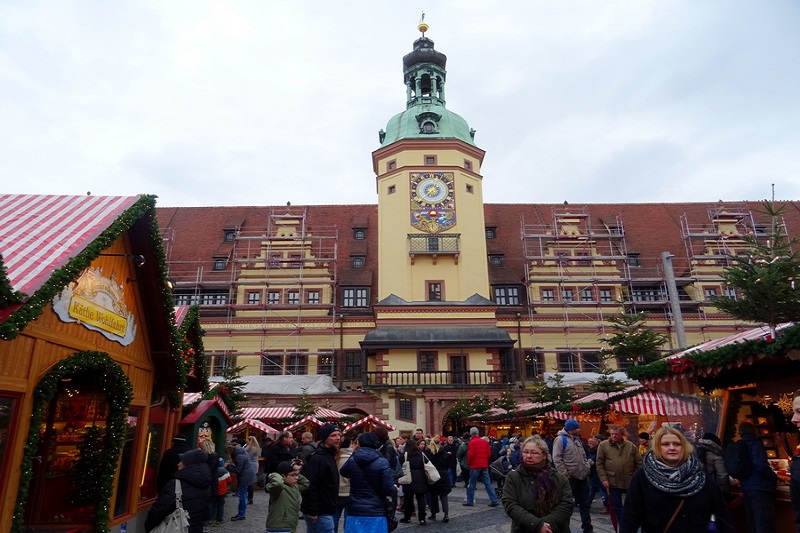 The Leipzig Christmas market is a popular one, though it tends to be overlooked by tourists in favor of more famous ones like Dresden or Nuremberg. It feels a bit more cozy compared to some of the more famous ones, but you should still expect a lot of people. Weekdays during the day will typically be a little less crowded than nighttime or weekends.
This Christmas market is one of the oldest in Germany, dating back to 1458. It's held in the old town on the main square called Marktplatz with the old town hall building as a gorgeous backdrop. Here, you'll find more than 250 stalls selling food, mulled wine, Christmas decorations, gifts, and many other items. It's also very kid friendly, so you'll find lots of non-alcoholic options for your children.
Adding to the festive atmosphere, once or twice a day you can watch a traditional music performance by trombone players on the balcony of the old town hall building. It's usually at 6pm, but there are other times on certain days of the week.
The Christmas market spills out to other streets near Marktplatz and even includes a medieval themed Christmas market. While these are technically separate markets from the main one, it all feels like one Christmas market spread out to different parts of the old town.
The Leipzig Christmas market typically starts the last week of November and runs until just before Christmas. Each day the market opens late in the morning and goes until the evening, usually closing around 9pm or 10pm. If you're looking for a place to stay, the Penta Hotel Leipzig is a great choice.
Contributed by Ali from Berlin Travel Tips
You can also read our full guide to visiting Leipzig here.
Munich Christmas Market
Munich is one of our favorite places to celebrate Christmas in Germany. In 2022, the markets will be open from November 22 to December 24. There are close to 20 Christmas markets throughout the city, but the main Christmas market is in Marienplatz, the town square. With such a large variety of markets, everyone is sure to find a favorite.
The Christmas market in Marienplatz dates to the 14th century and is often considered the most "traditional" of the Munich markets. The scene is exactly what you expect from a German Christmas market; a magnificent tree decorated with glittering white lights in front of the Gothic style Neues Rathaus (New Town Hall) while people huddle together among the various vendor stalls.
The square is covered with small booths offering every type of German food, drink, and trinkets imaginable. This market is known as the "Kripperlmarkt" (manger market) as there is everything you would need to create a nativity scene. It is typically the most crowded of the Munich Christmas Markets due to its central location and popularity with tourists.
For a market away from the crowds, head to the Residenz, the former royal palace of the Bavarian dukes. This Christmas market is set in a sheltered courtyard, creating an intimate experience for everyone.
This is the perfect place for families to escape the crowds, try some holiday treats, and listen to carolers. Due to its small size, it's quite easy to keep an eye on little ones.
Other markets in Munich worth a visit include Sendlinger Tor, the Chinese Tower, the Medieval Christmas market (Mittelaltermarkt), and the Haidhausen market.
Hotel am Viktualienmarkt offers a convenient and comfortable accommodation for those visiting the Munich Christmas Markets.
Contributed by Kirsten from MultigenerationalVacations
Dresden Christmas Market
There are several Christmas Markets in Dresden, but Striezelmarkt is, without doubt, the most important one since its existence dates back to the 15th century, making it the oldest in Germany. It takes place in Altmarkt square, in the historic centre of the city and it lasts from the last week of November until Christmas Eve.
As the largest market in Eastern Germany, Striezelmarkt has around 240 stalls that sell a wide array of mainly handmade products like wooden Christmas tree ornaments, candle pyramids, nutcrackers, skillfully painted glass globes, or toys.
The food and drinks on offer is also generous and it includes bratwursts (German sausages usually made from pork), gluhwein (mulled wine), gingerbread, and the famous Stollen, a traditional cake-like bread made with nuts, dried or candied fruits, spices and more often than not marzipan. An interesting sweet is the Pflaumentoffel, an edible chimney sweeping figurine made from plums, that is usually eaten after Christmas.
Some of the highlights of the Striezelmarkt are the almost 15 metre high Christmas candle pyramid, the Stollen Festival, the Ferris wheel, and the Schwibbogen, which is the biggest walkable wooden Christmas arch in the world. Also, it's worth mentioning that most of the stalls are beautifully decorated with moving mechanical figures, sitting on their rooftops. Kids will definitely love them!
Since the Striezelmarkt Christmas Market in Dresden is very popular with locals and tourists alike, it is better to visit during the week or early in the morning in order to avoid big crowds.
Contributed by Andreea from Andoreia
You can also read our full guide to visiting Dresden here.
Cologne Christmas Market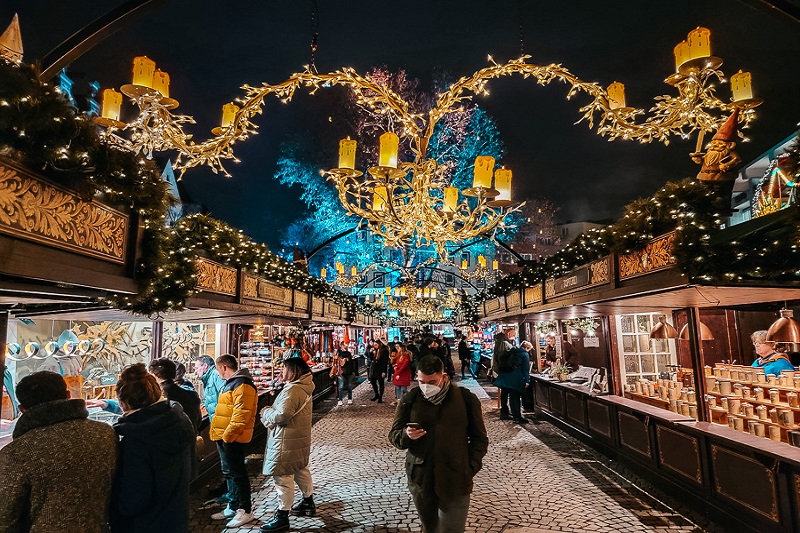 The Cologne Christmas Market is one of the absolute best Christmas markets in Germany! In fact, the city hosts 7 different markets, each of them with their own distinct and very prevalent theming.
For example, the Altmarkt and Heumarkt (two markets that are right by each other) have a woodland theme, so stalls resemble log cabins, bar tables are tree stumps, and gnomes and woodland scenes adorn all the stalls, and, of course, the mugs have a variety of gnomes on them.
In contrast, the Angel Market has white booths with different pictures of angels, white lights hanging from the trees, mugs with angels, and women dressed up like angels walking around the market for photo ops with guests (pictures are free). This strong theming throughout the different markets in Cologne make this city's Christmas markets so charming and unique!
While all of the markets deserve a visit during both daytime and nighttime hours, the Dom market in particular is absolutely stunning at night. A massive Christmas tree stands tall in the middle of the market, with a canopy net of lights extending from the tree over the tops of the surrounding stalls. Nighttime concerts are held here, adding to the ambiance. Fittingly, this market is set up in the shadow of the Cologne Cathedral, the third tallest church in the world.
The markets run from the last week of November to right before Christmas. Markets vary in size, but none are larger than the Dom Market which hosts over 150 stalls. The Hotel Sion is a nice, affordable, and centrally located place to stay in Cologne.
Contributed by Stephanie from TheUnknownEnthusiast
Hamburg Christmas Market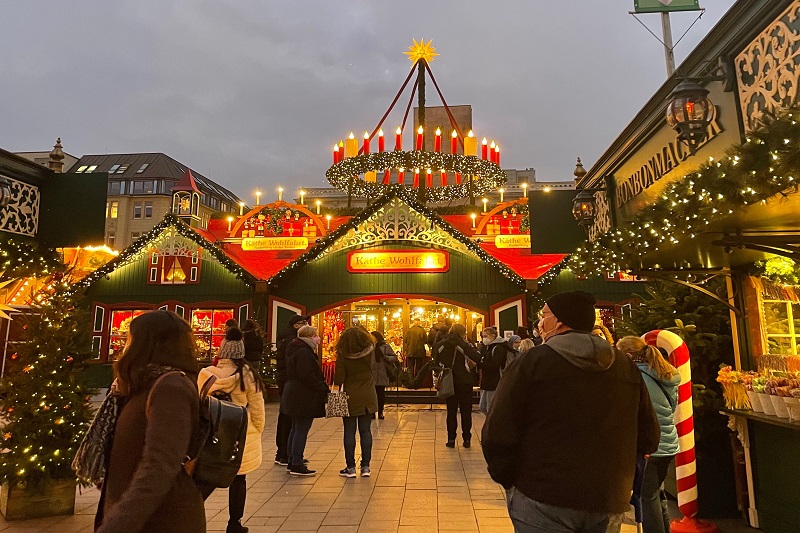 The Rathausmarkt Christmas Market is renowned as Hamburg's most beautiful due to its location in the shadows of the Rathaus town hall. The over one hundred stalls range from freshly made Gluhwein to stalls selling miniature statues. It truly is a unique market and one you'll absolutely love walking around.
The market has been held annually, during the months of November and December, for the past 12 years and attracts around two million visitors anually. In the market itself, there is a beautiful illuminated archway and multiple christmas trees that are perfect for that special photo and will epitomise the beauty of the market.
In order to experience the festivities of the Rathausmarkt Christmas Market, we'd recommend visiting in the evening to see the beautiful array of lights on display around each hut. To make your visit even more festive, you should definitely grab yourself a cup of gluhwein or hot chocolate to fuel your walk round.
To make as much use of your time in Hamburg and at Rathausmarkt Christmas Market, we'd recommend staying at Motel One Hamburg-Fleetinsel. The main reason is the location where it's slap bang in the middle of the city, near to the main bus and train stations, and just a stone throw away from the Christmas market.
Overall, Hamburg's Rathausmarkt is one of the prettiest Christmas markets in the whole of Europe and is definitely one not to miss!
Contributed by Alex and Leah from Alex and Leah on Tour
Frankfurt Christmas Market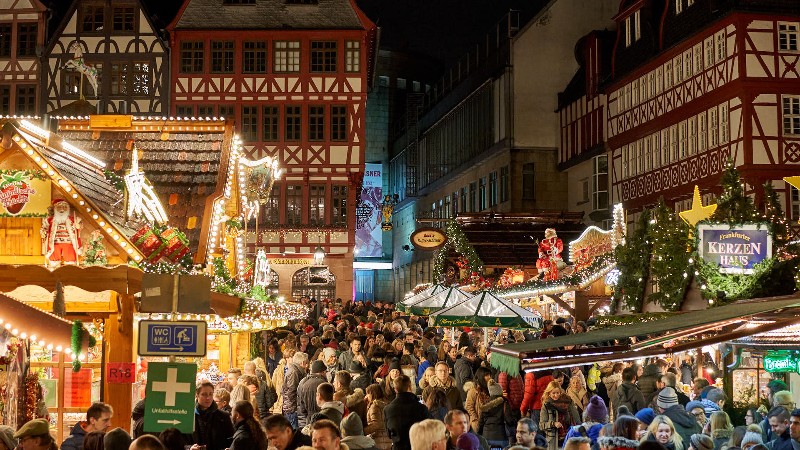 One of the best and also oldest Christmas Markets in Germany that you should not miss is the Frankfurt Christmas Market.
The oldest records that mention it date back to 1393. Back then, it was called a "December market", and people came not just for the market but also for religious plays which took place in front of the town hall.
Today, 1-2 million people visit the 200 stalls at the Frankfurt Christmas Market every year. One of the best places to start your visit is at Römerberg. This square is surrounded by half-timbered houses, setting the perfect background for the stalls and a merry-go-round. It's a great location to get food and drinks and maybe try mulled wine or hot Apfelwein, a regional speciality.
Apfelwein is a local wine made from apples that is popular in Frankfurt. At the Christmas market, locals like to drink it hot and spiced with cinnamon, ginger, lemon and cloves.
Before moving to the next location, check out the Christmas tree in front of the town hall. You can see it from everywhere in the square, and in some years, the tree is taller than 30 metres.
Close to Römerberg, you can find the Paulsplatz. On this square, many stalls specialise in handicrafts, so it's a great location to buy Christmas gifts.
Make sure to also stop by "Rosa Weihnacht", Pink Christmas. You can find this LGBTQ+ themed Christmas market on Friedrich-Stolte-Platz, a square close to the main areas. It's an excellent location for food and drinks, and it's also worth taking a look at for the colours and decorations.
The Frankfurt Christmas Market is open every day starting at the end of November until one or two days before Christmas.
Contributed by Daniel and Ilona from Top Travel Sights
You can also read our full guide to visiting Frankfurt here.
Map Of The Best German Christmas Markets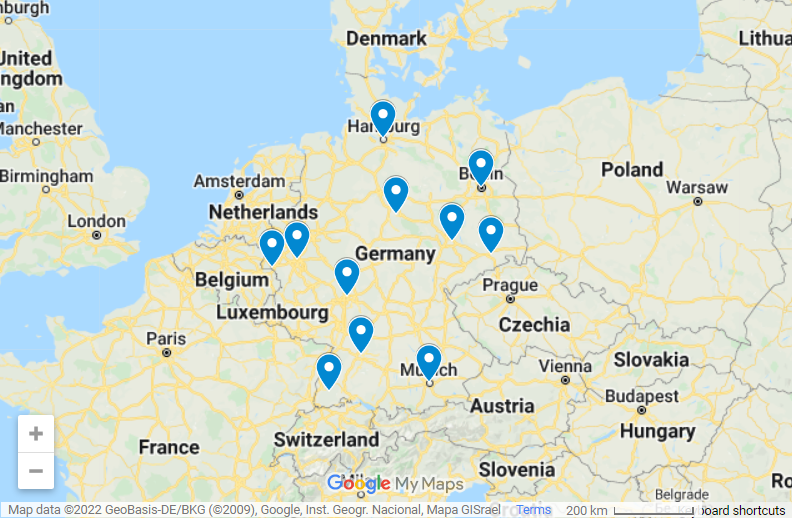 Final Words
I hope you have found this list helpful and you're ready to enjoy Germany at Christmas time. Nothing beats a German Christmas market and I hope you make it to one soon!
You can find our guide to all the top places to visit in Germany at Christmas time here.
Looking for atmospheric Old Towns to visit in Germany? Find our list of the most beautiful Old Towns here. Looking for vibrant and beautiful cities? Find our list of the most beautiful cities here. Want to learn more about planning your trip to Germany? Click here to find all our guides to planning your German adventure.