The absolute #1 reason why I love Germany and keep going back so often is that it has the most beautiful Old Towns in the world. As a sucker for history and pretty places where I could sit for hours, the most beautiful towns in Germany cannot be beat!
There are so many gorgeous Medieval towns in Germany where I feel like I am walking back in time. I absolutely love visiting these Old Towns and always fit in as many as I can. In fact, last year before heading back to Germany, I searched online for articles exactly like this one and basically planned our itinerary specifically to visit all the towns listed.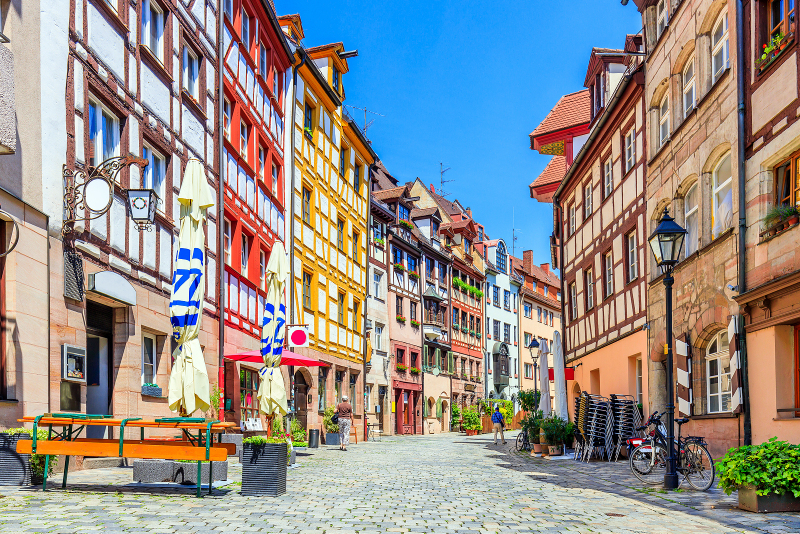 I feel it's my life mission to find all the most picturesque towns in Germany and share them with you here. While I haven't been to all of the towns and villages in Germany (yet!), I have been to a lot. It was hard to narrow my list down to just 12 most beautiful Old Towns in Germany, but I did my best and here they are!
So what is the prettiest town in Germany? I vote for Quedlinburg. This is one of the best preserved Medieval and Renaissance towns in Europe (according to UNESCO) with over 1300 preserved half-timbered houses and Castle Hill which dates back to the 10th century. There is so much to love and enjoy in Quedlinburg.
I have put my #1 choice of the prettiest towns in Germany first and then somewhat put them in geographical order. There is a map at the bottom so you can work out which of these towns are close to the areas you are visiting in Germany.
As an absolute Germany Old Town addict, I have mostly rated these German towns to visit based on how beautiful the Old Town is rather than the town or city as a whole.
I hope this helps you work out which are the best towns in Germany to visit for you. You really can't go wrong visiting any of the fairy-tale towns in Germany on this list.
Traveling to Germany? Click here to download your free Germany Trip Planning checklist. We'll help you get ready for your trip! 
Most Beautiful Old Towns In Germany
1. Quedlinburg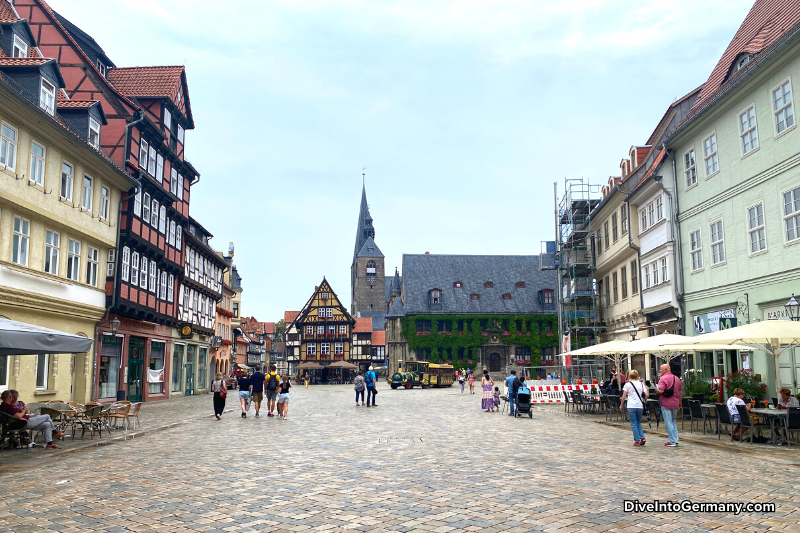 Quedlinburg is my pick for the most beautiful town in Germany thanks to its incredibly picturesque and charming Old Town. With over 1300 well-preserved half-timbered buildings, it's a delight to wander through its Medieval and Renaissance architecture. The town's Old Town is considered one of the best-preserved in Europe and has been recognized by UNESCO as a World Heritage site.
The town's history dates back to the 9th century. It became a significant center during the reign of King Henry I who is still buried in the town. Quedlinburg was an important stronghold and a place of political importance for Saxon Emperors. The town flourished during the 10th to 12th centuries, leaving behind a wealth of historic buildings and landmarks.
Personally, I find Quedlinburg's Old Town particularly captivating. As an Old Town addict, I have visited many such towns throughout Germany, but Quedlinburg stands out as my favorite. I really did feel like I was walking back in time as I walked into this town. The Rathaus (Town Hall) with its ivy-covered facade and the Market Church Of St. Benedict are just a few examples of the gorgeous sights you'll find here.
One of the reasons why Quedlinburg's Old Town is considered one of the most beautiful German towns is its vast number of well-preserved half-timbered houses. These buildings, constructed during an economic boom in the 17th and 18th centuries, showcase unique architectural styles that originated in Quedlinburg. It's a joy for any architecture lover to explore the intricate designs and details of these structures and you'll definitely feel like you have entered your favorite fairy tale as you walk around.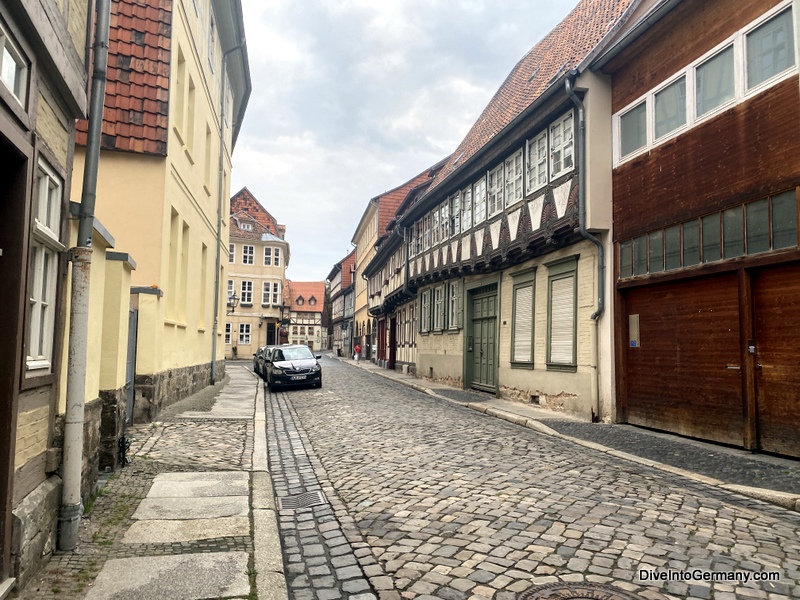 What makes Quedlinburg even more special is its relatively calm and uncrowded atmosphere. Even during peak seasons, the town remains a tranquil and idyllic destination. During my visit in August, I was pleasantly surprised by the lack of crowds and often felt like I had this Old Town to myself!
All up, Quedlinburg's Old Town is definitely one for the bucket list if you want to step back in time, and I highly recommend adding it to your travel itinerary.
Read more about visiting Quedlinburg here.
2. Celle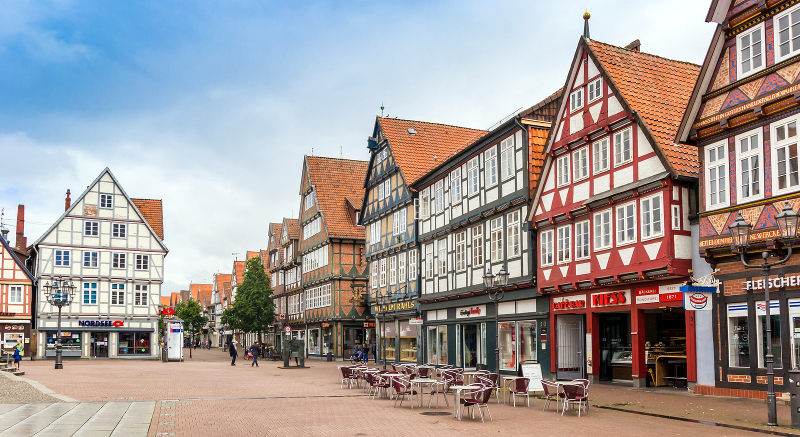 Celle is another of the Old Towns I absolutely loved in Germany that also seemed relatively ignored. Located in Lower Saxony, this is definitely one of the cutest towns in Germany with a super charming and historic Old Town. If you love fairy-tale half timbered houses, this is another of the must see towns in Germany with over 400 half-timbered houses some of which date back to the 16th century.
The history of Celle can be traced to 1292, and its development as a residential city for the dukes of Brunswick-Lüneburg has imprinted a regal air to its layout and architecture. Thankfully spared from war destruction, Celle looks much as it would have centuries ago, offering a beautifully preserved snippet of Medieval German life.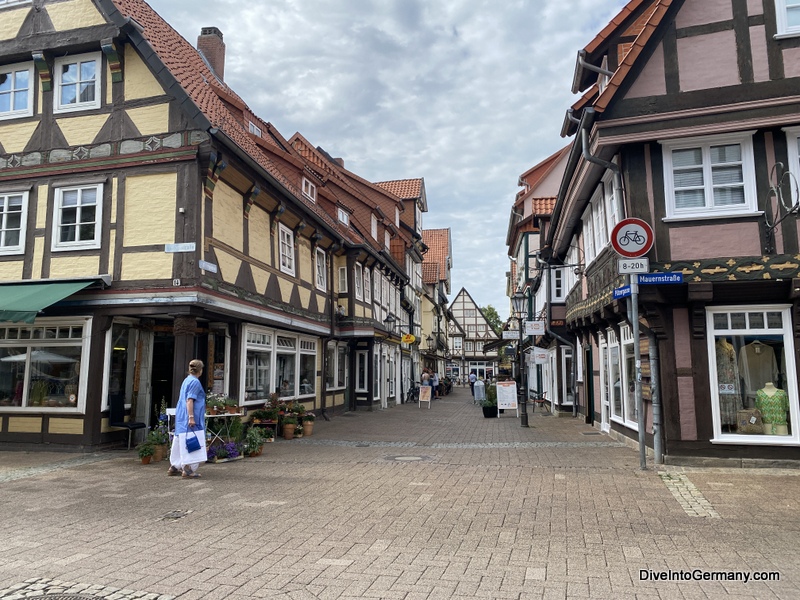 When I strolled through Celle's alleyways, I loved the perfectly maintained timber-framed houses and how well presented this town is. The ducal Celle Castle, with its blend of Renaissance and Baroque styles, adds an aristocratic flavor to the town's predominantly Medieval vibe. Right next to the Old Town, between this and the beauty of the Old Town, you won't have any doubt that you're in one of the most beautiful towns in Germany.
Make sure you walk around again at dusk. It's truly magical watching the half-timbered houses, Celle Castle and the churches glow in the soft light. It's definitely right up the list with Quedlinburg for me as one of the best towns in Germany for tourists.
Read more about visiting Celle here.
3. Lübeck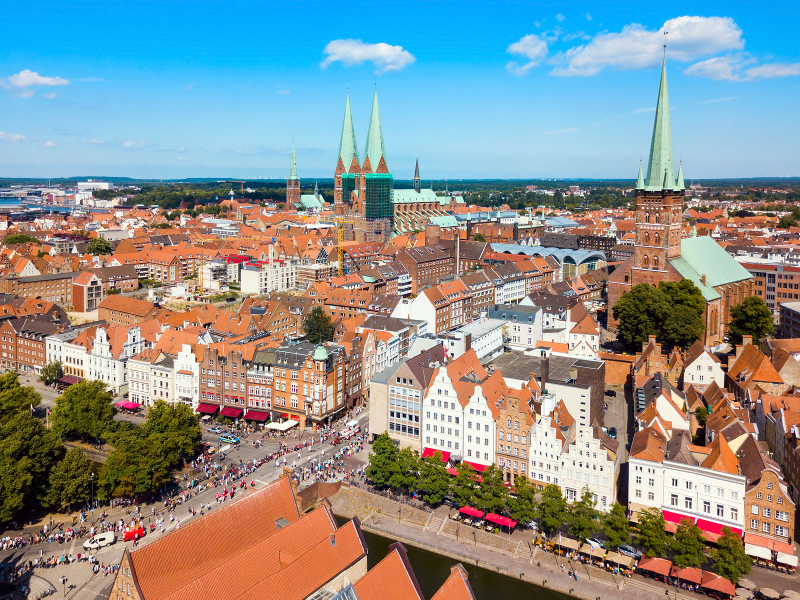 The first time I saw a photo of Lübeck, I knew I had to visit. This amazing UNESCO-listed Old Town is on an island separated from the rest of Lübeck by the Trave River. This adds to how scenic a city it is. In fact, I recommend you don't just walk through the Old Town but around its edges by the river. Once you do that, you'll see why it deserves to be on this list of most picturesque villages and towns in Germany.
Once the capital of the Hanseatic League, Lübeck has a rich maritime heritage. It was established in the 12th century and grew to be a pivotal trade center in northern Europe. This is part of why the Old Town is so nice to wander today. Plenty of affluent, ornate buildings were built here. Walking along the cobblestone streets, it's the blend of Gothic, Renaissance, and Baroque architecture that I really love about this one of the towns in northern Germany.
The best way to enter this Old Town is through the Holsten Gate which was originally built in 1464. This gets you in the Old Town mood which is further enhanced by the spires of the city's churches punctuating the skyline.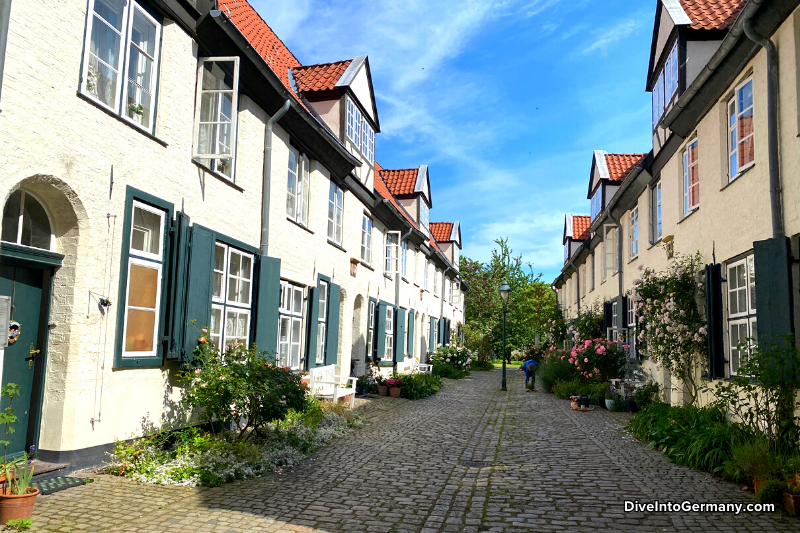 What sets Lübeck apart from many other of these cute towns in Germany is the mingling of the architecture and history with a warm, lived-in feel. The famous marzipan treats, the Hidden Courtyards and the antiques and handcraft wares displayed in small boutiques contribute to a vibrant, yet laid-back atmosphere.
If you can make it to northern German, don't miss Lübeck.
Read more about visiting Lübeck here.
4. Bremen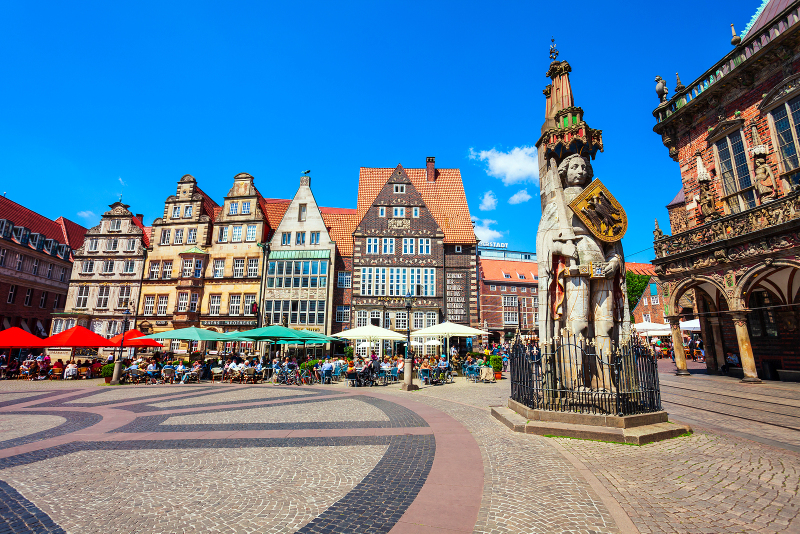 During my Old Town hopping tour through Germany, Bremen's Old Town definitely stood out as one of the best towns to visit in Germany. History here is not just present; it is vibrantly alive. Bremen, over a thousand years old was once a member of the medieval Hanseatic League. It embodies its rich past in its Old Town.
Marktplatz, the epicenter of Bremen's Old Town, is like stepping into a medieval festival ground that never ended. The Gothic town hall stands as a testament to Bremen's prosperity and centuries-old civic pride. This, alongside the statue of Roland and the UNESCO-protected Bremen City Hall, anchors the historical and architectural importance of the city. It's the perfect place to start your Old Town wander or to finish it with a meal and a glass of wine.
However, the most charming slice of Bremen is definitely in the Schnoor quarter. I absolutely loved exploring this neighborhood of winding lanes and small houses dating back to the 15th and 16th centuries. It was raining when I visited which actually added to its charm as I felt like I had the area to myself. There are shops and quaint cafes, but it's also obvious that this is an area where people live. It's not been taken over by tourists.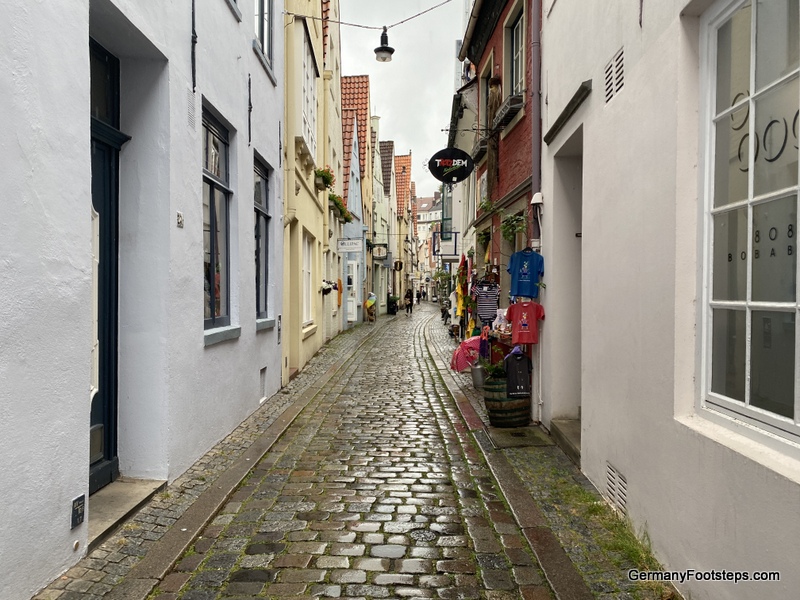 The Bottcherstrasse, just a stone's throw away, is a 100 metre long medieval lane which showcases a mixture of architecture and museums. There is also a pretty riverside walk.
It's really this mixture of styles and areas which makes Bremen's Old Town stand out among the others.
Read more about visiting Bremen here.
5. Bamberg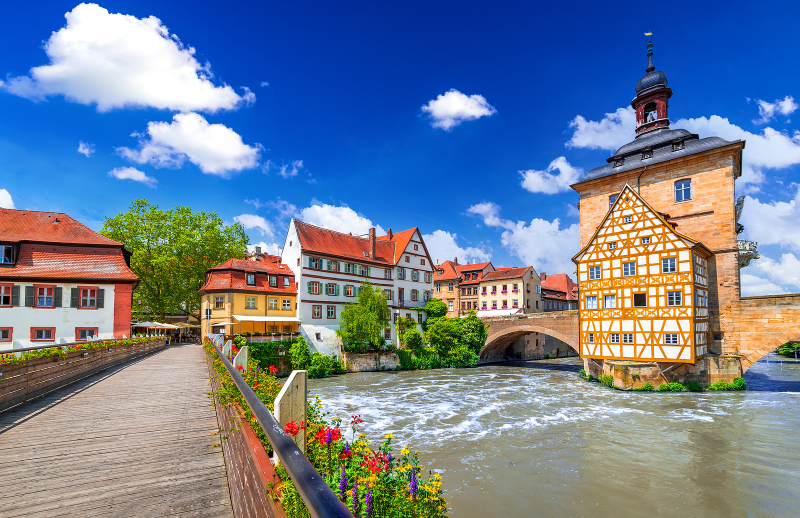 If you've spent much time looking through photos of quaint towns in Germany, you have probably seen Bamberg's iconic Old Town Hall (Altes Rathaus) seemingly floating above the Regnitz River. It's incredibly picturesque and the main reason why I think that Bamberg deserves to make this list of the most beautiful Old Towns in Germany.
However, there is more to Bamberg than this beautiful building. Bamberg largely escaped damage in World War II and was crowned as a UNESCO World Heritage Site thanks to its cultural significance. The whole Old Town area is beautifully authentic with Bamberg's charm saturating its well-preserved buildings, its ancient streets, and its local brews—especially the town's unique smoky beer which adds another layer to the sensory experience of place.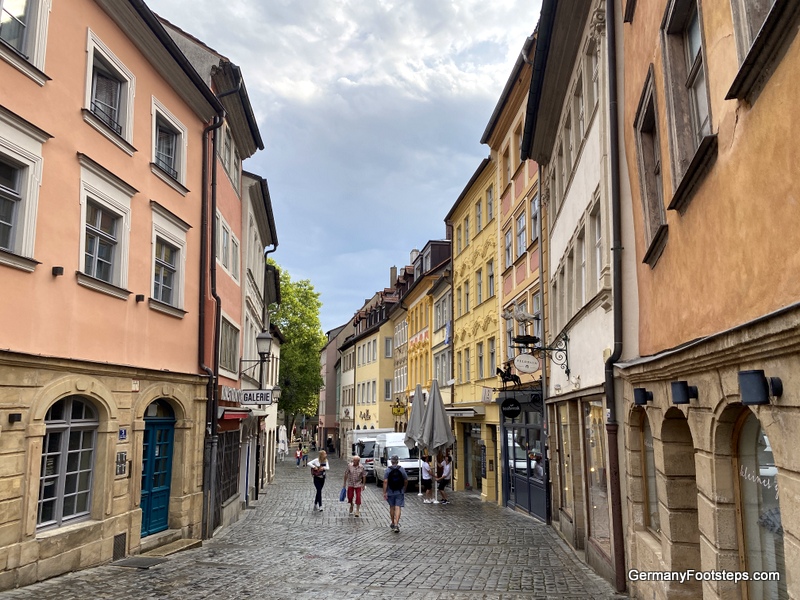 To experience why this is one of the best medieval towns in Germany, start your wandering at the 11th-century Bamberg Cathedral, with its four imposing towers, and through the Old Town down the Old Town Hall with its remarkable frescoes. A lot of the charm of this town comes from wandering and soaking it all in.
Try to visit on a clear day if you can. I have visited Bamberg twice. The second time it was raining and it was much harder to soak up the charm or enjoy my visit.
Read more about visiting Bamberg here.
6. Nuremberg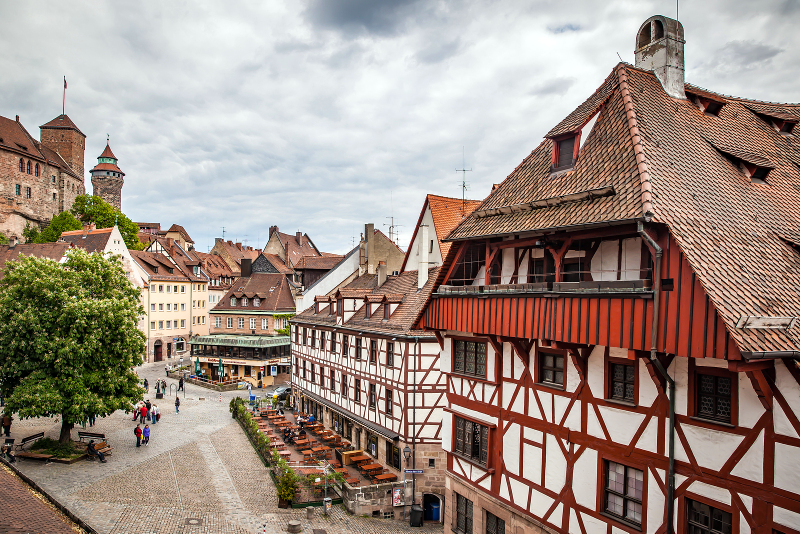 Nuremberg, or Nürnberg as the locals call it, is the second biggest city in Bavaria. Despite this, it often seems to be ignored by travelers who are quick to head to Rothenburg (coming up!) or elsewhere instead. However, Nuremberg offers a great blend of history, culture and picturesque beauty. From the moment I arrived, I was captivated by the enchanting Old Town.
The history of Nuremberg is long and fascinating. It was once the unofficial capital of the Holy Roman Empire and home to German Kings. The city thrived during the Middle Ages resulting in the construction of magnificent buildings, stunning churches and the iconic Kaiserburg (or Imperial Castle). Walking through the Old Town, I couldn't help but feel transported back in time as I admired the perfectly preserved half-timbered houses, intricate carvings, and ancient city walls.
This is extra amazing when you consider most of Nuremberg was destroyed in World War II. It has been restored well using original stones.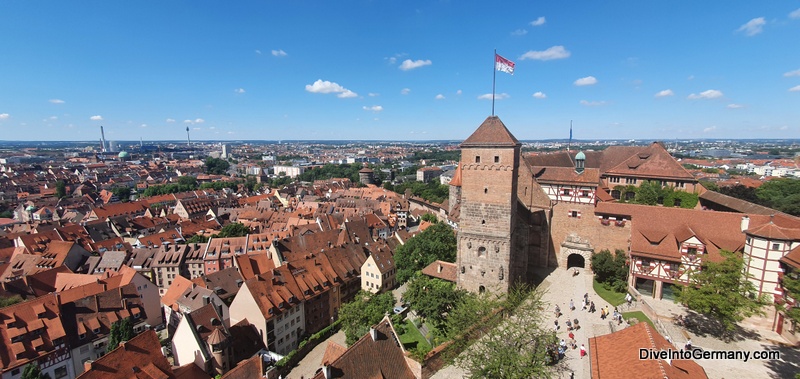 But what sets Nuremberg apart, and makes its Old Town truly exceptional, is its unique atmosphere. The narrow cobblestone streets, the bustling markets and the vibrant colors create an ambiance that is both charming and lively. Don't miss the delightful Weißgerbergasse, a street lined with stunning Medieval houses, or the Hauptmarkt, a bustling square that is home to the famous Nuremberg Christmas Market.
It's also quite a large Old Town with many museums and beautiful spots to explore. And the sights are not just above the ground – there are many underground cellars and pathways to explore too.
Nuremberg's Old Town definitely makes it one of the best places to visit in Germany especially if you want many things to do while you are soaking it all in.
Read more about visiting Nuremberg here.
7. Rothenburg Ob Der Tauber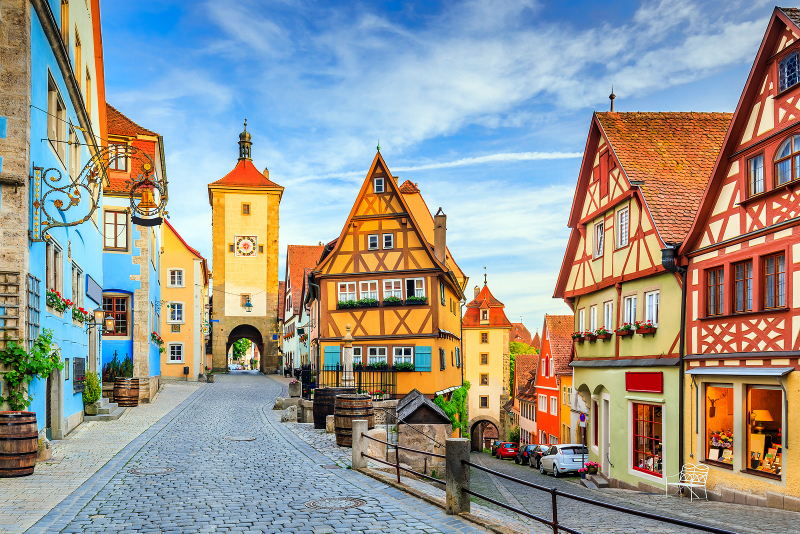 Rothenburg Ob Der Tauber is an enchanting fairytale town nestled in the heart of Bavaria. Its picturesque Old Town is a sight to behold with its half-timbered houses, flower boxes, and charming patrician buildings. Stepping into Rothenburg feels like stepping into a picture, and the photo above may be the most photographed Old Town street in Germany.
The town's history dates back to the Middle Ages when Rothenburg Castle was built in the 11th century. Over the centuries, Rothenburg flourished as an imperial city and its defensive system of over 40 towers and walls were constructed. However, after suffering from the departure of the Jewish community and the ravages of war and plague, Rothenburg fell into decline.
The good news is that this helped the town keep its 17th century appearance, and today, it's been lovingly restored into one of the most famous towns in Germany.
Personally, I found exploring Rothenburg Ob Der Tauber feels like stepping into a fairy tale. The narrow cobblestone streets, the cozy cafes, and the medieval charm create an ambiance that is truly magical.
Walking along the ancient city walls provides great views of the surrounding countryside, and climbing the Town Hall Tower offers a unique perspective of the town. We walked the walls early in the morning when not many people were about, and it was extra special.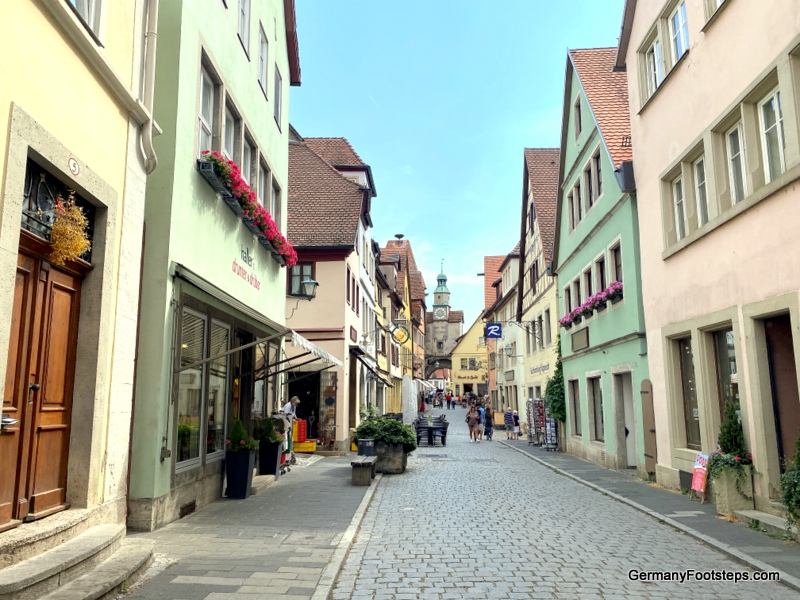 What sets Rothenburg Ob Der Tauber apart is a combination of how gorgeous this town is and its charming atmosphere. Every corner you turn reveals a new picturesque view, be it the iconic Plönlein with its crooked house or the majestic Jakobskirche and its famous Altar of the Holy Blood.
The biggest drawback is that this town is popular. It's my husband's #1 of the best German towns to visit, but it probably doesn't make my top 5 because it is busy and felt more touristy than lived in. However, it's not as overrun as you may imagine especially if you can stay overnight. We last visited in August, and it was still possible to feel like we had parts of the town to ourselves. I was even able to get photos of the scene above without people in it.
So definitely don't let its popularity stop you, but also try to visit some of the other quaint towns in Germany on this list as there is something extra special about visiting the towns that aren't so popular.
Read more about visiting Rothenburg here.
8. Dinkelsbühl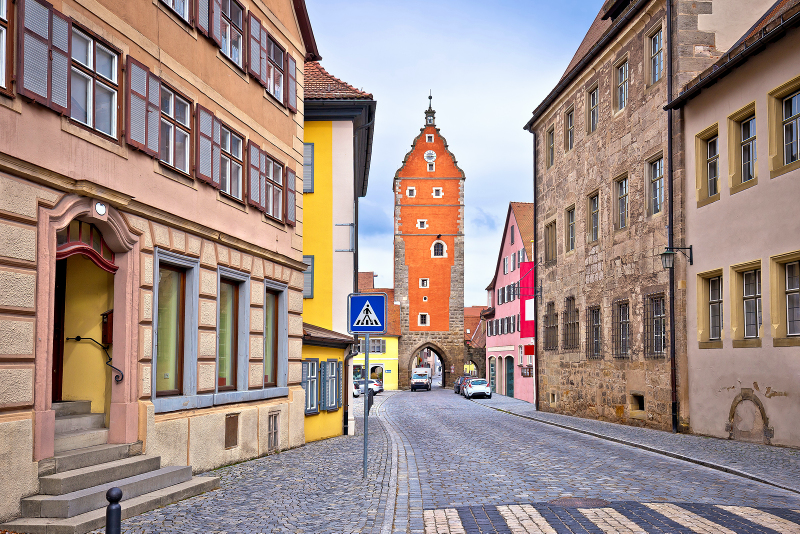 Located in Bavaria not far from Rothenburg, Dinkelsbühl is truly a hidden gem that has a fabulous Old Town made for wandering. Stepping into this enchanting place transported me back in time. The town's rich history dates back to the 8th century when it served as a residence for Carolingian kings. Its central location made it a significant intersection for trade routes.
What sets Dinkelsbühl apart, though, is its remarkably well-preserved Old Town. Dinkelsbühl was spared significant damage during the Thirty Years War and World War II. As a result, the original buildings from the 15th and 16th centuries still stand proudly today. Walking through its narrow, winding streets, I couldn't help but feel like I was in a fairytale village.
The Marktplatz and Weinmarkt, with their colorful gabled buildings are definitely places to head. The Gothic Hall Church, Münster St Georg, is another must-see attraction with its intricate design and stunning art.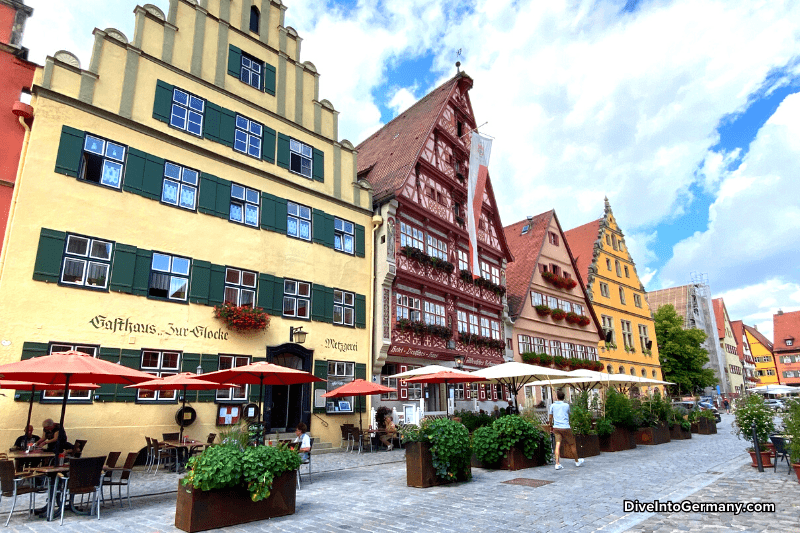 Dinkelsbühl's charm extends beyond its historical significance. The town's peaceful ambiance and the absence of tourist crowds allowed me to really enjoy walking around this Old Town. In fact, it was shocking to me how people free this town felt in August.
You can easily visit here as part of a bigger exploration of Bavaria or as a half day trip from Rothenburg. Don't miss it!
Read more about visiting Dinkelsbühl here.
9. Bacharach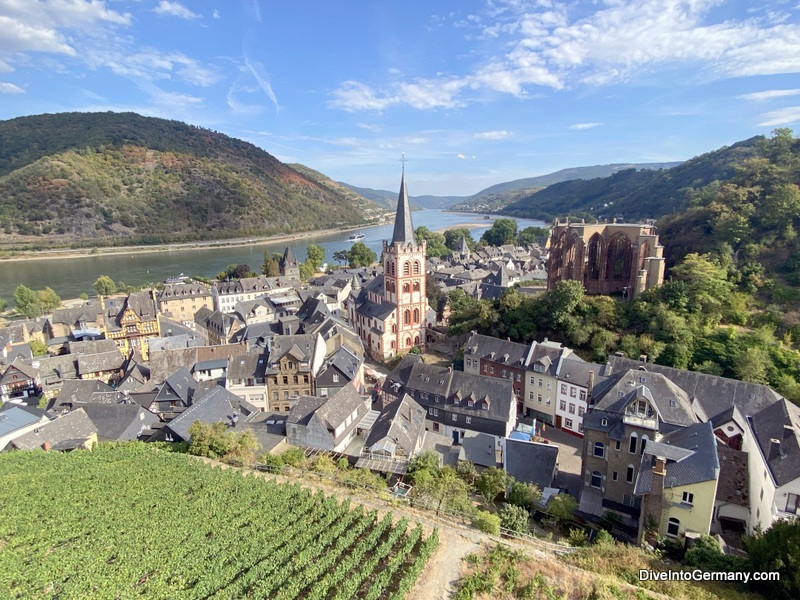 The Rhine Valley offers more than wine with some of the nicest towns in Germany. Bacharach is my pick for the Rhine Valley town with the best Old Town.
Its picturesque Old Town is home to many half-timbered buildings and Medieval walls. It's a smaller town set between hills and the river which is made for exploring by foot. Bacharach is an absolute gem.
The history of Bacharach dates back centuries, with traces of its existence reaching as far as the 7th century. It was under the control of the Archbishops of Cologne in the 11th century and experienced periods of prosperity as a vital trade and toll point. Unfortunately, it also endured hardship during wars, including the Thirty Years' War and the Nine Years' War, but its resilience is evident in the preservation of its buildings and monuments.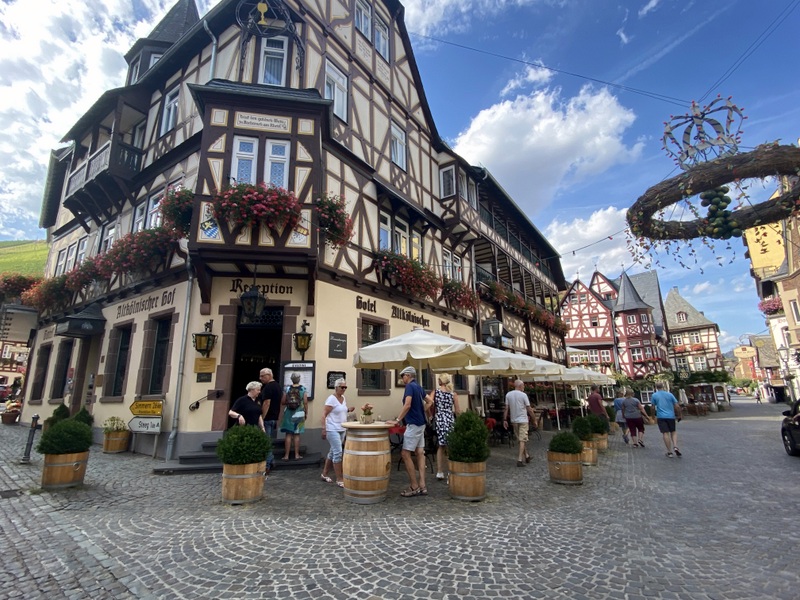 It's a charming town and there's nothing better than having a glass of the local wine while looking out over crooked half-timbered houses. In addition to walking round the town itself, walk to the Postenturm (Post Tower) just up the hill for great views over the town.
Bacharach is one of the best medieval towns in Germany and truly deserving to be on this list. It can be busy during the day time, but stay for dinner and you may feel like you have it to yourself.
Read more about visiting Bacharach here.
10. Cochem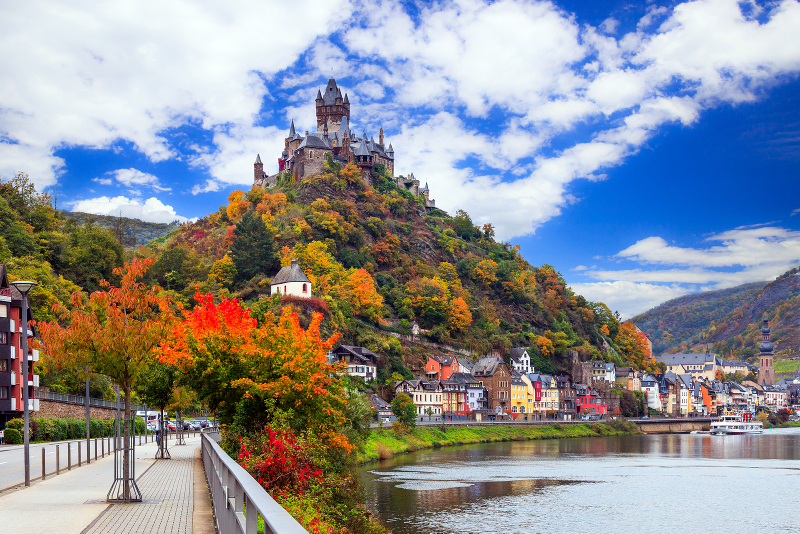 Cochem, a picturesque town nestled between a hill and the Moselle River in western Germany, is truly gorgeous with a special allure that sets it apart from the other best old towns in Germany in this list. It looks just like the photo above so there's no way you won't love it. 🙂
Steeped in history, Cochem dates back to Celtic and Roman times with the first official mention of its existence in 866. The town flourished during the Middle Ages, obtaining town rights in 1332 and constructing impressive fortifications, some of which still stand today. Cochem's highlight is definitely its Old Town, home to half-timbered houses, Medieval walls and charming cobblestone streets.
Cochem is another fairy-tale village with a great atmosphere. Even when it's busy, it still oozes charm, and it's not that hard to escape the crowds. The central Marktplatz with its Baroque town hall, Medieval stone clock tower and picturesque fountain exudes old-world charm. It's impossible not to love exploring Cochem.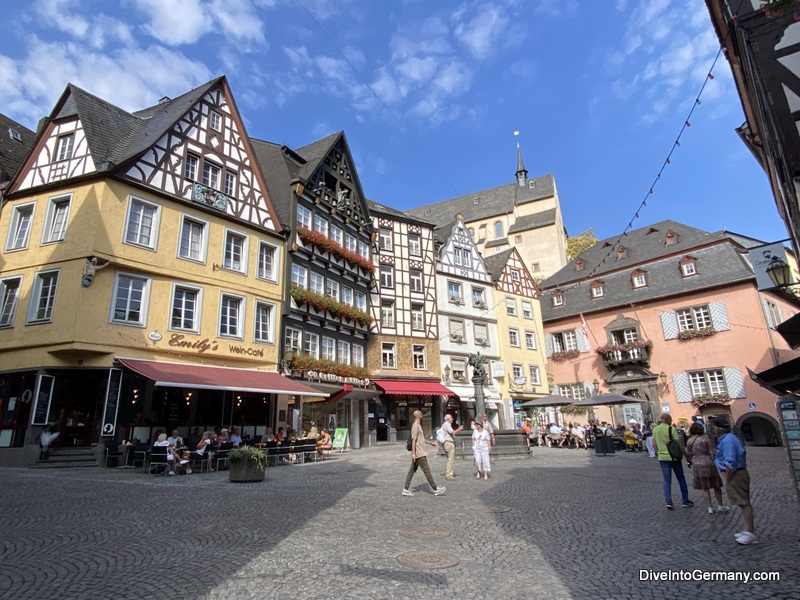 To add to its charm is the castle, Reichsburg (Imperial Castle), perched atop a hill overlooking the town. Originally built in the 11th century and rebuilt in the 19th century, the castle adds to how beautiful and atmospheric this town is. Put your walking shoes on for the walk up and you'll be rewarded with great views of the area.
Cochem is in the Moselle Valley, famous for its wines. One of the best ways to enjoy the ambiance of this town is with a glass of the local drop in one of the many picturesque locations in the Old Town.
Cochem is definitely one of the Old Towns I most clearly remember thanks to just how beautiful this whole area is. While some of the other Old Towns on this list would beat it for color and size of their Old Towns, it has a charm all of its own. If you are going anywhere near the Rhine or Moselle Valleys in Germany, make sure you stop here.
Read more about visiting Cochem here.
11. Trier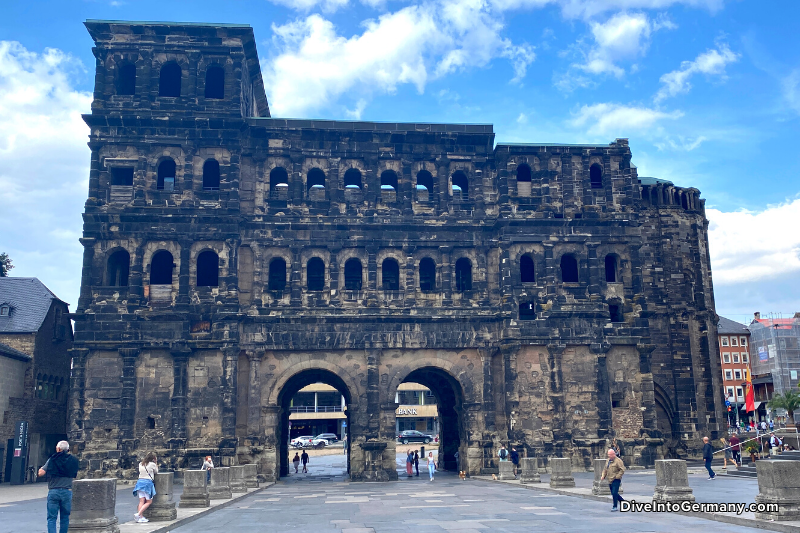 Trier is an incredible city with a rich history and a vibrant atmosphere. Being Germany's oldest city, it is a treasure trove of historical sites and cultural landmarks. With its nine UNESCO World Heritage sites, Trier stands as a testament to its illustrious past. It's one of my absolute favorite places in Germany and not just because of its Old Town.
The roots of Trier trace back to the Neolithic period, and it thrived under the Roman Empire. The city was a strategic center, serving as the capital of the Roman province of Gallia Belgica. Emperors like Augustus and Constantine the Great left their mark, building magnificent structures such as the Trier Cathedral, Porta Nigra, and Kaiserthermen. These Roman monuments, with their exquisite architecture, still stand today and evoke a sense of awe. It felt like I was in Italy rather than Germany at times.
However, you just need to walk through the Old Town to get the gorgeous German Old Town vibe and know exactly what country you are in. And this Old Town does not disappoint.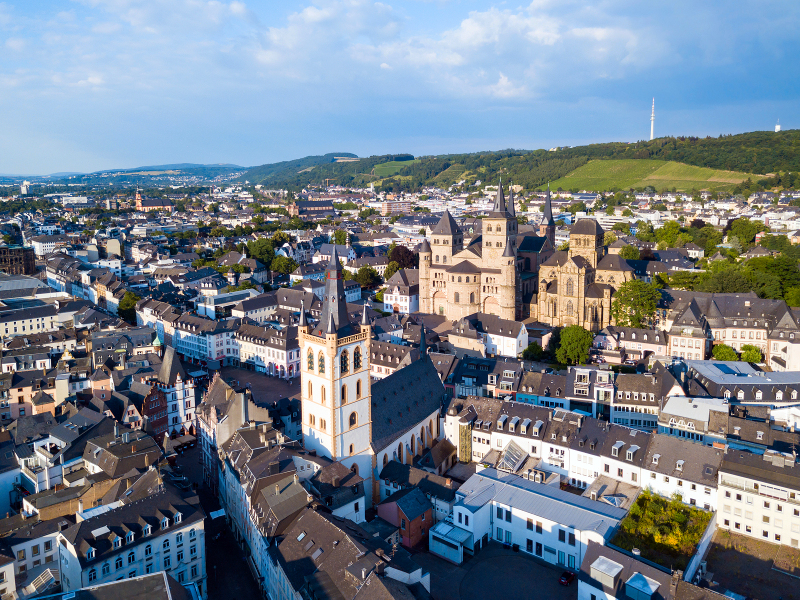 The Old Town area is a real mix of styles, architecture and the many periods this city has lived through. It's not just beautiful to wander, but there's a variety of churches, museums and historical sites to visit from Porta Nigra, the second century Roman city gate, to the birthplace of Karl Marx (which is now a museum).
Trier is not just one of the most beautiful places in Germany, but also the most interesting especially if you love history. The fusion of Roman ruins, Medieval buildings and a lively atmosphere creates a unique and magical setting. Everyone should visit Trier, at least once.
Read more about visiting Trier here.
12. Heidelberg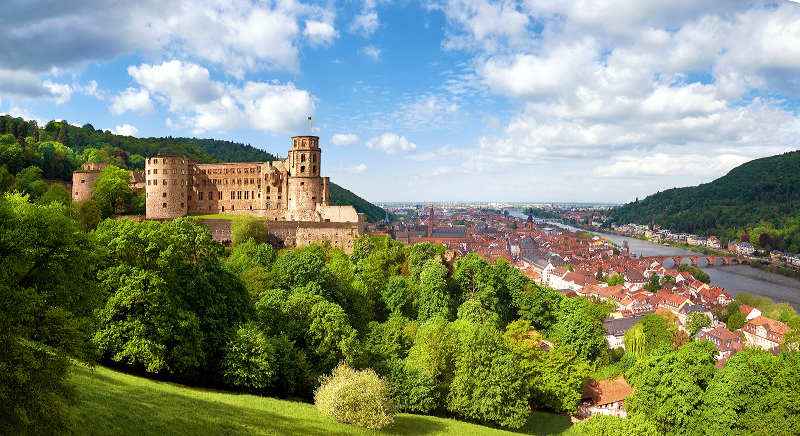 Down in the southwest of Germany, you'll find my final pick of the most beautiful Old Towns in Germany. Heidelberg is a famous university town which is known for being one of the prettiest in Germany.
This is another Old Town where much of its beauty comes from its surrounds. It has a picturesque setting by the Neckar River surrounded by forests. The famous Heidelberg Castle, partly-ruined, sits on the hill behind adding to its old world feel.
With a history dating back to Roman times, Heidelberg has seen the rise and fall of ancient civilizations. The Schönau Abbey, founded in 1142, marks the beginning of modern-day Heidelberg, which grew alongside the construction of Heidelberg Castle in the 13th century. The establishment of Heidelberg University in 1386 further shaped the city's identity, making it the oldest university in Germany.
As I wandered through the enchanting Old Town, I loved the uniformity of its Baroque architecture and red-roofed buildings. The charming streets, such as Marktplatz, are must visits. The iconic Heiliggeistkirche (Church of the Holy Spirit) and Jesuitenkirche (Jesuit Church) showcase stunning Gothic and Baroque designs.
One of the highlights is definitely the majestic Heidelberg Castle. It's a steep walk or funicular ride to the castle, but you'll be rewarded with great views of the city and the castle itself.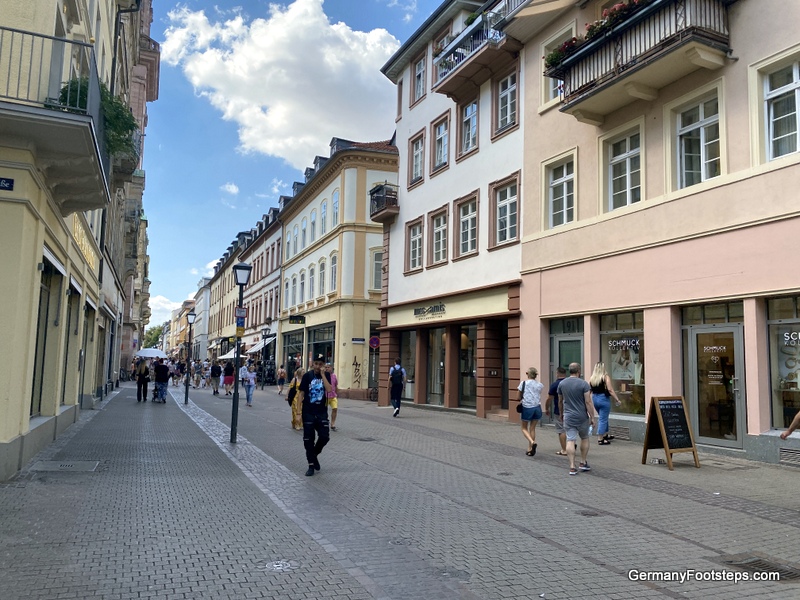 In addition to its historical landmarks, Heidelberg offers unique experiences like a cruise along the Neckar River, a walk across the Alte Brücke (Old Bridge) and a peaceful stroll along the Philosophenweg (Philosopher's Walk) where you can contemplate life amid beautiful Old Town views.
While I wouldn't say the Old Town itself in Heidelberg is one of the most beautiful in Germany, once you add in the surrounding hills, castle and river, the combinations makes it one of the most beautiful towns in Germany.
However, what really sets Heidelberg apart is not just its impressive history and great Old Town, but the overall ambiance and vibe of the city. The vibrant university atmosphere, the lively pedestrian zone with its shops and cafes and all the scenery create an unforgettable experience.
Read more about visiting Heidelberg here.
Map Of The Most Beautiful Towns In Germany
Find all the best Old Towns in Germany to visit by clicking on the map image below.
Final Words
Germany Old Towns are just so beautiful and exploring at least a couple of the ones listed above should be in every German itinerary. Better yet, do what I did and plan your whole itinerary around these beautiful towns in Germany. You won't be sorry!
If you don't have time to visit many, stick to the ones that best fit into your itinerary. Like if you are looking for the best towns in southern Germany, consider Nuremberg, Rothenburg and Dinkelsbühl. If you are heading to Berlin, Quedlinburg is not far away.
If you have more flexibility, the best German town to visit is all of these! Enjoy your time in Germany because Old Towns don't come better than these 🙂
Looking for vibrant and beautiful cities? Find our list of the most beautiful cities here. Looking for more information to plan your trip? Find all our planning guides here. Visiting in December? Don't miss the best Christmas markets here. If you want a laugh, make sure you read our 10 reasons to NEVER visit Germany here.