Going on a trip to Trier and want to know all the best things to do in Trier? We have you covered! Below you will find our guide to all the best attractions in Trier Germany to plan your ultimate trip.
With a whopping nine UNESCO World Heritage sites and the title of Germany's oldest city, there was no way that we were missing out on a visit to Trier in Germany's west by the border of Luxembourg. In fact, reading about Trier beforehand, I wondered if it was maybe the most underrated city in Germany as I hadn't even heard of it before researching Germany in depth.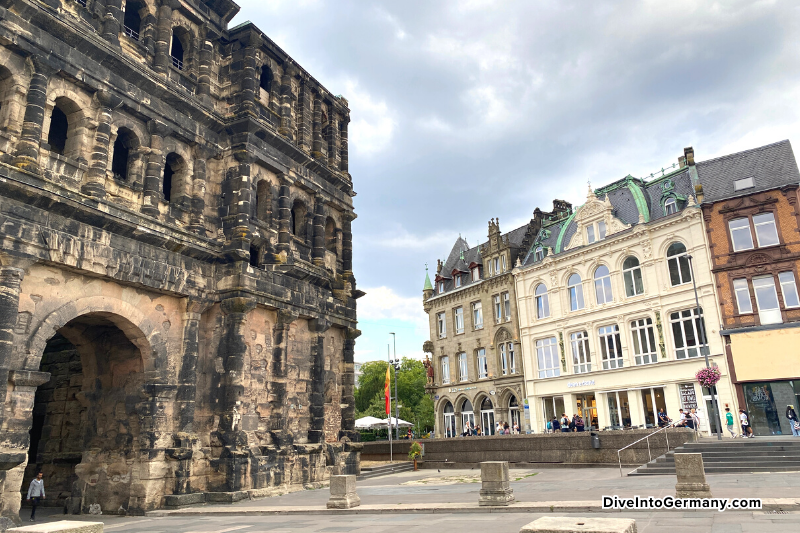 With such a long and illustrious past, amazing monuments and ruins (the most Roman monuments in Germany), I was very excited to visit the town of Trier and discover everything it has on offer.
So did it live up to the hype in my head? Is it the most underrated city in Germany? Keep reading to find out!
Below, you will find our full Trier travel guide with everything you need to know about the best places to visit in Trier as well as the best places to stay for your ultimate vacation in Trier. There is also a handy map of all the things to do Trier offers.
You'll also find special sections on the best things to see in Trier in winter and a full itinerary for a Trier day trip as well as what works if you are travelling with kids.
Traveling to Germany? Click here to download your free Germany Trip Planning checklist. We'll help you get ready for your trip! 
An Introduction To Trier
With a population of 110,000 people, you can find Trier in the western part of Germany near the Luxembourg border. It's a two and half hour drive west of Frankfurt or a couple of hours southwest of Bonn. It calls the state of Rhineland-Palatinate home and is by the Moselle River.
The area which is now Trier had human settlement back in the early Neolithic period (5500-4500BC) as evidence of linear pottery settlements has been found. The Celtic tribe of Treveri also called the area home before the Romans came around 58-50BC.
Around 16BC, Emperor Augustus founded the city of Augusta Treverorum ("City of Augustus in the land of the Treveri") and this is considered the birth of Trier. It was a strategic position at a crossroads and it rose rapidly as an administrative and commercial centre. It became the capital of the Roman province, Gallia Belgica, and became even more important.
The amphitheatre was built before 100AD, a sign that the city was important and many other important buildings were built.
Trier's importance continued to grow as it became a city of the breakaway Gallic Roman Empire before returning to the Roman Empire. In the third century, it became an imperial seat. From 293 to 395, Trier was also given the honour of being one of the residences of the Western Roman Emperor.
All of this leads to many developments befitting such an important city. A mint was established which became an important part of the Western Roman Empire. A stadium was added to the amphitheatre for chariot races.
Constantine the Great, who was a Roman Emperor who ruled from 306 to 337, expanded Trier and strengthened the walls and towers. He built the Imperial Baths, what's known today as Konstantin-Basilika (his throne room/audience hall) and more including parts of what are now Trier Cathedral and Liebfrauenbasilika.
Germanic tribes started attacking Trier from 350AD, but these were mostly repelled. Things got harder in the fifth century when Tier was sacked four times by the Franks and another time by the Huns. Around 485, Trier definitely came under the control of the Franks. It's estimated over this time, the conflict caused the population of Trier to decrease from 80,000 to 5,000 by the sixth century.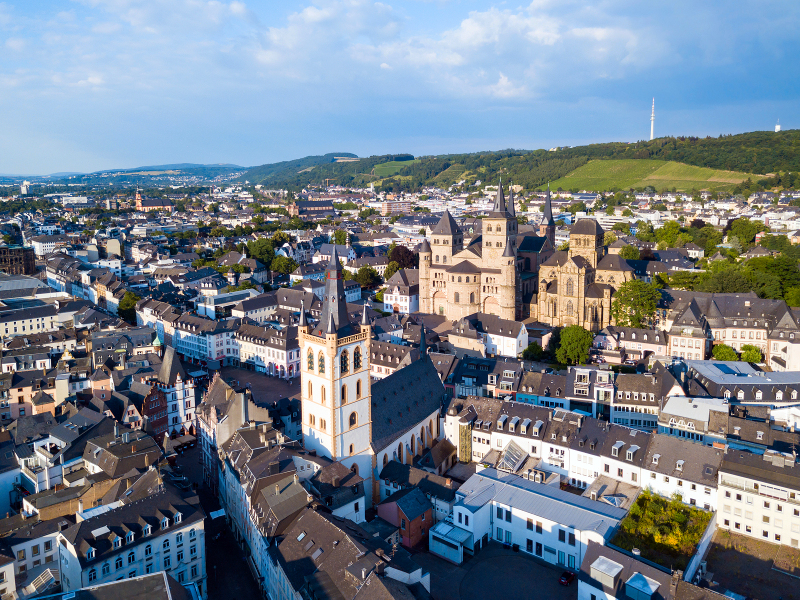 In 843, Trier became part of the Kingdom of Lorraine until 870 when it became part of the East Frankish Empire which later became Germany.
Many monasteries and abbeys were built during these times although Basilika St Matthias is the only important one that survived through all this time. The apostle, Saint Matthias, is buried here which makes it a major site of pilgrimage for Catholics.
In 815, Trier became an archbishopric and its archbishops had power over extensive territory. The Archbishop of Trier became one of the seven Electors of the Holy Roman Empire in the late 12th century and stayed this way until the French Revolution.
Throughout the Middle Ages, Trier tried to get independence from the Archbishopric of Trier but was never successful. In 1309, it came under the power of Archbishop Baldwin of Luxemburg. Baldwin was well connected with his brother being the German King and Emperor Henry VII. He was able to increase the territory of the Electorate of Trier considerably and built many castles. By the time of his death in 1354, Trier was a prosperous city.
Later, many wars came to Trier. The Thirty Years' War came to Trier in 1630 when Trier asked the Spanish government in Luxemburg for help against the Bishop's wishes. This lead to attacks between the Bishop and his French troops against the Spanish in Trier and then the Spanish attacking back once the bishop had regained the city. The Spanish then occupied Trier and imprisoned the Bishop. This event helped start the Franco-Spanish War.
War was back in 1673 when the French besieged and then occupied Trier. They were forced out by Imperial troops in 1675 but were back in 1684 when they captured Trier again destroying all walls and fortresses.
In The Nine Years War, things did not get better with Trier taken again in 1688. Many cities in the Electorate of Trier were destroyed in 1689 as well as most castles. Trier was spared destruction but when the French left, there were only 2,500 (starving) inhabitants left.
The French kept coming back in the 18th century as well. When the French Revolutionary Forces captured Trier in 1794, this was the end of the Electorate of Trier. Resulting peace treaties in 1797 gave Trier (as well as everything on the left back of the Rhine) to France and it became the capital of the newly founded Département de la Sarre. Over time, Trier began to prosper again.
In 1814, things suddenly changed again as Trier was captured by Prussia and became part of the Kingdom of Prussia in 1815. Trier became a district administration centre but the economy declined.
Things improved from 1842 when Luxembourg joined the German Customs Union. Trier manufactured tobacco, wine, cloth and leather and Luxembourg was an important market for these. Add in paddle steamers starting operation on the Moselle and the first rail line connecting Trier in 1860 and things were looking up.
In September 1944, Trier was close to the frontline in World War II. This resulted in almost daily shelling by the Allies as well as three large-scale aerial attacks. On 2nd March 1945, the city surrendered to the US.
After the War, it was rebuilt as a cultural and commercial hub. Today, it is a trade centre for the region and a tourist destination. Industries include the manufacture of wine, beer, textiles and precision instruments.
Top 19 Things To Do In Trier Germany
Here are the top things to do in Trier. Read through and select the ones that fit your interests and timeframe. If you only have one day to visit Trier tourist attractions, find our one day Trier places to visit itinerary below.
Note that I sort these Trier Germany things to do based on geographical location starting with the central Hauptmarkt and then listing approximately the closest Trier things to see while working our way further away. The order isn't based on what I think are the most important attractions.
Many of the things to do near Trier are closed on Mondays.
Hauptmarkt (Main Market)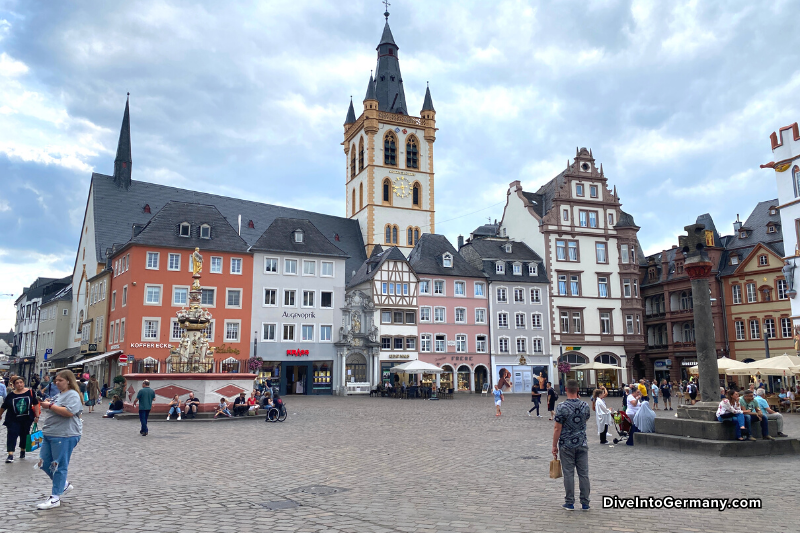 The heart of Trier, Hauptmarkt is definitely somewhere you'll want to head. This current market place was designed in the tenth century after the previous one was ransacked by Vikings.
Look out for the three-metre cross. The original dates back to 958. This is a replica with the original located in a municipal museum.
The fountain is from 1595 and displays St Peter, Trier's patron saint, surrounded by the four virtues of justice, strength, temperance, and wisdom as well as some watchful monsters.
There are many beautiful buildings around this Medieval square so take your time soaking it in. This is easy to do with market stalls, shops, bars and restaurants calling this area home. It's truly a top place.
Spielzeugmuseum (Toy Museum)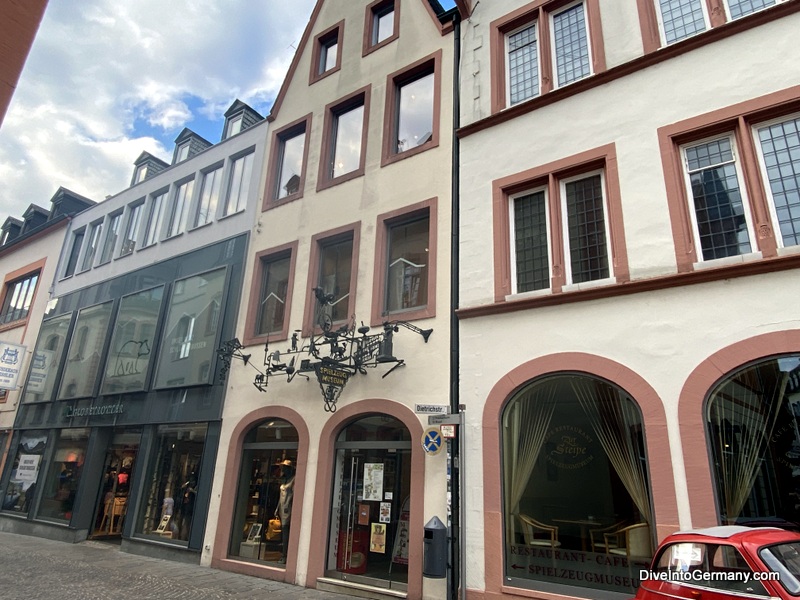 While you are in Hauptmarkt, pop into Spielzeugmuseum which is right here.
This toy museum is full of 5,000 antique toys and toys from today which comprises miniature trains, dolls, soldiers, Lego and many others including a 130 year old dancing bear. You can play with some of the toys.
St-Gangolf-Kirche (St Gangolf Church)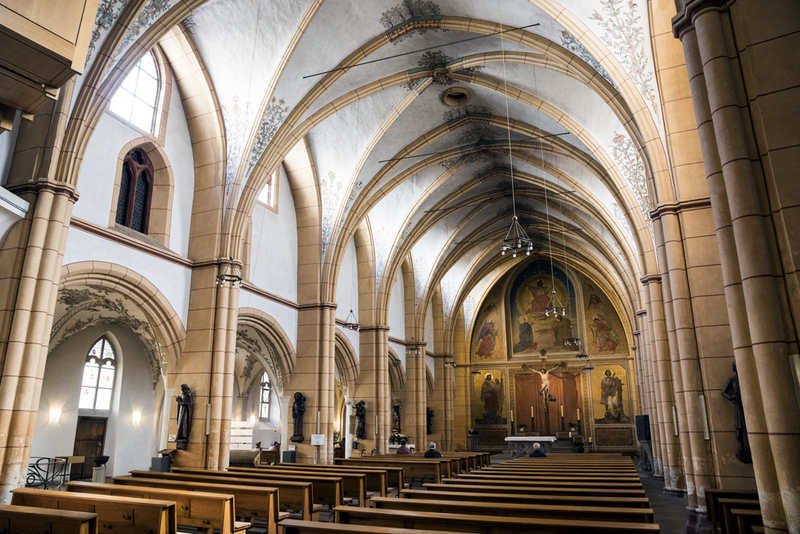 Located right next to Hauptmarkt, this is another one of the Trier Germany tourist attractions while you are enjoying Hauptmarkt.
This Roman Catholic church was built in the early 15th century on the site on an older tower. It has a 62 metre high tower.
At the time of publishing, this church was closed due to extensive renovations, but it may be open by the time you visit.
Trierer Dom (Trier Cathedral)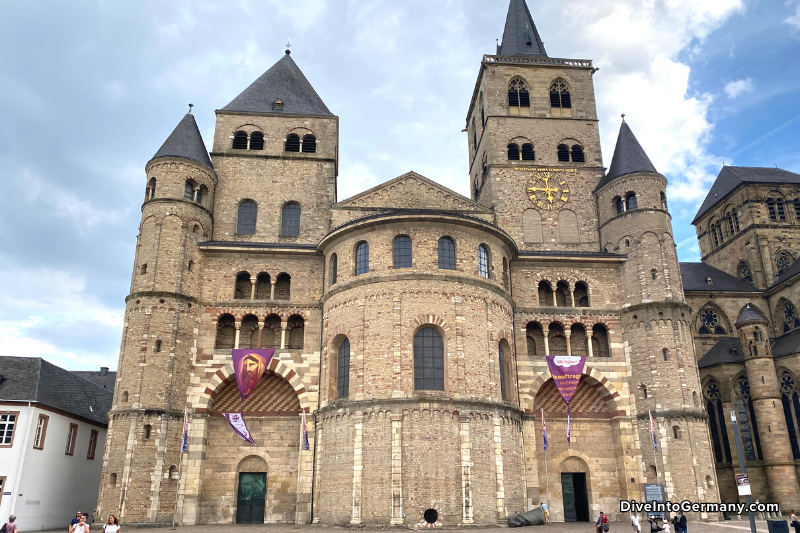 One of the many UNESCO World Heritage listed sites in Trier, the Trier Cathedral is considered the oldest bishop's church in Germany and still has sections from Roman times. The massive outside is a combination of Baroque, Gothic and Romanesque styles over 1,700 years of architecture.
It was initially built by Constantine after he converted to Christianity. He built a complex of four basilicas where this stands now and, originally, it covered four times the area of what we see today!
Over time, it was extended which lead to the interesting mix of styles seen today. This means it also still contains original Roman bricks in the central nave.
Try to approach Trierer Dom from Hauptmarkt. It actually took my breath away as it appeared. It's so grand.
Inside, it is also a sight to behold and is home to an impressive collection of art and objects. Upstairs is the Domschatz (Cathedral Treasure) home to Medieval manuscripts and ecclesiastical equipment.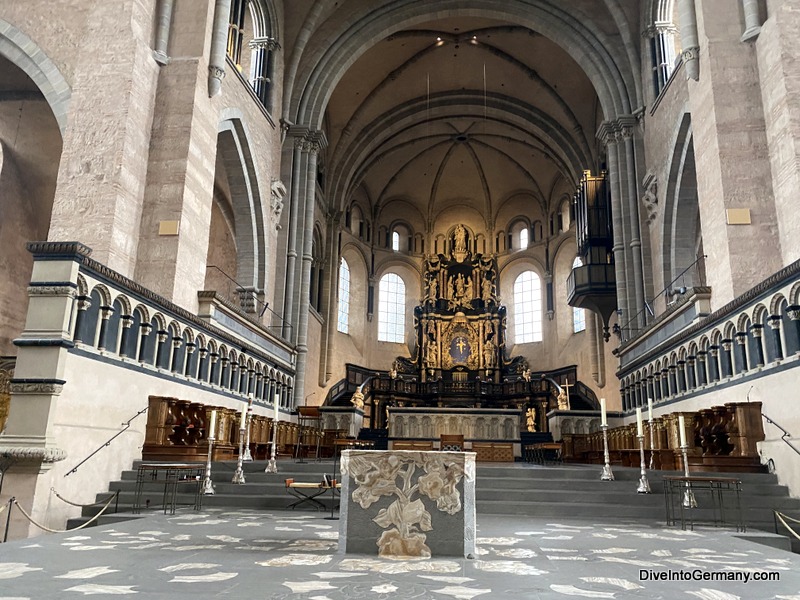 Make sure you check out the sandstone tympanum on the south wall of the portal. It dates back to 1180 and shows Jesus on his throne with Mary and St Peter. This is the oldest remaining sculpture. There are some great Romanesque naves with Gothic vaults and much more.
Look out for a side door on the right near the alter at the back. This will take you to a beautiful courtyard.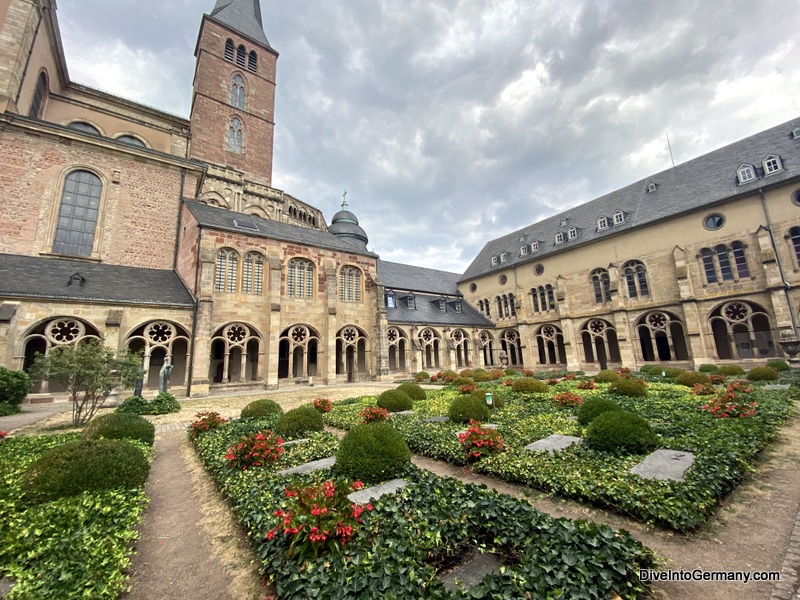 This is definitely one of the top churches I have visited in Germany, and I'm surprised it's free entry. Definitely come by here.
Located close by is the Museum am Dom Trier (Trier Cathedral Museum) which has many treasure including a 4th-century Roman ceiling painting from the palace of Constantine's mother, Helena, that used to be on this site. This was found in 30,000 fragments that were put back together over ten years.
Liebfrauenbasilika (Church Of Our Lady)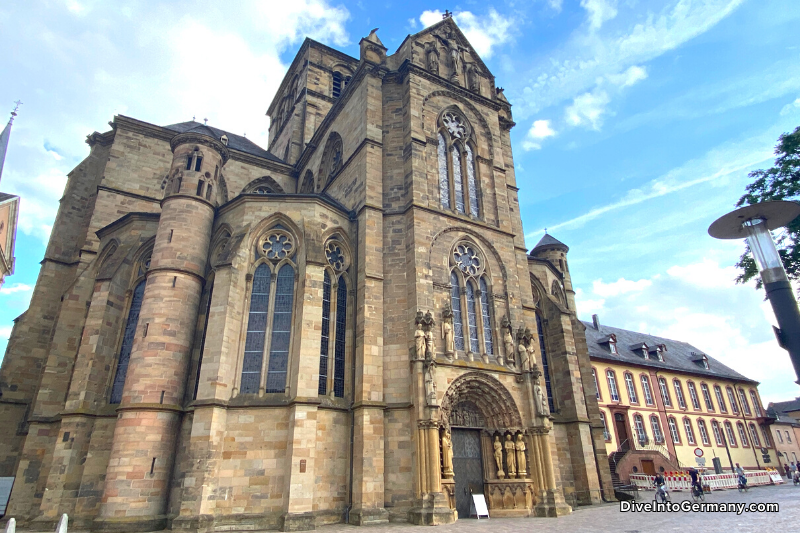 Located right next door, Liebfrauenbasilika is also a UNESCO World Heritage listed site. Liebfrauenbasilika or Liebfrauenkirche is Germany's oldest Gothic church and was built in the 13th century.
It was built on the remains of a church from Roman times with a circular building plan and 12 pillars representing the 12 Apostles. There are also circular portals and the whole design combines to form a 12 petalled rose outline which is a symbol of the Virgin Mary – who was known as the "Mystical Rose" at the time that this was built.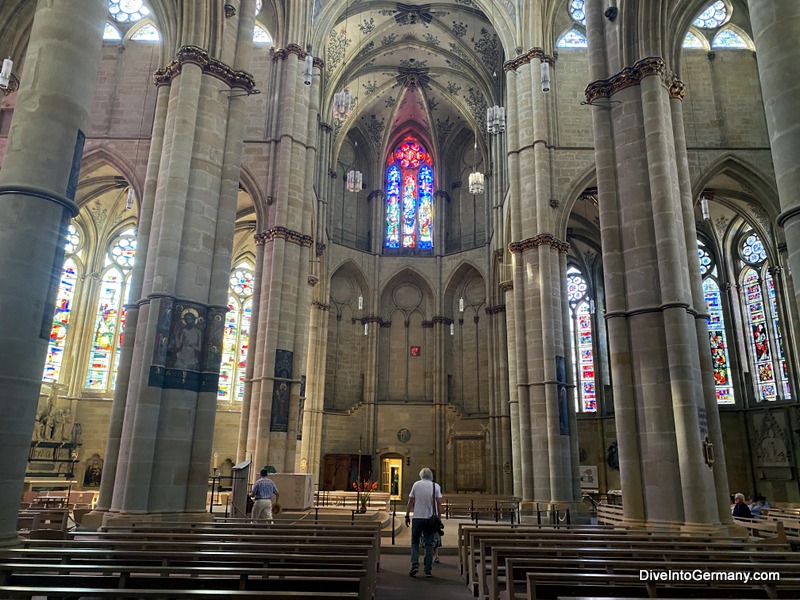 Inside, there's some great stained glass and the decorative tomb of the Bishop Karl von Metternich.
Entry is free.
Stadtmuseum Simeonstift (City Museum)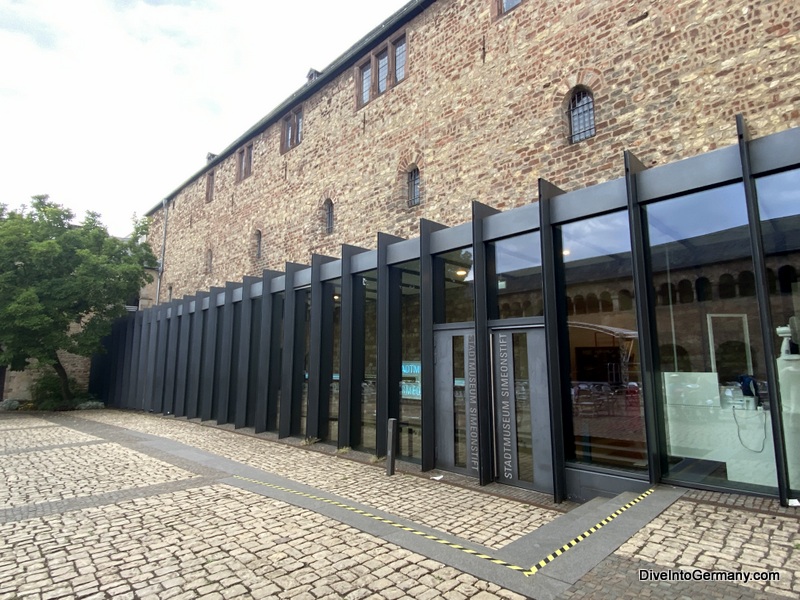 For a change of pace, don't miss this one of the things to do in Trier this weekend to learn more about the long history of Trier.
Next door to Porta Nigra (coming up next!), this building was the priests' residence of Simeon's College in the 11th century. Today, it's home to the City Museum with two thousand years of history to cover which it does via sculptures, paintings, textiles, documents and more.
Admission includes an audio guide, and there is also a special one for children which is, unfortunately, only in German.
There are permanent exhibits as well as regularly changing special exhibits. The collection can seem a little random as it has been built by private donations from Trier citizens.
It's a great option of the things to do around Trier to understand and learn more about Trier with items such a model of Trier from 1800 and a film about the original town here, Augustus Treverorum.
Porta Nigra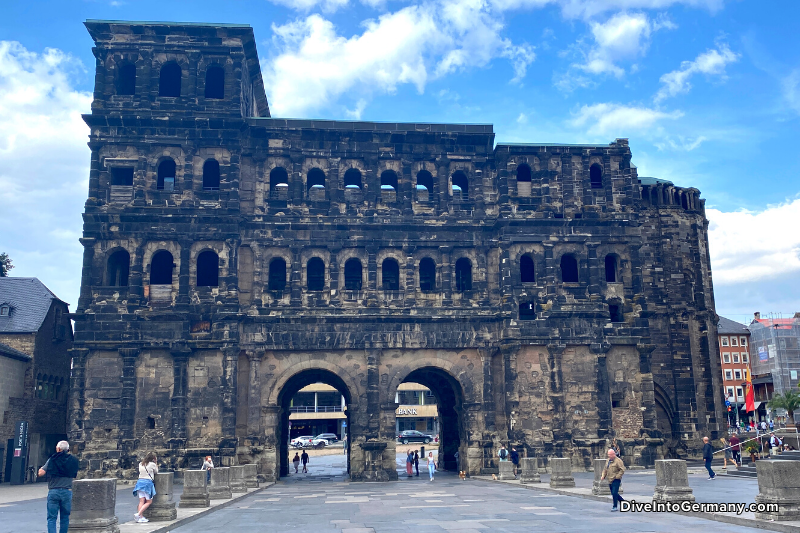 Trier's landmark image of the Porta Nigra is a must visit! In fact, if you can, entering the old part of the city here on arrival is the best way to start your exploration of Trier Germany attractions.
UNESCO World Heritage listed, this second century Roman city gate is the world's best preserved. Named the Latin words for "black gate", its age has caused its blackening. It's the largest Roman gate you can find north of the Alps. It was built around 170AD using 7200 blocks of stone.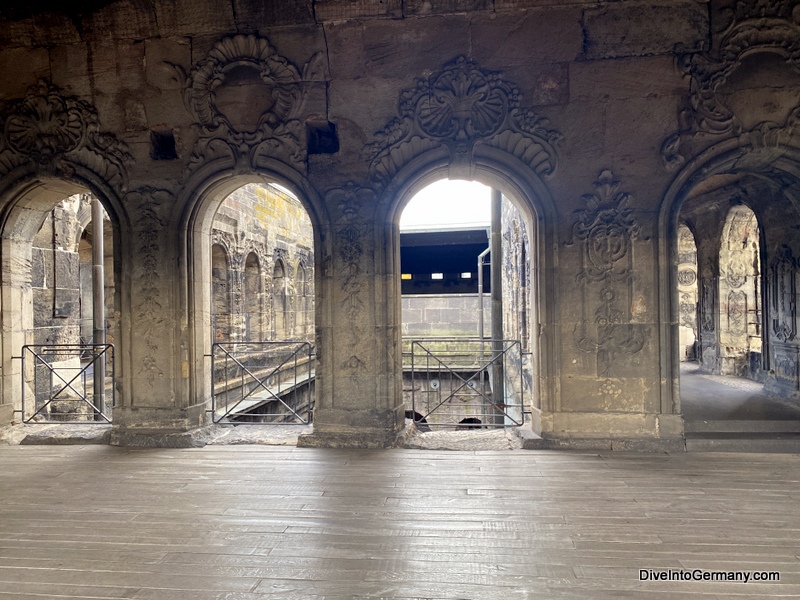 Held together by nothing but gravity and iron clamps, it's an engineering feat. You can even climb to the top for a great view of the city from the larger of the two towers for a fee. It is four storeys high.
Porta Nigra became a holy site in the Middle Ages after Simeon, a Greek hermit, spent six years in the eastern tower. It then turned into a church in his honor and he became a saint.
It's definitely worth going inside. Make sure you get an English pamphlet on the way in and eat it all up.
Museum Karl-Marx-Haus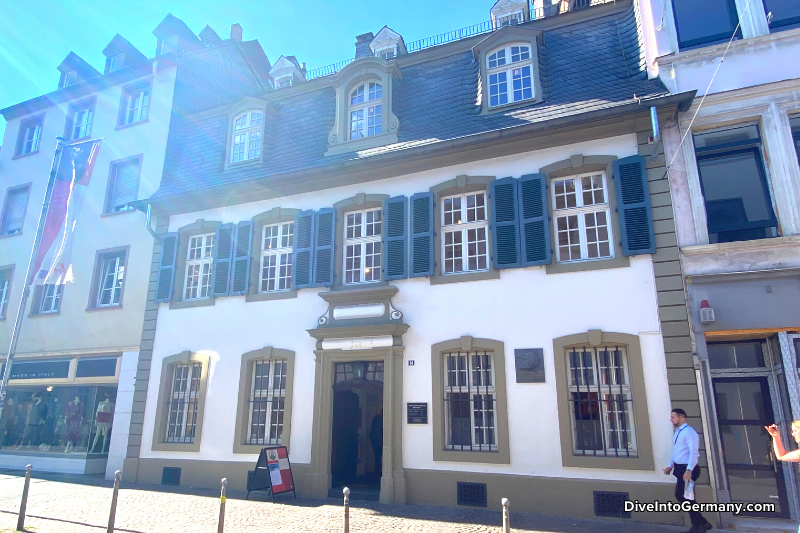 Trier was the birthplace of the famous philosopher and economist, Karl Marx, surely one of the best known philosophers and economists ever.
Born in 1818 in the house pictured above, this house is now home to exhibits on his life, work and decades in exile in London as well as his big legacy including the social impact of the rise of communism. The building itself was built in the 16th century and extended in the 1720s.
It was bought by the Social Democrat Party in 1904. During the Nazi Party's reign, it was seized and used as a printing house. In 1947, it reopened as a museum all about Marx and communism and grew into what it is today.
You can request an audio guide to gain more from your visit here.
Therman am Viehmarkt (Forum Baths)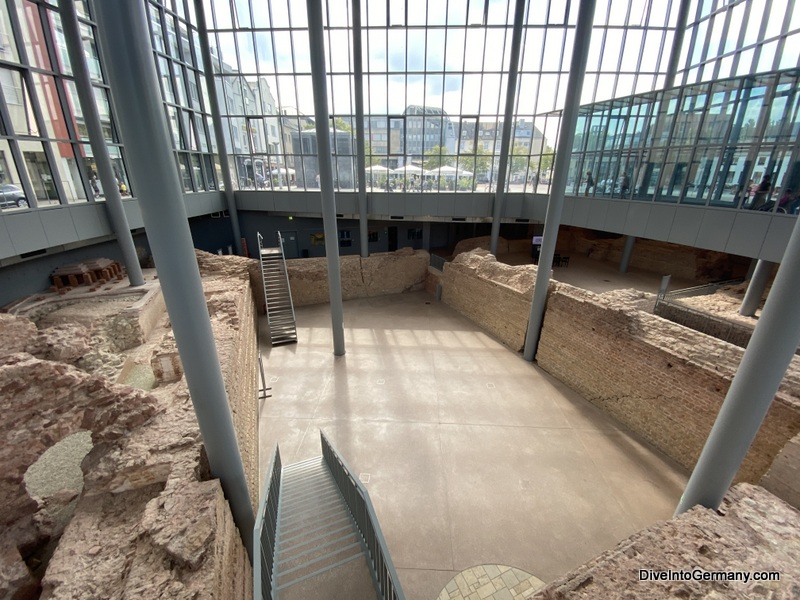 These lesser known Roman baths were actually found by accident in 1987 while building a parking garage. They were actually underneath a WWII bomb shelter and the remains of a Capucinian monastery among other things.
No one is sure what this building was originally for when built in the second century, although it was built on top of the foundation of Roman houses from around the time the city was founded. But in the fourth century, it was converted into public baths.
The ruins are now housed in a glass building which highlights and showcases the work that has been done here and the history of Trier.
Note there is a fair bit here – more than what you see from the square above.
Konstantin Basilika/Aula Palatina (Constantine's Throne Room)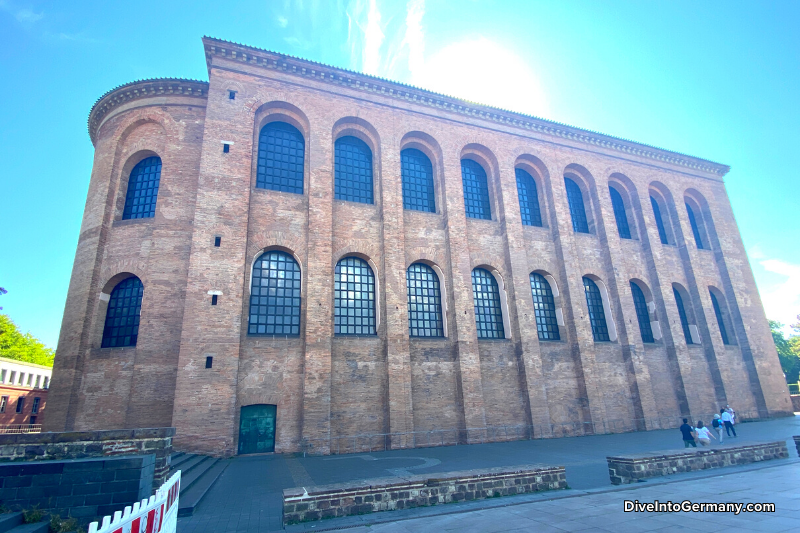 UNESCO World Heritage listed, Konstantin Basilika or Aula Palatina was built around 310AD as Constantine's Throne Room. At 71 metres long by 36 metres high and 32.6 metres wide, it's the largest single room Roman structure still standing. It was built to express how important the Emperor was and it delivered.
After its life as an audience hall for Emperor Constantine, it was a fortress and then used as a residence for the Medieval Bishops of Trier. Various modifications were made over time. In the 17th century, Archbishop Lothar von Matternich joined this structure to his new palace.
In the 19th century, it became a Protestant church and it was rebuilt to its Roman scale at this point. Another rebuilding was necessary after World War II. Today, it remains a Protestant church.
Entry is free.
Palastgarten (Palace Garden)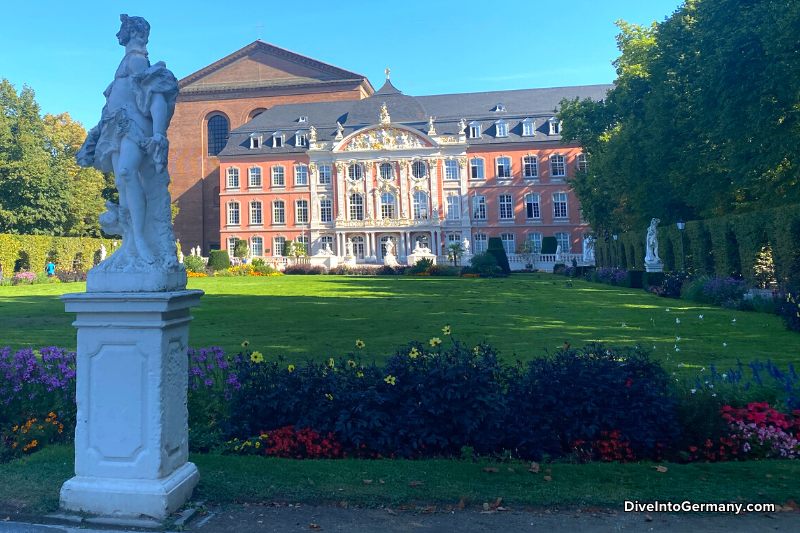 Next door to the Konstantin Basilika is the Kurfürstliches Palais (Electoral Palace) and while you can't visit inside here, you can visit the Palace Garden as one of the romantic things to do in Trier.
These beautiful formal gardens are perfect for a stroll while checking out the outside of the gorgeous palace. Don't miss it.
Entry is free.
Rheinisches Landesmuseum (Roman Archaeological Museum)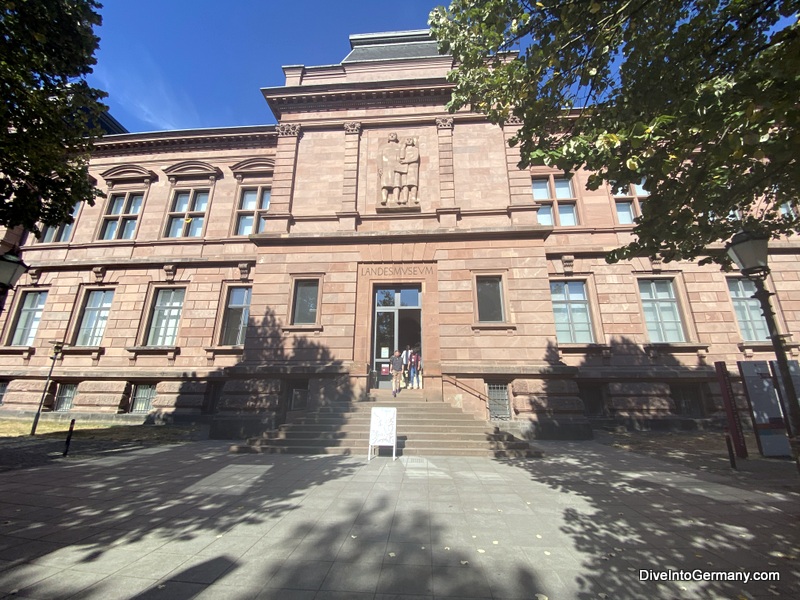 If you are going to visit an archaeological museum anywhere in Germany, this should be the place! With many Roman relics, coins and more, there is much you can learn (and see) about Trier here. It has the best collection of Roman exhibits in Germany.
A good place to start is the fourth century scale model of Trier. Try to imagine that on the streets around you! A highlight is the 1993 Trier Gold Hoard which is a collection of over 2,600 Roman gold coins discovered at this time. There are also burial monuments and Roman mosaics.
The museum looks at ordinary Roman life and what things were like in Trier at that time. It also covers history from before this period all the way through the Middle Ages to the Baroque. You can find items like a 3,600 year old sword, axe and more.
There is much to love about this museum and it should definitely be on your list of must visit attractions in Trier BUT make sure you get the audio guide!
I didn't realise initially an audio guide was available and wasted time walking through the museum, not learning much because barely anything is in English. There are so many treasures here and you'll want to learn more so an audio guide is a must if you don't understand German.
Kaiserthermen (Imperial Baths)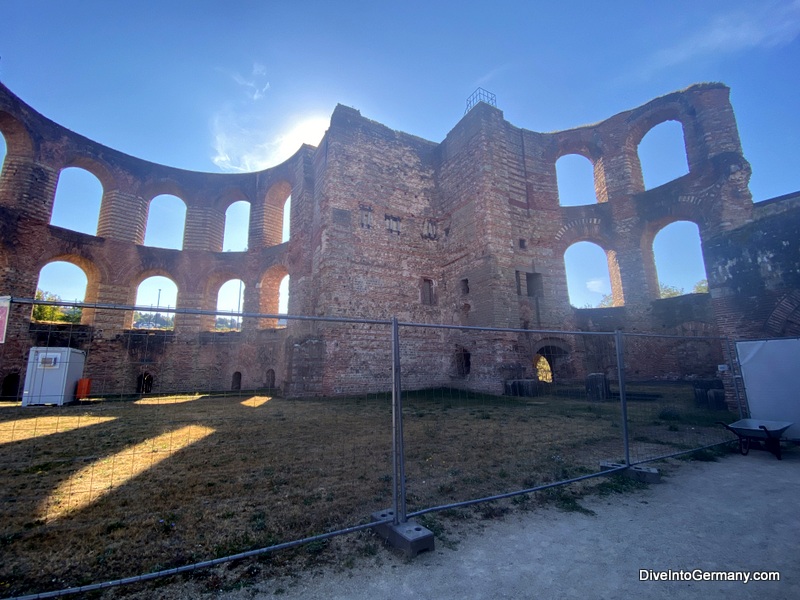 UNESCO World Heritage listed, Kaiserthermen is the ruins of a Roman thermal bathing complex.
Built in the fourth century, these baths were at a scale that was close to being unique north of the Alps and there are still large parts of its 19 metre walls standing. Despite being so big, they weren't even the biggest in Trier with the Barbara Baths (coming up soon!) taking that title.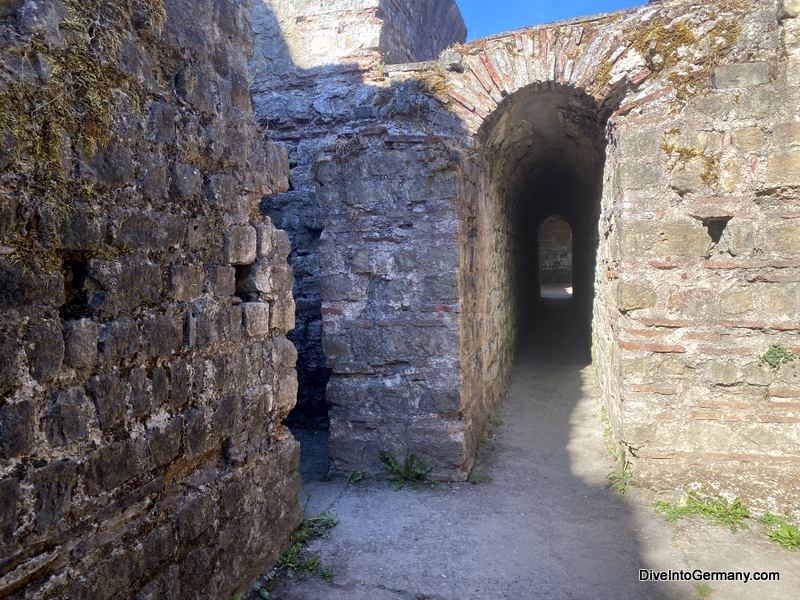 There is still an underground area of subterranean tunnels that have been excavated showing the old baths, boiler rooms and channels. The area underground is much bigger than I expected.
You can even check out the size of the big hot water bath designed to hold 650 people for opera performances.
These baths were never completed and, despite being in ruins today, they are worth a visit and are able to capture the imagination.
Amphitheatre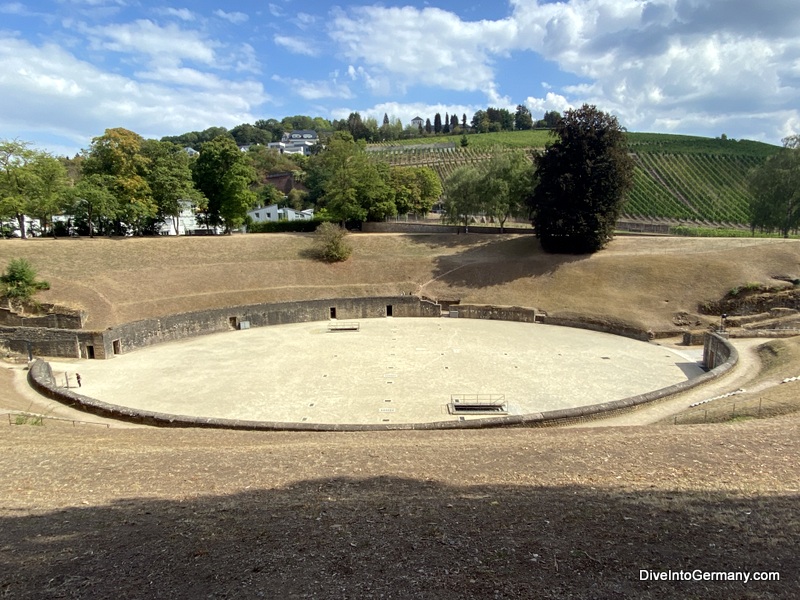 Yet another UNESCO World Heritage listed Roman item is the amphitheatre and you'll definitely want it on your list of what to see in Trier.
This once mighty place could hold 20,000 spectators and dates back to around 100AD. In its time, you could have seen gladiator battles and animal fights.
Underneath are intact cellars which you can view. This would have been where animals and prisoners waited for their fights, and there's even a special lift to hoist them to the surface.
Barbarathermen (Barbara Baths)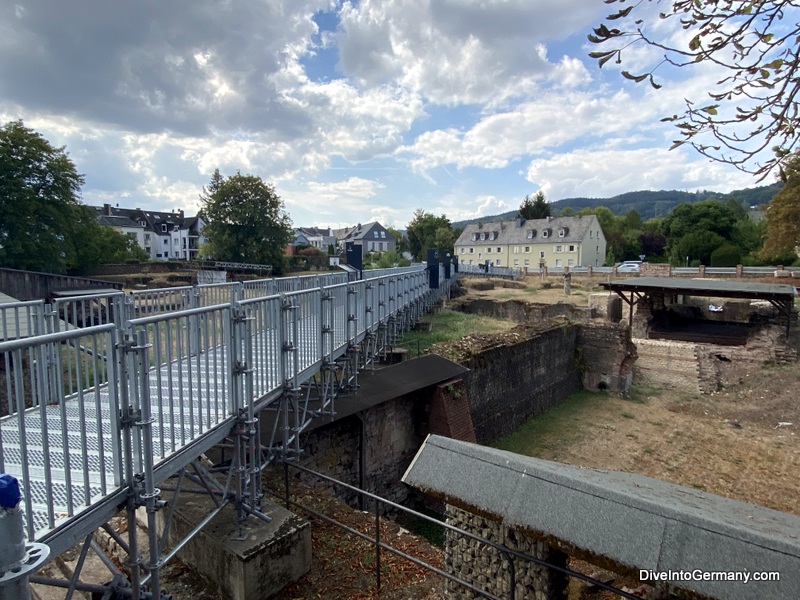 The oldest and biggest Roman baths in Trier were at this site at Barbarathermen (Barbara Baths). Named after a monastery which had been on this site, these were built in the second century.
There are stairways and bridges along with information boards to take you around this site and inform you as you explore.
This site is big and not just for Trier. These baths once covered four hectares which makes them the second largest in the Roman Empire. Only the Trajan Baths in Rome beat them for size.
The site used to be a quarry so much of the old walls are gone, but, with a good imagination, you can imagine how it must have been 1,900 years ago.
Römerbrücke (Roman Bridge)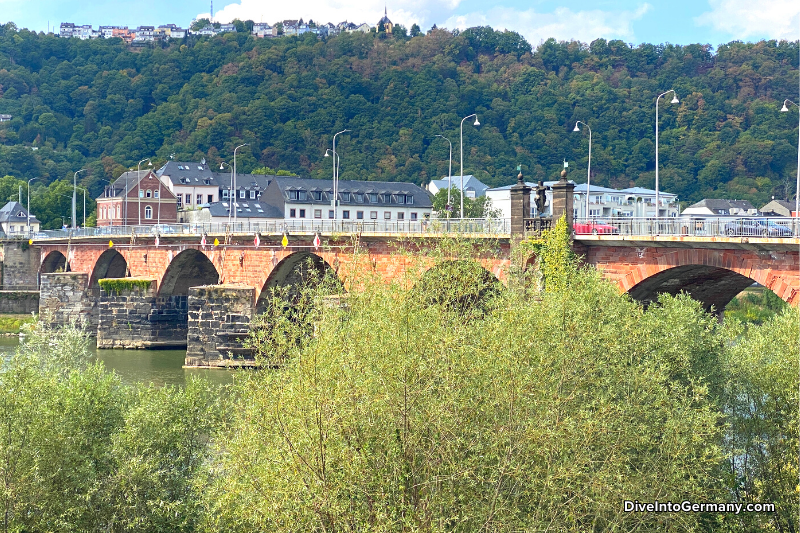 UNESCO World Heritage listed, this bridge should also be on your list of things to see. One of the oldest in Germany, at least nine of the pillars that still support this bridge were built in the second century.
Built from the black basalt in the Eifel mountains, it once used to hold up chariots, but today is still used by motorists. You can take a stroll across.
Basilika St Matthias (St Matthias Abbey)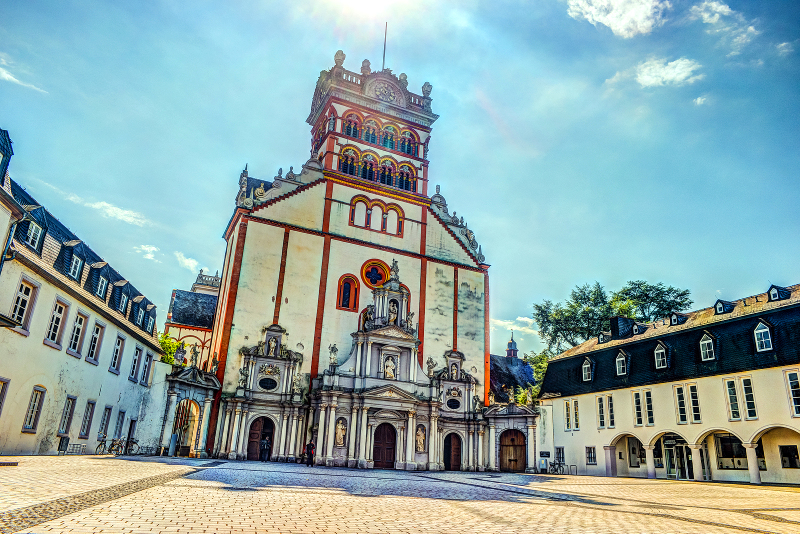 Monks have been present at this abbey since late antiquity and, since the late tenth century, the bodies of the founding bishops of the Archbishopric of Trier have been there.
In 1127, the bones of the Apostle, Matthias, were found during the demolition of the previous church buildings on this site. It was said that the bones were sent to Trier at the bequest of Empress Helena, the mother of the Roman Emperor, Constantine. Since then, this abbey has been a major pilgrimage site.
There are other treasures here too including the Holy Cross Chapel's Staurotheke said to contain a piece of Christ's cross.
Entry is free.
Mariensäule (Marian Column)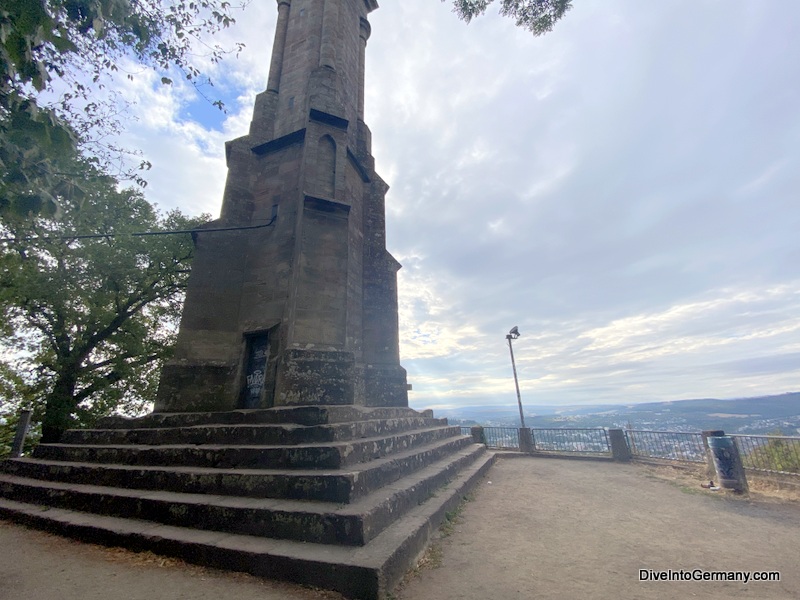 For places to visit near Trier Germany, head to this huge, 40 metre high monument on the left bank of the Moselle.
Located on the top of sandstone cliffs, Mariensäule can be seen from far away. It was inaugurated in 1866 to show Catholic power to the Protestants after the Protestants were able to use the basilica for their services in 1856.
This statue is clearly visible from the basilica so Protestant churchgoers could see it on their way to church.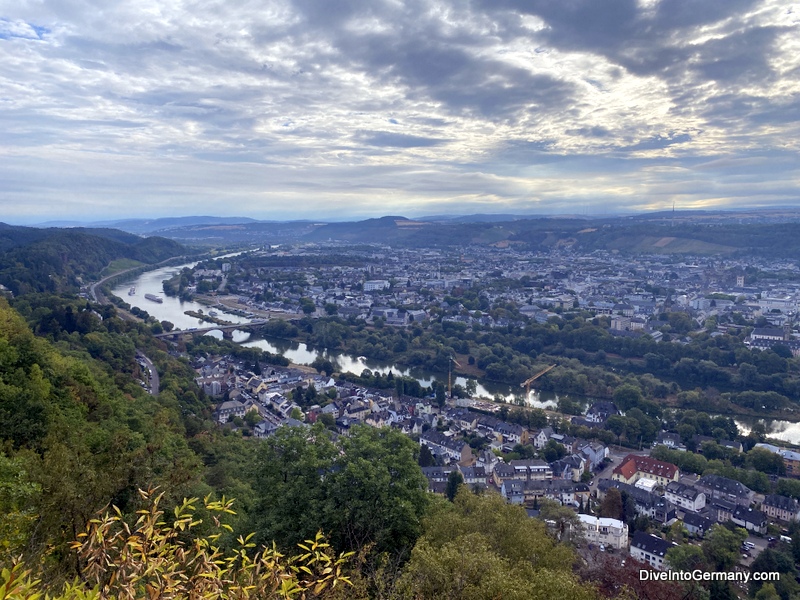 Today, it is a symbol of Trier and a great place to head for views over Trier. It is lit up at night thanks to private donations.
You can get a bus up here or walk from the centre of Trier.
It's also an easy drive here. There's no car park, but there is a small space by the side of the road where you can pull over to go take a look. There is a walkway with many steps directly behind the monument to this road or a nicer path to the side of the monument to the area where you can pull over in your car.
Cochem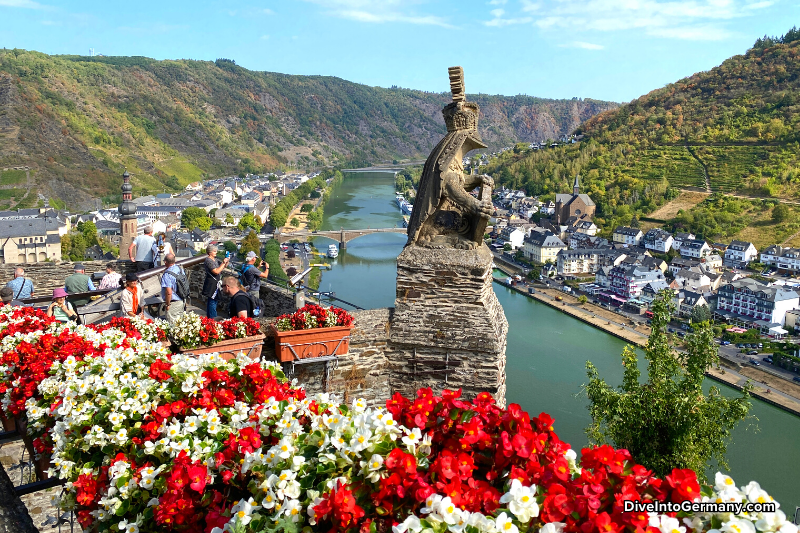 For a fantastic option of the day Trips from Trier, head to Cochem for beautiful views, great wine, history and more.
Also located on the Moselle River, Cochem is about an hour and a quarter's drive from Trier. Here, you can find endless vineyards, wine to taste, the historic Reichsburg (Imperial Castle) to explore, a great chair lift, Bundesbank Bunker which was once home to 15 billion Deutsche Marks and a beautiful Old Town.
It's a pretty place to hang out and soak it all in and a good change of pace from Trier.
You can find our full guide to Cochem, including a one day itinerary, by clicking here.
Best Trier Things To Do In Winter
While most of the top 10 things to see in Trier Germany listed above are possible in winter time, there is also an extra special Trier attraction which is especially for the winter months.
Trier Christmas Market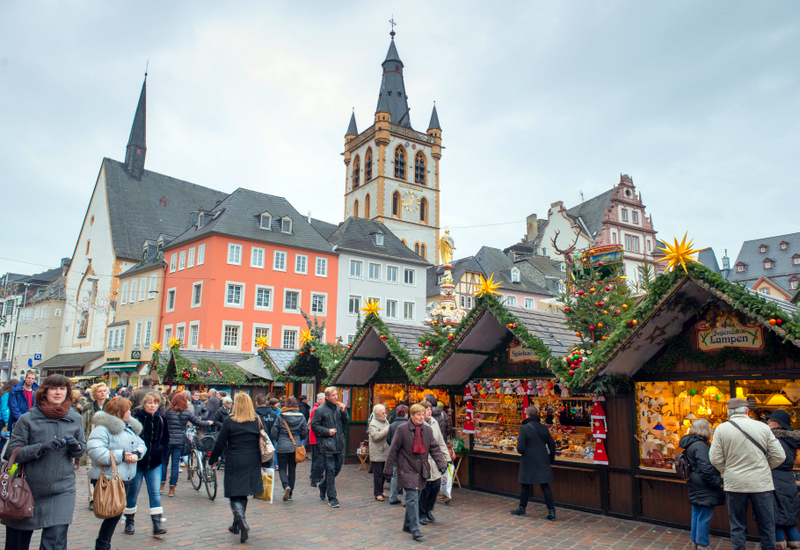 This Christmas Market is traditionally held for about a month in the lead up to Christmas from around 22 November to 22 December but always confirm the latest dates before travelling.
It's located in the atmospheric Hauptmarkt near the Trierer Dom with around 100 stalls where you can pick up Christmas crafts, gifts and, of course, local treats and drinks.
In addition, there are often special events like Santa paying a visit, puppet shows and more so check out the latest event guide.
You can find more information on the Trier Christmas Market on their site.
What To Do In Trier In One Day
Only have one day in Trier? What a shame! But it's ok, it's still worth going to Trier if you only have one day.
With one day, I recommend you do the following. It's a busy day but you won't want to miss a thing.
Enter the town in the most atmospheric way possible – through Porta Nigra
Head to Hauptmarkt and enjoy the square
Visit Trierer Dom (Trier Cathedral) and Liebfrauenbasilika (Church Of Our Lady)
Next up is Konstantin Basilika. Take a quick look inside
Also enjoy the Palastgarten (Palace Garden) next door and view the outside of the Electors Palace of Trier
Spend some time learning more at the Rheinisches Landesmuseum (Roman Archaeological Museum). Don't forget an audio guide
Explore the Kaiserthermen (Imperial Baths)
Check out the Amphitheatre
Finish by exploring the ruins of the Barbarathermen (Barbara Baths) and taking a stroll in the Römerbrücke (Roman Bridge)
Trier Attractions Map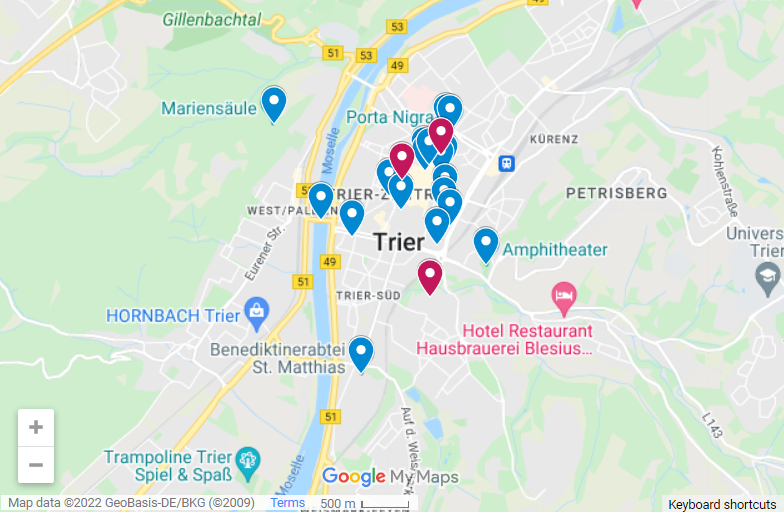 Best Place To Stay In Trier
When it comes to where to stay in Trier, there is a great range of hotels and other accommodation options. You won't have any problem finding somewhere to stay.
Below, I've listed a few different places to consider depending on what type of accommodation you are looking for.
If you are looking for a beautiful Trier hotel which consistently gets exceptional reviews and has many facilities and you don't mind being just outside the main Old Town area, Hotel Villa Hügel could be for you!
Located in an amazing white Art Nouveau villa of wine merchants built in 1914, this option is about a ten minute walk from the amphitheatre or 20 minutes from Hauptmarket. It's an adults-only option.
It has many facilities including indoor and outdoor pools, a gym, sauna, fabulous restaurant with a buffet breakfast, parking and massages available.
There are a few different room types available. All are doubles and come with seating area, flatscreen TV, toiletries and bathrobes. Upgraded rooms can also have balconies, bigger rooms and partitioned living areas.
Click here to see the latest prices.
For the best Trier hotel option in the Old Town, consider the Romantik Hotel Zur Glocke. It's in a great location just moments from Hauptmarkt and four minutes walk from Porta Nigra.
The building itself dates back to 1516 with some walls that date back to the 12th century, but it's been restored beautifully. There are two restaurants on site including one that opened in 1803 and is the oldest, still-operating restaurant in Trier.
There are standard rooms as well as suites. All rooms have flatscreen TVs, air conditioning, soundproofing and bathrobes and include breakfast. Suites have more space and there is also a two bedroom duplex suite, perfect for families.
Click here to see the latest prices.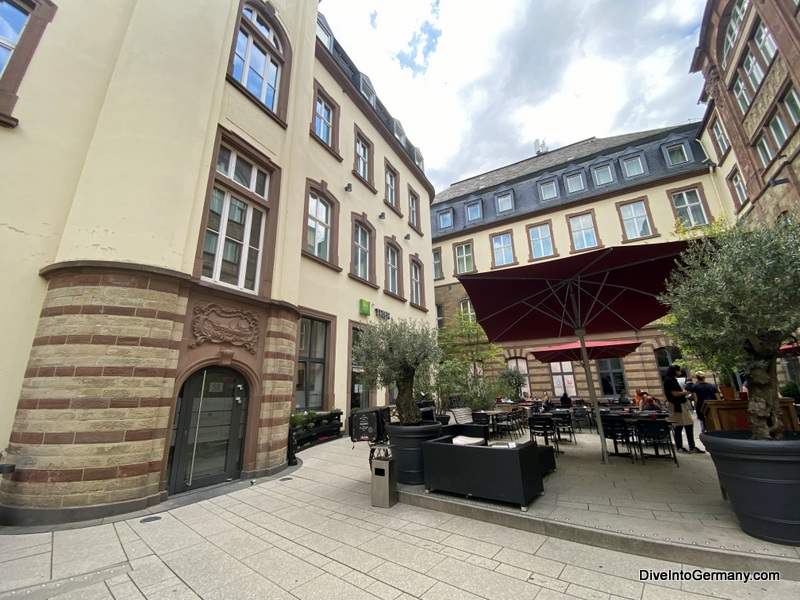 For an easy, great value option in the middle of the Old Town, consider Hotel Ibis Styles Trier. You can walk to Hauptmarkt in six minutes or Konstantin Basilika in 9 minutes.
Located in an historic building which used to be a post office, there are a few handy room types here including twin, double and family options. All come with desk space, flatscreen TV and private bathrooms. Ceilings are up to 4.5 metres high which leads to a great feeling of space.
There is paid parking on-site, a gym, facilities for babies and a continental breakfast available.
Click here to see the latest prices or here to read our full review.
Click here to see all our recommendations for the best hotel in Trier.
Trier Travel Guide Video Overview
Check out many of the attractions in Trier in the following quick and easy video overview.
How To Get To Trier
We travelled to Trier by hire car which made it very easy to get here. It's easy to find.
You can hire a car to get you there by clicking here.
There are regular trains and buses here. You can find timetables and all your options here.
Trier doesn't have a commercial airport. If you want to fly here, your best option is Luxembourg Airport which has flights from European destinations, although it can be annoying to get here on public transport with a bus only every four hours.
Frankfurt or Koblenz Airports are also options that are further away but have more flight options.
Click here to find the latest flight prices now.
You can also read our full guide to getting from Frankfurt to Trier (or vice versa) here.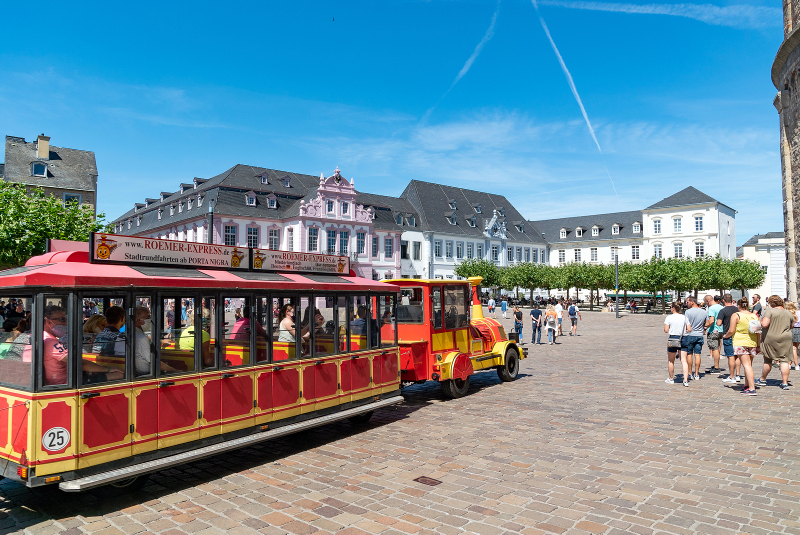 Once in Trier, we found it easy to explore on foot. The attractions are generally within walking distance of each other and it's fun to walk around Trier.
Trier With Kids
We visited Trier with our three kids aged from six to twelve. It's a great place to visit for families. If you are looking for things to do in Trier with kids, they can enjoy most things above although I'll admit that Karl-Marx-Haus was lost of them.
They did enjoy the old Roman ruins though with places like the amphitheatre really sparking their imagination.
There is a lot of walking to get between these attractions so, ideally, split them over a couple of days.
Eight kilometres out of Trier is the Freilichtmuseum Roscheiderhof, an open air museum, which your kids might enjoy if you are looking for something different.
You can also head to Trampoline Trier for a big indoor play centre.
Final Words
I hope you found this guide to all the things to do in Trier useful, and it makes a great Trier travel guide for your trip.
We found Trier amazing and definitely one of the most underrated cities in Germany. I loved all the history and attractions and still can't believe I hadn't heard of it not long ago. It should be on the must-visit list on a trip to Germany.
I hope you enjoy it too!
Read more guides to visiting Western Germany here. Or read this guide to nearby Frankfurt here or the Rhine Valley here.