Going on a trip to Oberwesel and want to know all the best things to do in Oberwesel? We have you covered! Below you will find our guide to all the best attractions in Oberwesel to plan your ultimate trip.
For a beautiful Rhine Valley stop, consider Oberwesel. Right by the river, this Medieval Old Town with three kilometres of walls and many towers is fun to explore or use as a base while you see more of the Rhine Valley (which is what we did).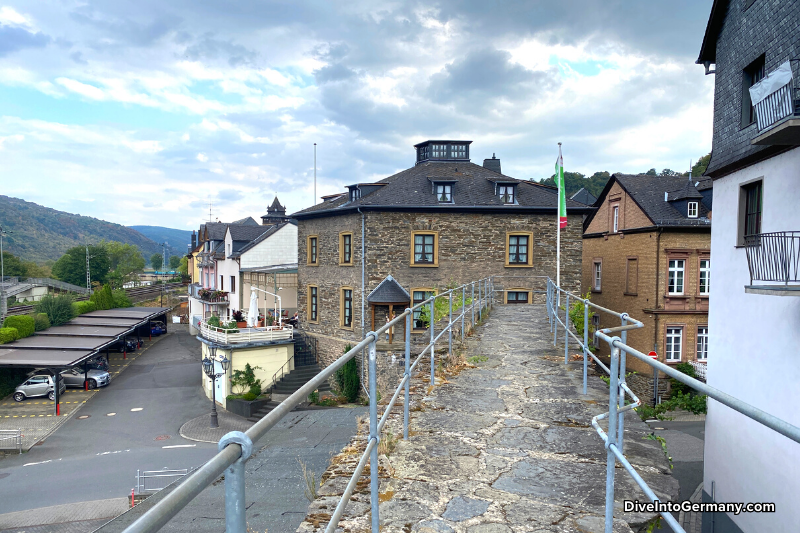 With castles, wineries, Medieval architecture and more, Oberwesel is in the centre of the UNESCO World Heritage listed Upper Middle Rhine Valley thanks to its combination of cultural, historical, geological and industrial significance.
You can easily spend a few days enjoying this region from Oberwesel or you can stop by here as you explore the region – up to you but I vote the former!
Below, you will find our full Oberwesel travel guide with everything you need to know about the best places to visit in Oberwesel as well as the best places to stay for your ultimate vacation in Oberwesel. There is also a handy map of all the things to do Oberwesel offers.
You'll also find a full itinerary for an Oberwesel day trip as well as what works if you are travelling with kids.
Traveling to Germany? Click here to download your free Germany Trip Planning checklist. We'll help you get ready for your trip! 
An Introduction To Oberwesel
With a population of nearly 3,000, Oberwesel is located in the centre of the Upper Middle Rhine Valley in the western part of Germany just over an hour west of Frankfurt.
Oberwesel may have started as a Celtic settlement named Vosavia or Volsolvia before the Romans moved in and had a hostel and horse-changing station at the site of present day Oberwesel. After the Romans, Oberwesel came under the control of the Franks and was home to a royal estate.
Oberwesel passed between royalty and the church before becoming a free Imperial city in 1220. This did not last long and in 1309, it became part of the Electorate of Trier until after the French Revolutionary Wars in 1802. It was annexed by France before becoming part of Prussia at the Congress of Vienna.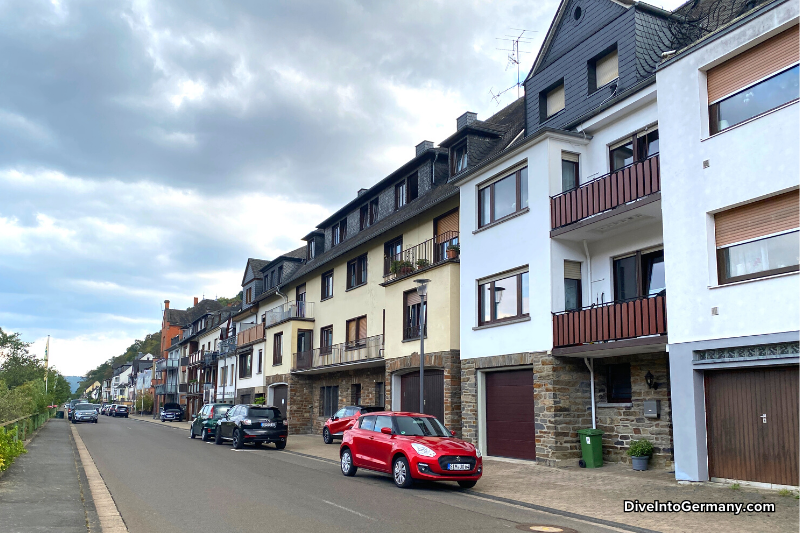 The still existing town walls had their beginning in 1220 as they were gradually built as the town gained more wealth. The industries at the time were winegrowing, handicrafts, fishing and trade. The town had nine monasteries at one point along with their two great churches (still in operation, find them below), showing the town was quite important at the time.
In the Nine Years' War, Oberwesel was destroyed by soldiers in 1689 so much of what you see was rebuilt since then.
Today, Oberwesel is an important winegrowing region.
Top 11 Things To Do In Oberwesel Germany
Here are the best Oberwesel attractions. Read through and select the ones that fit your interests and timeframe. If you only have one day to visit Oberwesel tourist attractions, find our one day Oberwesel places to visit itinerary below.
Note that I sort these things to do in Oberwesel based on geographical location starting with the Old Town and town walls then listing the closest Oberwesel Germany things to do from the main train station working our way further away. The order isn't based on what I think are the most important attractions.
Altstadt (Old Town)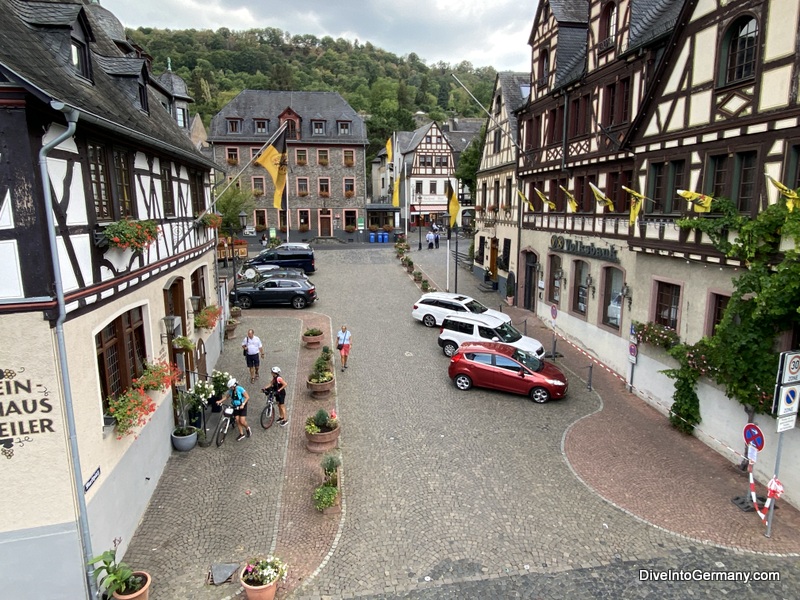 You won't want to miss Oberwesel's Old Town – it's just gorgeous. Although the older, half timbered area is smaller than say, Bacharach. Take a wander and try to get lost (it won't happen but it'll be fun trying!).
Marktplatz is the centre and home to the tourist office if you need any help. At the opposite side, stairs can take you up on the town walls (coming up next). The photo above is taken from on top of the walls.
Unfortunately, the rail line lies between the Old Town and the Rhine River.
Oberwesel Stadtmauer (Oberwesel Town Wall) And Towers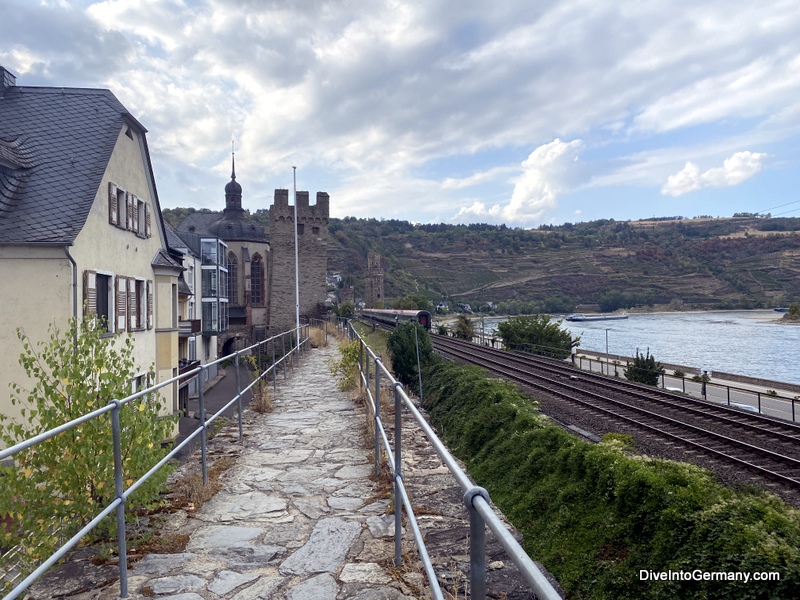 Oberwesel's three kilometres of walls and the remains of 16 defense towers should be high on your list of things to see in Oberwesel. You won't be able to miss at least some of this, but take some time to take it all in. These are the best preserved walls in the Middle Rhine area.
Their construction started in 1220 with several expansions up until the 15th century.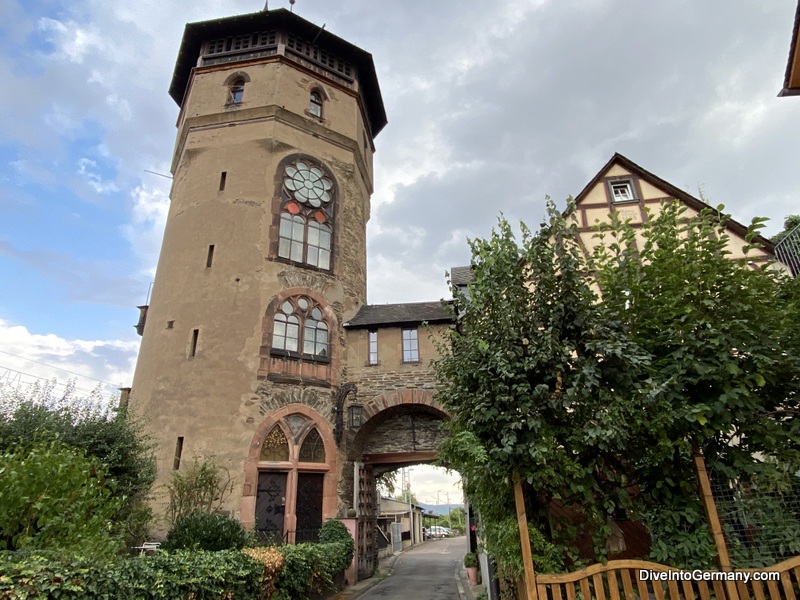 They are not just well preserved in their Medieval form but have been set up so you can walk over large parts of these walls – which you should do. You can start at Marktplatz if you want.
You can also go inside some of the towers like the Zehnerturm (Tenth Tower). See how many of the 16 towers you can find.
Liebfrauenkirche (Church Of Our Lady)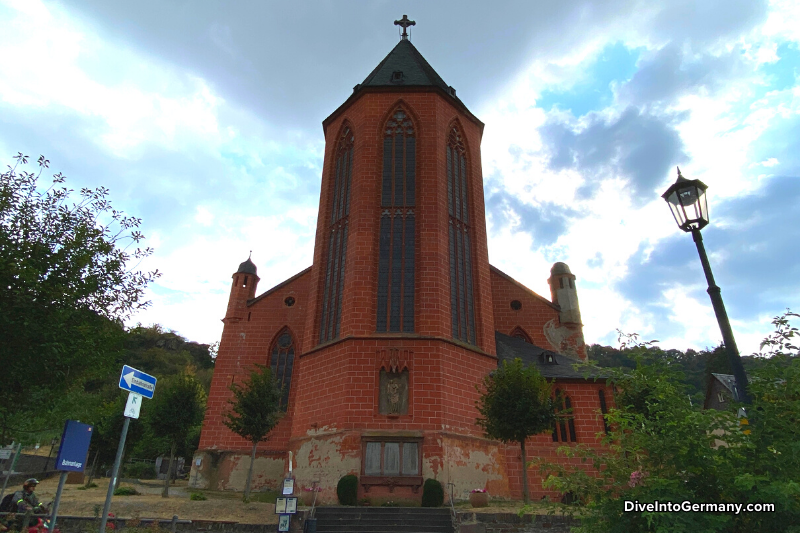 Located opposite the train station, Liebfrauenkirche is known as the "red church" thanks to its colour. Building started in 1308, although it wasn't consecrated until 1331, on the site of an older church.
This High Gothic church is known for its architecture and furnishings because it differs to what is usually the case for a Gothic church with its geometric exterior without the usual decorative form and the big pillars inside as well as high, towering nave.
It's also impressive in the region thanks to its art, including 25 medieval murals, and stunning gilded altar.
You can visit by guided tour arranged directly with the church or it is open most afternoons for visitors.
Weingut Lanius-Knab (Winery)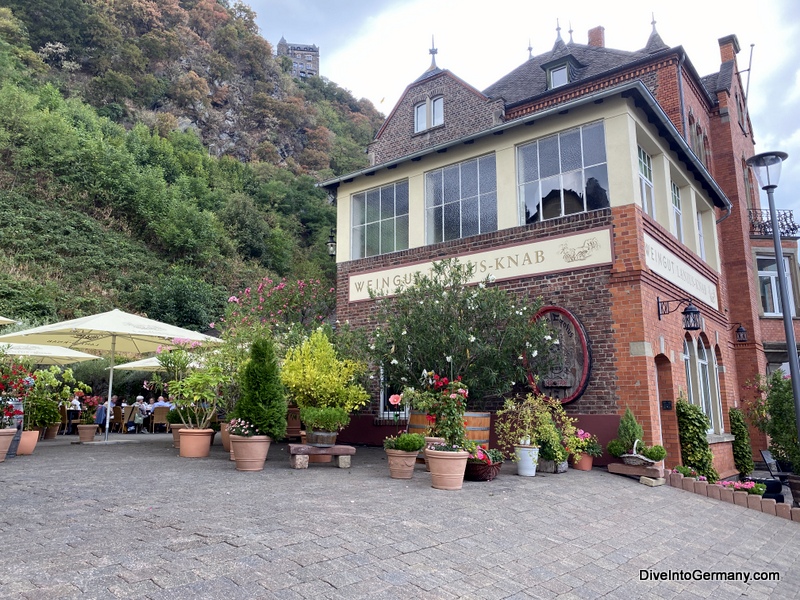 Weingut Lanius-Knab is the perfect place to head to taste some of the region's famous riesling.
Just a short walk from the train station, you can visit here for tastings during business hours or they have a variety of tours.
You can learn more here.
Schönburg (Schönburg Castle)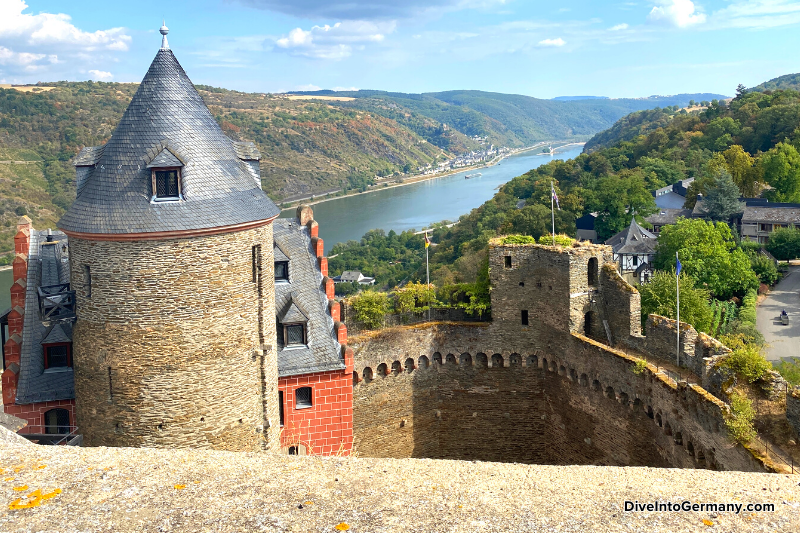 Schönburg is located up on the hills above Oberwesel. It's incredibly picturesque and it can feel like it's calling you to come visit it when you're in town!
First mentioned in 1149, this castle has an old history. Originally owned by Hermann von Stahleck, it passed between many owners before Louis XIV's troops destroyed it in 1689 in the Nine Years War.
In 1885, a partial reconstruction took place according to old plans by T. J. Oakley Rhinelander, a German-American. Since 1950, the town has owned the castle and it's now operated as a hotel and restaurant.
It's a great place to stay or you can visit for a meal or to look at the Tower Museum which opens Tuesday to Sunday in the warmer months.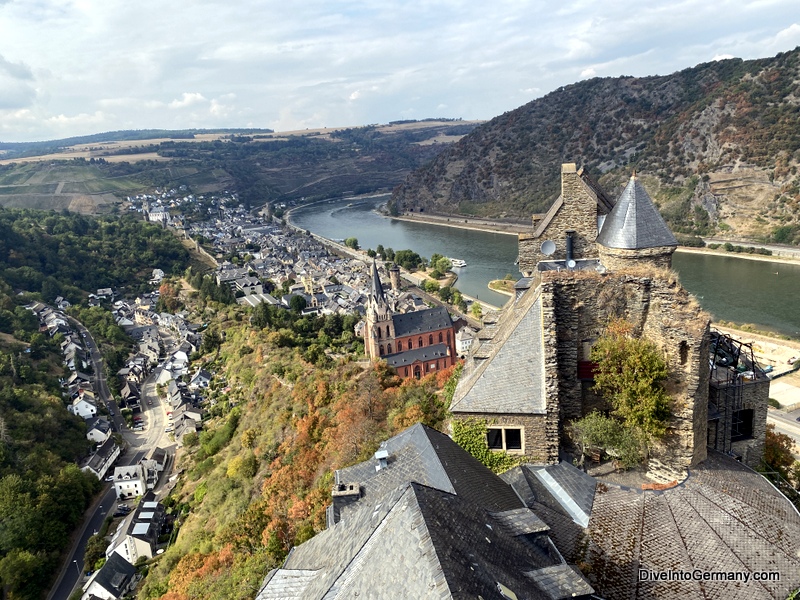 The museum basically tells the history of the castle as you walk up a high tower. On the top is a great observation deck with the best views of Oberwesel.
There is also a cool slingshot simulator that shows how they used to besiege and destroy a castle as well as the chance to use small crossbows to shoot kings 🙂
You can find our full guide to visiting Schönburg Castle here or click here to find the latest prices to stay here.
Oberwesel Kulturhaus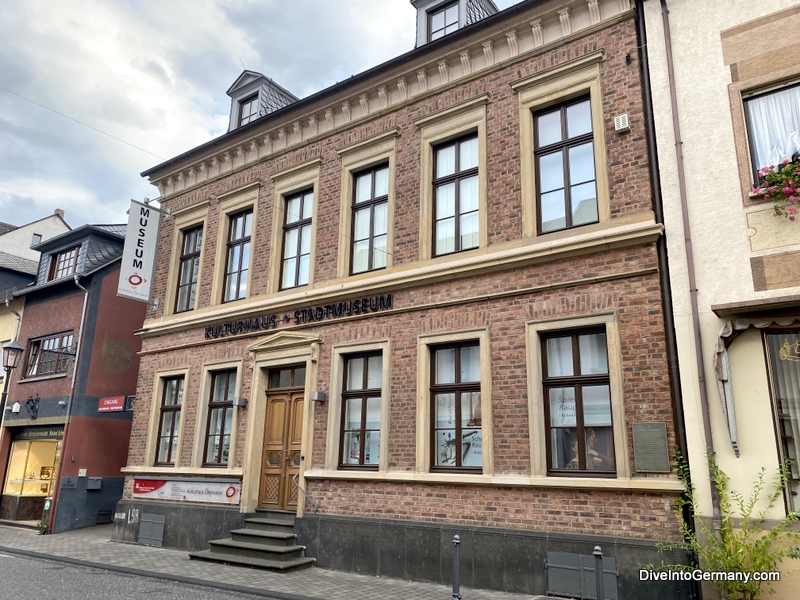 The Oberwesel Kulturhaus is the place to head to learn more about Oberwesel. Home to both an event space and the Stadtmuseum (City Museum), you'll want to consider stopping by.
Here, you can learn more about the city and the region's history from ice age skeletons of mammals and prehistoric horses to models of Rhine boats and 19th century carvings.
You can also find all the photos of the annually crowned Weinkönigin (wine queen) and Weinhexe (wine witch). The wine witch is (thankfully) a good witch who protects the vineyards so we can sure of good wine!
Most information is in German but there is an English brochure available on entry. There is a small entry fee.
Martinskirche (St Martin's Church)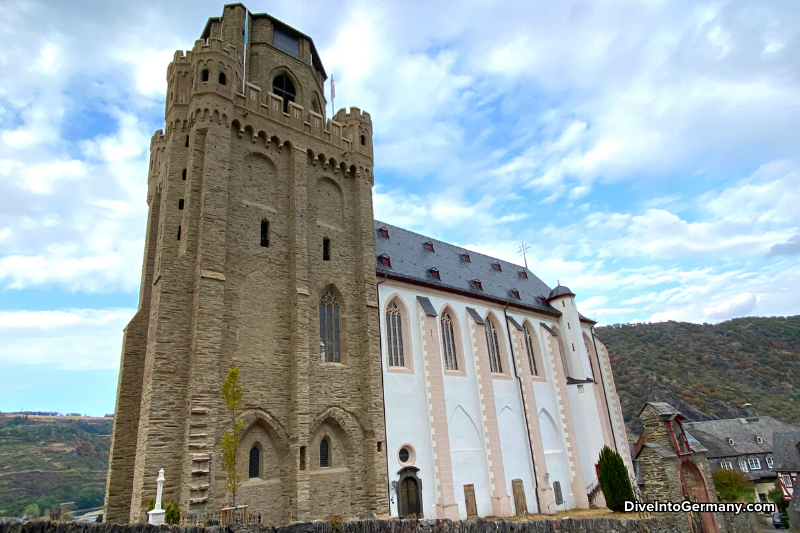 Quite a landmark at the northern end of town, you'll be able to spot Martinskirche on your approach. This 14th century church is big and known as the "white church".
As you can see, the tower looks quite different to the rest of the church. This is because of the church's location. Since it's above the city, it's an important defensive position. For this reason, the tower was expanded on and made into a defensive tower. It is the best example of Gothic defensive architecture in the Rhine valley.
Inside the church, there are painted ceilings and a beautiful, sculpted main altar. It's worth a look.
Günderodehaus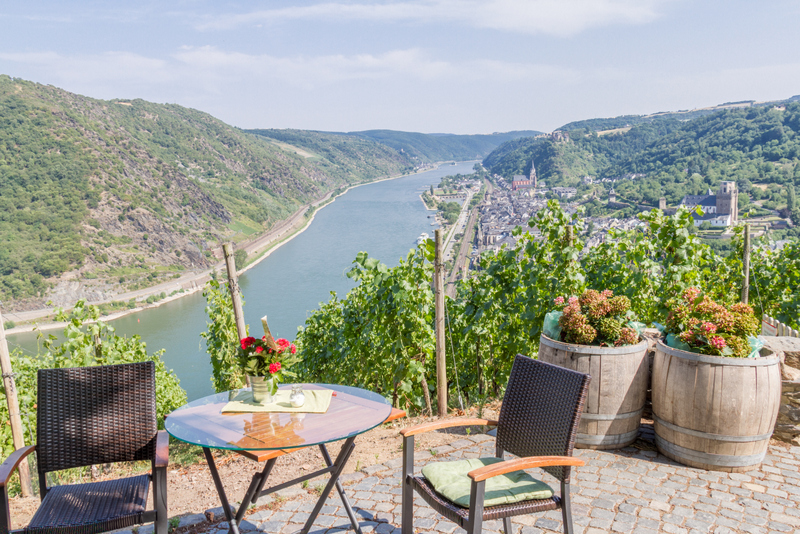 For great views and local food, head on up to Günderodehaus! This terrace surrounded by vineyards has sweeping views over the Rhine River and it's the perfect place to try a traditional dish (as well as the local wine, of course).
The buildings are gorgeous as well, and you can also visit the set of the film Heimat 3 while you are here.
Find more information, including how to make table reservations, here.
Weingut Winfried Persch (Winery)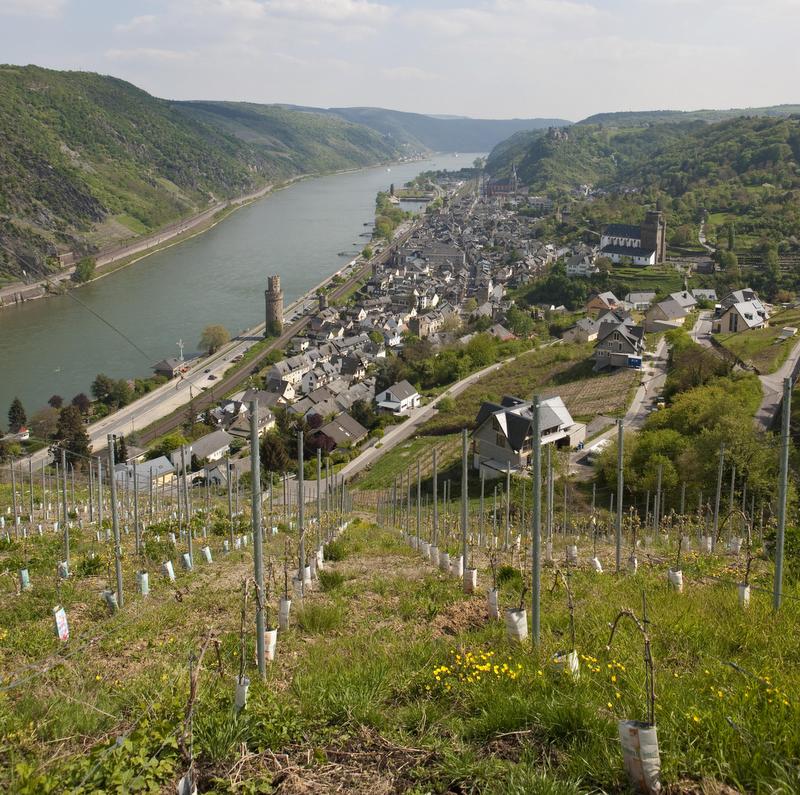 You're in the Rhine Valley so it's essential you check out some wineries 🙂 Weingut Winfried Persch is located just behind town and is the perfect place to enjoy winery views and taste the local product and food.
Weingut Winfried Persch offers wine tasting, food from farms in the local area, a wine museum with old wines and wine-making equipment and the possibility of a vineyard walking tour. There is a great terrace with views of Schönburg where it's perfect to sample the wines and food.
Bacharach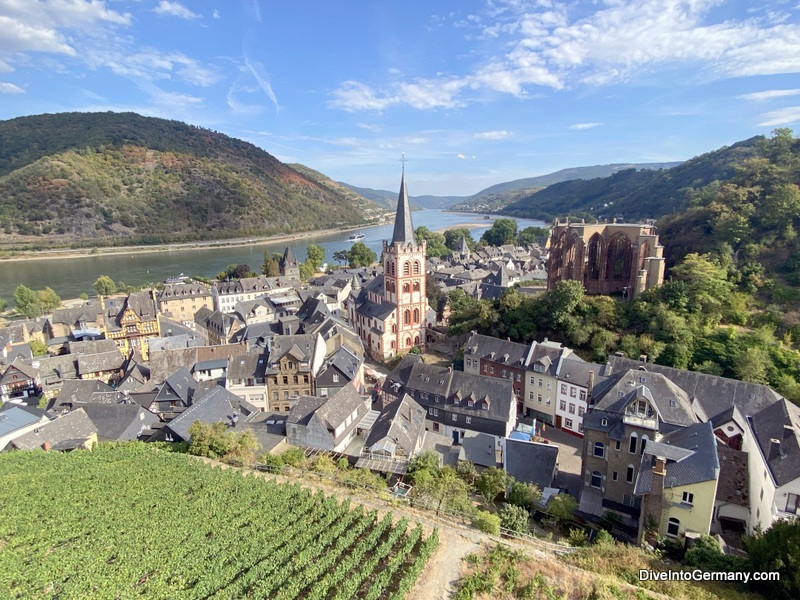 While Oberwesel is awesome, why not visit another town while you are in the area?
Bacharach is just a 7-minute drive or 4-minute train trip away. It's another gorgeous town on the Rhine with a Medieval Old Town and a 14th century wall. It's a great place to go for a wander to soak it all in. It's incredibly picturesque.
While you are in town, it's worth taking a stroll to Peterskirche (St Peter's Church) and the Wernerkapelle (old chapel ruins). Also climb up the old Postenturm (tower) surrounded by vines.
Read our full guide to Bacharach here.
Boppard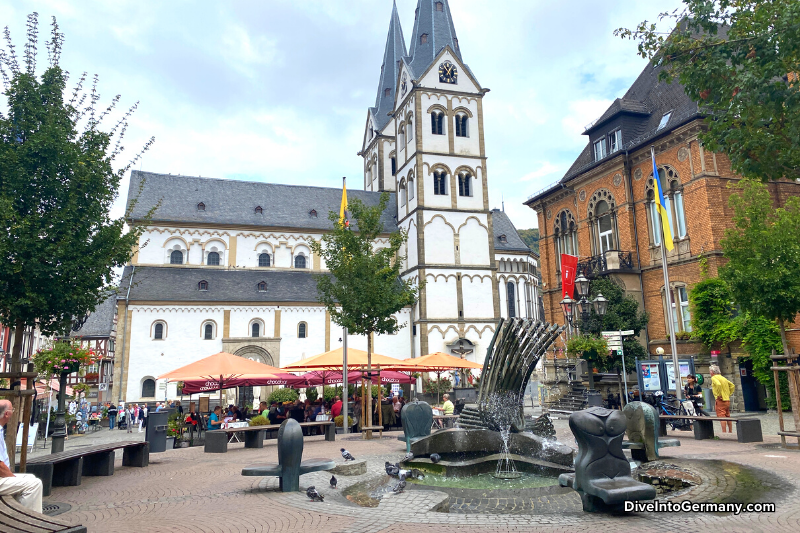 Boppard is another gorgeous Rhine village about 21 kilometres away. An easy half day trip from Oberwesel, this is another place where you should stroll the Old Town while taking in some attractions.
Boppard has an interesting history starting as a Celtic settlement before becoming a Roman fortress and evolving into a Frankish Royal Court and Free Imperial City. The remains of this past can be seen today.
While in town, try to visit Römer-Kastell (Roman Fort), Severuskirche (St Severus Church) and Rheinallee, a beautiful riverfront promenade with cafes, restaurants, wine taverns and boats. A good thing about Boppard is that the train line doesn't separate the Old Town from the river which does lead to a prettier environment.
You can also take a chair lift to the Vierseenblick (Four Lakes View) which is a viewing point 273 metres above Boppard.
Click here to read our full guide to Boppard.
What To Do In Oberwesel Germany In One Day
Only have one day in Oberwesel? What a shame! But it's ok, it's still worth going to Oberwesel if you only have one day.
With one day, you could actually do everything in this list apart from visiting Bacharach and Boppard.
Here's an itinerary you can modify to suit your requirements:
Start the day at Schönburg Castle at the Tower Museum and take in the views of Oberwesel and the Rhine.
Head to the Old Town and visit Oberwesel Kulturhaus to learn more about Oberwesel
Walk to the nearby Marktplatz and explore the Town Walls
Go to Günderodehaus for lunch
Come back to the Old Town and visit Martinskirche and Liebfrauenkirche
Finish your day tasting some wines at Weingut Lanius-Knab
Oberwesel Attractions Map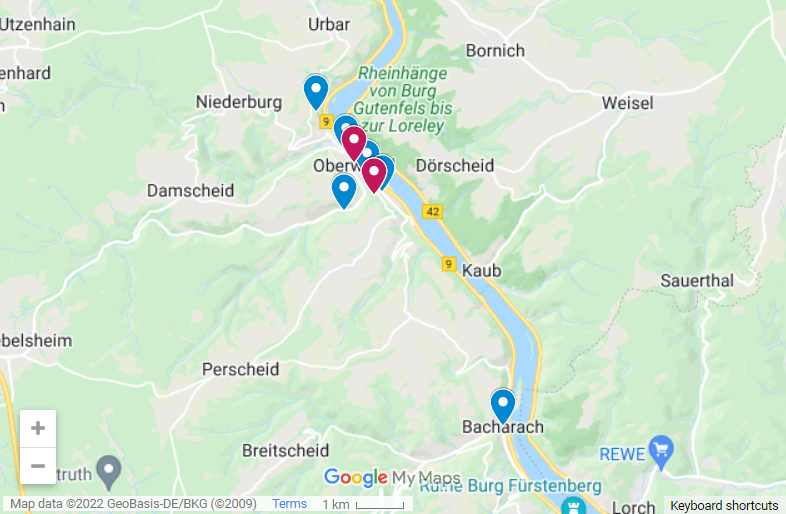 Best Place To Stay In Oberwesel
When it comes to where to stay in Oberwesel, there is a great range of hotels and other accommodation options. You won't have any problem finding somewhere to stay.
Below, I've listed a couple of different places to consider depending on what type of accommodation you are looking for.
If you want the best place to stay in Oberwesel, you can't go past staying at the local castle. Located above the town in the historic Schonburg Castle, you will love staying here.
There is a big range of room types among the 27 rooms from small singles to suites. Rooms are all doubles (apart from the singles) so this hotel is best for couples.
All rooms come with TV, free minibar, seating area and private bathrooms. Suites have more including the option to have a private sauna. Many rooms have balconies or a terrace.
On-site is a restaurant, bistro, free parking and the Tower Museum described above.
Click here for the latest prices.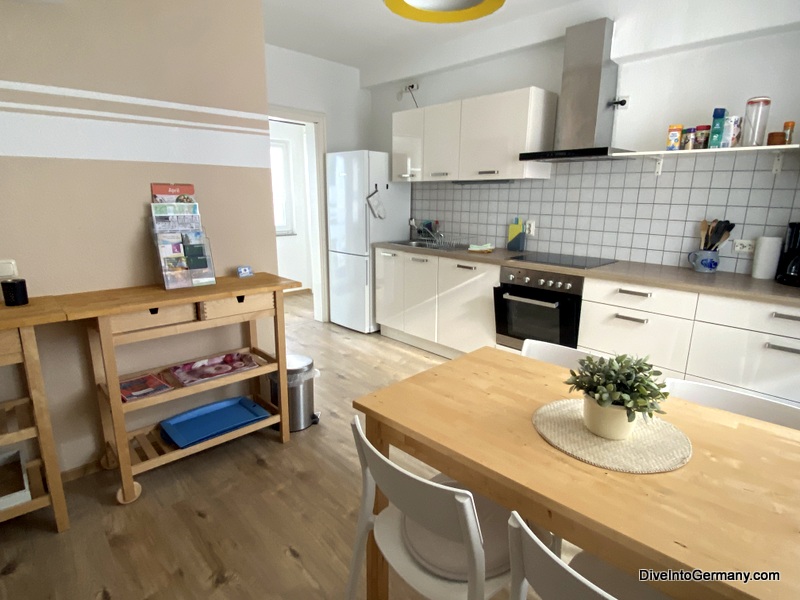 If you want great value accommodation that is well located in the Old Town and is apartment style, this is the place to book.
There are three apartments on offer here with each one on a different level of the building. You can pick between one and two bedroom options and all come with self contained kitchen, heating and air conditioning. They fit between 4 and 6 people, and they can also supply a cot and high chair.
There isn't a big range of facilities but you do have wifi. Parking is not available, but there are paid parking options nearby. There is space to park your bike, however.
Click here for the latest prices or read our full review here.
How To Get To Oberwesel
We travelled to Oberwesel by hire car which made it very easy to get here and to explore the region. I highly recommend it.
You can hire a car to get you there by clicking here.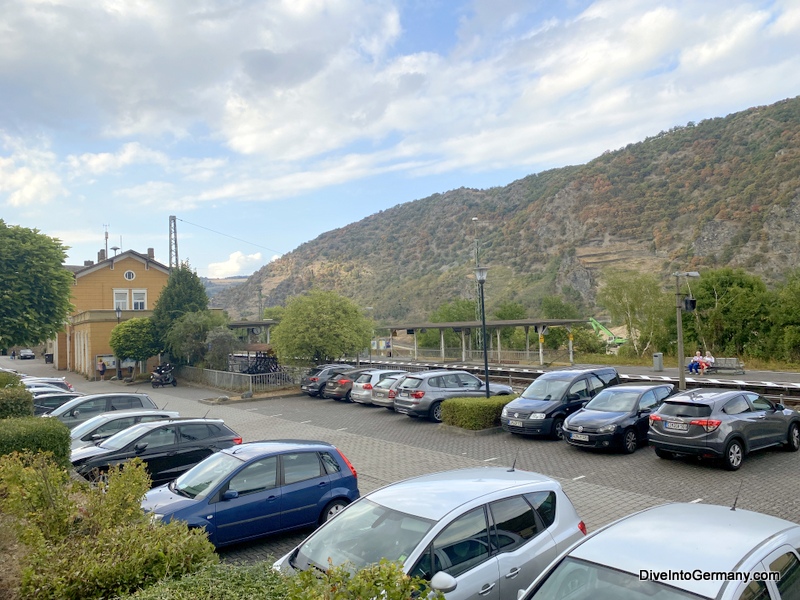 There are regular trains here. You can find timetables and all your options here.
If you need to fly in, your best option is usually to fly to Frankfurt and get a train from here to Oberwesel or hire a car on arrival. Find flight options here.
Once in Oberwesel, we were able to walk around the Old Town attractions easily. We used our car to visit the surrounding attractions as there is a lack of public transport to take you to them. Note that while distances to places can be small, there are some steep hills so you may not want to walk.
Oberwesel With Kids
We visited Oberwesel with our three kids aged 6,10 and 12. We found it an easy place to visit with kids as the attractions are quite easy and low key.
They enjoyed learning about how castles were destroyed at the Tower Museum (especially using the slingshot and crossbow) and exploring the Town Walls. They were not fans of the Oberwesel Kulturhaus.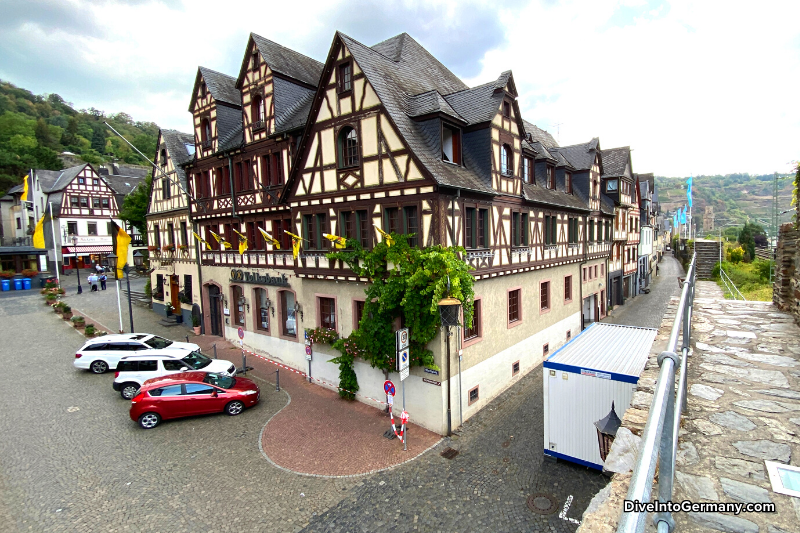 Final Words
I hope you have found this Oberwesel travel guide useful and it helps you plan (and enjoy!) your own trip to Oberwesel.
It's a beautiful place that is fun to explore and I'm sure you'll love it too.
Read more guides to visiting Western Germany here. Or read this guide to nearby Frankfurt here or Cochem here.