Going on a trip to Boppard and want to know all the best things to do in Boppard? We have you covered! Below you will find our guide to all the best attractions in Boppard to plan your ultimate trip.
The UNESCO World Heritage listed Upper Middle Rhine Valley is an excellent place to visit and explore with your precious holiday time. It achieved this listing thanks to its combination of cultural, historical, geological and industrial significance – and the best way for you to see why it deserves it is to explore, starting with Boppard!
Boppard is located at a picturesque spot on the Rhine River at a horseshoe bend. Its Old Town is extra scenic thanks to it being right next to the river and not split with a railway line like some of the nearby towns. It is may be my personal favourite town in the Rhine Valley when it comes to things to do.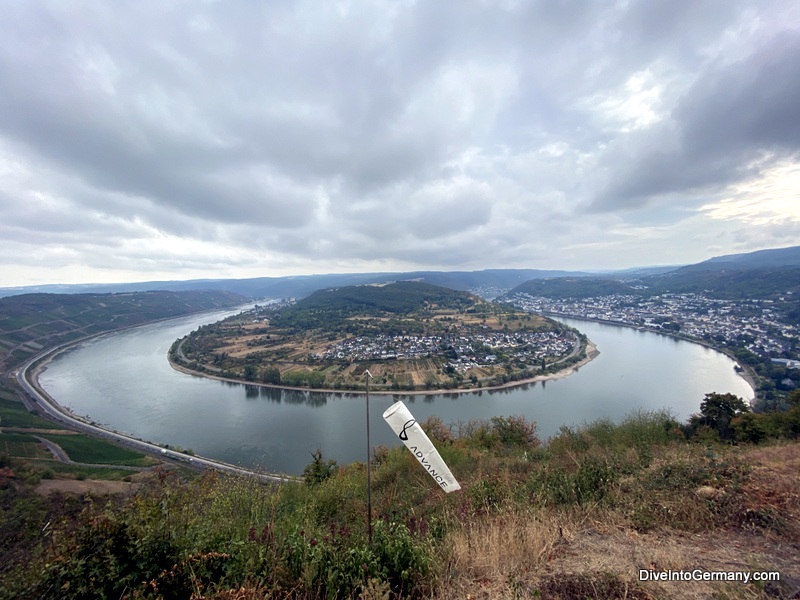 Boppard isn't just pretty but fun to explore with plenty of half-timbered houses and old wine taverns ensuring you have no problems trying the local riesling.
Boppard may just be a half day stop for you or it's a great place to base yourself while exploring more of the Rhine Valley.
Whatever you chose, below you will find our full Boppard travel guide with everything you need to know about the best places to visit in Boppard as well as the best places to stay for your ultimate vacation in Boppard. There is also a handy map of all the things to do Boppard offers.
You'll also find a full itinerary for a Boppard day trip as well as what works if you are travelling with kids.
Traveling to Germany? Click here to download your free Germany Trip Planning checklist. We'll help you get ready for your trip! 
An Introduction To Boppard
Boppard has a population of nearly 16,000 and I noticed the difference after hanging out in sleepy Bacharach and Oberwesel. It has a little more vibe. It's located about an hour and half northwest of Frankfurt or a similar distance south of Cologne. It's close to many of the Rhine Valley towns and attractions.
Boppard has always been a strategic point thanks to being on the largest curve of the Rhine River. It has a long history with a storage yard having been found here which dates back 13,000 years!
There was also a Celt settlement here and a Roman one. The Romans called it Baudobriga and the modern name is derived from this. It was strategically important thanks to being on the Roman limes, but as their area expanded, this area became less strategically important. However, the Rhine was becoming increasingly important as a supply and trade route.
By the mid 3rd century, the Rhine had become the border of the Roman Empire again and the town increased in importance. Around this time is when parts of the Römer-Kastell (attraction listed below) were constructed.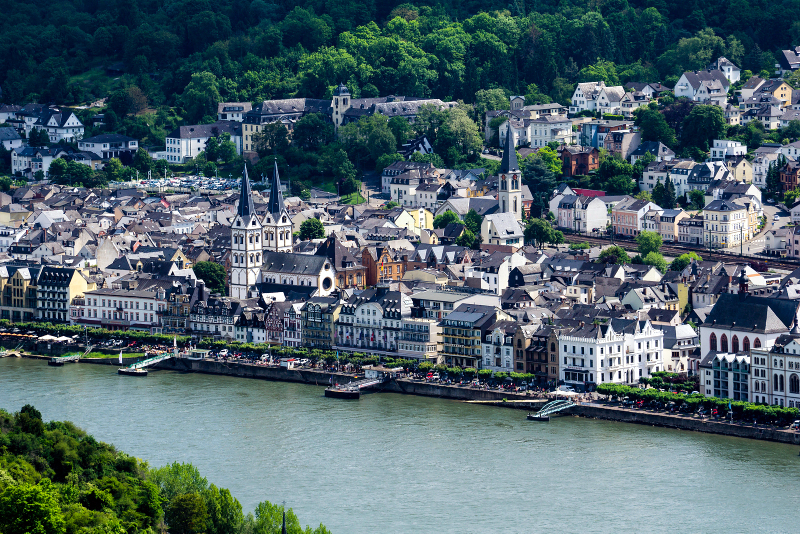 In the early 5th century, the last of the Roman troops returned to Italy and the next time Boppard is found in documents is not until 643. At this time, it had become a Frankish royal estate and was an administration centre.
Boppard became a Free Imperial City until 1309 and was a popular place for Kings to visit. It was a centre of trade and shipping.
However at this time, Emperor Henry VII gave Boppard to his brother, Archbishop Baldwin of Trier. This was not a popular decision among Boppard's residents who set up their own council. Baldwin stormed the town and stopped the council and Boppard became part of the Electorate of Trier.
The townsfolk continued to be unhappy and did what they could to be freed from the electorate. This came to a head in 1497 when the Boppard War took place. The Trier Electorate sent 12,000 soldiers and it did not take long for Boppard to surrender and finally accept they were part of the Electorate.
It basically stayed this way until being passed to Prussia in the Congress of Vienna in 1815. However, it was occupied over the years. The Swedish took it over in 1632 as part of the Thirty Years' War. Boppard lost about a third of its population during this war.
In 1794, French Revolutionary troops occupied Boppard, and this stayed the case until the Congress of Vienna.
In the last half of the 19th century, Boppard became a popular tourist and spa destination. The railway opening in 1859 helped to increase this.
Boppard escaped World War II relatively unscathed although bombs were dropped here.
Boppard became part of the new state of Rhineland-Palatinate after the war. It's still a tourist magnet and also has light industries such as pharmaceuticals and machinery.
Top 10 Things To Do In Boppard Germany
Here are the best Boppard attractions. Read through and select the ones that fit your interests and timeframe. If you only have one day to visit Boppard tourist attractions, find our one day Boppard places to visit itinerary below.
Note that I sort these things to do in Boppard Germany based on geographical location starting with the Boppard things to do closest to the train station and then working our way further away. The order isn't based on what I think are the most important attractions.
Altstadt (Old Town)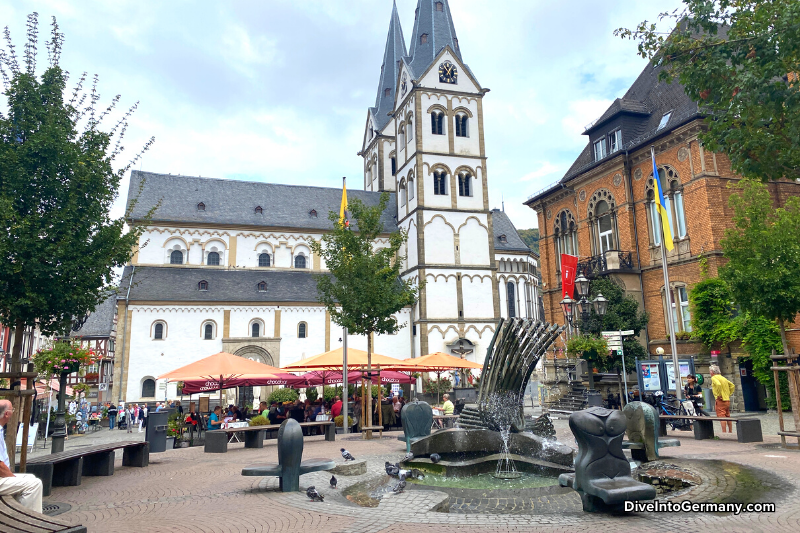 Boppard's Old Town is a delight to wander. Its location by the river makes it all the prettier.
Your aim here is to just wander, soaking it all in. It's the best way to explore this Old Town.
Also look out for sections of Boppard's Medieval Town Walls. They have been well preserved and add to the Medieval atmosphere.
Weinhaus Heilig Grab (Wine Tavern)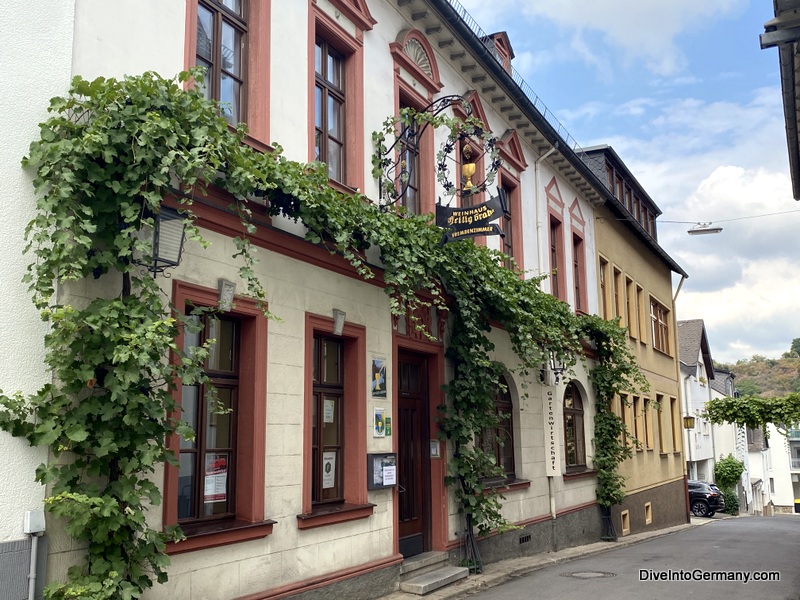 Although this is at the top of this list of fun things to do in Boppard, I recommend you visit it last or you may never leave! The oldest wine tavern in Boppard, Weinhaus Heilig Grab is the perfect place to sample the region's wines. It's been run by the same family for over 200 years.
You can try the wine inside or in a lovely garden setting outside. You can try some local food as well.
It's open from 3pm Wednesday to Sunday at the time of publishing.
Römer-Kastell (Roman Fort)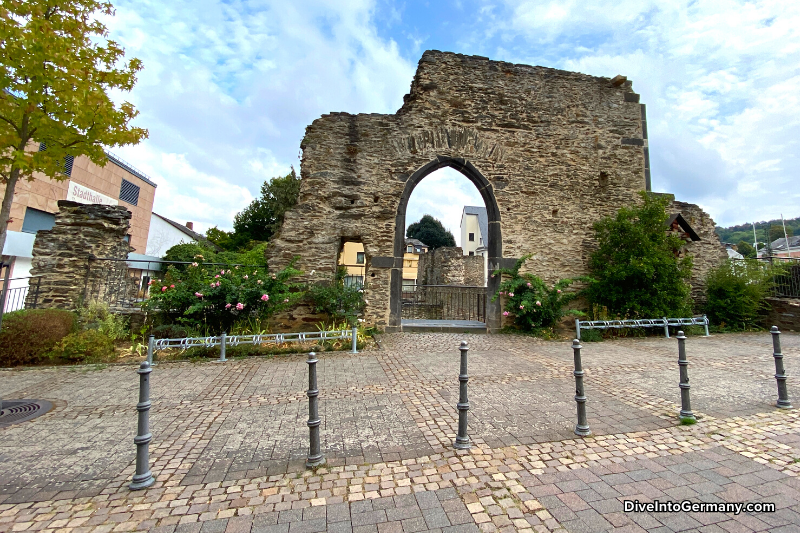 An essential one of the places to visit in Boppard is the ruins of the Roman Fort. This fort still has 55 metres of its original walls still standing from the 4th century.
There are also graves from the Frankish era in the 7th century and a wall panel which shows how the Roman town here (and this fort) used to look.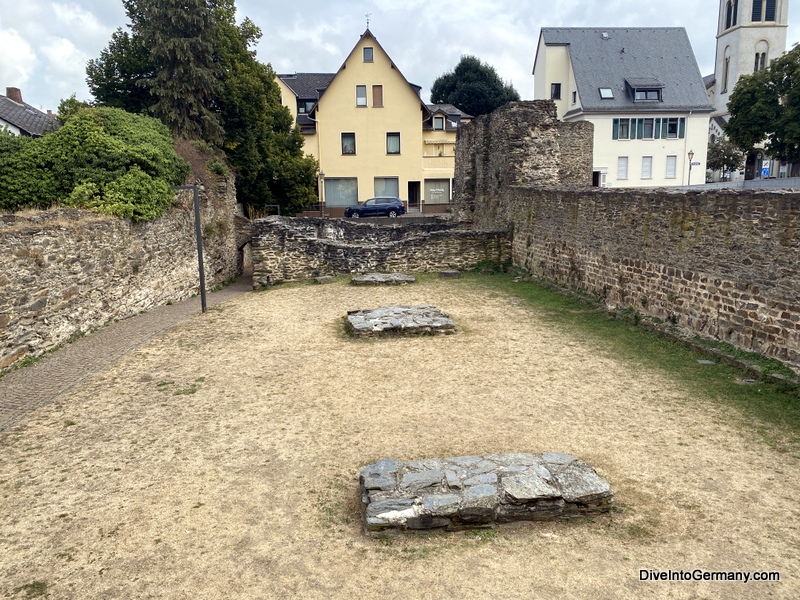 Its 9 metres walls and 28 semi-circular towers still remain and it's the best preserved Roman fort north of the Alps. It looks more impressive in real life than in photos and is a bigger site than I imagined before visiting.
Entry is free.
Severuskirche (St Severus Church)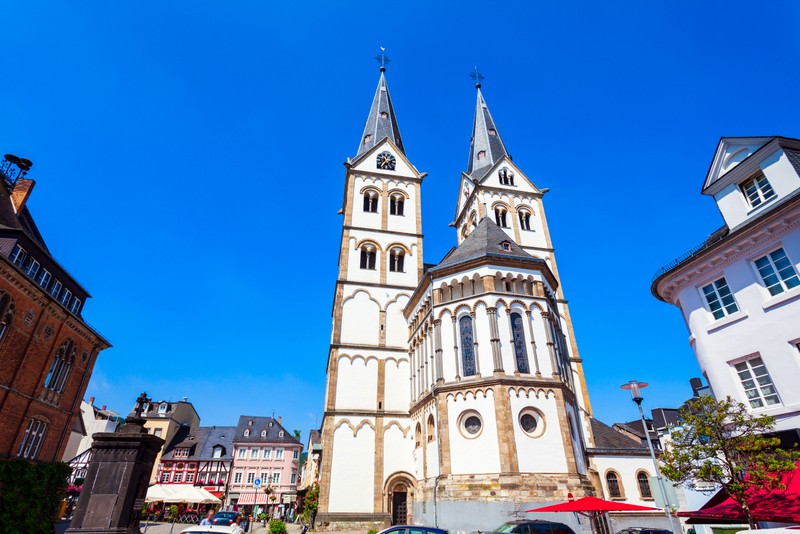 On Marktplatz, make sure you take a look at Severuskirche or St Severus Church as you explore the Old Town. This late Romanesque 13th-century church was built on the site of Roman military baths and a 6th century church. It has a long history.
It's a pretty building and its towers can be seen from many places in Boppard.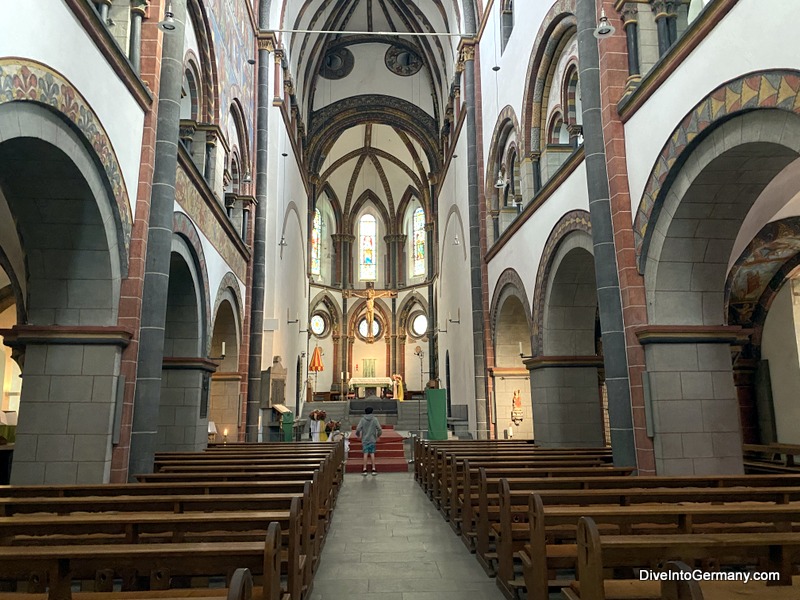 Inside, much of the art work, organ and interior have been recently renovated. You can find a big cross with Jesus from 1220, polychrome wall paintings and vaulted ceilings.
It's open daily from 8am and entry is free.
Rheinallee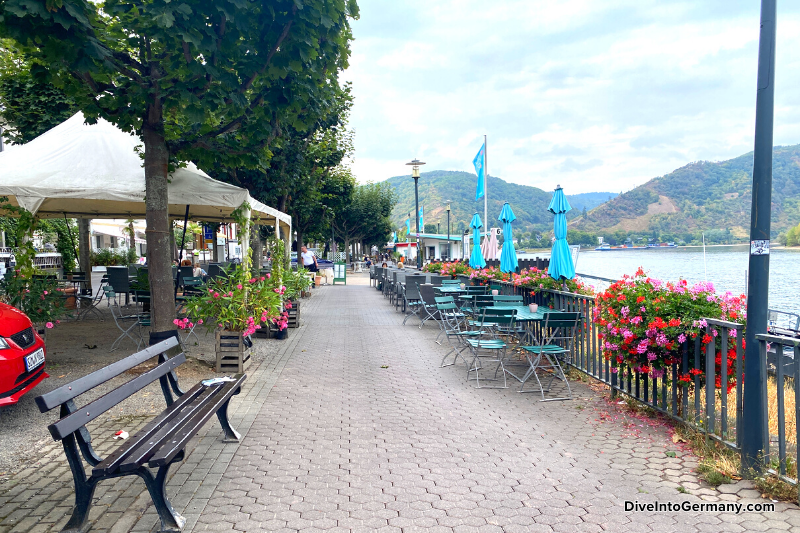 Bordering the Old Town, Rheinallee is a beautiful pedestrian promenade next to the Rhine River. It's a great place to take a walk past cafes, hotels, wine taverns and boats. There is parkland in parts as well.
Along here, you can also find a ferry across the Rhine. This can be a great way to get a good photo of Boppard.
Museum Boppard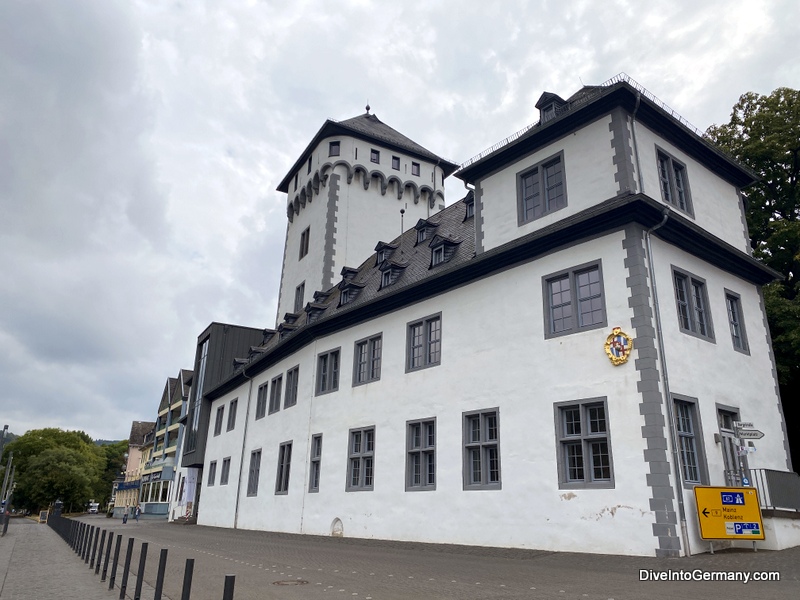 Boppard's Kurfustliche Schloss or Electoral Castle is rare in the Middle Rhine in that it's never been destroyed. It started life as a four-storey keep in 1265, and over time, more was built and it became part of the town's fortifications.
Most castles are up on hilltops. However, this castle wasn't built for military reasons and instead was built right on the river to ensure it could get a toll from every boat that passed by.
It's had many lives over the years, including as a hospital during the French Revolution and as a prison in the 19th century. In more recent times, it has been a police station. However, today it is home to the Boppard Museum and the Thonet Museum which honours Boppard's Michael Thonet, a furniture maker.
If you want to learn more about Boppard, this is the place to head. There is a particular emphasis on the Roman history of Boppard as well as the overall town history and the history of this castle. Unfortunately, most of the information is in German.
Vierseenblick (Four Lakes View) And Sesselbahn (Chairlift)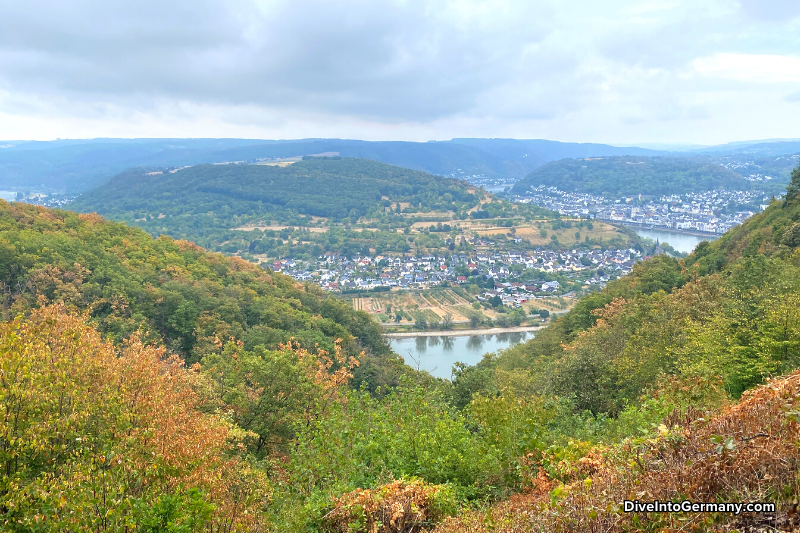 For some absolutely stunning views, head up to Vierseenblick (Four Lakes View). It's called this because you have the illusion that there are four lakes instead of one river (take a look at the photo above!).
This is thanks to the horseshoe bend in the Rhine at Boppard.
You have two choices to get up here. Firstly, you can walk. It's 332 metres up and there is a steep trail that'll take you there. There are nice views along the way.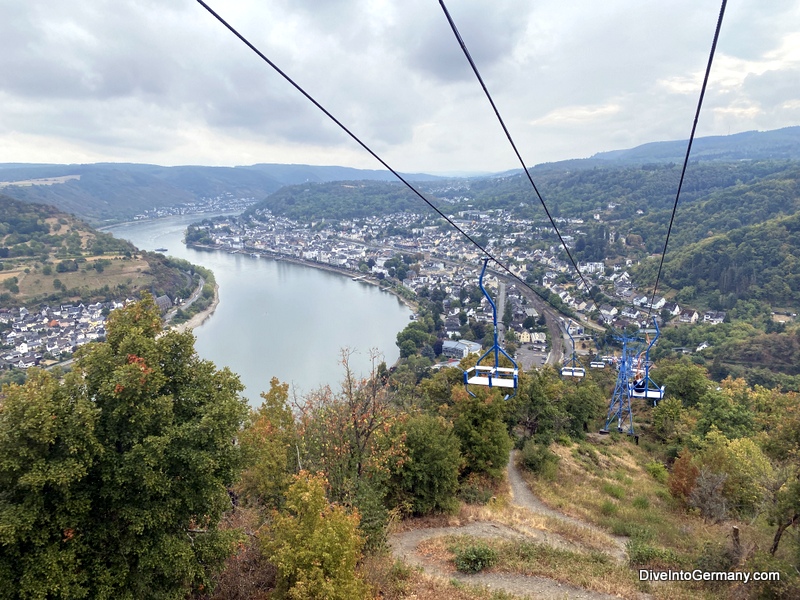 Or the option I prefer is to take the Sesselbahn (chairlift). It's a lovely 20 minute ride over vineyards, forests and cliffs from the outskirts of Boppard. It covers about 915 metres. It runs during the warmer months from 10am daily.
The views from the chairlift itself is stunning and it's only about a 7-minute walk at the top to Vierseenblick. You'll walk straight past another lookout on your way to this which also has great views.
You can find our full guide to taking the Sesselbahn here as well as how to find Vierseenblick. You can also take a bike up and do some mountain biking at the top.
There are also more hiking opportunities at the top.
Burg Rheinfels (Castle)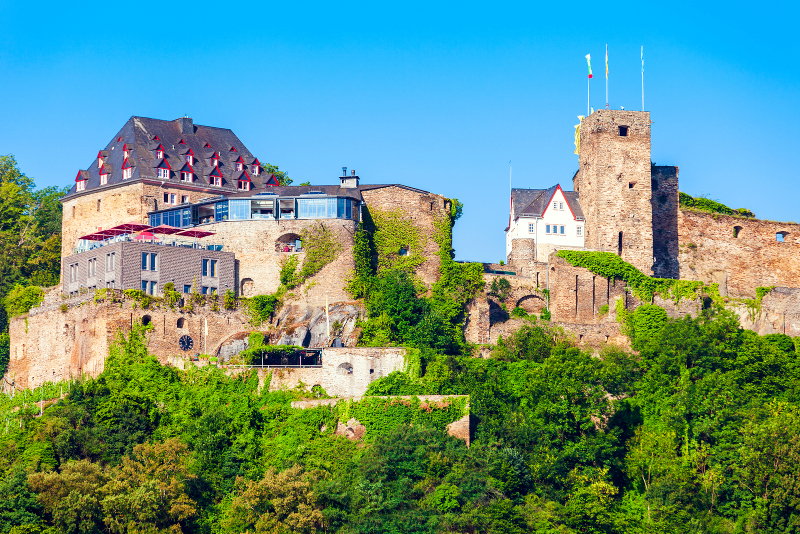 For an option of things to do around Boppard, head to Burg Rheinfels. This castle is about 15 minutes south along the river.
Built in the 13th century by Count Dieter V of Katzenelnbogen to collect tolls, it was later expanded into a Renaissance castle and then a huge fortress. The size and structure of this castle is fun to explore and it's one of the largest in the Middle Rhine.
It was well built as well as it's one of the few places to not be destroyed in the Thirty Years' War or the Nine Years' War.
Today, the castle is mostly in ruins and you can walk around and view its subterranean galleries and tunnels. There is a museum on-site as well as the possibility of a guided tour. The tour is necessary to see most of the castle.
To reach here, you need to walk uphill for around 550 metres. Allow plenty of time.
Oberwesel
While Boppard is awesome, why not visit another town while you are in the area?
Oberwesel is a great town to visit on the Rhine River, just a 13-minute train trip or an 18-minute drive from Boppard.
It has a beautiful Old Town with three kilometres of the best preserved Medieval town walls in the Middle Rhine area. It's also worth checking out Liebfrauenkirche (Church Of Our Lady), Martinskirche (St Martin's Church) and Schönburg Castle which is home to the Tower Museum.
You can follow our one day itinerary or cut some things out if you only have half a day.
Click here to read our full guide to Oberwesel (including a one-day itinerary).
Bacharach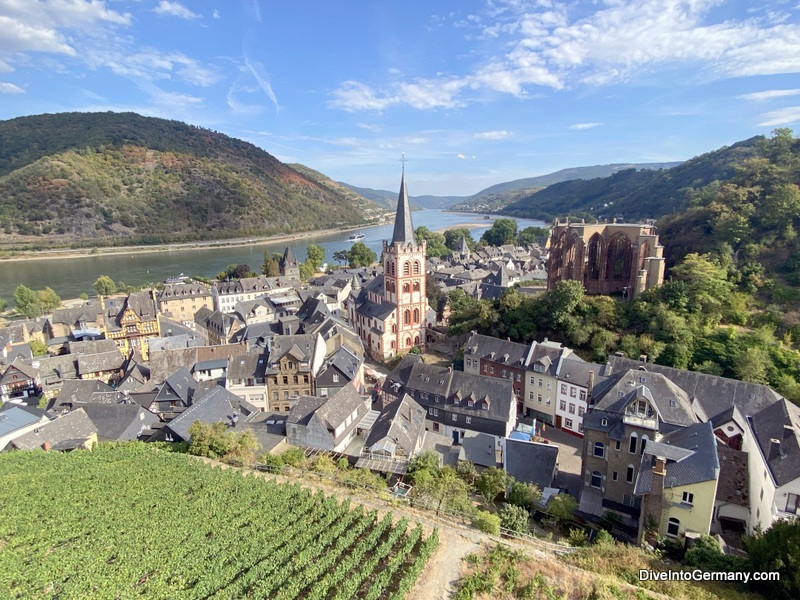 For another great town to visit in the Rhine Valley, consider Bacharach, maybe the prettiest choice.
Bacharach is just a 23-minute drive or 18-minute train trip away. It has a great Medieval Old Town and a 14th century wall. It's a fun to wander while soaking it all in. This is my pick for the prettiest town in the Rhine Valley.
While you are in town, it's worth taking a stroll to Peterskirche (St Peter's Church) and the Wernerkapelle (old chapel ruins). Also climb up the old Postenturm (tower) surrounded by vines.
Read our full guide to Bacharach here. You'll also find a one day itinerary there.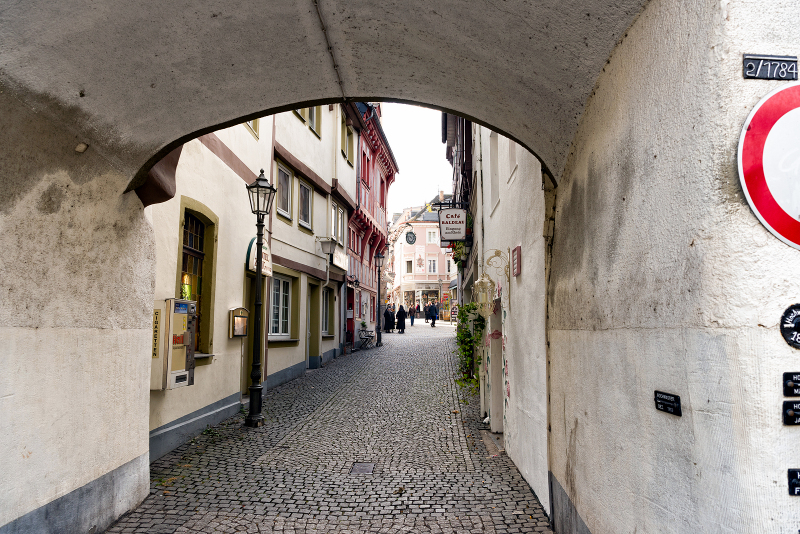 What To Do In Boppard Germany In One Day
Only have one day in Boppard? What a shame! But it's ok, it's still worth going to Boppard if you only have one day. Many people visit as a half or full day trip while exploring the Rhine Valley.
With one day, you can do everything in this list except visit all the nearby towns. You can follow my itinerary:
Start the day at Burg Rheinfels. Go on a tour if you can to explore the underground tunnels. If not, explore what you can
Head to Boppard and start at the Sesselbahn (chairlift) to Vierseenblick. Enjoy the views!
Explore Boppard's Old Town. Start at Museum Boppard to learn more about the town
Walk along the Rheinallee and visit Severuskirche and Römer-Kastell. Soak up as much Old Town atmosphere as possible
Finish the day at Weinhaus Heilig Grab tasting the local riesling
Boppard Attractions Map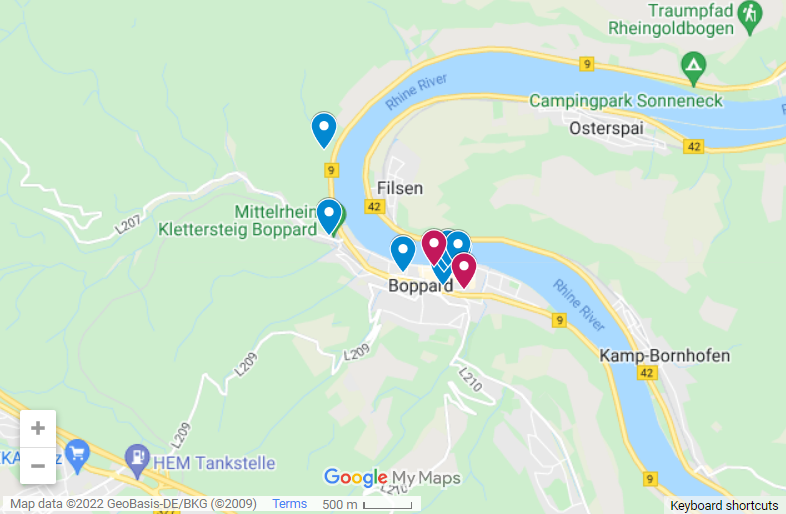 Best Place To Stay In Boppard
When it comes to where to stay in Boppard, there is a great range of hotels and other accommodation options. You won't have any problem finding somewhere to stay.
Below, I've listed a couple of different places to consider depending on what type of accommodation you are looking for.
If you want to stay in the best hotel in Boppard, consider the Bellevue Rheinhotel. Located by the river in Boppard's Old Town, it's hard to imagine a better spot. Built in 1887, this grand hotel has stylish Art Nouveau décor.
The hotel has many facilities including an indoor pool, sauna, gym, massage and beauty treatments. You can also eat at one of their three restaurants (I recommend the riverside terrace, Le Jardin, in summer) or drink at their multiple bars.
Guests also receive a free public transport pass and access to Museum Boppard. Parking is available at an extra cost.
There is a range of single, double, apartments and suite rooms (including family options) so take your pick of what suits best. All give you a stylish and comfortable room with a sitting area. Some rooms have river views.
Click here to see the latest prices.
Hotel Ohm Patt is a great value accommodation option that you can find on the edge of Boppard's Old Town close to the train station.
On-site, you can find Weinhaus Patt's bar and a Mediterranean restaurant. Buffet breakfasts are also available and wifi is too. Free parking is available nearby.
There are single, double and triple rooms available. Rooms are small but come with private bathrooms, TV and somewhere to sit.
Click here to see the latest prices.
Boppard Travel Guide Video Overview
Check out an overview of the main Boppard attractions in the video below.
How To Get To Boppard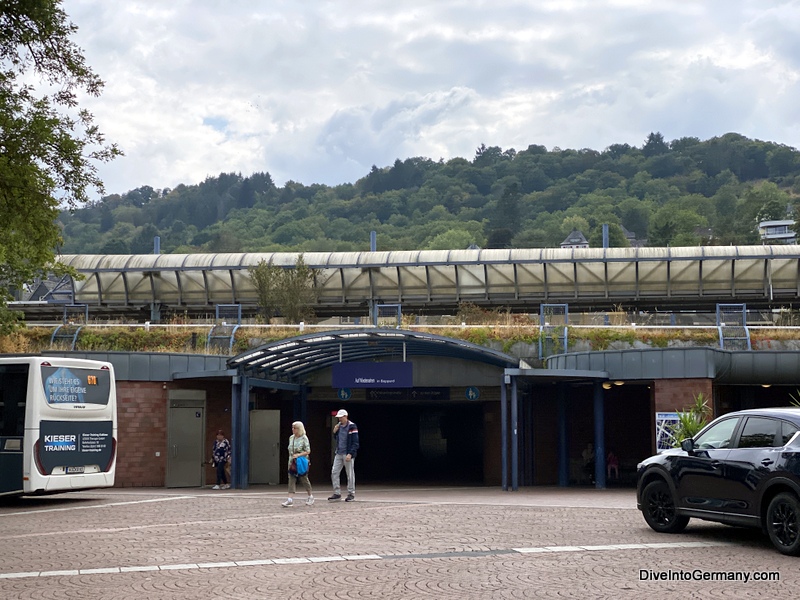 We travelled to Boppard by hire car which made it very easy to get here. It's simple to find.
You can hire a car to get you there by clicking here.
Otherwise, train is the easiest way to get here. There is a station in the middle of town which is well hooked up to other towns on the Rhine as well as Koblenz, Mainz and Frankfurt. You can find timetables and all your options here.
The closest airport is in Frankfurt. There are direct trains between Frankfurt Airport and Boppard that take about an hour and a quarter. Find flight options here.
Once in Boppard, we found it easy to explore most of the attractions on foot.
Boppard With Kids
Boppard is a fun place to explore with kids. We visited here with our three kids aged 6 – 12 and they liked exploring the Roman Fort and the chairlift in particular.
As we walked around the Old Town, we made a game out of finding parts of the old walls and towers. I recommend it! Who can find the most sections?
They also found it interesting exploring underneath Burg Rheinfels.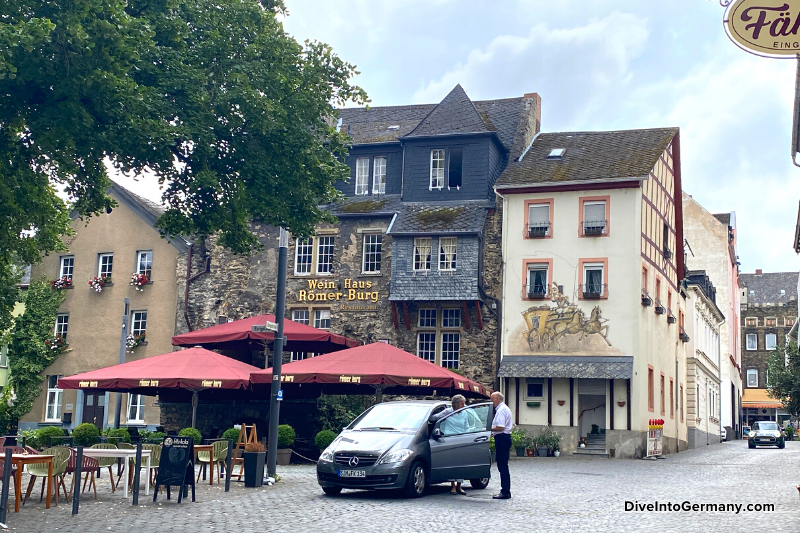 Final Words
I hope you have found this Boppard travel guide useful. It's a pretty place to visit and well worth a stop when you explore the Rhine Valley with some great things to do.
Read more guides to visiting Western Germany here. Or read this guide to nearby Frankfurt here or Cochem here.