Going on a trip to Bacharach and want to know all the best things to do in Bacharach? We have you covered! Below you will find our guide to all the best attractions in Bacharach to plan your ultimate trip.
One of the prettiest towns in the Rhine Valley (maybe the prettiest?!), don't miss a chance to stop here! With its Medieval walls, Old Town with half-timbered buildings and a gorgeous setting by the Rhine River, there is much to love about Bacharach.
It's a fun place to explore with some low key attractions and surrounding castles and wineries. It's Germany at it's best!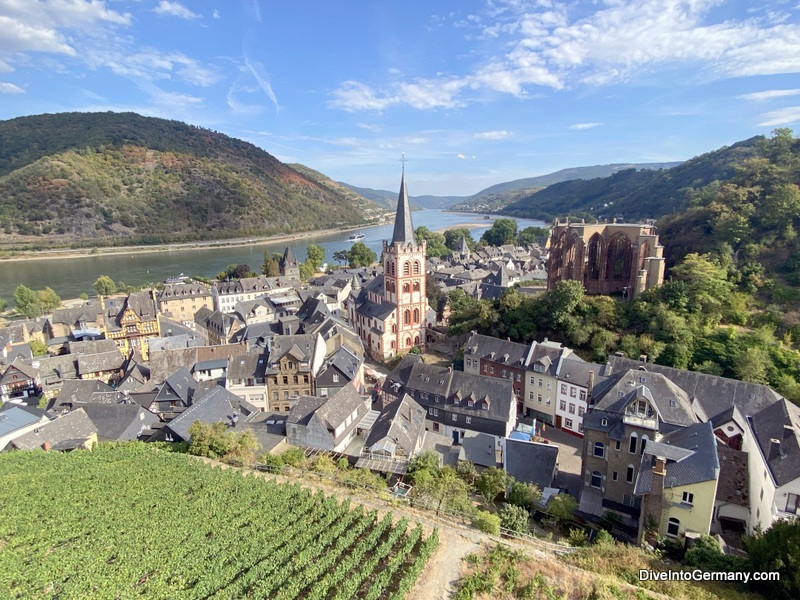 While you may just visit Bacharach on a day trip while touring the Rhine Valley, it also makes a great base for exploring this area.
Whatever your choice, below you will find our full Bacharach travel guide. It has everything you need to know about the best places to visit in Bacharach as well as the best places to stay for your ultimate vacation in Bacharach. There is also a handy map of all the things to do Bacharach offers.
You'll also find a full itinerary for a Bacharach day trip as well as what works if you are travelling with kids.
Traveling to Germany? Click here to download your free Germany Trip Planning checklist. We'll help you get ready for your trip! 
An Introduction To Bacharach
With a population of just over 2,000 people, Bacharach is located in the centre of the Upper Middle Rhine Valley in the western part of Germany just over an hour west of Frankfurt. It is part of the UNESCO World Heritage listed Upper Middle Rhine Valley thanks to its combination of cultural, historical, geological and industrial significance.
Bacharach may have started life as a Celtic settlement, but its first mention in documents came in the early 11th century. There is some evidence that it may have been in existence in the 7th century with the remains of a chapel found under the Wernerkapelle, but by the 11th century, at least, it was under the ownership of the Archbishops of Cologne.
The area briefly came under the control of Henry of Brunswick after he married the daughter of the Hohenstaufen Count Palatine of the Rhine, Conrad, at Conrad's passing in 1195.
In 1214, the Wittelsbachs took over and stayed in power until 1803. Bacharach's importance grew as a major transfer point in the wine trade as barrels moved from smaller ships to bigger ones. It was also a toll point. The timber trade was also important. In 1356, Bacharach officially was given town rights.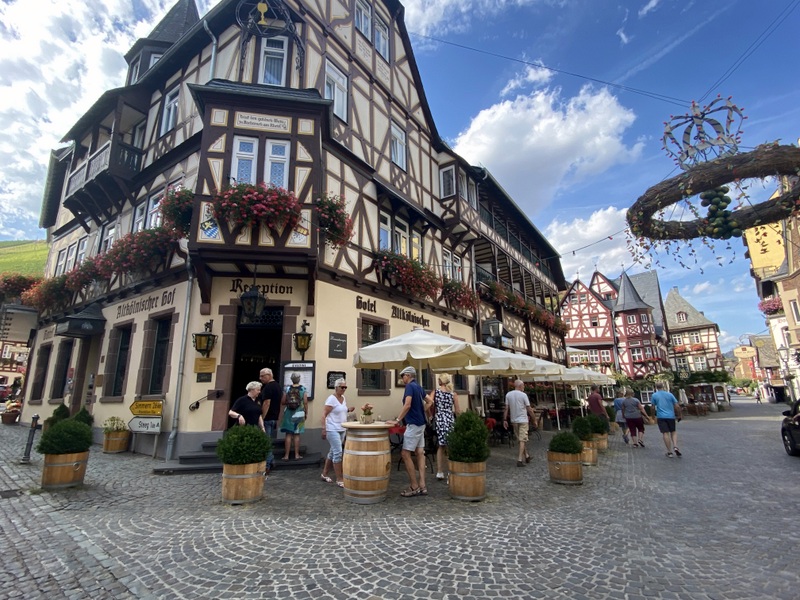 The town walls were also being built at this time and finished in 1400. They were not enough to stop the town being sacked in the Thirty Years' War as well as eight changes in military occupation at this time. In 1689, it was also affected by fighting in the Nine Years' War with some of the towers and Stahleck Castle blown up.
In 1802, Bacharach was temporarily French thanks to French Revolutionary troops. After the Congress of Vienna in 1814-1815, the town was given to Prussia. Its influence waned and it only came back to life when the Rheinromantik movement brought tourists, artists and more.
This helped lead to the preservation movement for Bacharach's buildings and monuments including Stahleck Castle and the town wall.
Stahleck Castle was rebuilt in 1934-1935 by the Nazi Party and was used as a youth camp to indoctrinate teenagers and young people. It was also a military hospital during part of the war and then a re-education camp for students from Luxembourg.
Today, tourism and wine are the main industries in Bacharach.
Top 10 Things To Do In Bacharach Germany
Here are the best Bacharach attractions. Read through and select the ones that fit your interests and timeframe. If you only have one day to visit Bacharach tourist attractions, find our one day Bacharach places to visit itinerary below.
Note that I sort these things to do in Bacharach Germany based on geographical location starting with the Old Town and town walls. I then list the closest Bacharach things to do from the main train station, working our way further away. The order isn't based on what I think are the most important attractions.
Altstadt (Old Town)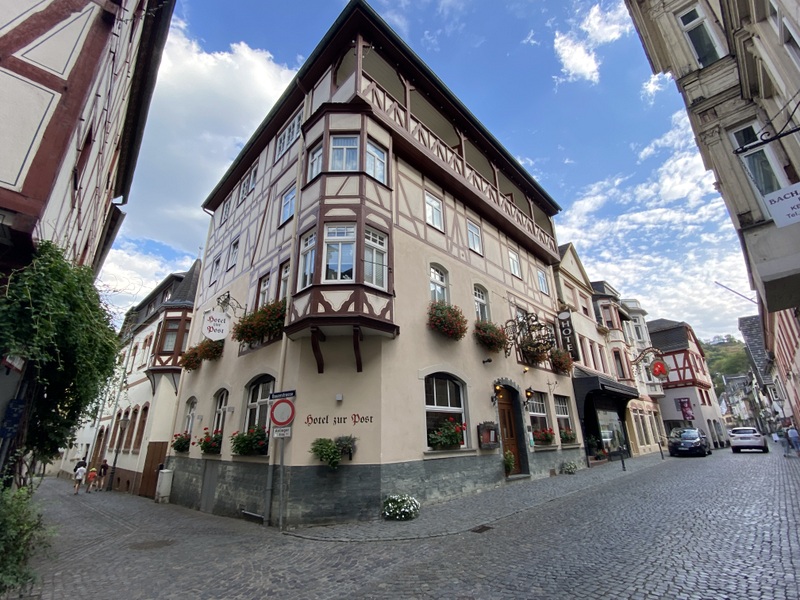 The Old Town of Bacharach is just gorgeous. With half timbered houses, narrow streets and the surrounding walls and towers, you'll feel like you've gone back in time.
It's easy to walk around soaking in this Old Town and that's exactly what you should do. Many of the buildings are adorably crooked. Try to pick your favourite one – it'll be hard!
Town Walls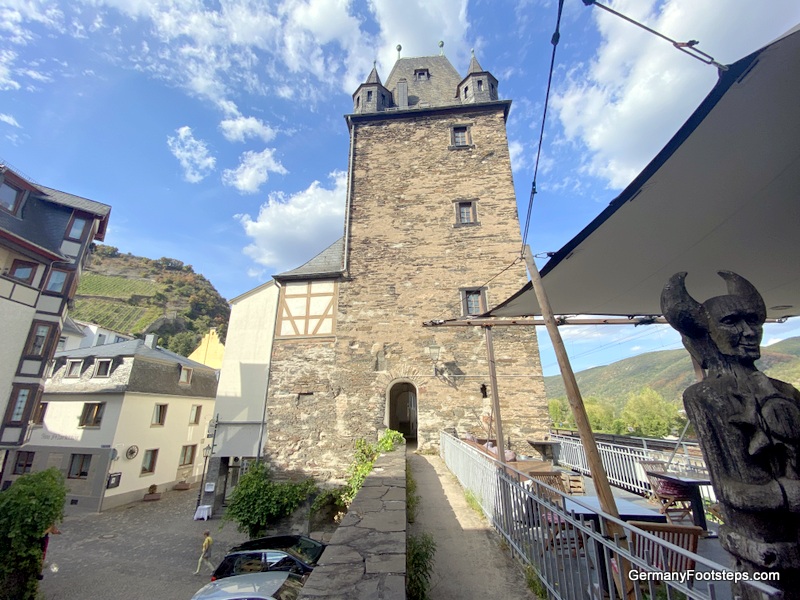 One of the best ways to explore Bacharach is from on top of the town walls. You can nearly walk all the way around the centre on these beauties.
A particularly scenic section is the wall by the river. You can reach this section up some stairs on Zollstraße near the train line.
It feels like another world up on the walls and a bit like you are walking through people's houses but in a good way 😀 There are also eating options up here and shops. It's a real must visit.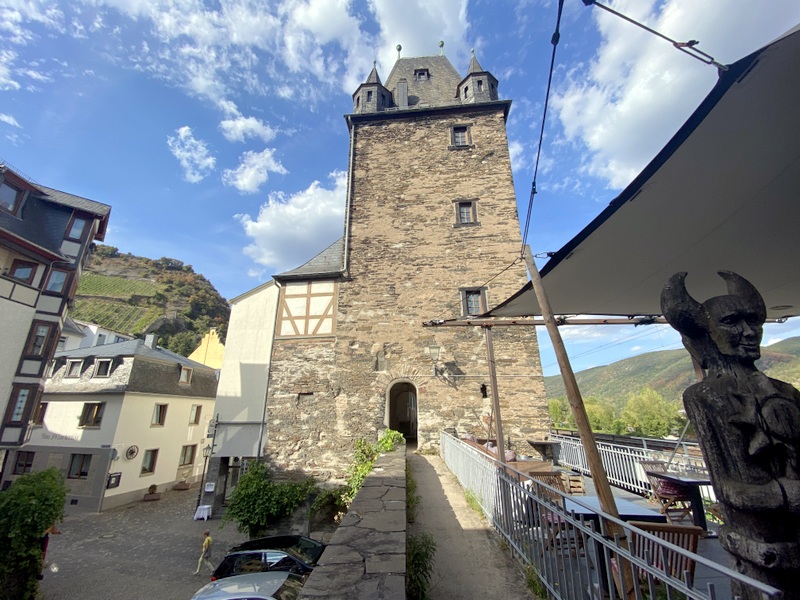 You can find towers as you walk around the walls. On this section, you'll find Crane Tower, where they used to lower wine to go on the ships, and Markt Tower which is one of the original 14th century gates.
Peterskirche (St Peter's Church)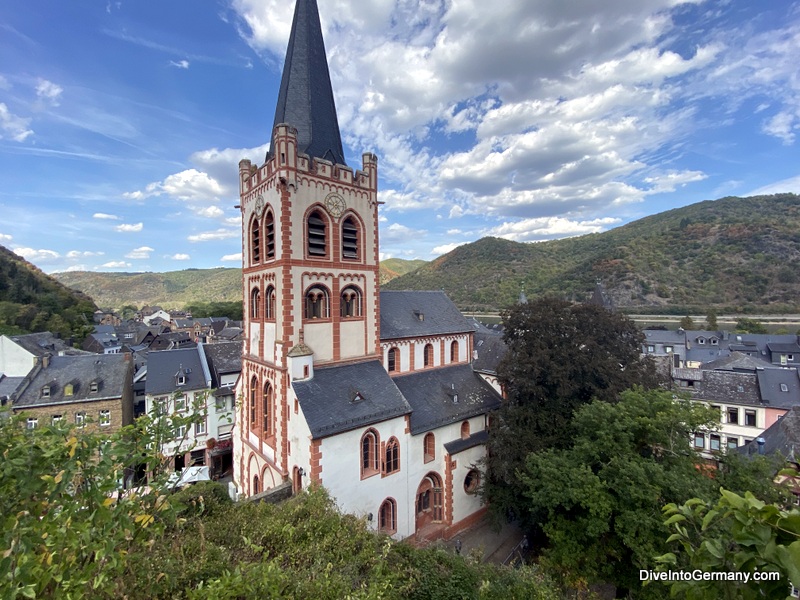 Peterskirche, or St Peter's Church, is the largest church in Bacharach and you'll be able to see it from vantage points across the town. Completed in 1269, it's a late-Romanesque-style Protestant church with a French Gothic influence.
There are some unique sculptures here (like a naked woman with snakes sucking her) as well as gorgeous frescoes. It's elegant inside albeit simple.
Entry is free, but at the time that we visited, entry was only for silent prayer.
Wernerkapelle (Werner Chapel)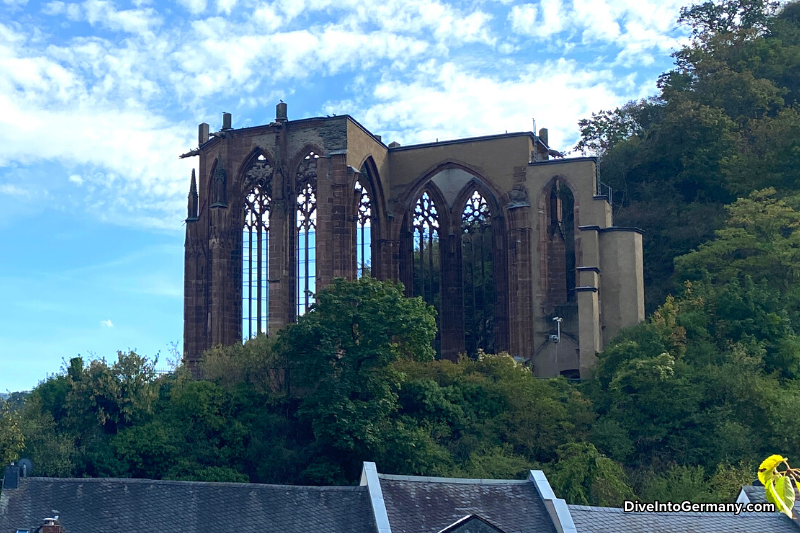 Wernerkapelle, a partially destroyed chapel, has become a symbol of Bacharach and, as such, it can feel like a visit here is mandatory.
The red sandstone ruins were first built between 1289 – 1430. In 1689, during the Nine Years' War, It was partially destroyed thanks to debris from the French blowing up Stahleck Castle.
The steep, but short, walk up here is worth it for the views alone (like of the church pictured above). You can find the path on the south side of Peterskirche.
Today, there is also a plaque here in the memory of the Jewish population who suffered inhumane crimes against them. It adds to the sombre feeling at this site.
It's also picturesque and it's especially pretty when lit up at night.
Weingut Friederich Bastian (Winery)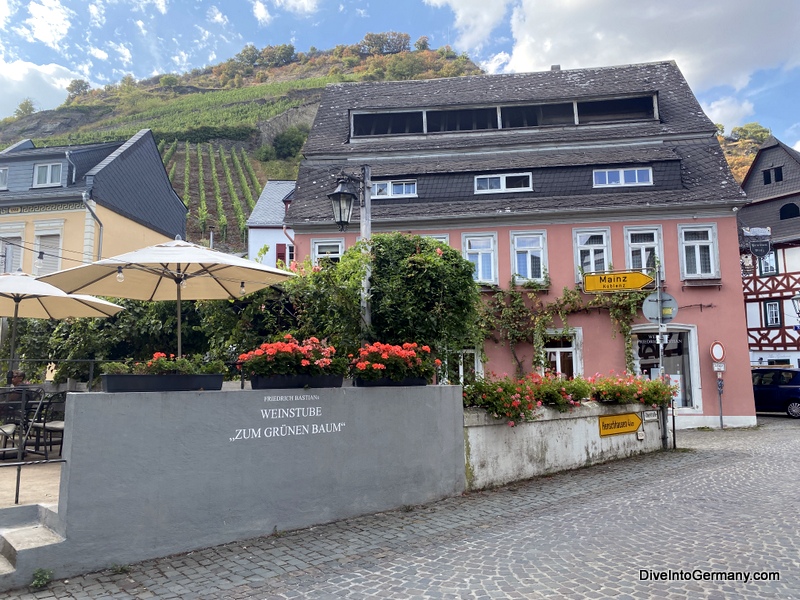 Of course, you can't come to the Rhine Valley without trying some wines so that is what this Bacharach attraction is all about!
Right in the heart of town is Zum Grünen Baum (To The Green Tree) wine tavern, part of the Weingut Friederich Bastian which is across a little street (the pink building pictured above).
Dating back to 1421, this tavern follows the Middle Rhine tradition and is the perfect place to try the Bastian wines with some local snacks. You can then pop into their store (the pink building) to stock up.
The tavern itself is in a beautiful half timbered building with a big beer (wine?) garden.
Postenturm (Post Tower)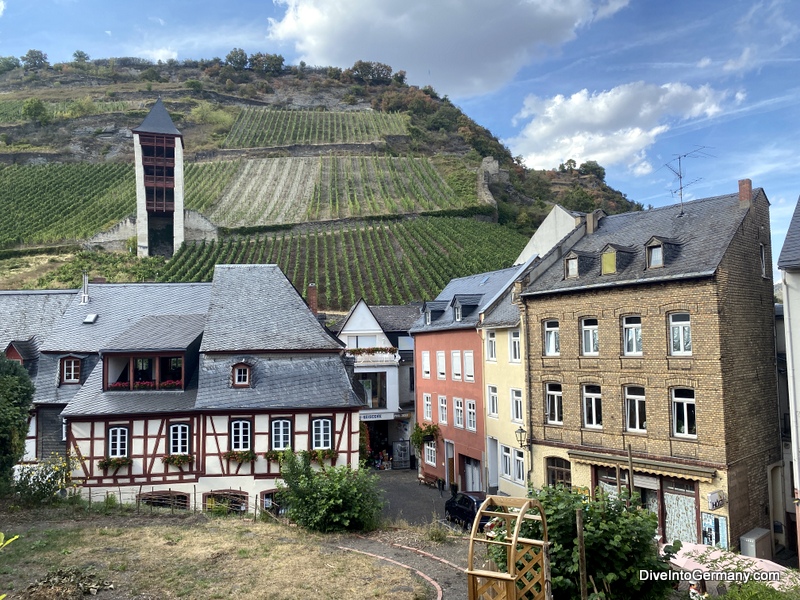 For a Bacharach attraction which highlights both the town's historic past and its wines, head to Postenturm or Post Tower. Once part of Bacharach's Medieval fortifications, it's now surrounded by vineyards.
You can climb up to the second top for awesome views – it'll take you 58 steps. For an idea of the gorgeous view you get, keep reading this article as there is a picture of some of it near the bottom 🙂 If you don't want to climb up, there are also great views from the base. So either way, you're winning!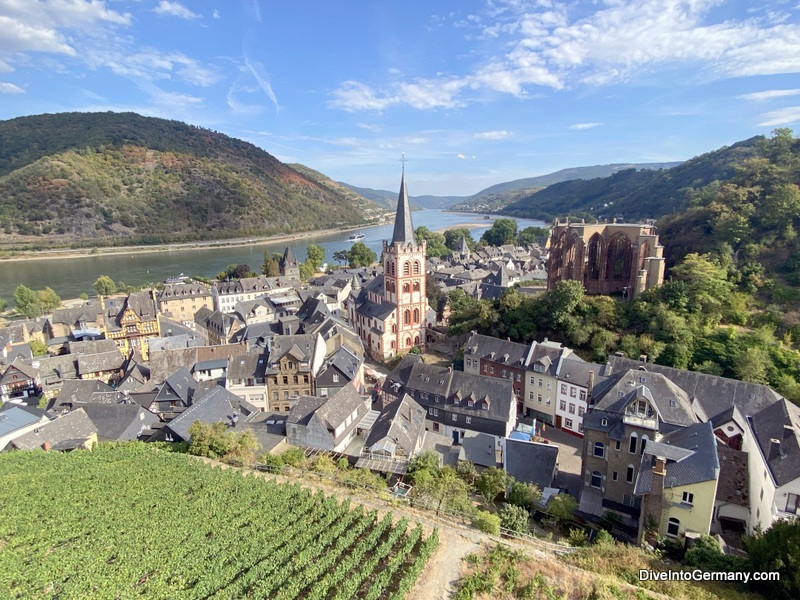 Entry is free.
Burg Stahleck (Stahleck Castle)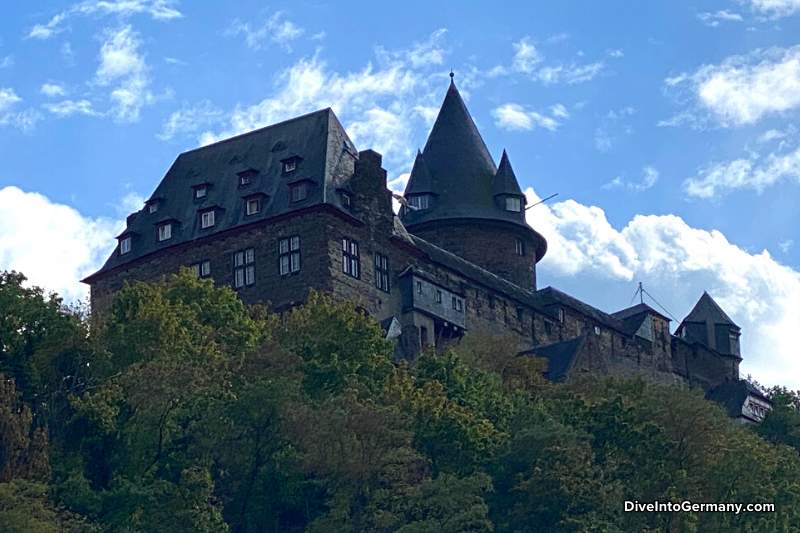 Burg Stahleck started its life as a 12th century fortification castle. At 160 metres above the river, it has a great vantage point and used to collect tolls from passing ships. It was heavily fortified and had a moat but was still conquered at times.
As stated above in the introduction to Bacharach, it was rebuilt in the 20th century and was used by the Nazis during World War II mostly as a re-education camp.
Today, it is a hostel with bunks as well as single, double and family rooms, some with ensuites. There is also a bistro, cafe/bar and playroom. There is an activity program in school holidays.
It must be one of the cheapest ways to stay in a castle in Germany! If you aren't staying here, you can still come up and take a look at the fantastic views from the courtyard. There is a steep path up here from Wernerkapelle or you can drive.
Oberwesel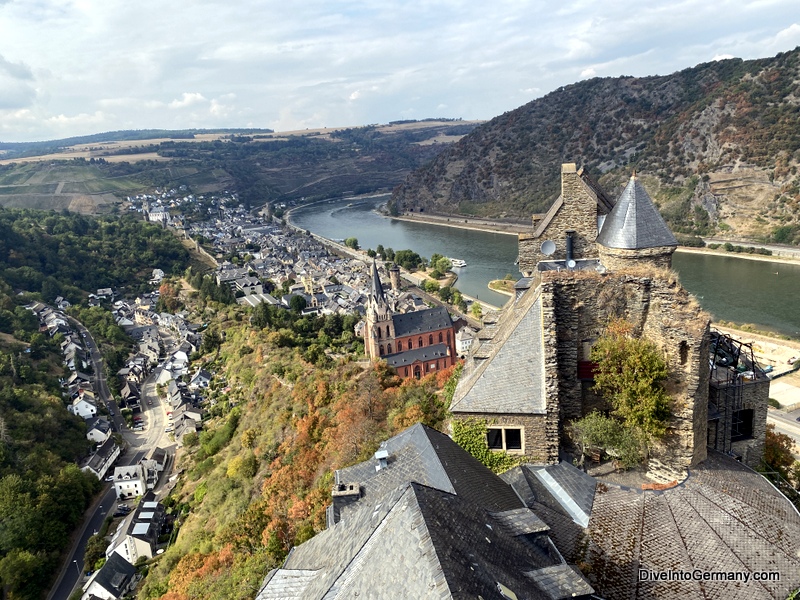 Oberwesel is another great town to visit on the Rhine River just a 4-minute train trip or a 7-minute drive from Bacharach.
It has a beautiful Old Town with three kilometres of the best preserved Medieval town walls in the Middle Rhine area. It's also worth checking out Liebfrauenkirche (Church Of Our Lady), Martinskirche (St Martin's Church) and Schönburg Castle which is home to the Tower Museum.
You can follow our one day itinerary or cut some things out if you only have half a day.
Click here to read our full guide to Oberwesel (including a one-day itinerary).
Burg Rheinstein (Rheinstein Castle)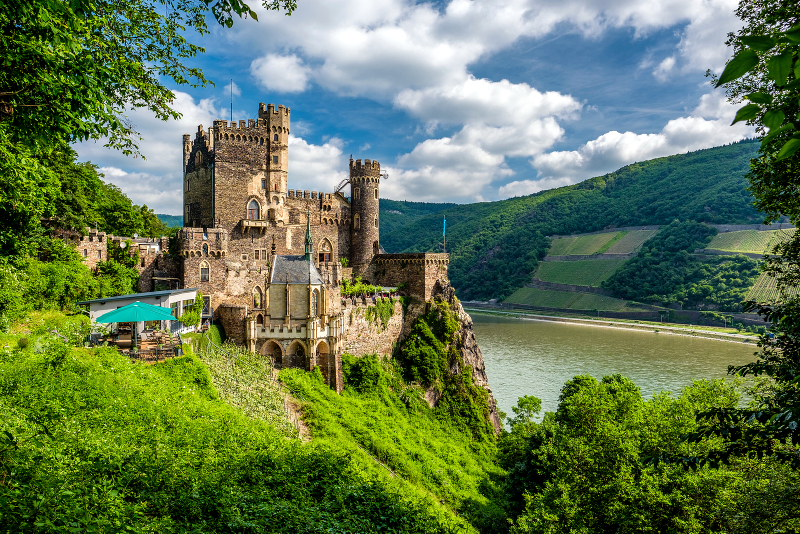 About 10 kilometres south along the Rhine is Burg Rheinstein or Rheinstein Castle. It's about a 9-minute drive from Bacharach.
Rheinstein Castle dates back to the 13th century when it was a toll castle. Unfortunately, it fell into ruins in the 17th century. In 1823, the Prussian Prince Friedrich Wilhelm purchased the ruin and rebuilt the castle in 19th century Romanticism style. The castle was bought by the Hecher Family in 1975 who still run it today.
For visitors, this picturesque castle is home to a museum with a great collection of 17th-19th century furnishings, knights' armour and weapons from the 15th century, cast-iron oven slabs and hunting trophies. You can also find stained glass windows from the 1300s to the 1800s, wall and ceiling frescoes and much more.
There is a signposted walk to help you explore the castle which takes about 45 minutes. You can also optionally purchase a guide book or a cool children's guide book for a few extra euros.
There are also fabulous views and a nice garden.
There is a great restaurant and hotel on site. If you are looking for a special meal, this is a great place to head.
There is an entry fee to the museum. You can find opening hours and more details here.
Boppard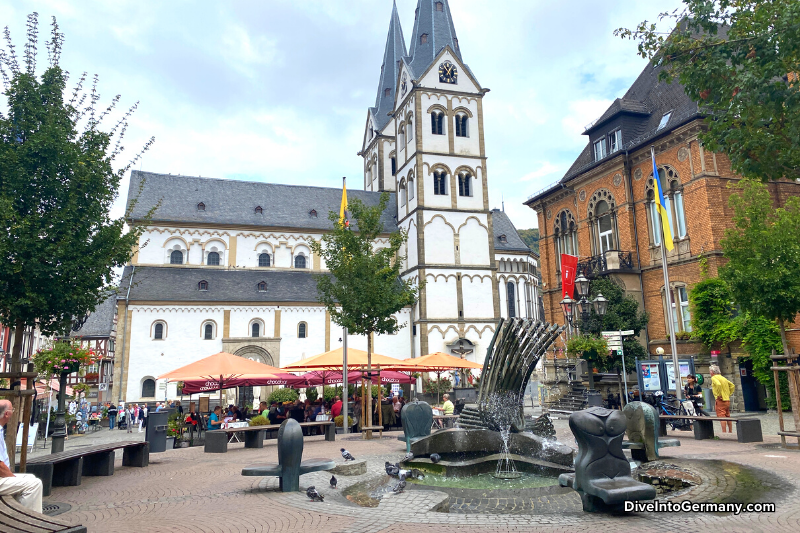 Boppard is another gorgeous town by the Rhine River about 28 kilometres northeast of Bacharach. It's an easy half or full day trip from Bacharach and also has an Old Town you'll love to explore. It's a great choice of the things to do around Bacharach Germany.
Boppard has an interesting history starting as a Celtic settlement before becoming a Roman fortress and evolving into a Frankish Royal Court and Free Imperial City. The remains of this past can be seen today.
While in town, try to visit Römer-Kastell (Roman Fort), Severuskirche (St Severus Church) and Rheinallee, a beautiful riverfront promenade with cafes, restaurants, wine taverns and boats. A good thing about Boppard is that the train line doesn't separate the Old Town from the river which leads to a prettier environment.
You can also take a chairlift to the Vierseenblick (Four Lakes View) which is a viewing point 273 metres above Boppard.
Click here to read our full guide to Boppard.
What To Do In Bacharach Germany In One Day
Only have one day in Bacharach? What a shame! But it's ok, it's still worth going to Bacharach if you only have one day.
With one day, you can easily visit all the attractions in town, and I recommend you head to Rheinstein Castle as well if you have a car.
You can follow this itinerary:
Start in the Old Town and walk around the old streets soaking everything in. Don't rush!
Walk up the town walls when you get the chance and walk along as many segments as you can find. One starting point is on Zollstraße near the train line
Make your way to Peterskirche and go inside
Walk up to Wernerkapelle (Werner Chapel) and consider walking the rest of the way to Stahleck Castle
Visit Postenturm (Post Tower)
Celebrate your wanderings by stopping by Weingut Friederich Bastian to taste some wines
Consider visiting Rheinstein Castle. If you don't have a car, Oberwesel or Boppard are more convenient
Bacharach Attractions Map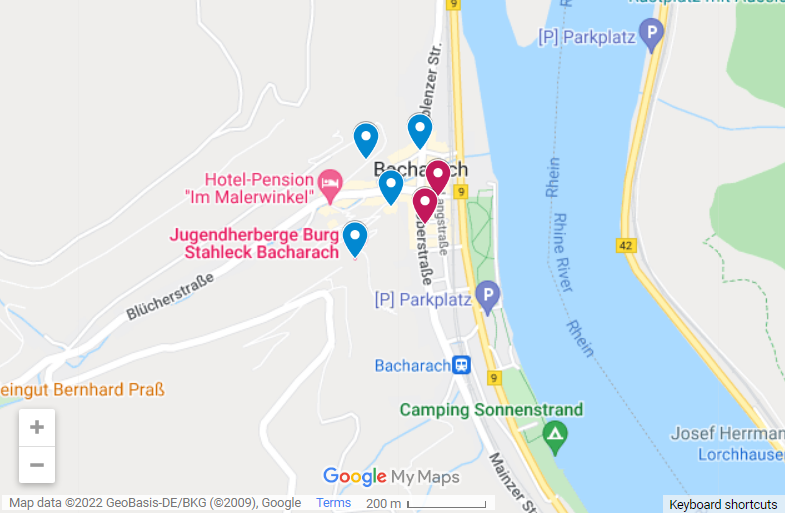 Best Place To Stay In Bacharach
When it comes to where to stay in Bacharach, there is a great range of hotels and other accommodation options. You won't have any problem finding somewhere to stay.
Below, I've listed a couple of different places to consider depending on what type of accommodation you are looking for.
Bacharacher Hof is a great choice of the hotels in Bacharach. It's located in a central spot in the Old Town just 5 minutes walk from the main train station.
There is a great range of facilities here including an indoor pool, sauna, wifi, buffet breakfast and the property has an elevator. There is no parking on site but free parking is available nearby.
There are a range of room types from twins and doubles to family options. All rooms come with flatscreen TV and private bathrooms. Some rooms have balconies and river views.
Click here to see the latest prices.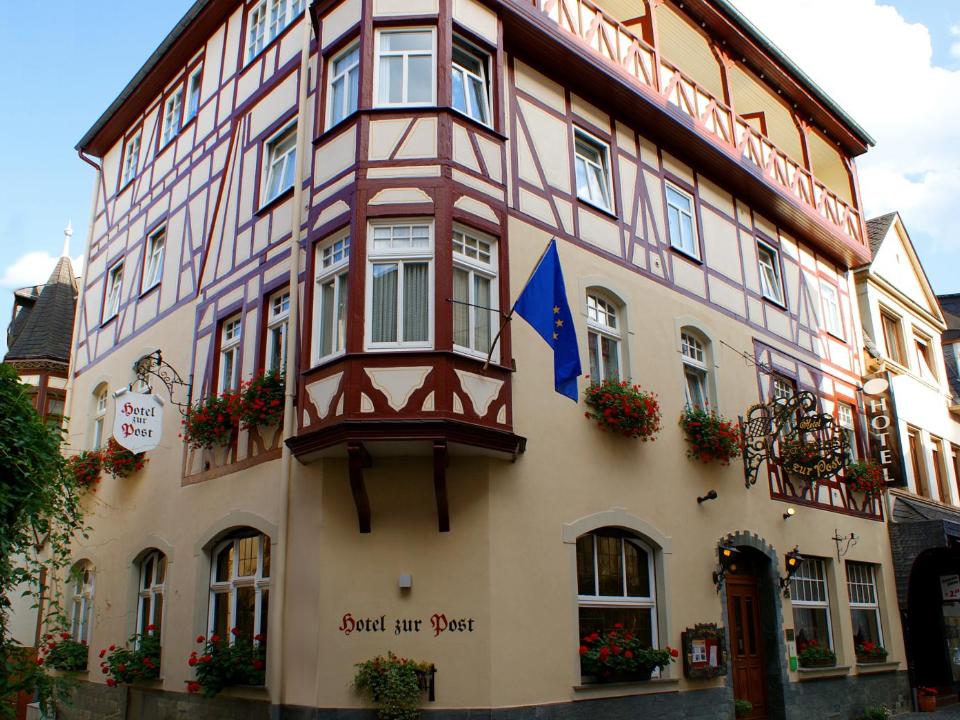 Hotel zur Post is a well located (and priced) option in Bacharach's Old Town just a short walk from the train station.
There are 12 double rooms all with cable TV and private bathrooms. They are on the small side but comfortable. Room prices generally include a good breakfast and some rooms have balconies and sitting areas.
There is a lack of facilities here, but there is internet.
Click here to see the latest prices.
How To Get To Bacharach
We travelled to Bacharach by hire car which made it very easy to get here. It's simple to find.
You can hire a car to get you there by clicking here.
Otherwise, train is the easiest way to get here. There is a station in the middle of town which is well hooked up to other towns on the Rhine as well as Koblenz, Mainz and Frankfurt. You can find timetables and all your options here.
The closest airport is in Frankfurt. There are direct trains between Frankfurt Airport and Bacharach that take less than an hour. Find flight options here.
Once in Bacharach, we found it easy to explore most of the attractions on foot.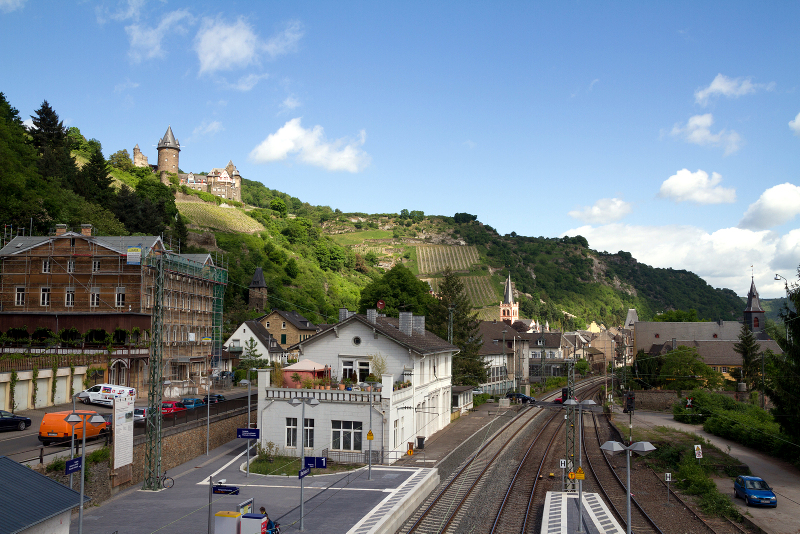 Bacharach With Kids
Bacharach is a fun place to visit with kids because it's quite low key and there's nothing to rush around to.
We travelled here with our three kids aged 6, 10 and 12 and had a lot of fun. They love exploring town walls, towers and old towns. They were happy to have some Sprite while we tried some wines 🙂
The Rheinstein Castle also worked well with their children's guide which is worth the extra 3 euros.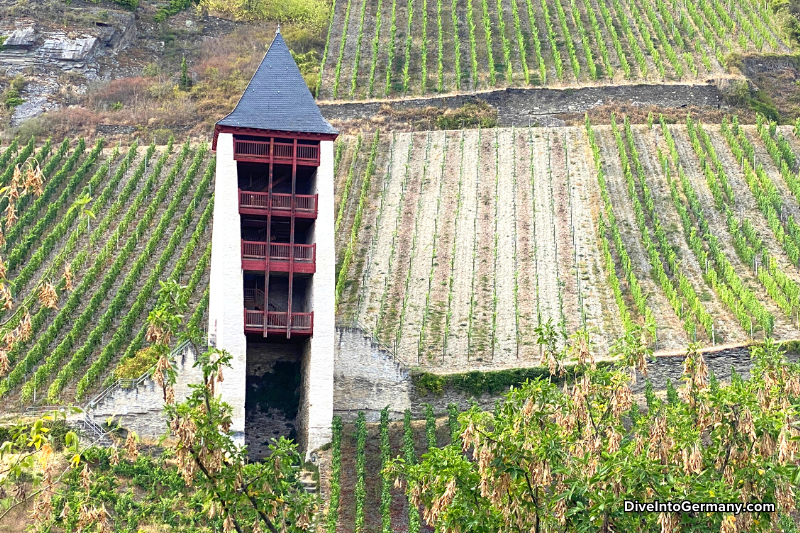 Final Words
I hope you enjoyed this guide to Bacharach. It's a beautiful Rhine Valley stop that's worth your time whether you use it as your base or stop in for a few hours.
It won prettiest town in the region for us.
Read more guides to visiting Western Germany here. Or read this guide to nearby Frankfurt here or Cochem here.