Looking for a fun castle to visit as you explore the Rhine Valley? Head to Schoenburg Castle for a meal, an interesting museum and fabulous views!
Schoenburg Castle or the Castle Hotel auf Schoenburg (and also spelled Schönburg) is located on the hills above Oberwesel in the Rhine Valley. It's very picturesque and it can feel like it's calling out to you as you explore the area 🙂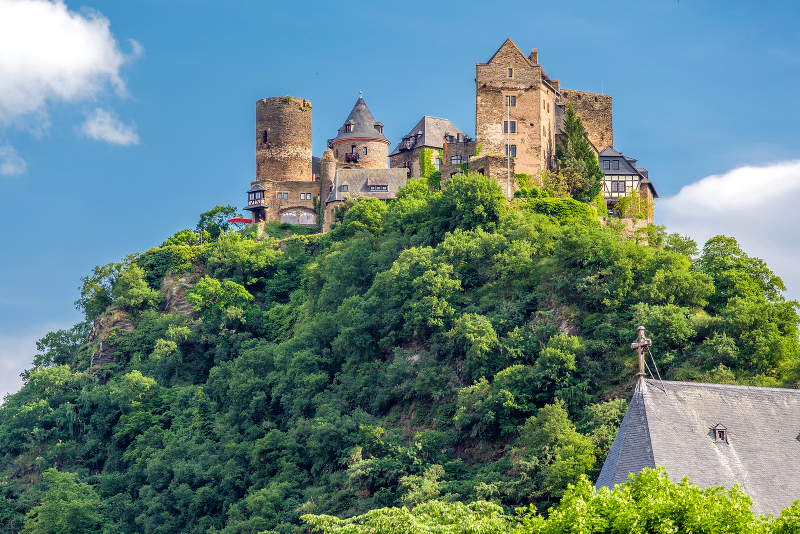 Better than seeing Schoenburg Castle Germany at a distance is seeing it up close. It has great views and is home to a hotel, restaurant and museum.
If you are wondering if it's worth a visit, this article will help you work it out. Below, I cover everything Castle Schoenburg Germany related so you can either work out if this is someone you want to visit or so you can learn more about this castle to get more out of your visit here.
You can also find our full guide to Oberwesel here.
Traveling to Germany? Click here to download your free Germany Trip Planning checklist. We'll help you get ready for your trip! 
Schoenburg Castle History
First mentioned in 1149, this castle has an old history. Originally owned by Hermann von Stahleck, it passed between many owners thanks to family fights and battles.
The Dukes of Schoenburg who lived here from the 12th century ruled over Oberwesel and levied customs on traffic on the Rhine River.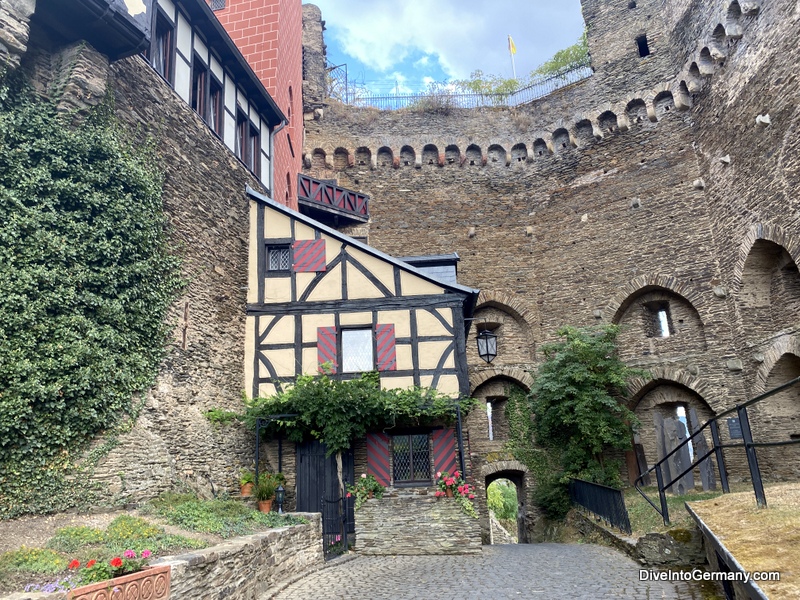 Schoenburg Castle Oberwesel was somewhat unique in that when a Duke died, all his sons became heirs to the castle instead of just the oldest one which was the general custom. This lead to many families living here – there were 24 families calling it home in the 14th century.
The castle was destroyed and left in ruins by Louis XIV's troops in 1689 in the Nine Years War.
In 1885, a partial reconstruction took place according to old plans by T. J. Oakley Rhinelander, a German-American.
Since 1950, the town has owned the castle and has leased it to the Hüttl family since 1957. It's now operated as a hotel and restaurant which makes it easy for you to come and enjoy this lovely Castle.
Schoenburg Castle Review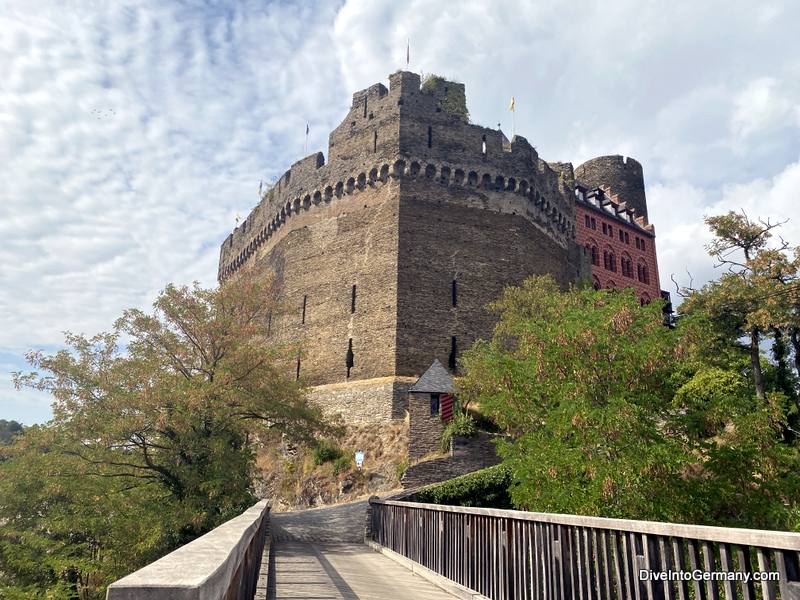 We visited Schoenburg Germany with our three kids aged 6, 10 and 12.
We visited in an afternoon in August and other than hotel guests, there weren't many people around which made it all the better.
While you can specifically visit or stay at the attractions listed below, you can also just come here and take a quick look at the views – although you should really be prepared to at least pay for a drink.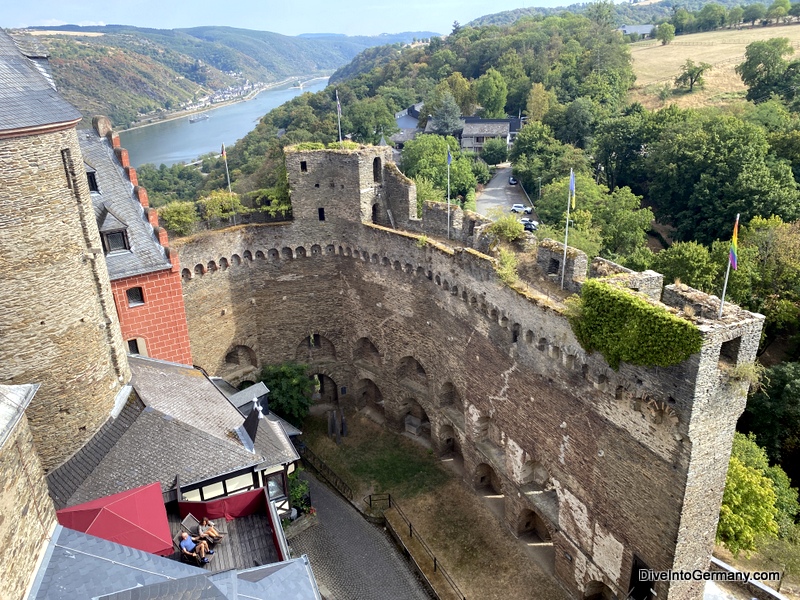 For the ultimate visit, why not stay at Castle Hotel Schoenburg? Located inside the castle, it's quite a treat.
There is a big range of room types among the 27 rooms from small singles to suites. Rooms are all singles or doubles so this hotel is best for couples or solo travellers.
All rooms come with TV, free minibar, seating area and private bathrooms. Suites have more including the option to have a private sauna. Many rooms have balconies or a terrace.
Click here for the latest prices.
There are also some beautiful gardens surrounding auf Schoenburg Castle hotel which are only for hotel guests.
Castle Bistro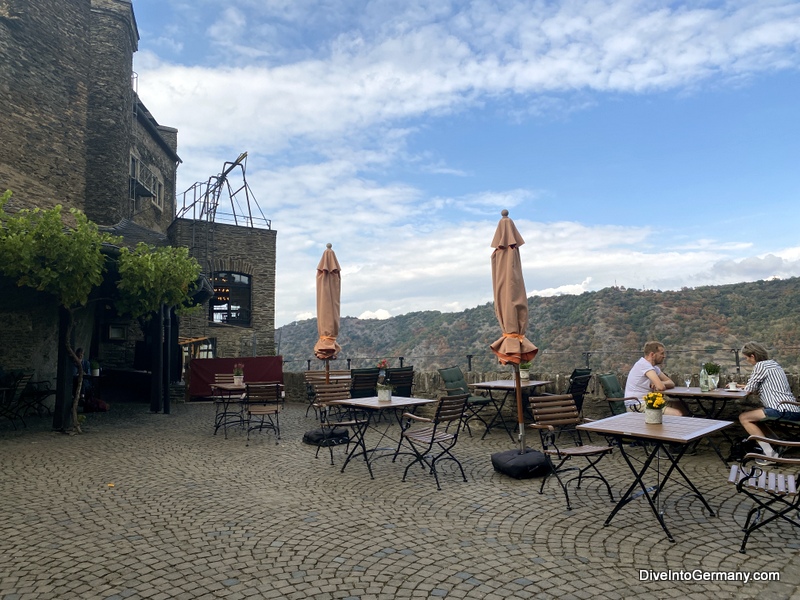 There are both a restaurant and a bistro on-site but the restaurant is just for hotel guests. Non-hotel guests can access the Bistro from 12pm – 4:30pm with longer hours on Mondays and Tuesdays.
You can eat some lunch or stop by in the afternoon for cakes and coffee. It's also the perfect place for an afternoon drop of the local wine while looking over the Rhine River and Oberwesel.
Tower Museum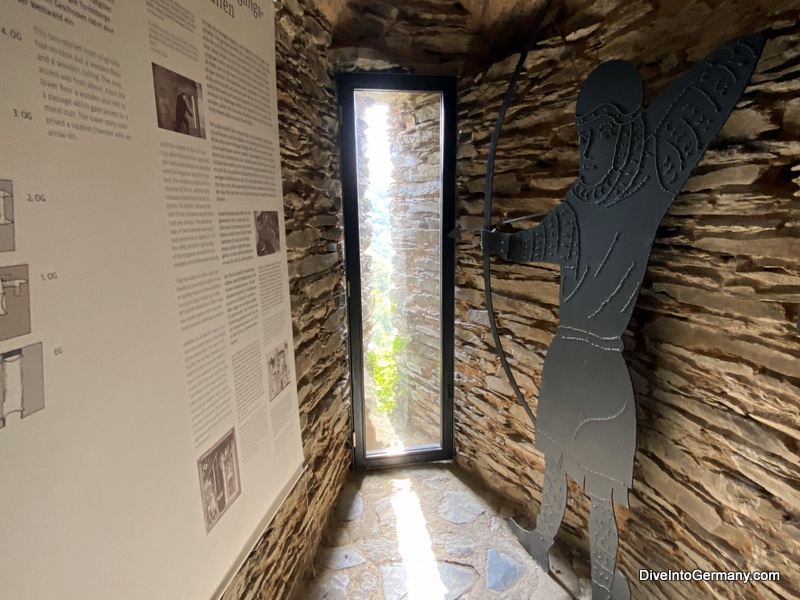 It's definitely worth a visit to the Tower Museum while you are at the Castlehotel Schoenburg.
It's basically a tower you climb up, like many in Europe. The difference is that there is also information in this one so it's more than just views and a work-out.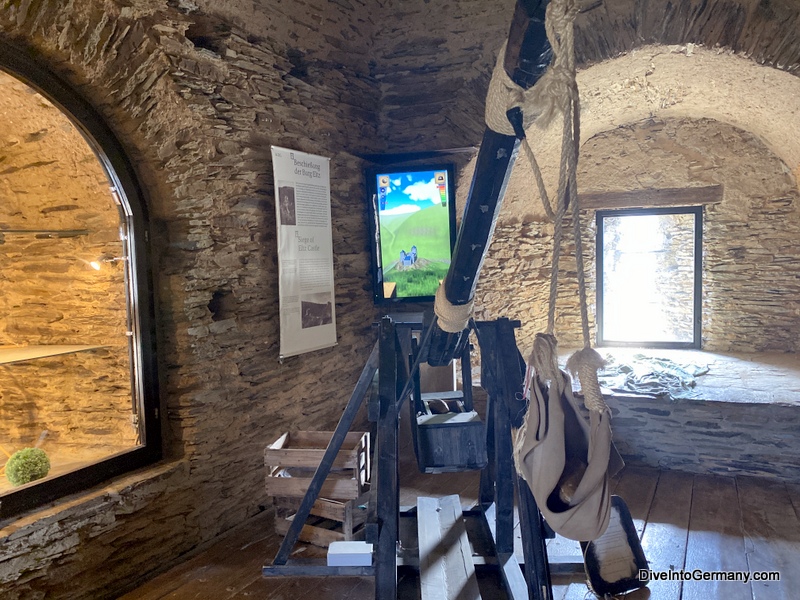 This museum tells the history of the castle, what it was like to live in one like this as well as having a cool slingshot simulator that shows how they used to besiege and destroy a castle. It's very fun to try out as you try to destroy the castle.
On the bottom level, you also have the chance to shoot a king with a crossbow. This is fun as well.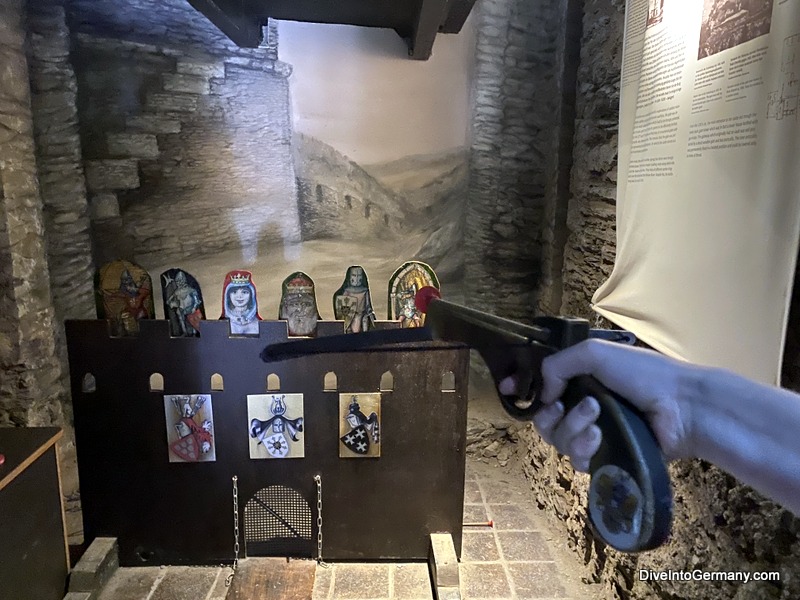 It opens Tuesday to Sunday except in November and December, it's weekends only. It's definitely worth a stop for the views, the information and the fun activities. The activities aren't just for kids either. It's fun for adults too (although our kids definitely lapped it up).
You are walking up many stairs (as you are climbing the inside of a tower), so you do need to be able bodied.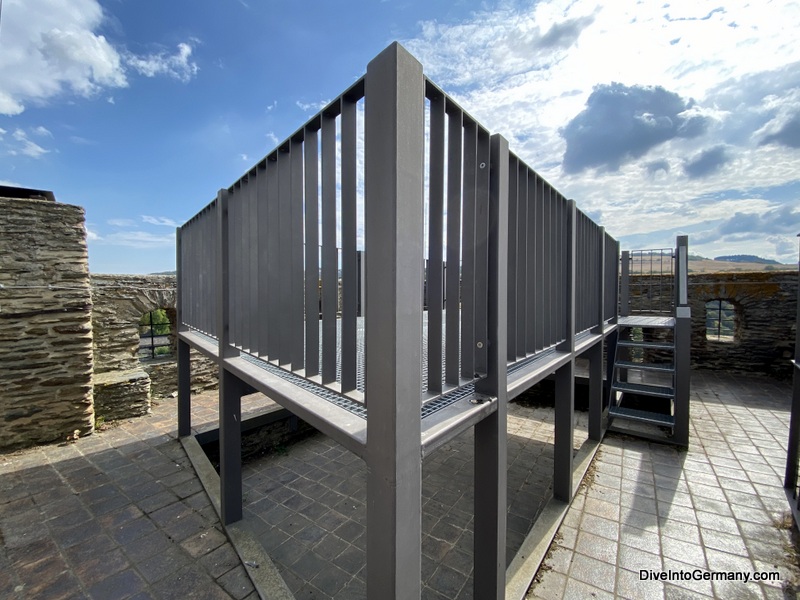 Location
Schoenburg Castle Hotel Germany is located behind the town of Oberwesel which is on the Rhine River.
You can walk here from the town of Oberwesel in just over ten minutes but it's a steep, uphill walk. There is parking available if you drive. This is what we did and it's super easy.
Address: Auf Schönburg, Oberwesel 55430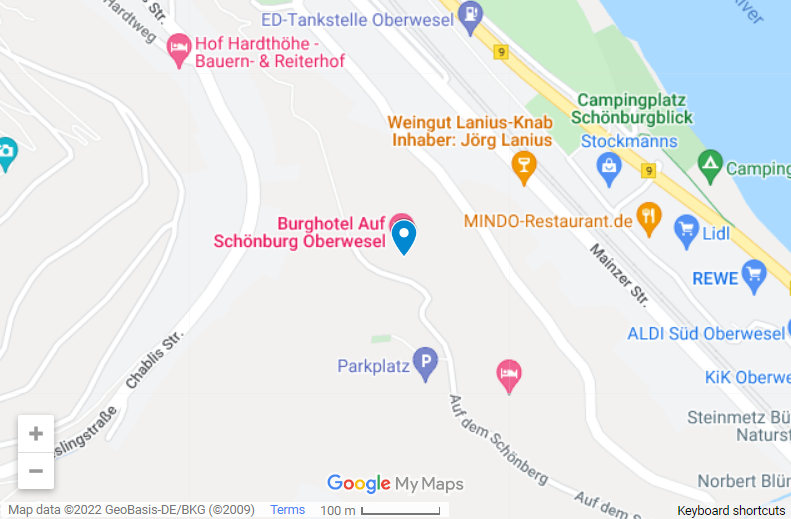 Entry Fee?
You can visit the outside of the castle for free, although it'll get boring fast. I recommend paying for the Tower Museum which was 3 Euros for adults and 7 for families when we visited. Hotel guests have free entry.
Then stop and having a drink (or more) at the bistro.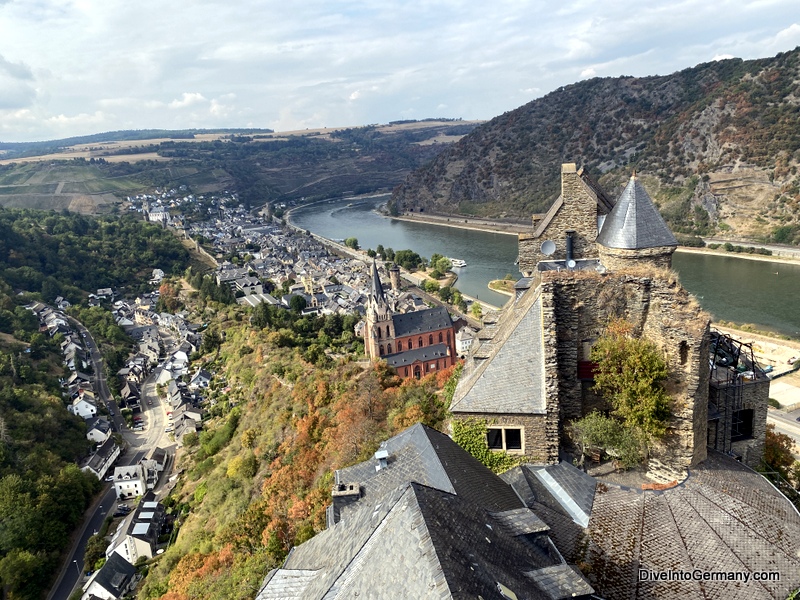 Final Words
Schoenburg Castle is a great place to visit while you are touring the Rhine Valley. If you have time to spend the night, this is highly recommended. It's a beautiful spot.
Otherwise, stop by for lunch, afternoon tea and/or to take a look at the Tower Museum. You'll be glad you did!
Looking for more? You can also find our full guide to Oberwesel here and all our guides to travelling western Germany here.