Going on a trip to Cochem and want to know all the best things to do in Cochem? We have you covered! Below you will find our guide to all the best Cochem tourist attractions to plan your ultimate trip.
If you love absolutely gorgeous towns, Cochem is a must visit on your Germany adventure.
In a picturesque location between a hill and the Moselle River, this Moselle Valley town takes it up another notch with a gorgeous Old Town with half timbered houses, Medieval walls and Reichsburg Castle keeping watch from above.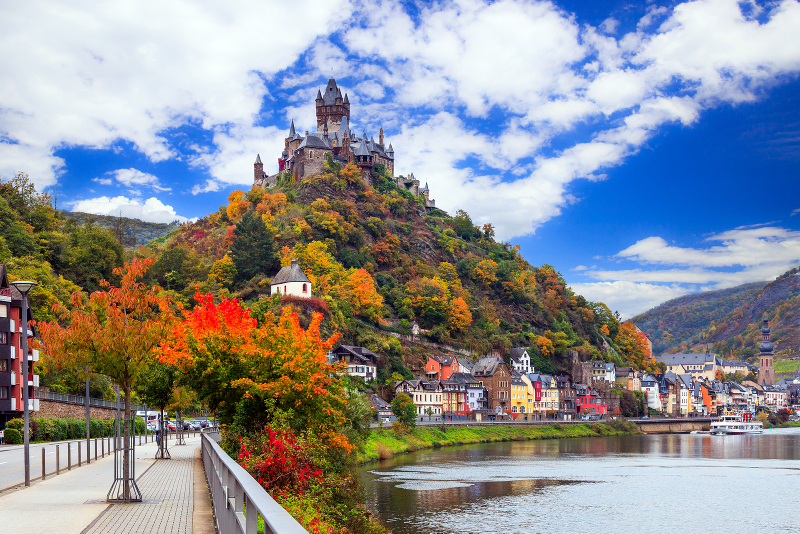 This fairy tale village is the perfect place to base yourself while exploring this part of Germany. I warn you though – you may never want to leave!
Below, you will find our full Cochem travel guide with everything you need to know about the best places to visit in Cochem as well as the best places to stay for your ultimate vacation in Cochem. There is also a handy map of all the things to do Cochem offers.
You'll also find special sections on things to see in a Cochem day trip as well as what works if you are travelling with kids.
Traveling to Germany? Click here to download your free Germany Trip Planning checklist. We'll help you get ready for your trip! 
An Introduction To Cochem
With a population of just under 5,000 people, you can find Cochem in the western part of Germany, a couple of hours west of Frankfurt or an hour and a quarter south of Bonn. It's the seat of the Cochem-Zell district, Germany's second smallest district seat. Located on the Moselle River, it's in a very pretty spot.
The start of Cochem is unknown although it's believed it was settled in Celtic and Roman times. It is first mentioned in documents in 866 when it is referred to as "villa cuchema". It also had many other similar names over the years.
The castle passed hands a few times and, up to 1151, was where the Rhenish counts palatine, the Ezzonen, held court. At this time, Konrad III came from Boppard and occupied it as an imperial fief.
It remained this way until 1294. At this time, King Adolf of Nassau mortgaged Cochem to the Archbishopric of Trier. The mortgage was never paid, but Cochem stayed part of the Electorate of Trier until 1794.
This was a prosperous time for Cochem who was granted town rights in 1332. Town fortifications were then built that can still be seen today and the castle was extended.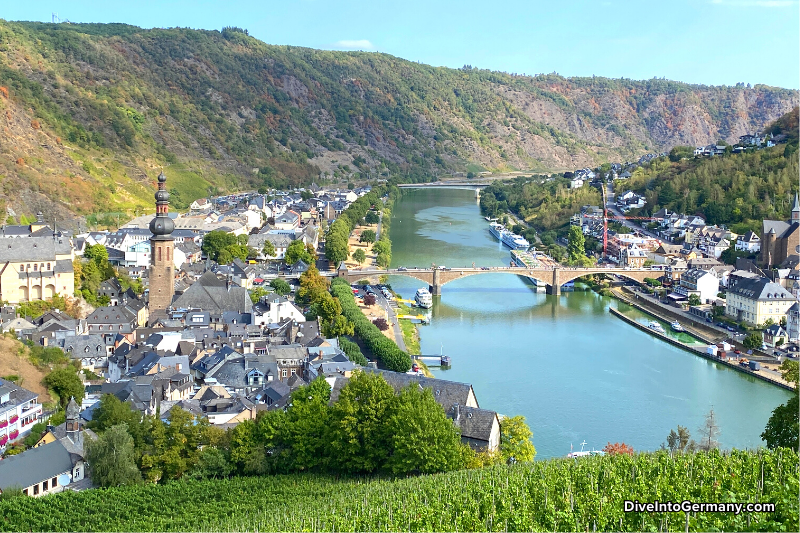 Of course, it was not all happy times. There was a plague epidemic between 1423 and 1425. The town was besieged in the Thirty Years War. In 1689, French forces burnt down Winnerburg castle and conquered Cochem, killing the garrison and a large segment of the population.
In the 18th century, Cochem became increasingly important as a centre of commerce.
The French Revolutionary troops came to Cochem in the latter part of the 18th century and occupied Cochem with the town coming under French rule. In 1815 at the Congress of Vienna, Cochem was given to the Kingdom of Prussia and became the administrative centre of a new district authority.
Louis Fréderic Jacques Ravené bought and reconstructed the Imperial castle in 1866 according to plans from 1576. In the 19th century, the first tourists came to Cochem, particularly English artists who drew and painted the pretty Moselle Valley launching it as a tourist destination.
In World War II, big parts of Cochem's Old Town were destroyed. After the war, it became part of the new state, Rhineland-Palatinate.
Today, winegrowing and tourism are important industries in Cochem. It's an administrative and educational hub with many people employed across many different industries.
Top 12 Things To Do In Cochem Germany
Here are the best Cochem Germany attractions. Read through and select the ones that fit your interests and timeframe. If you only have one day to visit these Cochem things to do, find our one day Cochem places to visit itinerary below.
Note that I sort these things to see in Cochem based on geographical location starting with the central Old Town then listing the closest Cochem Germany things to do to Cochem station on the west bank of the river and then the east while working our way further away. The order isn't based on what I think are the most important attractions.
Altstadt (Old Town)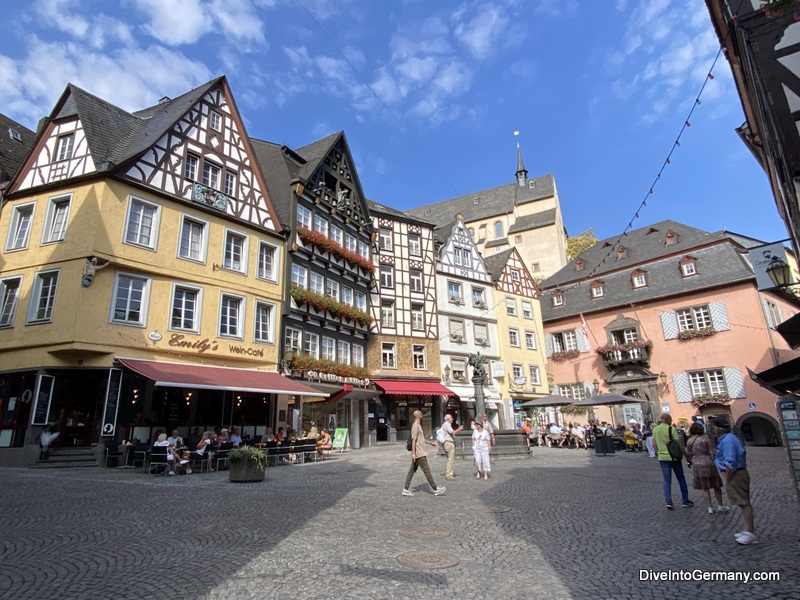 Cochem's Old Town's picturesque location definitely leads it to be one of my favourites in Germany. Wedged between the hills and the river, the sloped streets are fun to wander and explore taking in the half-timbered houses.
Make sure you make it to the central Marktplatz with the 1739 Baroque town hall, Medieval stone clock tower and a pretty fountain.
Keep a look out for the city walls, much of which has survived including three 14th century gates. While you are wandering, you can also check out some of the Cochem attractions coming up below.
Enderttor
As stated above, Cochem still has three of its Medieval gates (out of an original four). Enderttor is the largest one and dates back to 1332.
Located at the northern entrance of Cochem, this tower controlled the route along the valley of the Endert, one of the Moselle River's tributaries. It has a guard house attached.
At one point, it was a prison for Cochem, but now a visit is all about its history and charm.
Cochemer Sesselbahn (Chair Lift)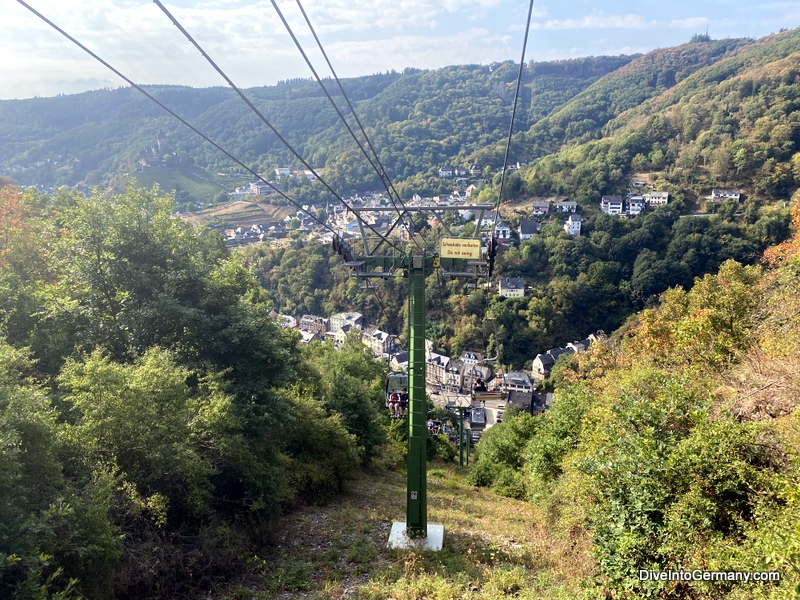 For great views and a fun experience, take a ride up the Cochemer Sesselbahn (Chair Lift) during the warmer months. It starts at the lower station (look at map below) and takes you 360 metres at 0.8 metres/second to 255 metres above sea level. The "chairs" are double seats that can have a cover if weather is bad.
Just a short walk away is the Pinner Kreuz lookout with awesome views over the Moselle River and Cochem. I highly recommend you take this walk. It's quick and easy.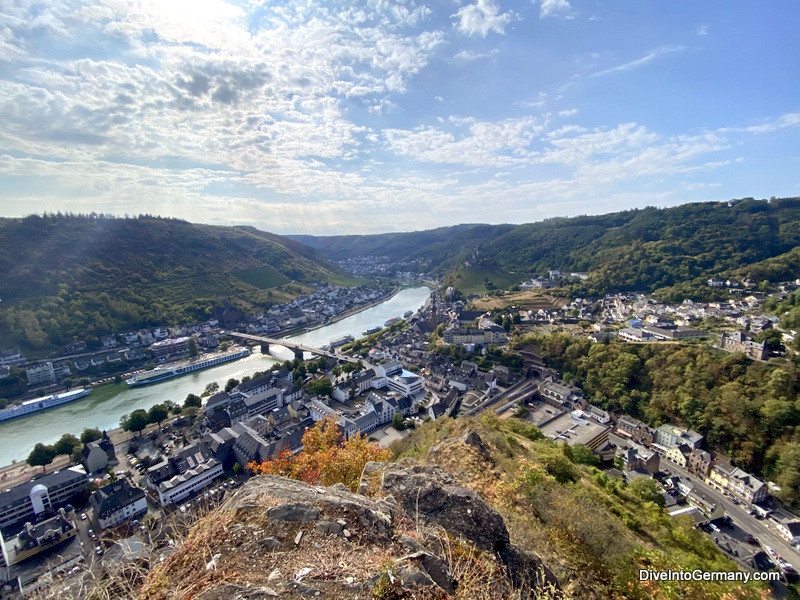 There's a cafe and a terrace and an ice cream or slice of a cake is the perfect way to enjoy the view!
It's quite a steep gradient so people who hate heights may not like it.
Find more information on their site.
Vinothek Walter J Oster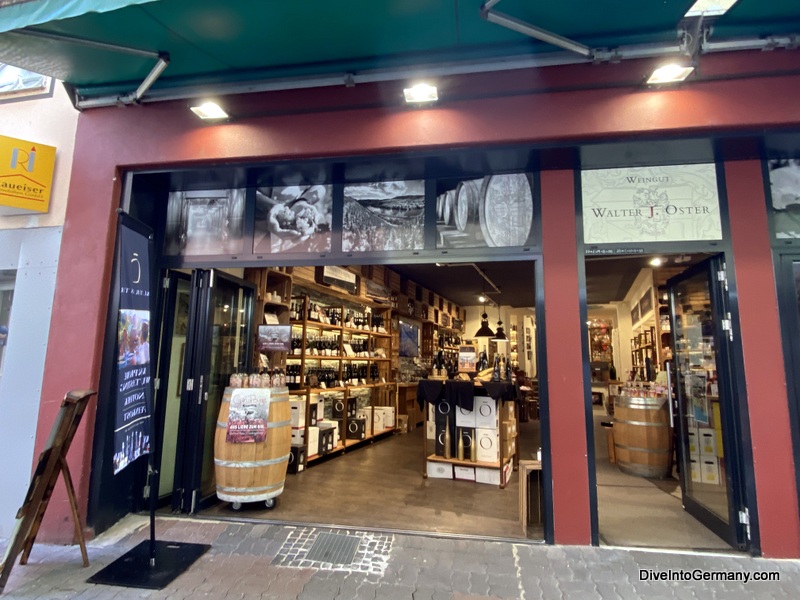 Of course, you can't come to the Moselle Valley without trying the local wines. Vinothek Walter J Oster is an easy and nice way to do this right in town by Marktplatz on Herrenstraße.
The Oster family has been producing wines for 15 generations in this region and their vineyards are located nearby. They produce more than just wine and also have spirits, brandies and liqueurs as well as vinegars, oils, dips and more.
This wine shop has a large range of wines and these other items and is a great place to stop to taste and also pick up some yummy picnic supplies before heading on a hike of the area.
Reichsburg (Imperial Castle)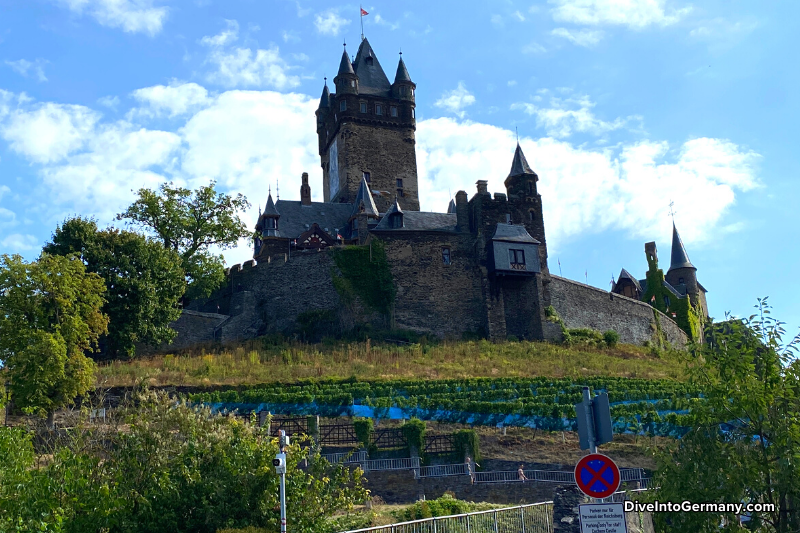 It would be hard to come to Cochem and not want to visit Reichsburg, the castle that sits on the hill behind Cochem.
Originally built in the 11th century, the original was left in ruins after the French invaded in 1689. Rebuilt by Ravené in the 19th century, it has quite the fairy-tale look now.
To visit, you need to take a 40-minute tour which runs every 15 minutes. Booking in advance is not possible. Some tours are in English or you can grab an English leaflet or audio guide.
The tour takes you through the decorative rooms of the castle and informs you of its history. There are many things to see including tapestries, armour, old furniture and Baroque paintings.
There is a tavern on-site with food and wine which has great views. It's a great place to have lunch if you can time your visit well.
Even if you don't want to do the tour or eat up here, it's worth walking up to see the castle outside up close and for the views.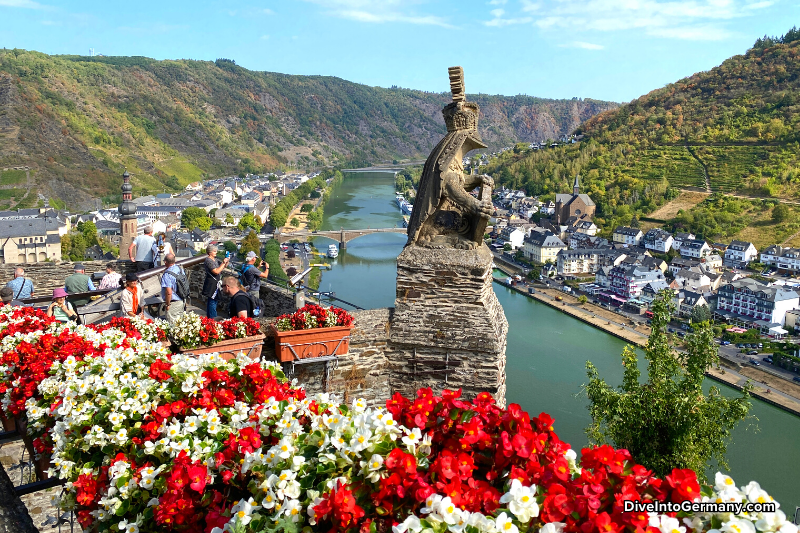 There are also some special events throughout the year such as a lantern walk and Christmas Castle event in Advent as well as a Medieval Castle Festival in August. There are regular ghost tours for kids too, but, unfortunately, only in German.
For a special treat, head up for the special "Gasterey in the style of the old knights" on Fridays and Saturdays. This is a four-hour banquet after a tour of the castle in the cellar. Information on Medieval customs, manners and punishments is shared as well as lots of music. You also get to take part in a knighting ceremony. However, it's mostly in German.
Unfortunately, you can't drive up here. It's a 10 – 30 minute walk from the Old Town or shuttle buses run in the warmer months for an extra cost.
You can find opening hours and English tour times here as well as information on the shuttle bus.
Bundesbank Bunker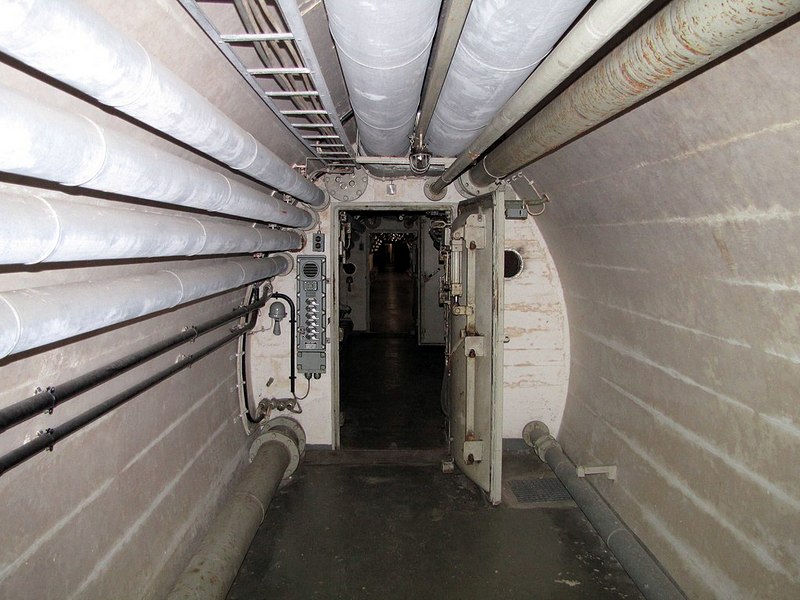 It's time to move from Medieval times to Cold War history at the Bundesbank Bunker. This unique attraction was built camouflaged as residential buildings but with a bunker built underneath by the German Federal Bank. It was filled with 15 billion Deutsche Marks in case of a war.
This is only one of the bunkers they built to try to stop hyperinflation if war came. This one was in operation from 1964 to 1988 and had enough air and supplies for 100 people to survive two weeks here.
On a one-hour guided tour, you can walk down the 100 steps into this bunker designed to survive a nuclear war. The temperature is 12 degrees so you may want a jacket. The tours are only in German but there is an English pamphlet and an app you can download for more information.
In the warmer months, you can catch a bus here from the tourist office. Otherwise, it's a steep walk. In winter, it's only open on weekends.
Moselle River Cruise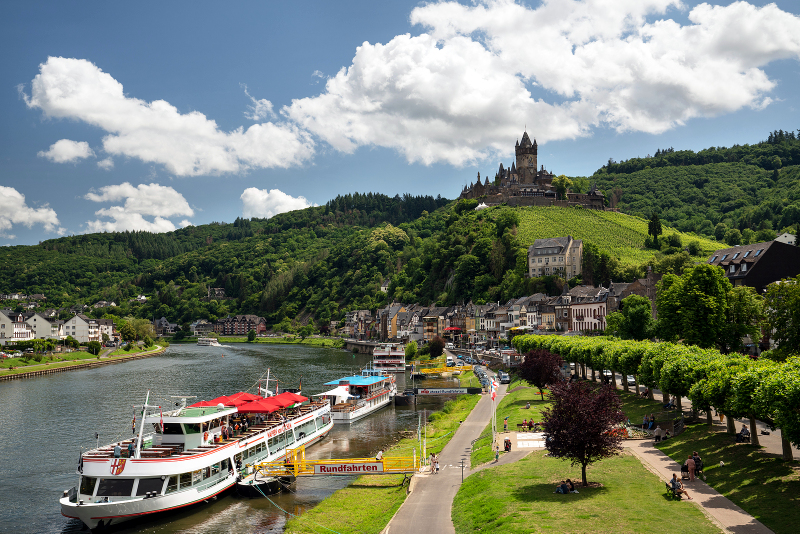 One of the most enjoyable ways to see more of Cochem is from a river cruise on the Moselle. It's a beautiful area and this is a great way to see it!
The Moselle River is actually one of Europe's busiest rivers. You'll notice plenty of boats passing by while you are in Cochem. So why not join them?!
In one hour, you can take a leisurely cruise seeing more of Cochem and the surrounding area. It comes complete with audio commentary either from a guide or an audio guide.
You can also buy snacks and drinks onboard.
Click here to book a cruise now.
Moselsteig Trail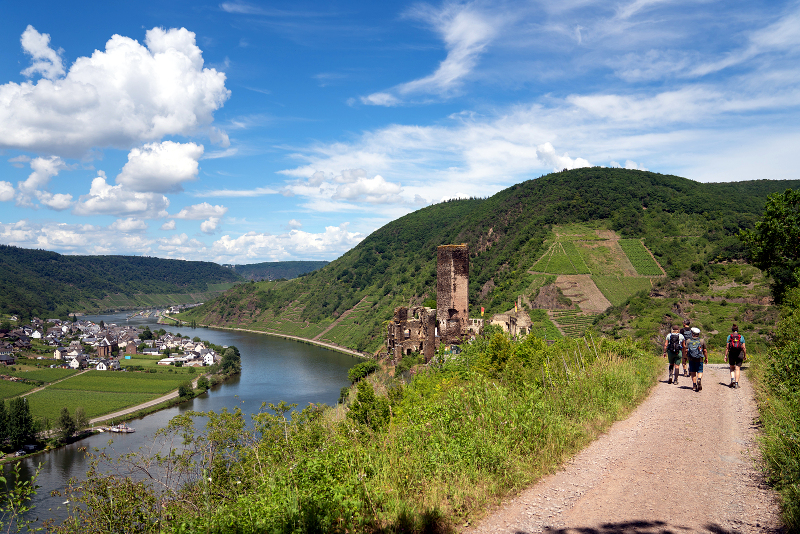 The Moselsteig Trail is a long distance hiking path that leads all the way from Trier to Koblenz along the Moselle River. While you may not want to take this entire hike (it's 365 kilometres long!), hiking a section can be very enjoyable.
A great option is to hike to Beilstein (coming up next on this list of the best places to visit around Cochem!). This is about 13.5 kilometres away and you can take a boat in one direction. It takes about four hours if you don't break.
There are some steep climbs and rocky paths. You'll walk through vineyards, woods and more. It's not an easy hike and is rated as moderate.
You can read more information about this stage of the Moselsteig Trail here.
With less time or for something easier, you can just walk a shorter section than this.
Beilstein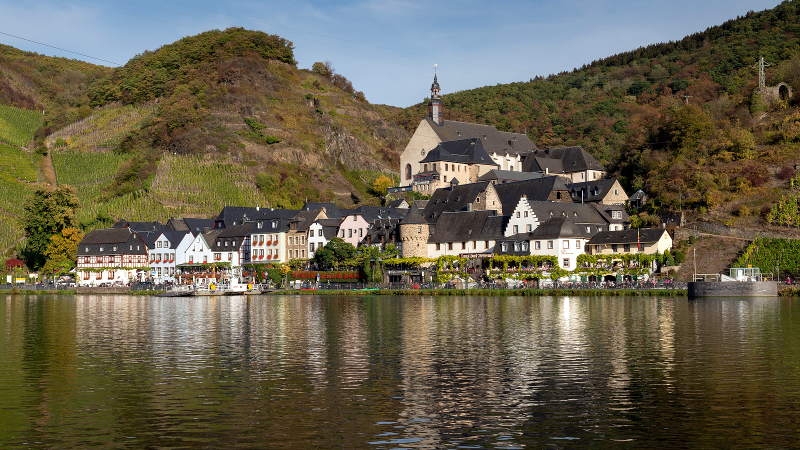 If you thought Cochem was gorgeous, Beilstein is even cuter!
This small village of around 150 people is just a 12 minute drive along the river from Cochem and it's worth a stop for its fairy tale looks and its old Marktplatz which dates back to 1322.
It's half-timbered buildings are gorgeous and the town is surround by steep vineyards. You can also stop by the 17th century Karmeliterkirche St Josef (Carmelite Church of St Joseph).
Don't forget to take a walk to Burg Metternich (Metternich Castle) which is now in ruins but has a pretty position behind the town. You can get here on a path off Im Mühlental. There is a cafe here with a great terrace for taking in the views.
Burg Eltz (Eltz Castle)
Another option of the things to do near Cochem is to visit Burg Eltz. Located about 26 minutes northeast of Cochem, this fairytale castle is another, very scenic stop in the Moselle Valley.
Burg Eltz has to be one of the best looking castles I have ever seen. The best part is that this Medieval castle is over 850 years old and has never been destroyed. It's even still owned by the original family 😮
The castle itself is built on a large rock (about 70 metres high) in a valley. The Elzbach River flows around the castle on three sides. It was built here to secure a trade route and there are remains here of fortifications from Celtic and Roman times.
If you think the outside is stunning, don't worry. You won't be disappointed in the castle grounds either. There are multiple buildings and a great inner courtyard.
Visits are by guided tour which are only in German. They begin every 10-15 minutes and last 35-40 minutes. You can get a translation of the tour in English or many other languages.
You can also visit the Treasury with your tour ticket which you can explore at your own pace. The information in the Treasury is all in German but you can get an English pamphlet with information.
During your visit, you will get to see more of the architecture of the buildings, paintings, tapestries and original furniture which span 800 years. There is also an armoury and a treasury with gold and silver works.
It's really an amazing castle.
From the car park, you'll either need to walk 1.3 kilometres to the castle or in the warmer months, there are four daily shuttle buses for an extra fee. There is also a fee for parking. There is a public bus that runs here during the warmer months.
You can find more information on their site.
Rhine Valley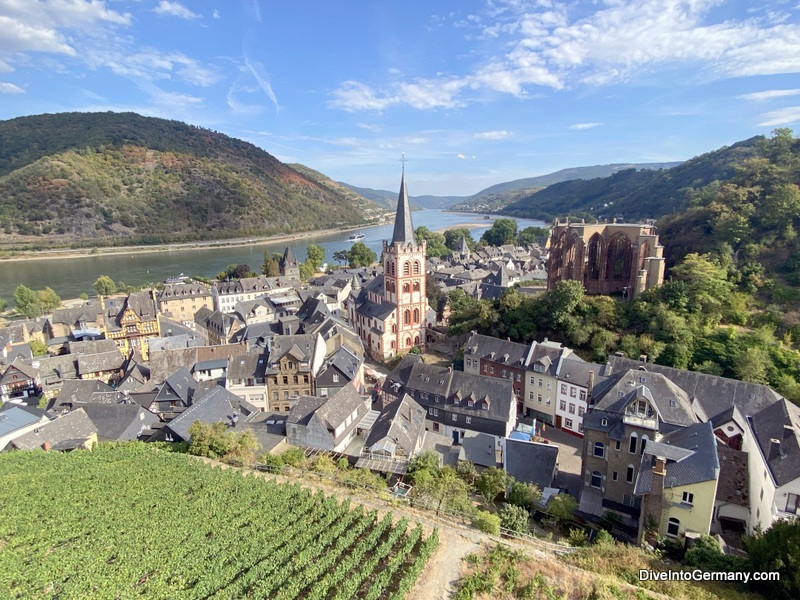 If you are looking for day trips from Cochem, it's hard to beat a day in the Rhine Valley. In less than an hour, you can be in one of the gorgeous towns on the banks of the Rhine, sipping some riesling in a vineyard or exploring one of the historic castles. It's all waiting for you.
For maybe the cutest town along the Rhine, start your day in Bacharch. Take a stroll to Peterskirche (St Peter's Church) and the Wernerkapelle (old chapel ruins). Also climb up the old Postenturm (tower) surrounded by vines.
Next up is Rheinstein Castle which dates back to the 13th century when it started life as a toll castle. Rebuilt in a 19th century Romanticism style, this picturesque castle is home to a museum with a great collection of 17th-19th century furnishings, knights' armour and weapons from the 15th century, cast-iron oven slabs and hunting trophies. You can also find stained glass windows from the 1300s to the 1800s, wall and ceiling frescoes and much more.
There is a signposted walk to help you explore the castle which takes about 45 minutes. It's also a great spot for lunch with a restaurant on site.
The drive on to Oberwesel for its beautiful Old Town with three kilometres of the best preserved Medieval town walls in the Middle Rhine area. It's also worth checking out Liebfrauenkirche (Church Of Our Lady), Martinskirche (St Martin's Church) and Schönburg Castle which is home to the Tower Museum.
Finally, make sure you leave some time for Boppard. It started as a Celtic settlement before becoming a Roman Fortress and evolving into a Frankish Royal Court and Free Imperial City. The remains of this past can be seen today.
While in town, try to visit Römer-Kastell (Roman Fort), Severuskirche (St Severus Church) and Rheinallee, a beautiful riverfront promenade with cafes, restaurants, wine taverns and boats.
When it's time to head back, it's only 45 minutes back to Cochem.
If you don't have a car, you can train easily between the three towns mentioned above.
You can read our full guides to Rhine Valley stops Boppard here, Oberwesel here and Bacharach here.
Trier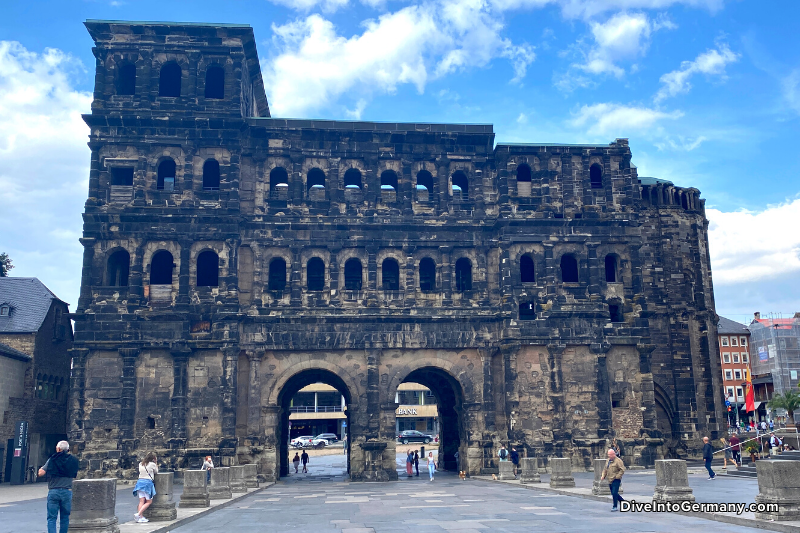 For another Cochem day trip option, head to Germany's oldest city, Trier. Just an hour and a quarter's drive away, Trier has tons to explore so you won't be able to see everything in day, but anything is better than nothing 🙂
With a whopping nine Unesco World Heritage sites, Trier is home to many Roman monuments including the Porta Nigra above, an entry gate, an ampitheatre, thermal baths, a throne room and so much more.
There are also great attractions from other times like Germany's oldest Gothic church and the birth place to Karl Marx. You won't regret spending a day here.
You can read more about Trier in our full guide here.
What To Do In Cochem Germany In One Day
Only have one day in Cochem? What a shame! But it's ok, it's still worth going to Cochem if you only have one day.
With one day, you can enjoy all the sights around town without rushing around wildly. I recommend you leave the attractions near Cochem for another time though.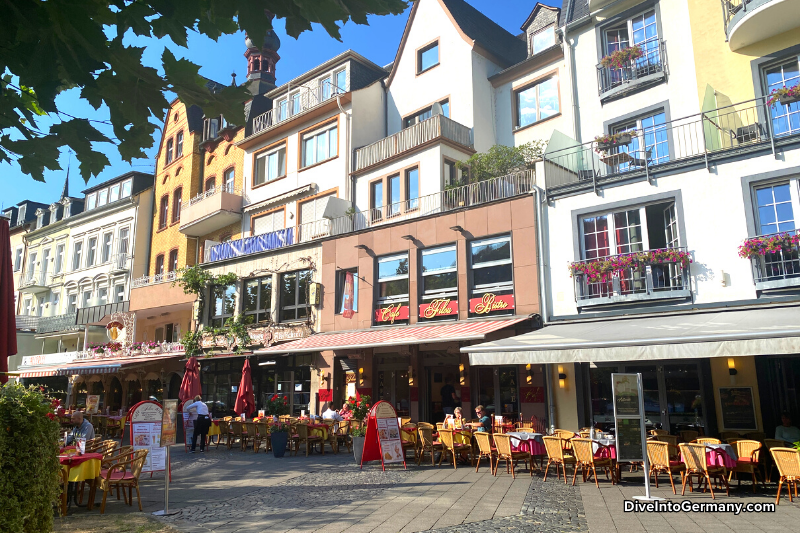 Here is an itinerary you can follow:
Start the day at Reichsburg (Imperial Castle). Walk up to this castle and take a tour. It opens at 9am so you can start the day as early as you wish
Walk back into town and find your way to Enderttor and Marktplatz while exploring the Old Town
Find a nice place for lunch and enjoy a glass of the local wine
Buy some souvenir wine at Vinothek Walter J Oster
Take the Cochemer Sesselbahn (Chair Lift) up to the Pinner Kreuz lookout and enjoy the views
Head to the Bundesbank Bunker and do a tour
If you have any time left, squeeze in a Moselle River cruise
Cochem Attractions Map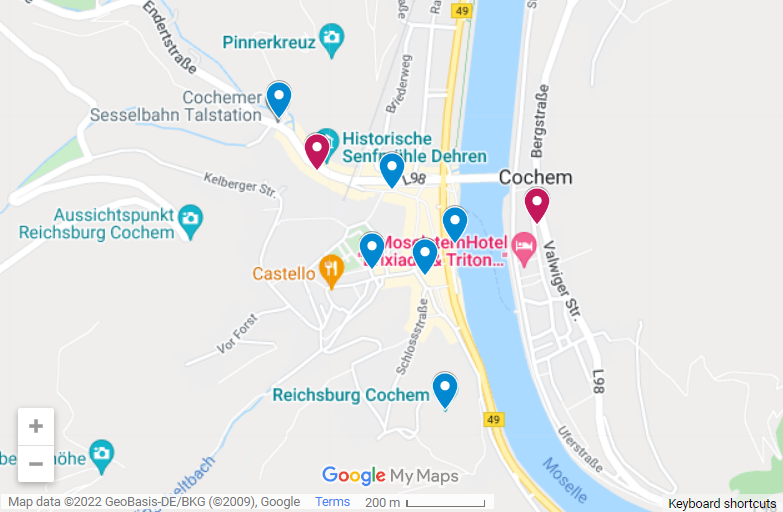 Best Place To Stay In Cochem
When it comes to where to stay in Cochem, there is a great range of hotels and other accommodation options. You won't have any problem finding somewhere to stay.
Below, I've listed a few different places to consider depending on what type of accommodation you are looking for.
If you want more options, you can use this map to help you find hotels and home rental accommodation around Cochem.
If you are looking for the best place to stay in Cochem, here it is! With just eight cosy rooms, this 120 year old hotel is in a great location just minutes from the centre and close to the bottom of the chair lift.
There are double and quadruple rooms on offer which are classically furnished with a modern style thanks to a full renovation in 2014/15. All rooms have satellite TV, toiletries and a seating area.
There is free internet, breakfast is included and you can also choose to eat lunch and dinner here. There is free parking for bikes and motorcycles.
Click here to see the latest prices.
On the opposite bank of Cochem to Reichsburg, this hotel is in a convenient location for seeing more of this town. It's also a more budget alternative to the Hotel Osteria Del Vino Cochem above.
There are a range of room types including singles, doubles, family rooms, triples and quadruples. All rooms come with minibar, desk and private bathroom. They are brightly decorated and comfortable. Some rooms have balconies with a great view of Reichsburg.
Included in the room price is a buffet breakfast (with a glass of sparkling wine) that is available to 12pm and internet. There is private parking available for an extra fee. There is also a bistro on site where you can enjoy the local drop and dinner in the evenings.
Click here to see the latest prices.
How To Get To Cochem
We travelled to Cochem by hire car which made it very easy to get here. It's a scenic area and a fun place to explore by car. The drive here along the river is beautiful.
You can hire a car to get you there by clicking here.
There are regular trains and buses here. You can find timetables and all your options here.
Once in Cochem, we found it easy to explore on foot.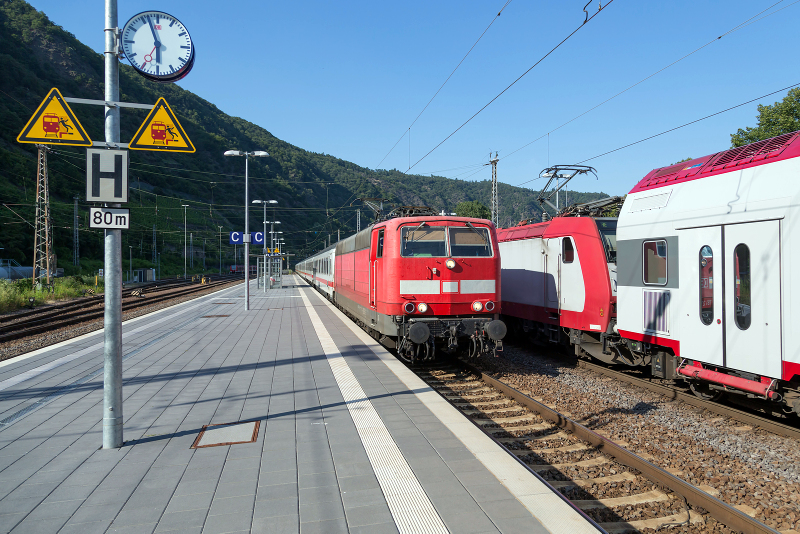 Cochem With Kids
Cochem is a great place to explore with kids. We came here with our three kids aged 6, 10 and 12 and find it a nice, easy going place to explore with them – nothing was too long or museum-y 🙂
The chair lift was particularly a hit as well as the upcoming attraction. Burg Eltz also captured their imagination.
Wild- & Freizeitpark Klotten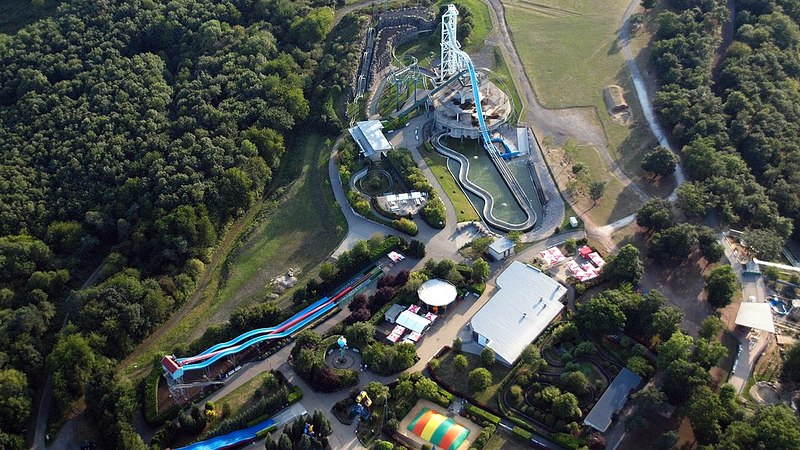 Just an 11 minute drive from downtown Cochem, Wild- & Freizeitpark Klotten is the perfect place for families to head that need a day out from traditional sightseeing.
This park started as an animal park but now also has amusement park style rides and water slides. On the animal side, there is a petting zoo, birds of prey shows and brown bears.
For the rides, you can enjoy a roller coaster or flume ride. There are also rides specifically for younger kids. In fact, I would say this park works best for younger kids with it working better for our 6 year old than our 12 year old.
You can find more information on their site.
Final Words
I hope you found this guide to Cochem useful. It's a stunning part of the world and we loved exploring this region of Germany very much.
Read more guides to visiting Western Germany here. Or read this guide to nearby Boppard here, Frankfurt here or Trier here.