Going to Nuremberg (or considering it) and want to know all the top things to do in Nuremberg Germany? We have you covered! Below you will find our guide to all the best tourist attractions in Nuremberg Germany to plan your ultimate trip.
Nuremberg, or Nürnberg as it's known in German, is Bavaria's second largest city and I think underrated as a tourist destination. I somehow had never even heard of it beyond the Nuremberg Trials before researching my first trip to Germany!
But this makes it all the better when you arrive in this city. There's a fabulous range of places to visit around Nuremberg and you definitely won't be bored. From top museums (I'm looking at you German National Museum) to learning more about the famous Nuremberg trials or seeing the Nazi Party Rally Grounds to enjoying one of the top Old Towns anywhere, you'll have plenty to do.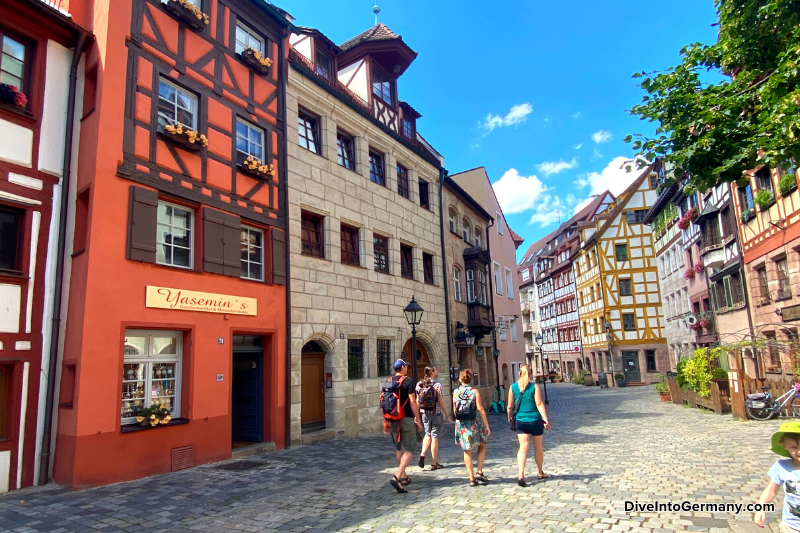 If you have kids, there are also great fun things to do in Nuremberg Germany that they will love.
Nuremberg has a long and fascinating history and, in my opinion, there really is nothing better than strolling around the Old Town, looking out for the gorgeous half-timbered houses, churches and more while taking in many of the sights and attractions that call this area home.
Below, you will find our Nuremberg travel blog with everything you need to know about the best things to do Nuremberg Germany offers as well as the best places to stay for your ultimate vacation in Nuremberg! There is also a handy map of the places to visit in Nuremberg Germany and a one day in Nuremberg itinerary for people short on time.
Let's start!
Traveling to Germany? Click here to download your free Germany Trip Planning checklist. We'll help you get ready for your trip! 
An Introduction To Nuremberg
Nuremburg is the state of Bavaria's second largest city (after Munich) with over half a million people. It's located in the northern part of Germany's biggest state and there is a huge array of places to see in Nuremberg that appeal to tourists.
Called Nürnberg in German, Nuremburg has a long and interesting history. First mentioned in official records in 1050, the city started earlier when the Kaiserburg (Imperial Castle) was built about ten years earlier by Henry III, the German king. A settlement started around the castle and this was the beginnings of Nuremberg.
Henry III became the Holy Roman Emperor in 1046 and Nuremberg started its reign of being the unofficial capital of the Holy Roman Empire, and the preferred home of most German Kings. Their crown jewels were kept here and many wonderful buildings were built here making it quite the treasure trove. This made it an attractive place to live for artists which helped further increase Nuremberg's treasures.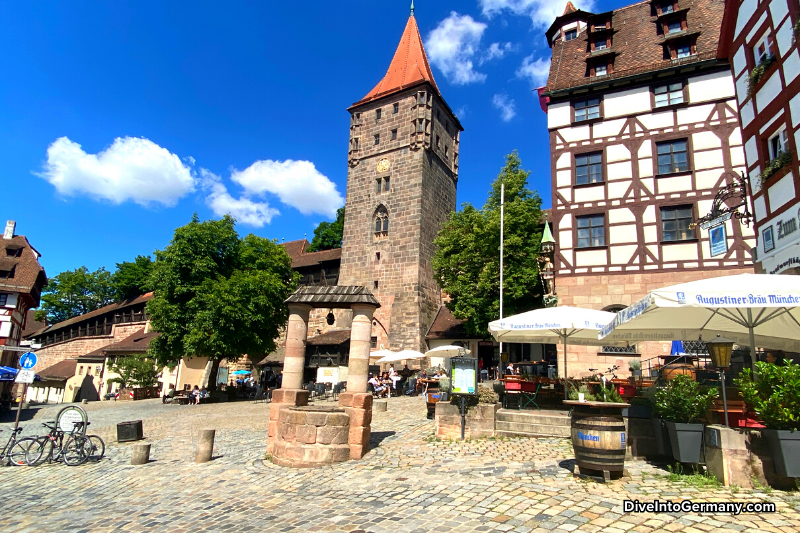 The city became a free imperial city in the 13th century and it had a few hundred years of financial and cultural growth. By 1806, however, it had stopped being an imperial city and became part of the Kingdom of Bavaria.
Later in the 19th century, Nuremberg began to prosper again thanks to the industrial revolution and becoming home to Germany's first railway. Their working class became a powerful breeding ground for the Nazi Party years later.
If you've ever seen those old black and white films of fanatical Nazi supporters hailing Hitler, most probably the film was taken in Nuremberg. Thanks to this, Nuremberg became the starting point for atrocities such as the boycotting of Jewish businesses and removing German citizenship for Jewish people.
In 1945, the allies bombed the city to basically nothing – it's estimated over 90% of the city was destroyed.
After World War II, Nuremberg was home to the war crimes tribunal known as the Nuremberg Trials. Reconstruction took place as well using original stones and the Old Town looks amazing today.
Today, Nuremberg is a major commercial centre in Germany with many successful industries. Its position somewhat centrally in Germany means it's well connected to the rest of the country and there is much to love about a visit here.
You can read more about Nuremberg's past here.
Top 24 Things To Do In Nuremberg Germany
Here are the best Nuremberg tourist attractions. Read through and select the ones that fit your interests and timeframe. If you only have one day to visit the best things to see in Nuremberg Germany, find our what to do in Nuremberg in one day itinerary below.
I also split the cool things to do in Nuremberg with kids and the things to do in Nuremberg during Christmas into their own sections.
Altstadt (Old Town)
The place to definitely head first when you are looking for things to do around Nuremberg is the Old Town. This area, circled by walls and with the Pegnitz River running through the middle, is definitely my favourite part of Nuremberg. Most of the Nuremberg Germany things to do listed below can be found here.
At the very least, you'll want to take a long stroll through here.
As mentioned above, much of Nuremberg was reduced to rubble in World War II. However, it's been rebuilt in a manner fitting of such an old and interesting place. There are many gorgeous half-timbered houses and huge churches, an impressive castle and what can feel like another city underground.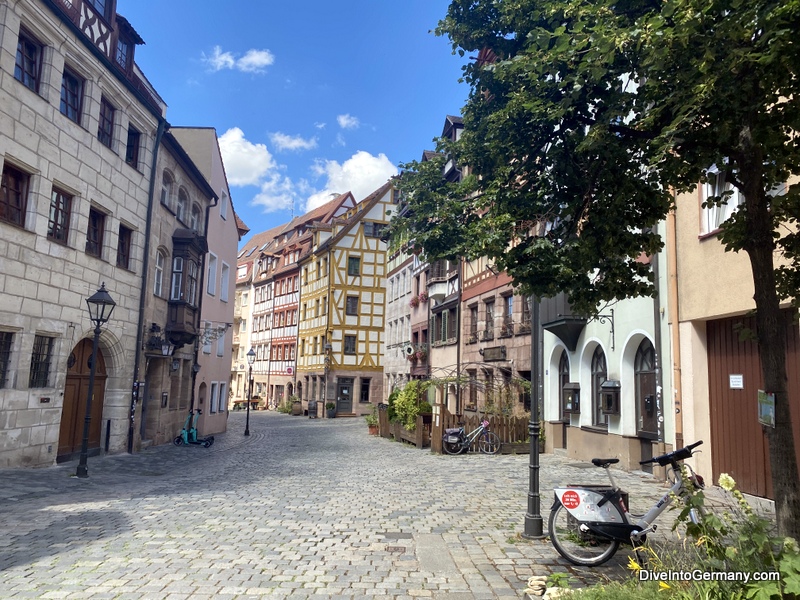 Weißgerbergasse is a particularly pretty street to walk so make sure you include it in your plans. It was also blissfully people free when we visited here, even though the rest of the city was busy.
Kaiserburg (Imperial Castle)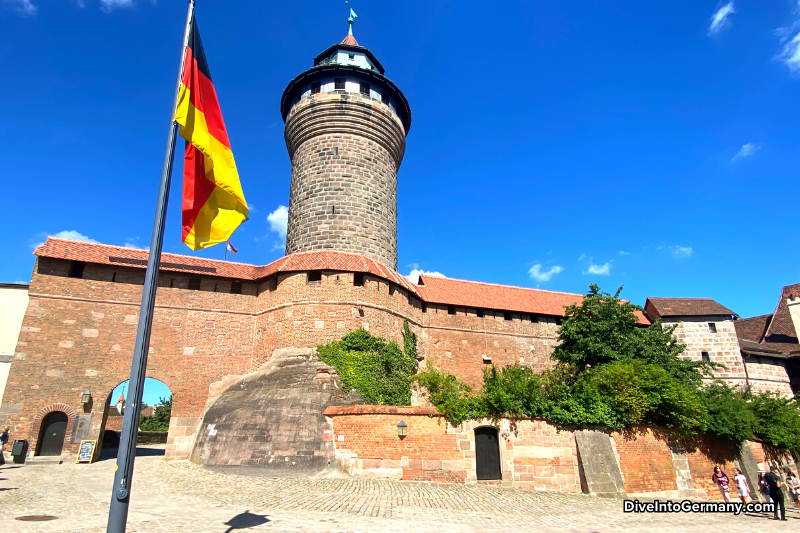 Also referred to as Nuremberg Castle or the Imperial Castle, Kaiserburg is a big castle complex above the Old Town that should be one of your top Nuremberg places to visit.
Always the heart of Nuremberg, this castle once was the centre of power in this region of the Holy Roman Empire. It was the home of the crown jewels and the place where every elected ruler had to hold their first Imperial Diet
Today, this is a great place to explore to learn more about Nuremberg's past as well as to see more of this city.
Highlights include a tour of the residential wing (Palas) where you can see the renovated knights and Imperial Hall as well as the double chapel. There is also an exhibit here where you can learn more about how the Holy Roman Empire worked as well as the history of the castle until the 19th century.
There is also the Kaiserburg (Imperial Castle) Museum which explains the military history of the museum.
A must do in Nuremberg while you are here is visiting the Sinwell Tower which was built in the second half of the 13th century. It's built on the most elevated part of the site and gives great views over the Old Town from an observation platform at the top. It's worth all the stairs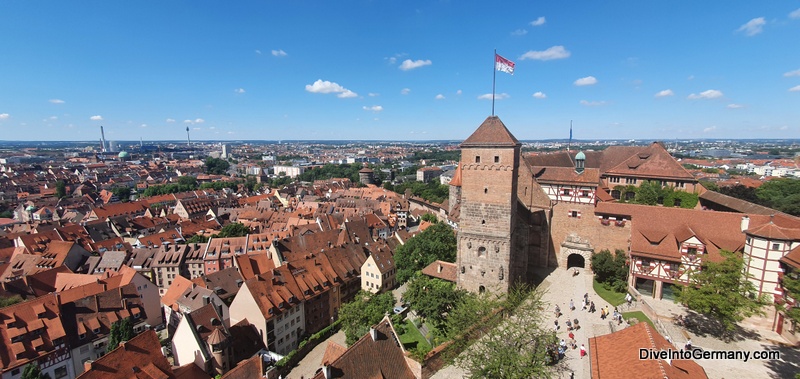 It also is home to photos that show the castle and Nuremberg after World War II ended.
Another popular one of the Nuremberg Germany attractions in the castle complex is the Tiefer Brunnen (Deep Well) which has a shaft that is 50 metres down into the sandstone so that if the castle was under siege, the occupants had access to water. On castle tours, they'll even prove this to you. You can only visit this via a quick tour.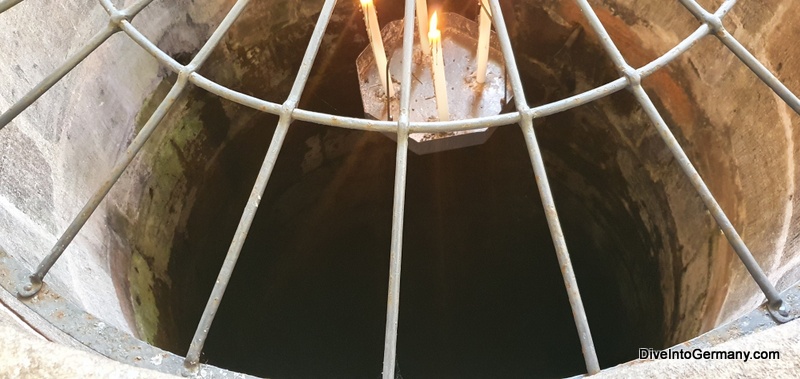 Make sure you also factor in time to enjoy walking around the castle gardens.
The gardens are free and there are small fees for adults (kids free) for the other castle attractions. You can choose just to visit a couple or all attractions.
City Walls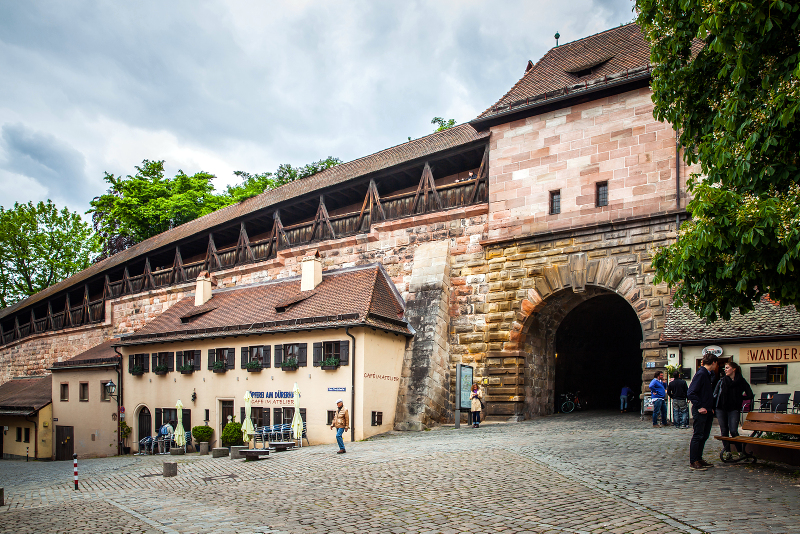 Four kilometres of the original five kilometres of the walls that encircle Nuremberg's Old Town still stand today incorporating the Kaiserburg and many defensive towers. Four gate towers exist at each of its corner points. All up, it makes for one of Europe's biggest medieval defensive systems.
Building started in 12th century (although the first fortifcations are believed to have been built here in the 11th century) and ended in the 16th. A huge moat was built around it as well although this was never filled with water.
The walls, in general, have been well preserved and restored and visiting them is a great way to explore Nuremberg.
Finding them is not hard – I recommend you start your visit of Nuremberg's Old Town at the main train station. From here, you can walk through the walls by the Frauentorturm ("Women's tower") which is an old medieval defense tower. It's a great way to feel like you are going back in time when entering the Old Town.
You can also easily see more of the walls when exploring Kaiserburg and while walking around the Old Town. You can walk on some sections of the walls but not all the way around.
Historischer Kunstbunker (Historic Art Bunker)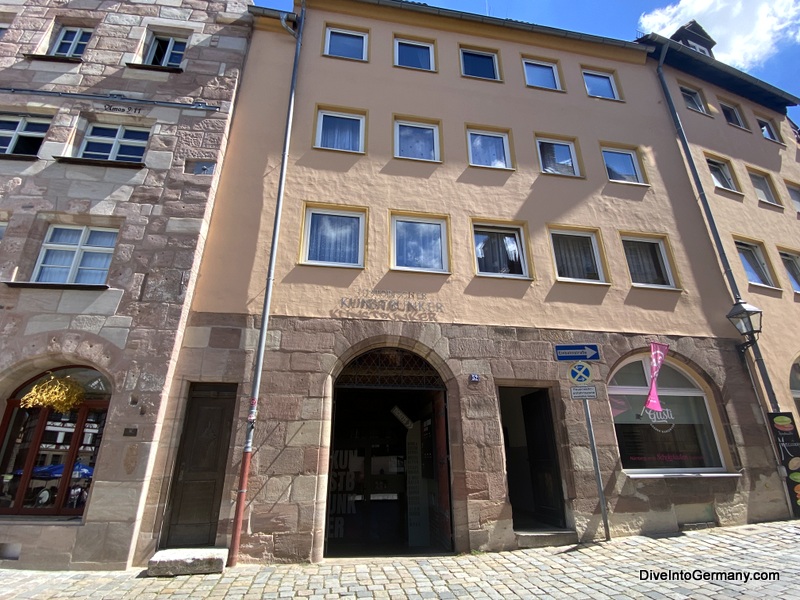 The Historischer Kunstbunker is a bomb shelter where priceless art pieces were stored during World War II which worked to keep them safe. Located under Kaiserburg, this shelter was made in one of the existing Medieval rock-cut cellars. Climate control was added to help keep the art in good condition.
Interestingly, this bunker started being built a year before the war started. The opening is hidden inside a home at Obere Schmiedgasse #52 which is where the tours start from today.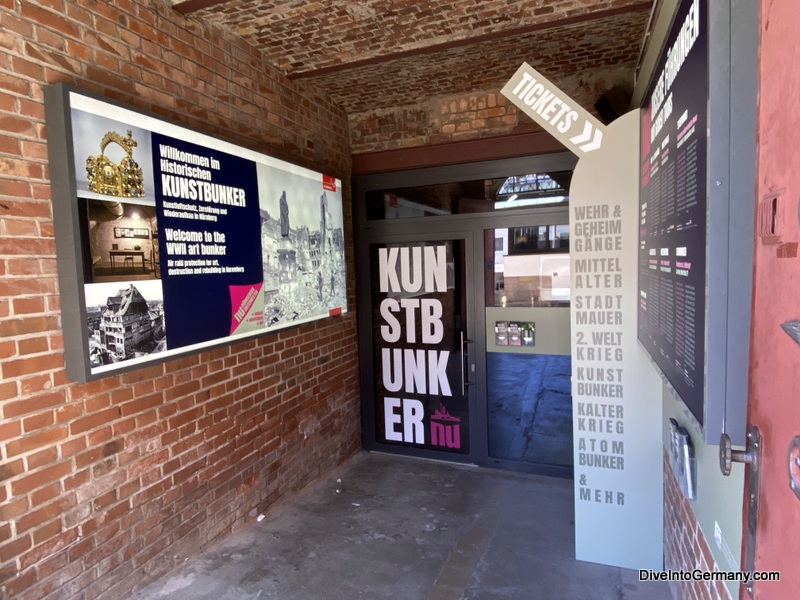 You can take a 60-minute tour to explore this one of the Nuremberg things to see and learn how this bunker was built and how the art was kept safe. There's also information on how Nuremberg was destroyed and rebuilt.
It's also possible to take tours of more of the underground passages under the Kaiserburg that were built for Medieval defensive purposes.
Albrecht-Dürer-Haus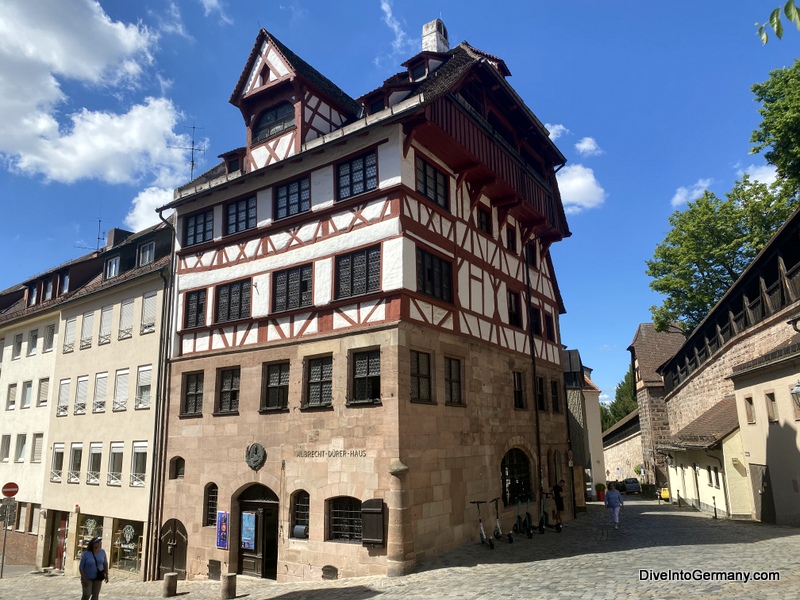 One of Germany's most famous Renaissance painters, Albrecht Dürer, lived and worked at this gorgeous timber-framed house in Nuremberg's Old Town from 1509 until his death in 1528. It's the only 16th century artist's house remaining in Northern Europe.
Five storeys high, this Nuremberg to do has been beautifully restored and is worth checking out even if you aren't interested in Dürer's art. The rooms contain period furniture and exhibits of Dürer's drawings, and you can also see a demonstration of the printing techniques used at the time.
Stadtmuseum Fembohaus (Fembo House City Museum)
This 16th century merchant's house is the perfect place to learn more about the city's history. It's the only surviving large merchant's house from the late Renaissance period.
This tall building makes for quite a sight from the outside, but it's what is inside that landed it on this list of the best things to do in Nuremberg. There are over 30 rooms on four levels to explore with original rooms, period furniture and informative exhibits to tell the history and art and culture of Nuremberg over 950 years focusing on the Middle Ages to the 1800s.
There is also a replica of the Imperial Crown and Jewels which used to live in Nuremberg but are now in Vienna.
It's a beautiful building with some rooms more or less as they were from centuries ago. Spared damage from WWII, it's worth checking out.
There is an audioguide available for the special exhibition and you can get audioguides on your phone for the main exhibits. Most of the exhibits are captioned in German, with only limited English so the audio guides are strongly recommended.
Felsengänge (Undergound Cellars)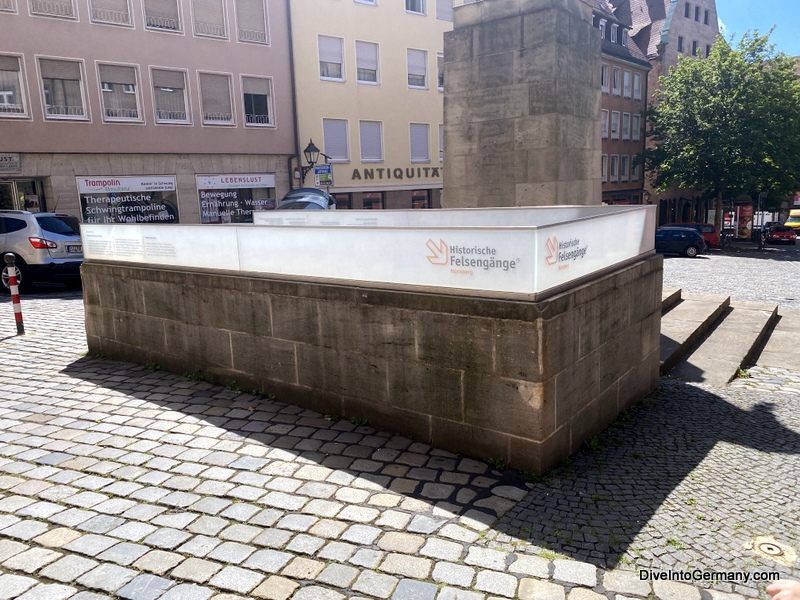 Explore a different part of the city on this one of the top things to do in Nuremberg. Located underneath Albrecht-Dürer-Platz, the Felsengänge is a collection of subterranean passages over four storeys underground. They date back to the 14th century.
They used to house a brewery and beer cellar and then became an air-raid shelter in World War II.
Many of these passages were built under Nuremberg, adding up to 20,000 square metres.
Mostly this was done for breweries in Nuremberg as it used to be law that if you wanted to sell beer, you needed your own beer cellar. With over 40 breweries in Nuremberg in the Middle Ages, that is a lot of cellars. Many joined together and lead to the huge passages existing today.
You can take a guided tour of the passages. Most are in German, but check for English-speaking times. Take a jacket as it can be cold down there.
St Sebalduskirche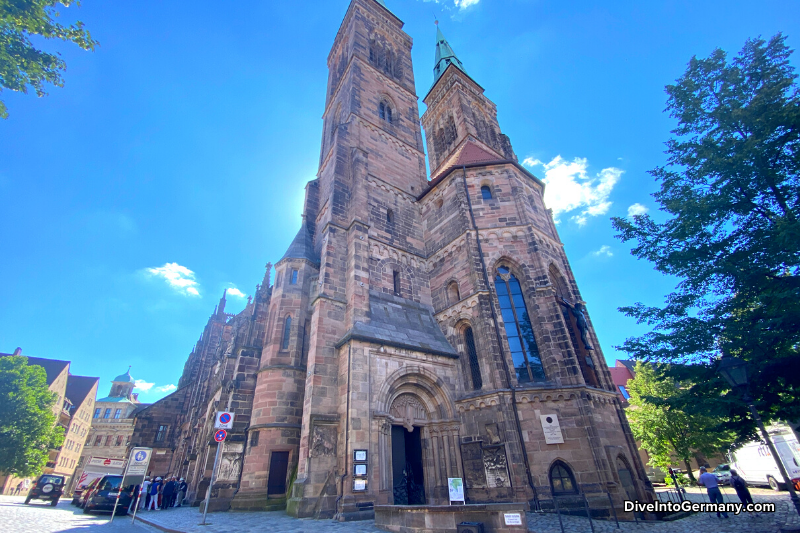 There are many churches in Nuremberg, St Sebalduskirche is the oldest having being built in the 13th century.
Its outside is home to religious sculptures, carvings and symbols. It has quite a unique look thanks to the additions made to this church over the years.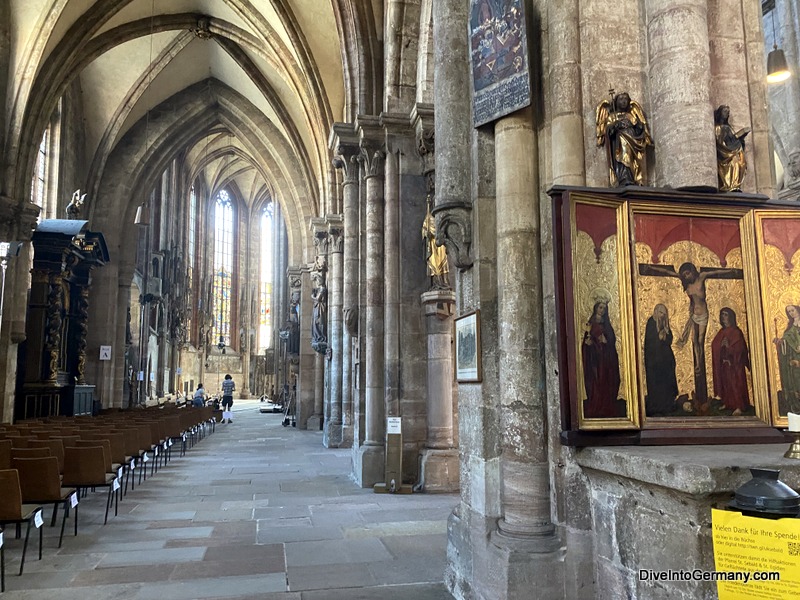 The initial building on the west side is in a Romanesque and early Gothic style whereas the east side was built around 100 years later in late Gothic style. In 1361 when Emperor Charles IV's son was baptised here, Medieval glass windows were added which are some of the best preserved (and oldest) in Germany.
The church is named in honour of Saint Sebald who is entombed here. You can see his bronze tomb which took 11 years to make in the 1500s.
Visiting here is one of the free things to do in Nuremberg.
Mittelalterliche Lochgefängnisse (Medieval Dungeons)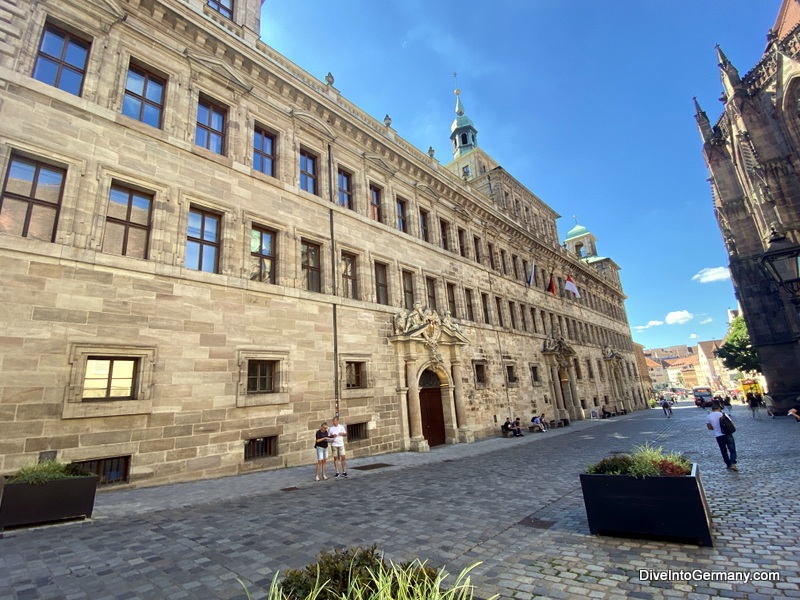 For a more macabre underground experience, add the Mittelalterliche Lochgefängnisse to your list of Nuremberg Germany tourist attractions. Located in the cellar of the old Nuremberg town hall, you'll find 12 cells and a torture chamber which were used from 1340-1806.
If you want to know all about the Medieval justice system, come here! All visits are via guide or audio tour and it's interesting learning how easy it was to torture a confession, send you upstairs to court for a judgement and then you are back for imprisonment or death.
Tours start in a restored Gothic hall in the Old Town Hall. Once downstairs, you can explore the (small and daunting) cells and see torture devices from the time.
From the corridor with the cells, you can actually see the original street level of the road of which this building had been built on top of in the 14th century.
Hauptmarkt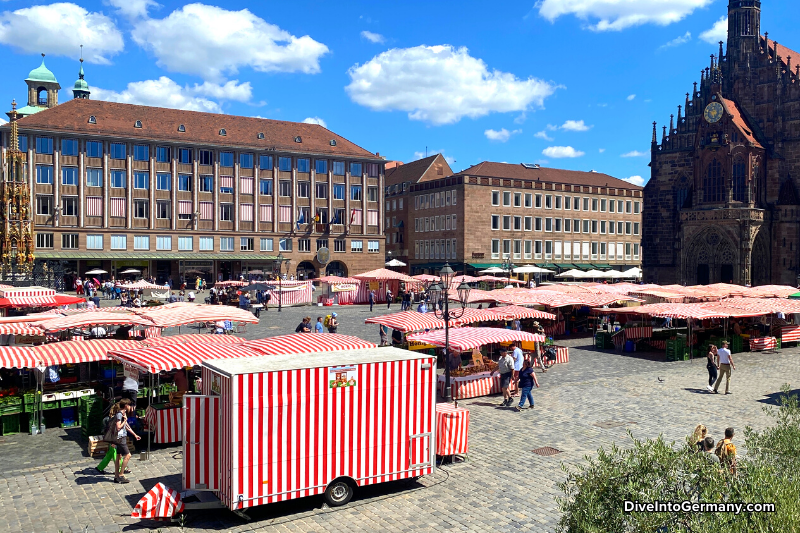 This big main square is in the heart of the Old Town and is definitely one of Nuremberg top attractions. Originally the site of Jewish community, it was built after the Jewish community left or were executed after rounds of Jewish persecution.
In Medieval times, it was ringed with market stalls and today, markets are still held here most notably the massive Christmas Market which fills the entire 5,000 square metres as well as the neighbouring area. It's reputedly the largest in Europe. It's been held here since the 1600s.
There was plenty of good looking fruit and vegetables on sale here when we visited.
This square is also home to Frauenkirche, coming up next on our list of things to visit in Nuremberg, and the large Schöner Brunnen (Beautiful Fountain).
For good luck, make sure you touch the golden ring in the wrought-iron gate that surround the fountain. It can be tricky to find. Look for the crowds or look up – it's quite high and going to be above your head unless you're very tall. It's also small.
Hauptmarkt is a great place to wander and hang out absorbing some Old Town atmosphere.
Frauenkirche (Church Of Our Lady)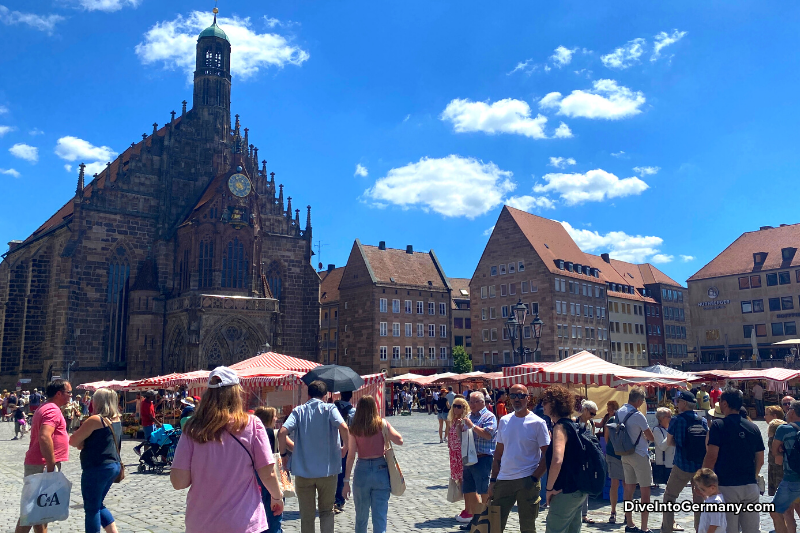 This ornate Gothic church is located at the eastern end of Hauptmarkt and makes for quite a sight. It was built from 1352 to 1362 on the foundations of a Jewish synagogue.
The time to be here is at noon when you can watch the Männleinlaufen which means little men dancing. At this time, on the clock on the facade of the church, little figures come to life playing instruments, ringing bells and seven Prince-Electors strut around Emperor Charles IV. While I wouldn't call it dancing, it is fun to watch.
This glockenspiel clock was created in the early 16th century and was kept safe during World War II in the art bunker mentioned above.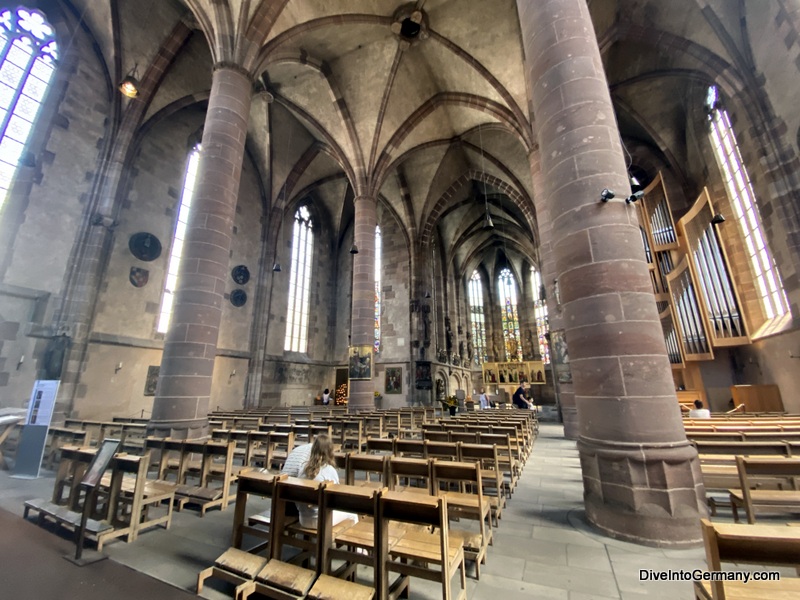 There is an interesting mix of items inside the church thanks to it switching between Catholic and Lutheran during its time (and then back again).
There are some stone sculptures inside the church from the 1300s as well as some impressive stained glass windows – some of which date back to 1358.
It's my favourite of the churches on this list because it was a little more compact and felt more welcoming. They are all gorgeous.
Weinstadel (Wine Depot)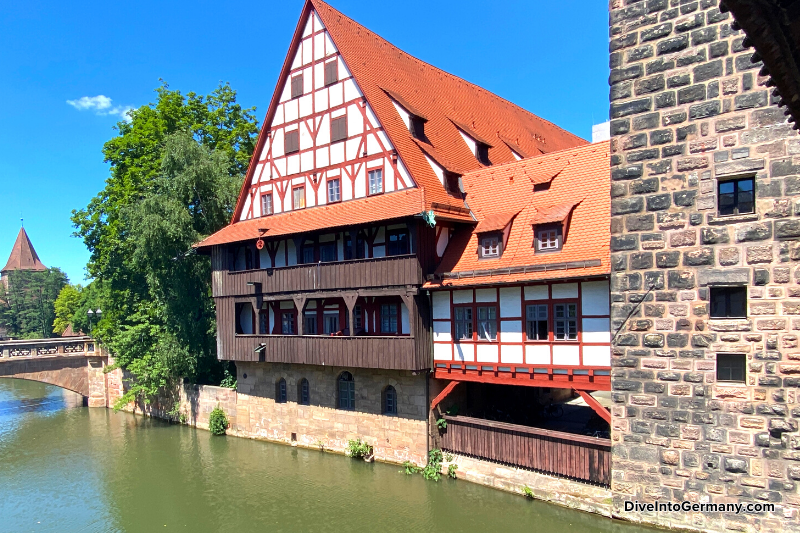 By the Pegnitz River, which runs through Nuremberg, sits the gorgeous half-timbered Weinstadel. Meaning wine depot, this building has had many lives including initially as a leprosy hospital when it was built in 1446. At this time, lepers were allowed to enter Nuremberg for just three days at Easter. From 1571, it was a place to store wine and later as housing for poor families.
These days, it is university student housing but it's still worth wandering by this one of the top things to see in Nuremberg Germany as it's just so pretty next to the river and surrounding buildings. You'll forget you're in a big city.
It's also quite a striking sight. At 48 metres long, it's the largest half-timbered building in Germany.
Henkersteg (Hangman's Bridge)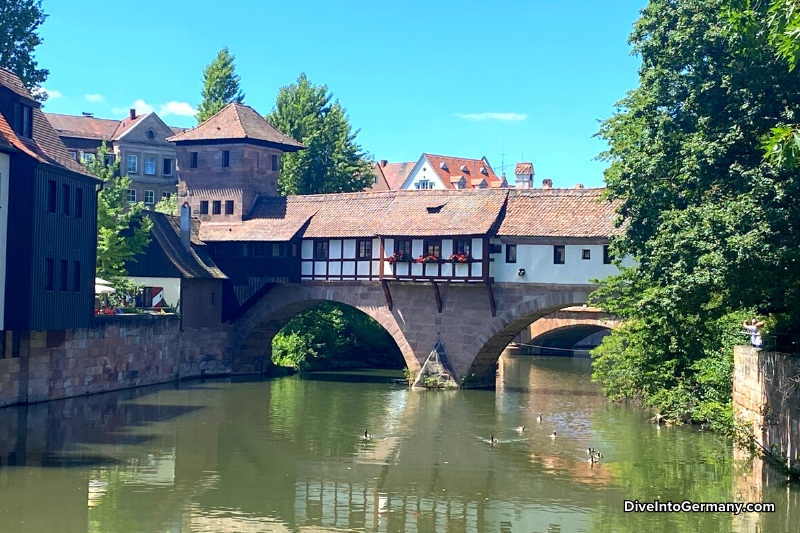 Next to the Weinstadel, you'll find a stone tower and Henkersteg, the hangman's bridge. This tower is what Nuremberg's hangman called home in Medieval times.
The tower was built in 1320, at what was once the edge of the original city walls by the river. This is because, at the time, the town's executioner was not allowed to have contact with the "honorable" citizens.
In 1457, a bridge was built between the tower and the opposite side of the river so the executioner could exit his house and cross the river without contact with the rest of the population. Floods destroyed this bridge and it was replaced with the Henkersteg we see today in 1595.
You can walk across this bridge and the tower is now a museum (Henker Haus) detailing the history of law and crime in Nuremberg particularly in the Middle Ages.
Note that the tower that the museum is in is the smaller one pictured above. We tried to visit it on the opposite side of the river at the taller one and that is student residences 🙂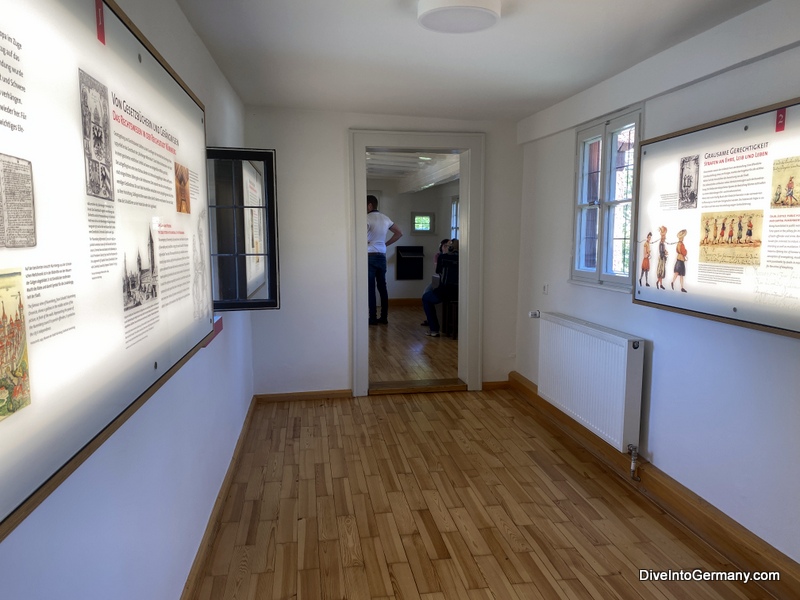 You have to enter Henker Haus to be able to cross the bridge.
The opening hours for Henker Haus (Hangman House) are limited so I recommend you check their site here for the latest hours before visiting.
I found it quite interesting. It's small, but informative, and does a great job of describing the history of what the executioner used to get up to here. It's not recommended for children as there are plenty of gory pictures. I went in alone which was the right choice.
Henkersteg has a middle point on an island called Trödelmarkt (Flea Market Island) which was home to a pig market and "junk shops" in the Middle Ages. Today, you can find boutique stores here and this is where you enter Henker Haus from.
Ehekarussell Brunnen (Marriage Carousel Fountain)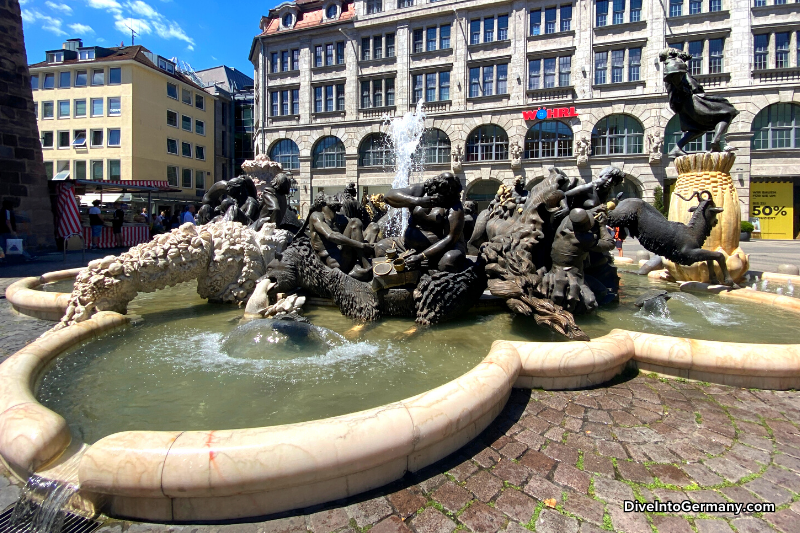 Located by the White Tower (a Medieval watch tower built in 1250 which is no longer white), the Ehekarussell Brunnen is a large and interesting sculpture that you're probably going to love or hate 🙂
This one of the unusual things to do in Nuremberg displays different aspects of marriage over six scenes from falling in love until death. It was cast from bronze in 1984 by Jürgen Weber based on lines by the Medieval poet, Hans Sachs. His original poem can be found chiselled into the work on the tower side.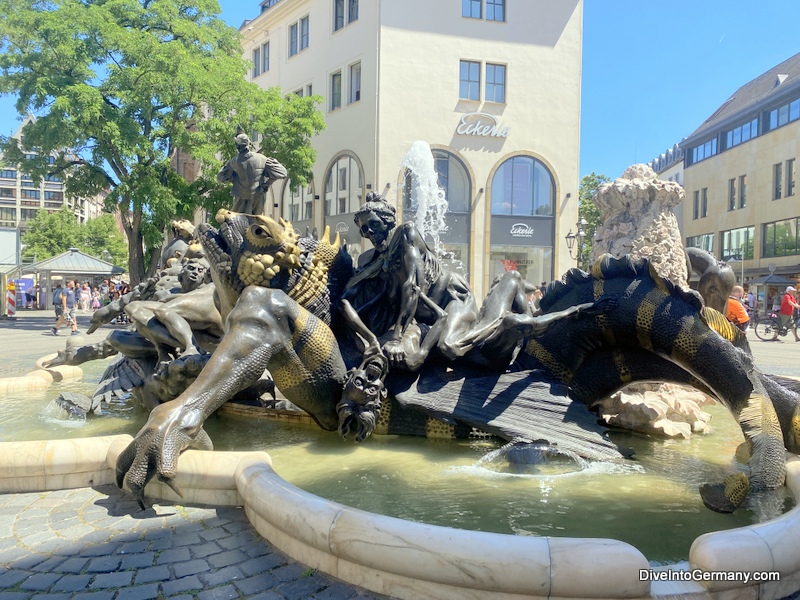 I definitely love this fountain. It's interesting and gave us much more to talk about than most fountains. Make sure you check out each individual scene as you walk around it. I don't recommend it if you are currently contemplating getting married as it doesn't paint the best picture of it!
Lorenzkirche (St Lawrence Church)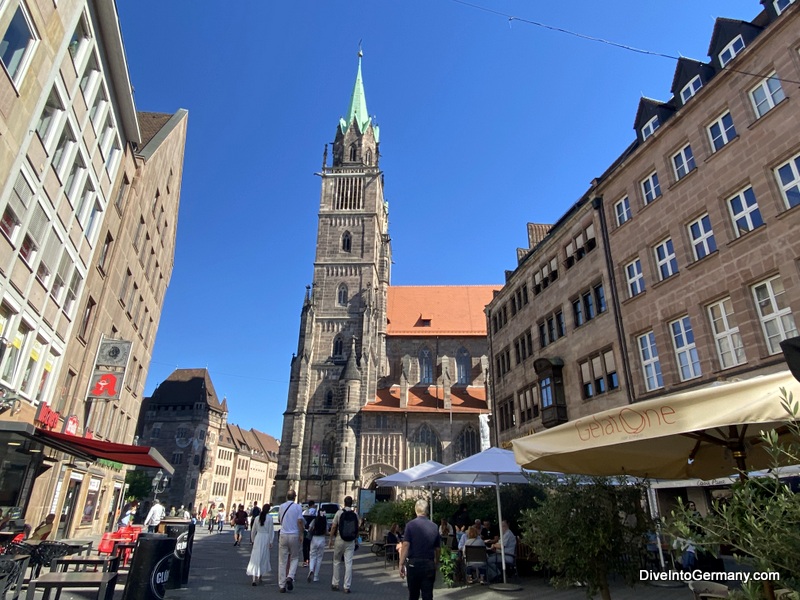 Another one of the religious places to go in Nuremberg, Lorenzkirche is a huge, twin-towered church with the towers measuring 80 and 81 metres from the ground. First built in 1250, the church was rebuilt in a Gothic style from 1439-1477.
While much was repaired after World War II, many of the Gothic elements and artworks were preserved.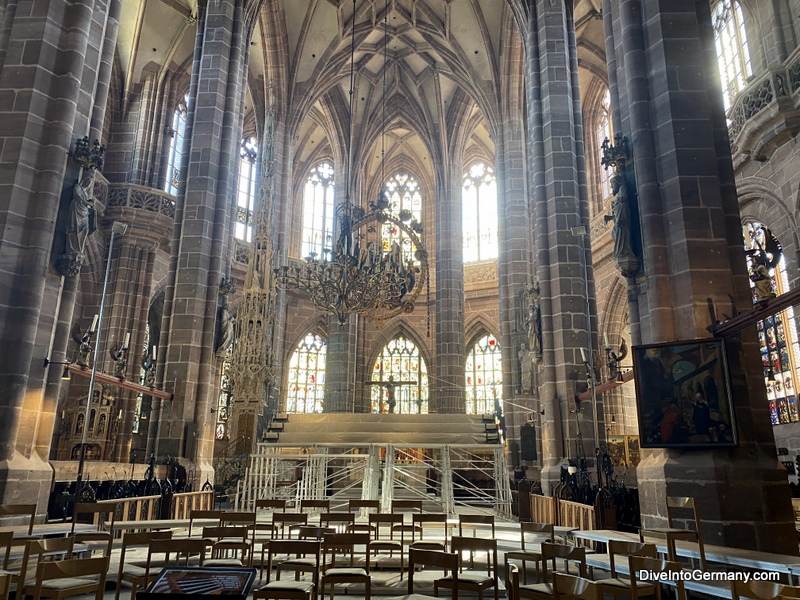 While it looks mighty impressive from the outside, it's also impressive on the inside. It's quite atmospheric with its sooty ceiling, down lit pillars and more. There are also impressive Medieval stained glass windows including a 9 metre diameter rose window.
There is plenty to enjoy and appreciate in Lorenzkirche. If you speak German, there are free tours that can take you up into the towers.
Germanisches Nationalmuseum (German National Museum)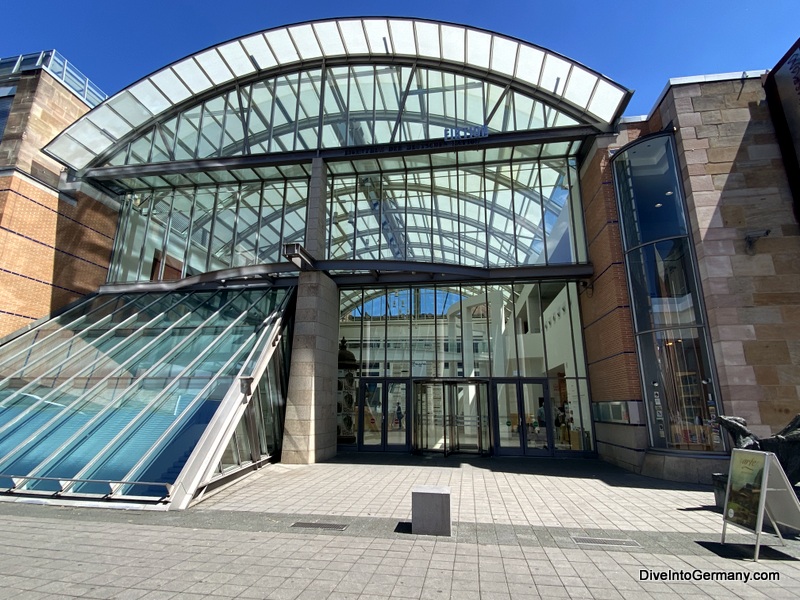 When you're ready for some serious museum time, make your way to the German National Museum. Founded in the mid 19th century to be an authoritative collection of historical artifacts from German speaking people, there is a lot here.
There's archaeological finds, scientific instruments, arms, armour, books, musical instruments, clothing, toys and basically anything related to German culture and background. Part of the museum is housed in an old monastery which is neatly woven into the museum as an exhibit in its own right.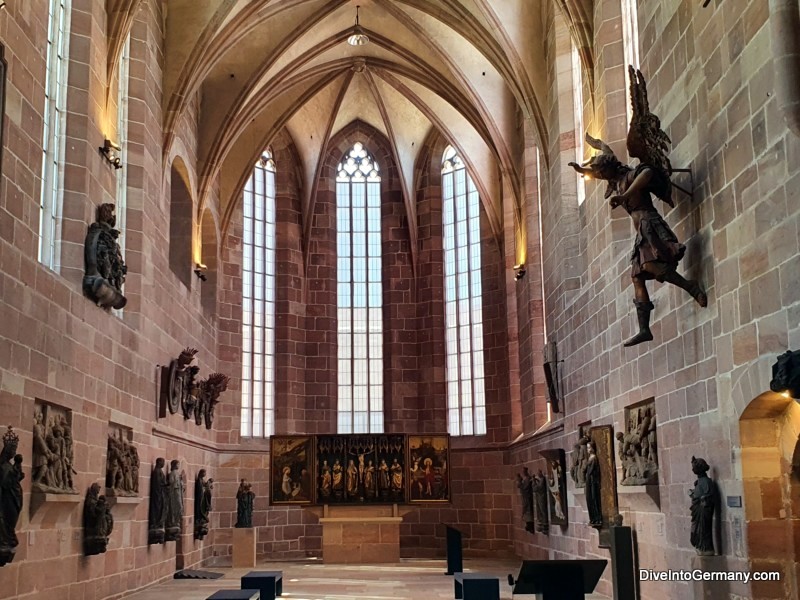 There is so much here that I recommend you visit the info centre on arrival and work out which parts are most of interest for you. You can find the museum's website here.
Straße der Menschenrechte (Way Of Human Rights)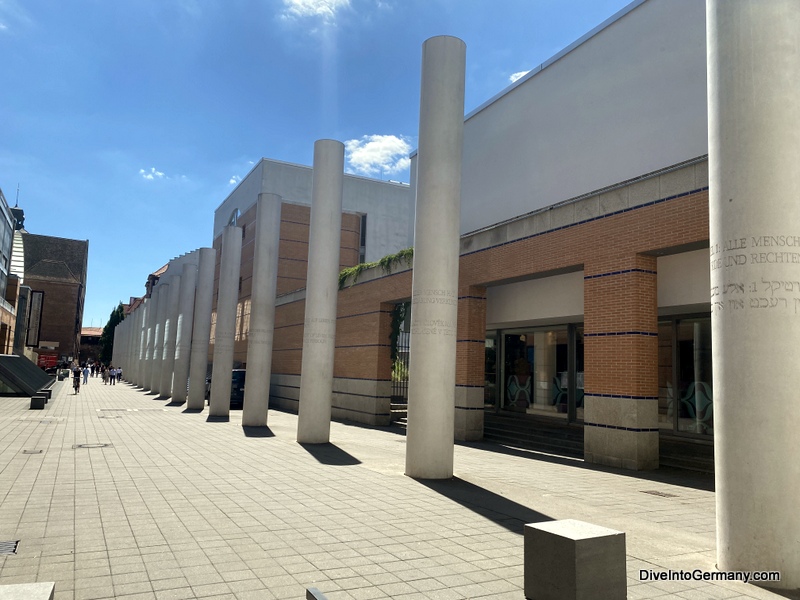 Next to the German National Museum is the Way Of Human Rights consisting of 30 x 8 metre tall columns along Kartäusergasse. Each column has an article of the Universal Declaration of Human Rights in a different language.
It's dedicated to both rejecting the things that have happened in Nuremberg in the past (primarily how Nuremberg played such an important role for the Nazi party) and as a reminder that human rights are still regularly ignored in parts of the world.
Neues Museum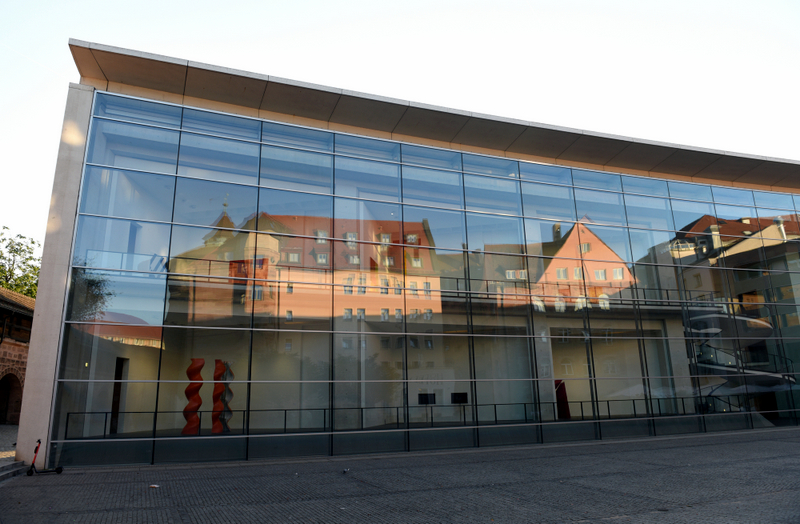 Art lovers will definitely want to add the Neues Museum to their list of must see places in Nuremberg. Located at the southern end of the Old Town opposite the city walls, its known for its 100 metre curved glass exterior that reflects the stone city wall.
Inside, you'll find a gallery with an impressive collection of contemporary and modern art. Opened in 2000, the building itself is a work of art with its glass exterior, open spaces and a cool spiral staircase.
The art itself is from the 1950s until today. There is a wide range on offer from paintings to sculptures to photography and video art. There is a great range of temporary exhibits too so you can always see something new.
Deutsche Bahn Museum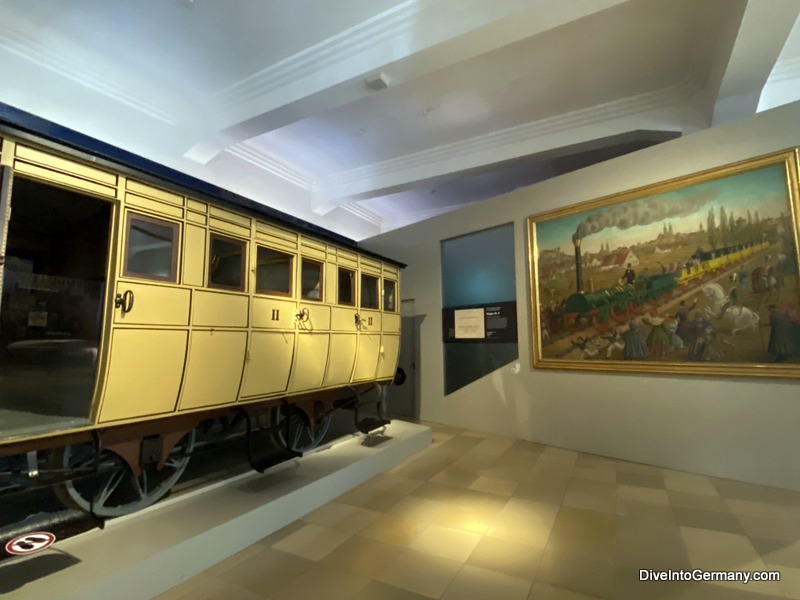 If you are a railway buff or travelling with kids, this should be right at the top of your list of Nuremberg best places to visit. While I didn't list this attraction in the kids section below because it will also appeal to adults, this was our kids #2 choice of the best things to do in Nuremberg Germany (after Playmobil FunPark).
Nuremberg was the site of the first passenger train journey in Germany between here and Fürth so this is the perfect location for this thorough and engaging transport museum centred on trains and railways.
Located just outside the Old Town to the south, this is a big museum. The main exhibit centres on the history of Germany's railway system with plenty of information and items like an 1835 railway carriage (Germany's oldest as this is when the railway opened between Nuremberg and Fürth). But note that a big chunk of this main exhibit is only in German.
What you'll probably enjoy are the old trains, carriages and engines. We especially enjoyed the state coaches of the Bavarian King Ludwig II. So fancy!
There is much more to enjoy though. The first floor has a great model railway. The top floor is full of interactive attractions and rail-based play areas that kids will love.
Find the latest opening hours (they do vary) and ticket prices on their site here. You can also read our full review here which I highly recommend. We were a little disappointed by our visit as we didn't have the right expectations. This will make sure you do!
Memorium Nuremberg Trials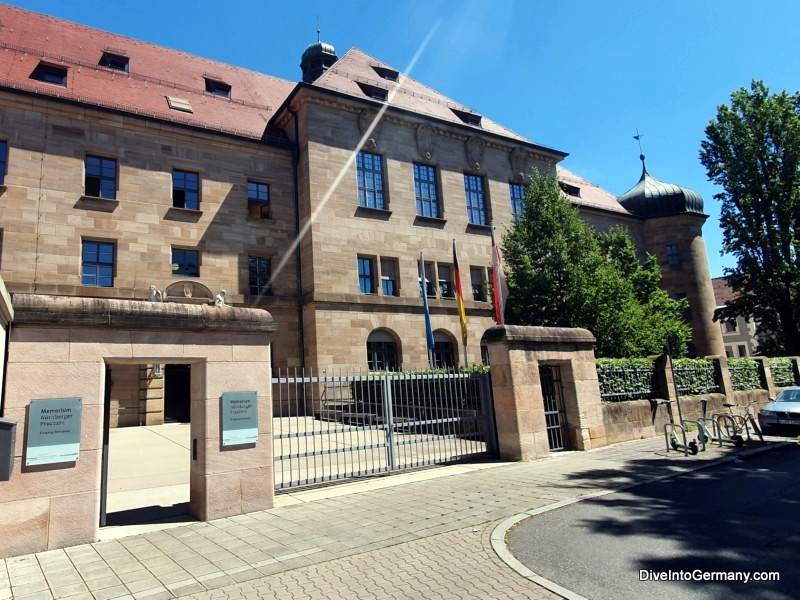 The Palace of Justice (Justizpalast) is home to maybe the best known event to take place in Nuremberg, the Nuremberg Trials.
Courtroom 600 is where the trials took place. Between 1945-1949, 13 trials took place with 199 defendants. 161 were convicted with 37 sentenced to death.
This courtroom was still in use until 2020 but now is part of the centre dedicated to the trials. The main part of the memorial is on the floor above the courtroom. This centre is all about the Nuremberg Trials which details the crimes, defendants and the impact these trials have had on international law.
Most of the information displayed is in German only but a free audio guide is available that covers everything. If you plan on seeing/listening to all of it allow at least 90 minutes (as there's a lot of sections).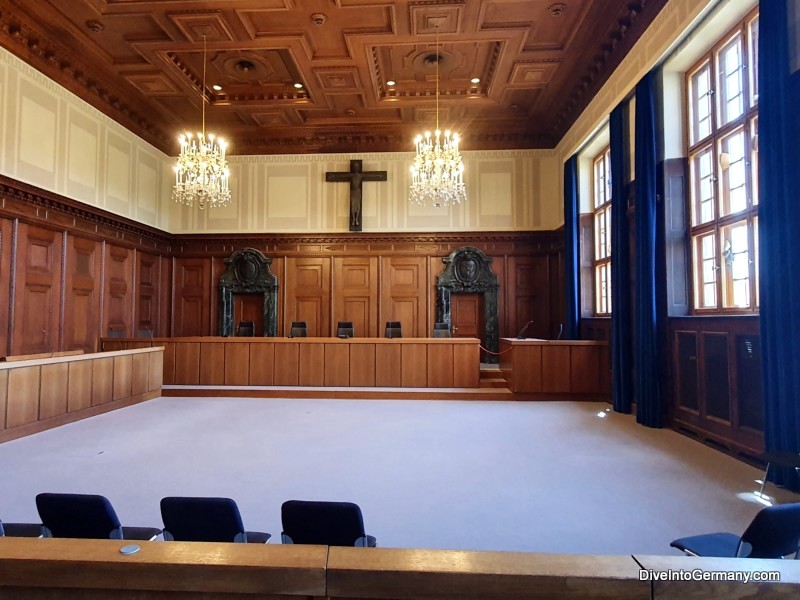 For the courtroom itself, you can see it from the visitors section which matches the vistors and press area for the original Nuremberg trials. The court is still configured as it was when it ceased being a regular court again in 2020. Now it is unused, there are plans to remodel it as it was in 1945.
Do note that the courtroom can be closed during the museum's opening hours so if it's important to you to walk inside here, it's best to check with the museum before going if it will be open for your visit.
It's well worth a visit to learn more about this historic event. You can find more information on their site here.
Reichsparteitagsgelände (Nazi Party Rally Grounds)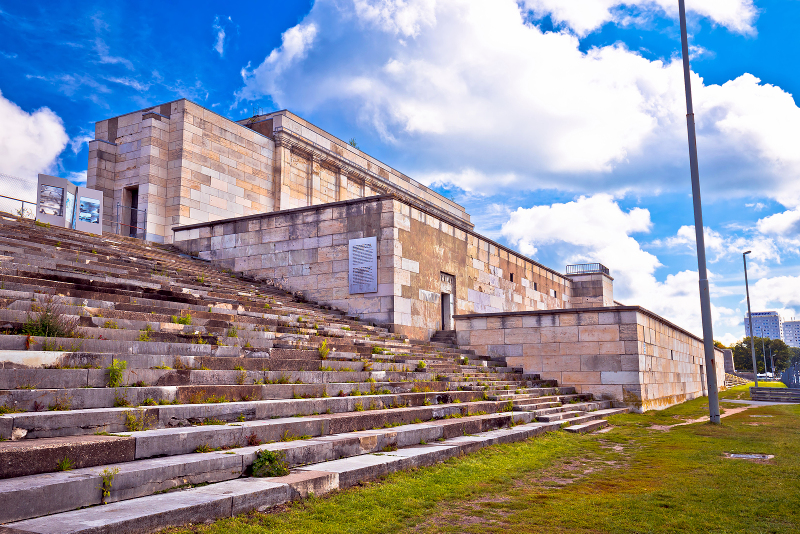 For a big contrast with the last Nuremberg places to see on this list, visit where the Nazi Party was at its peak at its rally grounds.
You've probably seen this place before – if you've ever see the black and white videos of crowds hailing Hitler, it was here in Nuremberg that these were filmed.
Nuremberg was an important place in Germany thanks to its central location and its status in the Holy Rome Empire which made it important to the Nazi Party who held their annual propaganda rallies here even before they were in power. A congress hall was built here in the 1930s which is now home to the Documentation Centre.
Just to the east is Zeppelinfeld which is where the big Nazi parades and events took place. There is also a 350 metre long grandstand here as well as the balcony where Hitler stood talking to the masses.
The two kilometre long Große Strasse was planned for military parades.
Much of these grounds were destroyed during World War II but enough remains to give you a good idea of the scale of things here.
The Documentation Centre is definitely the place to head to learn more about the history of this area and how it was used by the Nazi Party. It will also give you a great understanding of how the Nazi party came to power and managed to do everything they did.
Once you have finished at the Documentation Centre, you can walk around the grounds where there are information boards telling the history of different parts of the site. It is a decent sized site so get ready for lots of walking.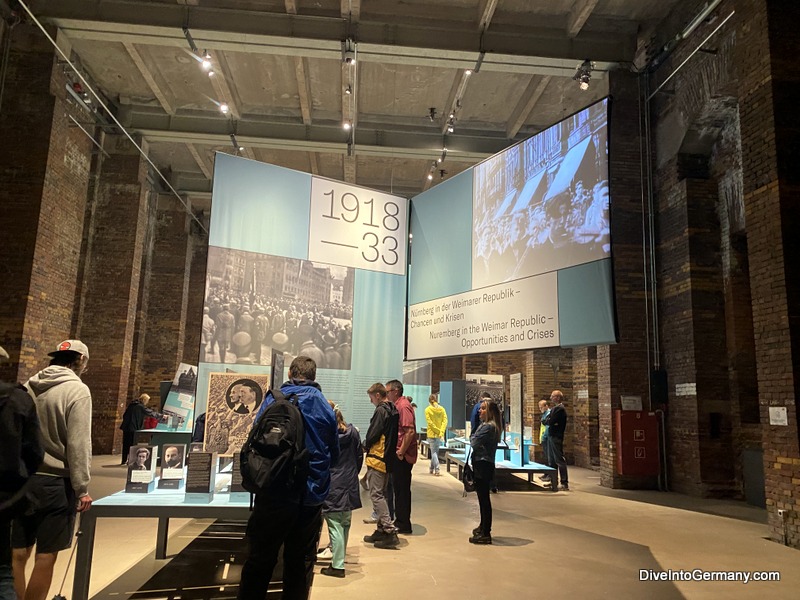 Note that at the time of publishing, the main Documentation Centre museum is shut and there is an interim exhibit which talks through the various uses of the grounds as well as some brief information on the events that lead to World War II in Germany.
Sometimes, the Zeppelinfeld is closed for events and I suggest you ask when you buy your tickets for the Documentation Centre if this is open – or even better, ring beforehand. We were frustrated on our visit that we walked around for quite awhile in the rain with all the approaches we could find to the Zeppelinfeld closed.
We went back to the ticket office and asked and were told we should have known that it was shut!! This was not anywhere on their website or at the actual site. Hopefully, you have a better experience than us.
If there is only the interim exhibit to see, I don't think this is worth the entry or the journey here.
There is parking at the site which we didn't have problems accessing.
Schloss Neunhof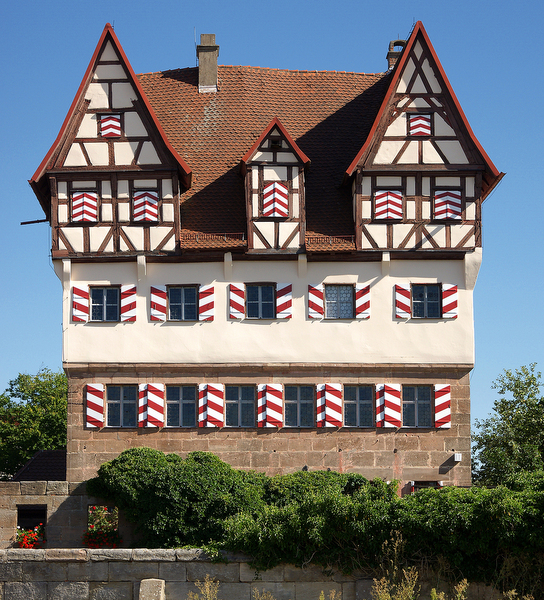 If you are looking for the best places to visit near Nuremberg, Schloss Neunhof is a completely different attraction in this area.
Schloss Neunhof is a well preserved suburban estate which helps tell the story of what summer was like for the city's noble families from the 16th – 19th century.
This manor house is not just picturesque but has fortifications, a gate, moat and drawbridge. It also has big gardens with stables and more. Inside the house is a castle and hunting museum.
Located about a 20 minute drive from Kaiserburg, this attraction is best for people with their own wheels. At the time of publishing, the building was shut due to renovation works but you can visit the gardens. You can find more details on their site.
Jüdisches Museum Franken (Jewish Museum Franken)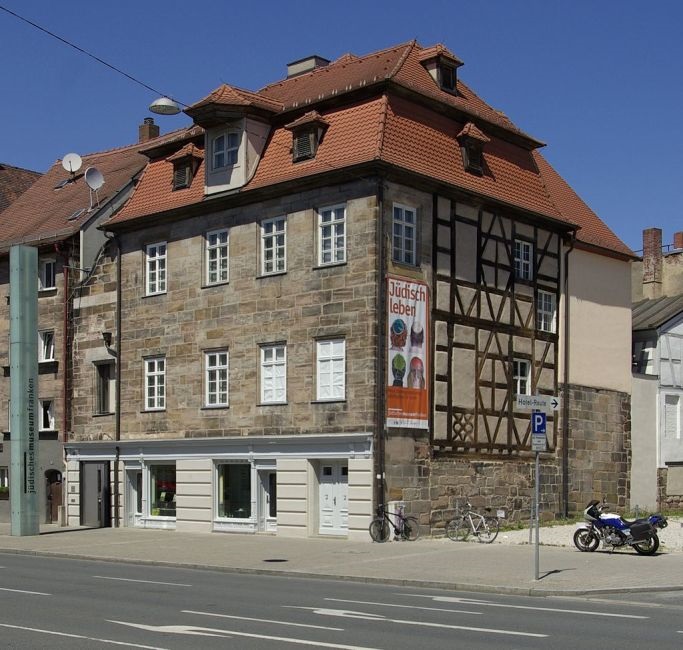 In the adjoining town of Fürth, just a quick train ride away, is this one of the best things to do near Nuremberg Germany, the Jewish Museum Franken.
Fürth used to have the largest Jewish population in southern Germany. In this museum, you can learn the history of Jewish life in this region from the Middle Ages until today.
Bamberg
If you are looking for a fantastic day trip from Nuremberg, look no further! Bamberg is a fantastic option. About an hour's drive or train trip away, it makes for an easy option.
Bamberg's Old Town is UNESCO World Heritage listed and is full of original buildings. If you love narrow Medieval streets, tall historic buildings and centuries old churches then this is the place for you.
There are some great museums and churches to explore as you walk around the Old Town including the incredibly picturesque Altes Rathaus (Old Town Hall). In a day, you can see the top attractions in this city and have a fabulous time.
Click here to read our full guide to Bamberg including a one day itinerary.
Things To Do In Nuremberg With Kids
Nuremberg is a great place to visit with kids. We know because we visited with our three kids aged 6 – 12. While the majority of the Nuremberg visiting places above work fine with kids – ours enjoyed exploring the Old Town as much as us – there are some great Nuremberg attractions especially for kids which you will find in this section.
I do want to reiterate that the Deutsche Bahn Museum above was our absolute favourite place with kids in Nuremberg so 100% this should be on your itinerary.
Kindermuseum (Children's Museum)
If your kids want stuff to do in Nuremberg, this highly regarded children's museum could be just the place to head. With many exhibits full of hands-on interactive things to do, they won't be bored while they learn.
Permanent exhibits focus on learning more about the earth and the environment and on how people have lived at different times and the way technology has evolved how we live. This sounds like lots of fun with the opportunity to even bake pastries and wash clothes the old-fashioned way.
It's suitable for kids in grades 1 – 10 as well as preschoolers but is focused on being most interesting for primary school kids.
Unfortunately, we did not make it to this museum ourselves due to the fact that it doesn't open over the summer vacation period. But it does sound like a lot of fun!
Spielzeugmuseum (Toy Museum)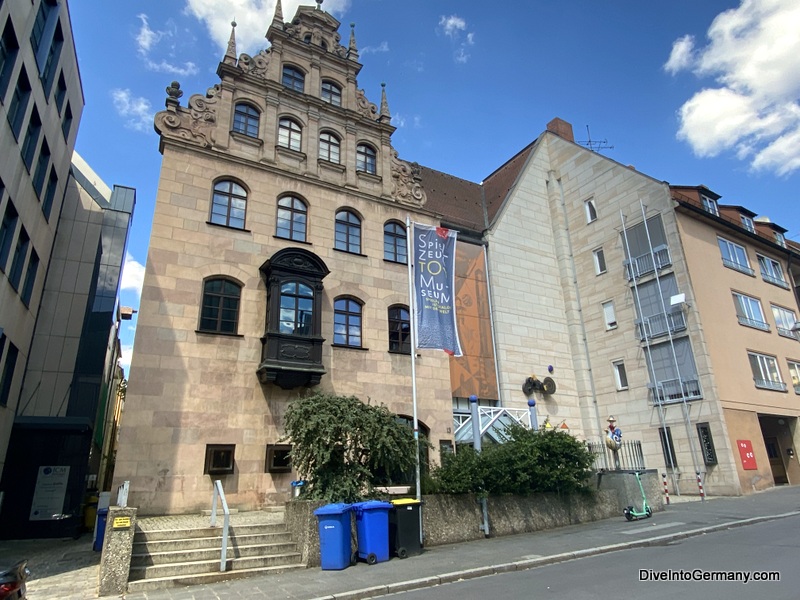 Nuremberg has a long history (600 years!) of making toys so what better way to celebrate this than at a toy museum! In fact, Nuremberg is a hub for toy makers today as well with the biggest international toy fair held here regularly.
Located in the Old Town, it's also a great way to break up more adult-focused attractions and to keep your kids interested in exploring.
The history of toys is on display here and as you move up the levels, you move forward in time as far as the toys displayed. It starts with wooden toys on the ground floor, doll houses and tin toys on the first floor and then construction sets and wind up toys on the second floor. There are also model trains.
The third floor has toys built since 1945 – there are so many things here! I may have enjoyed this more than the kids as I reminisced about my old toys.
While most of this museum is a museum – meaning you can't play with the toys – the kids will enjoy the top floor where there is a play area with toys, games and books.
Nuremberg Zoo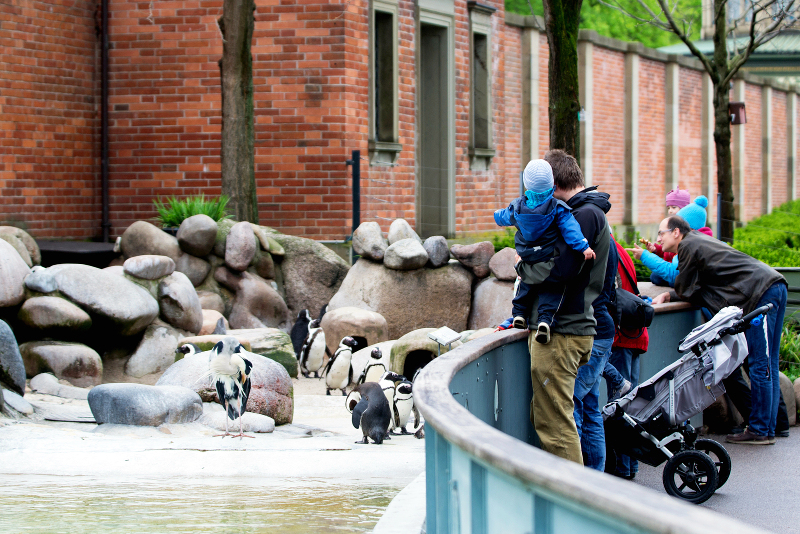 The Nuremberg Zoo is one of the largest in Europe and has some great enclosures and animals on site. If you like zoos, you are sure to love Nuremberg Zoo.
It's about six kilometres east of the Old Town in an old sandstone quarry which makes for some great enclosures when it's been left how it was for animals where this makes sense.
There are many animals here (292 different species) and your kids are highly likely to find their favourites.
Playmobil FunPark
Kids 10 and under may think that Playmobil FunPark is the winner when it comes to places to see near Nuremberg.
This low key amusement park with Playmobil theming was a total winner for our six and ten year olds with amazing playgrounds, pedal boats, water play area, castle area, go karts and more. What I liked about it is nothing is that fancy (think cool playgrounds rather than rides) so it actually works incredibly well for younger kids.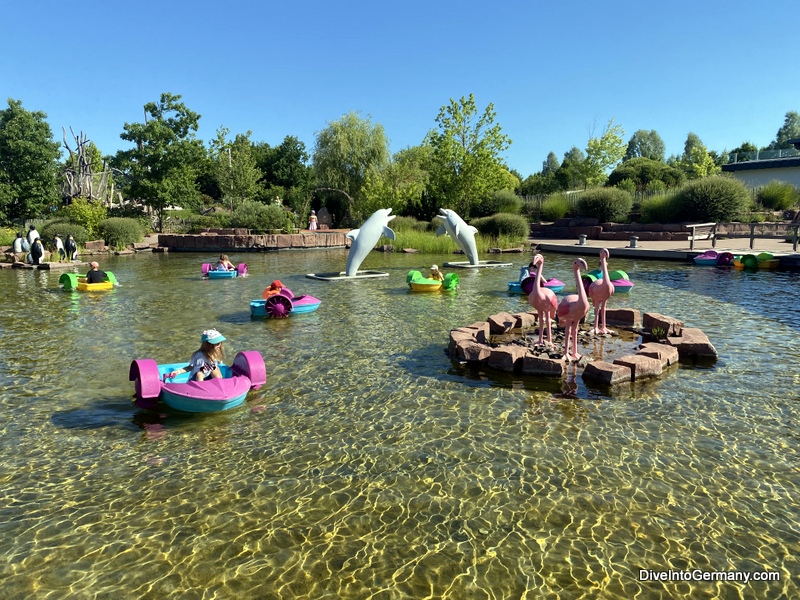 If it's warm, make sure you take your swim suit for the wet areas.
Honestly, you could easily spend all day here. We went for six hours and rushed quite a few hours. Just so much fun.
You can read my full review of Playmobil FunPark here.
Things To Do In Nuremberg At Christmas
While most of the Nuremberg things to do listed above are possible in winter time, there are also some fun things to do in Nuremberg in winter.
Nuremberg Christmas Market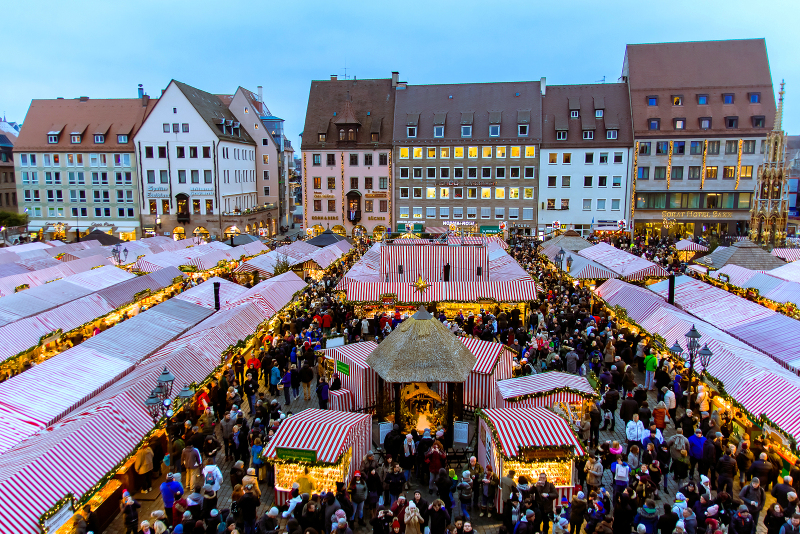 Running for about a month before Christmas, Nuremberg Christmas Market is definitely the #1 place to head if you are looking for things to do in Nuremberg in December. This Christmas Market is one of the oldest and best options in Europe.
Located in Hauptmarkt, this market is big with around 180 stalls. It was first mentioned in 1628, but it's suspected that markets were held here for around 100 years before this.
This area is famous for its gingerbread (lebkuchen in German) and this is a great time to try some along with an "Original Nuremberger" sausage and some blueberry glühwein. These sausages are made with pork and spiced with marjoram. They are only 23 grams each and about the size of a little finger. They are usually sold with multiple pieces.
For families, there's also a Children's Christmas Market on Hans-Sachs-Platz with a special family program and rides. The carousel looks amazing and it's fun to walk around here as well.
The downside of all of this is that this market can get busy on weekends so go on a weekday if possible.
Staatstheater Nuremberg (State Theatre)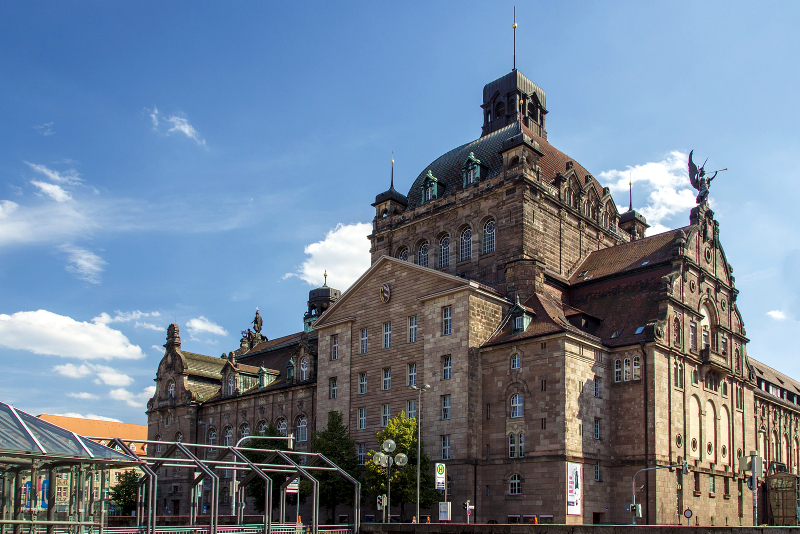 The art nouveau Staatstheater is just to the south of the Old Town and is a magnificent place to take in an opera, ballet or to listen to the Nuremberg Philharmonic Orchestra.
While you can attend a show here year around, it can be an extra good choice in winter when you'd rather keep indoors.
What To Do In Nuremberg In One Day
Only have one day in Nuremberg? 😮 What a shame!
But it's ok, it's still worth going to Nuremberg if you only have one day.
With one day, I recommend you stick to the attractions in and around the Old Town. The following is a base for your itinerary but switch things around after reading the above so you spend more time at the attractions that most interest you.
Start the day at Kaiserburg. Check out the views at Sinwell Tower and consider visiting the other museums and Tiefer Brunnen (Deep Well) if time allows
Look at the map above and try to walk past everything mentioned in the Old Town. Even if you don't want to go inside the attractions, the outsides are usually amazing. Also make sure you walk along the very picturesque Weißgerbergasse
Do one of the underground tours. Pick whichever interests you most from the Historischer Kunstbunker (Historic Art Bunker), Felsengänge (Undergound Cellars) and Mittelalterliche Lochgefängnisse (Medieval Dungeons)
Go inside at least one of the main churches: St Sebalduskirche, Frauenkirche (Church Of Our Lady) and Lorenzkirche (St Lawrence Church)
Have lunch somewhere picturesque in the Old Town
Spend the afternoon at either the Germanisches Nationalmuseum (German National Museum), Neues Museum or Stadtmuseum Fembohaus – whichever interests you the most
The only exception to this is if you are particularly interested in World War II history. In this case, split your time between the Reichsparteitagsgelände, Nuremberg Trials Memorial and Kaiserburg for a touch of the Old Town. Eat dinner in the middle of the Old Town too so you have a chance to soak up some of the ambience.
Best Place To Stay In Nuremberg Germany
When it comes to where to stay in Nuremberg, there is a great range of hotels and other accommodation options. You won't have any problem finding somewhere to stay.
Below, I've listed a few different places to consider depending on what type of accommodation you are looking for.
If you want more options, you can use this map to help you find hotels and home rental accommodation around Nuremberg.
Located just to the SE of the Old Town opposite the City Walls, Le Meridien is the place to head for 5 star luxury. It isn't just grand inside either, it looks it from the outside.
It started life as a two-storey farmhouse with a hops storehouse, but became an 80-room hotel in 1896 with three floors. Although it still wasn't the luxury it is today thanks to no running water and only one bathroom!
Today, it has 190 luxurious rooms, all with flat screen TV, internet, safes and luxurious beds. You will be comfortable here. The rooms range from small (but stylish) doubles to a variety of suites which also have sitting areas.
Facilities at this hotel include a restaurant, gym and business facilities. Valet parking can be included for an additional daily charge.
Click here for the latest prices.
You can also read our full review of the Novotel in Nuremberg here which is also a great choice.
For great value accommodation in Nuremberg Old Town, look no further then the Adina Apartment Hotel. We love this chain for very comfortable, well furnished and smartly arranged apartments with all the facilities of a hotel.
In Nuremberg, the Adina Apartment Hotel is located in the southern part of the Old Town which makes it very easy to get out and about to explore all the things to do around Nuremberg Germany.
Rooms range from studios to one and two bedroom apartments including special family apartments. They all have kitchens including microwaves and washing machines and are comfortably appointed. Flat screen TVs, irons and more are included making this a very easy place to stay.
Facilities include an indoor pool, gym and a sauna as well as complimentary WiFi. There is a restaurant and bar on site and you can order room service. I particularly liked the rooftop terrace.
For anyone who wants to self cater or have a little more space (especially families), this is my top choice of where to stay in Nuremberg.
Click here for the latest prices.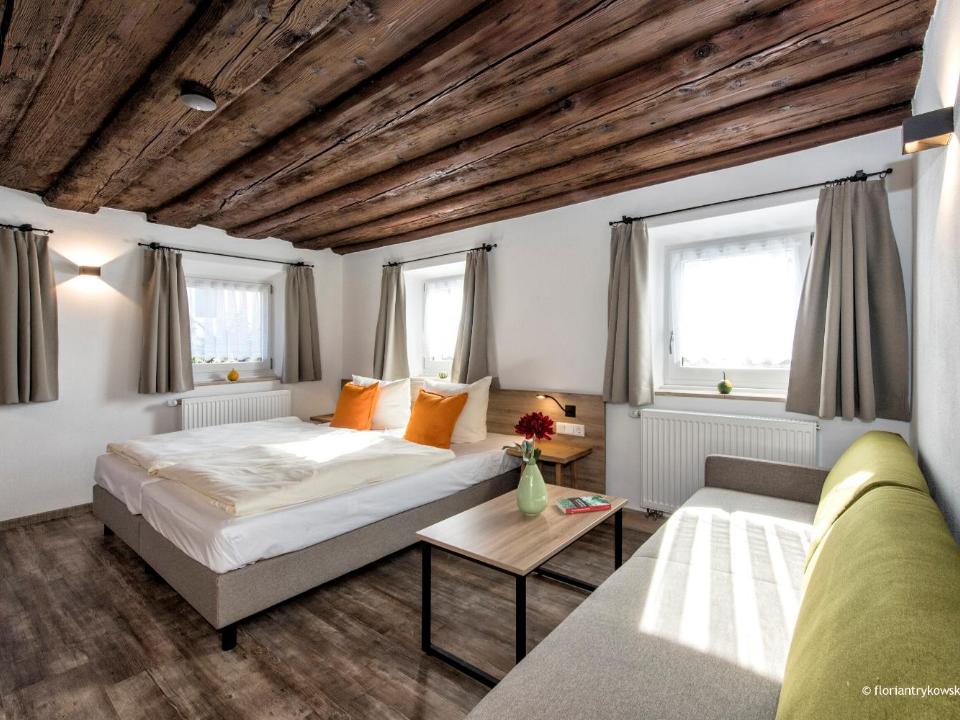 If you are looking for a budget stay, you won't be able to beat Übernachten in der Tenne. Located about 8 kilometres from the Kaiserburg, you can catch public transport into the Old Town and around Nuremburg's attractions.
This accommodation offers apartments in an old converted farmhouse renovated in 2018. They are functional and good looking and offer a comfortable stay for a great price as long as you don't mind the commute.
There are four apartments with kitchens with microwave and three single rooms. Some of the apartments have sofa beds making them a great choice for families of four who want great accommodation and want to save some money.
There is free parking on-site and you can also have breakfast served in your room.
Click here for the latest prices.
Nuremberg Attractions Map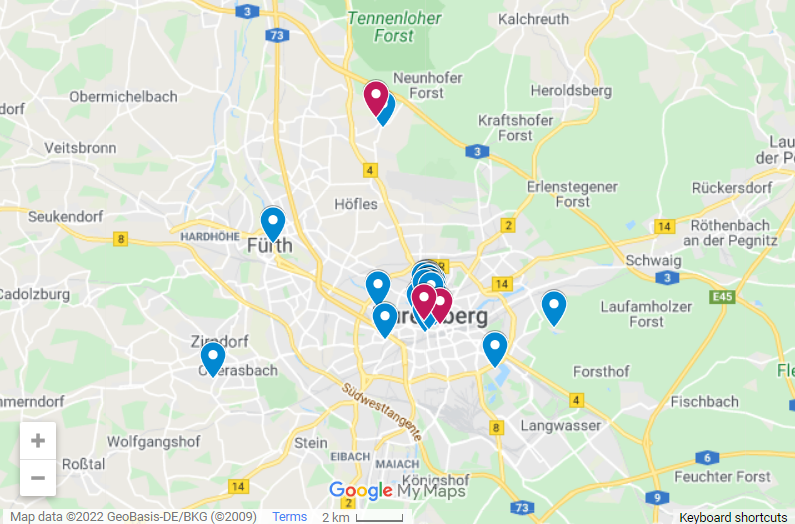 How To Get To Nuremberg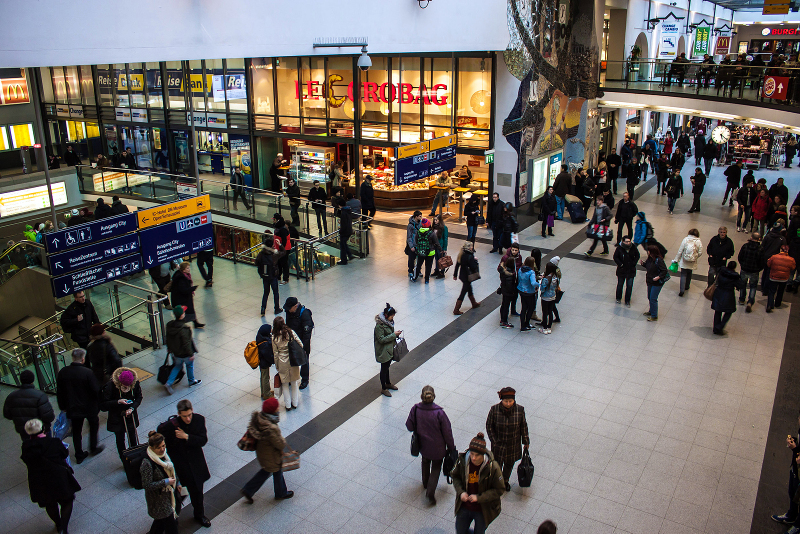 We travelled to Nuremberg by hire car which made it very easy to get here. It's in a central location and is a major city so it's simple to find.
You can hire a car to get you there by clicking here.
There are regular trains and buses here. You can find timetables and all your options here. Nuremberg's central location has it close to many places and you can be in Berlin, Frankfurt, Hamburg or Munich within hours by train.
There is also an airport in Nuremberg with flights from other places in Europe. Click here to see the latest (and best) prices.
Once in Nuremberg, we found it easy to use the local transport, although most of the time, we explored on foot. Once you are in the Old Town, it's awesome to just walk around and soak it all in.
Final Words
Nuremberg is a fun place to visit and there are many things to see Nuremberg offers. The hardest part will be what to leave out!
We really enjoyed it all, except the disappointment of not getting to see the Nazi Party Rally Grounds as we had expected. The Old Town is awesome to walk around and then there's so much outside of here as well as some top museums.
I hope you have found this guide useful and you have a great visit as well.
Read more guides to visiting Southern Germany here or read about nearby Dinkelsbühl here or Rothenburg here. Both are perfect places for a day trip!