Looking for a top place to stay in Nuremberg that's centrally located, comfortable, quiet and very nice?
I have the answer for you!
The Novotel Nuernberg Centre Ville Nuremberg ticks all these boxes and also has friendly staff and great facilities. It has great room types for a hotel which makes it easy for families, solos, couples and friends looking for a hotel.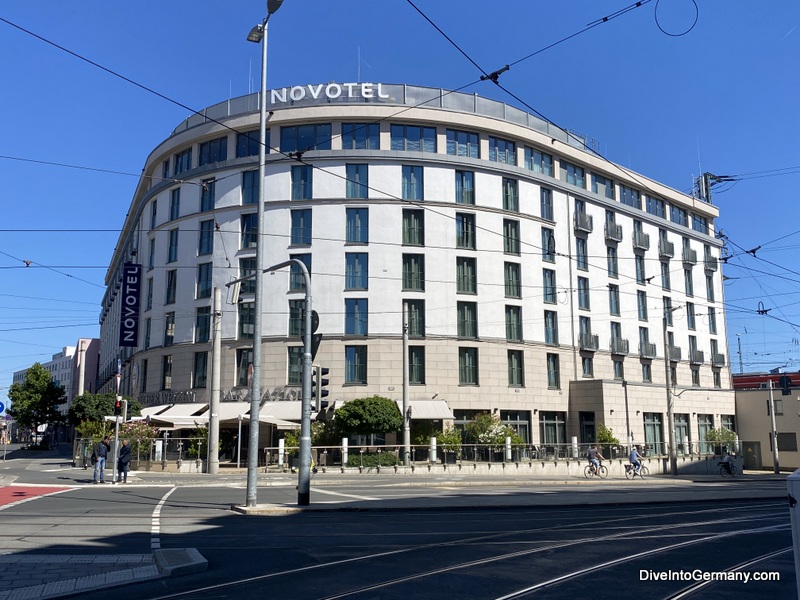 The best part is that it's all for a reasonable price.
Want to know more? Keep reading for my full Novotel Nuernberg Centre Ville review!
Click here to see the latest prices now.
Traveling to Germany? Click here to download your free Germany Trip Planning checklist. We'll help you get ready for your trip! 
Novotel Nuernberg Centre Ville Review
We stayed at the Novotel Nürnberg Centre Ville over a weekend in July, so a busy time. However, the hotel never felt that full and we didn't line up for anything.
We arrived early (9am) so left out luggage at their luggage storage which was easy and free.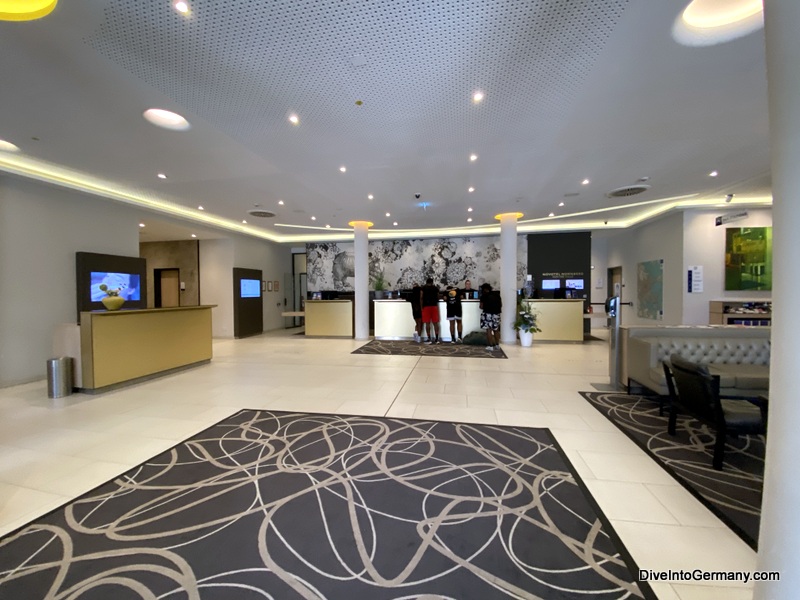 When we came back later, check in was very smooth and we were given some activity books and stickers. The only weird thing was that they asked how many kids I had (two) then they only gave one set anyway.
Any staff member I dealt with while staying here was friendly and helpful and spoke flawless English.
Location
The Novotel hotel Nuernberg Centre Ville is in a great location a couple of minutes walk from the main station. This also means it's just a few minutes walk from Nuremberg's Old Town. It's a great location for getting around Nuremberg and you can walk to so much.
Being near the station means that you are also near many shops and eating options.
Address: Bahnhofstraße 12, 90402 Nürnberg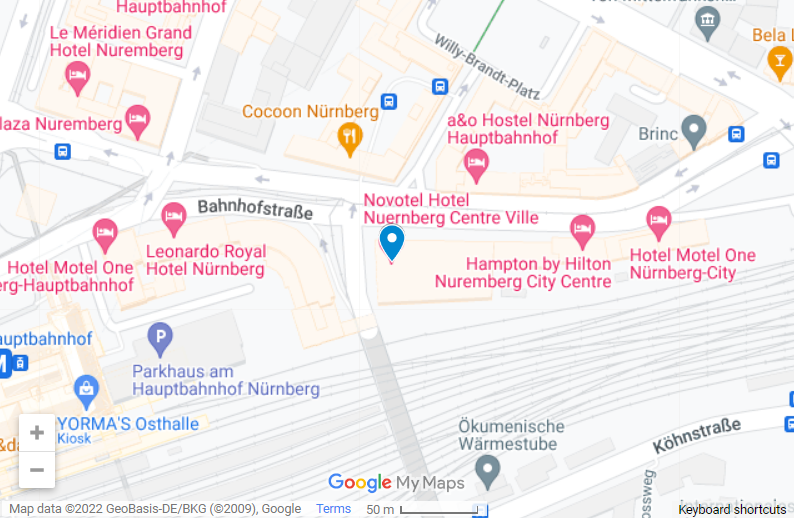 Rooms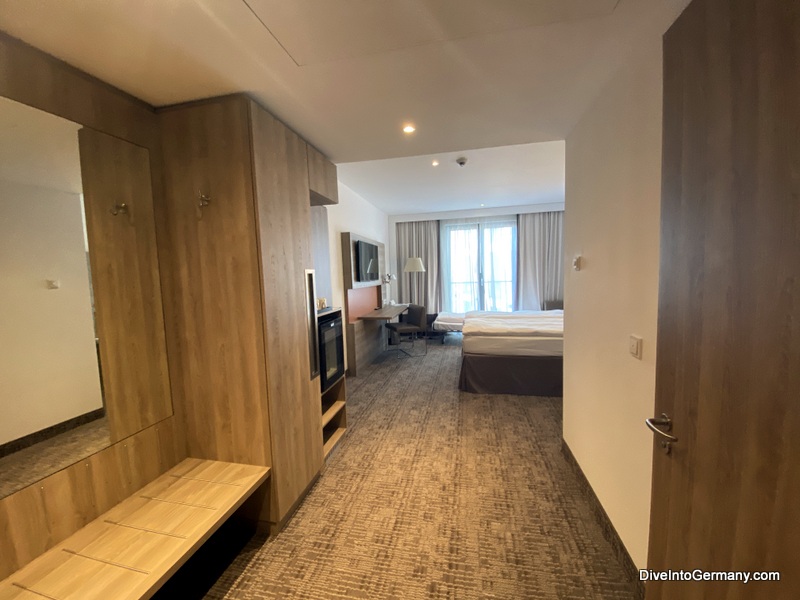 There are two main room types which are standard and executive. Within these, you can have one or two beds. For standard rooms, this is a queen or two singles. For executive rooms, this is a king or two queen beds. All beds can have a cot/crib or extra bed on request.
The executive rooms are also bigger with a Nespresso coffee machine, free minibar and free mineral water. I describe our standard room below.
The executive rooms can be a great choice for families since they can fit families of five, and I did see more families of five during our stay here than I usually see.
Two kids under 16 stay free with parents and grandparents.
Standard Room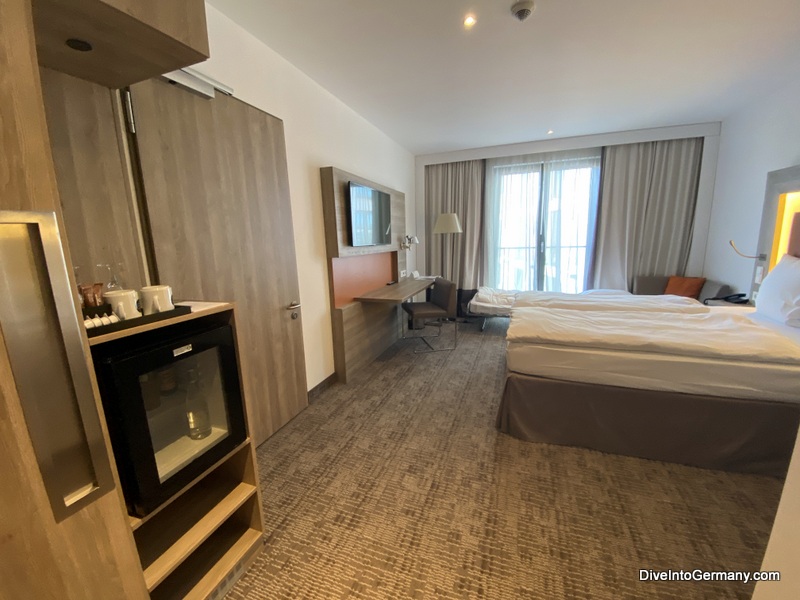 I stayed in a standard room with a queen bed with my two boys aged 6 and 10. This was a great choice for us.
The room was well furnished, comfortable and relatively spacious for a European hotel. I think it helped that we were given a room built to be accessible to wheelchairs.
We had two cupboards, a place for luggage, a small minibar with some soft drink in it, a couple of mugs and glasses with tea, coffee and sugar, but we were lacking the kettle. We also didn't get any free mineral water as stated on the Novotel site. There was a room safe.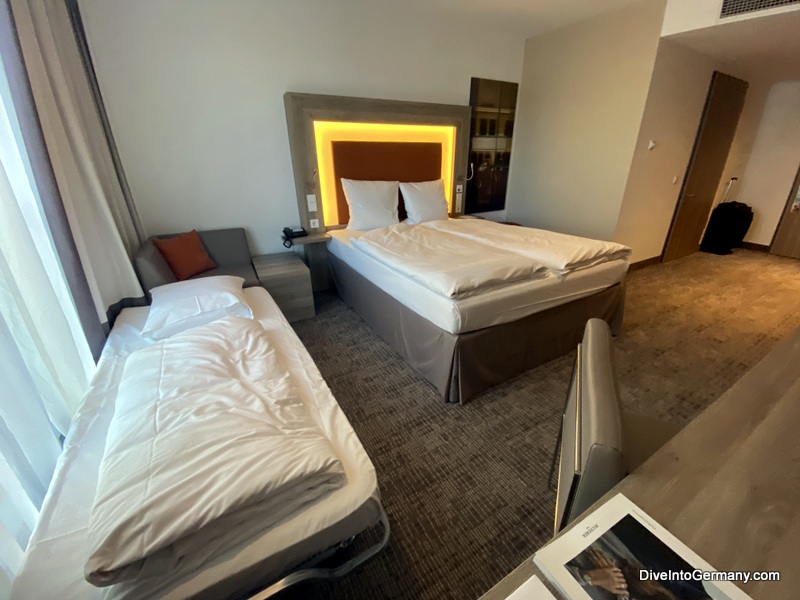 The bedroom part of the room had a queen bed plus a small couch and a sofa bed which was perfect for us. I was especially happy with this as there wasn't an extra charge to use this unlike seemingly every other hotel.
There was also a decent desk area (where I wrote this!) and a TV.
The room had temperature control. My only complaint was that no matter what I set it on, it was too cold. We were here in summer and it was hot weather, so there are definitely worse things to have happen. I ended up turning it off.
The room was incredibly quiet from the outside even though we could see trains outside our window from the main station. Unfortunately, you could hear people in the hallway and people seemed to like letting kids run around in the evening when I was trying to get mine to sleep.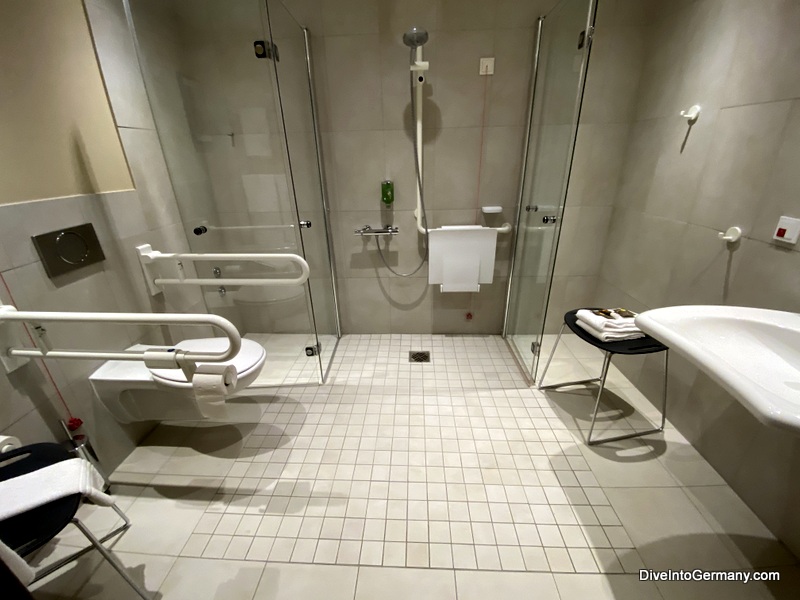 Our bathroom was a little annoying. While I'm very glad they have accessible bathrooms, I couldn't work out a way to have a shower without water ending up everywhere on the floor of the bathroom which was annoying.
There was no way to control the temperature of the water at the bathroom sink. Sometimes it was cold, sometimes quite warm which was annoying when we wanted water to drink.
Overall, I was very happy with our room though.
Click here to see the latest prices now.
Facilities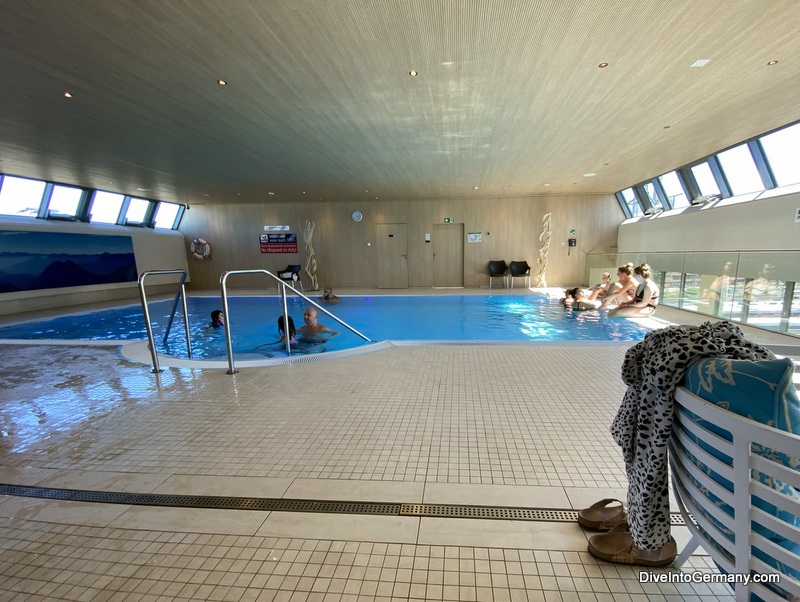 An area that the Novotel Nuremberg Centre Ville really stands out is its great range of facilities.
First of all, on the top floor there is a "spa" area which has an indoor pool, kids' pool and saunas. I did not check out the sauna since kids can't enter.
The pool is great and we had a lot of fun.
There is also a gym located here.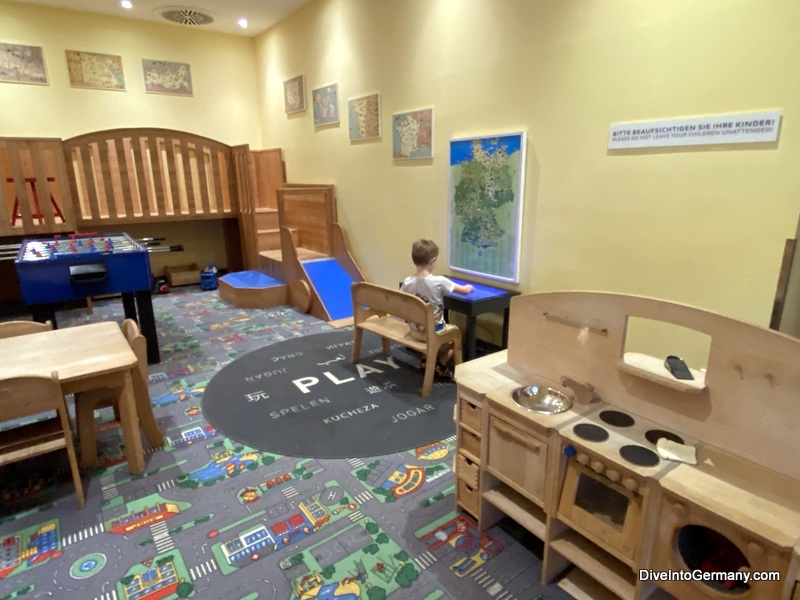 On the ground floor, there is the breakfast restaurant, an Italian restaurant and the hotel bar. Families will love the kids' playroom handily located here too. My kids just loved it, especially the foosball table. So much fun.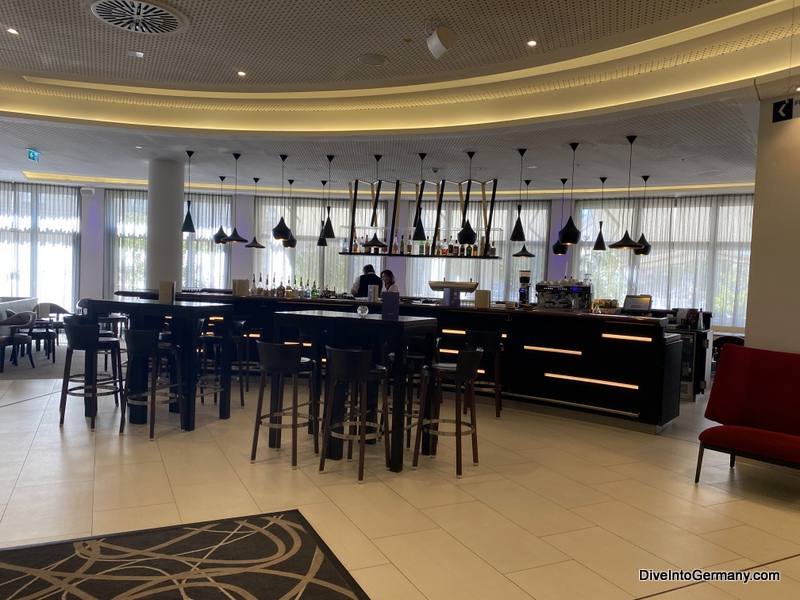 Below the hotel is the on-site parking which is available for an extra charge.
There is also good internet although you can only login on three devices which is a little annoying when I have a phone and laptop and the kids each have an iPad. Still, we survived 🙂
Dining
The on-site restaurant is called Pizzeria Posta and serves Italian food for lunch and dinner. We did not get a chance to try this.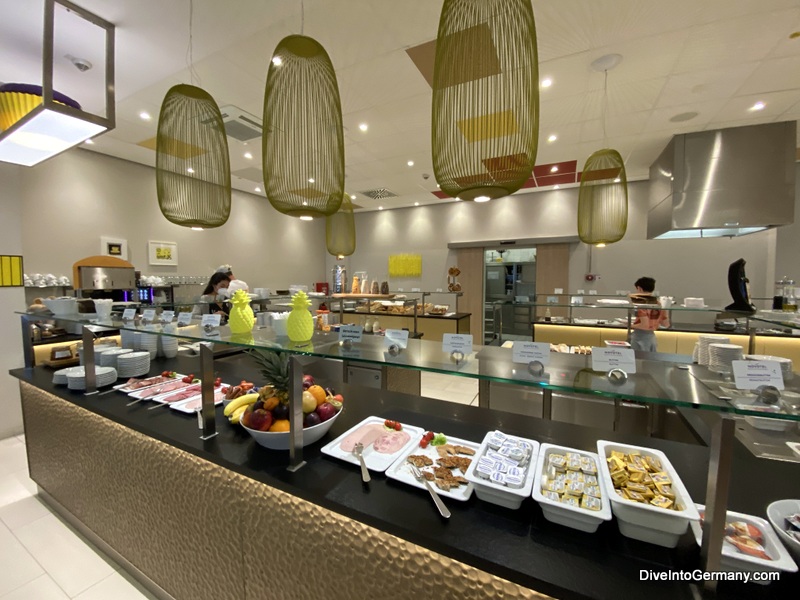 There is also a breakfast buffet which we did enjoy very much. Our room rate included it. Otherwise, it was 17 euros at the time we stayed with up to two kids free dining with adults.
There was a great range of food like you would expect from a hotel buffet including hot food like an egg bar, bacon and pikelets, cereals, bakery products, yoghurts, cheese and sliced meats, a toaster and more.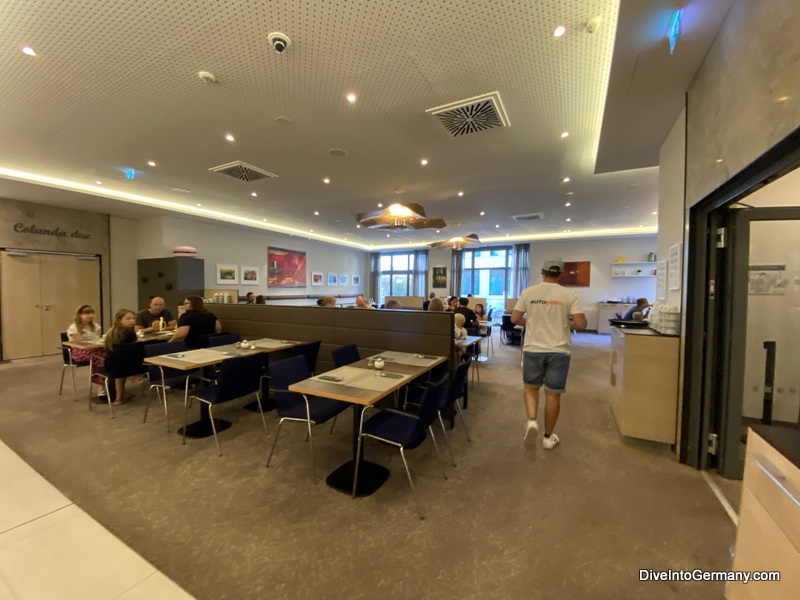 The kids especially loved the juice machine. where you could take your pick of which juice using a screen, and the coffee machine which also had hot and iced chocolate.
The bar on-site seemed quite popular and had both indoor and outdoor seating.
Everything seemed very nice.
Final Words
I really enjoyed our stay at the Novotel Centre Ville Nürnberg. While I have had the occasional criticism above, overall, we were very happy and found this a very comfortable and nice place to stay in Nuremberg.
It's such an easy place to base yourself and has great facilities, rooms and more. I highly recommend it.
Click here to see the latest prices now.
Looking for things to do while you are in Nuremberg? You can also find our full guide to things to do in Nuremberg here and all our guides to places in southern Germany here.