Going on a trip to Freiburg im Breisgau and want to know all the best things to do in Freiburg im Breisgau? We have you covered! Below you will find our guide to all the best Freiburg tourist attractions to plan your ultimate trip.
Located at the foot of the Black Forest, Freiburg im Breisgau is the perfect place to head to both start your exploration of this area and enjoy the delights of this pretty city. With a long history, a charming Old Town and the Black Forest right there, there is a lot to enjoy about Freiburg.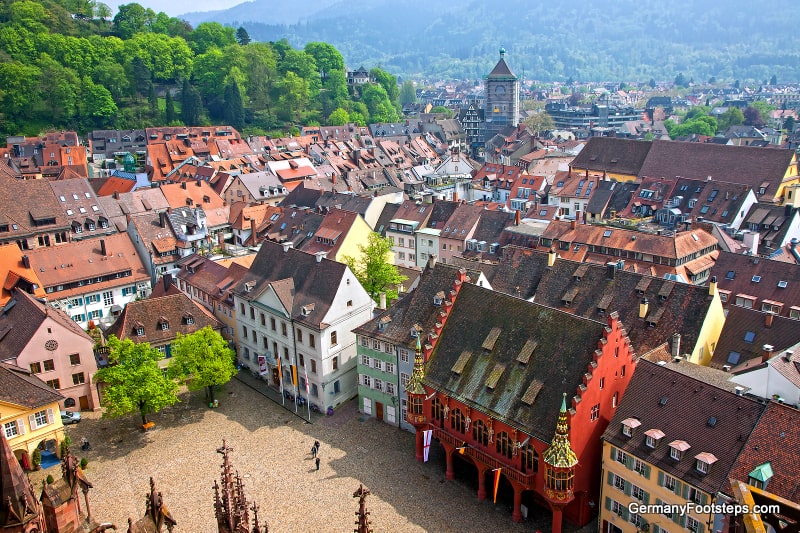 We loved exploring this city and found it very charming.
Freiburg is also the perfect place to base yourself for a few days (or more) while you explore the surrounding region but make sure you don't miss out of exploring this city as well. This is where this guide can help!
Below, you will find our full Freiburg travel guide with everything you need to know about the best places to visit in Freiburg im Breisgau as well as the best places to stay for your ultimate vacation in Freiburg. There is also a handy map of all the things to do Freiburg Germany offers.
You'll also find special sections on things to do in Freiburg Germany in winter and a full itinerary for a Freiburg day trip as well as what works if you are travelling with kids.
Traveling to Germany? Click here to download your free Germany Trip Planning checklist. We'll help you get ready for your trip! 
A Brief History Of Freiburg Im Breisgau
With a population of around 230,000 people, Freiburg Im Breisgau is located in the southwest of Germany in the state of Baden-Württemberg by the famous Black Forest and the Dreisam River. Known as Germany's sunniest city, this is a beautiful place to visit.
It also has a long history having been founded just over 900 years ago in 1120 by the Dukes of Zähringen as a free market town. Its name, Freiburg, comes from this with "Freie Burg" meaning Free Castle.
However, the first reference of people living in this location is found in a document in 1008, and trade routes used to pass near here.
In 1091, Berthold II of Zähringen built a castle on what is today Schlossberg to control the trade routes. This resulted in a settlement growing at the foot of the castle in the Old Town area which became Freiburg.
In 1218, the Zähringer's died out and the Counts of Urach came into power changing their name to the Counts of Freiburg. This was not a popular move and a new council constitution formalised the rights they had under the Zähringen which lead to councillors from 24 of the old ruling houses ruling Freiburg and yearly council changes, although the Counts were still in power.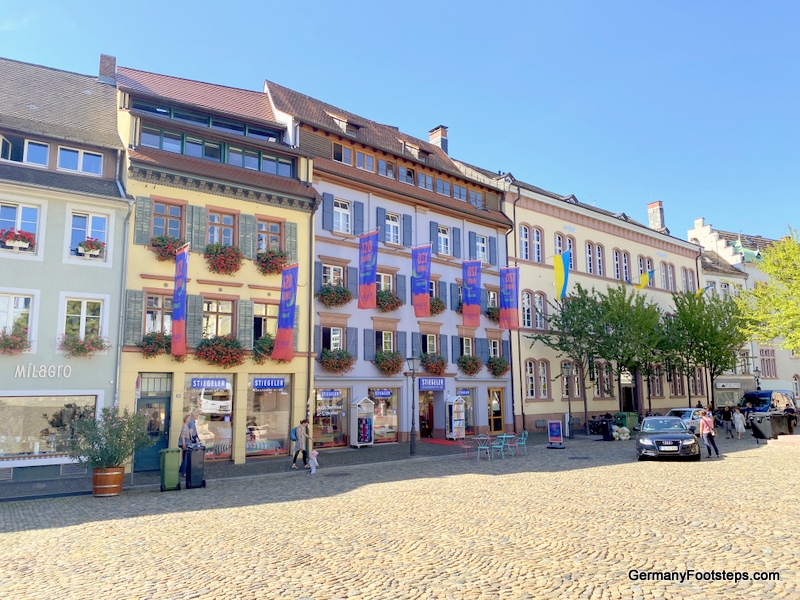 There were many feuds between the Counts and the councillors. In fact in 1299, there was a brief battle between the citizens of Freiburg and Count Egino II and his brother-in-law, Conrad of Lichtenberg, the Bishop of Strasbourg after the citizens didn't like the new demands from the Count.
The citizens won, but the Bishop was killed and the citizens had to pay a yearly reparation for this.
Eventually, the citizens of Freiburg were able to free themselves in 1368 by paying the Counts and choosing to move under the House of Habsburg for protection.
There were ups and downs of this decision. Freiburg had to support the Habsburgers in the wars again the Swiss Confederacy. In 1386 at the Battle of Sempach, their side lost and most the Freiburg nobility were killed. This lead to the guilds taking over the city council.
In 1520, Freiburg became an important Catholic centre after it did not take part in the Reformation.
The German Peasants War came to Freiburg in 1525 when 18,000 peasants captured Freiburg for a short time.
The first witch hunts took place in 1536 and unfortunately continued whenever the city needed scapegoats, like in 1564 when about a quarter of the city's population died from the Black Death. It reached its peak in 1599 and there is a plaque today on the old city wall where the burnings took place.
There were many changes in the coming years after conflicts and war found Freiburg under the control of many different people including the Austrians, Swedes, Spanish, French and various closer neighbours as well. The Thirty Years' War (1618-1648) was particularly devastating for Freiburg. At the start, there were around 10,000 – 14,000 citizens in Freiburg. By the end, there were only 2,000.
From this time until 1805, Freiburg was either occupied by the French or the administrative centre of Further Austria which was a Habsburg territory. At the end of this time, it became part of the ruling house of Baden.
During World War II, Freiburg was badly damaged with the majority of the Old Town destroyed by Allied bombing. A few buildings did survive like the Münster. The Old Town was rebuilt to its Medieval plan.
Today, Freiburg is a popular tourist and conference destination. It's also a regional business and shopping hub. Technology production also plays a part in the local economy.
Top 16 Things To Do In Freiburg Im Breisgau Germany
Here are the best things to see in Freiburg Germany. Read through and select the ones that fit your interests and timeframe. If you only have one day to visit Freiburg tourist attractions, find our one day Freiburg places to visit itinerary below.
Note that I sort these top things to do in Freiburg Germany based on geographical location starting with the central Old Town and Freiburger Münster and then listing the closest Freiburg things to do while working our way further away. The order isn't based on what I think are the most important attractions.
Many museums are closed on Mondays.
Altstadt (Old Town)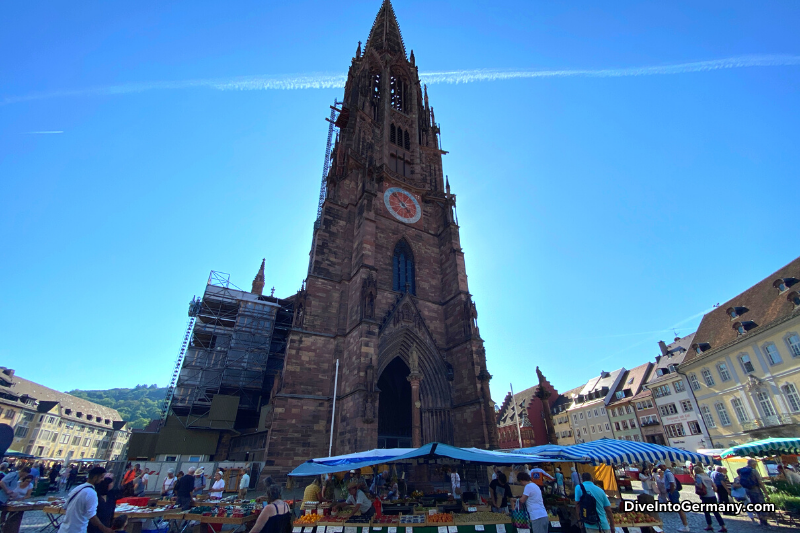 Freiburg's Old Town is a charming place to wander and explore. Make sure you have some time on your list of the best things to do in Freiburg Germany to just wander and enjoy.
The Old Town dates back to before Freiburg's founding in 1120, although it was largely rebuilt after World War II.
It's an interesting mix of old and new and architecture styles which somehow works very well together. It didn't feel as "museum-like" as some other Old Towns we have visited while still having some gorgeous areas and buildings which added to its charm.
The best way to explore the Old Town is on foot. It's much better for pedestrians than many Old Towns in Germany and I didn't feel we had to keep dodging vehicles.
You'll find many of the Freiburg visiting places coming up are in the Old Town, and you can see a lot of worthwhile attractions here.
It's in a pretty spot as well, bordered on one side by the Dreisam River and another by Schlossberg Mountain. The main train station is also located by the Old Town.
Freiburger Münster (Cathedral)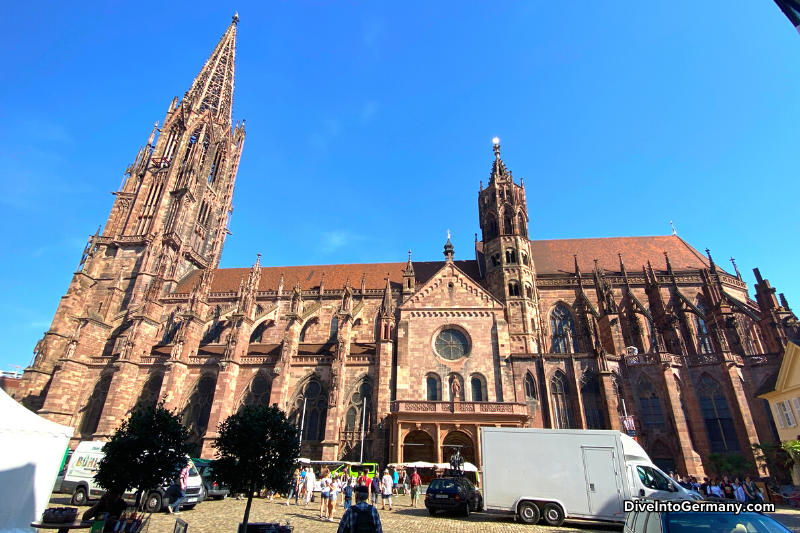 Located in the central Münsterplatz, you won't want to miss Freiburg's 13th century Münster. Even set against the gorgeous Old Town, it has an impressive presence.
It took 300 years to build this Romanesque church which withstood even the battering Freiburg took in World War II. At the time of its completion in 1330, it had the highest tower in the world.
It makes for quite a sight both inside and outside with beautiful stained glass windows once paid for by the Medieval guilds and an amazing Renaissance altarpiece by Hans Baldung Grien.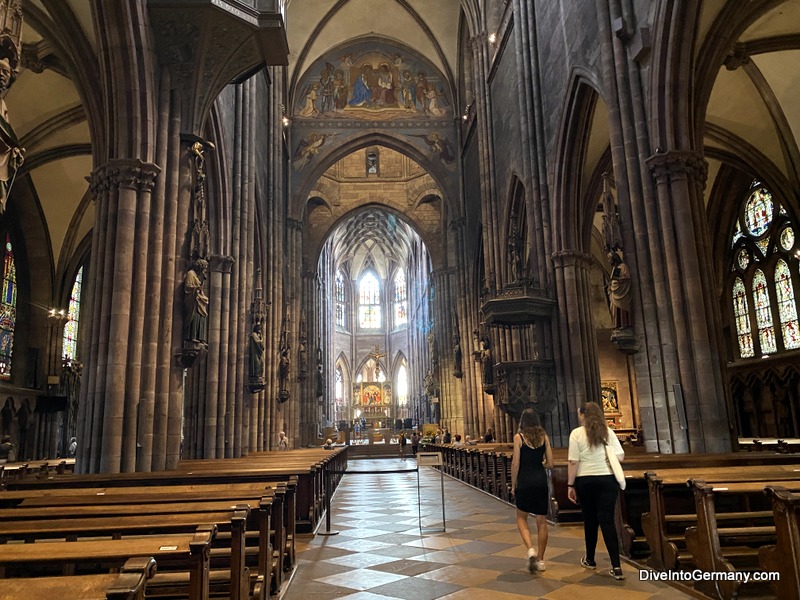 The outside is elaborate with many carvings, gargoyles and spires. You won't want to miss the tower which starts off square and becomes octagonal with a 116 metre high spire. It's possible to see to France from here on clear days.
The church is free with a small fee to climb the tower to the 70 metre viewing platform. The tower has limited opening hours.
The area around the cathedral is a market daily except Sundays.
Museum Für Stadtgeschichte (City History Museum)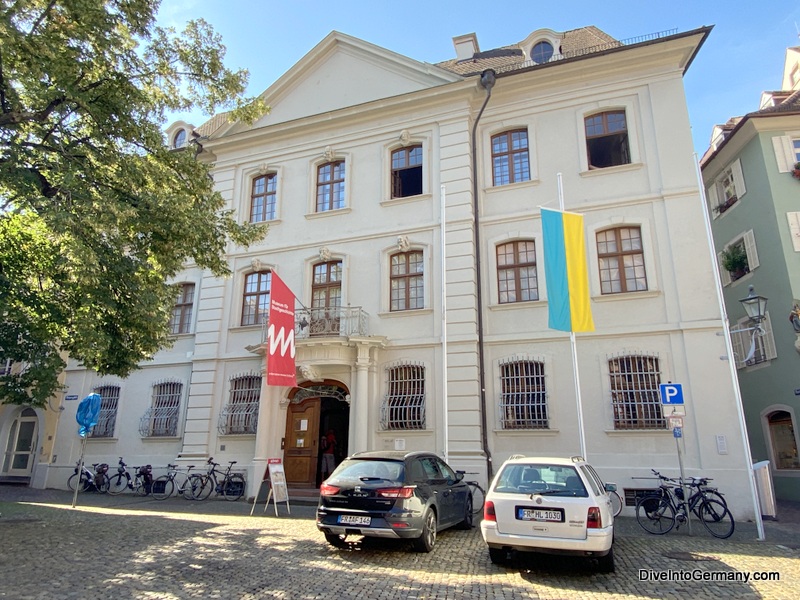 Located on Münsterplatz, if you want to learn more about Freiburg's past, you'll want your next stop to be at the Museum Für Stadtgeschichte (City History Museum).
Its home was built by the sculptor, Christian Wentzinger, in 1761. There is a great staircase and ceiling fresco so be sure to look up. I also enjoyed the models of the city from around 1600 and 1700.
There's also some photos of the city pre World War II that you can compare to after the bombing raid and today. Such a change!
On level 1 are some activities as well as exhibits which were great for keeping the kids interested. They could do a puzzle, stamp a coin and get an idea of how hard it would have been to get all the materials up high to build the church via lifting stone with a pulley. These activities are also good for keeping adults interested 🙂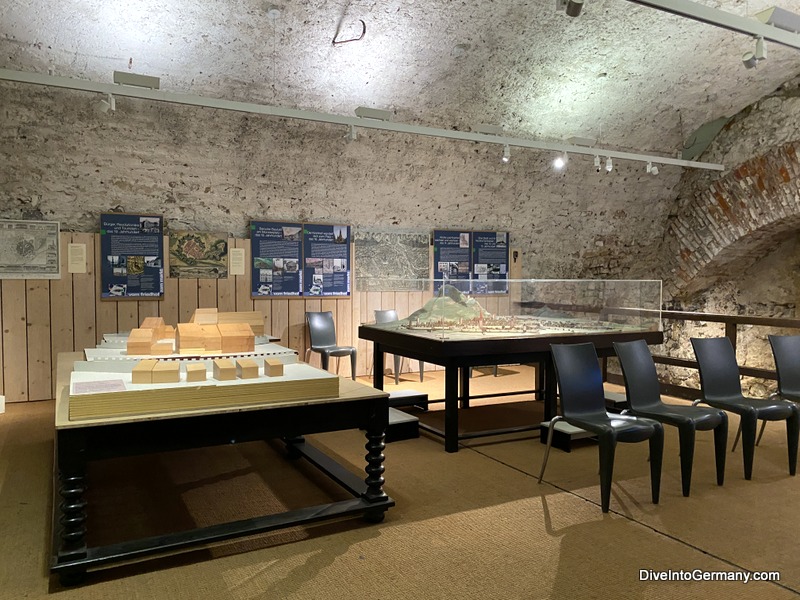 The museum is mostly in German apart from some random parts that have been translated. Unfortunately, I didn't have phone reception on the lower levels that made translating via the Google translate hard.
However, there is enough of interest and the entry price is low enough that I feel this museum is worth the admission even if you don't speak German. It's a smaller museum, but it has a good collection to help you understand more about Freiburg's past.
I recommend you visit this one of the Freiburg im Breisgau things to do at the beginning of your journey to give a great appreciation to everything else as you walk around.
This museum is shut Mondays and has a small fee.
Bächle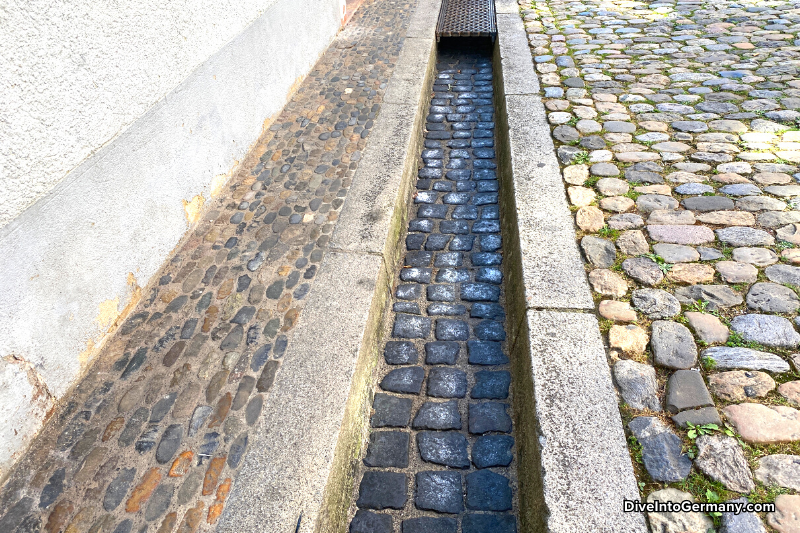 As you walk around the Old Town, you won't be able to miss Bächle, the little waterways that flow through the streets.
These were created in 1170 from the Dreisam River to provide industrial and cleaning water to the town as well as a way to stop fires, although they were also used as open sewers.
These days, there are still 15.5 kilometres of these channels, some of which are underground. They help keep things cool and add to the Medieval atmosphere. Note that if the weather has been dry, they may not contain water though.
Be careful not to step into one unless you want to marry someone from Freiburg! The legend goes that this is what will happen if you do. My six year old did so watch this page to see if it comes true 😀
Augustinermuseum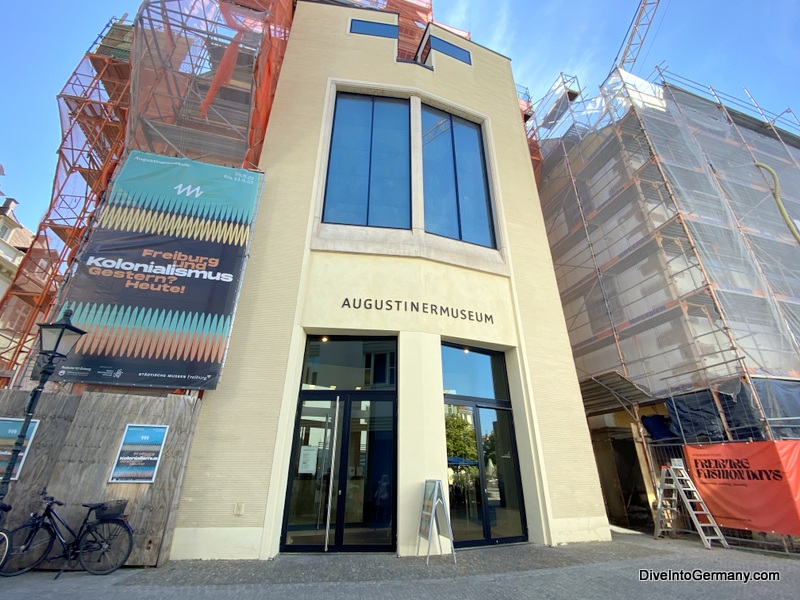 Art lovers will not want to miss the Augustiner Museum particularly if you are looking for things to do in Freiburg on a rainy day as this is a great option.
This museum showcases work from the Middle Ages to the 19th century in a former Augustinian monastery. The building itself has been well renovated making a great home for this collection.
The collections include a great Sculpture Hall with masterpieces by Renaissance artists Hans Baldung Grien and Lucas Cranach the Elder as well as paintings by masters like Matthias Grünewald and the Master of the Housebook.
You can also find original stained glass from Freiburger Münster here.
Entry is by admission and the Augustiner is shut on Mondays.
Rathausplatz (Town Hall Square)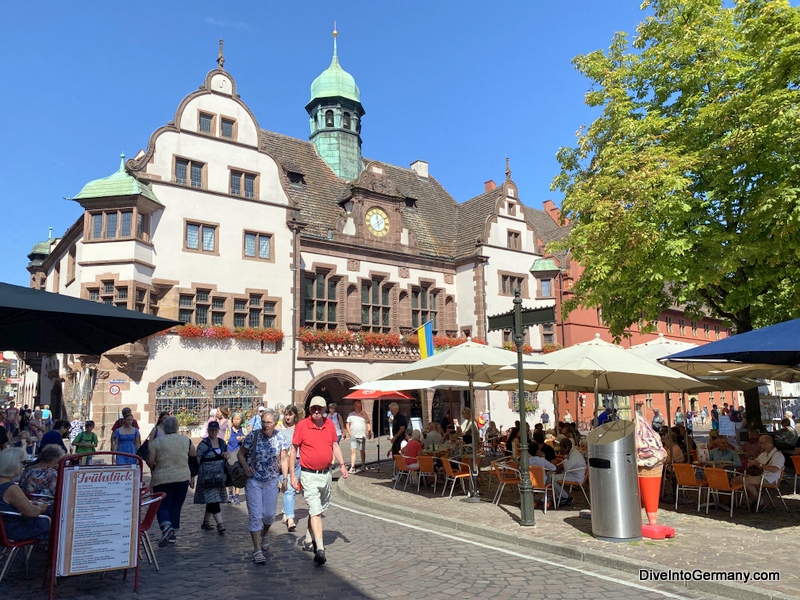 One of the most charming areas to visit in Freiburg is Rathausplatz or Town Hall Square. It's a great spot to take a time out from exploring, have a drink and soak in the atmosphere.
Don't miss the Old Town Hall which dates back to the 16th century and is built in the Renaissance style in red. It's now home to the tourist office so you can take a look inside. Look for the double eagle of the Holy Roman Empire above the clock as well as the coats of arms along the gable which belong to Freiburg's ruling families.
The New Town Hall is a pretty step-gabled design dating back to the 19th century. It is actually two Renaissance burgher houses that were joined together.
You can also take a look at the medieval Martinskirche church.
Markthalle (Market Hall)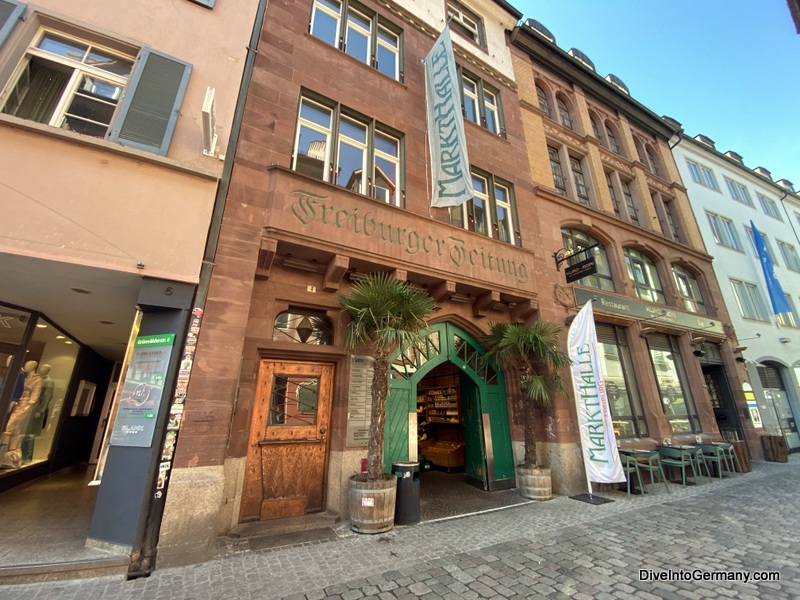 When you start feeling hungry, consider heading to Freiburg's historic market hall. Here, you can find what amounts to an international food court.
There are over 20 stalls to chose from that pump out some great food from sushi to Argentine to Indian or Middle Eastern. Of course, since you have come all the to Germany, you could also eat something more local with their local wurst (sausage).
Whatever you pick, you can have a great meal here in an historic place. On Friday and Saturday evenings, there can be live music or a DJ as well as a champagne bar, and it opens until late.
It is quite cramped inside with a lot of action.
It's closed on Sundays and public holidays.
Martinstor (City Gate)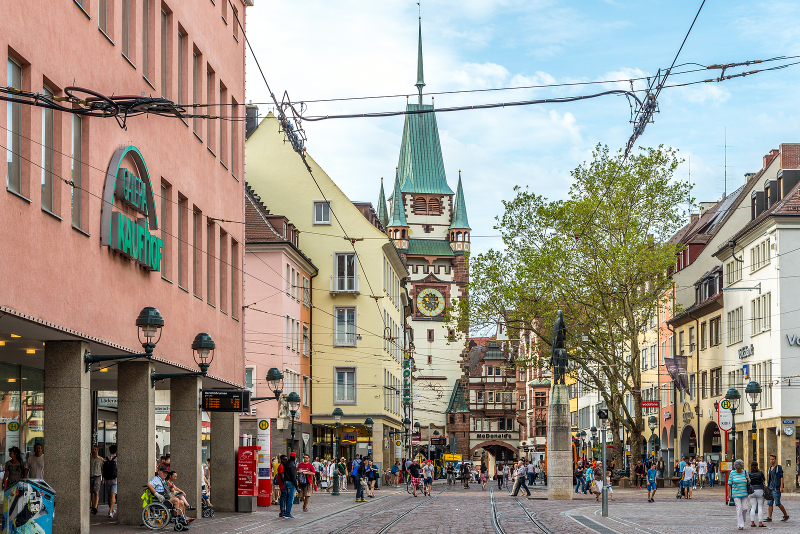 There are two city gates you can still visit in Freiburg. This is the older of the two and can be found on the southwest side of the Old Town. A gate was first positioned here in 1202.
This gate was once part of Medieval fortifications but when the fortifications changed in the 1600s, it was no longer required.
The lower third of the gate is original with the upper part added at the start of the 20th century. Look out for the plaque on the Old Town side of the tower. This plaque is in memory of the victims of the witch trials. This site is where three convicted women were burnt in 1599.
However, mostly this gate was used as a prison for debtors.
Schwabentor (City Gate)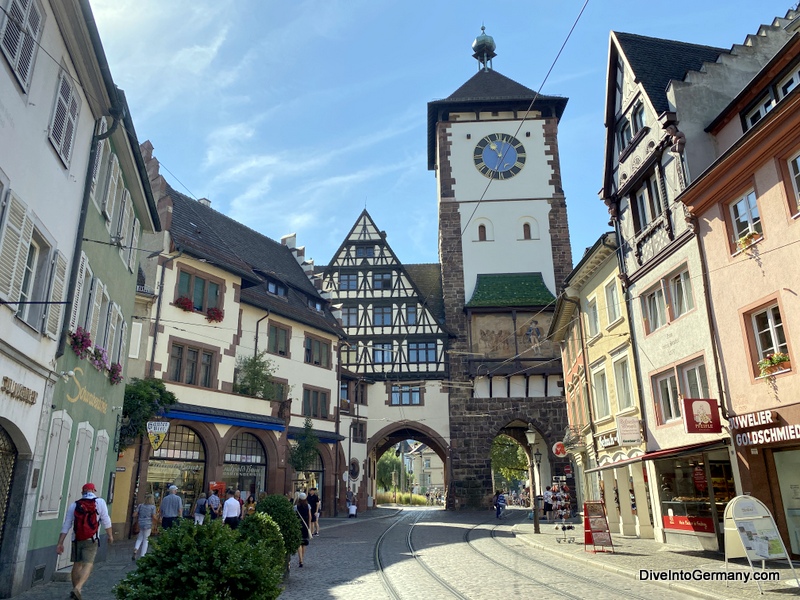 The other remaining gate, Schwabentor, dates back to the 13th century. You can see a mural of Freiburg's patron saint, St George, slaying a dragon on its front.
It's three storeys high and there are several other pictures as well. You can see a 1672 Baroque painting of a merchant and a painting of the "Boy of Thorn".
This boy is drawn with a big head, an unhappy expression and no neck. He's pulling a thorn from his foot and it's thought that this is a reminder to residents to not stray from the right path.
Today, a tram runs under this tower.
Museum Für Neue Kunst (Museum Of Contemporary Art)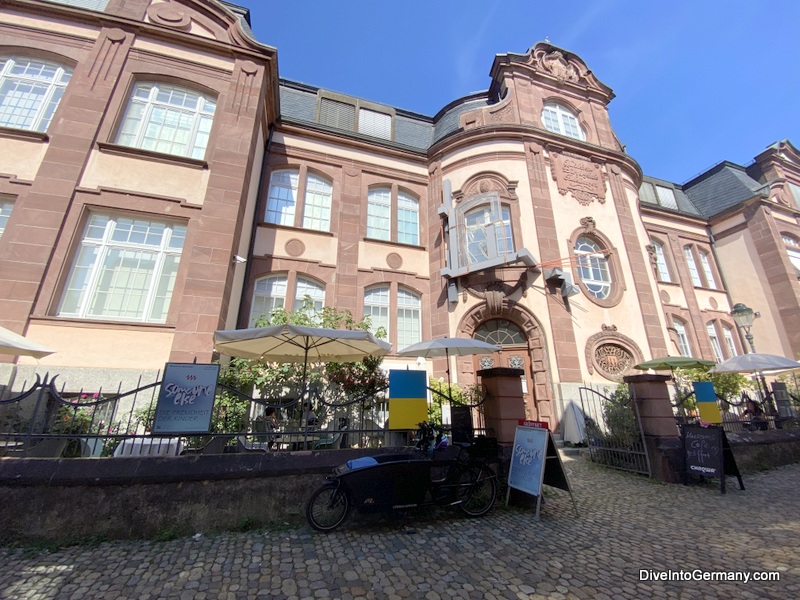 Once art lovers have finished at the Augustinermuseum, they'll want to head three minutes walk south to the other art option .
It takes off where the Augustiner finishes and highlights 20th century expressionist and abstract art with work by painters and sculptors.
It calls a Neo-Baroque building home which was built in 1902. Initially, it was an extension to the Female Educational and Etiquette Institute of the Adelhauser Neukloster.
Today, this museum has a regional focus with many works from artists in the region including Julius Bissier who was born in Freiburg.
This museum has an entry fee and is closed on Mondays.
Colombischlössle/Archäologisches Museum (Archaeological Museum)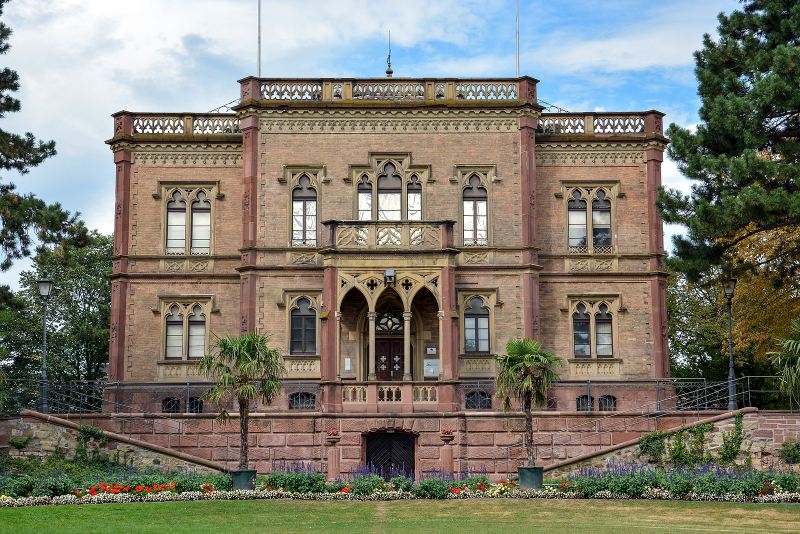 Inside a beautiful 19th century mansion, Colombischlössle, this museum has quite a grand marble entrance and cast-iron staircase. Built for the Countess Maria Antonia Gertrudis von Zea Bermudez y Colombi around 1860, it has a playful Gothic Tudor style. It's surrounded by beautiful gardens, fountains and sculptures. Even without the museum, it's worth a visit.
However once you go inside, you'll be glad you did. You'll find treasures from the Stone Ages to the Celtics to the Romans and on to the Middle Ages.
This is a great way to learn more about this region of Germany.
Closed on Mondays, there is a small fee to enter.
Schlossberg (Castle Hill)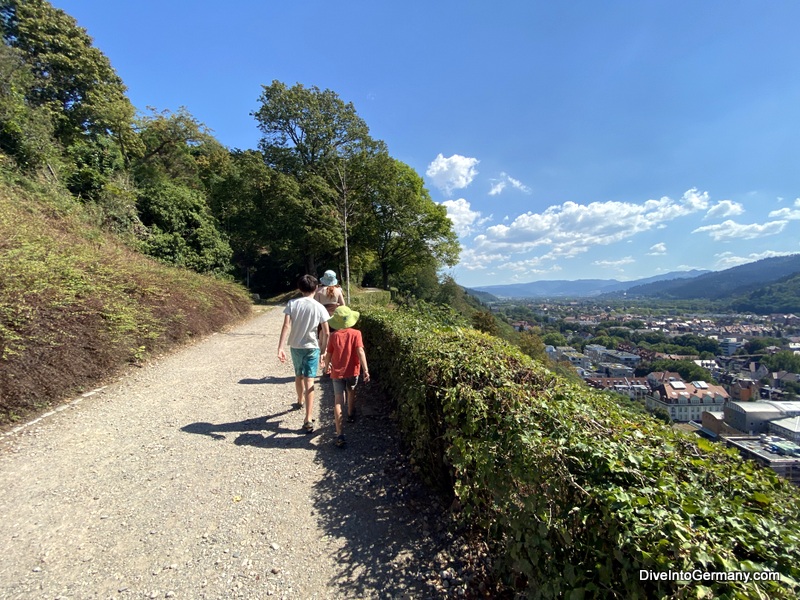 Schlossberg is right behind the Old Town and the forested peak can't be missed as you are exploring the city.
At 456 metres high, you can walk up Schlossberg from a path opposite the Schwabentor or take a ride up on the Schlossbergbahn (funicular railway). The railway is a fun way to go and gets you to part way up the peak in three minutes.
There are longer trails from here for serious hikers with some great options, as well as short walks for sightseers who want some great views.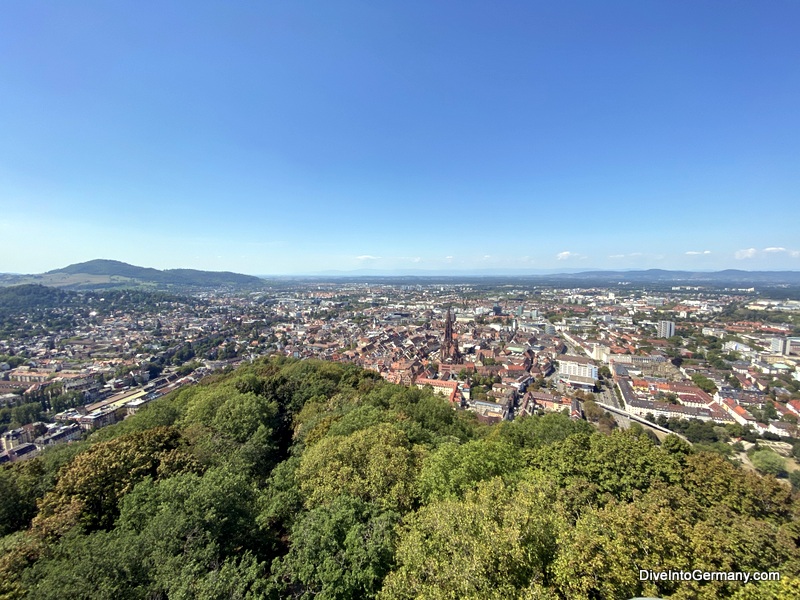 At the top of Schlossberg is the Schlossbergturm (Schlossberg Tower). There are fantastic views from here across the city including of the Münster and the Black Forest.
A strategic position, Schlossberg was fortified by at least the 1000s. These structures are in ruins today.
We had a great couple of hours wandering round here, checking out the views and enjoying nature. It's the perfect spot for a picnic lunch while you look over the city.
The park area and tower are free. The cable car has a fee.
Click here to read our full guide to visiting Schlossberg.
Alter Friedhof (Old Cemetery)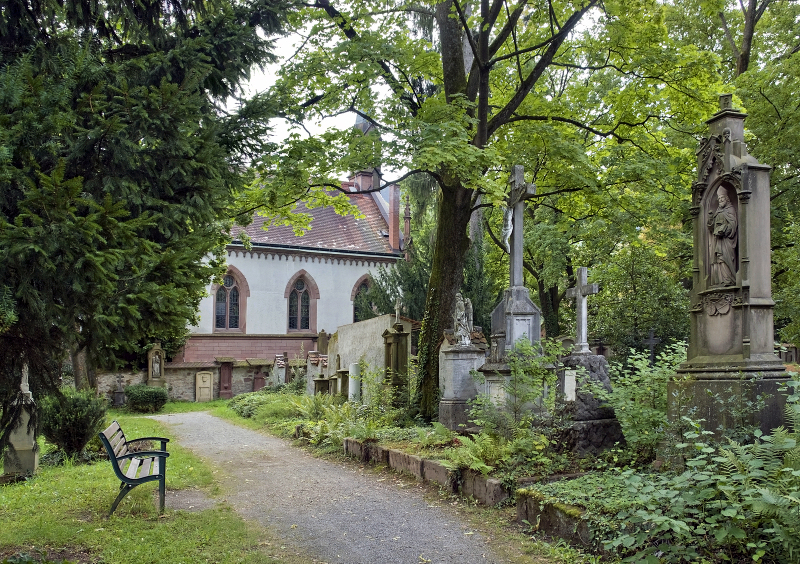 For a different type of attraction, head to Alter Friedhof, just a short walk from the Old Town.
This cemetery was the final resting home for Freiburg's citizens from 1683 to 1872. Today, it is considered a natural monument.
This cemetery has been left untouched thanks to Johann Christian Wentzinger. When he passed away in 1797, he left his estate to the city on the condition that his grave would be looked after forever. And so it has!
It's a surprisingly nice place for a stroll. The wealthy citizens have gravestones that are works of Baroque and neoclassic art.
In the middle of the cemetery is St. Michael's Chapel which was built in 1720. The cemetery itself is enclosed in high walls which help give it a secluded feel well away from the city.
The cemetery is open daily and entry is free.
Seepark (Lake Park)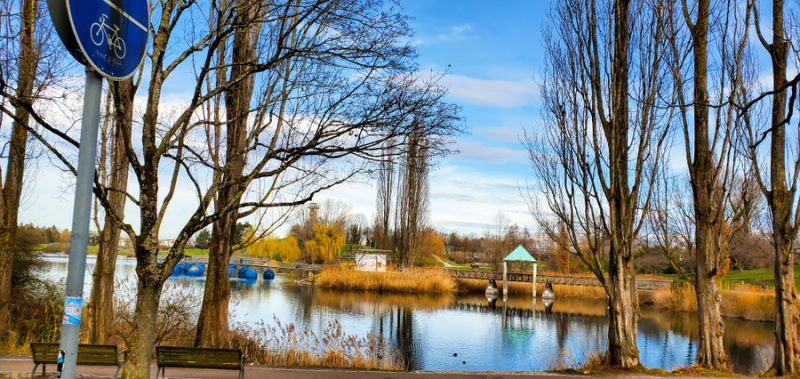 When it comes to things to do near Freiburg Germany, this option is just a few kilometres northwest of the Old Town. It's one of the most popular green areas in Freiburg and the perfect place to head to feel like you've escaped the city without going far.
In addition to the park itself, there is a swimming lake, pool, pedal boats, mini golf, playgrounds and restaurants. It's a great place to give the kids a run around.
This 35 hectare park was once used for agriculture although the gravel soil did not work well for growing grain. In the 1920s, a gravel company moved in to mine sand and gravel. This was shut in the 1970s.
In 1986, the area was converted to host the State Horticultural Show. Since then, parts have been added to build the great park it is today.
Seepark is open daily and entry is free.
Black Forest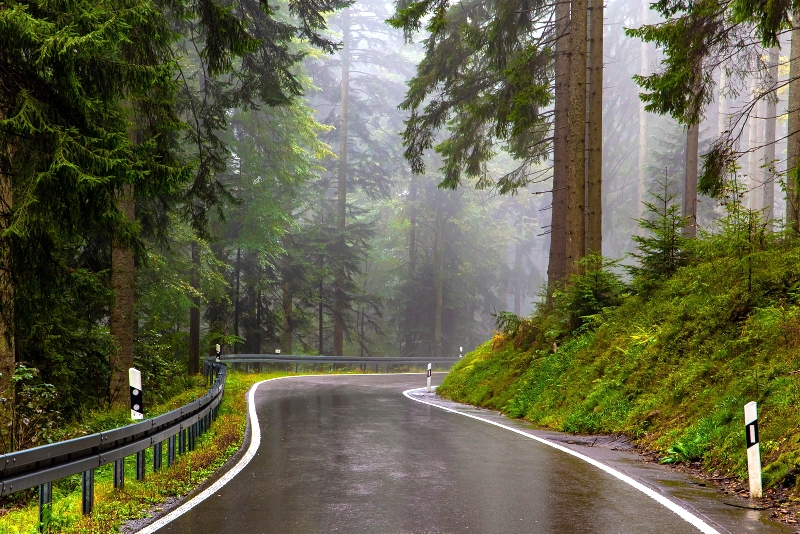 If you are looking for day trips from Freiburg, this is sure to be your top pick! Germany's Black Forest surrounds Freiburg so it's easy to visit and should be on your must-do list.
The best way to explore the Black Forest is by foot on a hiking trail so I suggest you pick one and get hiking. Some choices near Freiburg are:
Schauinsland – This is an easy place to explore from Freiburg being just ten kilometres from the centre of Freiburg. It's on public transport and you can even take Germany's longest cable car to the top. It's covered below for its winter sports but you can also come here in the warmer months and there are many hiking trails. Click here for more details about visiting this destination.
Titisee Lake – Not just a fun name, this lake is home to a great trail around the lake which is about 7 kilometres. It's a beautiful spot. There are also water sports, lake-front pool, kayaks, a wellness centre and more. It's easy to get to via train or car. Read more here.
Oberkirch wine hike – This trail is for people who would like to combine wine tasting with hiking and seeing more of this area. This seven kilometre walk starts and finishes in the Old Town of Oberkirch and takes you through local vineyards. Find more information here.
Europa Park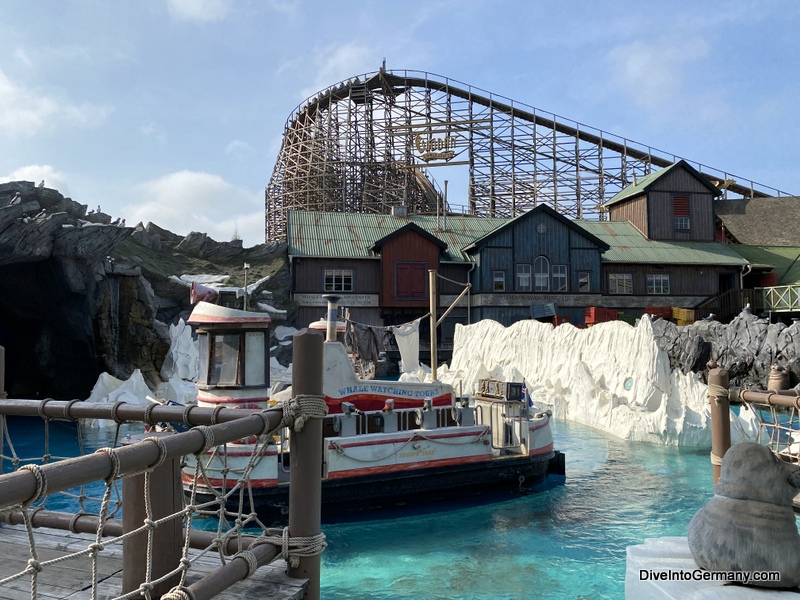 For the ultimate answer to which places to visit near Freiburg Germany, consider a day of fun at Europa Park. Just 35 kilometres from Freiburg, this park is like a mini version of Europe all in one huge theme park.
There are rides, shows and great theming with the different areas of the theme park being modelled after different European countries.
It's quite an experience and a great way to mix up what you are doing on your Germany trip particularly if you have kids.
Read our full review of Europa Park here including lots of tips for a super fun visit.
Fun Things To Do In Freiburg In Winter
While most of the Freiburg Germany things to do listed above are possible in winter time, there are also some fun things to do in Freiburg which are especially for the winter months.
Freiburg Christmas Market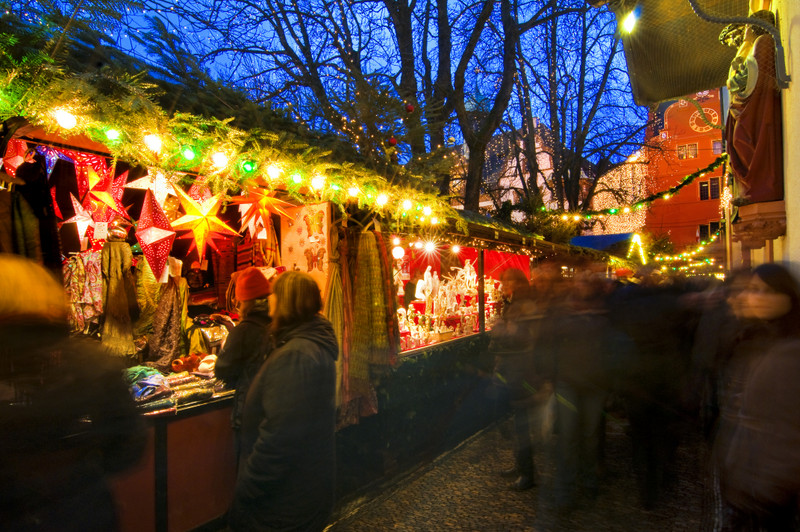 If you are visiting Freiburg at Christmas time, you won't want to miss the Christmas market.
Taking place at both Münsterplatz and Rathausplatz, make sure you get to both markets. There are over 120 stands with art and crafts, gifts, local food and, of course, mulled wine.
There's also an antique wooden ferris wheel and activities such as cookie making for kids and candle making.
The market runs for about a month in the lead up to Christmas.
Winter Sports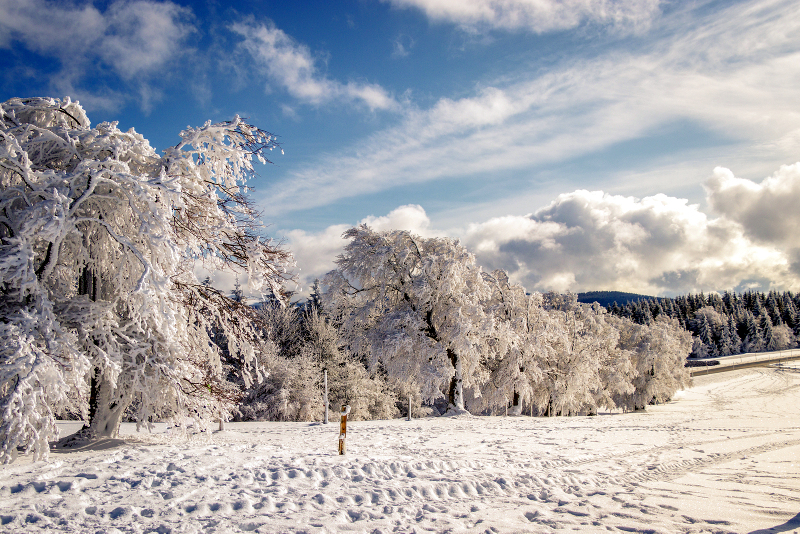 Freiburg can be used as a great jumping off point for winter sports. An easy place to go to fit in some skiing or other winter sports is 1274 metre high Schauinsland, just ten kilometres from the centre of Freiburg.
On weekends and holidays, there is a dedicated sledding run with a lift that is lots of fun. There is also cross country skiing or you can ski or snowboard. Find more information here.
There are also many other ski areas nearby.
What To Do In Freiburg In One Day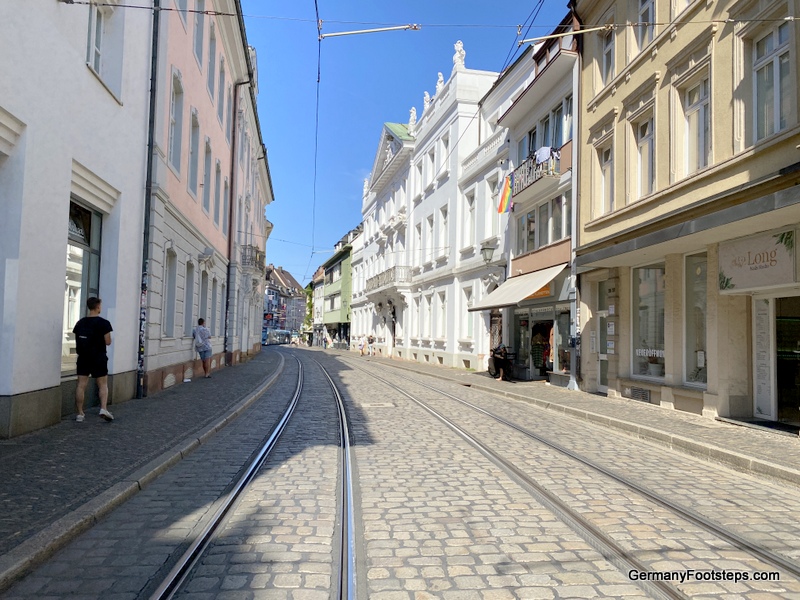 Only have one day in Freiburg? What a shame! But it's ok, it's still worth going to Freiburg if you only have one day. In fact, you can see most of the things to do around Freiburg Germany in a day.
I recommend you:
Start the day at the Old Town at Münsterplatz
Explore Freiburger Münster (Cathedral), both inside and out. It generally opens early
Learn more about the city's past at the Museum Für Stadtgeschichte (City History Museum) which opens at 10am
Head to Augustiner Museum to enjoy the art collection
Have lunch at Markthalle
Take some photos at insta-worthy Rathausplatz (Town Hall Square)
Walk through the city gates at Martinstor and Schwabentor
Take the Schlossbergbahn (funicular railway) up Schlossberg and climb the Schlossbergturm (Schlossberg Tower) for great views over Freiburg
Visit the Colombischlössle/Archäologisches Museum (Archaeological Museum)
If you have the time and inclination, you can also visit the Museum Für Neue Kunst (Museum Of Contemporary Art) or walk through Alter Friedhof (Old Cemetery)
Note that none of the museums open on Mondays. If you visit on a Monday, still walk around the Old Town past these museums so you see more of this great area. You can also visit Seepark or do part of a hike from Schlossberg.
Freiburg Attractions Map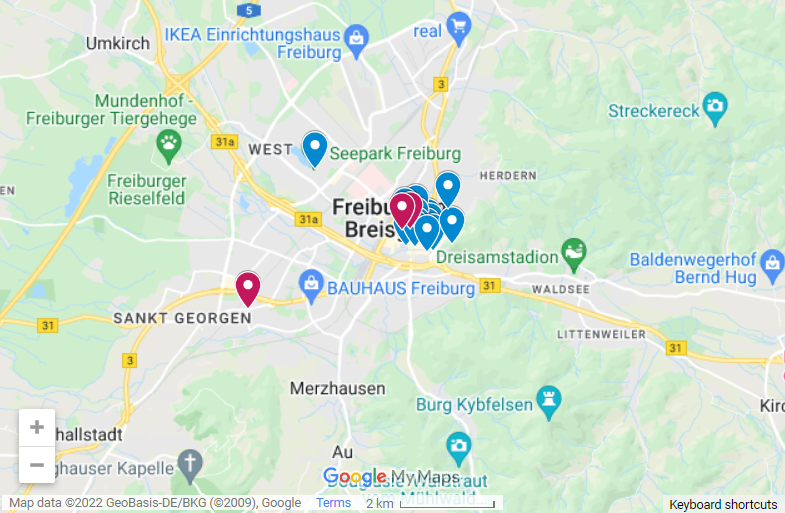 Best Place To Stay In Freiburg Im Breisgau
When it comes to where to stay in Freiburg, there is a great range of hotels and other accommodation options. You won't have any problem finding somewhere to stay.
Below, I've listed a few different places to consider depending on what type of accommodation you are looking for.
If you want more options, you can use this map to help you find hotels and home rental accommodation around Freiburg.
Located in Freiburg's Old Town, the Colombi Hotel is just moments from Rathausplatz and close to many of the best Freiburg attractions. It's opposite Colombi Park and Castle, home to the Archaeological Museum.
There are a range of a room types from singles to doubles and suite options. All are elegant, well furnished, have air conditioning, flat-screen TV and free internet. Toiletries, bathrobes and slippers are provided. Suite options also have living areas in the rooms for extra comfort and class.
There are a range of facilities at the Colombi Hotel including a fine dining restaurant, Zirbelstube, and multiple other dining options. There is also an on-site bar, a great indoor pool, gym, sauna and spa. Parking is available on-site for an extra fee.
This is the best pick in Freiburg for elegance and luxury.
Click here to see the latest prices now.
If good value is what you want in your Freiburg accommodation, consider the Best Western Premier Hotel Victoria. Also located opposite Colombi Park, you can explore Freiburg's Old Town attractions easily from here.
This 4 star hotel has a range of room types which are soundproofed and include flat-screen TV, mini bar and seating area. They range from single size to family options with suite rooms that have a living area with sofa bed for up to two kids. All rooms are modern and comfortable.
Free welcome drinks are also provided with tea and coffee complimentary in the lounge. There is a sauna and massage and beauty treatments are offered at an extra charge. There is an exercise room, and breakfast is available for a fee.
You'll also find the Hemingway Cocktail Bar on site and a rooftop garden you can enjoy. Parking is available nearby for an extra fee.
You don't have to feel guilty with a stay at the Best Western Premier Hotel Victoria thanks to it being environmentally friendly with solar panels and sole use of green energy.
Click here to see the latest prices now.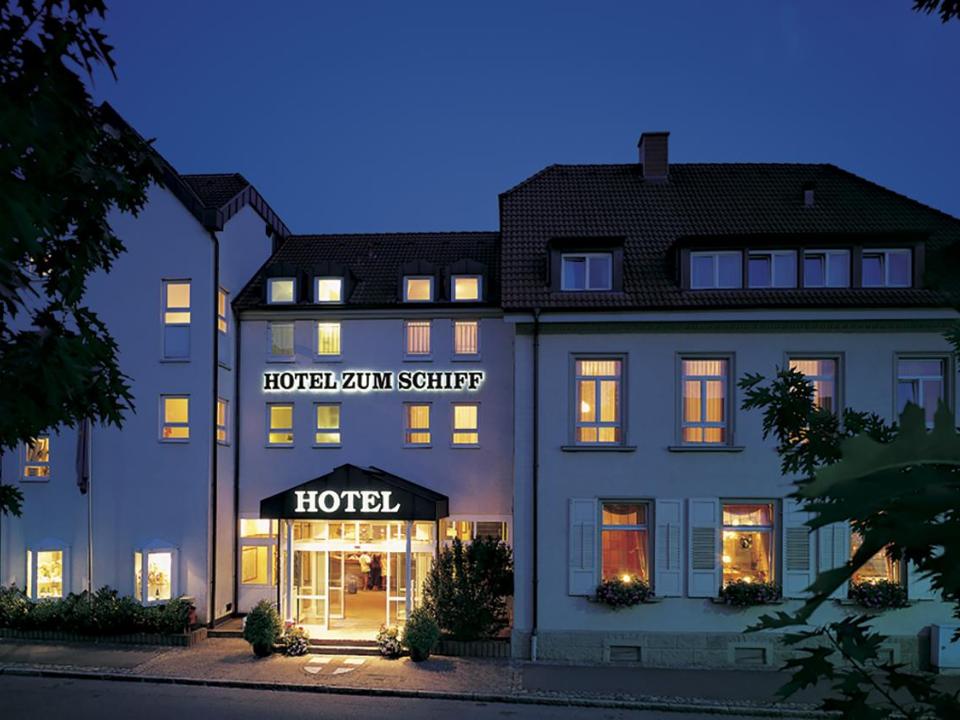 For something a little different, you could stay away from the centre of Freiburg at this hotel with its own winery and distillery. You're a few kilometres from the Old Town but there are bus stops nearby to get you there.
There are single, double and triple rooms on offer here which come with air conditioning, wifi, flat-screen TV, minibar and toiletries. They also have seating and desk areas and have a good amount of space. They are a bit dated, however.
Where this hotel shines is their outdoor space. There is a great garden area. There is also a restaurant on-site and you can dine inside or out. You'll want to stop by the bar to try the wine and spirits produced here. Breakfast is available as well as a sauna and solarium.
Click here to see the latest prices now.
Click here to see all our recommendations for the best hotel in Freiburg.
If you have kids and would prefer to day trip to Freiburg from the Black Forest, read our review here of Feldberger Hof. Or if you are just interested in Europa Park, read our full review of the Europa Park hotel, Castillo Alcazar, here.
How To Get To Freiburg Im Breisgau
We travelled to Freiburg by hire car which made it very easy to get here. It's simple to find and navigate.
You can hire a car to get you there by clicking here.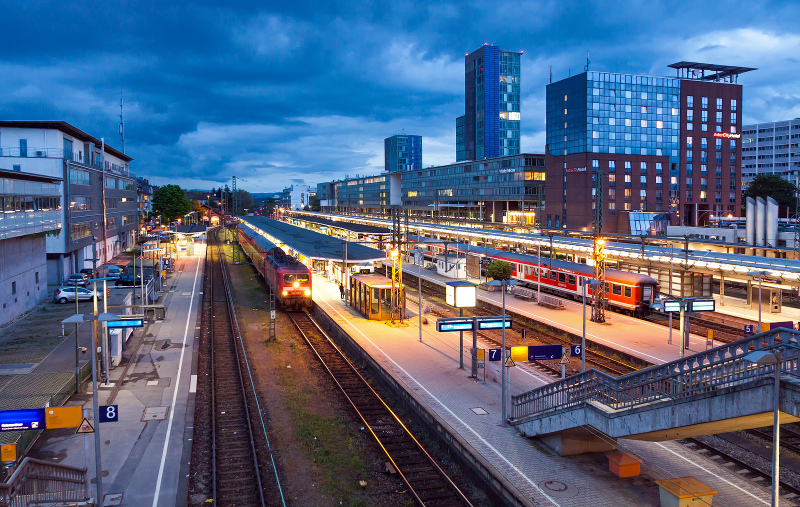 There are regular trains and buses here. You can find timetables and all your options here.
The closest international airport to Freiburg is Basel Mulhouse in France near the Swiss border. It's about an hour by bus away or faster in a taxi (which you can book here). You can find flight prices and options here.
Once in Freiburg, we explored most of the time on foot. Most places listed above are in walking distance of each other. For attractions further away, we used our car but public transport options exist.
Freiburg With Kids
Freiburg is a great place to visit with kids. It's in a beautiful part of the country with plenty of outdoor activity nearby with the Black Forest.
We visited here with our three kids aged 6 – 12 and they enjoyed running round the Old Town (and following the Bächle), taking the funicular railway up Schlossberg and, of course, visiting Europa Park.
I also have an extra thing to do in Freiburg for families here which my kids enjoyed.
Mundenhof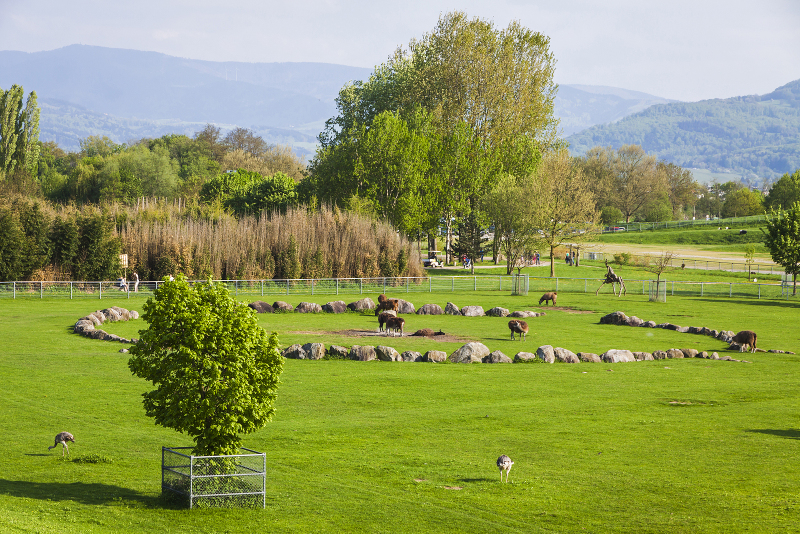 Located just a ten minute drive from the Old Town, Mundenhof is the perfect Old Town timeout for families. This large animal park is located on a 38 hectare estate which dates back to the 9th century. It's the largest zoo in Baden-Württemberg.
There is a good range of animals from water buffalos to llamas to farm animals. It is more of a big farm than the traditional lion-tiger-elephant zoo.
There are activities like wagon rides and camel rides especially in the school holiday period. We found it a relaxing afternoon with our kids.
A really cool thing about Mundenhof is that entry is free. There is a 5 euro parking fee which helps support the zoo. It's always open.
Final Words
I hope you have found this guide to Freiburg things to see useful and that you have as good a time exploring Freiburg im Breisgau as we did.
It's a very charming city with some nice attractions and a great Old Town, and I'm sure you will love it too.
Read more guides to visiting Southern Germany here. You can also find our full guide to accommodation in Freiburg here or read this guide to nearby Heidelberg here, Titisee here or Baden-Baden here.