Looking for a great place to stay in a fantastic location in the beautiful Old Town of Rothenburg ob der Tauber? Look no further!
Rothenburg is a gorgeous place and on your way into town, you'll feel like you've gone back into time with a defensive system of more than 40 towers which have existed for centuries.
This feeling only intensifies as you walk around the Old Town. With half-timbered houses, gorgeous patrician houses, flower boxes and more, this Old Town is as beautiful as it looks on Instagram.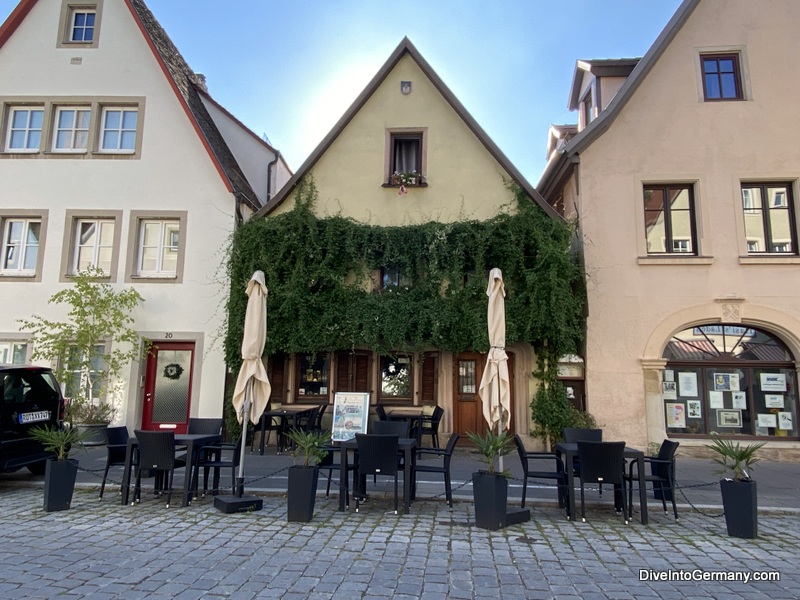 Of course, the best way to enjoy the Old Town is to stay in your own historic house. You can do that at Pension Das Lädle.
So is it a great place to stay in Rothenburg? Is it good value? What are the rooms like? What facilities are there?
Keep reading because I'm going to cover all of this and more from our stay at the Pension Das Lädle.
Click here to see the latest prices.
Traveling to Germany? Click here to download your free Germany Trip Planning checklist. We'll help you get ready for your trip! 
Pension Das Lädle Rothenburg Ob Der Tauber Review
Pension Das Lädle is housed in an historic home that is over 700 years old, but was renovated in 2018 so it has comfortable and modern amenities. It is cozy and private with only three rooms available.
We were given details for a key safe with keys to access our room and building keys on the morning of our arrival. This was all very easy to access and get inside. I love an easy self check-in.
The stairs in the building are steep though and all rooms are on the first or second floor so this is not a good option if you can't carry your luggage up steep stairs.
We stayed here with our six year old.
Location
Pension Das Lädle is in a great location in the Old Town. It's about a 7 minute walk from the main square, Marktplatz, and close to all attractions in Rothenburg's Old Town. We loved staying in this spot.
There are plenty of restaurants and shops in the vicinity.
Address: Spitalgasse 18, Rothenburg ob der Tauber 91541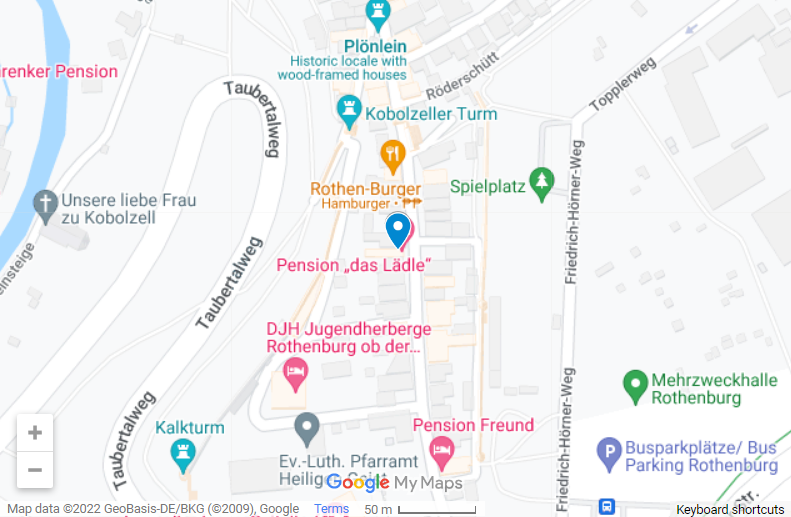 Rooms
Each of the three rooms include free Wi-Fi, a flatscreen TV, a wardrobe, a fridge, coffee and tea making facilities, a safe (ours wasn't operational though), a private bathroom with a shower, a hairdryer, free toiletries and a sitting area.
The double room is for couples with a double bed. The other two rooms are family rooms and actually consist of two bedrooms each connected by a private corridor. One of these has two double beds and one has a double bed in one bedroom and a single in the other.
Click here to see the latest prices.
Family Room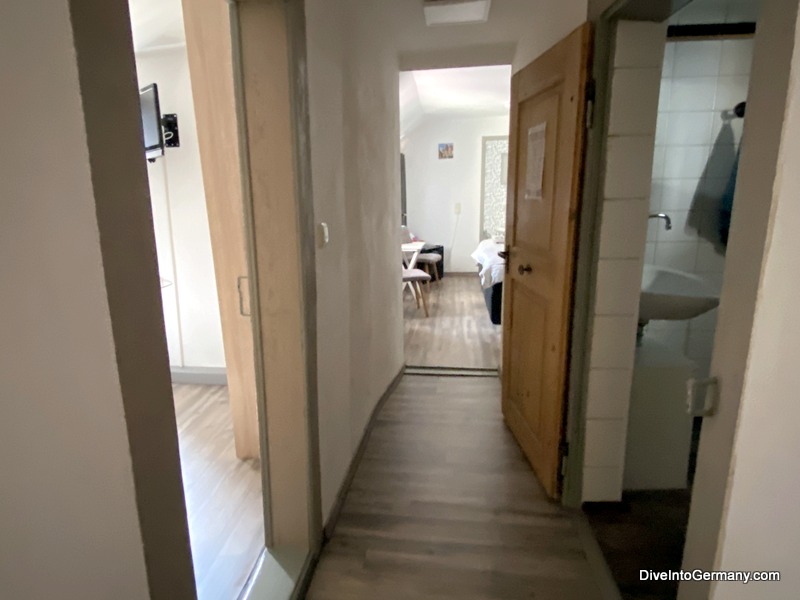 Since we were staying here with our six year old, we stayed in the family room that had two bedrooms, one with a single bed. This was a great choice!
The door to the room is a sliding wooden door which didn't keep out any sound. It also didn't have any type of latch on the inside so you have to use your one set of keys to keep this locked when you are inside if you want to be sure people can't walk in.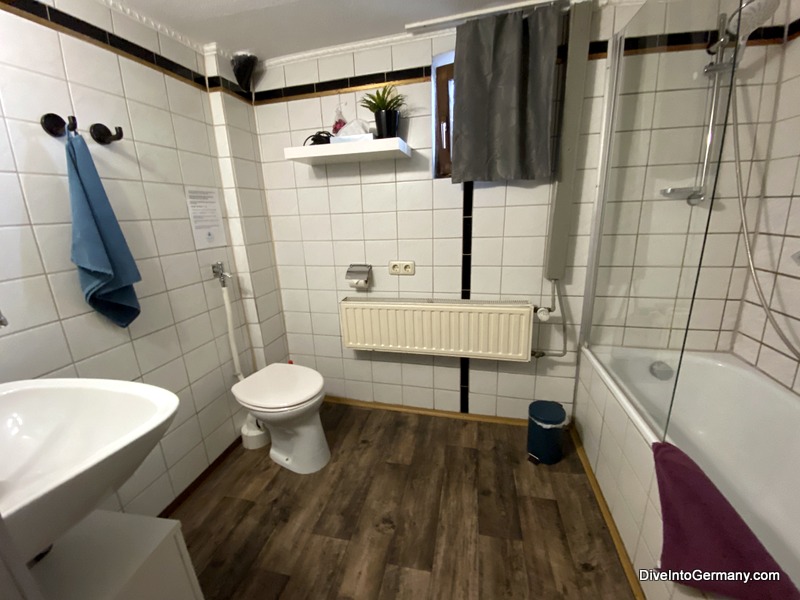 On entry to the room, there is a hallway with the bathroom to one side, the kids' bedroom to the other and the double room at the end.
The bathroom has a combined shower/bath, toilet and basin. It's practical and worked well for us.
The single bedroom is great. It's a good size with plenty of space, and it has its own TV and cupboard.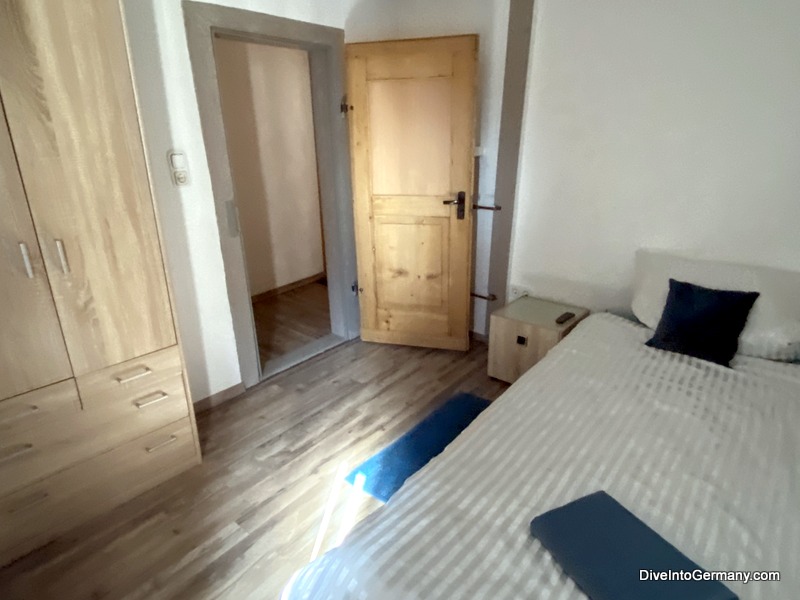 The double room has a very comfortable king-sized bed, tea and coffee making facilities, some wine glasses (which I appreciated), a cupboard, a small sitting area with two chairs and a small table, minibar complete with drinks and snacks for reasonable prices and a basin.
There was also a safe in the cupboard which couldn't be opened (so we couldn't use it) and a broken fan. The broken fan was frustrating as it made noises despite not being plugged in. It was hot in the evenings and we could have really done with it. It was hard to get to sleep. There were heaters, but we didn't need to try these out.
The rooms have small windows so there isn't a ton of natural light and the main bedroom windows look over someone else's terrace so it's not the room for good views or privacy unless you keep the big blinds shut.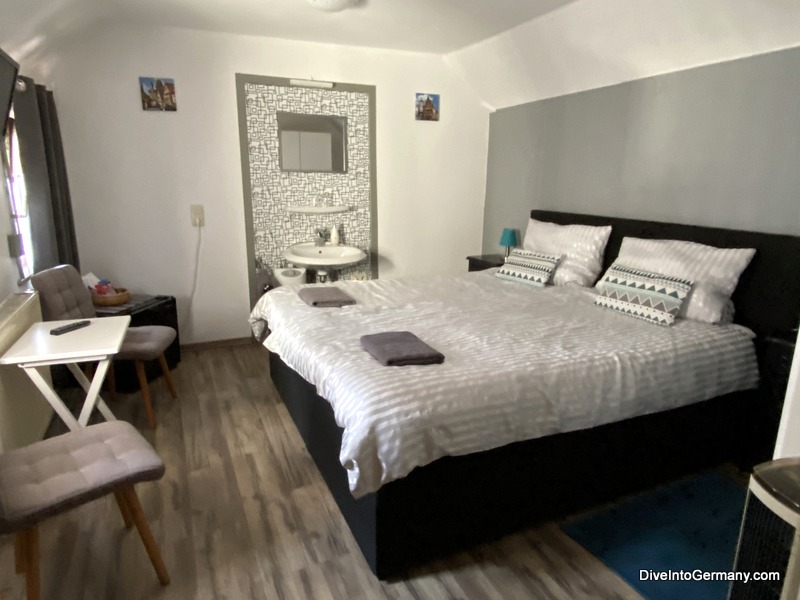 Being an old house, the ceilings are quite low. It was fine for my tall husband, but anyone very tall may struggle.
While I do have some criticisms of this room, overall I thought it was good value for the price thanks to the two bedrooms. Hopefully, they fix the fan and safe by the time you stay here.
Facilities
Being a boutique hotel option, there are not many facilities here.
There is a gift shop on-site with a cafe and guests receive 10% off. The hotel also offers segway tours. This was not open during our two night stay though so we never got to see inside.
Internet is available, although it could be slow and patchy.
There is no parking, but you can park nearby in Rothenburg's public car parks. We parked at the P1 parking lot which is an easy five-minute walk away and was only EUR5.50 a day when we stayed (free at night).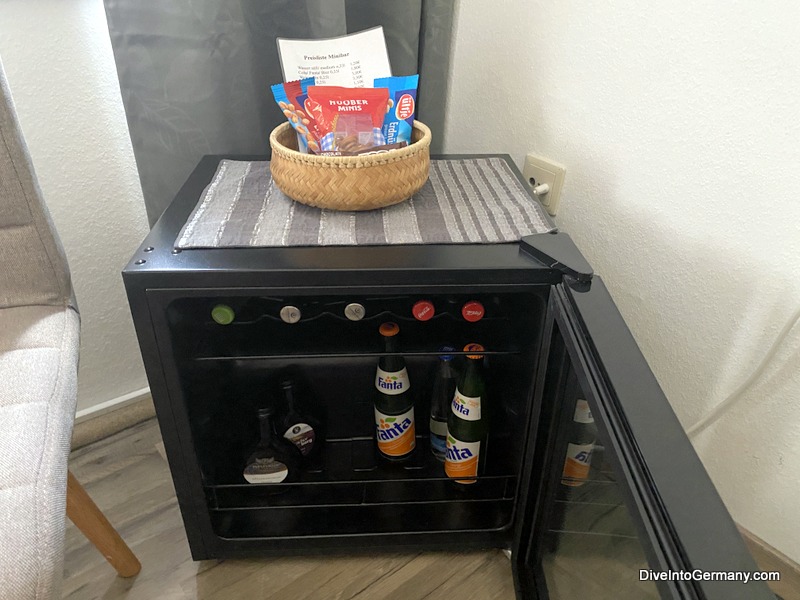 Dining
There are no dining facilities on-site, but there are plenty of dining options nearby. The minibar is stocked with drinks and some snacks for reasonable prices.
Final Words
This hotel is a great price for families that are looking for more space than the usual one hotel room or for couples looking for modern, great value accommodation in a great spot in Rothenburg's Old Town and don't need an array of facilities.
I was disappointed by a couple of broken amenities in our room and alarmed that I couldn't latch our room door shut unless we used the one set of keys (which meant when hubby went out to do stuff alone, we couldn't lock the door). It also sounded like anyone upstairs or in the hallway was right in our room.
However, I did love that my six year old could have his own room and that our beds were very comfortable, and the room was generally very quiet. Overall, I think that staying in this hotel is a big win.
Click here to see the latest prices.
Looking for other accommodation options in Rothenburg ob der Tauber? Find our full hotel guide here. You can also find our full guide to things to do in Rothenburg here and all our guides to southern Germany places here.