Looking for the absolute best activity in Germany if you love pure fun? Consider heading to the Europa Park in Rust, Germany!
Europa Park is a huge theme park that takes theming (and fun) to another level. Often touted as one of the best theme parks in Germany, it's easy to believe this is true.
Walking round Europa Park is like exploring Europe – there are so many themed lands based on European countries. It's all very cool! Add in some roller coasters, amazing kids' rides, great eating options and a world of Europa Park hotel options, and Europa Park in Germany is quite compelling.
But it is pricey, and it is a big park to get around and you may be wondering if it's worth your money and holiday time or if the whole experience will be stressful.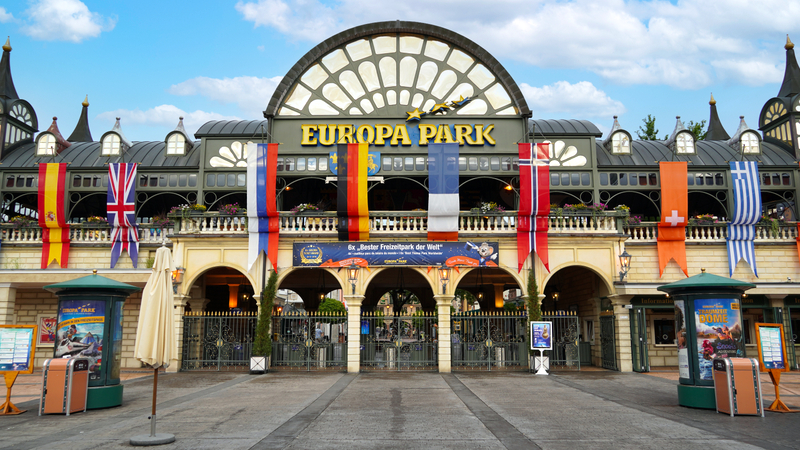 Or perhaps you are sold on visiting the Germany Europa Park and want to know all the best Europa Park attractions and need a full Europa Park blog guide so you know what to expect and can plan what to do as soon as you hit the park so you can use your time in the best way possible.
Whether you want to know if it's worth visiting or want a Europa Park plan, this article will help. We cover everything you need to know in this Europa Park review from an overview of the park to our full review with information about all the different areas in the park.
We'll also talk about Rulantica and the whole Europa Park resort from restaurants to hotels as well as Europa Park transport and parking and anything else you could need to know.
Let's start!
Traveling to Germany? Click here to download your free Germany Trip Planning checklist. We'll help you get ready for your trip! 
What Is Europa Park Germany?
Europa Park is a huge theme park located in southern Germany near the French border and the city of Baden-Baden. It's the second most popular theme park in Europe after Disneyland and if I had to compare it to another theme park, that's the one I would compare it to.
It has great theming, like Disneyland, and is quite an immersive experience. In fact, I prefer it 100000 x more than Disneyland Paris (or any of the others) and I love Disneyland.
There are many different themed areas with most themed on European countries. You can read about each of them below. Some are quite small and some are bigger, but regardless, it would be a struggle to get around this park in a day as there are so many Europa Park rides, Europa Park shows and more.
There is so much to do with over 100 attractions, 13 roller coasters, 18 themed areas and a whole lot of shows.
They were even building a new land when we visited, Croatia, so there's even more exciting things to come.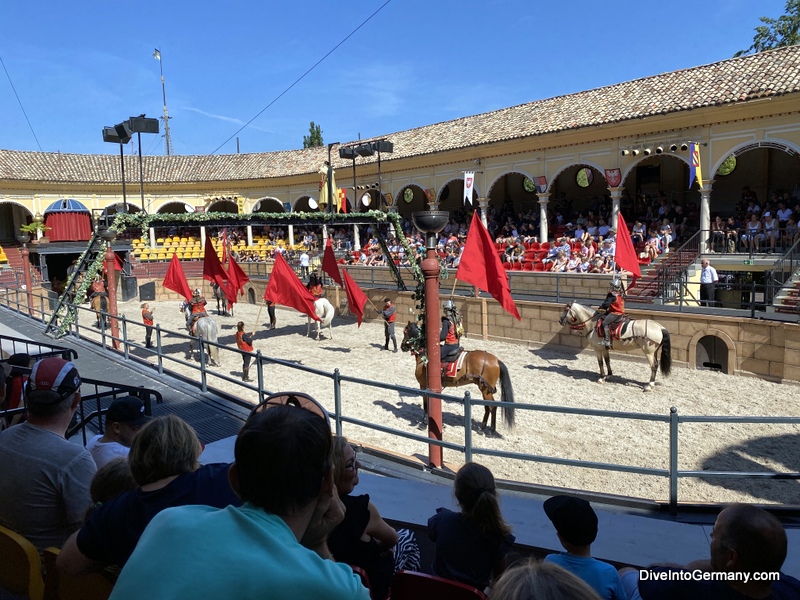 Europa Park Review
Our Europa Park trip was in late August – so just when things were meant to get a little less busy after the craziness of most of August. We found the park was busy but not crazy busy.
When it comes to Europa Park queue times, there was twice we lined up for 30 minutes and everything else was shorter. In fact, the more family/kid focused rides were usually only a few minutes. Having a good plan can help minimise any lines and staying at the hotels with early access helps too.
The lines were mostly very painless. They tended to move fast with things to look at along the way, so we didn't mind them. Overall, I was very impressed by the relatively small time we spent waiting at a busy time of year compared to other themes parks I have been to.
The prime languages in the park are French and German. Plenty of staff speak other languages too and these are noted with flags on their badges. I didn't find this to be an issue as an English only speaker except with the shows. We only tried a couple and it wasn't worth it unless they were action ones rather than speaking ones. For example, the stunt and dancing shows were fine in Spain.
We visited Europa Park with our three kids aged 6, 10 and 12.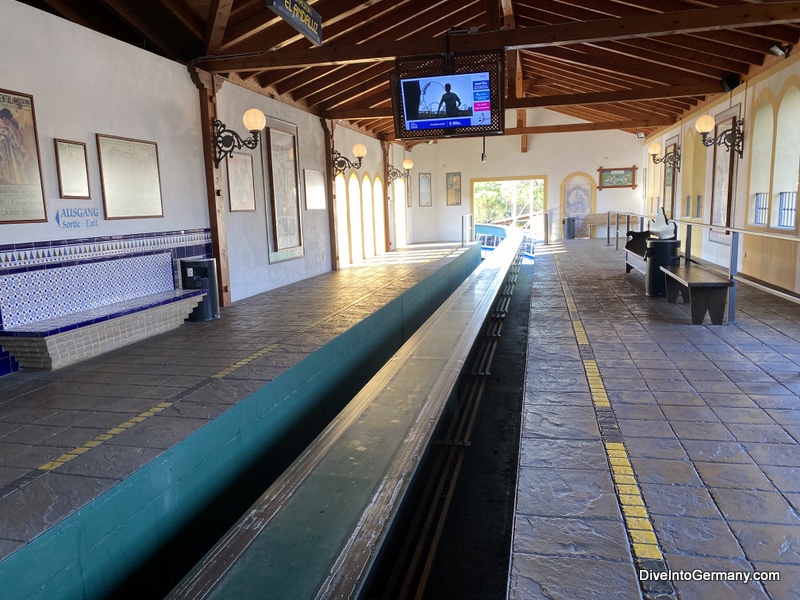 VirtualLine
Before I leap into an explanation of the areas, I think it's worth pointing out that there is no Europa Park express pass/fastpass as an add-on for Europa Park. There isn't a Europa Park VIP pass either, although hotel guests get VIP entry half an hour earlier than regular guests to the park.
Instead, everyone has access to what they call VirtualLine. This is a system where you can join a "virtual line" for some of the attractions while you go do other things. You basically reserve a time slot and then turn up at that attraction at that time.
You can only be in one virtual line at a time, but it's something you should 100% use if you can. You can do this in the Europa Park app so make sure you download it before visiting, check out the attractions available for VirtualLine and join one as soon as you enter the park.
The downside is that often they are full! We managed to only join four over our two days in the park. It was kind of frustrating as we would have to check it often to even join those four. You also can't pick the time and sometimes the time is right now! Which doesn't help if you are on the opposite side of the park.
However, the four times we used it were awesome and allowed us to have a much more pleasant experience visiting some of the bigger rides.
Europa Park Germany Themed Area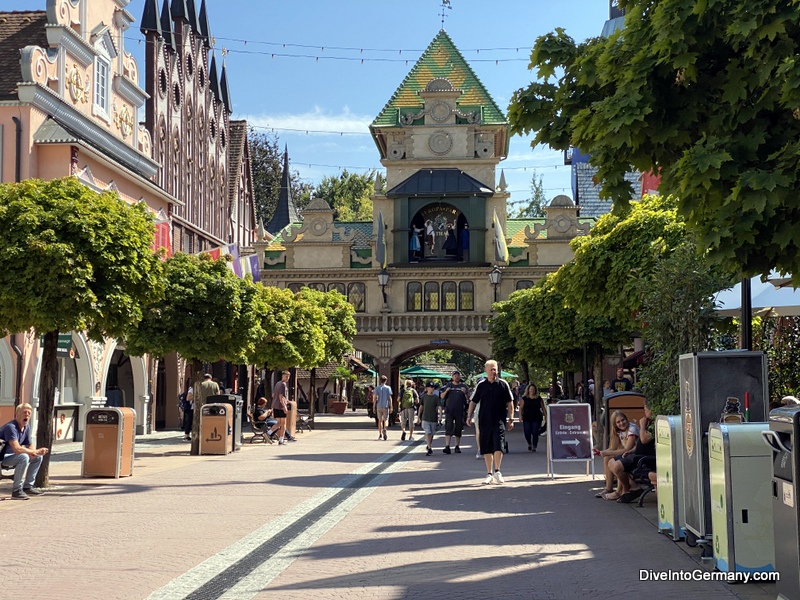 This is the first area you hit when coming through the main entrance. Not surprisingly, this is a great area with quite a few restaurants, shops and Europa Park attraction options. It also has beautiful garden areas and is definitely the place to head for some time out during your visit or to have a picnic lunch.
There is a range of traditional architecture and all 16 counties are represented here with their own facades.
The range of shops make this a perfect area to stop by when you are finishing up for the day to pick up a souvenir before heading out.
The attractions range from ones suitable for younger kids to more thrilling options, although it does have a solid family focus. There is Voletarium, a flying theatre, or you can take a boat trip to elfin realms or one through fairy tales. It's all a lot of fun.
There are also train stations with the EP Express monorail stop and a Panorama train station. These are both great ways to get to other areas easily and also a great way to have a rest while still seeing more of the park.
Voletarium often had the longest wait times (you can see wait times in the park app) especially early in the day as it's right at the entry to the park. Try to visit later in the day.
Europa Park Austria Themed Area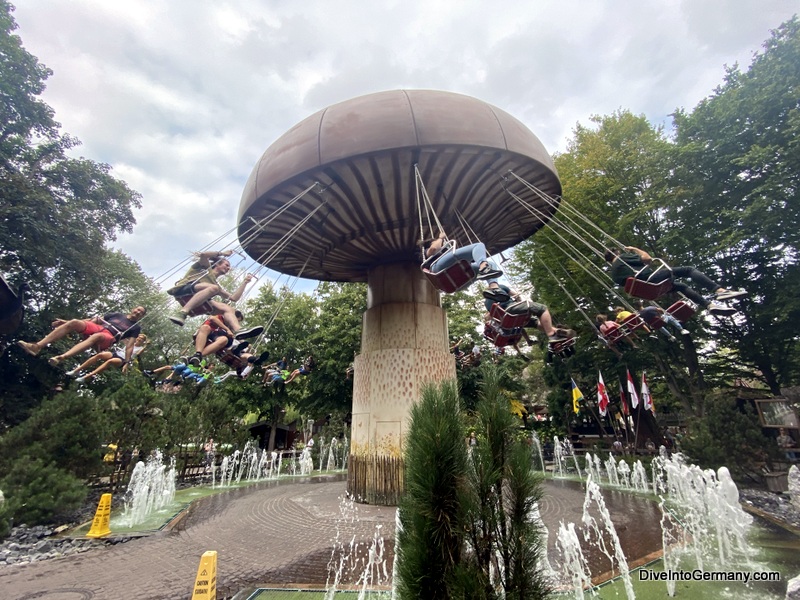 The Austrian area is quite fun with themed mountains and valleys and a few fun rides.
You can take a log flume ride here (this is one of the Europa Park water rides so get ready to get wet!), a swing ride, two boat rides and two roller coasters. One is a virtual reality one and you wear a headset while taking a real roller coaster ride. Tons of fun! The other is the first roller coaster to have been built at Rust Europa Park.
Kids will love the playground and the cool water fountain show which takes place in the lake to Austrian music.
There are a few restaurants and you can buy diamonds.
This was maybe my favourite land as I enjoyed the roller coaster so much. We did it a few times with our early hotel access.
The log flume ride is also lots of fun, but warning, I did get very wet! My daughter stayed fairly dry though so sometimes, you just get lucky 🙂
We also walked through an area which takes you to the inside part of the log flume and roller coaster rides. Just so cool! I highly recommend it.
Europa Park England Themed Area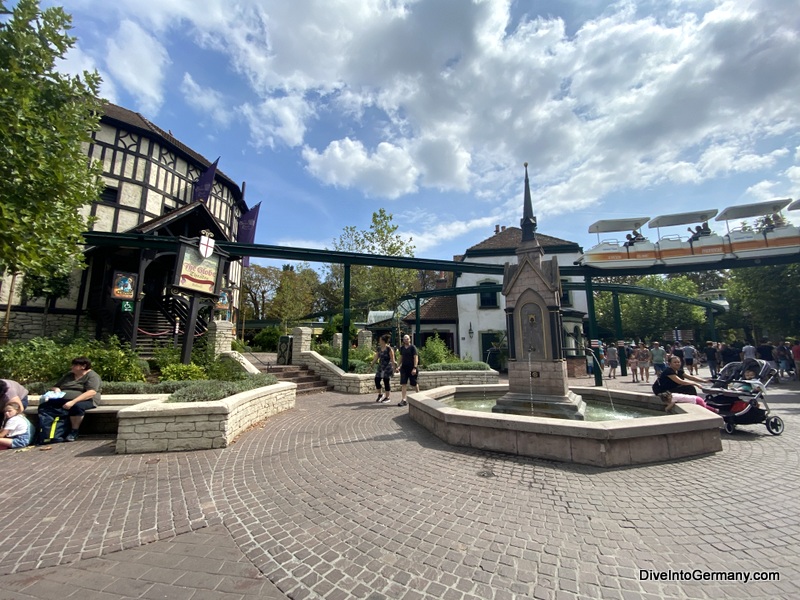 The British area is quite fun with its flying double decker bus, crazy taxis, an over 100 year old carousel, a fun lazer maze or the virtual reality Arena of Football (this is at an extra charge). There are also eating and shopping options and a magic show.
This is a fun area to explore and, after three months travelling Europe, I must admit that I got a kick out of seeing so much English around me 🙂
It's more focused on families and younger kids.
Europa Park France Themed Area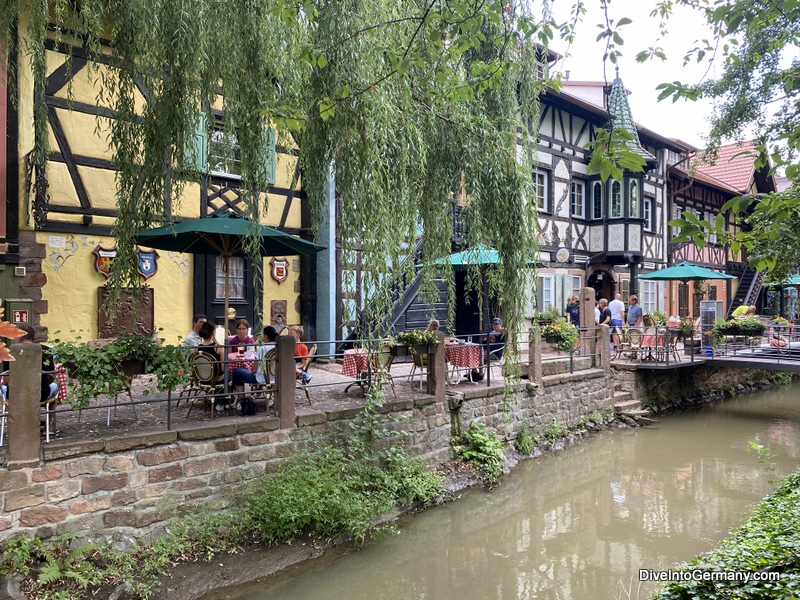 France is also fun with lots of Europa Park roller coasters, a cool fountain show and many eating and shopping options. We particularly like the creperie for a sweet pick-me-up. There is also a double decker boat eating option, Chez Marianne. The 4D magic cinema looks fun although since it was only in German, we gave it a miss.
The Euro Tower can be a good place to start, lifting you to 75 metres with a glass lift. It's a great way to get quick overview of the park.
Thrill seekers will want to head straight to Silver Star Europa Park roller coaster, the CanCan Coaster or the Eurosat Coastiality (a VR coaster for 14 year old+).
The CanCan coaster is particularly cool with Moulin Rouge theming. We loved this so much, we went on it three times thanks to virtual lines and one longer wait. It was also my six year old's favourite ride.
There is also a more younger kid friendly attraction Europa Park, the Madame Freudenreich ride. This takes you through a dinosaur breeding farm among other things.
Europa Park Greece Themed Area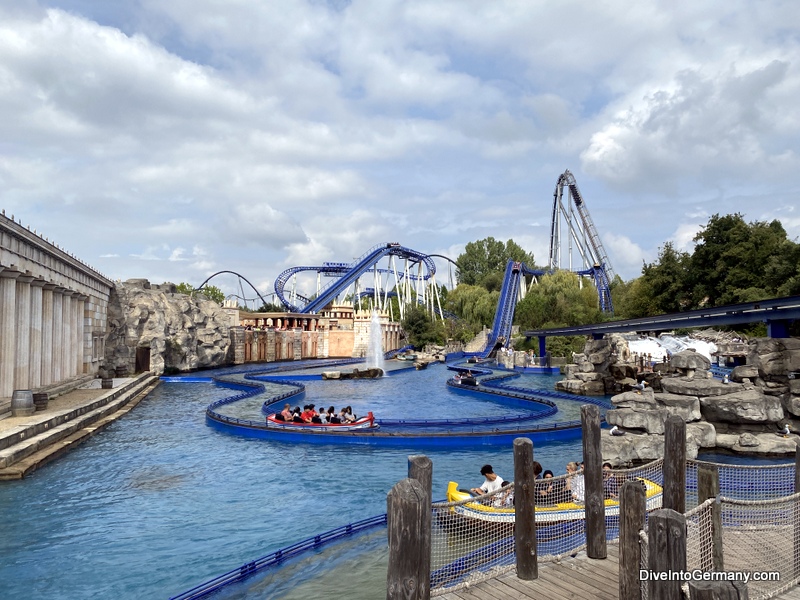 Next up is Greece, or Mykonos to be precise as that's what this area's look is based on.
It's another great area for both young and older thrill seekers with the Poseidon Water Rollercoaster perfect for cooling down while getting some thrills. It has Greek mythology theming and enters the world of the Greek God of the Seas.
Younger kids will love trying out Pegasus family coaster, a ride designed for 4+ year olds – perfect for their first roller coaster experience. In fact, I loved this too.
There are also a couple of other rides including the Atlantic Adventure ride with lasers which is particularly fun for families. The curse ride is quite surprising (I'll leave the details for you to discover yourself!!). Poseidon is fun too with some big splashes.
There is also a Greek restaurant and a handy food van for snacks as well as a couple of shops.
I did find this area confusing to navigate in parts – the Europa Park app helps.
Europa Park Ireland Themed Area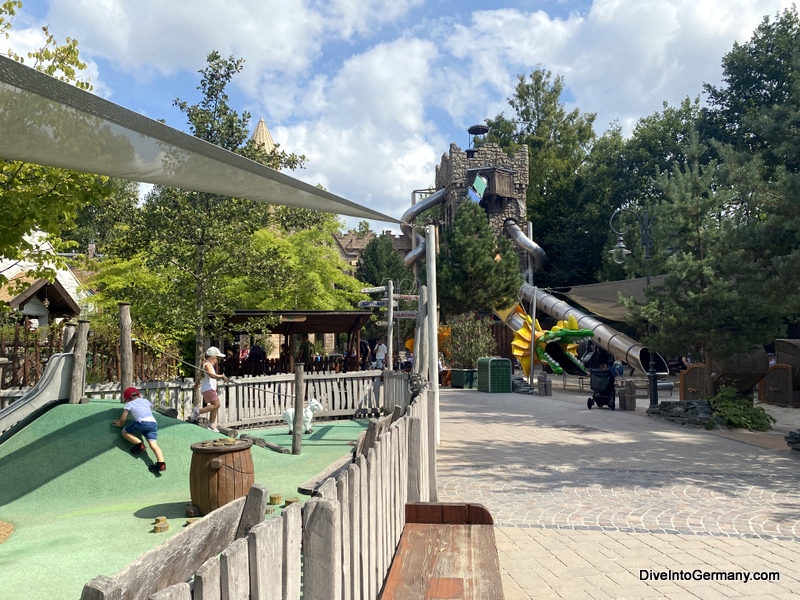 Get ready for lots of green as you enter the world of the Irish. Again, this is an area best suited for families with very family friendly rides and no thrilling roller coasters (unless you count the children's rollercoaster Ba-a-a-Express which honestly, I found thrilling enough :-D).
There are also mini cars for kids 1 – 4 years old, a swinging boat, spinning dragons, a tractor ride and some great playgrounds including the Europa Park water Park, Paul's Playground for up to 12 year olds.
It is great for younger kids. Our problem here was it was great for our 6 year old but there wasn't much for our older kids (10 and 12) at all, especially as our 12 year old was too old for a lot.
The slides at the playground are amazing though!
Europa Park Iceland Themed Area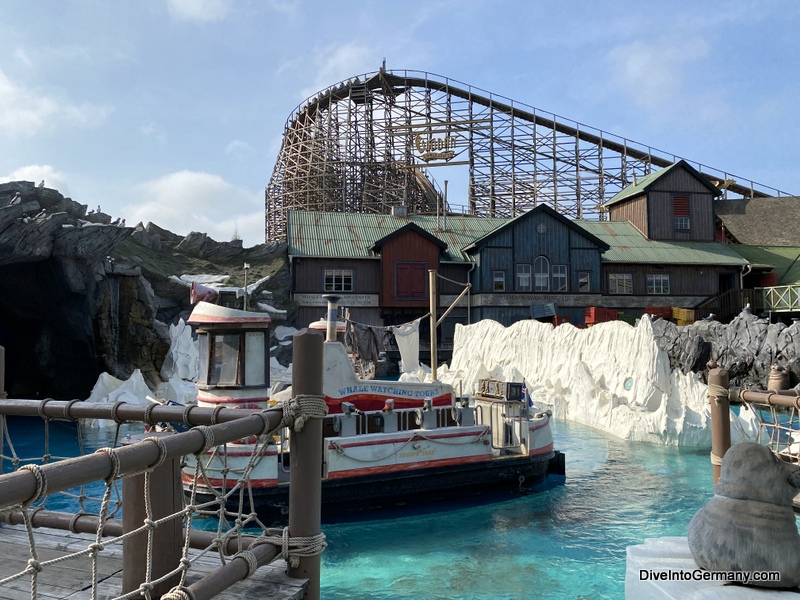 I haven't made it to the real Iceland yet so I was strangely extra excited to enter this land! Until I saw the massive roller coasters anyway. I'm just not a big roller coaster person anymore and get scared just seeing them!! Although I did go on some on our Europa Park holidays, just not in Iceland.
Thrill seekers will definitely love it here though and should head straight to the Blue Fire Megacoaster where you can go from 0 to 100 in 2.5 seconds. Or there is the WODAN – Timburcoaster, a huge wooden roller coaster. Its tracks also crosses with the Blue Fire Megacoaster and the Atlantica Supersplash for extra thrills.
People like me will prefer the Whale Adventure – Northern lights, an interactive boat ride. Younger kids will love the Lítill Island – Hansgrohe water playground.
When you can pull yourself away from the rides, there are multiple eating and shopping options including a Magnum ice cream store where you can personalise your own Magnum.
Europa Park Italy Themed Area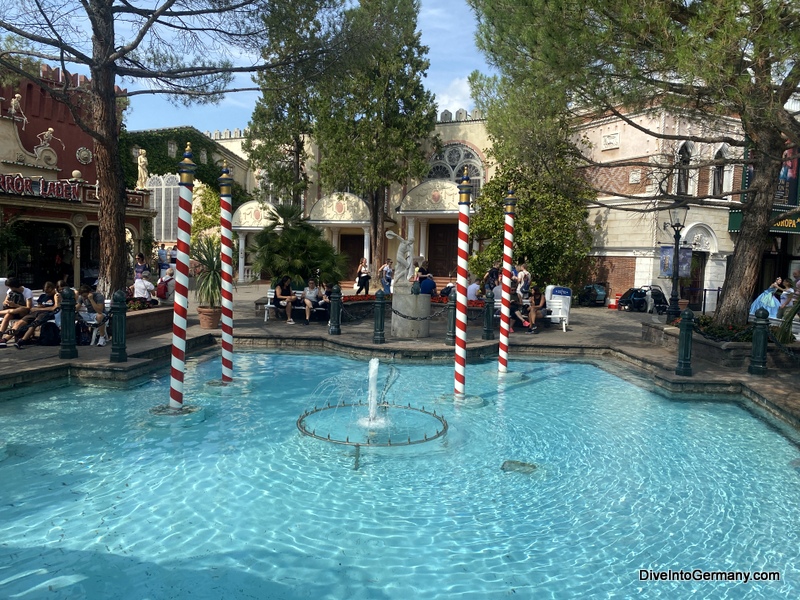 Italy is another fun, albeit smaller, land. Here, you can scare yourself at the Ghost Castle, fly on the Volo da Vinci or enjoy a gondola ride through Italy.
There are a few shows here including a live show on the Roaring 20s with ballet and acrobats, an outdoor talent show themed show and a show about 70 birds celebrating Carnival in Venice (we did the latter, and I don't recommend it for solo English speakers).
Of course, you can also enjoy a slice of pizza and a cone of gelato. I had some of the best gelato in my life here.
Europa Park Luxembourg Themed Area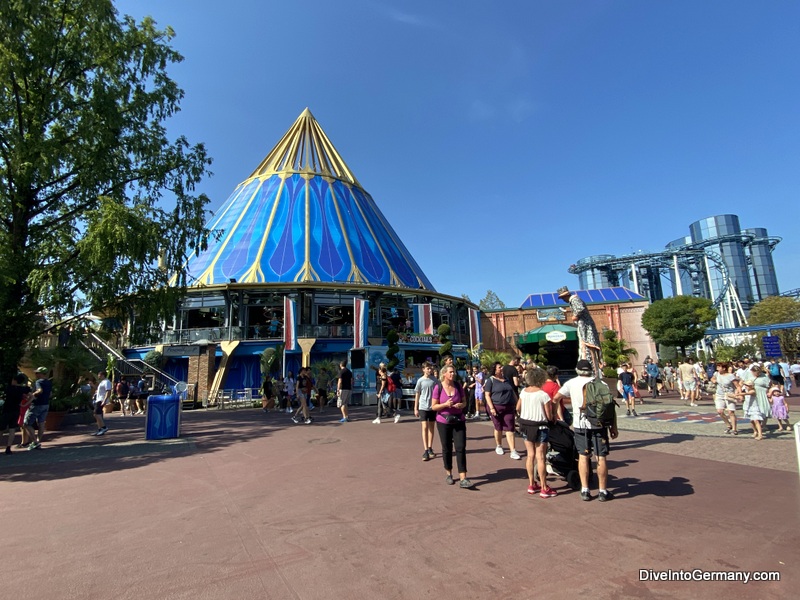 Just like the country, this small area will delight. Built around "Luxembourg Square", you can cool off with some water fountains or watch the Adventure Parade.
The only ride is the monorail station, but this land does have the coolest restaurant in the theme park, FoodLoop. Here, your food arrives like it's on a roller coaster, through loops from above right onto your table.
We had lunch here on our second day, and it's so much fun. The lines can be long to eat here so I recommend eating early or late. We had a 15 minute wait for an 11am lunch.
Europa Park Netherlands Themed Area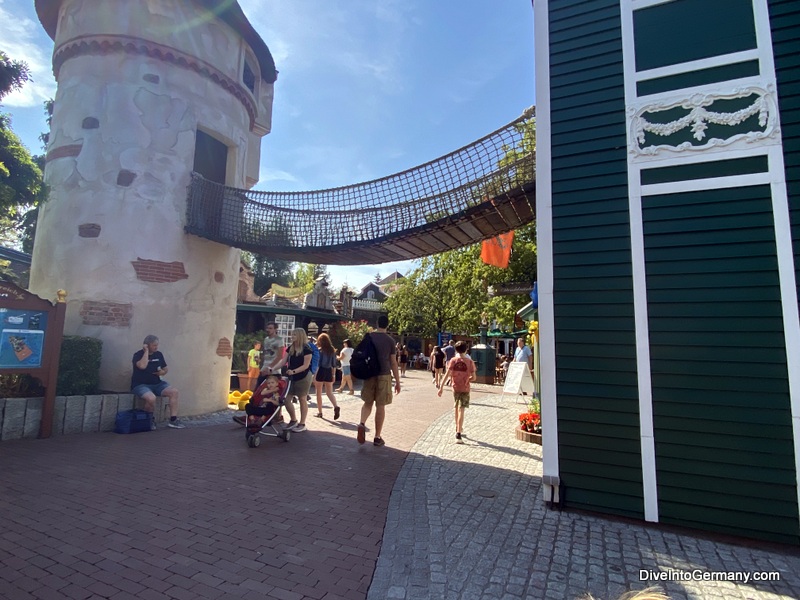 The Netherlands area is a great one for families to head to with many family friendly Europa Park Germany rides.
The best one is definitely Pirates in Batavia which is an eight-minute journey on the water that takes you through many detailed scenes with over 100 figures.
There's also a tea-cup style ride, little cars, little planes and more.
Junior Club Studios is also here with a live show to liven up the day. Of course, there are some great eating and shopping options here.
Europa Park Portugal Themed Area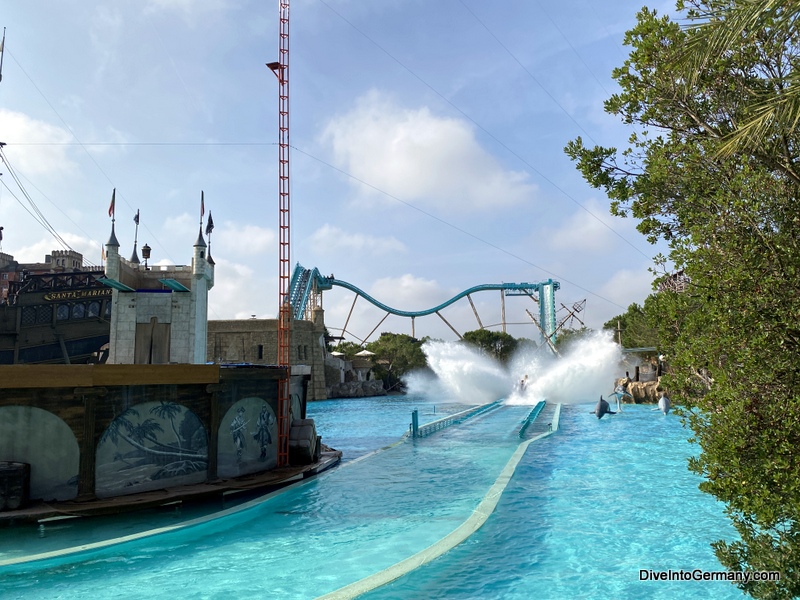 Portugal is another area to cool down with a massive splash. There is one ride here which is the Atlantica SuperSplash. It's quite fast and thrilling and a great ride for thrill seekers.
They guarantee you will get wet though so make sure you are happy with this. However, I found it was more a splash than getting really wet like I did on some other rides.
Otherwise, there is not much in this area with just one restaurant and shop in addition to this attraction.
Europa Park Russia Themed Area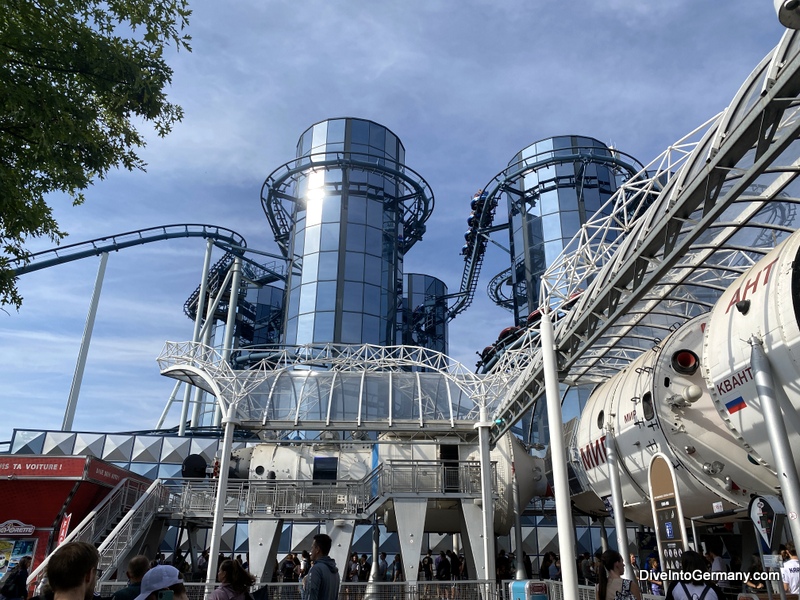 The Russia area has some great rides as well as a burger restaurant and some shops.
Thrill seekers will definitely want to head straight to Euro-Mir high speed roller coaster which twists its way around mirrored towers.
I would say that it's not as thrilling as it looks though and there is a lot of jolting which hurt my neck.
The other rides are more family focused with a themed sleigh ride and mini cars to drive around. Anyone interested in space will enjoy the Mir Space Station with exhibits on the original training station for Russian cosmonauts.
There is also a cool Russian village here where you can watch craftsmen at work.
Europa Park Scandinavia Themed Area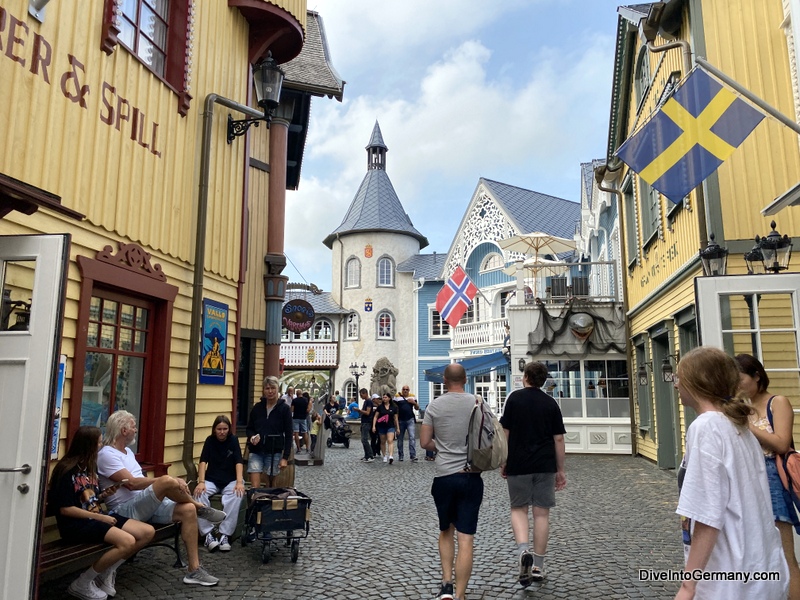 Scandinavia is yet another fantastically themed world with coloured houses, cobblestoned "streets" and more. It also has three fun rides with a giant viking swing and a rapid river ride (where you'll most probably get wet).
In fact, I got soaked on this ride. Unfortunately, I wore jeans and stayed wet all day. Dress more sensibly than me! I also recommend you keep your feet in the air as the bottom of the raft got quite wet and so did my socks and the bandage on my ankle.
There's also one of my favourite rides, Snorri Touren. The theming on this ride is excellent as you take a boat under the village to the mysterious island of Rulantica.
There are also restaurants and shops and some fun things to see as you walk around such as a big shark and a rocking bridge. This land had my favourite theming.
Europa Park Spain Themed Area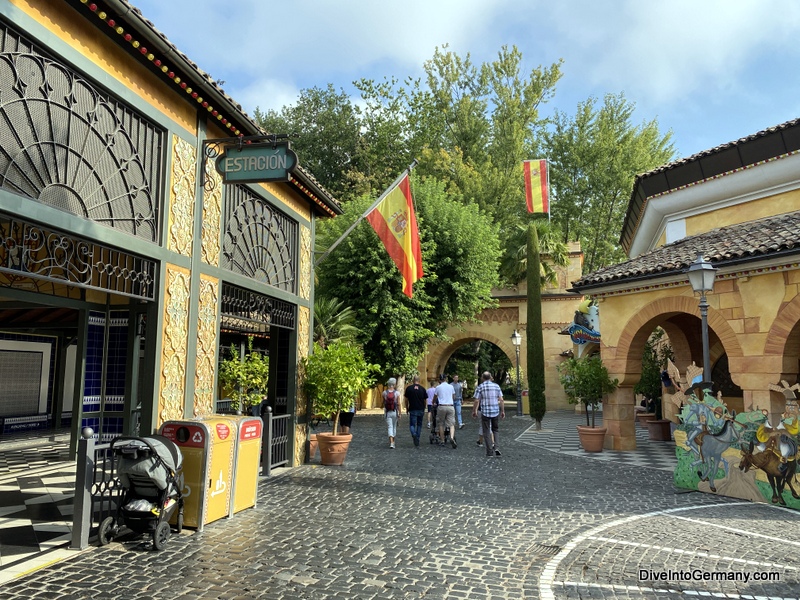 Spain is also fabulously themed based on the old town of Seville. The rides are low key with a "boat carousel" and a swing ride. There's also an adventure playground.
The "boat carousel" (more correctly known as Kolumbusjolle) was so much fun though. We did it each day. It's a more simple ride but did a good job of making us feel like we were taking a big boat journey.
More recommended is the live Flamenco show. You can also watch a "duel" and stunt show with acrobatics that is quite clever.
We enjoyed eating at the Don Quichotte restaurant here for dinner.
If you are staying at the hotels, this is where you enter the park. It's the opposite end to the main entrance in Germany.
Europa Park Switzerland Themed Area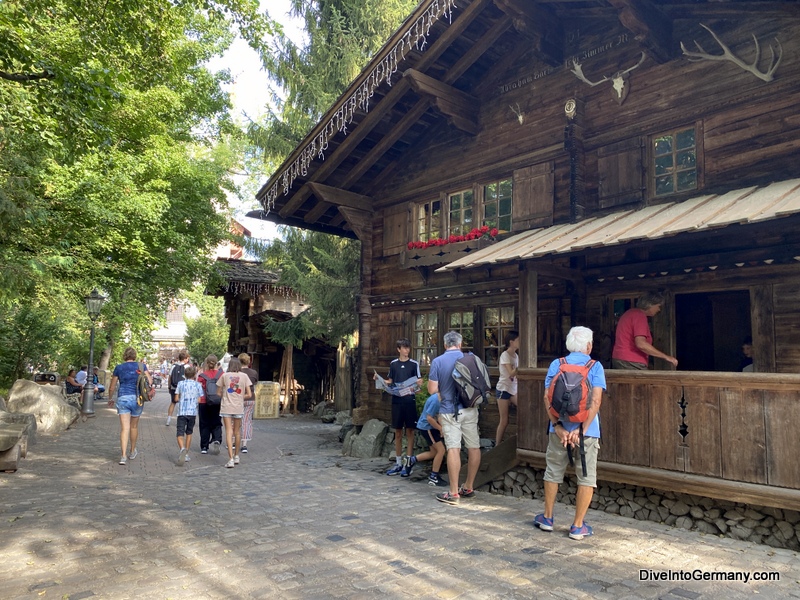 Finally, you can feel like you are in Switzerland as you whizz around on a bob sled ride, take a flight on a plane or take the Matterhorn-Blitz roller coaster. There are also a few places to eat here.
The theming in this area is crazy cute.
The Matterhorn-Blitz roller coaster is the one ride that disappointed me. Perhaps because it had the longest line for us as well as the most boring, but also because the ride itself was short and not as thrilling as we expected. My 6 year old actually found it boring! We wished we hadn't lined up for it.
Adventure Land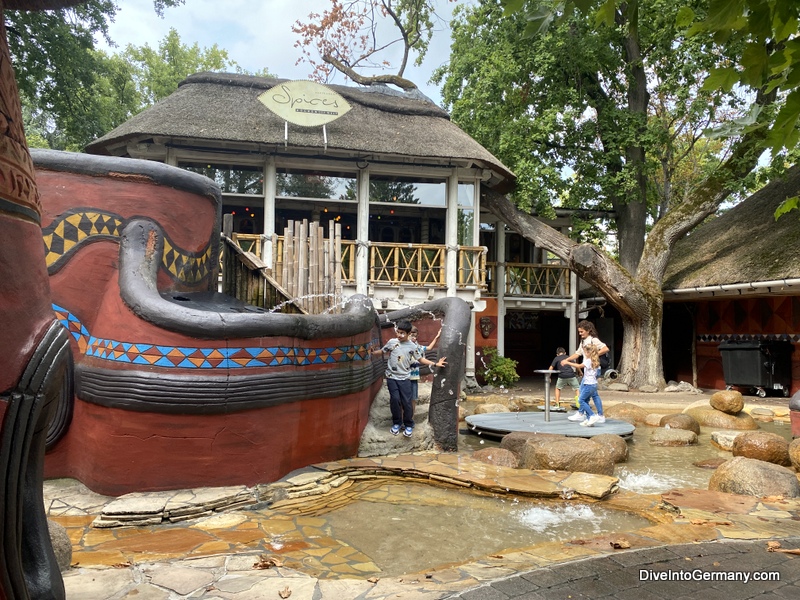 While the name Adventure Land can evoke images of roller coasters and adventurous rides, it's actually billed as the place to relax for a bit while exploring the park.
There are a few eating options as well as a fun water playground for under 11 year olds.
Grimms Fairytale Forest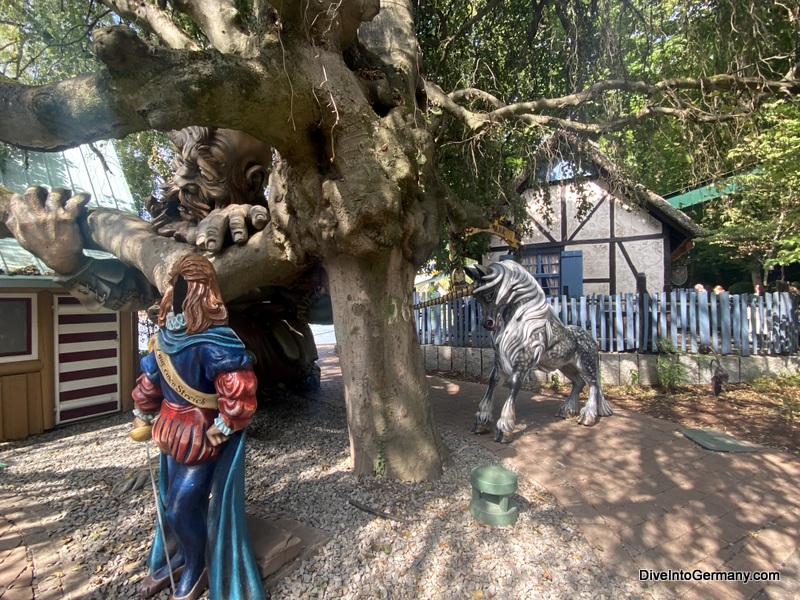 Grimms Fairytale Forest has some great fairy tale theming with Rapunzel's hair and Sleeping Beauty's castle. It's a fun area to explore and another area that's good for a break from the main action.
Under 8's will find a dwarf themed ride here as well as a cinema featuring 10-minute shows with some fairy tale character. There are also some cute shops here.
But really the main attraction is feeling like you are part of a fairy tale as you visit the fairy tale houses and have fun watching them come to life.
The Minimoys Kingdom
This is the land where small creatures become huge with oversized ladybugs, caterpillars and more.
There are also some fun rides here with the Arthur rollercoaster (themed with the 'Arthur and the Minimoys' films) and a similarly themed carousel, slides and a poppy tower (freefall ride).
There is also a dining and shopping option.
The Arthur ride is very fun and definitely worth a go. The other rides are for young kids.
Europa Park Restaurant Options
If you haven't already worked it out, there is a crazy amount of Europa Park food options. From food stalls to full on restaurants or a Europa Park bar, you won't go hungry.
Since our focus was on the attractions at Europa Park, we ate wherever was convenient during the first day. This turned out to be the best move for us.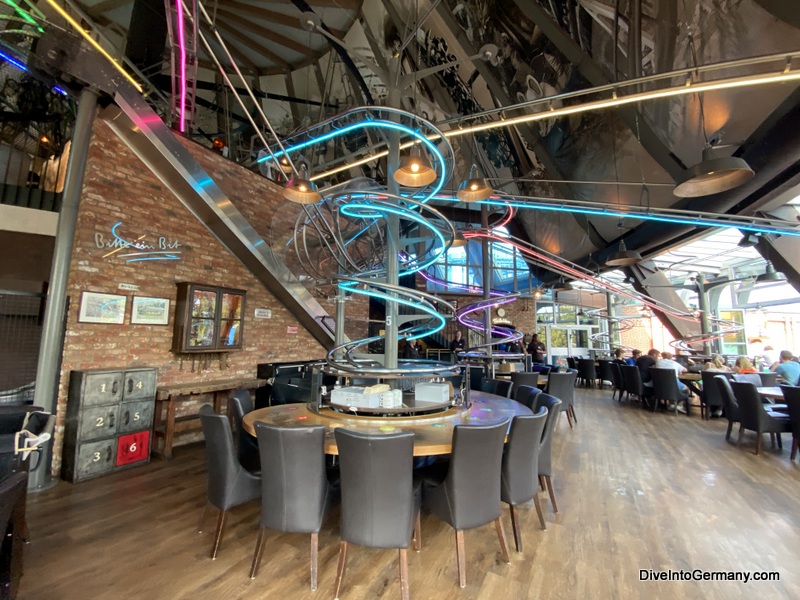 We also made the effort to go to the FoodLoop (roller coaster) restaurant which is definitely worth the effort. You can read more about that above in the Luxembourg section.
Since we were staying at the Europa Park hotel resort, we also ate some evening meals around the park including at Don Quichotte restaurant in Spain. This is also open for lunch. I highly recommend the tapas.
Europa Park Shops
There are also tons of Europa Park shop options with more variety than I am used to seeing in theme parks I think thanks to all the varied lands and merchandising opportunities. I'm sure big shoppers could spend all day Europa Park shopping (although that would be a shame).
If you are staying at one of the hotels, anything you buy before 3:25pm can be transported back to the hotel for you to collect that evening which is quite a cool service.
Rulantica
Rulantica Water World is the Europa Park AquaPark with tons of watery fun from huge wave pools to over 30 water slides and more.
It is a separate park to Europa Park and we did not visit it. We decided to spend extra time at Europa Park instead which I am thankful for. It does look great though so I would love to head there next time.
Europa Park Hotels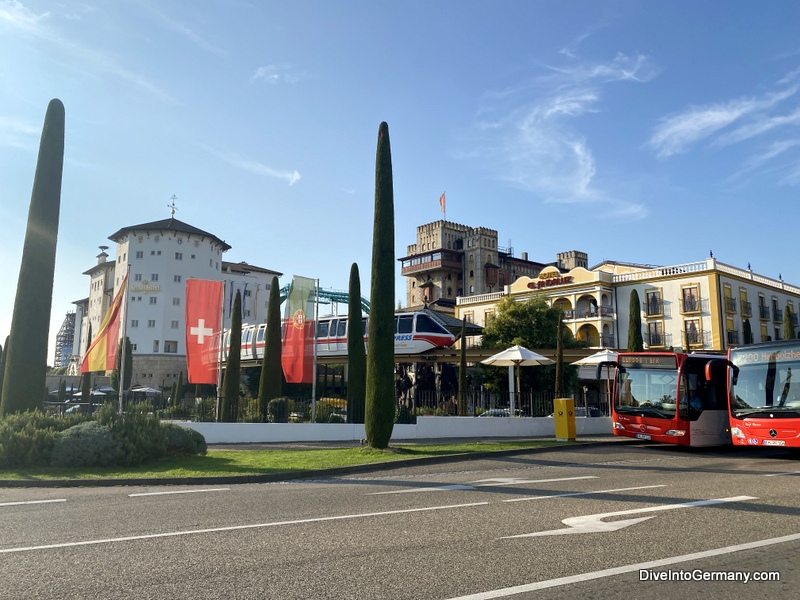 There aren't just tons of Europa Park rides Germany here but also tons of hotels! Europa Park Resort encompasses the whole area round the parks and has a whopping six themed hotels, a camping resort and a camping area for people with their own gear.
Booking at any of these options gives you the cheapest price possible for Europa Park Rust tickets, free wifi and parking.
Hotel guests also get VIP entry half an hour earlier before Europa Park opens to the public as well as extra access to Rulantica. They also get access to the Europa Park shuttle to take them to the two parks (if necessary).
The early access was fantastic although it did have some issues. You can read more about my thoughts on this here.
All hotels are 4 star and if you stay at one, you get access to all the facilities at any of the hotels. Between these hotels there are:
25 restaurants and bars
5 saunas
4 pool areas
3 wellness and spa areas
The different theming at each hotel is cool too.
These are your options:
We stayed at the Hotel Castillo Alcazar which was great. You can read our full review here.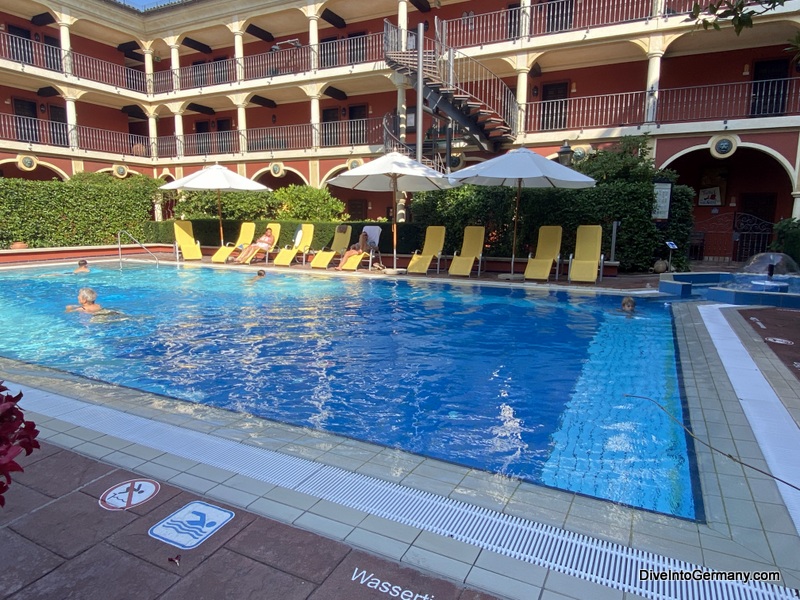 From here, we were right next to the park and had direct access from our hotel which is part of the reason we picked it. Some hotels are a little further away.
If you can stay at one of these Europa Park resorts, I highly recommend it.
You can also find other accommodation options nearby. Here's a map to help you find alternatives if you wish:
Europa Park Rust Location
Europa Park is located in the south western part of Germany right by the French border in the town of Rust. It's about 38 kilometres north of Frieburg or about 55 kilometres from the French city of Strasbourg.
It's easy to drive here and Europa Park parking starts at 8 Euros. You can pay more for a reserved spot at the front of the park. Hotel guests park for free.
The train between Frankfurt and Milan stops here twice a day and also goes through Switzerland. The closest station is at Ringsheim and there are quick and convenient buses from here to the park.
There are also Europa Park bus options. From Freiburg, there are direct buses from near the station.
The Europa Park nearest airport options are at Karlsruhe/Baden-Baden or Aéroport International Strasbourg in France. They are both about an hour away.
If you don't want to stay or eat in the Europa Park resort zone, there are tons of other options around the park in Rust.

Europa Park Address: Europa-Park-Straße 2, 77977 Rust, Germany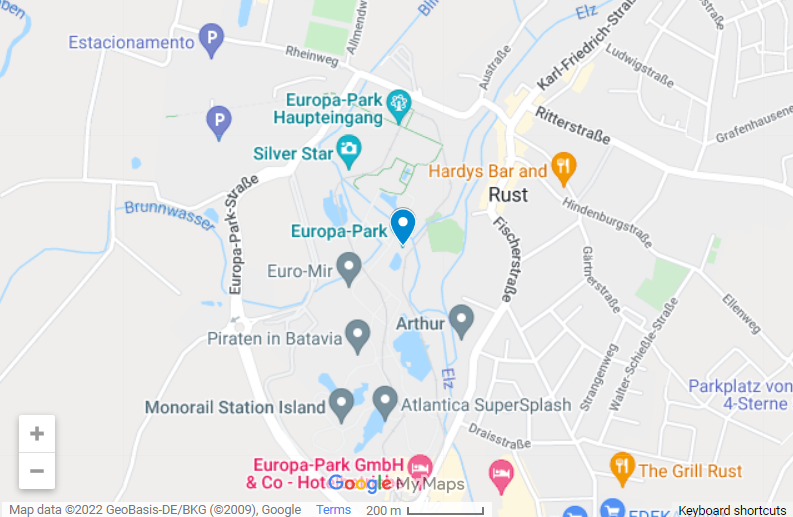 Europa Park Tickets
The best place to buy your Europa Park ticket is on their website. It's very easy to buy Europa Park tickets online.
There aren't many options. Simply buy a one day or two day pass and decide if you are going to Rulantica as well. Kids 3 and under are free and kids under 12 are free on their birthday.
What is annoying is that your Europa Park online tickets are date specific and you can't change the date once you have booked. So make sure you are sure before making your Europa Park reservation. I also wish there was a better discount for a 2 day ticket (which is what we bought), but it was still very worth it.
Like I said earlier, there is no express pass style system available.
The Europa Park prices vary a little depending on the season.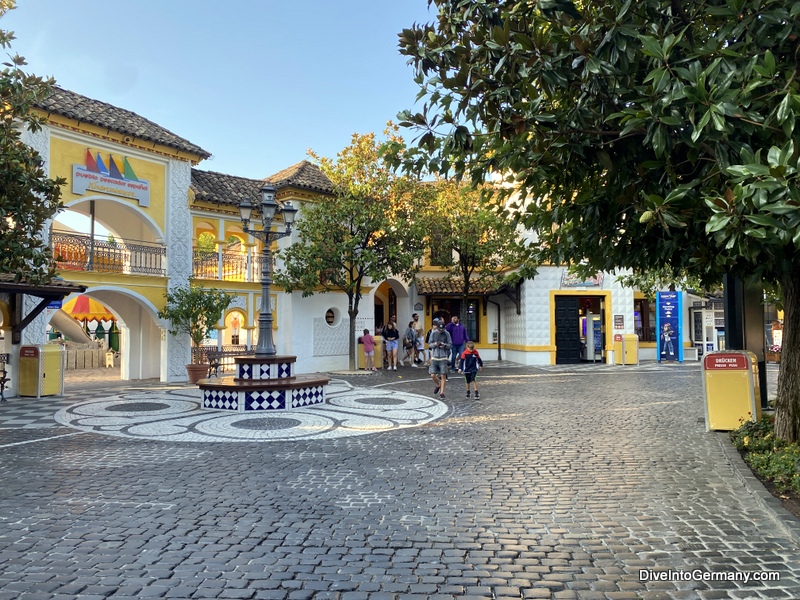 Europa Park Opening Times
Europa Park hours are generally 9am to at least 6pm. From November, this changes to 11am to at least 7pm when visiting Europa Park in winter.
The "at least" means that part way through the day in question, Europa Park officials actually decide whether to open later based on crowds.
When we visited in late August on a Sunday and Monday, both days opened until 7:30pm. Some rides did open later as, at least on the ride we were on, they let the line finish up.
Some of the rides had super fast lines from 6:30pm so staying at the hotel was super handy. We entered again at this time and did about seven rides!
Taking Kids To Europa Park
As I said above, we took our three kids aged 6, 10 and 12. It worked well as my 6 year old is just over 120cm which meant he could go on just about anything. If he had been shorter than this, it would have been annoying.
A little annoyance with this was that for many rides, he had to with an adult. This has to be someone 16+. They wouldn't let my 12 year old sit with him or take him on rides which was a little frustrating at times when I didn't want to do the ride. I get you don't want a 6 year old with an 8 year old but a mature teenager should be fine.
This doesn't mean if your kids are < 120cm, it's not worth it. Not at all. There are so many areas and rides perfect for younger kids. There are many playgrounds and water playgrounds and cool areas like at Grimms with all the fairy tale features.
However, if you have older kids as well as a kid under 120cm, you'll probably end up with some family frustration especially if you have a bigger age gap like with my kids. I'd recommend that if this is you, you plan to separate into two groups and tackle different parts.
Final Tips For Europa Park
Here are my tips:
Go for two days
Read all the Europa Park info here so you know what to expect and make a rough Europa Park Rust plan before visiting. Prioritise the areas you'll visit. At least know where you are going to head first
Install the Europa Park app before visiting and set up your tickets. Use this for wait times, the fastest way to walk between attractions and the virtual line
Have a good look at the Europa Park map in the app before you go so you know the basic layout
Start early. The lines were least first thing. The gates were open before 9am when we visited so get in early set to go. You can also check out which rides open early for hotel guests and head to those before 9am even if you aren't a hotel guest
Be all set to join a virtual line as soon as you enter if any of the rides that have it appeal to you (and you can get a spot)
Regularly check the virtual line function in the app if you aren't currently in one to see if more options appear
The monorail is a great way to start your visit so you can get an idea of the layout of the park and all the fun things below
Voletarium is right by the entrance and often had the longest wait time. Later in the day was a lot faster
Listen out to announcements about the park closing time. It's also listed in the app. This varies day to day (but is at least 6pm). We found lines did get shorter late in the day but not by much
If you want to get on the wet rides, don't wear jeans! The wet rides are so much fun but being in soaking wet jeans that did not dry all day (even in hot weather) was annoying. Don't do it!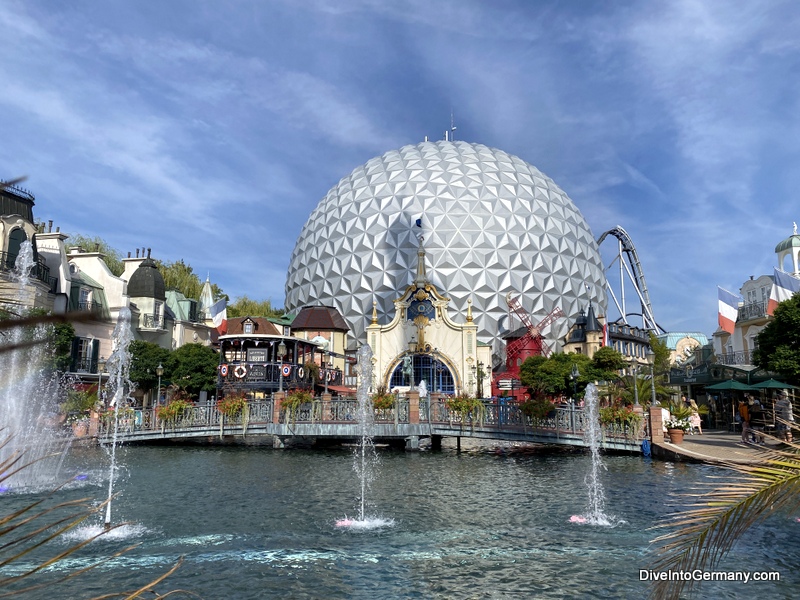 Final Words
We absolutely loved Europa Park. All my kids (and myself and my husband) gave it 5 stars. It is awesome.
I think it's probably my favourite theme park ever and I've been to many. I watched a YouTube review before going which said "they do Disney better than Disney" and I think this is true. It's that style of theme park but just MORE in every way. I loved it.
It is a massive park and if you want to make the most of it, I do recommend you be prepared. Analyse these Europa Park reviews and have a plan. That's it downside really, it's big with so much!
I feel like we could go back again in six months, and I'd discover even more even after two days here.
The theming is just superb, there's a great range of rides for different tastes and ages and it's just great! 10/10.
Looking for more? You can find our full guide to nearby Baden-Baden here, to Freiburg here and all our guides to travelling southern Germany here.