For the end of our recent Germany trip, we wanted to stay somewhere perfect for families where we could relax, the kids could practise their German and we could have a lot of fun with the minimum amount of effort possible.
When we came across the Familotel Feldberger Hof in the Black Forest, we thought we had our perfect place.
This all inclusive resort has everything we needed – plenty of things to eat, drink and things to do. There are many family friendly activities, a great kids program from 6 months old to 15 years old and it's in a beautiful spot with plenty to do in the area.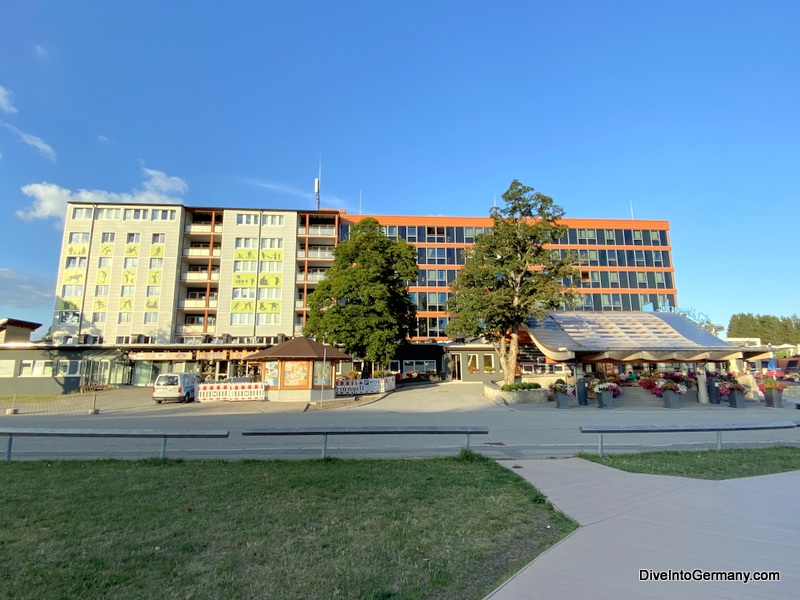 So did Hotel Feldberger Hof live up to our expectations? Is it a great place to go for your own family vacation?
Let's find out!
This review is perfect if you are considering a stay here or already booked and want some clarity on what's on offer. Whether you are German or from elsewhere, I highly recommend you read this review and absorb all the information. A lot if offered at this resort but it's not that easy to work out once you arrive unless you already know what to look for.
Click here to find the latest prices.
Traveling to Germany? Click here to download your free Germany Trip Planning checklist. We'll help you get ready for your trip! 
Hotel Feldberger Hof Review
Hotel Feldberger Hof Schwarzwald is on a big site and the activities vary from summer to winter depending on if it's ski or hiking season. We visited during the summer with our three kids aged 6, 10 and 12. This review is based on our experiences as well as ensuring we detail everything on offer so you get a complete picture of what you'll find at the Feldberger Hof Hotel.
There is no Feldberger Hof webcam, but you can see the nearby slopes on this live webcam here.
This hotel is aimed at families, and it's an all-inclusive resort. We talk more below about what is included with your accommodation.
This video is a nice quick introduction to what to expect (warning though, you'll be booking after watching it!).
I was impressed to find on arrival that Feldberger Hof is Germany's first energy neutral hotel so there's yet another reason to visit here.
Location
The Feldberger Hof Familotel is located in the town of Feldberg in Germany's Black Forest. It's about 50 minutes drive from Freiburg. You'll want your own car to get here (you can rent one here), although it is possible to get buses here.
There are many ski fields in the area. Otherwise, not much is around the hotel but you won't need it.
Address: Dr.-Pilet-Spur 1, Feldberg 79868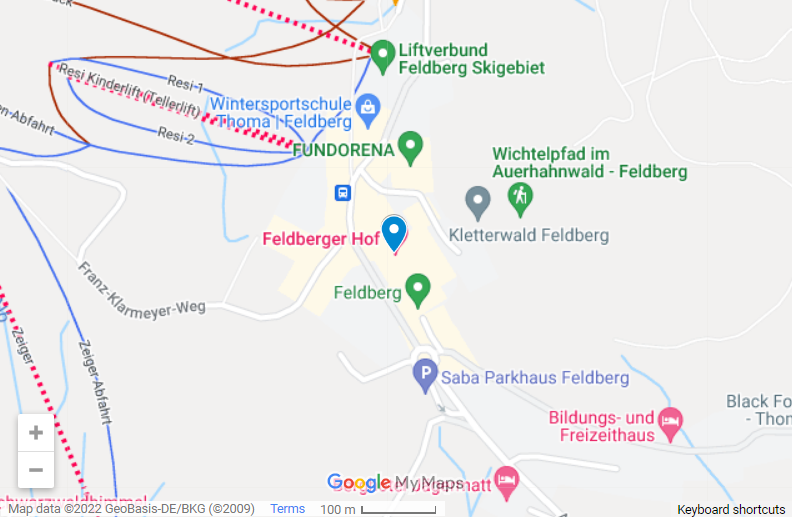 Rooms
There is a range of room types, all suitable for families (as you would expect). All rooms come with a small fridge, room safe, satellite TV, kettle, children's step stool and changing table.
The rooms start with a double room that can include a cot/crib or bed for kids up to six years old. This is the most price effective option for families with just one young child. It has a seating area and is on the smaller side, but it's still well presented and comfortable.
Next up is the junior suite which is also for families with one child. There is a double bed as well as a children's sleeping area with bed that doesn't have its own door but does have curtains to separate it from the parents' area so you can keep it dark and have some privacy. There is also a seating area.
The next option is the 2 room apartment. It has a kitchenette and balcony as well as a living space. It's also for up to three people with a separated sleeping space for a child with single bed.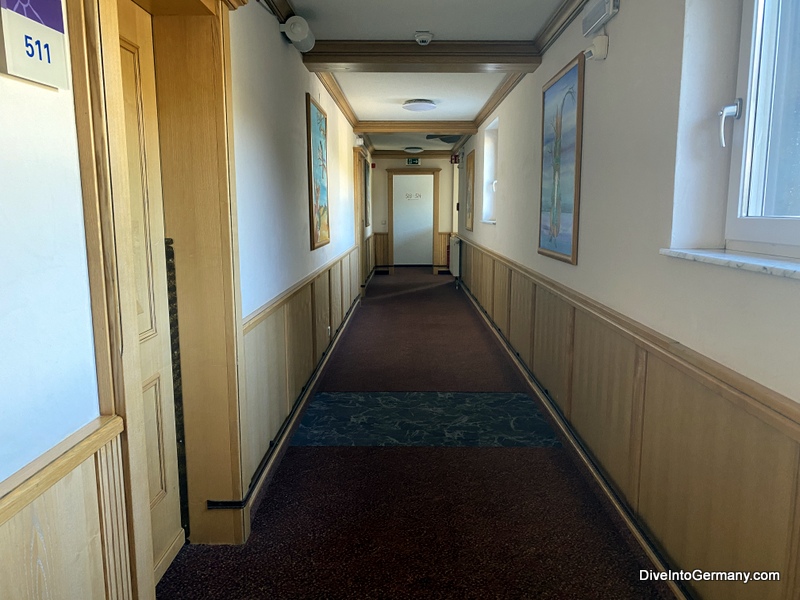 Family suites are available for families of up to four people. These also have a kitchenette, dining and living areas as well as a conservatory which doubles up as a children's room with two single beds. It's a spacious room but note that the double bed isn't in its own room.
Next up is a range of family apartments that fit from 4 to 6 people depending on the apartment. These are larger and have up to four separate rooms. There is usually a parent's room with double bed and a children's room with bunk beds. In addition to this is a kitchenette, living and dining area, balcony and a bathroom.
They are all well designed to make good use of space, comfortable and well presented. They have a range of different looks. We stayed in the family apartment IIb since it had an extra room for a third kid. So in addition to the children's room with bunk beds, it also has a conservatory with an extra bunk bed.
The final choice is the residence room type. These are located in an annex separate to the main buildings which is about 100 metres from the hotel. The residence II type can sleep up to 7 people so perfect for bigger families. This type has two bedrooms with double beds and a bedroom with a bunk bed. They have two levels.
There is a tablet in all rooms that gives more information on the hotel. We found this invaluable to try to work out what was happening in the hotel.
Family Apartment IIb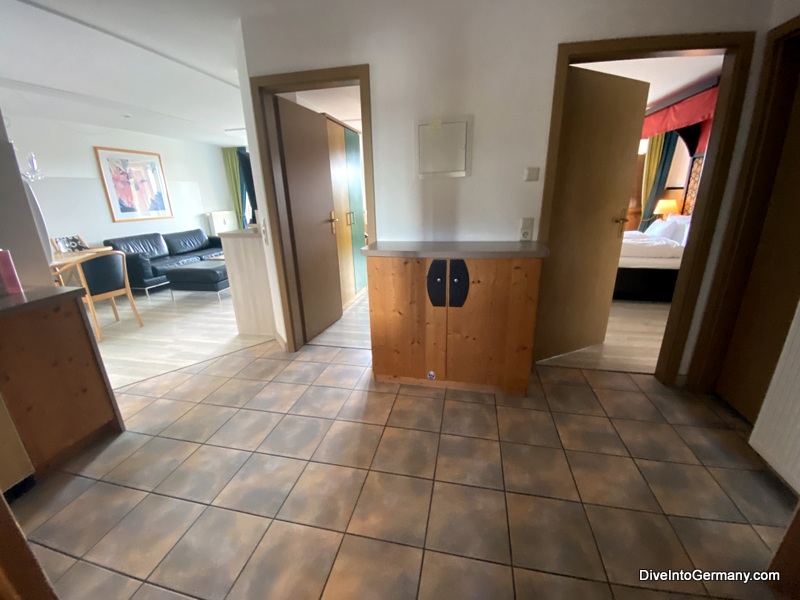 We stayed in a family apartment IIb type. We were very happy with our apartment.
It was effectively a three bedroom apartment with a room with double bed for us parents, a room with bunk beds for my big kids and a conservatory that comes off the two bedrooms with a bunk bed.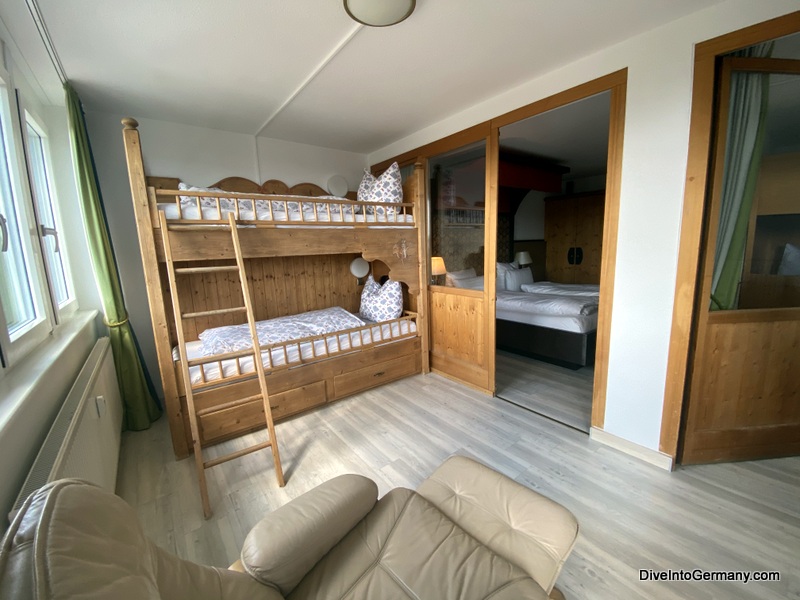 We had expected the conservatory to be quite small with just a little bed, but actually it was a decent sized room with lots of light and a reclining chair in addition to the bunk bed.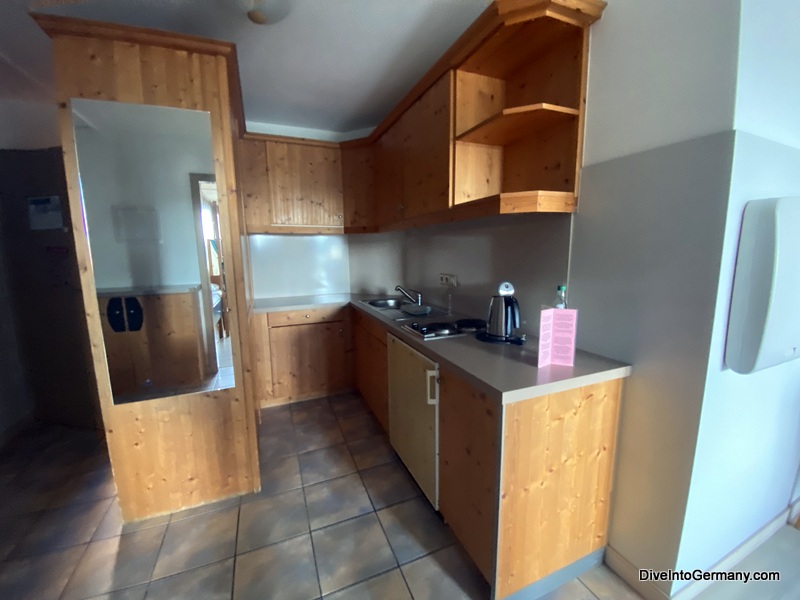 On entry to the apartment, there is some hanging space, a cupboard, some shelves and a big space. Our bag with swimming towels and a gown each was here. The kitchen came off the side.
The kitchen is great but unnecessary really since this is an all-inclusive hotel.
All other rooms except the conservatory came off this room.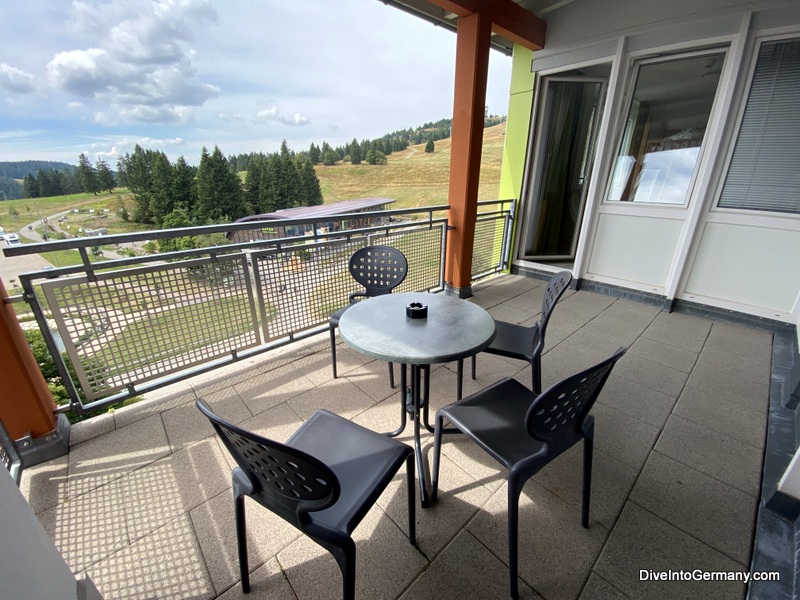 To the left is a big living and dining area with a TV and the tablet. This leads to the spacious balcony with a table and chairs.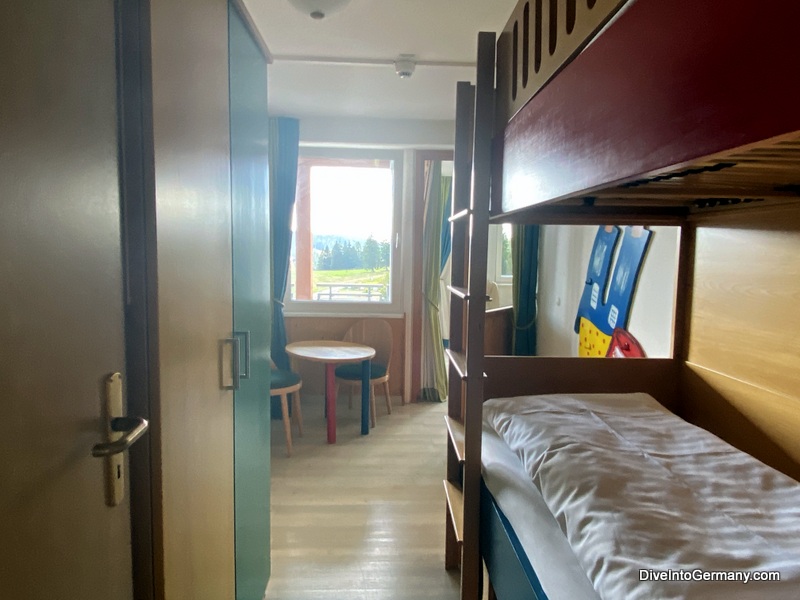 Next to the living room is the kids room with a bunk bed, storage space and a table with two chairs.
Next to this is the main bedroom with a queen size bed and cupboards.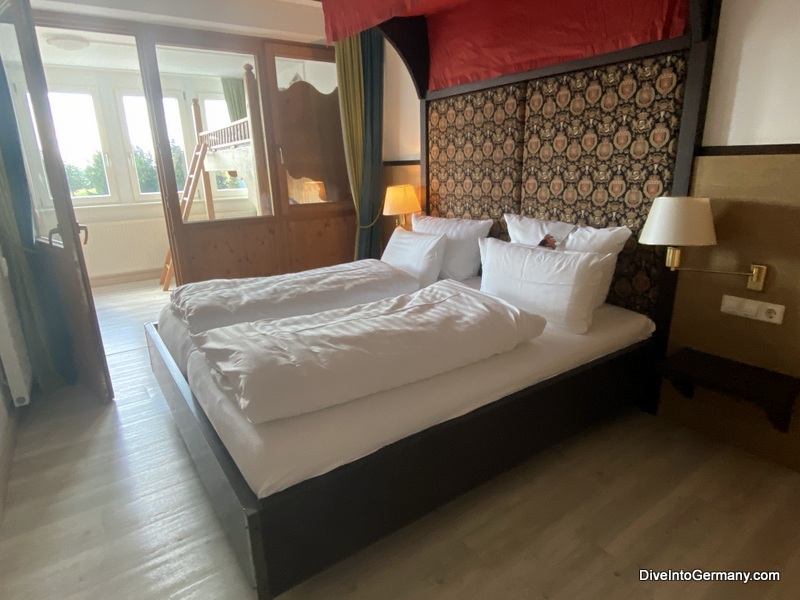 The conservatory is accessed via either bedroom. All light into the main bedroom comes via this room as well. There are curtains to keep things private.
The curtains across the apartment are great. We all slept longer than usual thanks to the blackout curtains. The beds are super comfortable as well.
Finally, to the right of the entry are the two bathrooms. One has a toilet, basin area and a bath with a shower over the top. The other has a toilet and urinal.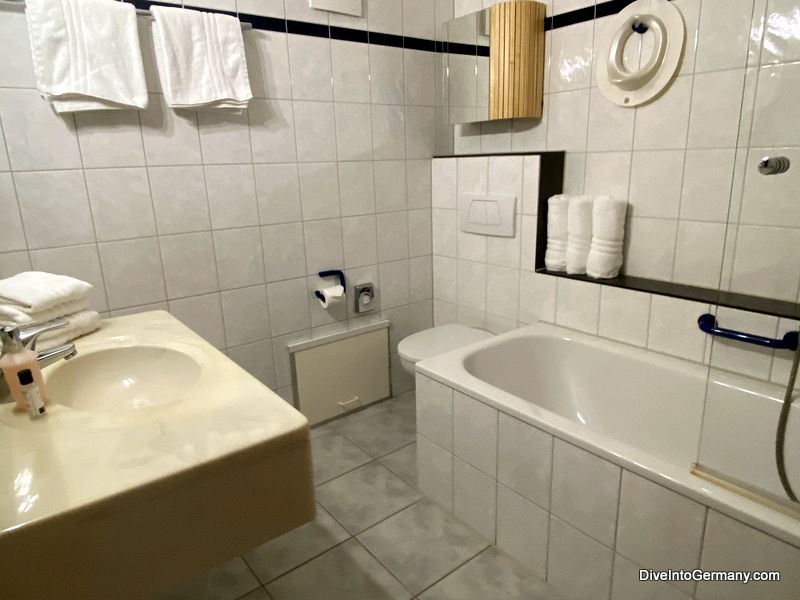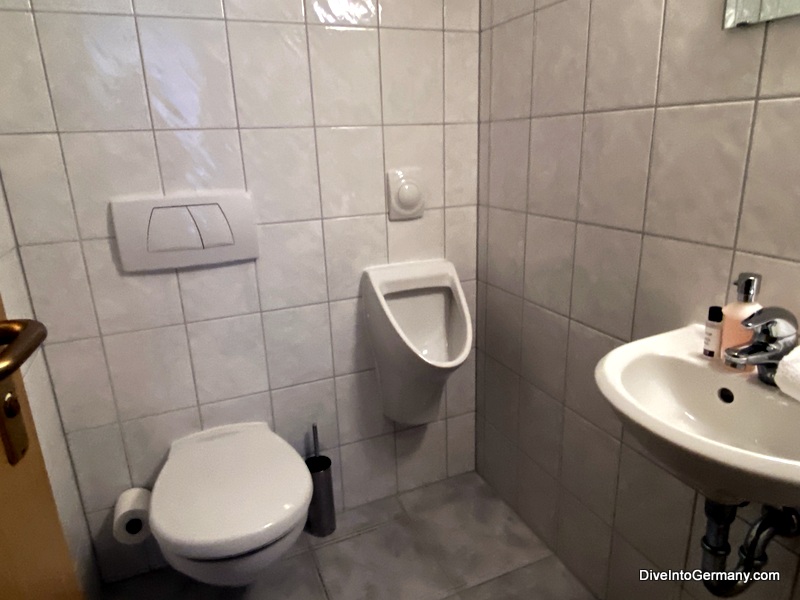 This room is perfect for a family of five like us. Very spacious. If anything, it felt a little wasted as there is so much to do at the hotel, but I did appreciate such a comfortable space.
What's Included
A lot!
As part of your package here, you will be well taken care of. Be warned, the following list of what you have included is as long as it is awesome 🙂
Welcome drink including a drink bottle for kids that they can re-use throughout your holiday
Welcome gift for kids
Breakfast buffet
Lunch buffet including salads, starters, mains and desserts
"Cake break" in the afternoon with cake, ice cream, hot chocolate and coffee
Dinner buffet or a buffet with grill/fondue depending on the restaurant you chose
Morning and afternoon snack bar – there's always something to eat
Alcohol free drinks from until 9pm at a self-service drinks bar
During lunch and dinner, coffee, beers and wines are included from the main restaurant self-service drinks bar and at Fanny's Restaurant (note that online, it says just a couple of alcoholic drinks at each meal. In practice, you can have what you want)
Baby buffet with formula and different types of baby food jars. Bibs are also available at meals
Access to the baby childcare and play areas
Access to indoor swimming pool area and saunas
Access to Fundorena and in its trampoline park, high ropes course, boulder arena and Fundo's Funpark as well as the fitness room (16+)
One visit to the Climbing Forest
One game of Mini Golf
Car parking for one car
Toddler playground (May – October)
From six months old to 10 years old, there is a daily care and activity program from 6 months old to 10 years old. In holiday periods, this exists for 11 to 16 year olds as well
Free baby gear hire including prams, carriers, high chairs, cots/cribs, changing mats, bottle warmers, baths, potties, baby monitors, nappy bins and more
Hochschwarzwald Card for stays longer than two nights. This is a free attraction pass for the region
There is more about each of these things below.
Check In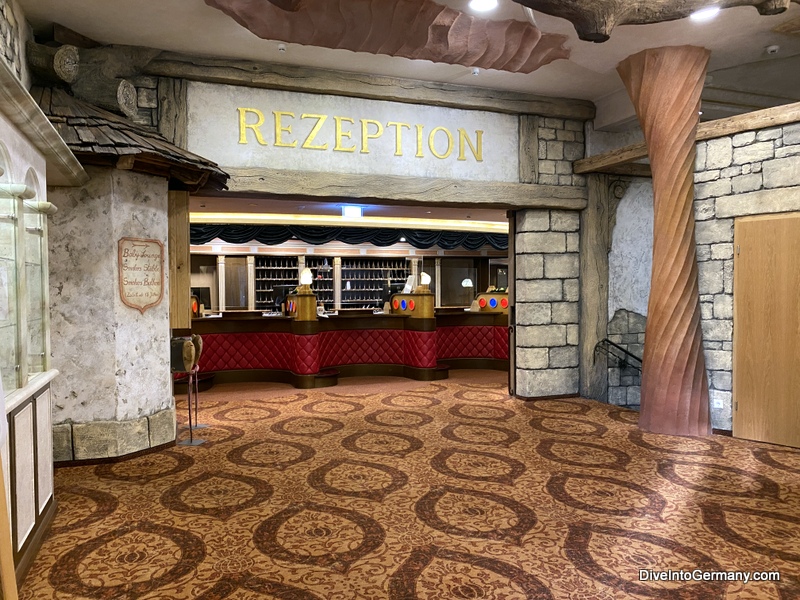 You can check-in and start using the facilities from 2pm, although rooms are only guaranteed to be free by 4pm.
Our check in experience was fantastic. We were handed to someone who spoke fluent English and you could see they were all set for our arrival. It was a seamless experience.
The kids were able to pick their welcome gift from a box of options. Even our 12 year old was happy.
We also received a drink bottle for each kid and a book of coupons for things like our welcome drink.
The kids were also given a card to get stamped if they finished their dinner every night. Basically, to help reduce waste, they get a stamp if they finish everything on their plate from the buffet.
If the kids get stamps for every night of your trip, they can pick another gift from the welcome gift box. I thought this was a great idea as it stopped my kids going overboard at the buffet.
Facilities
There is a mind blowing array of facilities at the Feldberger Hof Feldberg. In fact, there is so much, there's a chance that I have missed something. I tried not to though!
So get a drink, sit back and relax and get ready to get super excited for a stay here!
Pool Area/Children's Splash Area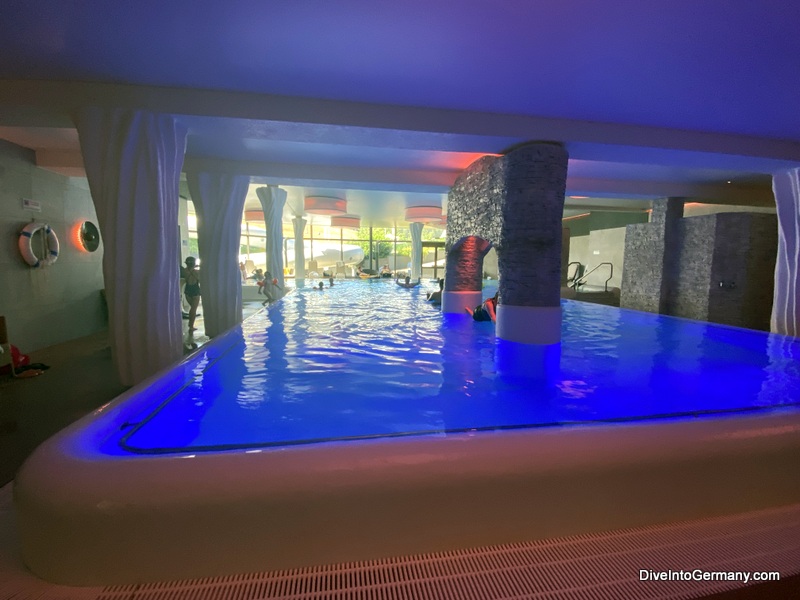 Open all day long, the pool area is the perfect place to have a ton of family fun.
It's home to a few parts starting with an indoor 18 x 10 metre swimming pool with massage jets. There is also a kids' wading pool and baby pool in the Splash World which is a water play area for younger kids. Bigger kids will love the 50 metre long water slide.
Towels and bathrobes are provided in your room.
Swimming lessons are also available for an extra fee.
Sauna Area
Hotel Feldberger Hof in Feldberg is home to two saunas. A kelo log cabin sauna and a boi sauna. There's also a relaxation room.
There is a special sauna towel you need to visit here and it's textile-free (ie nude), so it's adults only.
La Vita – Lotus Wellness Area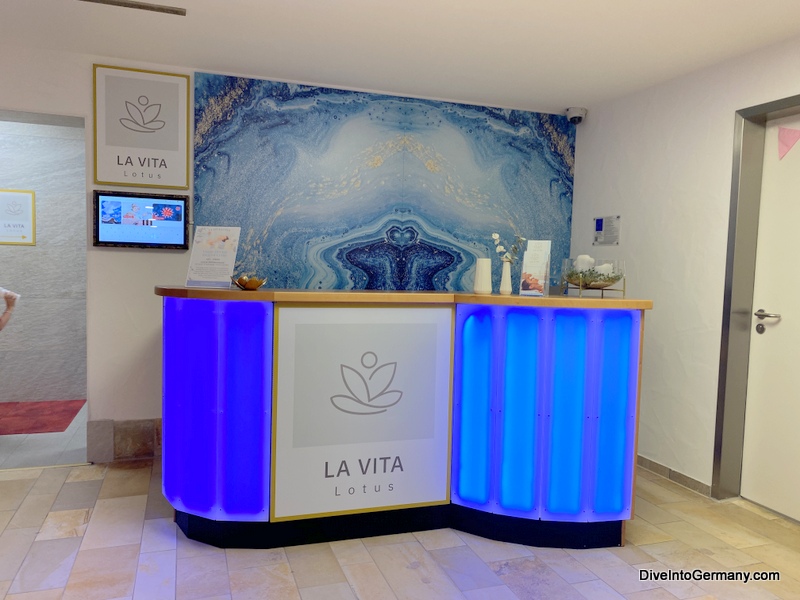 The wellness area is open every day except Sunday, and there is a range of massages and a few beauty treatments. You can also book mum/dad and child massages.
In addition, there is a baby spa for babies 1-6 months to float in with a ring.
We were so busy with everything else that we never tried this area out.
Fundorena
Fundorena is a massive "indoor play arena" which your kids are just going to love. There is a lot here, and it's just so fun.
For some of the attractions, you do need to buy "jump socks" which costs 3.50 Euros per pair.
Entry is included for hotel guests (but you need to show your Hochschwarzwald card at your first visit), and it is open to the public for a fee as well. You can book time slots directly at the Fundorena, although we found only the high ropes course needed booking in advance.
It includes the following attractions.
Trampoline Arena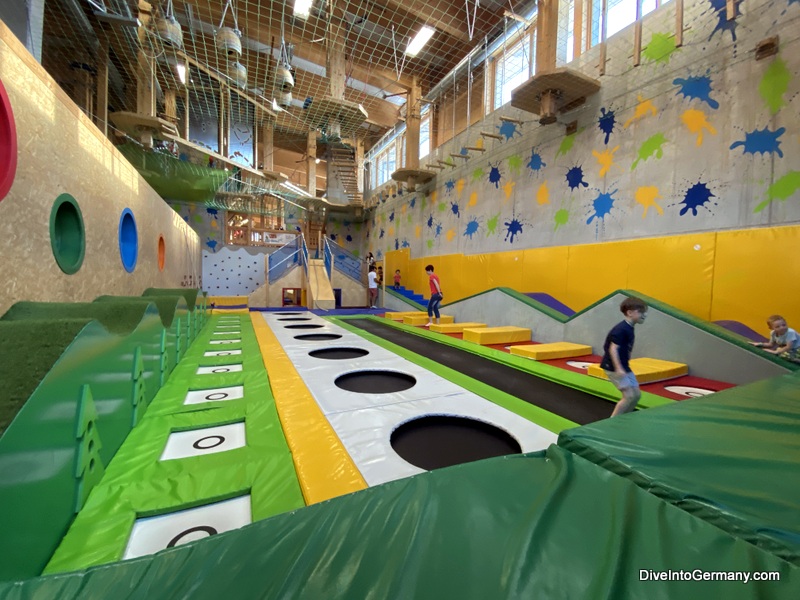 This trampoline park is lots of fun with two trampoline areas. There's a younger kid area with little trampolines, slides and some other obstacles so it's like an obstacle course.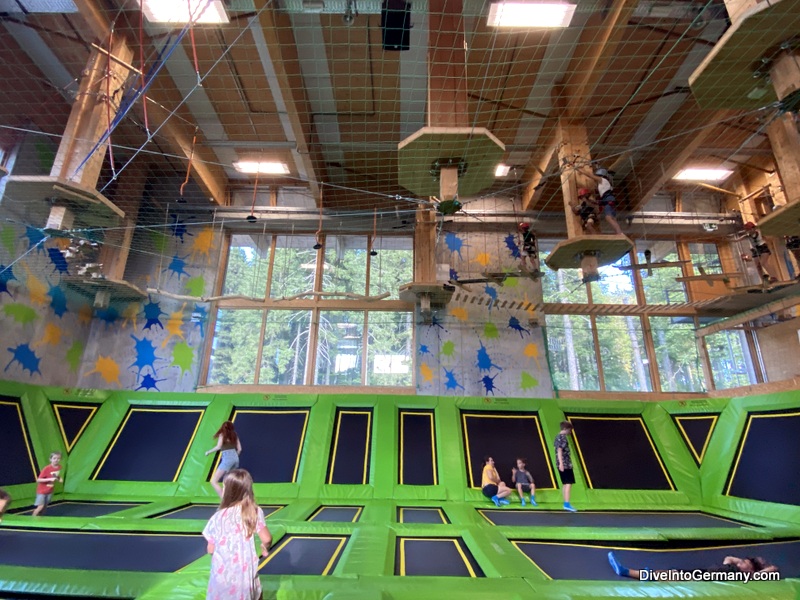 There's also an older kid/adult area with tons of trampolines lining a room, including on the sides. There are also basketball goals here.
Boulder Arena
This is the place to get your rock climbing on! There are many rock climbing walls to enjoy in a safe environment with soft floor mats,
This is possible from 5 years old. You do need to hire their climbing shoes to do this which is an extra charge. It was 3.50 Euros a day when we visited.
It was a little too low to work well for my tall 10 and 12 year olds.
Indoor High Rope Course
This was our kids' favourite part – the high ropes course over the other attractions in the Fundorena. It is over the entire area of the centre under the roof. You can see some of it at the top of the trampoline park pictured above.
You are secured with a rope and harness as you walk along the eight trails that each reference the Black Forest. There's plenty to do in this high-up obstacle course.
As mentioned above, you may need to book this in advance as it can fill up. The day before is fine though. Our kids did it most days during our stay.
Fundo's Funpark
Fundo's Funpark is an indoor playground which is fantastic for 2- 8 year olds. There are ball pits, slides and tons of places to climb and enjoy safely.
Our 6 year old was a big fan of this park.
Jump socks are also required here.
Freestyle Jump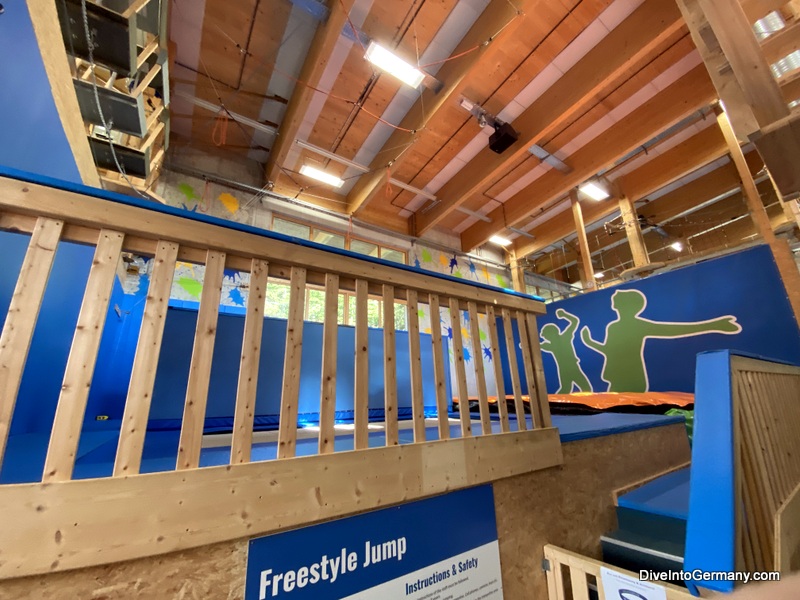 The freestyle jump is where you can jump on a super high trampoline that can get you up to 8 metres high.
This is the perfect way to learn your next snow or skate trick and you can practise with special trampoline boards and skis. There's also a big air bag to practise landings.
This is not included for hotel guests and incurs an extra fee, although we did get a coupon for 50% off. It's only for kids aged 9+.
Horse Riding
Pony lovers have the chance to go for a horse ride. There are many ponys as well as a 400 m² indoor riding arena so you can ride in any weather.
Monday to Saturdays, there are 10-minute pony rides in the morning. One of these sessions are free a day with the Hochschwarzwald Card you are given on check-in.
In the afternoon are riding lessons. These take 30 minutes and are an extra fee.
There are also guided walks outside and guided rides which are an extra fee.
Apart from the 10-minute rides, it's recommended that you book these experiences ahead of time for holiday periods.
The horse rides are managed through Fundorena.
Outdoor Climbing Forest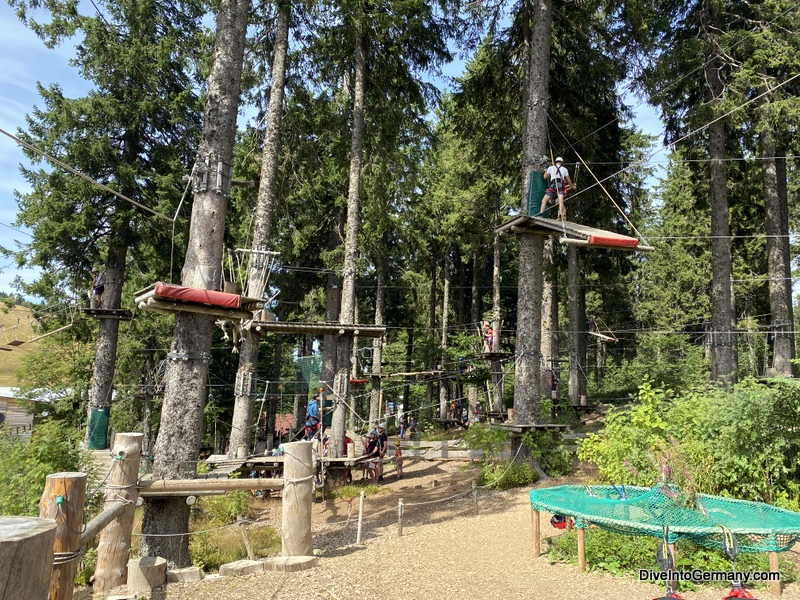 After you've mastered the indoor ropes course, try the outdoors!
Open in the warmer months, this has nine different rope courses with options starting from 3 years old/100cm high. From 1.4 metres, you can access the highest course.
My 6 and 10 years old did this which caused problems as my husband tried to take them alone. Because they fit into different height categories, he was not allowed to do this with the two of them as they could not do the same trail and one kid wasn't allowed to wait while the other did it?!
It was a little ridiculous as adults don't go on the trail with the younger kids anyway and just watch, so I don't know why the 10 year old couldn't watch with my husband. I ended up joining them which then left my other kid alone… Sometimes, you can't win with three kids!
Anyway, my 10 year old did enjoy it. My 6 year old was only allowed on the little kid courses and found it a little boring, especially as it had to do a 40 minute training session to spend 10 minutes doing two little courses.
For kids 140cm+, this seems like a good activity. For younger kids, I'm not so sure. If they have never done one before (we have done a few), it may be more fun. The long training session really wasn't necessary for the little kids courses so see if it's possible to avoid it.
This attraction is managed through Fundorena. With the Hochschwarzwald Card, you get one free entry per family and a 50% discount on a second entry.
Playgrounds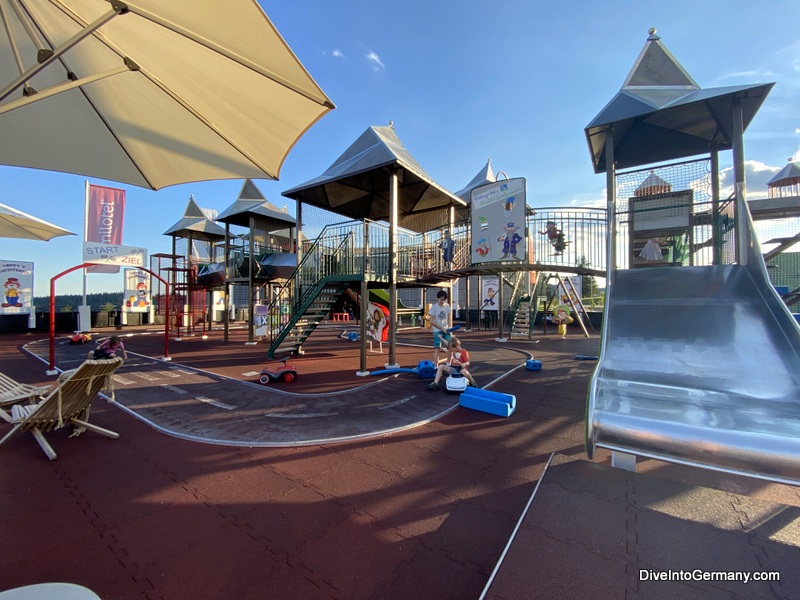 There are also two playgrounds.
For younger kids, "Happy's Dwarf World" playground is located in the Winter Garden part of the main restaurant. There are slides, climbing courses and small riding cars with a track to ride them around. It's all quite cool.
There are also seats for parents to watch.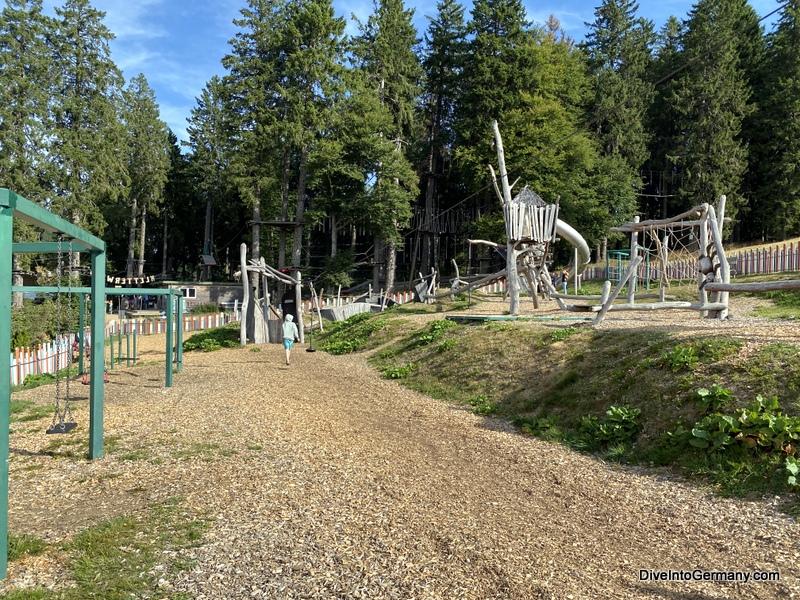 There is also an adventure playground with ziplines, climbing tree, a "spider web" and "cable car". It's lots of fun and all our kids enjoyed this (even our 12 year old who can think she is too cool for a lot of stuff).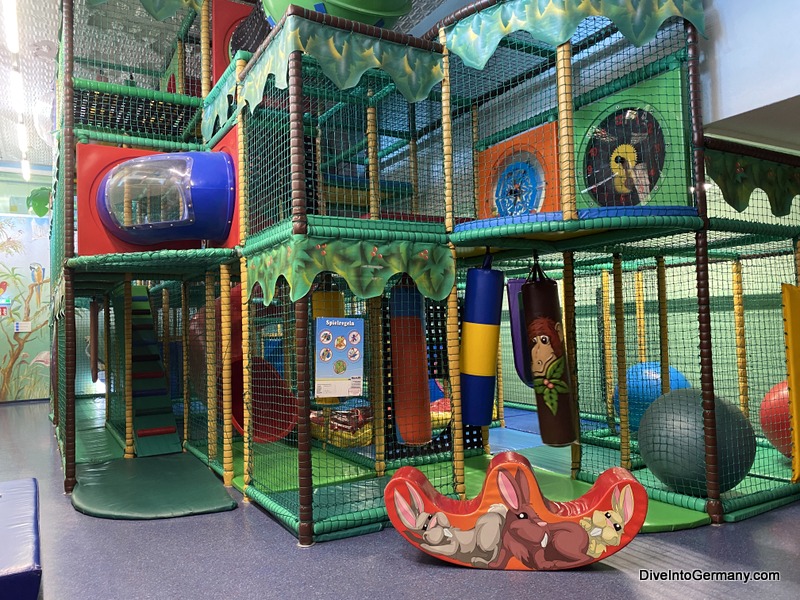 There is also an indoor playground aimed at 2 – 8 year olds although my older kids liked it too.
Imp Trail
For something different (and to stretch the legs), take the Imp Trail.
This 1.8 kilometre trail leads from the hotel and is a family friendly walk in the warmer months which has things to spot, local art and information boards. It's great.
There's even a playground towards the end which is hidden away. Very cool!
Games Area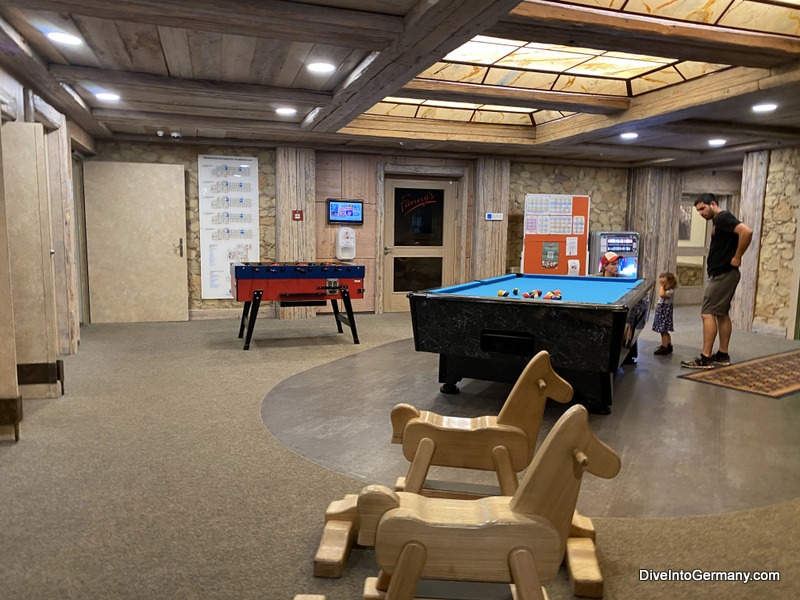 Under the reception area, there is a small games area with foosball and a pool table.
Mini Golf
There is a mini golf course within the hotel which is fun for younger kids.
One game is free with a coupon given on arrival or there is a small fee.
Relaxing Rooms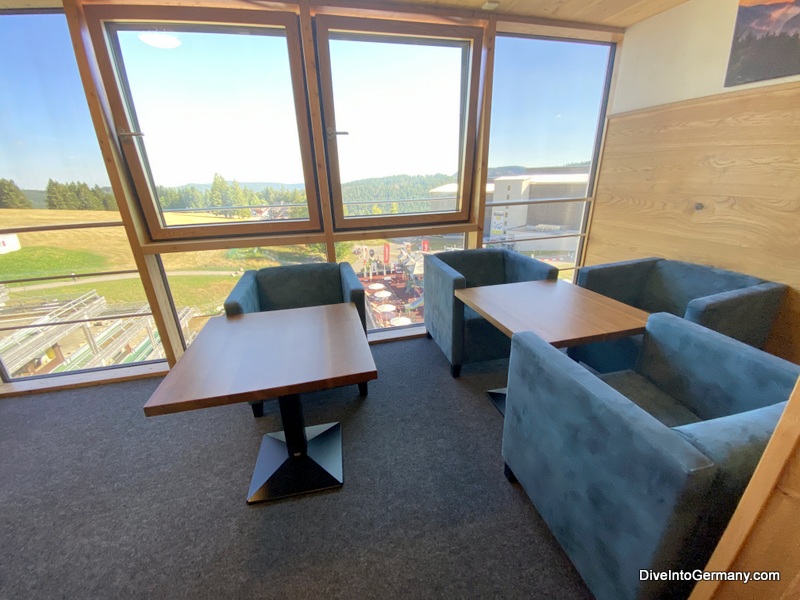 A few of the levels with hotel rooms have a "relaxing room" at the end with some lounge chairs with a view.
This area was perfect for my daughter and her new friends to hang out.
Washing Machines And Dryers
There are a couple of paid washing machines and dryers that you can use near the kids club area.
Gym
For 16+ year olds, there is also a gym with fitness equipment you can use at Fundorena.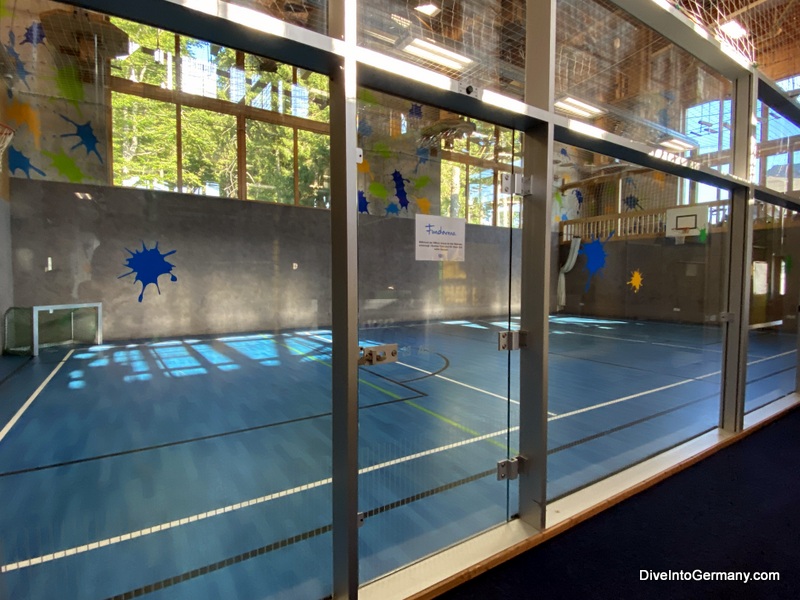 There is also a sports gymnasium here which you can pay an extra fee to use to play sports such as basketball, football or badminton.
I was too busy with everything else to make it here.
Shopping Arcade
There is a small shopping arcade under the hotel with a few gift/clothing shops and a variety store which had some food options, drinks, alcohol, toys and more.
There is also an Italian restaurant here (not part of the hotel so you pay for it) and a bowling alley.
Skiing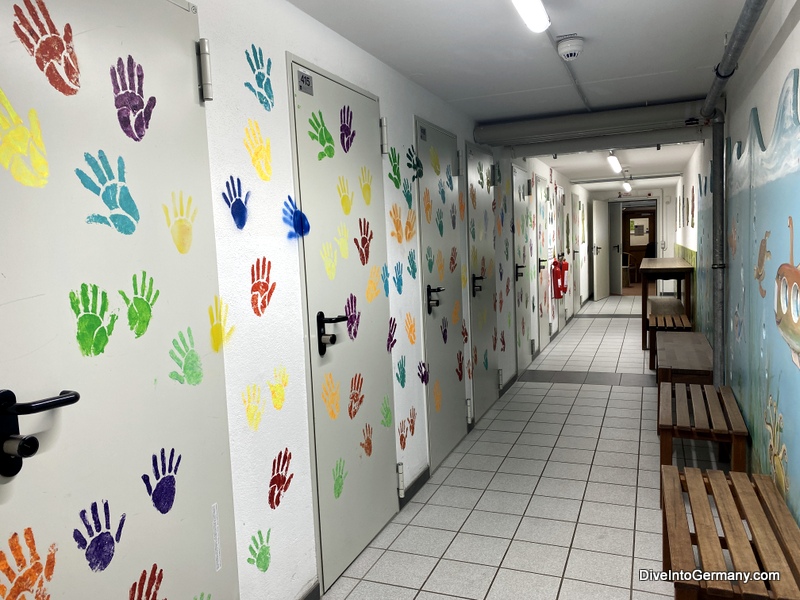 In winter, there are plenty of skiing opportunities around Feldberger Hof. The hotel itself doesn't run them but you can easily walk/ski straight from the hotel to ski schools and ski lifts. There are ski lockers in the hotel.
The hotel is at 1300 metres altitude. There are snow machines to guarantee snow as well as 28 lifts and 36 runs.
There is a ski school right here as well as equipment hire from a shop right in the hotel.
We haven't visited in winter (yet!), but it looks like a great place to have a family ski vacation.
Dining
As you would have already gathered from the list of inclusions above, there is a lot to say about dining at all the Feldberger Hof restaurant options. You won't go hungry, that's for sure.
Note that there are colourful plates and cutlery available for children and bibs are available at all meal times. Also, there are plenty of booster seats. You can also request colouring books and crayons at the restaurant.
Main Restaurant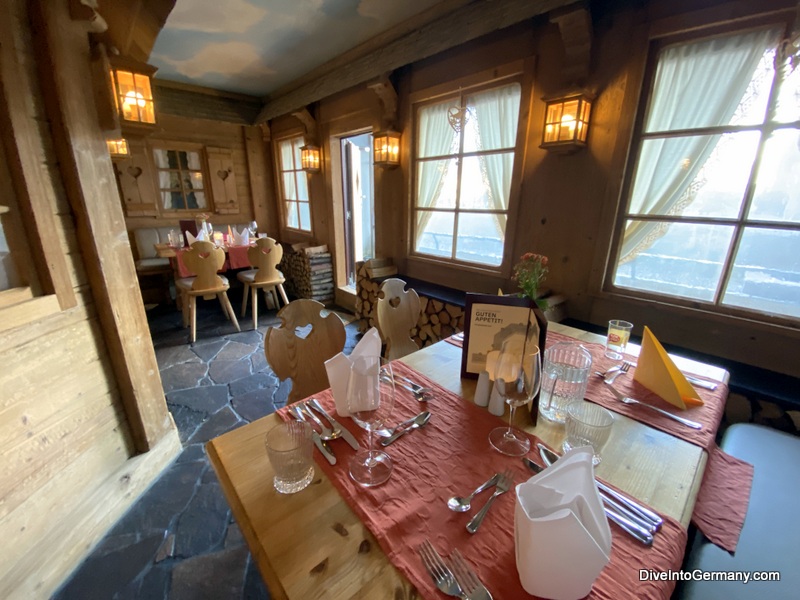 The main restaurant is where you can eat breakfast, lunch and dinner. It actually consists of three different areas:
Lever Room – aims to be stylish with paintings
Bergdörfli Silva Nigra – has an alpine hut theme
Winter Garden – a conservatory with great views of the outdoors
These areas all flow from each other, and you can sit wherever you find a place.
This is fine if you are a family of four or less. If you are a family of 6+, you'll find reserved tables. As a family of 5, it was quite tricky and we became adept at squishing into tables for four and stealing cutlery from neighbouring tables. I found that frustrating especially as I never saw anyone at the tables reserved for 6+.
All meals in this restaurant are buffets.
Breakfast
You can eat breakfast from 7:30 – 10:15am. It's a buffet with over 80 products and there is a good range.
If you won't be around at the hotel at lunch time, you can use this buffet to make a packed lunch. Just ask the staff.
Lunch
The lunch buffet is available from 12:00 – 1:45pm. There is a good range for this too with salads, starters, a few different options for mains and desserts. Sushi was often available which made my boys super happy.
You can also get coffee, beer and wine from the self-service drink bar here during lunch.
Cake Break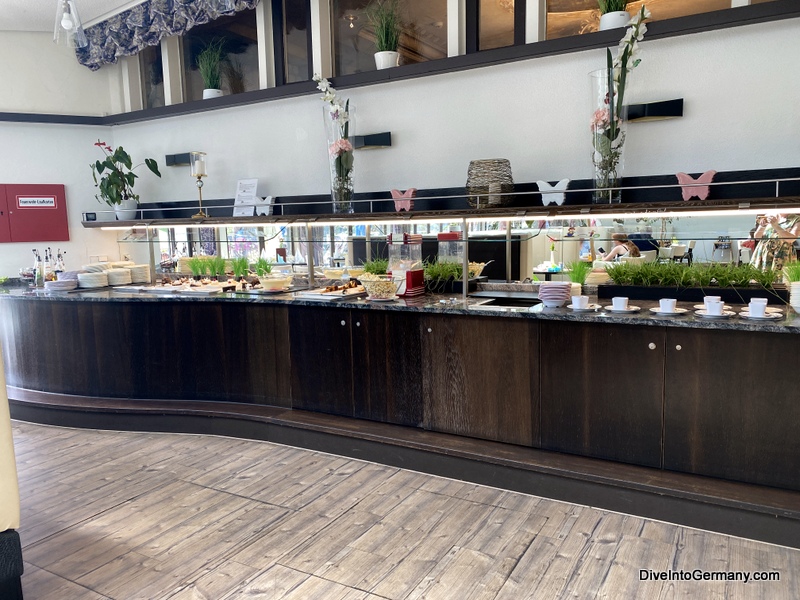 For a special afternoon delight, head back to the buffet from 3:00 – 4:30pm for Cake Break and find coffee, hot chocolate, cake and ice cream. It really hits the spot.
We missed Cake Break on our first day as we thought it was at the Snack Bar. However, it's in the Winter Garden room in this main restaurant (although you can find similar food at the Snack Bar so it doesn't really matter which you visit).
Dinner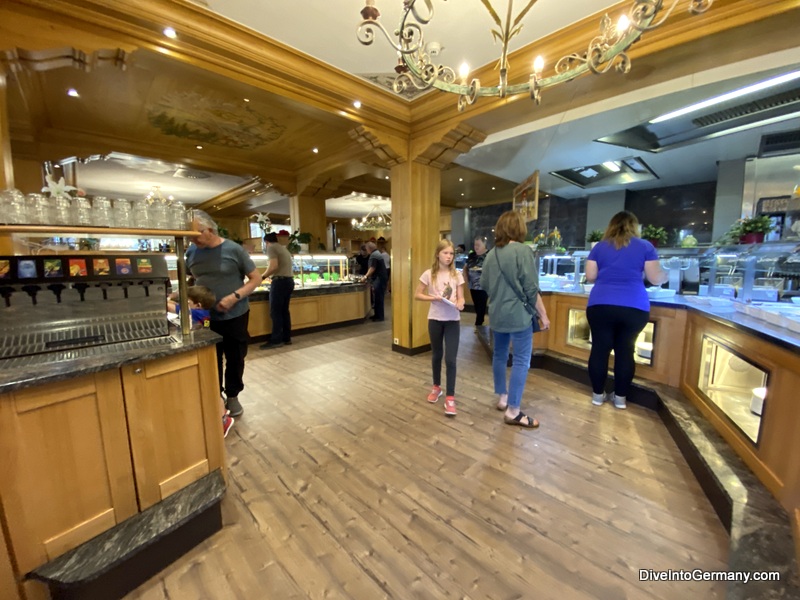 Dinner runs from 5:30 – 8:30pm and there is quite a wide selection which varied a little every night.
You can also get coffee, beer and wine from the self-service drink bar here during dinner.
Fanny's Restaurant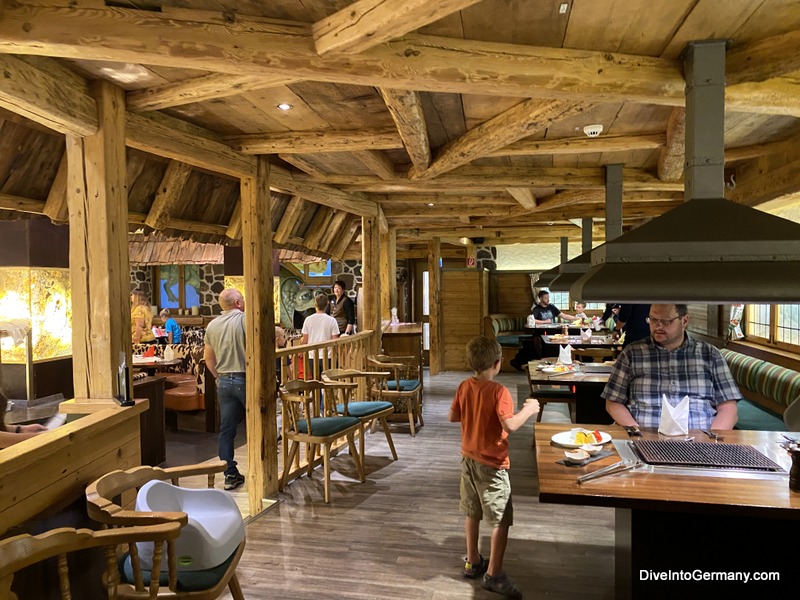 The other main option for dinner is Fanny's Restaurant which is open Sunday to Friday nights in summer. It's a great change of scene and a fun restaurant.
There is good variety here. You can grill your own food on the hot stones embedded in the tables. You can eat giant burgers, spare ribs or fondue.
When you book your table, you need to book either a grill table, fondue or one without any of these.
There's a small buffet as well as the usual soft drink, coffee, beer and wine options from the self-service drink bar.
We had two nights at a grill table and the waiting staff gave us various things to grill. It was fun.
There is also a big slide here built into the wall which is very cool. They don't open it until people are finishing up eating though which I found strange as it would have been much better if it was open while the kids were waiting for the food to cook.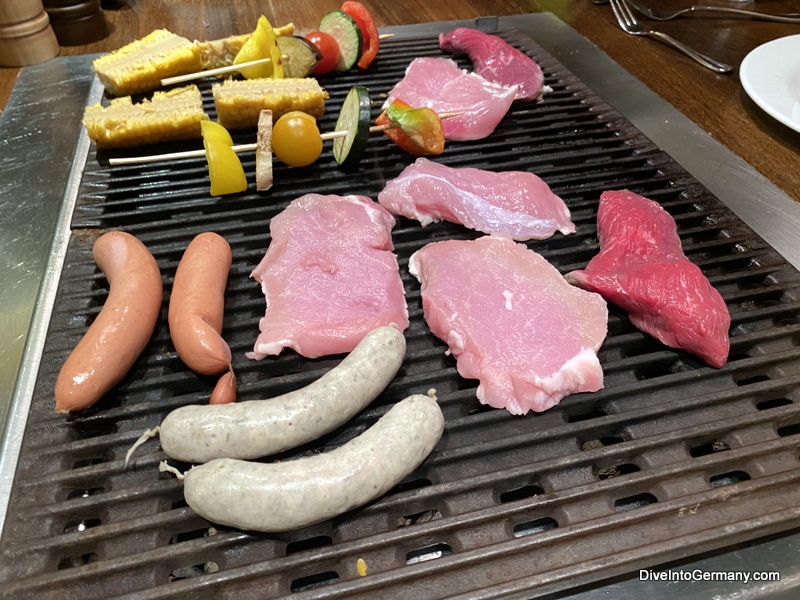 Before arriving, I was concerned about whether it would be difficult to get a table here. It was if you don't speak German. We tried for 24 hours to get a reservation, but you had to reserve a table on the phone (and they only spoke German) or find a certain person that we failed to do. It was frustrating, and reception refused to help.
We ended up giving up and getting our 12 year old (who is fluent in German) to do this. After this delay and with arriving on a Tuesday, we only managed two bookings.
This worked out well though as I think it would have been too repetitive to eat here more than that.
Here, there is also the kids "Tic-Tac-Bar". The food is served on small, floating boats on a water way on the table! It's lots of fun and the kids love it.
You can only access this via kids club and you need to book it a day in advance. The downside is the serves are small. Our kids needed to go to the buffet afterwards to fill up.
Snack Bar
Hungry and it's not meal time yet? Don't worry. You can visit the snack bar.
From 10am-12pm (so between breakfast and lunch), there is a simpler breakfast served for people who missed the buffet.
In the afternoon between lunch and dinner, you can get snacks like sandwiches, pastries, ice cream and more. There's also coffee. I preferred cake time, but there is a better selection of ice cream here 🙂
Overall Food Impressions
I very much enjoyed all my meals here. The food was surprisingly good for a buffet and some options were extremely delicious. Randomly, I had the best dahl of my life here 🙂 There are some vegetarian and vegan options too.
It's easy to help yourself to wine and beer with multiple options too.
The meals did get a little repetitive though. Some things changed, but most were the same. We stayed five nights and by the fourth day, we were all a little sick of it.
Drinks/Georg Thoma Bar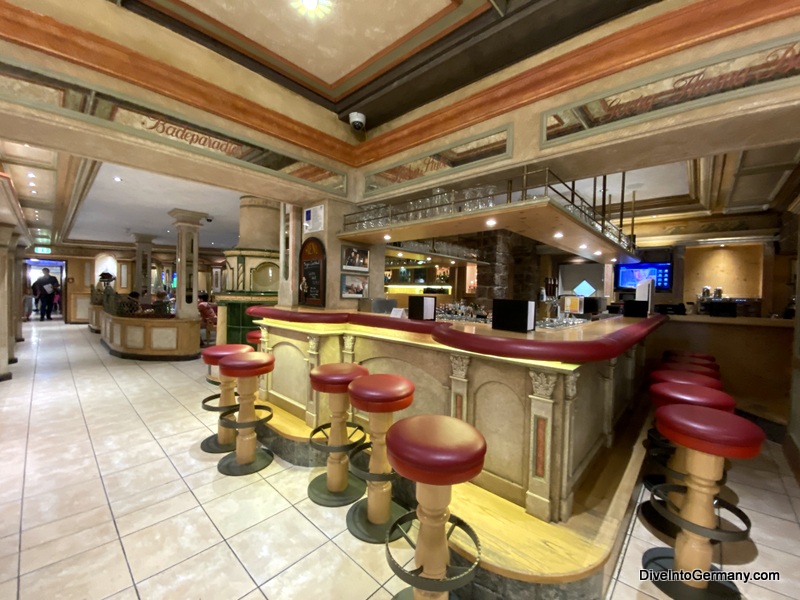 There is a self service non-alcoholic drink fountain from 7am to 9pm daily which you can help yourself to. Kids can use the drink bottles they receive on check-in.
There is also the Georg Thoma Bar. This is open from 4pm and is where you can enjoy your welcome drink. You can also purchase additional drinks including cocktails, tapped beers and Black Forest brandies while watching a match. In winter, there is a big open fire.
Even better is that one table has a train that can deliver your drinks from the bar. It's very cool.
Drinks in this bar are not included in your stay apart from the welcome drink.
Kids Program/Activity Program
We picked this hotel in big part because of their kids club/animation program. My older kids speak some German and I wanted them to interact with other kids in German to help them practise.
This hotel seemed to have a great program for all ages. It's tough to find kids club for a 12 year old, but this seemed like it would work.
They have a baby program from 6 to 12 months with morning and afternoon sessions Monday to Saturday. This runs all year round.
For kids up to two years old, they have their own fun room with care sessions the same as for babies.
They do not feed or give a bottle to babies and one year olds.
Next up, is 3 – 6 year olds who get to enjoy "Happy Children's World". Here, there is an "adventure kindergarten" over 330 m². They have care 7 days a week up to nine hours a day.
There is plenty of playground equipment, toys and an activity program with themed days and kids disco as well as an amazing slide. They also take them to the restaurant and help them have lunch and dinner. Our six year old attended here.
There are then programs for 7 to 15 year olds. On their site, they show this as being separated to 7-10 year olds and 11-15 years olds which would have put out kids in different sections. These age groups primarily run during holiday times. The rest of the year, they only run Friday to Sunday.
We found that although the program had the two age groups as separate with different activities, they ran them together and the kids could pick between the different activities.
It did not make my 12 year old happy to do activities with 7 and 8 year olds. Worse, the staff prioritised the younger kids and she felt like another carer rather than participant.
For these reasons, older kids just didn't seem to go to kids club which meant my reason for picking this hotel didn't really work out. The upside is my 12 year old made her own friends on the first day and hung out with them regularly instead so at least she did end up with lots of German practise.
What is also a bit annoying is that this program runs 10am-12pm and then 2pm-5:30pm. They can take them to lunch 12-1pm but then they are free. So we couldn't leave the hotel and do activities as the time felt too limiting (whereas our 6 year old could stay at his program all day).
There was also usually something from 8-930pm at night although since this didn't cover our 6 year old, it was not much use to us. For families with multiple children, it would be much more useful if the programs ran at the same time… and if they had something that actually appealed to older kids.
Anyway, they did have some cool activities throughout our trip like a treasure hunt for our 6 year old, rock climbing for our 10 year old and a pool party for our big kids.
Mostly, you can just turn up to whatever you want, but some need to be booked the day before. This is clearly noted on the program. You also have to book any meal times a day in advance.
All programs are only in German. We used Google translate.
It was all a bit of a fail for us. It didn't start off well when they didn't book our kids into activities correctly on the first day and then it not really being appropriate for our older kids.
Our 6 year old was really too old for the younger kid room and wanted to be with his brother (which wasn't allowed). Most activities were just an hour and it felt like we spent a lot of time running around trying to make things work instead of enjoying ourselves.
I think these programs are best suited for 7 and 8 year olds and maybe under 5s. Not so much for 6 year olds and older kids.
It's also possible to book individual babysitting for a fee. This was another annoying thing if you have three kids. It cost 15 Euros an hour for one kids, 20 Euros an hour for two kids but 45 Euros an hour for three! You needed two carers for three kids which is fair enough, but I'm not sure why the price jumps like that!
Family Program
There is also a family program which consists of an afternoon and evening activity. It doesn't run every day, but it does most.
Activities include a casino night, music quiz (in German so we skipped this) and live music dance parties.
There are also torchlight hikes.
The older kids had a pool party via kids club which they absolutely loved.
Hochschwarzwald Card (Upper Black Forest Card)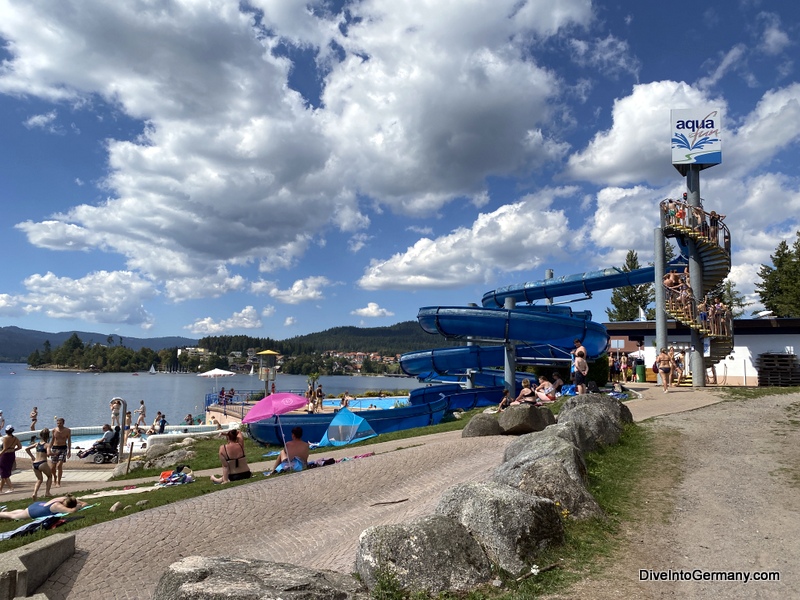 Another big bonus of staying at the Feldberger Hof is that you are given a Hochschwarzwald Card as long as you are staying at least two nights.
This card can not only be used for access to Fundorena (as described above) but also gives you access to local transport and attractions across the region.
You get access to 60 attractions either for free or discounted like cable car rides, thermal baths, Tatmazia forest park with animals, a Titisee cruise and more.
I hate to admit it, but we didn't use this card as much as I would have liked as it was just so hard to leave this great hotel.
Still, we used it a few times and it's a great additional bonus to staying here.
Non-German Speakers?
I was wondering before we came here whether English would be spoken much at the resort since it seemed marketed for Germans. While being surrounded by German kids is something I was hoping for because I want my older kids who speak it to get some practise in, my husband and I don't and we didn't want to miss out on anything because we didn't understand.
I did feel like our stay was more difficult because we didn't speak German, but it also wasn't that big a deal. Some staff spoke English but not usually well and would pretend to understand us when they didn't which could be frustrating.
Mostly, you don't have to talk to people so it didn't really matter. The only real problem was trying to book Fanny's restaurant. Given the lack of language skills among the staff, it would be nice if there was something who could help when things were tricky, like reception staff.
The tablets in the room were only about half in English and even then, the translation wasn't great. I found I was holding my phone up with Google translate to translate the other half 😀 A link to a website would have been handier than the tablet given this.
Overall, though, it really isn't a big deal. You're in Germany after all so just go with it.
Feldberger Hof Video Overview
You can watch our video overview of this resort here…
Final Words
Wow, what an experience staying at the Feldberger Hof was. I have never stayed anywhere with quite so much to do and we have stayed many family oriented places.
We stayed for five nights and we didn't get bored. In fact, more time would have been good to spend more time exploring the surrounding areas.
The food was great, the room amazing and many of the facilities were top notch. The staff were friendly, although seemingly unwilling to do anything outside their assigned role.
I would certainly stay here again.
My only complaint is that it often felt like things were harder than they needed to be. Like working out all the facilities and when you could visit. The tablet didn't include everything and wasn't well organised so it was hard to find information.
Like I found nothing in there about housekeeping. I only worked out how to get the room serviced when I walked past other rooms in the morning which had signs out. Some information in it was out of date too.
An A4 page on arrival with everything you most needed to know would be super handy. Since that doesn't exist, this blog post can be that for you 🙂
I also found that things seemed set up for families with one kid or twins. Having more than one at different ages made me feel like we were doing a lot of running around as they had different schedules to do different things. It would be good if this was more aligned.
And one parent should be able to take two kids to an activity without being told they can't do it at all without another parent.
Regardless, this is a super family friendly hotel which we loved. It's really quite unique and it's worth considering for your trip.
Click here to find the latest prices and Feldberger Hof booking.
You can also find our guide to nearby Freiburg here, Titisee here and all our guides to southern Germany places here. The ultra family friendly (and fun) Europa Park is also nearby. Read our full review of Europa Park here including lots of tips for a super fun visit.