Considering visiting Europa Park and want to stay on-site? Want to know what it's like to stay at the Europa Park Hotel Castillo Alcazar?
I have you covered! In this full Hotel Castillo Alcazar review, I cover everything from the different room types to the facilities and what you can find at this fun and convenient hotel.
I'll also share my opinion of staying here after my recent stay with my family of five including three kids aged 6, 10 and 12.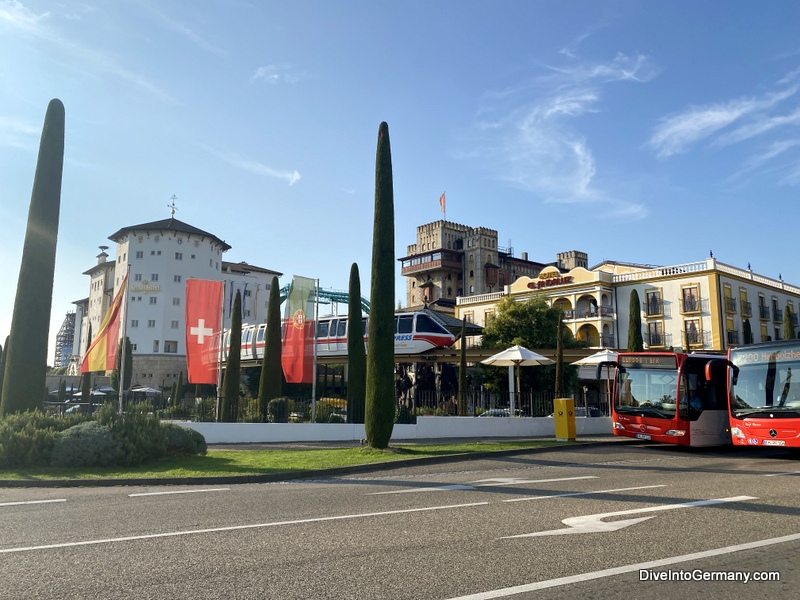 There is a lot to love with this hotel from its pool to its easy access to Europa Park and you can learn it all here.
Click here to see the latest prices.
Read our full review of Europa Park here including lots of tips for a super fun visit.
Traveling to Germany? Click here to download your free Germany Trip Planning checklist. We'll help you get ready for your trip! 
Hotel Castillo Alcazar Review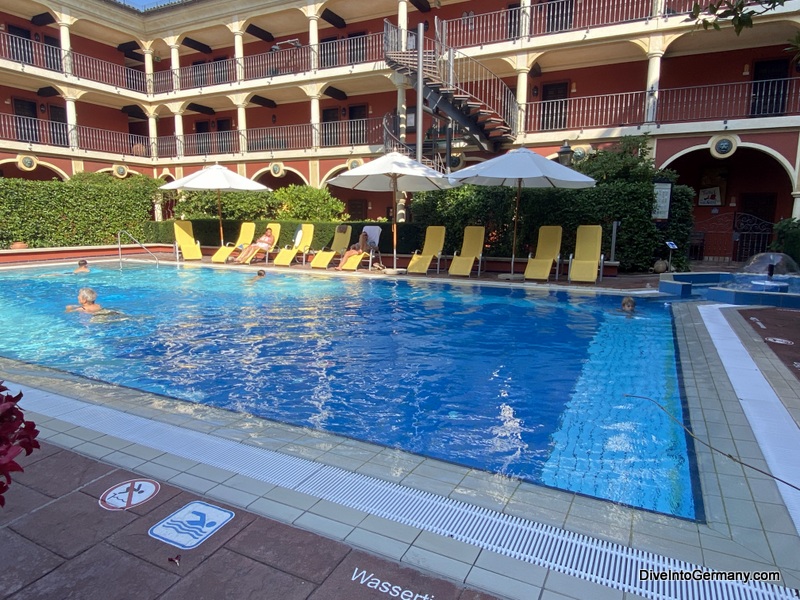 Europa Park is a massive theme park which is tons of fun with many European themed worlds. It's so big that staying overnight (or longer) so you can go back for more is a very good idea especially with Rulantica (a water theme park) to visit as well.
The first thing to note is that the Castillo Alcazar Europa Park is connected to two other Europa Park hotels – El Andaluz and Hotel Santa Isabel. It doesn't have its own reception and really in most hotels, this would just be a separate wing rather than a separate hotel.
It's just across the road from the Hotel Colosseo as well.
The good news about this is that you get easy access to the facilities of all these hotels, plus all the other Europa Park hotels.
Location And Access To Europa Park
The Hotel Castillo Alcazar is in Rust, Germany right by the massive theme park, Europa Park. It's easy to find and is surrounded by other Europa Park hotels which you get access to when staying here as well.
One of the awesome parts about staying here is that you can enter Europa Park directly from the hotel. It has its own turnstile as well as monorail station. You can also get pass outs from here so you can come back and forth between the hotel and park during the day.
Address: Europa-Park-Straße, Rust, Germany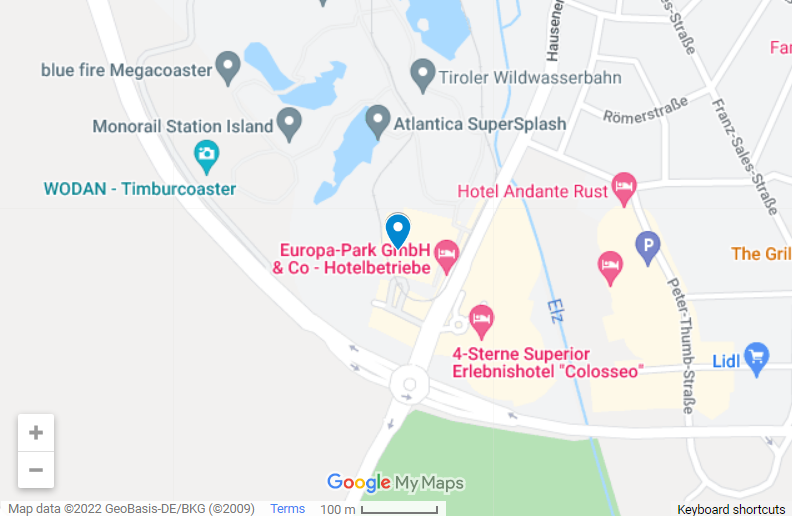 Check-In
To check-in, you have to go to the connected hotel, El Andaluz.
You can get any Europa Park tickets from here that you purchased with your accommodation and you can get an early entry to the park even on your day of check-in. You can also store your luggage.
The luggage storage did not seem very secure – it's just a room where anyone can enter after pressing a buzzer – but our belongings were fine when we left them here for a day.
We visited Europa Park on the same day as we arrived. Check-in was very smooth for what should have been a super busy 9am. The multilingual staff was very friendly and helpful. At this time, we got some hotel information and our park tickets.
We were sms'd at 3:30pm that our room was ready and quickly got our room passes and luggage when we were ready to return to the hotel.
Rooms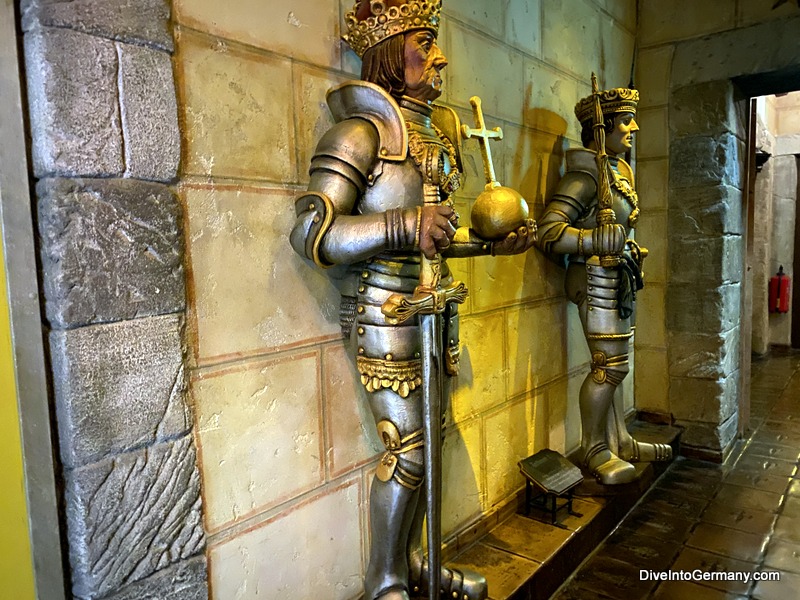 There are four room types – standard, standard plus, comfort and deluxe. The deluxe room is only for two people but the rest can sleep up to 5.
They all have air conditioning, desk, private bathroom with shower and wifi. The standard rooms have double bed plus bunk beds. The comfort room has two bedrooms with double beds and one has a single too. Deluxe rooms have a balcony and minibar.
There are also themed suites and a presidential suite that have more space.
Click here to see the latest prices.
Standard Room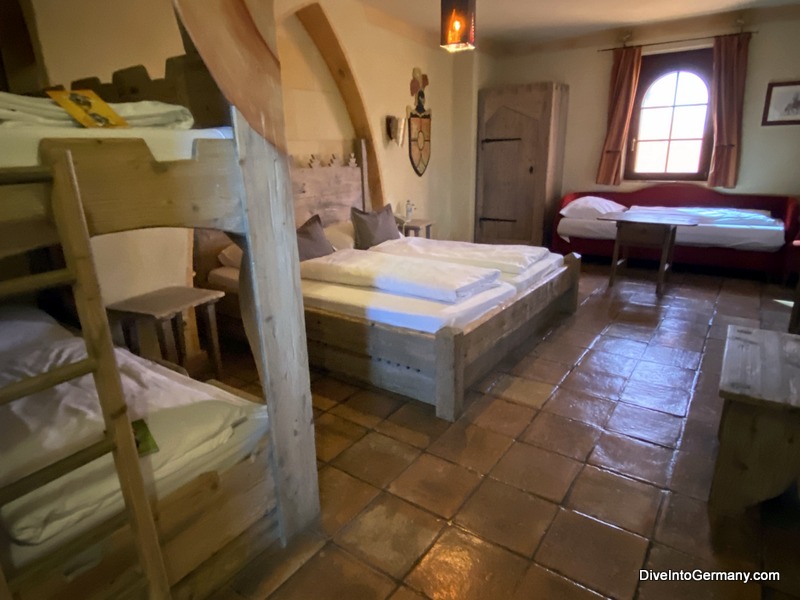 We stayed in a standard room since we knew we would basically never be in the room anyway – too many exciting things to do here!
Our room was basic but spacious, comfortable and furnished well. Actually for a one room hotel room, it was bigger than I expected.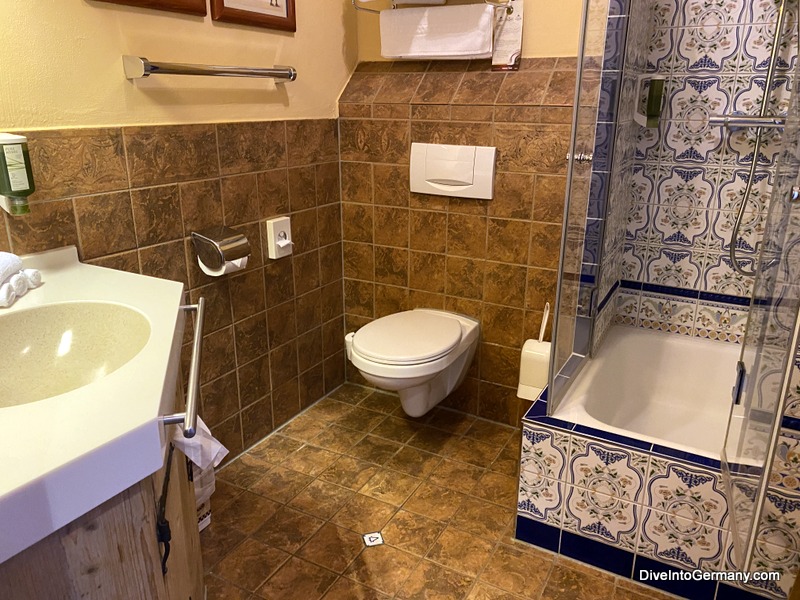 On entry, there was the bathroom with shower, basin and toilet to the side.
Straight ahead was the main room with a bunk bed built in to give some privacy, a queen sized bed, a desk with chair and a TV above it and a lounge chair, coffee table, small cupboard and sofa bed.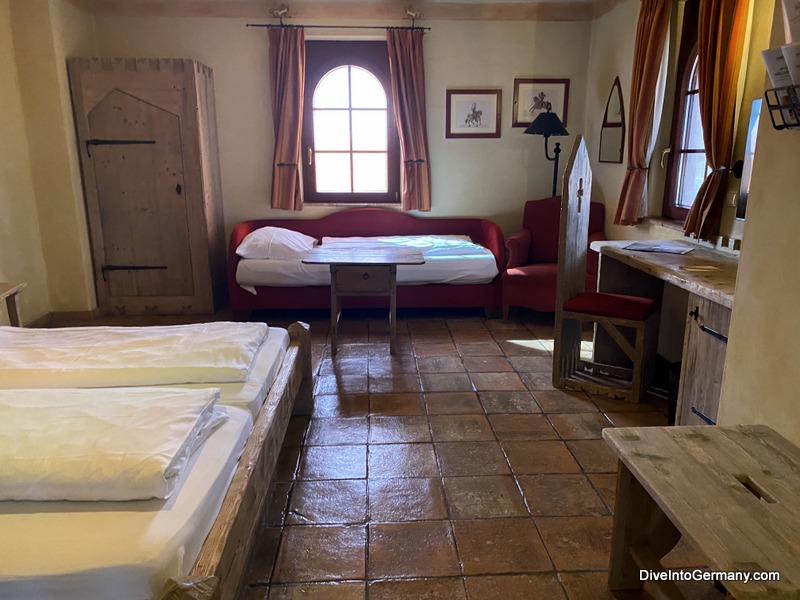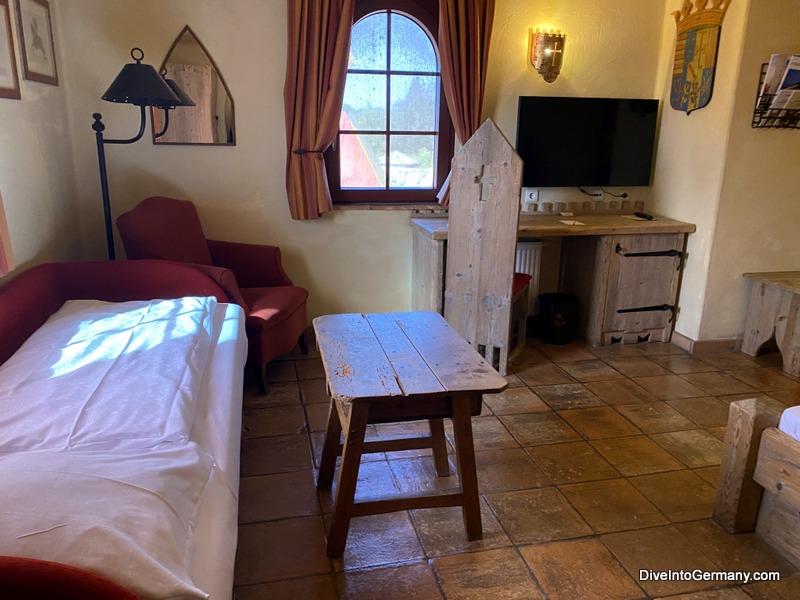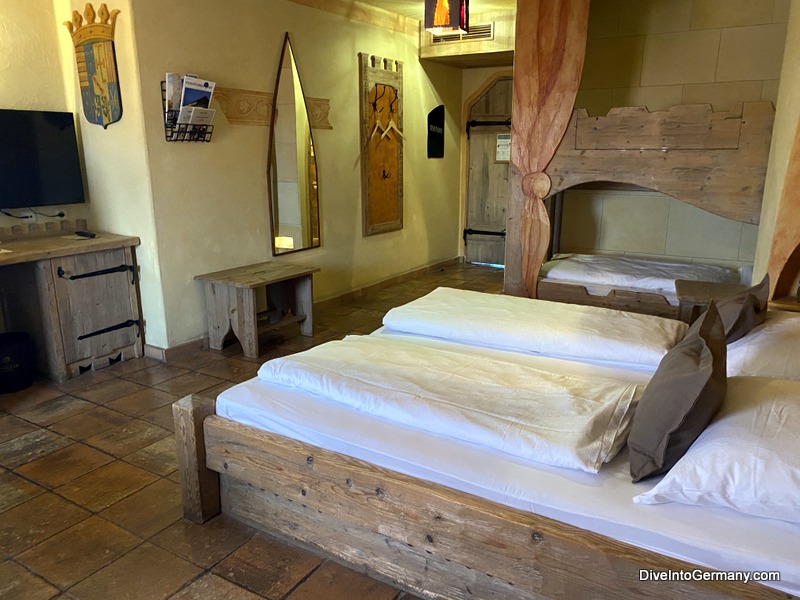 The sofa bed had a single mattress on top of it so it was much more comfortable than most.
Extras were thin on the ground. There's no fridge, kettle or anything like that.
We were lucky to have two windows on two different sides with different views of the park.
We actually were frustrated initially as they were covered with an orange screen that blocked the view and seemed immovable. It was only on our second night we realised there was a button to move that out of the way behind the curtains 😀
The room was very quiet (apart from hallway noise) and comfortable, and we had a good night's sleep.
Facilities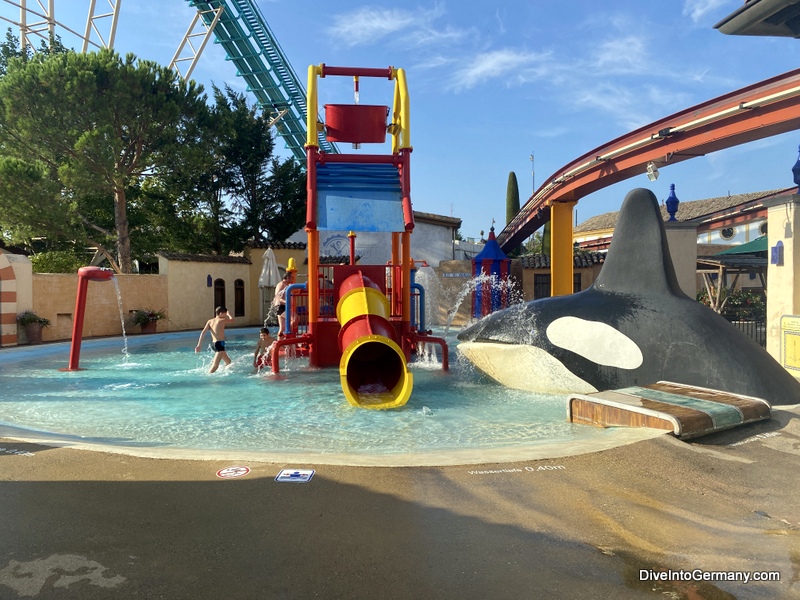 Of course, the main reason you'd be staying at Hotel Castillo Alcazar Europa Park would be to visit Europa Park and you can do that easily from here. As stated above, there is direct entrance to the park and you can come back and forth during the day.
You also get early access to the park as a hotel guest. This means you get to enter the park 30 minutes early in summer and 60 minutes in winter. Not everything is open but enough to make it awesome.
We found the actual gates were open to the park earlier than this. At 8:20am, we entered the park then lined up at our first ride to be the first people on it at 8:30am. It was so much fun to use the park so early.
That was until we caught the monorail to the Germany land to use another ride that had early access (Voletarium) and found the park had also opened to the public and they were already lined up at this ride, and we ended up with a 30 minute wait anyway. Definitely keep away from Germany with your early hotel access as this was frustrating and a waste of the special time.
Note that staying at the hotel doesn't give you free access to the park. You still need to buy tickets.
Parking and breakfast is included (more about breakfast below). There is parking next to the building and you can park wherever.
More exciting are the pool areas. There's none technically at the Europa Park Castillo Alcazar, but both the connected hotels have pool areas that are super close.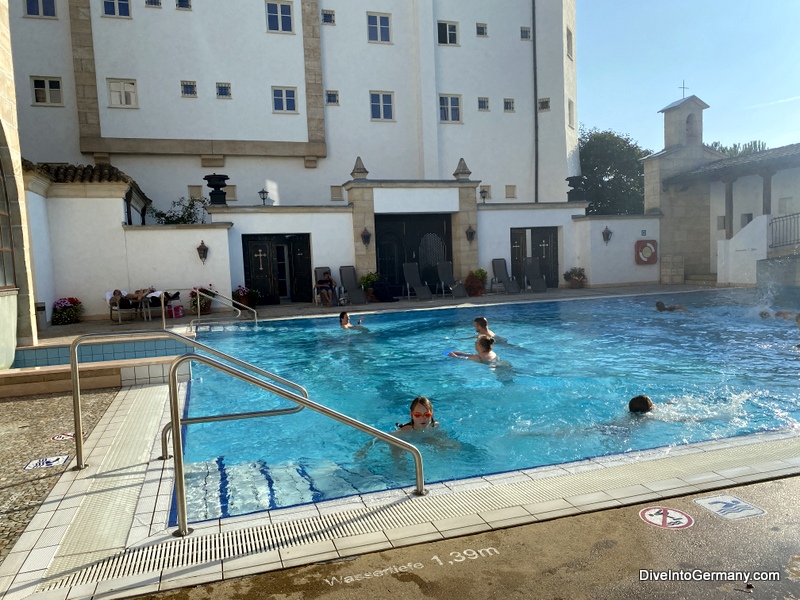 There are big heated pools at both. I read one was 100 metres long which it isn't anywhere close to being, but they are decent sizes.
Even better if you have kids is that the Hotel Santa Isabel has an outdoor water playground area too.
There is also the Marrakesch wellness oasis with steam bath, sauna, relaxation room and more.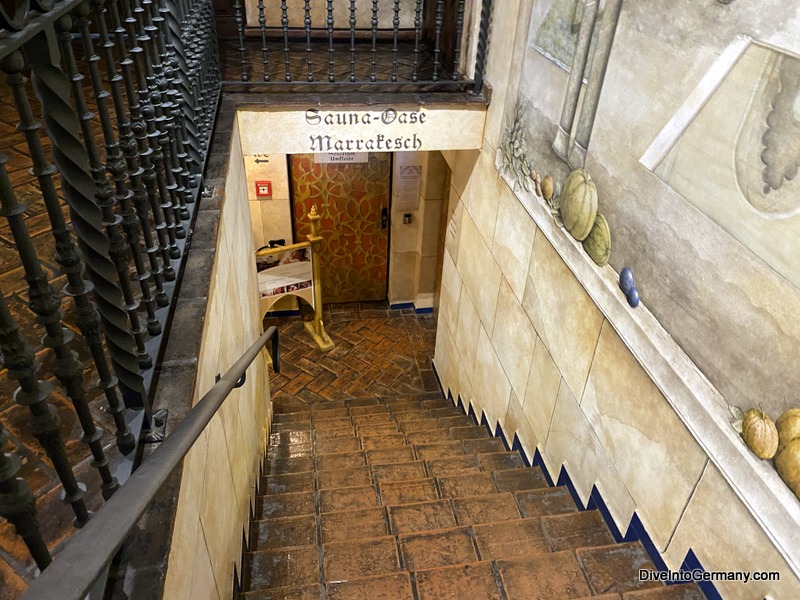 You can also use the pool, sauna and spa facilities at the other hotels which I talk about more below.
If you make any purchases at shops in Europa Park, you can have them delivered to the hotel. If you buy before 3pm, you'll have them that evening.
Dining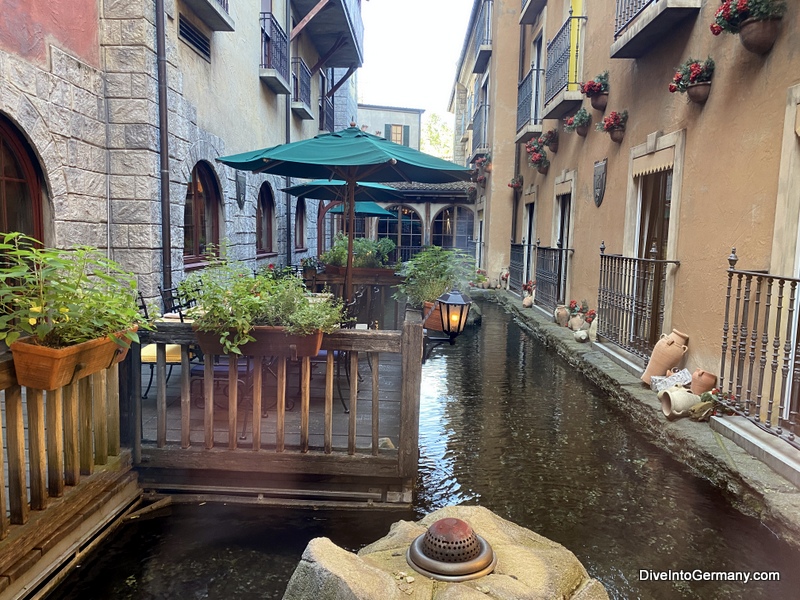 There is a restaurant and a bar on-site at the Castillo Alcazar Hotel.
The restaurant is called Restaurant Castillo and is open daily for dinner. It's a Brazilian and Mediterranean inspired buffet. This is also where you get your included breakfast buffet in the morning.
The breakfast buffet has a reasonable range of the usual suspects. There is some hot food like eggs and bacon as well as cereals, breads, hams and cheeses. You'll find enough to eat.
It's a big restaurant, but it can get busy especially round 8am before the park opens for hotel guests at 8:30am.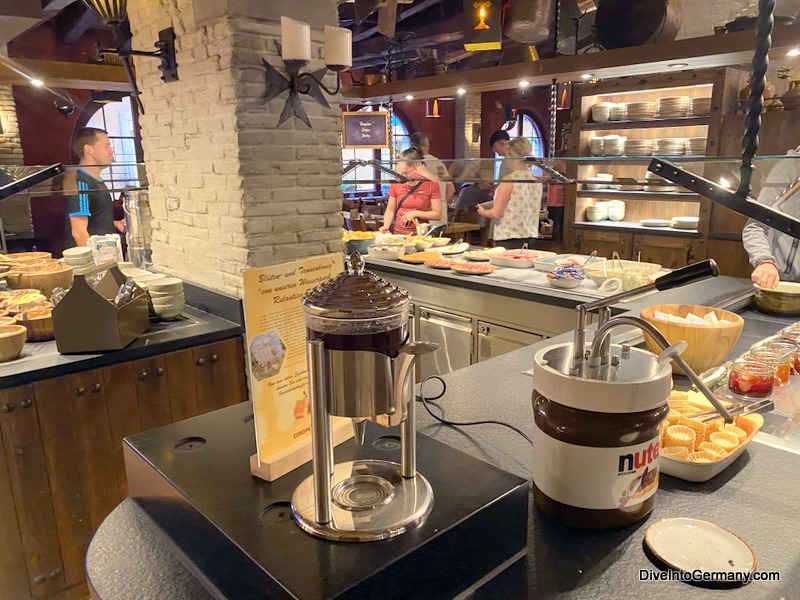 For a sundowner, head to the Buena Vista Club which is open Thursday to Sunday nights from 8pm. It has a great view of Europa Park from the 9th floor of this hotel. Unfortunately, this was shut during our stay (even on the Sunday night), so I didn't get to check it out.
For more choices, it's easy to access the connecting hotels. We had a fabulous tapas feast at Don Quichotte in El Andaluz hotel with views into Europa Park and fun drinks at the bar in El Andaluz with live music.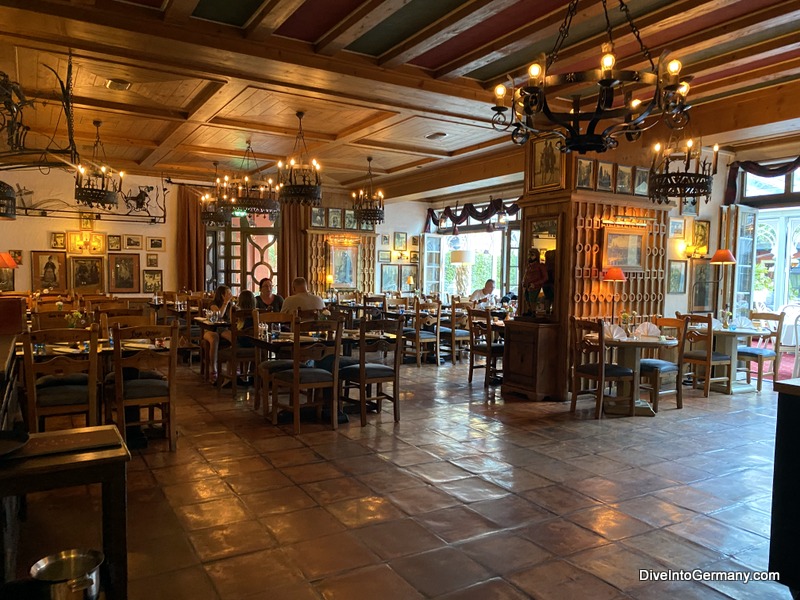 We also had an Italian meal in the piazza at Hotel Colosseo at Pizzeria La Romantica. Unfortunately, our one negative experience at Europa Park was here with service so bad and rude that we felt uncomfortable eating our meals.
Other Facilities And Dining
As a guest at the Castillo Alcazar Hotel Europa Park, you also get access to all the facilities and dining at the other Europa Park hotels.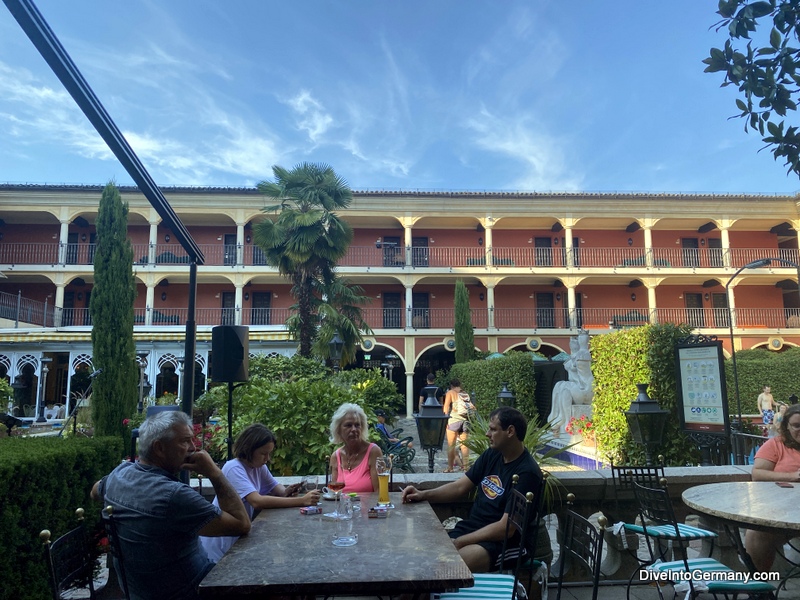 There is a resort shuttle that can take you between this hotel and other hotels and Rulantica theme park. It stops at Europa Park too but you may as well just enter directly from the hotel.
At other hotels, you can find:
Sauna areas at Hotel Krønasår, Hotel Bell Rock, Hotel Santa Isabel and Hotel Colosseo
Heated indoor and outdoor pool at Hotel 'Bell Rock'
Heated outdoor pool (with indoor access) at Hotel Colosseo
There are two fitness clubs which are free for guests including classes. You can head to Boston Red Sox Fitness Club or Krønasår fitness area
Wellness and spa areas at Hotel Colosseo and Hotel Santa Isabel
Hair salon at Hotel Colosseo
There is also a collection of shops across the hotels and a ton of restaurants and bars.
We did not have time to explore all the other hotels so didn't see these facilities first hand. You could spend days going round everything.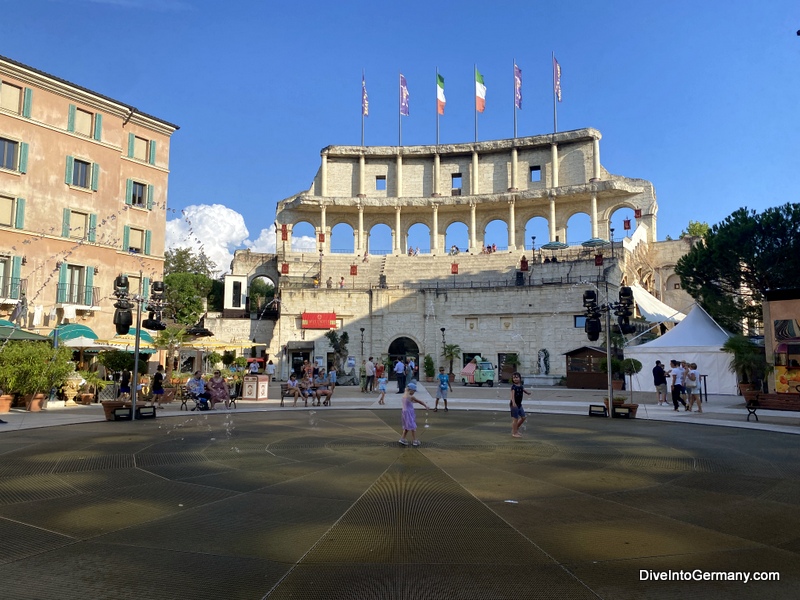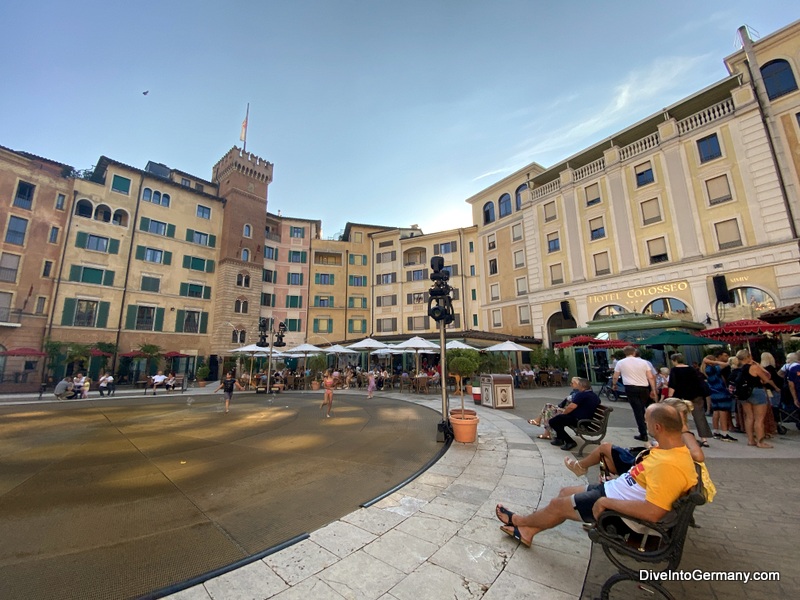 We did check out the Hotel 'Colosseo' in addition to our connected hotels. It has a fabulous piazza with dining, drinks and more including a nightly live show. Definitely, check it out.
It's also possible to enjoy the Spanish themed area of Europa Park in the evening (rides are only open during regular opening times though). There is special children's entertainment.
Final Words
Hotel Castillo Alcazar Rust is the perfect place to stay to enjoy a fun-filled break at Europa Park. Even ignoring the super fun Europa Park, this hotel is lots of fun with the neighbouring hotels full of music, facilities, food, drinks and more.
We are very happy we decided to stay at Europa Park for a few days and this was the perfect choice to be near everything, especially for families with the family room offerings. The early access to the park is also fantastic.
Click here to see the latest prices.
Want to learn more about Europa Park? Our full guide is right here! You can also find our guide to nearby Freiburg here and all our guides to southern Germany places here.