Going on a trip to Baden-Baden and want to know all the top things to do in Baden-Baden? We have you covered! Below you will find our guide to all the best attractions in Baden-Baden Germany to plan your ultimate trip.
Located on the edge of the Black Forest, Baden-Baden has attracted the rich and famous for years thanks to its healing thermal waters and beautiful surrounds. It's attracted the likes of Barack Obama, Queen Victoria and more.
In fact, Baden-Baden became a popular tourist destination in the 19th century when it rose to fame thanks to its thermal baths and becoming the place to go.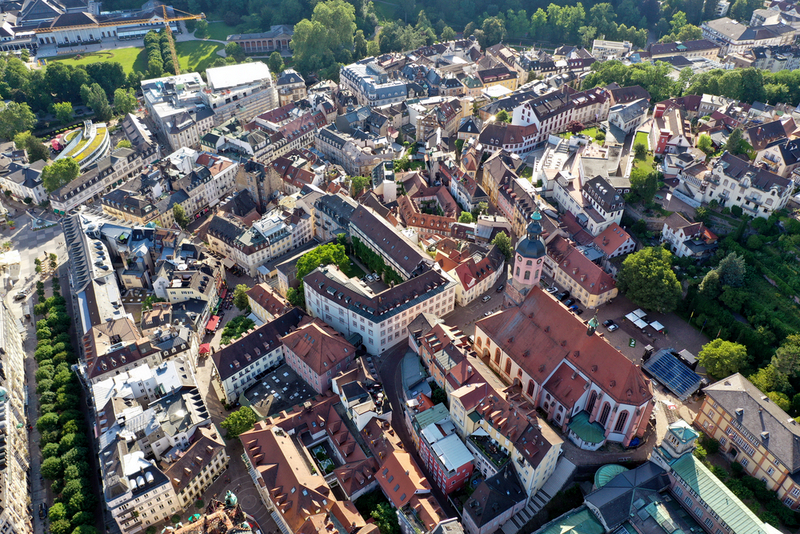 Even the name of the town reflects this with Baden meaning bathing in German, although the Baden in Baden-Baden comes from an earlier version of the plural form of the word Bad which means bath. Either way, this town does have a strong history of bathing and you'll want to check it out.
But there is more to Baden-Baden than its thermal baths. While you should definitely take a soak, you can also enjoy top museums, Black Forest hiking, Roman ruins and more.
We found Baden-Baden to be a beautiful town with small village vibes thanks to the hills and the greenery seemingly everywhere. It's beautiful and fun to explore and super cute!
Below, you will find our full Baden-Baden travel guide with everything you need to know about the best things to see in Baden-Baden as well as the best places to stay for your ultimate vacation in Baden-Baden. There is also a handy map of all the things to do Baden-Baden offers.
You'll also find special sections on activities in Baden-Baden in Winter and a full itinerary for a Baden-Baden day trip as well as what works if you are travelling with kids.
Traveling to Germany? Click here to download your free Germany Trip Planning checklist. We'll help you get ready for your trip! 
An Introduction To Baden-Baden
With a population of around 55,000, Baden-Baden is located in the southwest of Germany by the Black Forest on the Oos River and close to the border of France in the state of Baden-Württemberg. It rose to fame as a fashionable 19th century spa town but its history spreads back further than this.
Baden-Baden was actually founded by the Romans on the site of a Celtic settlement. It was called 'Citavis Aurelia Aquensis' (City Of Aurelia Of The Waters). It's not known exactly when this happened but it's thought Roman garrisons were here from the second century BC onwards and the Römische Badruinen (Roman Bath Ruins) date back to around 210AD when Emperor Caracalla was in power. He enjoyed the baths himself to relieve arthritis pains.
This area was used by the Romans for the baths more widely though, with the healing waters used to help soldiers (and horses) recover from war injuries. Sophisticated heating and water technology was used and has been found in the ruins.
The town then fell into ruins but reappeared in 1112 when the Hohenbaden Castle was constructed as the seat of the Margraves of Baden. A convent was also founded here in 1254.
The thermal waters continued to play a role in town life with the town purposefully flooded several times with the waters to help protect the people against epidemics. Local physicians also used the waters to treat many diseases from infertility to respiratory problems and people visited Baden-Baden expressly for these healing waters up until the Thirty Years' War.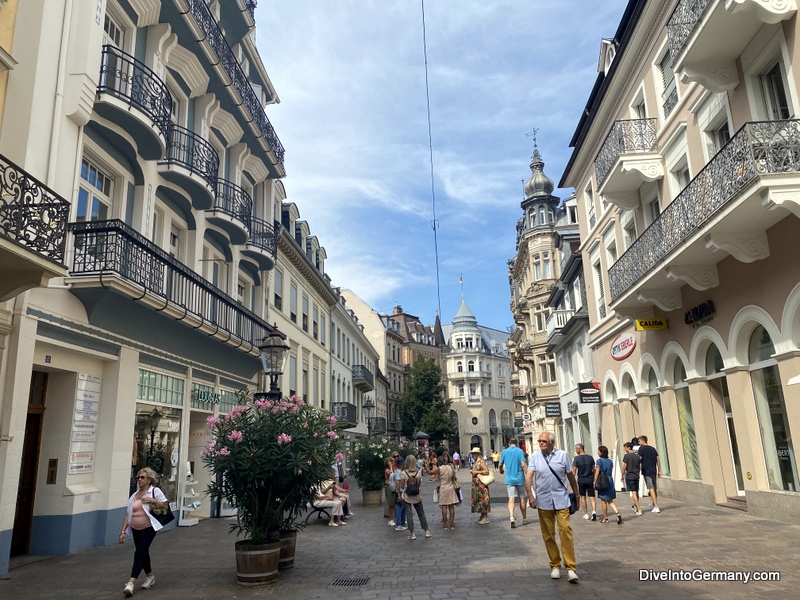 Baden-Baden did not escape the witch trials and many took place from 1627-1631. It also suffered during the Thirty Years' War (1618-48) especially from the French. They plundered the city in 1643 and returned at the start of the Nine Years' War in 1688 to occupy the city and then burn it to the ground. Baden-Baden was almost completely destroyed.
Baden-Baden began to recover in the late 18th century when it became a home to refugees from the French Revolution. It then became popular after the Prussian Queen visited in the early 19th century to use the healing powers of the water.
The Grand Duchy of Baden, who were in power at this time, decided to subsidise the development of the town as a resort and it became the place to head for celebrities who enjoyed the hot springs and the new luxury hotels, the casino, the beautiful gardens and more. As you walk around Baden-Baden, you will see many buildings from this time.
The railway reached Baden-Baden in 1845 which only increased Baden-Baden's popularity.
In the 1850s and 60s under Napoleon III, Baden reached its most popular becoming known as "Europe's summer capital". While only 10,000 people called Baden-Baden home, the population could quadruple during peak tourist times.
The town remained popular as a bathing destination even when gambling was briefly shut down in the 1870s.
During World War II, Baden-Baden was bombed multiple times but escape full destruction with about 3% of the houses destroyed by bombs and 6% heavily damaged. After the war, it became the base of the French occupation forces in Germany.
Today, Baden-Baden is still best known for being a German spa town and is popular with tourists. In 2021, it became part of a UNESCO World Heritage Site. This was awarded as part of the "Great Spa Towns of Europe" thanks to its past and architecture that demonstrate the popularity of spa towns in the 18th to 20th centuries.
Top 19 Things To Do In Baden-Baden Germany
Here are the best Baden-Baden tourist attractions. Read through and select the ones that fit your interests and timeframe. If you are only taking a day trip to Baden-Baden, find our one day Baden-Baden things to do itinerary below.
Note that I sort these places to see in Baden-Baden based on geographical location starting with the central Old Town and Marktplatz and then listing the closest Baden-Baden places to visit while working our way further away. The order isn't based on what I think are the most important attractions.
Altstadt (Old Town)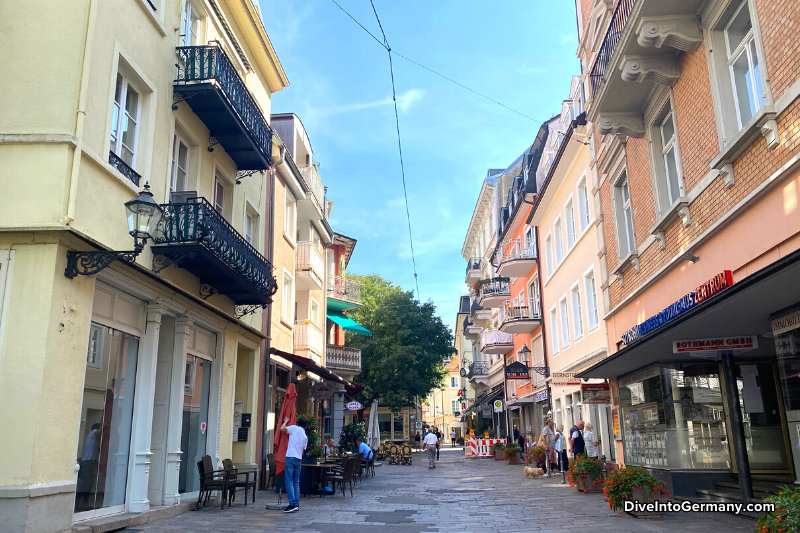 You won't want to miss a wander around Baden-Baden's Old Town. This picturesque area can be found around the Stiftskirche (Collegiate Church) and Martkplatz. The winding alleys, cobblestoned squares, fountains and steam rising from the thermal waters below is very atmospheric.
Take some time to enjoy this area and pop into some of the small shops from goldsmiths to wine-makers. You'll also find some of the upcoming Baden-Baden things to see and do in this area.
Stiftskirche (Collegiate Church)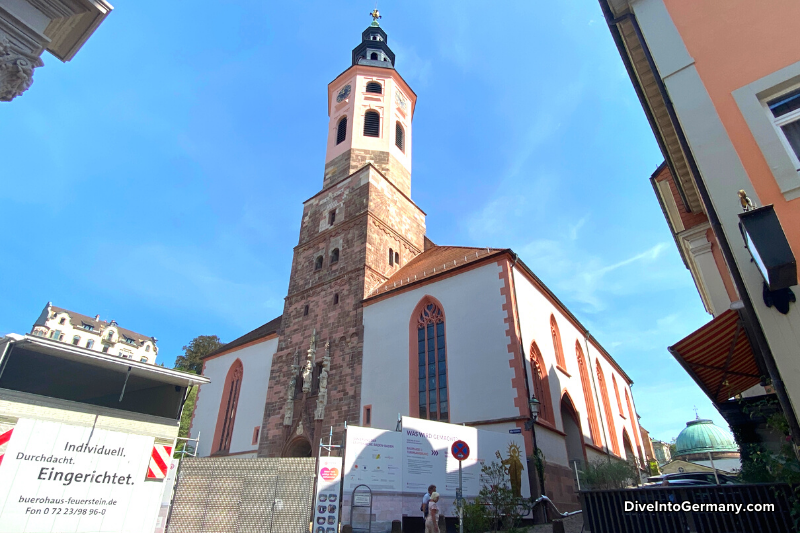 The centre of the Old Town, on Marktplatz (Market Square), is Stiftskirche. This pink church is the oldest building in Baden-Baden and can be dated back to 987. Its architecture is a combination of Romanesque, late Gothic and Baroque styles. It was built on the ruins of Roman baths.
Inside, you can find works of art like the cross carved from stone by the sculptor Niclaus Gerhaert of Leyden and a 13 metre high filigree sacrament house from around 1490.
This is also where 14 margraves of Baden, over five centuries, have been laid to rest. The tombs can be quite opulent and show the varying styles of the times in which they were created.
There is also some beautiful stained glass.
When we visited, it was being renovated and wasn't open to the public. This is expected to finish around Easter 2023.
Open daily except during services.
Römische Badruinen (Roman Bath Ruins)
You can go back to where it all began with this one of the sightseeing activities in Baden-Baden. You can explore the ruins of the old Roman baths.
While the Friedrichsbad (coming up next) was built on top of these ruins, some of them have been preserved as a museum and you can visit them.
Audio guides are included with admission and you should make sure you use yours. This brings to life the ruins and how it used to look as well as how it all operated like how the rooms were kept warm. With at least 1800 years of history in these ruins, it's quite an experience.
There's also a video animation to show you what the baths would have looked like and you'll leave knowing what Roman bathing culture was like.
Open daily over the warmer months but only from 11-12pm and 3-4pm. There is a small admission charge. More info here.
Friedrichsbad (Spa)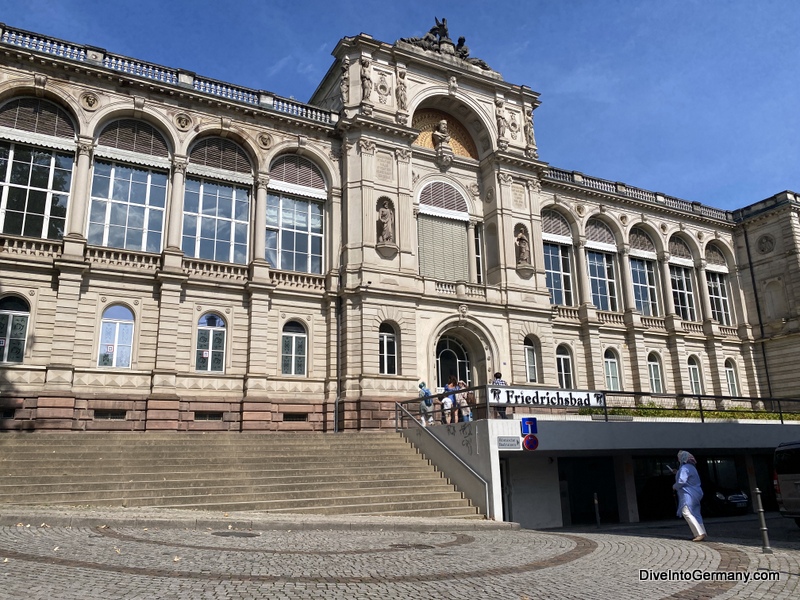 Of course, a visit to Baden-Baden would not be complete without a bathing experience for yourself. After you see how the Romans did it, you can pop upstairs to Friedrichsbad to experience it in the 21st century.
Built in 1877, you can bath in style in what was considered the most modern bathhouse in Europe when it opened. It still retains this atmosphere today and you get to bathe in the traditional way. The inside and outsides of this building are just gorgeous.
To start your experience, you can have a shower with the thermal water before lying on a warm wooden bed in the hot air rooms which are 54 and 68 degrees.
Next up is the optional extra, the soap and brush massage. This means you are coated in soap and then massaged with a brush.
Then you are all set to bathe in the thermal water. There are a range of pools, temperatures and experiences that are worth every moment.
When you are finished, you are handed a pre-warmed towel to dry and there are various moisturisers for your skin. Finally, enjoy a cup of tea in the relaxation room.
This whole experience should not just provide rest and relaxation, but increase the immune system and help blood circulation.
You are provided with everything you need and, in fact, you don't need much when bathing as you are expected to bathe nude. Males and females generally bathe together.
Make sure you also take a walk right round this building. There are some interesting sculptures out the back.
You can read our guide to visiting German saunas here.
Friedrichsbad is open daily and admission is restricted to 14+ year olds.
Florentinerberg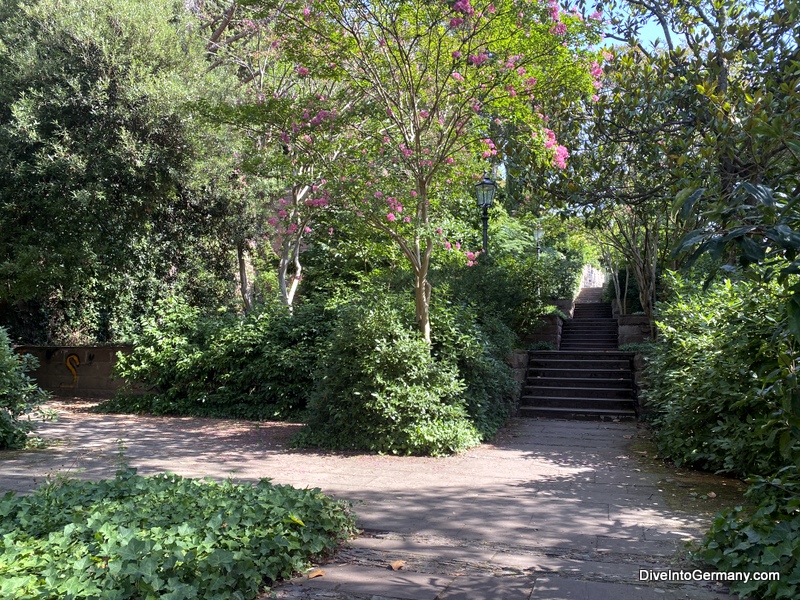 On the side of Marktplatz is this hill called Florentinerberg. It's believed the Romans used to use this area to relax and chill and you can still do this today.
You can sit in this park while enjoying the orange and lemon groves.
Open daily with free entry.
Neues Schloss (New Castle)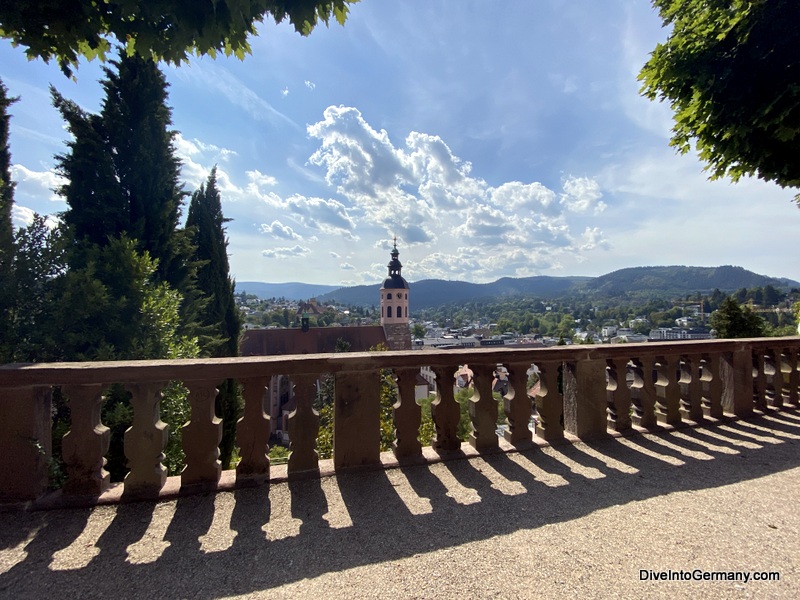 Neues Schloss is in quite a grand position behind the Marktplatz area. Built in the 15th century, it's the former home of the Margraves of Baden.
Today, it's privately owned and it's not possible to visit the castle itself or the gardens. But you can visit the terrace in front which has great views over Baden-Baden out to the Black Forest.
I did find this a little tricky to find. Look for steps heading up opposite the church at Marktplatz and then turn to the right when you see the sign Schloßstaffeln. It's a quick walk.
Open daily with no admission.
Caracalla Spa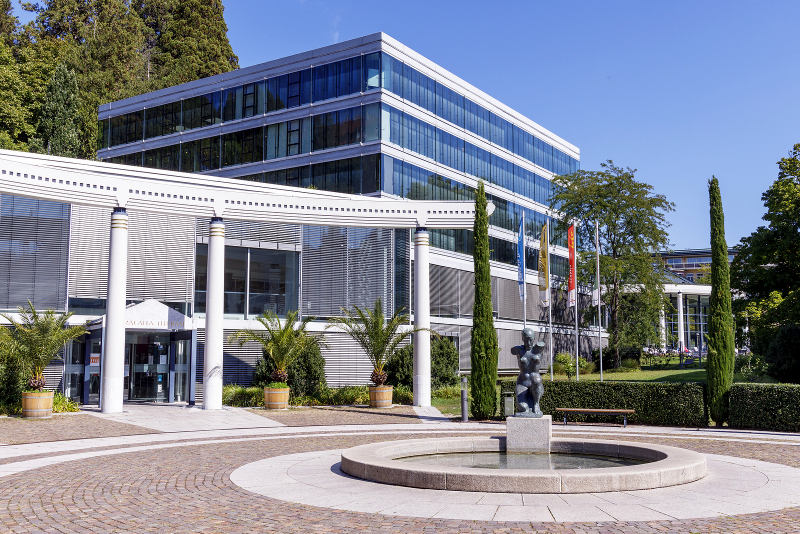 Another spa option while you are in Baden-Baden is the Caracalla Spa. While not as grand and opulent as the Friedrichsbad, it is one of the Baden-Baden top attractions and has the advantage of having an outdoor pool area and is cheaper than Friedrichsbad. It also allows entry from 7 years old and swimsuits are required except in the sauna section.
While it may not have the grand opulence of Friedrichsbad, it has everything else you could want from a thermal baths complex with many pools, saunas and more. It is quite a complex.
There are both indoor and outdoor pools of varying temperatures with extras like massage jets and whirlpools. There's also an extensive lawn outside where you can relax.
While I haven't visited here in winter (yet!), I think that these outside pools would be glorious in the snow.
Upstairs is the adults-only sauna and more whirlpools and baths. Bathing suits are not used in this area. The saunas have varying temperatures up to 95 degrees Celsius! There are also some great relaxation rooms.
Caracalla Spa is open daily. Children must be at least 7 to enter and pay the adult fee.
Fabergé Museum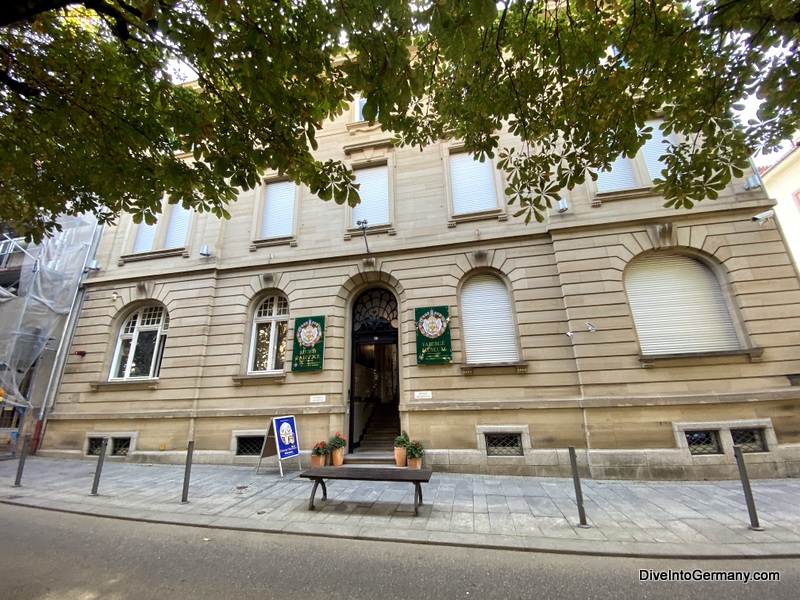 Fans of Fabergé will definitely want to add this attraction to their list of the best things to do in Baden-Baden Germany.
Carl Fabergé (1842–1920) was a Russian jeweller and goldsmith who became famous for his opulent pieces especially his imperial Easter eggs. This museum displays Alexander Ivanov's collection of his work including over 700 pieces spanning the range of Fabergé's work.
You can find the Easter eggs here, amazing jewellery, miniature animals, cigarette cases and decorative objects made for everyday use. The prize exhibit is the 12.5 million Euro, Rothschild Egg.
In addition to Fabergé's work, there are photos and personal documents belonging to or about Fabergé . There is also work by contemporary goldsmiths such as Cartier, Boucheron and Falize.
All up, it's quite a collection of goldsmithing and jewellery-making from the time of Fabergé.
This museum is open daily and currently costs EUR21 to enter.
Trinkhalle (Pump Room)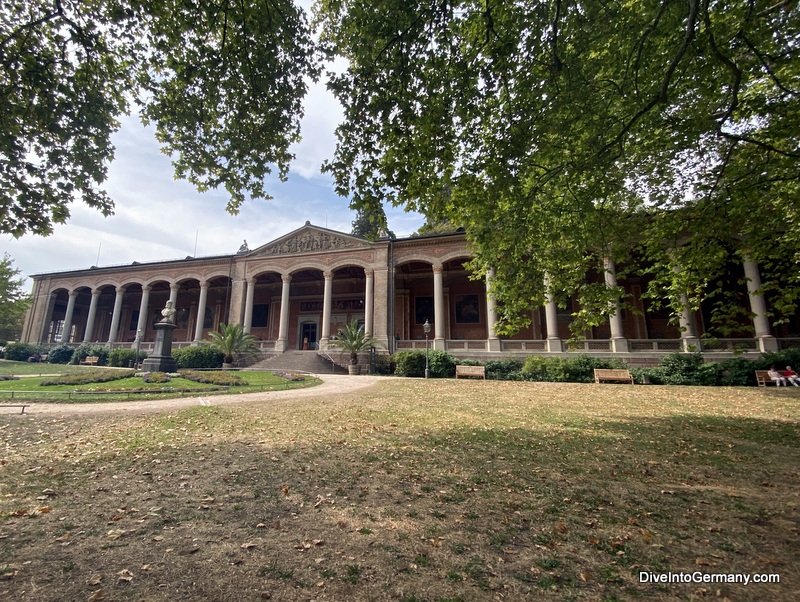 For one of the most striking buildings in Baden-Baden, head to Trinkhalle to check out its 90 metre long walkway with 14 murals about the northern Black Forest. It's huge and very grand.
Built in 1839, this was where people came to drink the thermal waters which were said to bring health. This is where the hall gets its name. Today, it's not recommended to consume the water, however.
The gardens around the hall are also worth visiting and it's a beautiful part of Baden-Baden next to the Casino.
Entry is free and it's open daily.
Casino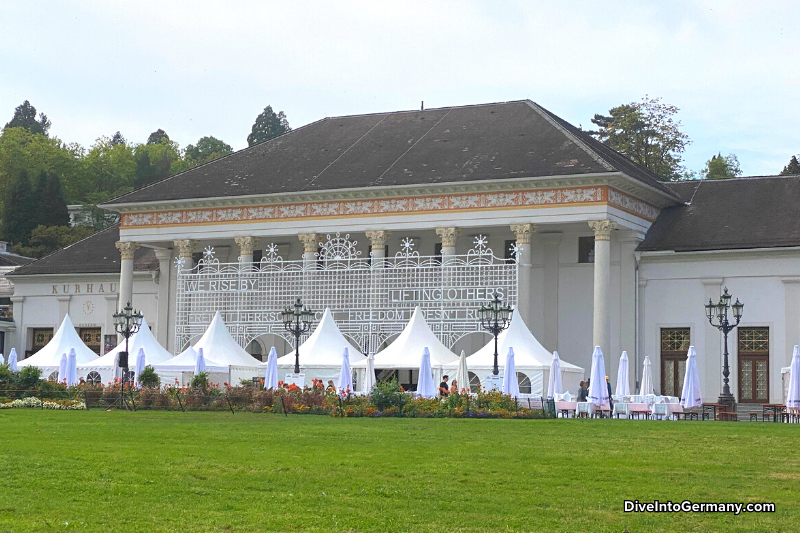 Reported by some to be the most beautiful casino in the world, it's worth a visit here to find out even if you have no interest in gambling. It makes for quite a sight.
Built in the 1820s, the Kurhaus is next to the Trinkhalle. It was built to be home to a casino, restaurant and more and was gradually extended over time as Baden-Baden became more popular.
The casino still exists here today and is Germany's oldest. It's incredibly opulent and ornate – I haven't seen anything quite like it with statues, huge chandeliers and more. It's very easy to imagine the rich and famous of the 19th century hanging out here and perhaps James Bond coming by on his latest mission.
If you aren't a gambler or want to learn and see more of the casino, consider one of the 40-minute tours which will show you around the place. For a treat, you can also visit the on-site restaurant, The Grill, or dance at Club Bernstein.
Gamblers can enjoy roulette, blackjack, poker and punto banco.
Out the front are some fancy shops and it's a nice area to wander.
The casino is open daily with tours on the weekend. Men must wear a jacket and tie but these are available to hire from the concierge.
Lichtentaler Allee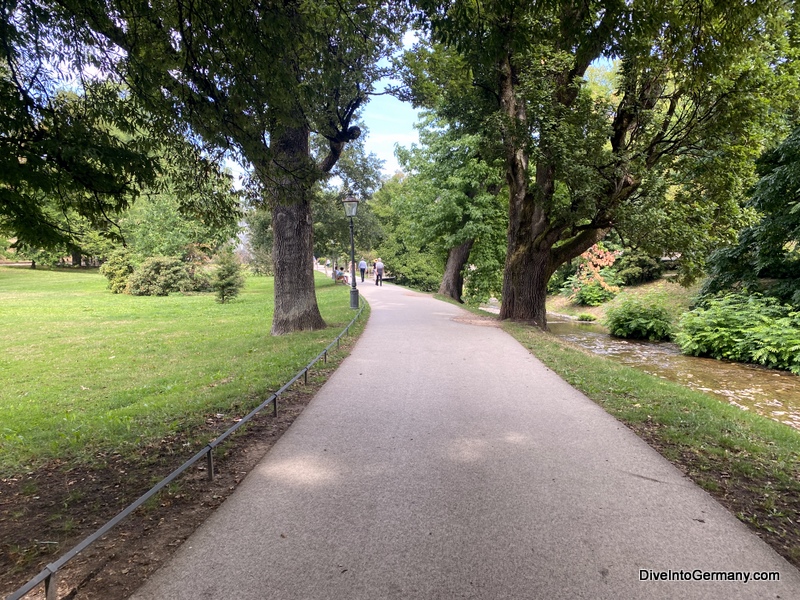 Lichtentaler Allee is a 2.3 kilometre long stretch of green that's a beautiful park area of flowers, greenery, bridges, sculptures and fountains. Next to the Oosbach River, it's the perfect way to walk into Baden-Baden and can lead you to the upcoming museums and on to the Kurhaus and Casino.
This path was first developed in the 1600s to take people between the monastery and the town market. In the 1850s, it was turned into what it is like today and it's a lovely spot to explore and chill.
Staatliche Kunsthalle (State Art Gallery)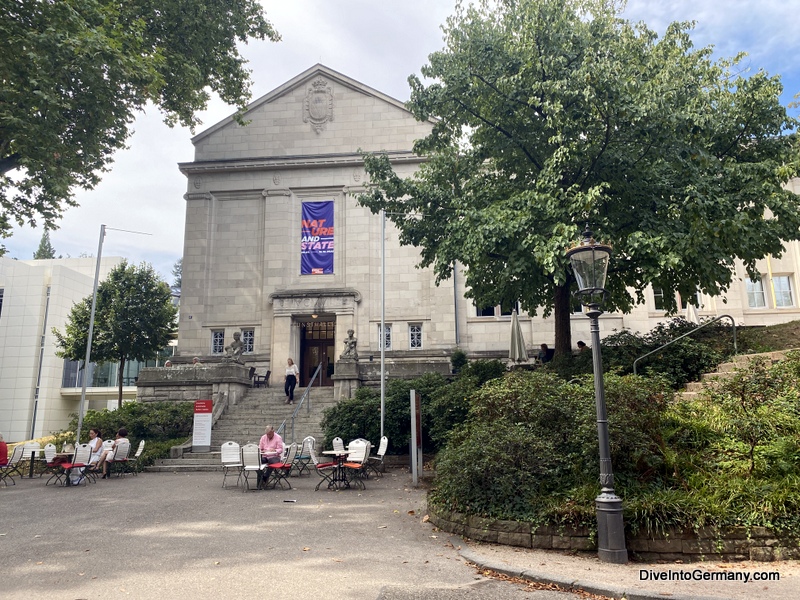 Located by Lichtentaler Allee is this attraction for contemporary art lovers. Here you can find the Staatliche Kunsthalle or State Art Gallery in a Neoclassical building.
It has no permanent exhibition and instead exhibits visiting art exhibitions from all over. It displays all types of art from paintings to video to sculptures.
The Staatliche Kunsthalle is open daily expect Mondays that aren't public holidays. An admission is charged.
Museum Frieder Burda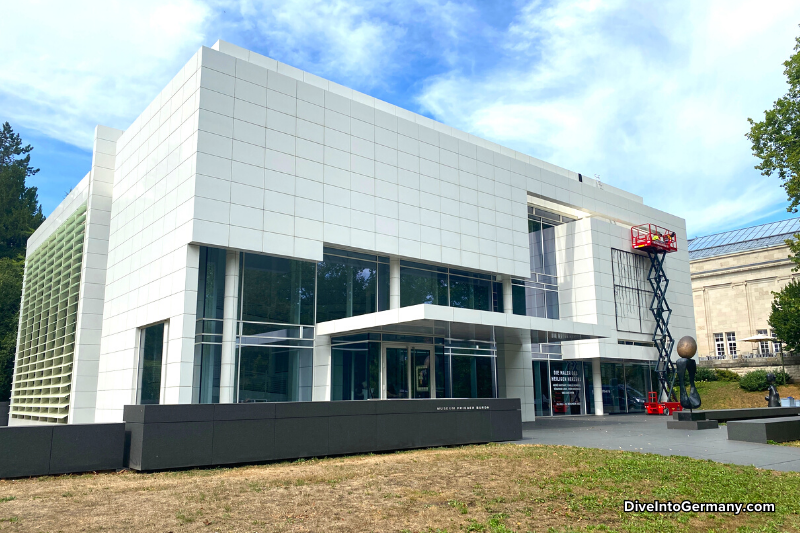 Art lovers will want to head straight here on the Lichtentaler Allee. Museum Frieder Burda is home to a modern art museum inside this innovative building designed by Richard Meier. Even if you don't go inside, walk along Lichtentaler Allee and check out the building with its white and glass structure.
The museum showcases the private collection of Frieder Burda and it is quite a collection. There are over 1000 pieces of art including eight Picassos as well as Gerhard Richter and Jackson Pollock originals. The collection is centred on German paintings and classical modernism.
Regularly changing temporary exhibits compliment the collection.
Open daily except Mondays (although open when they are a public holiday). Admission is charged.
Stadtmuseum Baden-Baden (City Museum)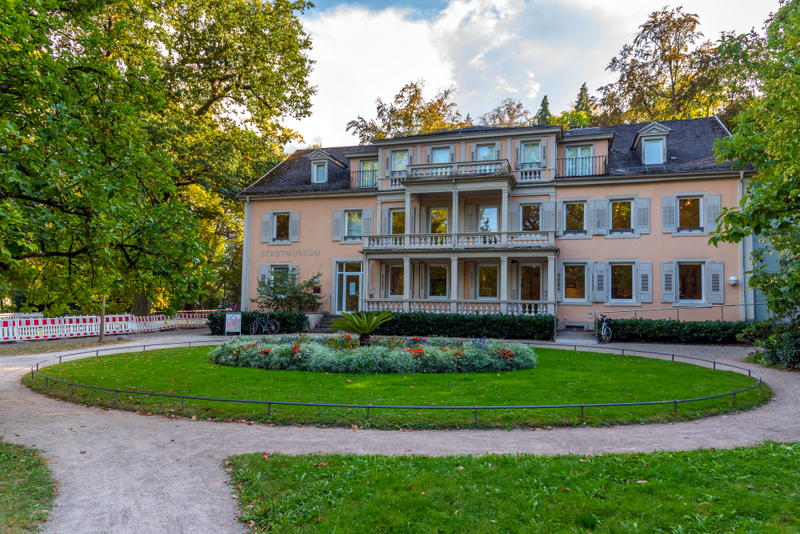 Also located along the Lichtentaler Allee, this gorgeous villa is home to Baden-Baden's city museum where you can learn all about the local history from Roman times up until World War II.
It's the perfect place to start your visit in Baden-Baden so you can soon be an expert in everything local as you walk around the city. You'll learn more about bathing in Roman times and what Baden-Baden was like in the 19th century when it became the "summer capital of Europe" and much more.
The museum is also known for its art, historical toys, coins and medals.
An audio guide is included with admission which will help you learn more about everything Baden-Baden.
Closed Mondays apart from public holidays. There is a small entry fee
Russische Kirche (Russian Church)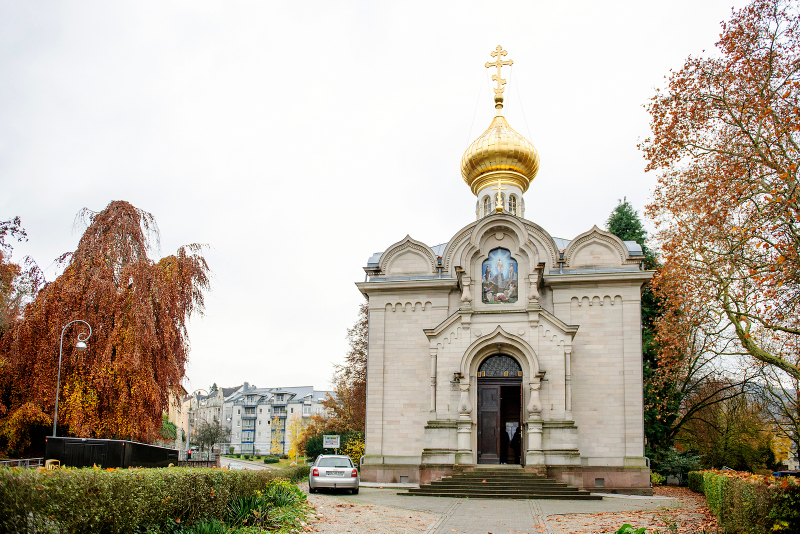 For something a bit different, head to this one of the things to do around Baden-Baden, Russische Kirche or Russian Church.
This ornate Byzatine-style church was constructed between 1880-1882. It's beautiful with a golden dome and religious frescos.
Open daily and admission is free.
Paradies Am Annaberg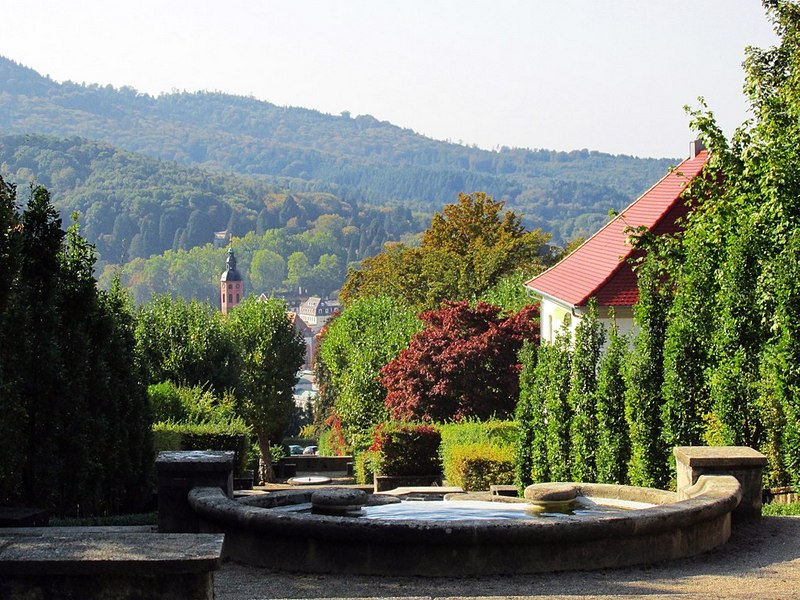 For some green time-out, head to Paradies am Annaberg for gorgeous Italianate-style gardens.
With fountains, waterfalls and views over the Old Town, this is a great place to relax and take in Baden-Baden. It's also interesting from the point of view that this is part of the residential project for a "beautiful living" area.
The gardens themselves stretch over three streets and are lined by attractive mansions. It all makes for quite a sight.
Entry is free and you can walk here from the Old Town or take bus 2015.
Mt Merkur Funicular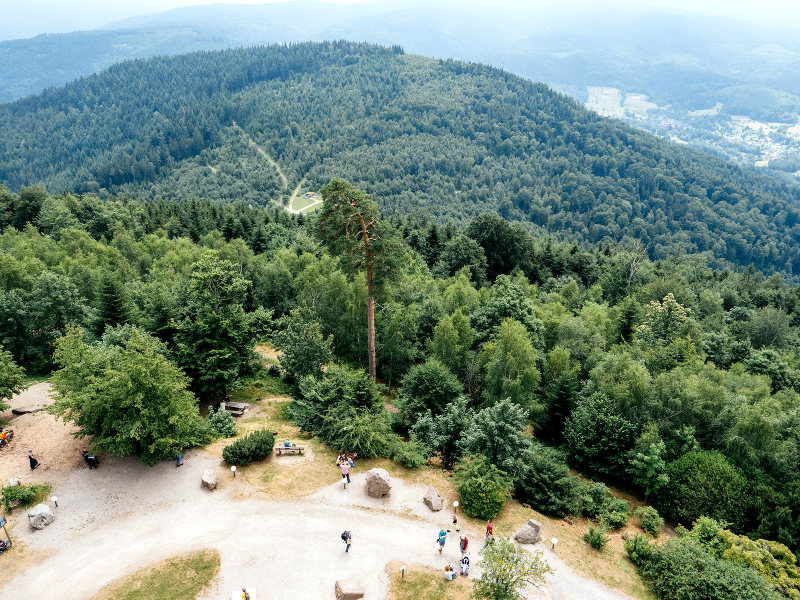 For one of our favourite things to do near Baden-Baden, head to the Mt Merkur funicular. This is the longest funicular railway in Germany and will take you to the top of Merkur Mountain which is 668 metres high.
From here, there are hiking options, paragliding and you can also take a 23 metre elevator up Merkur Tower for even better views. There's also a restaurant, BBQs, a playground with a giant slide and plenty of space to have an awesome picnic.
You can also chose to walk up (and/or down) the mountain and there is a good walking trail.
This is open daily and you can buy one-way or return tickets. The lift up Merkur tower is free. You can drive to the base (there is parking, although it can be busy in peak times) or take buses 204 or 205. You can also walk here from central Baden-Baden.
Altes Schloss Hohenbaden (Old Hohenbaden Castle)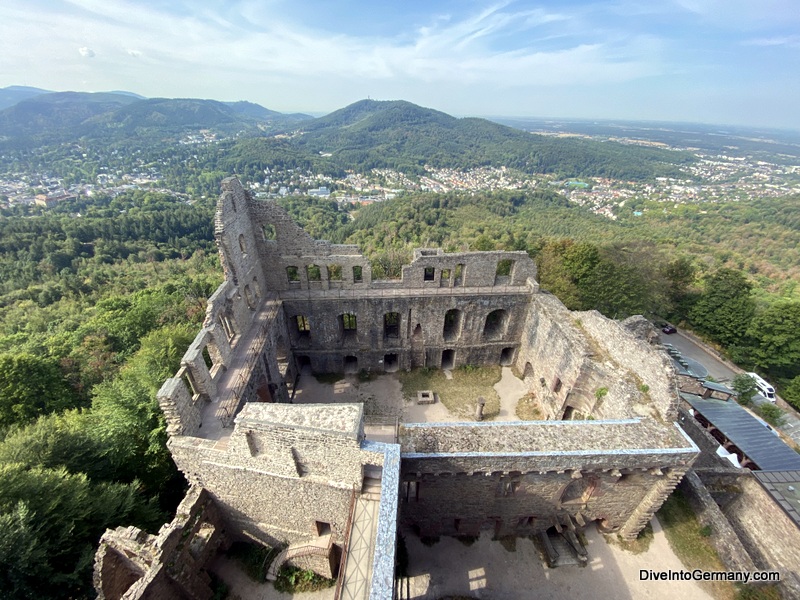 For one of the best places to visit near Baden-Baden, head to Altes Schloss Hohenbaden or Old Hohenbaden Castle. Once the seat of the Margraves of Baden, this castle was a grand palace between the 11th and 15th centuries.
Today, it lies in ruins but it still has enough standing to capture the imagination. You can find the remaining walls, secret dungeons, steep steps and viewing terraces.
From the top of the tower, you get amazing views over Baden-Baden and the Black Forest on a clear day (so try to time your visit for one).
There is more here than I expected, and it is in better condition than I expected. It's worth the trip.
Entry is free and there is car parking on-site. It's about a 45-minute walk from Stiftskirche.
Click here to read our full guide to visiting Hohenbaden.
Panaromaweg (Panorama Trail)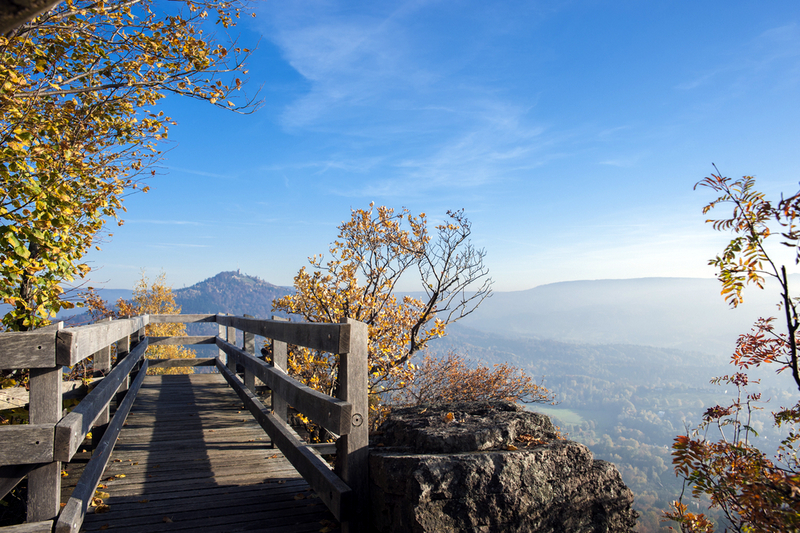 If you are looking for the best day trips from Baden-Baden, you can consider Heidelberg (full itinerary here) or Freiburg (full itinerary here).
However, I am also going to suggest something a little more amazing for my top day trip from Baden-Baden and that is the Panaromaweg or Panorama Trail. This is the best way to appreciate everything Baden-Baden and the surrounding Black Forest. There are many great views and it's even been called the most beautiful hiking trail in Germany.
At 40 kilometres long, it is not a short hike, but it is split into four stages and you can chose to complete parts or the whole lot.
Find all the information you need here.
Best Things To Do In Baden-Baden In Winter
While most of the Baden-Baden Germany things to do listed above are possible in winter time, there are also some fun things to do in Baden-Baden which are especially for the winter months.
Baden-Baden Christmas Market
If you are in Baden-Baden around Christmas, you won't want to miss its Christmas Market. This Christmas Market generally runs from late November right into January.
Located at Lichtentaler Allee, this beautiful spot adds to the magical feeling of this Christmas market with the usual crafts and gifts and local food to eat. There is also a live music program and thousands of shimmering Christmas lights along with a carousel.
Best Places To Visit In Baden-Baden In One Day
Only have one day in Baden-Baden? What a shame! But it's ok, it's still worth going to Baden-Baden if you only have one day whether you are on a day trip from Strasbourg to Baden-Baden or driving elsewhere in Europe.
With one day, I recommend you:
Start the day at Trinkhalle looking at the murals before making your way down Lichtentaler Allee
Consider visiting Staatliche Kunsthalle (State Art Gallery) or Museum Frieder Burda which both open at 10am.
Head to the Stadtmuseum Baden-Baden (City Museum) where you can learn more about Baden-Baden's past. It opens at 11am
Head back towards the Old Town eating lunch when you find something you like
Visit the terrace by Neues Schloss (New Castle) for views over Baden-Baden
Check out Stiftskirche (Collegiate Church) and Marktplatz
Be ready at the Römische Badruinen (Roman Bath Ruins) when it opens at 3pm and do a self-guided tour
Head upstairs and inside Friedrichsbad for the ultimate bathing experience if you don't mind going nude and don't have kids. Otherwise, try Caracalla Spa
If you have time in the evening, head to the Casino
If you are driving into town, also try to fit in a stop at Hohenbaden Castle.
Baden-Baden Video Guide
You can watch a quick overview of Baden-Baden here:
Baden-Baden Attractions Map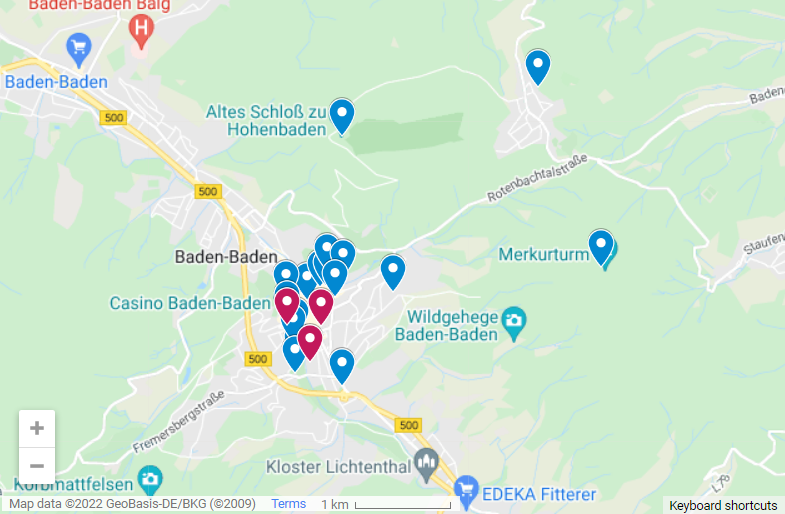 Best Place To Stay In Baden-Baden
When it comes to where to stay in Baden-Baden, there is a great range of hotels and other accommodation options. You won't have any problem finding somewhere to stay.
Below, I've listed a few different places to consider depending on what type of accommodation you are looking for.
Brenners Park-Hotel & Spa is a 5 star option you will just love by the Oos River opposite the Lichtentaler Allee and moments from Baden-Baden's top museums.
This grand and elegant property has been a hotel for 150 years. In the foyer of the hotel, you can find exhibits to engage with this history.
This beautiful hotel and gardens is also home to its own amazing spa. Covering 5000 square metres over five floors, there are pools, spas, saunas and more. Have a massage or work out in the gym.
There are also many restaurants and bars. You never have to leave here if you don't want. Parking is available at an extra fee.
There are a range of room types furnished with antique furniture and Italian marble in the bathrooms. All have satellite TV and minibars. Rooms range from single rooms to two bedroom suites and you're sure to find something suitable. The suites are larger and can come with living and dining areas.
For the ultimate in relaxation and escaping civilisation, you'll love Brenners Park-Hotel & Spa.
Click here to see the latest prices now.
Another top 5 star hotel with its own spa to consider is the Maison Messmer which is opposite the Casino and moments from Lichtentaler Allee and many of Baden-Baden's top attractions.
This elegant and luxurious hotel has a variety of room types from double rooms to three bedroom penthouse suites and everything in between. All rooms are soundproofed and come with flat-screen TV, minibar, seating area and stylish furnishings. Some have balconys or terraces. Suites can come with separate living areas, multiple rooms, terraces and more.
A big advantage to staying here is the on-site "Royal Spa" which is an 800 m² spa area with an indoor pool and beauty salon. There are also saunas and a gym.
There are two restaurants and a bar on-site. Parking is available for an extra fee.
Click here to see the latest prices now.
Just moments from Lichtentaler Allee and a short walk from the Old Town, Huber's Hotel is a solid three star option at a great price. It's in a beautiful building close to everything.
You can pick between single, double and queen rooms. All are stylishly and comfortably furnished and come with TV, minibar and wifi. Rooms are small but have everything you need.
A breakfast buffet is included every morning, parking is available at an extra charge and check-out is an awesome 12pm. There is also a cafe on-site.
Click here to see the latest prices now.
Click here to see all our recommendations for the best hotel in Baden-Baden.
How To Get To Baden-Baden
We travelled to Baden-Baden by hire car which made it very easy to get here.
You can hire a car to get you there by clicking here.
If you want to arrive by air, about 15 kilometres from central Baden-Baden is the Karlsruhe / Baden-Baden Airport. It's a small airport with European flights. Stuttgart Airport has more choices and is 70 kilometres away.
Click here to find the latest flight prices.
There are regular trains and buses here. You can find timetables and all your options here.
Once in Baden-Baden, we found it easy to explore by foot. For the places a little further away, like Hohenbaden Castle, we drove and did not find parking to be a problem.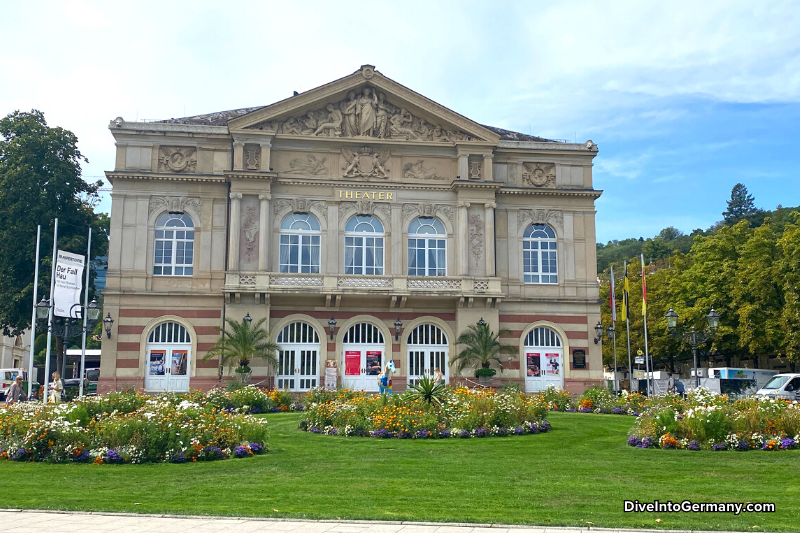 Things To Do In Baden-Baden With Kids
Baden-Baden can be a fun place to visit with kids, and we visited with our three kids aged 6 – 12. We had fun exploring the ruins at Hohenbaden Castle, taking the funicular up Mt Merkur and they loved the mansions around Paradies Am Annaberg.
In saying this, while Baden-Baden is perfectly family friendly and enjoyable, it's the first time travelling in Germany that I wish I didn't have the kids with me. Since our youngest kid is 6, we couldn't all visit the spas, and we also couldn't visit the Casino.
My husband took the older kids to Caracalla Spa and they enjoyed that, but it's not the same as us all getting to do something. It also meant he couldn't visit the adults-only part. It feels a bit weird to come to Baden-Baden and not get the spa experience.
So while I 100% recommend visiting Baden-Baden with kids, I think it would be even better if you could slip away for an adults only weekend.
Final Words
I hope you have found this guide to things to do in Baden-Baden useful and you enjoy the healing waters and attractions in this pretty city by Germany's Black Forest. It's a great place!
Read more guides to visiting Southern Germany here. You can also find our full guide to Baden-Baden accommodation here and guides to visiting nearby Freiburg here or Heidelberg here. Europa Park is also super fun and just an hour away. Read our guide here. You can also read our guide to visiting German saunas here.