Interested in visiting a sauna in Germany and want to know what to expect? Want to avoid making a big faux pas in German sauna etiquette? Or just wondering if it's really true that there are naked German sauna options where everyone sits around sweating in the nude?
You are in the right place!
We too wanted to visit a sauna. Germany has many of them, but I was quite nervous about sitting in a nude sauna in Germany especially in a Germany mixed sauna.
My Australian roots had me embarrassed at the thought of walking and sitting round naked. So I wanted to read and digest everything I could before going to fight away the nerves and (I'm embarrassed to admit it) to help me be brave enough to go to a nude sauna.
Germany is full of fun places to experiences and I wanted the whole experience – which meant also learning German sauna culture and having my first nude German sauna.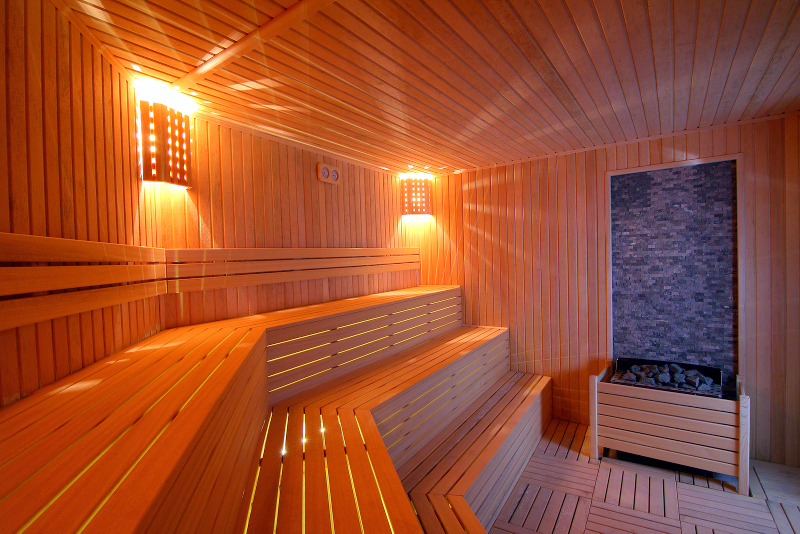 My husband loves saunas and has no problems with being naked so dove in straight away. This helped me get over my nerves and give it a go and guess what?! It's really not as weird or bad as I imagined. It's relaxing and fun in fact!
I was glad I tried out the German sauna experience early in our trip so I could do it a few more times while we were away.
If you want to know more about visiting a German public sauna, sauna etiquette in Germany including whether you have to be naked and how it all works, keep reading. I include absolutely everything you need and want to know about visiting a sauna in German culture.
Traveling to Germany? Click here to download your free Germany Trip Planning checklist. We'll help you get ready for your trip! 
What Is A German Sauna?
First of all, what is a German sauna? It can simply be a sauna or a collection of saunas of varying heats and conditions. It can also be part of a larger bathhouse or themal bathing area. They can also have an area with beauty treatments and massages.
It can also have various names including a bathhouse, spa or therme.
If it's part of a larger complex, often the sauna section can be separate and may require an extra fee. While you'll need to be nude in the sauna, you may need to wear swimsuits in the other areas. Some saunas do have a pool/bathing area as well as part of the sauna and in that case, it may be no clothing in the water as well.
In fact, it is typical that the sauna area will be "textile-frei" and clothes, other than towels wrapped around yourself or robes, are not permitted. It should be obvious – and is almost always indicated via signs.
The saunas can be HOT. Like up to 90 degrees Celsius. You'll find other options too and I personally avoided the super hot ones as it's not for me. My husband prefers the hotter saunas, depending on how wet/steamy or dry they are.
There can be tons of types from Finnish to wet to aromatic and more. It's fun to try out the different types and the best way to learn what they are is to simply do this. You'll soon know what you like and you can always walk out of one if it isn't to your liking.
They often have relaxation areas too where you can lay out and enjoy and relax between steaming yourself in the saunas.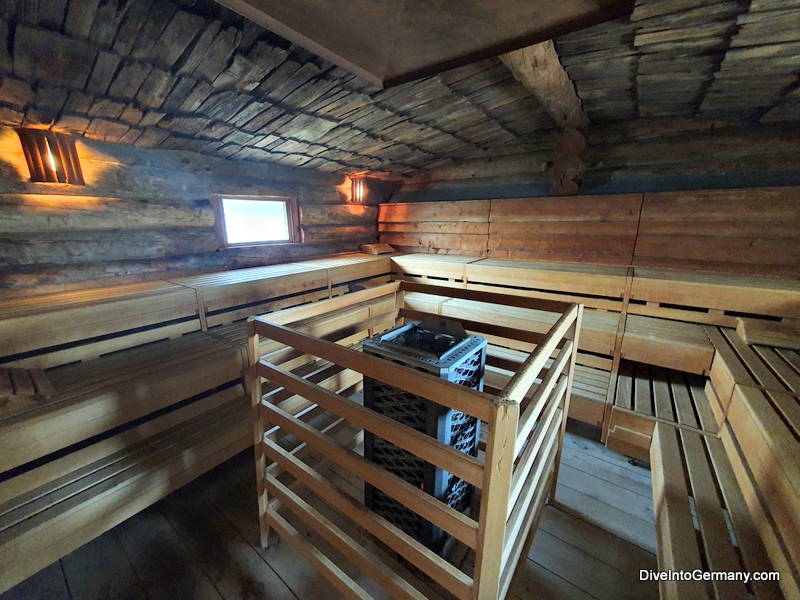 Is Everyone Nude In A Sauna In Germany? Do You Have To Be?
Yes. Everyone will be in a German sauna nude and you should be too.
There is the occasional exception. Like in some hotels where we stayed, there may be a family time where kids are allowed in and at those times, you'll need to wear your swimsuit.
This is because it's not considered hygenic to wear a swimsuit in the sauna. There are some reasons for this:
Swimsuits are often wet. Sitting with a wet butt in the sauna will make the area where you sit wet. This makes it both unpleasant for the next person who comes along and also isn't good for the wood in the sauna
You should use the towel you bring in under your butt to stop your sweat from going into the wood and to keep things hygenic for the next person. And while you're sitting, your feet shouldn't touch the wood either.
Something to note from this is it's not just a swimsuit you are not allowed to wear when visiting a Germany sauna nude, but you should never sit directly on the wood. Use your towel.
Note that you can also keep an extra towel on. You don't have to take it off. While you need to be sitting on a towel, you can keep one wrapped around you if you prefer. Most people won't do this but it's ok to do it if you want.
In between saunas, pools in the sauna area and showers, you can wear a robe or wrap a towel around yourself. Most people do. However, a minority people will walk around without covering up in any way and if you want to, that's fine.
Do You Have To Go To A Mixed Sauna In Germany?
Well, no one is holding a gun to your head 🙂
However, if you want to go to a German sauna (and you should, they're great), you'll probably need to. The vast majority of saunas in Germany are mixed gender.
Some may have a weekly or monthly female-only day, but generally you will be visiting a German mixed sauna.
Is It Uncomfortable?
It's easy to feel uncomfortable if you come from a culture where being naked around people, especially random people of the opposite gender, is unusual. I found I felt uncomfortable at times when I got into my own head too much thinking about how uncomfortable it was 😂
Honestly, once I got over that, it was freeing and I loved it. It did sometimes creep back in though.
If you are worried about staring, don't be. It is definitely against the sauna etiquette Germany has to stare at others in the sauna and people are good at not doing it. Besides, everyone feels the same and they don't want you to stare back.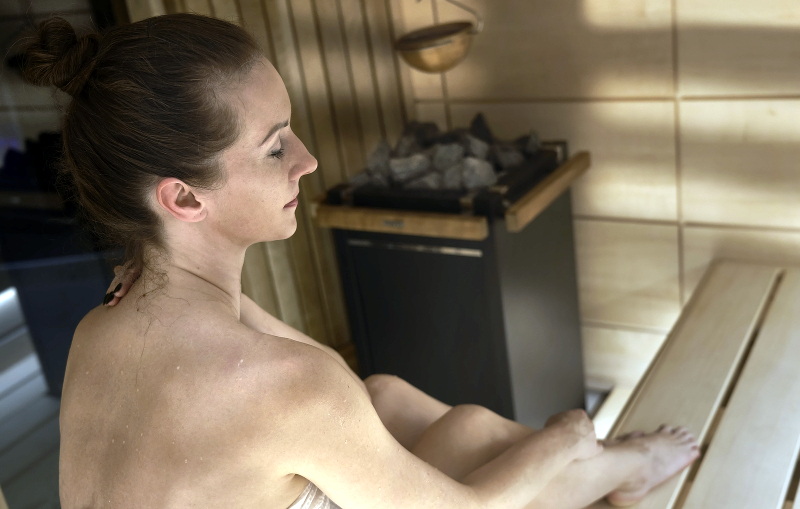 What Should You Take To A German Nude Sauna?
For your sauna German experience, you only really need to take two towels – one for when you are walking around the sauna and one for when you wash off afterwards. You can usually rent a towel (or two) from the sauna and larger places will sell them as well. The bigger your sauna towel the better – it gives you more wood covering ability, allowing you to stretch out and lie down for example.
You could just get away with one towel but it'll get pretty soaked quickly.
You should also take a pair of flip flops/thongs or shower shoes. Depending on the sauna/spa/bath you go to, it may be required to wear something on your feet outside of saunas and pools. Required or not, most people will use them but if there's no requirement then you won't be alone in not doing so.
You usually leave them outside the sauna door and at pool steps, but for some wet saunas, it's ok to take them in. And like towels, larger places will sell footwear as well.
You can also take a robe if you wish (and have one available). If you're not up for wandering around nude then a robe is a common choice to cover up between saunas, showers and pools. Again, spa/sauna complexes will often rent you a gown and may sell them, too.
What Do You Do In A German Naked Sauna?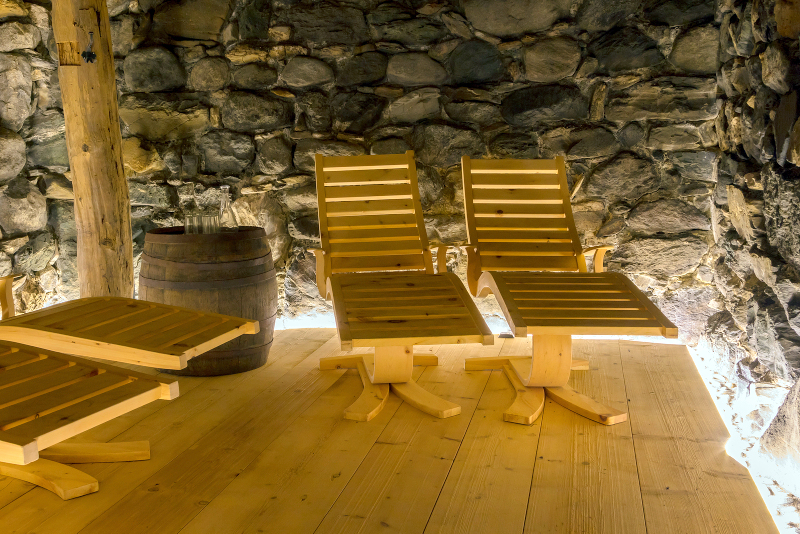 There is a general routine to follow in sauna culture Germany. You start by having a shower to ensure you are clean.
Next, you can enter your sauna/bath/pool of choice. It's generally recommended to spend less than 15 minutes in a sauna. In the sauna, relax, chill and keep quiet (talking is frowned upon).
Then have a shower to wash off your sweat and it's highly recommended to cool down if you have been in a sauna. This might be a cool shower, a cold plunge pool or even an ice bucket or room.
Spend some time at a relaxation area and then start over again. If you've sweated a lot, make sure you drink some water.
Some saunas will have a suggested routine to follow which is a great way to go.
There is one type of sauna that is worth some further explanation as it can be very confusing the first time you encounter it.
The Aufguss
This sauna is a unique German experience and it's worth giving it a go, although be warned. It's HOT!
In an Aufguss, a sauna master takes you through a burning hot sauna experience of usually around 15 minutes with steam and essential oils. There will be rounds of them adding more water so the room gets hotter and hotter and the sauna master will whip around a towel or flag to spread around all the steam.
It can be quite theatrical so try to give it a go.
It's ran on a schedule (look for it when you first enter the sauna). Make sure you get there on time as you'll be frowned upon if you interrupt the proceedings. In fact, try to be early to get a good spot (not close to the heater or high up – heat rises) where you can spread out.
It's best to cool down before entering the Aufguss session. You may overheat quickly if you have come from another sauna room.
What Else Do You Need To Know About German Sauna Culture?
There are German sauna rules and each sauna may differ a little. They should have rules on display, although there is a good chance they won't be in English.
That said, it is typically obvious what temperature a given sauna is.
If you read the above and the below, you'll have a great understanding of the general sauna rules in Germany and what to do during your mixed sauna Germany experience. Look out for other's behaviour to fill in any other detail and you'll be right.
How To Use Your Towel
You should always have a towel on you unless you are in a steam bath (it'll get really wet, leave it outside) or in a pool.
Your towel can be wrapped around you when walking between pools/saunas and it must be under your bottom when you are in a sauna. You shouldn't have any parts of your body touching wood – your towel should always be under you.
For this reason, you need a large towel or a second towel as you may need to also have something to put your feet on when you are in the sauna.
A white bathrobe is also popular among locals for walking between saunas. You can also just hold your towel or put it over your shoulder when walking if you want.
How To Use Your Flip Flops/Shower Shoes
These should always be worn between experiences then left at the doors of saunas/pool steps.
Between them, you can wear them including in showers. It helps if they slip on and off easily.
Keep Quiet
People don't talk at saunas. It's not the time to make a new friend. If you are with a friend or partner, quiet whispering is ok, but keep it to a minimum.
Don't Stare
Keep your eyes in a safe place.
Wash Regularly
You should wash off between sauna rooms. No one wants your sweat. It also helps regulate your body temperature after or between sauna sessions. Cool showers not only assist with this but feel very refreshing.
Fake It To You Make It
While visiting a naked sauna in Germany can seem a little complicated and anxiety-producing, my best advice is just to feign confidence until you feel it.
You'll be fine 🙂
How Much Does A Germany Sauna Cost?
The cost of German saunas can vary widely. A basic pass without extras (like food and massages) is generally 20 – 30 Euros which can give you a whole day of relaxation.
Ones with more facilities tend to be pricier than those with less.
Top German Saunas
There are some fantastic choices for the best sauna in Germany, and I have not been to them all so I cannot judge. I'd love to take that challenge on though!
Here are some that are often listed as a best sauna Germany offers or we went to and think it's worth a shout out.
There are Germany sauna spa experiences all over the country though.
Friedrichsbad Baden-Baden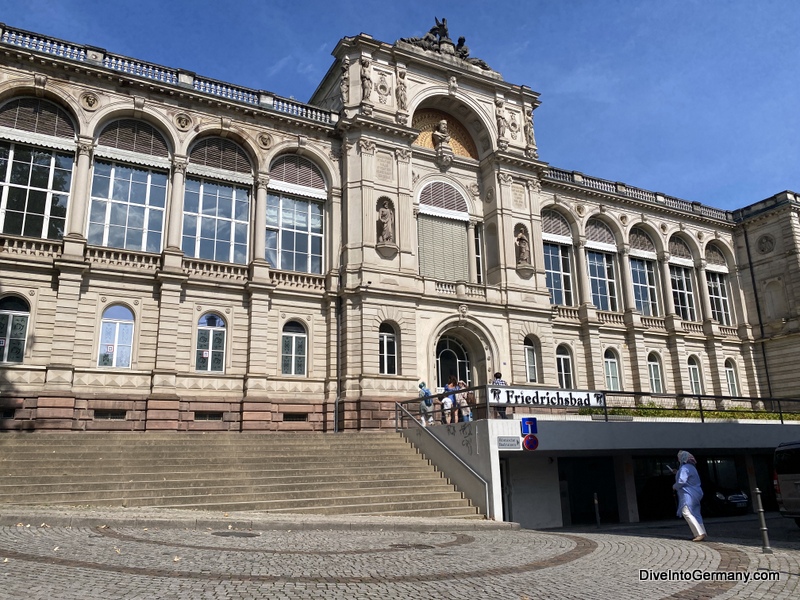 It's hard to look past a traditional German spa experience at Friedrichsbad in Baden-Baden. Built on the ruins of an old Roman bathhouse, people have been sweating and bathing here for a long time.
Built in 1877, you can bath in style in what was considered the most modern bathhouse in Europe when it opened. It still retains this atmosphere today and you get to bathe in the traditional way. The inside and outsides of this building are just gorgeous.
To start your experience, you can have a shower with the thermal water before lying on a warm wooden bed in the hot air rooms which are 54 and 68 degrees.
Next up is the optional extra, the soap and brush massage. This means you are coated in soap and then massaged with a brush.
Then you are all set to bathe in the thermal water. There are a range of pools, temperatures and experiences that are worth every moment.
When you are finished, you are handed a pre-warmed towel to dry and there are various moisturisers for your skin. Finally, enjoy a cup of tea in the relaxation room.
You can find more information about it here.
Therme Erding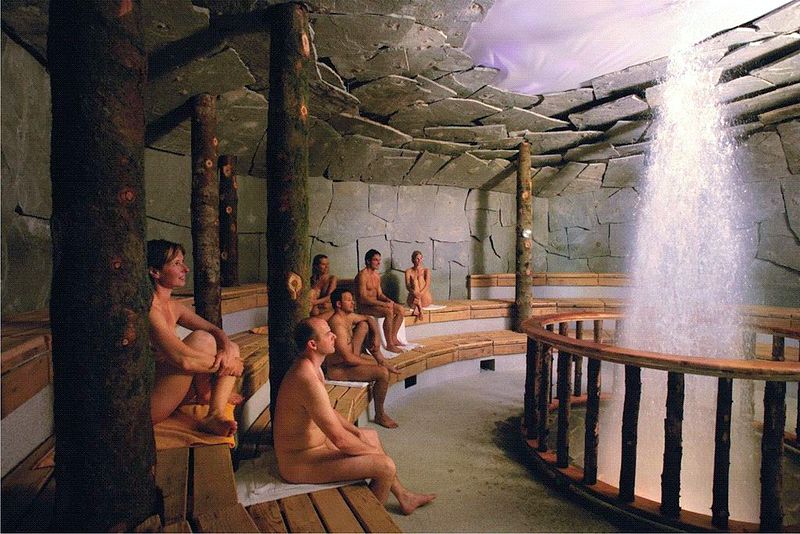 Not just the biggest sauna in Germany, but in the world, Therme Erding is definitely an experience. 30 minutes northeast from Munich, you can find a huge sauna and thermal bathing complex as well as a water park. It's BIG!
This can make it great for families. The adults can take turns playing with the kids at the water park and visiting the sauna and bathing area.
You can find their site here.
Badeparadies Schwarzwald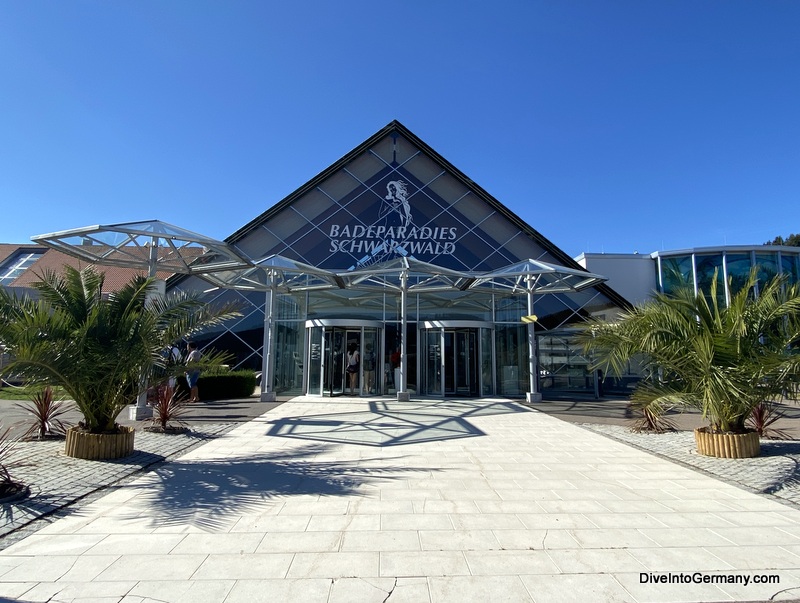 Located in the Black Forest by Titisee (yes, it's an extra fun name when talking about Germany sauna naked culture 🙂 ), this is also a huge complex with different areas including a water park that kids can enjoy too.
The "textile-free" sauna and spa area is fantastic with 12 themed saunas, 6 mineral pools, a "crystal" shower (which is more like a waterfall room that is very refreshing), a huge wellness area and outdoor terraces and outdoor pool and bar/restaurant areas too. There's even a pool bar!
This place is huge. It is easy to spend hours and hours here in a pool, sauna, shower, relax cycle. The quantity and quality of amenities like showers, change areas and anything else you need is excellent.
Information and guides are in English (and French), too, meaning there's no confusion if you don't speak German.
Because of the size of the complex the lines to get in on a weekend can be long. At 10am, we were lining up for 20 minutes.
There's also an adults-only mineral pools and bathing area where you wear swimsuits too.
You can find more information here.
Final Words
Going to a naked sauna Germany is definitely an experience you won't forget and there's a great chance you'll even have a great time. Once, you get over being naked (if that's weird for you as well) and understand the general etiquette, it's fun and relaxing.
It's all part of the fun cultural experience of being in Germany.
Want to read some super weird facts about Germany including learning where else people go naked?! Click here. Or want some reasons not to travel to Germany? Click here.
Looking for atmospheric Old Towns to visit in Germany? Find our list of the most beautiful Old Towns here. Find more guides to help you plan your trip to Germany here.