Going on a trip to Heidelberg and want to know all the best things to do in Heidelberg Germany? We have you covered! Below, you will find our guide to all the best places to visit in Heidelberg to plan your ultimate trip.
This beautiful city has to be one of Germany's most picturesque thanks to the Neckar River flowing through and the surrounding forest. Add in a Baroque Old Town and Heidelberg Castle on the hill, and this is one place that has stuck in my head for years as somewhere worth visiting.
I was excited to finally get the chance to visit and found out Heidelberg does live up to its beautiful pictures 🙂 Not just that, but it's more than its famous university and beautiful, partly-ruined castle. There is a lot to love about a visit to Heidelberg.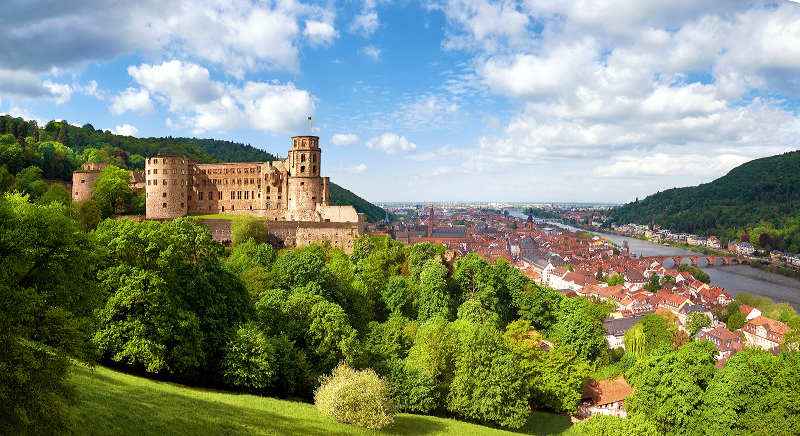 To help make sure you love it as much as us, below you will find our full Heidelberg travel guide with everything you need to know about what to do in Heidelberg Germany as well as the best places to stay for your ultimate vacation in Heidelberg. There is also a handy map of all the things to do Heidelberg offers.
You'll also find special sections on things to do in Heidelberg Germany in winter and a full itinerary for places to visit in Heidelberg in one day as well as what works if you are travelling with kids.
Traveling to Germany? Click here to download your free Germany Trip Planning checklist. We'll help you get ready for your trip! 
An Introduction To Heidelberg
With a population of 160,000, the lively university city of Heidelberg is in the state of Baden-Württemberg in Germany's southwest.
First mentioned in 1196, a settlement here can be traced back to Celtic and Roman times. In fact, there is evidence that people have been here for hundreds and thousands of years thanks to the Heidelberg Man whose jaw bone was found nearby in 1907. This is the earliest evidence of humans in Europe.
In the 5th century BC, a Celtic fortress existed here on Heiligenberg (Holy Mountain). The Romans built a fort here in 40 AD and then in 369 AD, the Roman Emperor, Valentinian I, built and maintained permanent camps here, a bridge and a signal tower. The first civilian settlements started. The Romans were later driven away by Germanic tribes.
The beginning of modern-day Heidelberg was when the Schönau Abbey was founded in 1142. The first reference to Heidelberg in 1196 is from a document in this abbey, and it's considered the founding date of Heidelberg.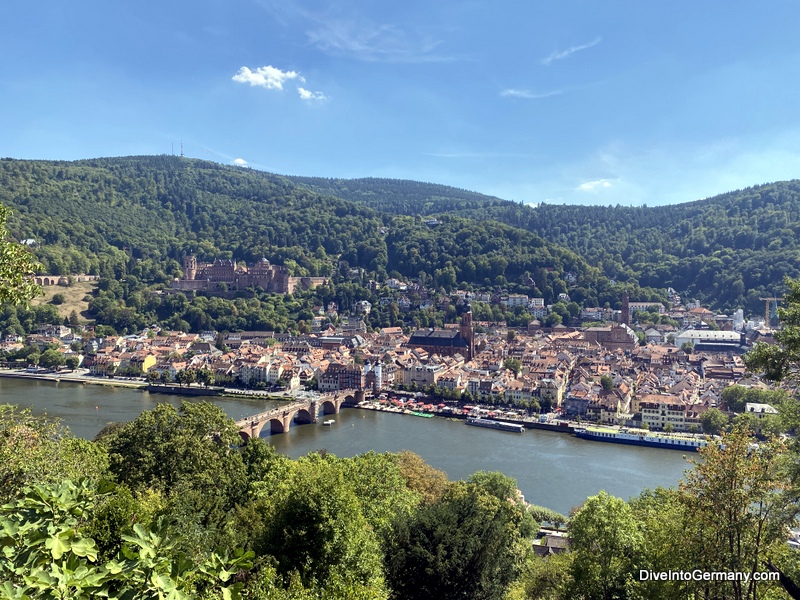 The first parts of Heidelberg Castle were constructed around 1300 and the town also grew during this time. In 1386, Heidelberg University was founded by Rupert I the Palatine Elector making it the oldest university in Germany.
Heidelberg was the capital of the Electoral Palatinate until 1690 and the residence of the Count Palatine, the leader of the group of prince-electors for the region.
Heidelberg was damaged during the Thirty Years War in 1622 and in the late 17th century, the city was basically destroyed by the French in the Nine Years War. Many fled Heidelberg at the time. Those that remained rebuilt the city in a Baroque style.
Heidelberg became part of the Grand Duchy of Baden in 1803. In the years to follow, Heidelberg grew and became an important university town and tourist destination.
In 1849, Heidelberg was home to a revolutionary army as part of the Palatinate-Baden rebellion. A Prussian army defeated it and the city was occupied by Prussian troops.
Heidelberg was a strong base of support for the Nazi Party. By 1939, the university had lost a third of its teaching staff for racial and political reasons. Non-Aryan professors were removed within a month of Hitler gaining power.
Heidelberg was not a victim of bombing raids in World War II and surrendered when the US Army arrived on March 30 1945. They chose it as their headquarters after the war and it also became a NATO base.
Today, Heidelberg is growing and prospering. The university is well regarded and has over 30,000 students. Heidelberg is also a popular tourist destination with several million people visiting Heidelberg Castle each year. It also has a significant industrial presence with manufacturing of machines, leather, tobacco and wood products.
Top 15 Things To Do In Heidelberg Germany
Here are the best Heidelberg attractions. Read through and select the ones that fit your interests and timeframe. If you only have one day to visit Heidelberg tourist attractions, find our 1 day in Heidelberg itinerary below.
Note that I sort these Heidelberg places to visit based on geographical location starting with the Schloss and then listing the closest things to see in Heidelberg Germany while working our way further away. The order isn't based on what I think are the most important attractions.
Schloss Heidelberg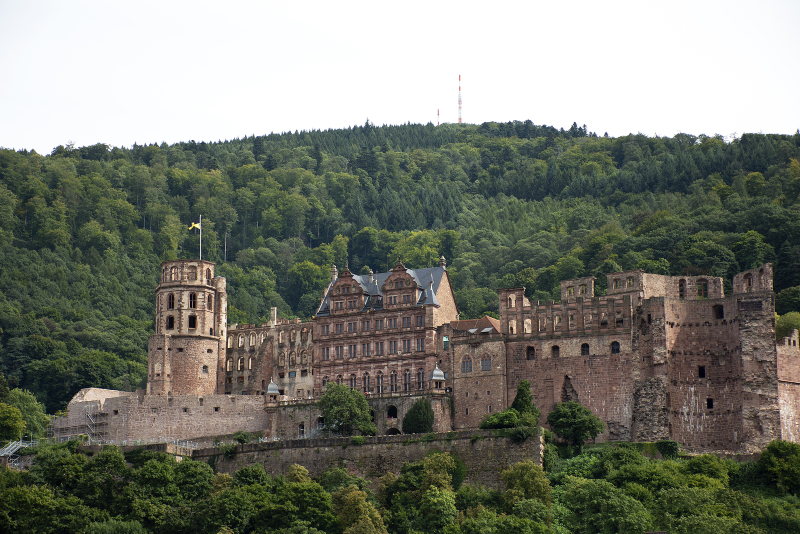 Heidelberg's most famous attraction and one of the top landmarks in Germany, Schloss Heidelberg, should definitely be at the top of your list of places to see in Heidelberg. You certainly won't miss it, up on a hill, 80 metres over the Old Town.
Once the home of Heidelberg's Prince Electors, it's been partly in ruins and left uninhabitable since a lightning strike in 1764.
It started life as a fortress around 1300 and later was expanded to be a palace fit for royalty. It was damaged many times by fires, lightning and wars.
The castle is worth visiting to see it up close and for the views over Heidelberg. You can take an audio tour to learn more as you explore or a guided tour. If you want to go inside, you'll need to be on a guided tour.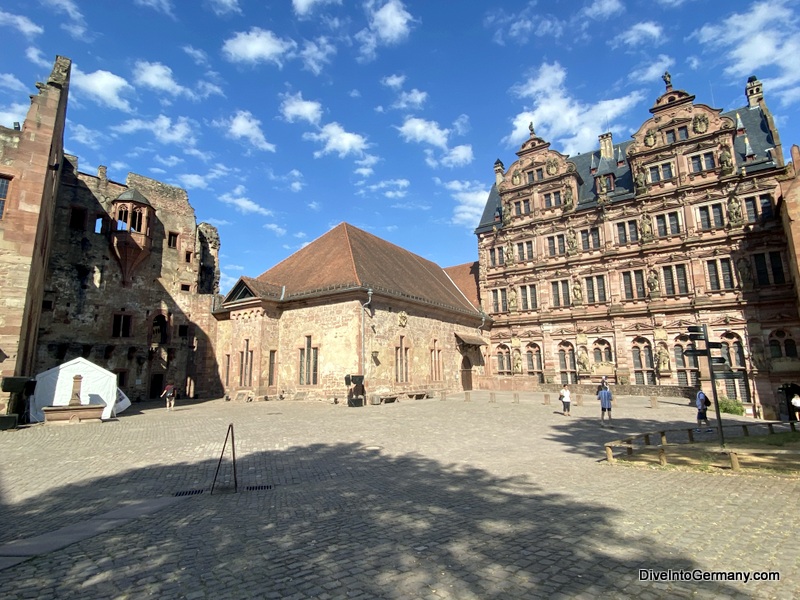 Make sure you visit the enormous wine cask in the cellar – it holds 185,500 litres! The castle is also home to the Pharmacy Museum, coming up next!
I found the castle more picturesque than I expected and in much better condition. While there are ruined parts, it doesn't look as ruined as I expected with parts that looked completely intact.
You have two choices for how to get here – walk up a steep trail in about 10 minutes or taking the bergbahn, which is a cogwheel train, from Kornmarkt station. This is an easier way to get there although they can be quite crowded.
The entry tickets include entry into the courtyard, the train journey to and from the castle and seeing the large wine cask and the Pharmacy Museum.
If you don't want to buy an entry ticket, you can walk around a small part of the grounds and get some great views over Heidelberg.
Deutsches Apotheken-Museum (German Pharmacy Museum)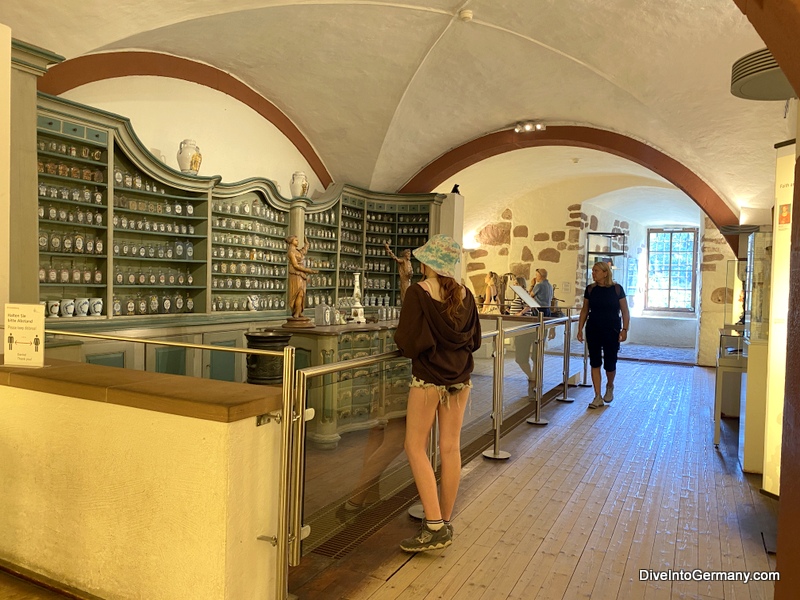 While you are at the castle, make sure you check out this one of the Heidelberg Germany things to do. Located inside the castle, this 11 room museum discusses the history of medical science and pharmacies in Germany.
There is a lot of interesting information here from how nature was used to heal in the Middle Ages to some interesting "remedies" such as using a pulverised mummy for colds! Or portable pharmacy kits from the 1600s.
We loved seeing the preserved interiors of pharmacies from the 17th to the 19th centuries as well as a lab. I loved that I could recognise some of the equipment from high school chemistry – some things don't seem to change! It brought alive the history of this area.
It was interactive enough in parts to keep our six year old interested. We had fun guessing what the smells of various herbs were and identifying them using a book.
Entry is included with your castle ticket so there's no reason not to visit this one of the cool things to do in Heidelberg. Most signs are in English. It's worth your time.
Altstadt (Old Town)
Between the base of Schloss Heidelberg and the Neckar River, you can find Heidelberg's pretty Old Town. It was built in the 18th century after the French destroyed the previous version in the Nine Years' War
This rebuilding has lead to a uniform appearance with red roofs and Baroque architecture. It has the usual Old Town cobblestoned streets, and Marktplatz is a great place to head to. There are monuments, churches and more with the best Old Town Heidelberg things to see coming up next.
You can simply wander to these attractions while making sure you soak in the Old Town atmosphere.
Heiliggeistkirche (Church Of The Holy Spirit)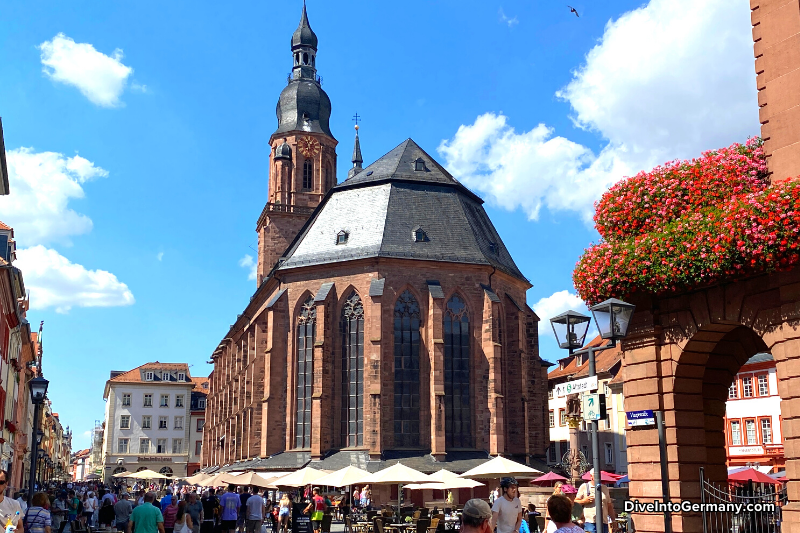 Located on Marktplatz, you won't miss Heiliggeistkirche or the Church Of The Holy Spirit, which was first built in the 13th century then changed to its current Late Gothic design in the 15th century.
The church is currently Protestant, but has changed several times and from 1706 to 1936, it was shared by Catholics and Protestants.
The Palatinate's Prince-Electors were buried here for centuries, although most of the tomb effigies were destroyed by the French in the Nine Years Wars.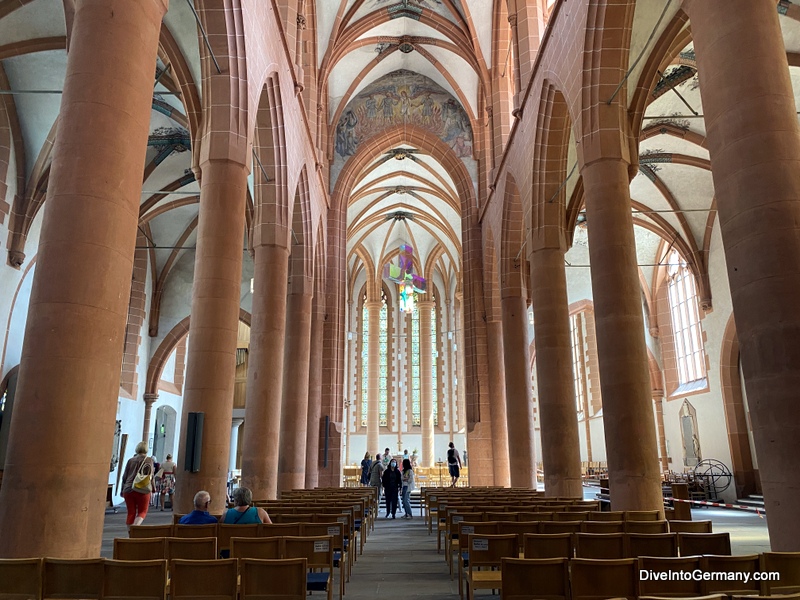 For views over the Old Town, you can climb the tower here (although this was only on Saturdays when we visited) up to 38 metres above the streets. There is a small charge for the tower but entry to the church is free.
Jesuitenkirche (Jesuit Church)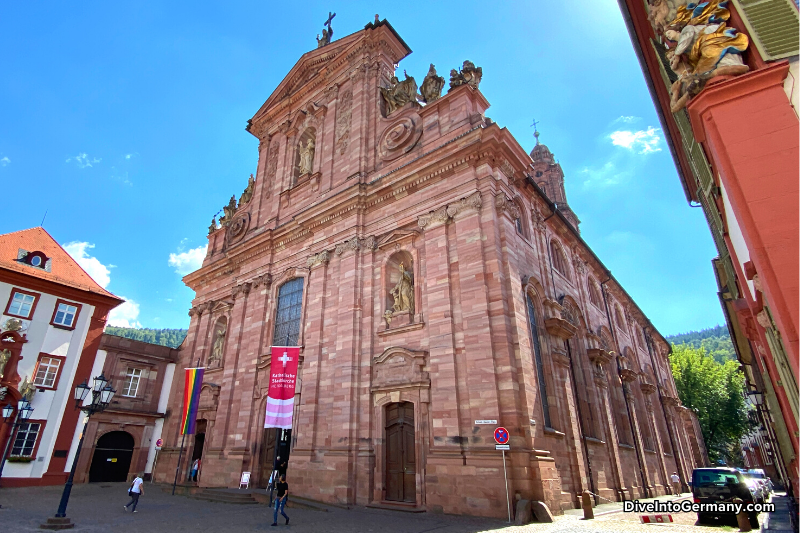 A two-minute walk away is another church worth visiting, the Jesuitenkirche. Its striking white interior is in contrast to its red sandstone exterior with a Baroque design. Built in the 18th century, there are religious artefacts in the treasury and the tomb of Frederick I, a 15th century Elector Palatine.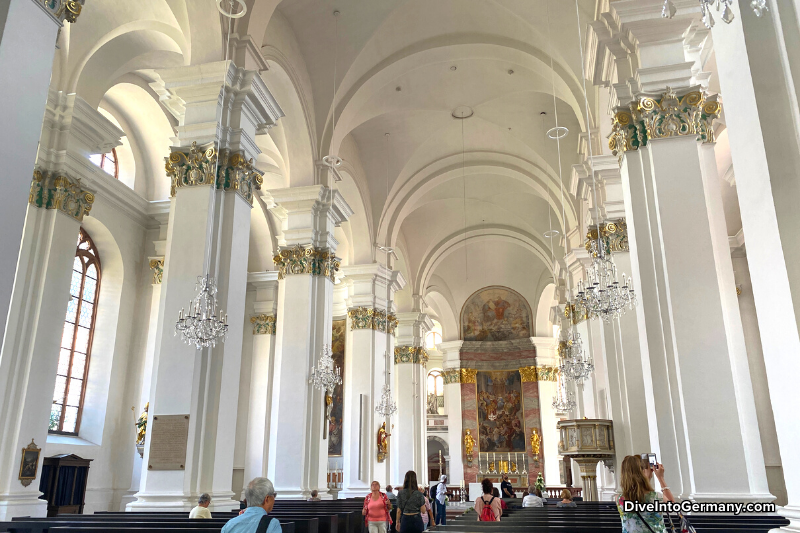 There are regular concerts here.
Entry is free to the church with a small fee for the treasury. It's definitely worth taking a look inside.
Studentenkarzer (Student Jail)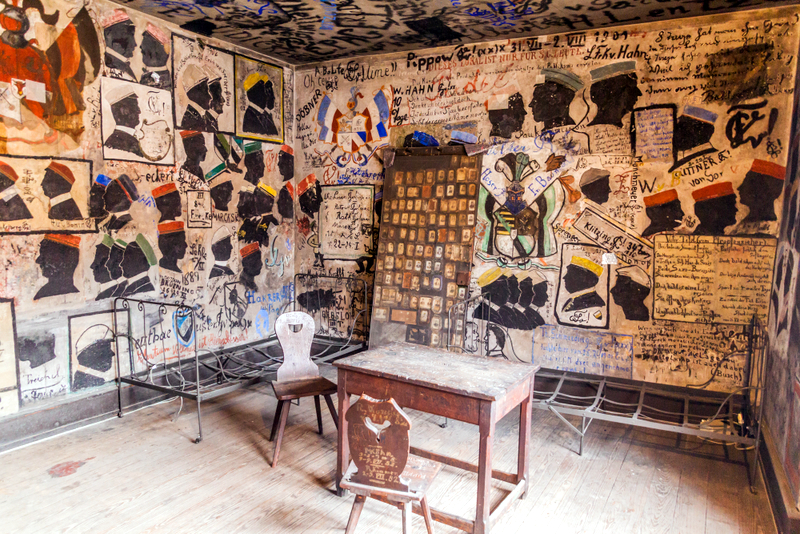 For unique attractions in Heidelberg Germany, head to the Studentenkarzer or Student Jail! Just a minute's walk from Jesuitenkirche, you can soon be visiting this small jail where students could be locked up for wrongdoings such as duelling, freeing pigs or public inebriation for at least 24 hours or up to a month.
Students were let out for classes and exams but then expected to return.
It started in the 1780s and stopped in 1914. It became somewhat a rite of passage for certain segments of the university population.
The rooms are full of graffiti and pictures which are more interesting if you can read German, but it's still cool regardless.
There is a small fee to enter and it's shut on Sundays. The entry fee includes entry to the University Museum coming up next.
Ruprecht-Karls-Universität Heidelberg (Also Known As Heidelberg University)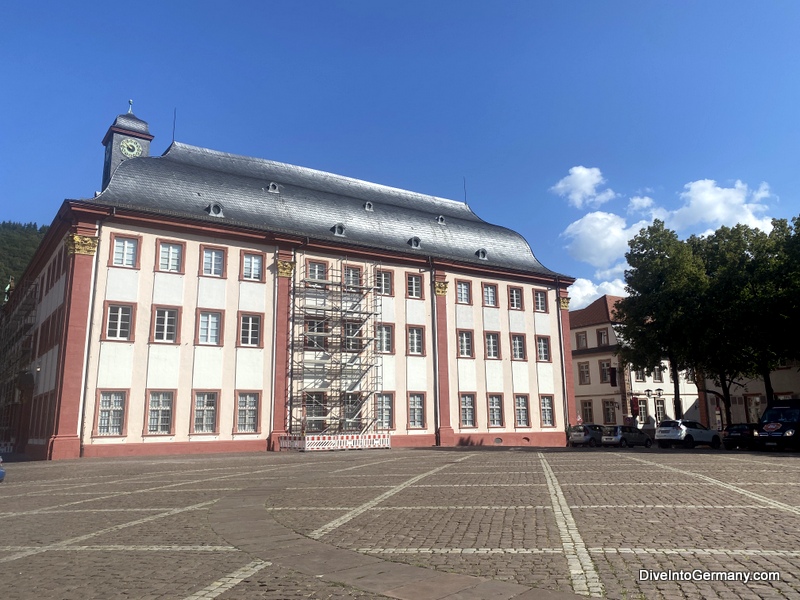 Heidelberg University is well know and as the oldest (and arguably the most prestigious) in Germany, it's worth checking out. With 12 faculties and over 30,000 students, it's a popular place to be!
Universitätsplatz in the Old Town is the place to head for the oldest buildings with the Alte Universität (Old University) having started being constructed in 1712. There's also the Neue Universität (New University) here which dates back to 1931.
Inside the Alte Universität building, you can find the Universitätsmuseum (University Museum) which has three rooms dedicated to the university's history with paintings, photos and documents.
There is a lack of English signage but the small entry fee includes an English audio guide. It also includes entry to the adjacent Alte Aula, a hall dating back to 1886 which is richly decorated and the Studentenkarzer (Student Jail) above.
If you are interested in the University, also make the effort to visit its library (Universitätsbibliothek). It was built in a Wilhelmian style from 1901 and is home to many rare books and prints which are exhibited upstairs.
Kurpfälzisches Museum (Palatinate Museum)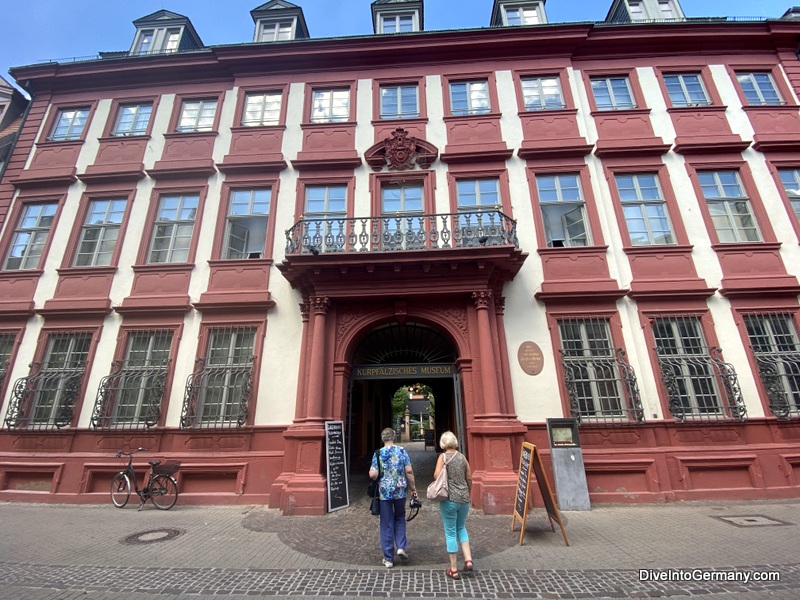 The Kurpfälzisches Museum or Palatinate Museum tells the history of Heidelberg through exhibits, particularly during Roman times. They have on display a 4 metre high Roman column of Jupiter made of sandstone that's nearly 2000 years old and wood beams from an old bridge. You can also learn more about the jawbone of the Heidelberg man discussed above.
There are old artefacts, sculptures, paintings and more including from well known artists, Lucas Cranach the Elder and Max Beckmann. Most paintings are by artists associated with Heidelberg in some way.
You can also find rooms furnished how they may have looked in the 18th and 19th centuries.
There is only a small fee to enter the permanent exhibitions and an audio guide is included.
Neckar River Cruise
You can see Heidelberg from a different angle on a Neckar River cruise. There are many options which can include commentary and going further distances from Heidelberg.
An option is Solarschiff who use stainless steel solar catamarans. That's right – the sun powers your journey! This also makes it a much quieter experience.
The 50 minute cruises have commentary in German and English. Find them here.
Or you can try Weisse Flotte that have longer cruises, themed cruises and many options. Find them here.
Alte Brücke (Old Bridge)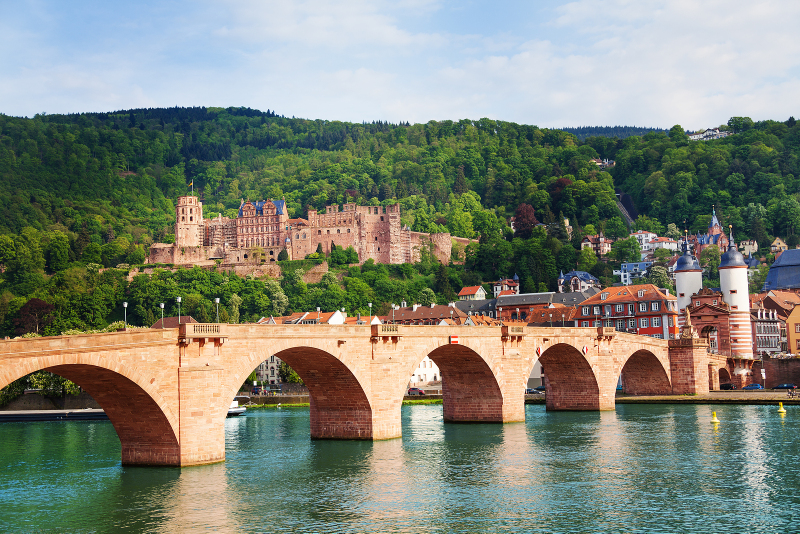 The Alte Brücke or Old Bridge crosses the River Neckar in the Old Town and dates back to 1788. However, this is the ninth bridge to be built on this spot.
Each of the previous bridges were destroyed by ice floes in spring, but this one was built from stone and has survived.
It's 200 metres long and it's a picturesque spot to explore. On the Old Town side are two towers leftover from Medieval fortifications and it's a very pretty spot.
On the Neuenheim side, there is the Schlangenweg (Snake Path) which can lead you to the next item on this list of activities in Heidelberg…
Philosophenweg (Philosopher's Walk)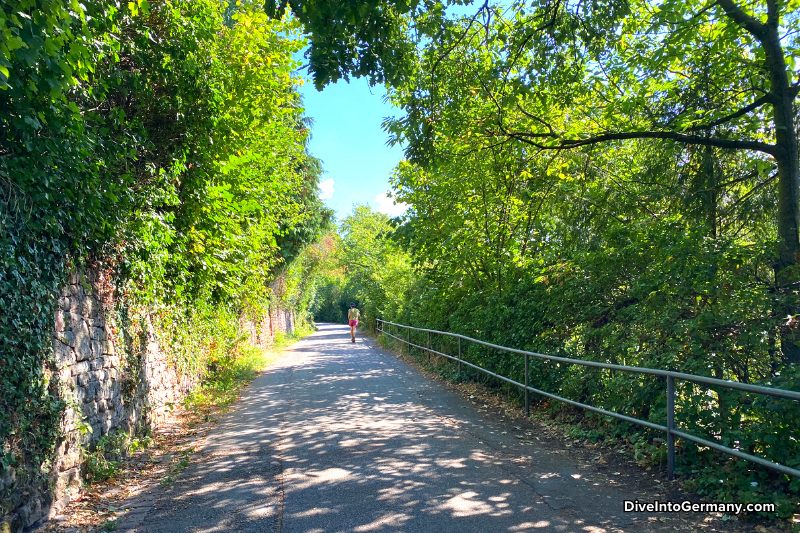 Stretch your legs at this 2.41 kilometre walk above the Neckar, opposite the castle and Old Town. You'll get great views and have the chance to pass by some of the places to visit near Heidelberg that are worth a stop. It's well worth doing.
Considered a beginner trail, you can start your walk after crossing the Alte Brücke and making your way up the steep Schlangenweg (Snake Path).
You'll pass by the Philosophengärtchen (Philosopher's Garden) which is a terrace garden with great views, a playground and many places to stop and contemplate life 🙂
I also recommend a detour to Thingstätte and Heiligenberg (coming up next) which have paths coming off this main path.
There are plenty of places to stop and rest and to soak it all in.
You can find more information in my full guide to walking the Philosopher's Way here.
Thingstätte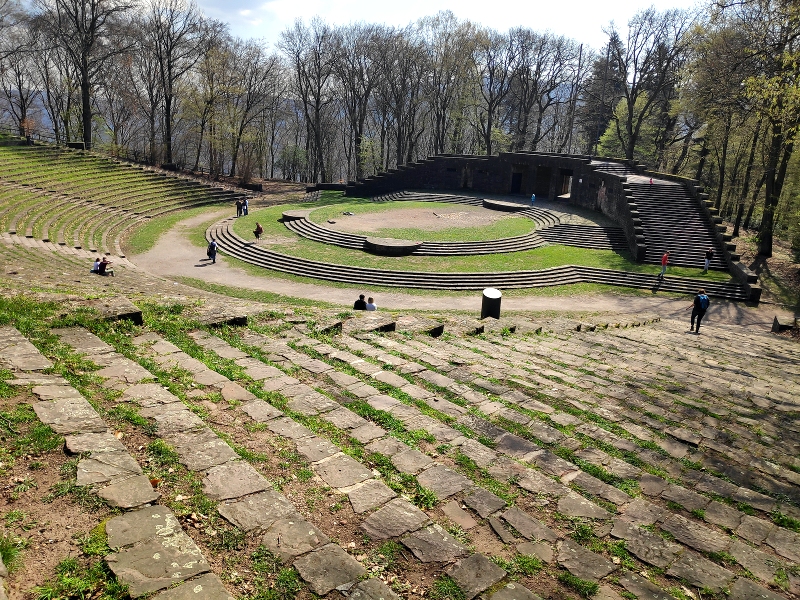 While you walk the Philosophenweg, I highly recommend you make a detour to Thingstätte.
Thingstätte is an amphitheatre completed in 1935. Thingstätte construction was part of the Thingspial movement started by Joseph Goebbels, the Nazi Minister of Propaganda, with the idea that they would be big outdoor settings perfect for propaganda presentations.
While more than 1000 were planned, only 45 were completed – and one is this Thingstätte in Heidelberg on the Heiligenberg (Holy Mountain). It was common for these amphitheatres to be built at old ruins and places of historical significance so it is not surprising it is built here where settlements in the Heidelberg area started.
This Thingstätte could seat 8,000 people and had standing room for another 15,000.
Today, it is a public park and you can see what remains and explore this site by foot.
Click here for our full review and information about how to visit here.
Heiligenberg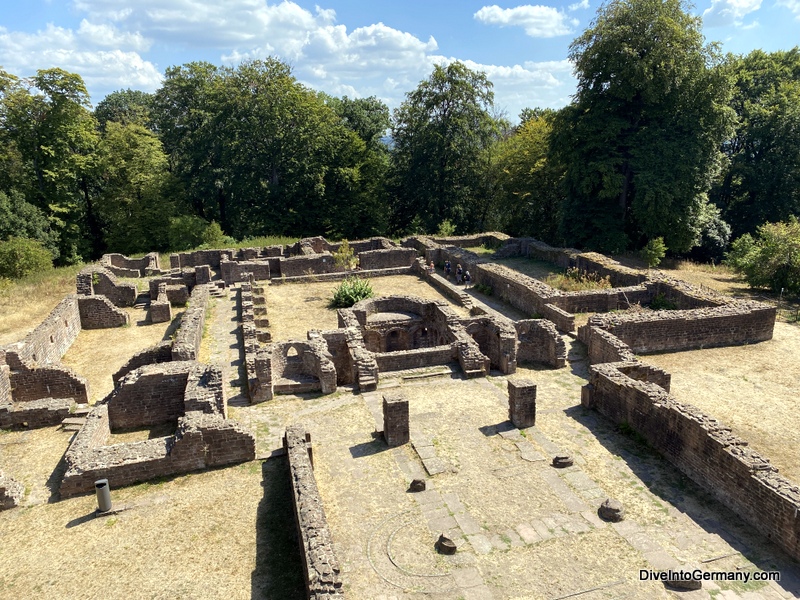 In the same area, there are other ruins to see at the Heiligenberg so take a walk around on this Philosophenweg detour. The hill itself is 440 metres high and you can find Celtic and Roman ruins, Thingstätte and the ruins of St Michael's Monastery at the top of the hill.
The monastery was built in 1023, although the first church at this location was built in 870. Monks lived here until 1503 when the steeple collapsed killing the three last monks in their beds. Since then, the monastery has been abandoned.
The oldest ruin on the hill is the Celtic defensive wall which is believed to be from the 4th century BC.
It's a great area to walk around and explore these things to do around Heidelberg. If you need a rest and a drink or something to eat, I can also recommend the Waldschenke Gasthaus which is in the area.
We had a fabulous day trip by combining this with the Philosopher's Way and I highly recommend it.
Read our full guide to visiting Heiligenberg here.
Neckarwiese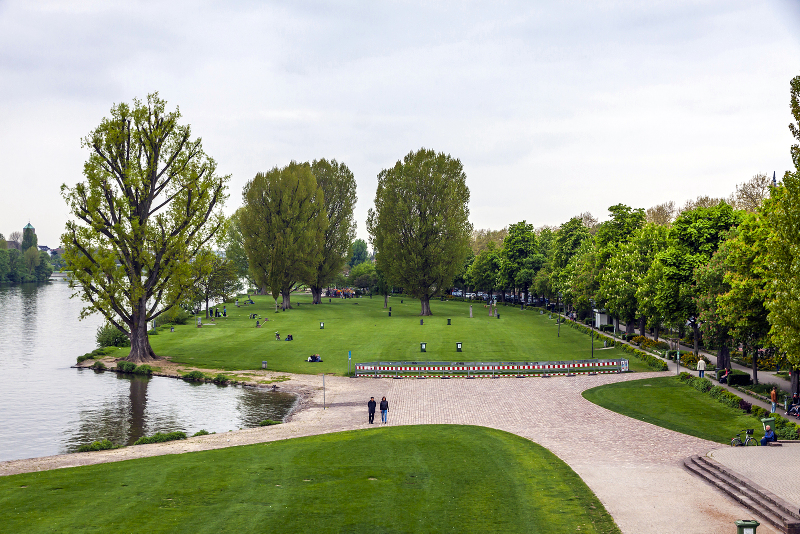 For some pretty greenery or a time out from your Heidelberg exploration, head to this one of the Heidelberg Germany tourist attractions.
Neckarwiese is a stretch of green lawns and trees next to the Neckar River on the Neuenheim side opposite the Old Town by the Theodor Heuss Bridge.
This area was an old river crossing area back in Roman times and does have annual floods which is why it has been kept clear of housing. It's a great place for picnics in warmer weather and is around 50 metres wide running by the river.
Botanischer Garten der Universität (University Botanical Garden)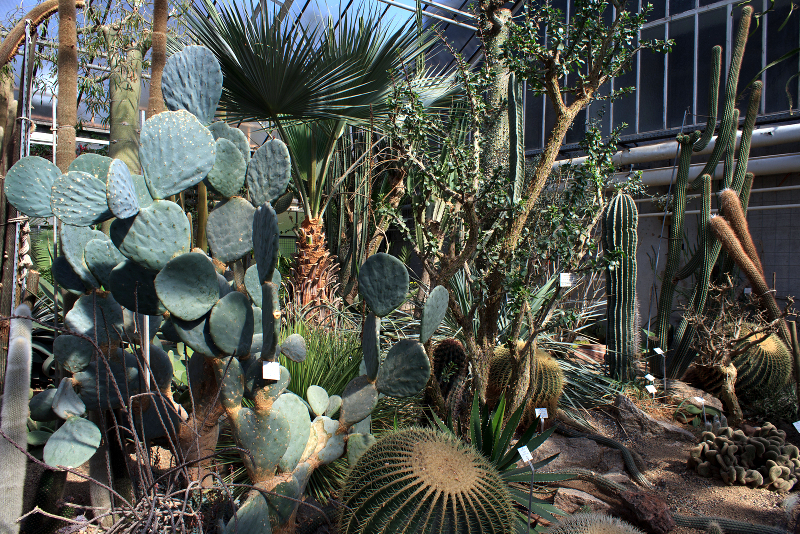 Located a few kilometres away from the university campus mentioned above at the Neuenheimer Feld campus, the University Botanical Garden started as a medicinal garden back in 1593 which makes it the third oldest botanical garden in Germany.
Today, it has over 14,000 species of plants as well as a vineyard and is a great choice of the things to do near Heidelberg if you are up for some greenery.
Best Things To Do In Heidelberg In Winter
While most of the things to see and do in Heidelberg Germany listed above are possible in winter time, there are also some fun things to do in Heidelberg in December and the colder months.
Heidelberg Christmas Market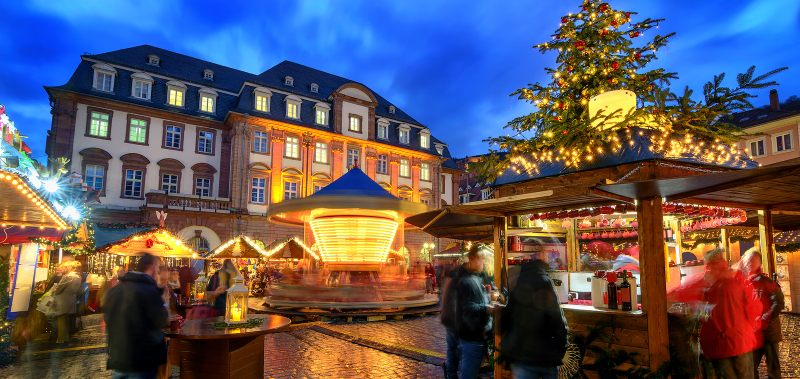 If you are looking for traditional and fun Christmas markets that really get you into the Christmas spirit, Heidelberg Christmas Market is the place to head in the month leading up to Christmas.
There is not one Christmas Market here but SIX! In fact, it can feel like the whole Old Town is just a series of Christmas Markets which, in fact, it is! You can find them at Bismarckplatz, Anatomiegarten, Universitätsplatz, Marktplatz, Kornmarkt and Karlsplatz.
You can find gifts, crafts, local food, drinks and more. With over 140 stalls, you can't go wrong. It's a delight to visit the Heidelberg Christmas Market.
Find the latest dates here.
Ice Skating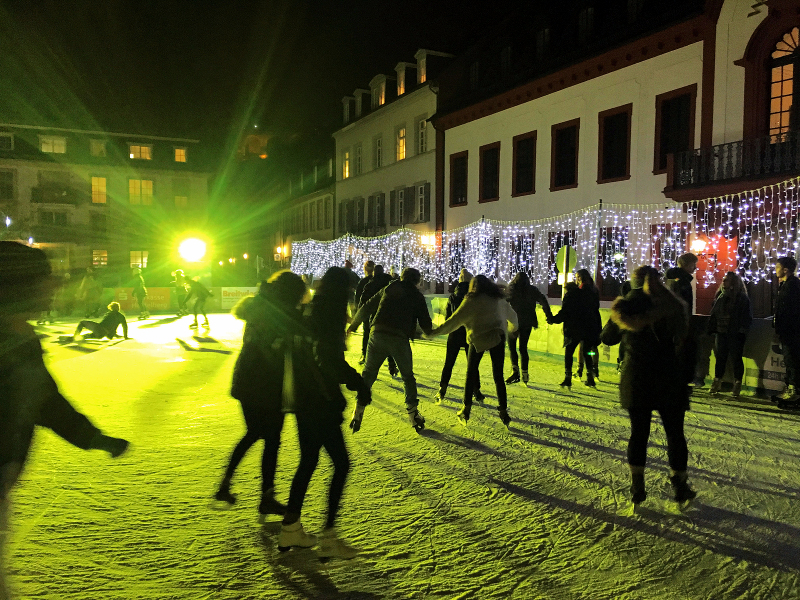 Another of the Heidelberg things to do winter is to head to Karlsplatz, not just for the Christmas Market but for ice skating!
In this atmospheric square at the base of the castle, an open-air ice skating rink is set up from mid November to early-mid January annually. It's tons of fun.
Day Trip To Heidelberg Itinerary
Only have one day in Heidelberg? What a shame! But it's ok, it's still worth going to Heidelberg if you only have one day.
With this timeframe, I'd stick to the Old Town and Schloss Heidelberg, but if something particularly appeals from the list above that's outside this area, definitely fit it in and switch around my following itinerary.
I recommend you do the following things to do in Heidelberg in one day:
Start the day taking the bergbahn up to Schloss Heidelberg. Explore this historic castle and don't miss the Pharmacy Museum or the large wine cask
Head down to the Old Town and take your time strolling to Heiliggeistkirche (Church Of The Holy Spirit). Go inside and climb the tower if you wish
Take a look inside Jesuitenkirche.
Visit the Studentenkarzer (Student Jail) as you stroll past. If time is on your side, you can also see more of Heidelberg University and visit the Universitätsmuseum (University Museum)
Keep walking to the Kurpfälzisches Museum (Palatinate Museum) and learn more about Heidelberg's history
Finish the day at the Alte Brücke (Old Bridge)
If you have made your way quickly through this list, consider walking the Philosophenweg (Philosopher's Walk).
With a second day, definitely head up Heiligenberg.
What To Do In Heidelberg Map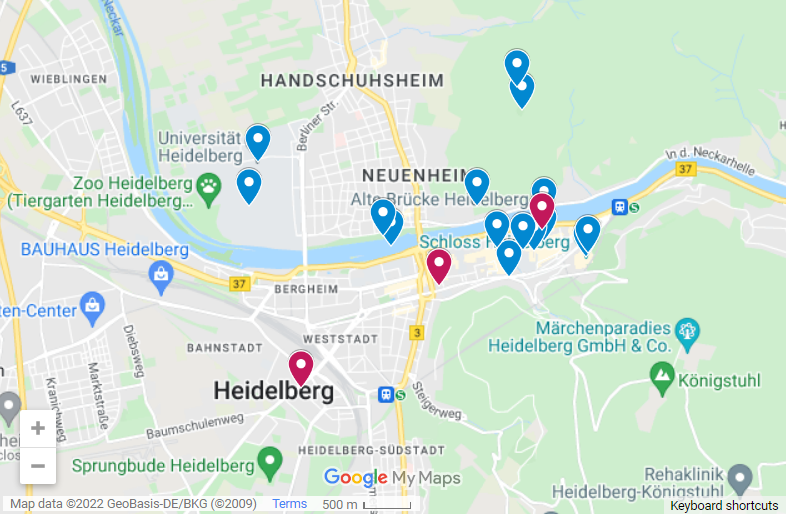 Best Place To Stay In Heidelberg
When it comes to where to stay in Heidelberg, there is a great range of hotels and other accommodation options. You won't have any problem finding somewhere to stay.
Below, I've listed a few different places to consider depending on what type of accommodation you are looking for.
Located on the edge of the Old Town, Hotel Europäischer Hof Heidelberg is a gorgeous 5-star option that you'll love in Heidelberg.
There is a variety of room types from singles up to executive suites. Elegant styling, quality furnishings and comfortable beds are the trademark of all of them. They also all have a sitting area, flatscreen TV, toiletries, bathrobe, minibar and air conditioning. The suites also have a living area.
The facilities at this option include an indoor pool, gym, spa centre and a rooftop with sun loungers and views. There is a fine dining restautant on site which also serves a buffet breakfast as well as a bar and a second restaurant.
Click here for the latest prices.
This hotel is in a brilliant location in the Old Town just moments away from the Old Bridge and the river as well as Marktplatz in the centre.
There is a range of single and double rooms which include free Wi-Fi, flatscreen TV, minibar, safe, private bathroom and a desk. Upgraded rooms may include air conditioning, views of the River Neckar, and a seating area.
Relaxing at this hotel is very easy because the rooms are spacious, and are decorated in a classic style reminiscent of the city.
There is a lack of facilities at this hotel but you can find a buffet breakfast.
Click here for the latest prices.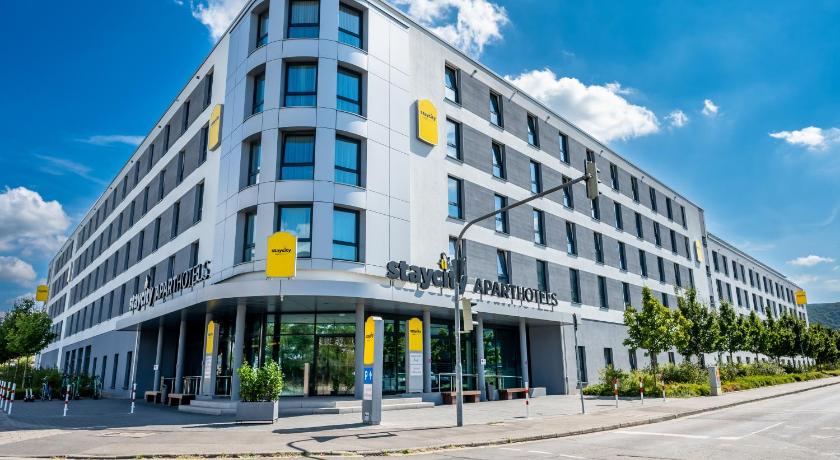 Located walking distance to the main station and a short tram ride from the Old Town centre, Staycity Aparthotels Heidelberg is the place to stay for affordable, apartment-style accommodation.
Rooms range from singles and doubles up to two bedroom apartments. Any option will give you a private bathroom, flatscreen TV, free Wi-Fi, desk, air conditioning, a refrigerator, a Nespresso machine, a safe and floor heating in the bathroom.
Apartments include all of the above as well as a fully equipped kitchen and a separate living area. Some 2-bedroom apartments include a private balcony.
The hotel also has an on-site restaurant, coffee shop and 24-hour bar. You can also relax on the outdoor terrace.
Click here for the latest prices.
Click here to see all our recommendations for the best hotel in Heidelberg.
How To Get To Heidelberg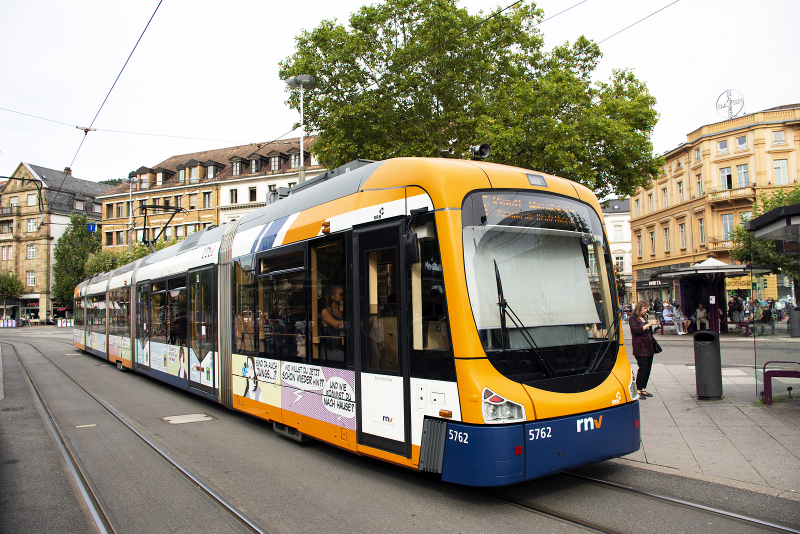 We travelled to Heidielberg by hire car which made it very easy to get here. It's easy to find.
You can hire a car to get you there by clicking here.
There are regular trains and buses here. You can find timetables and all your options here.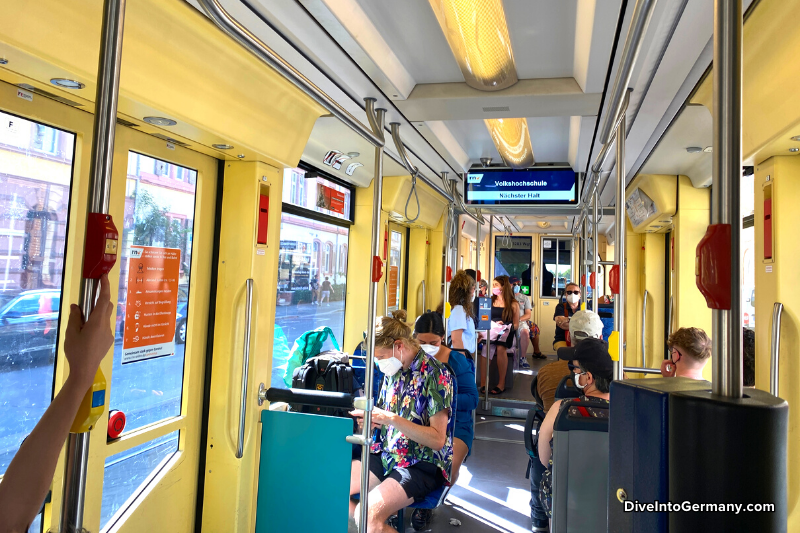 While Heidelberg does not have its own airport, you can reach Mannheim Airport in just 15 minutes so you can fly here to access Heidelberg.
Click here to see the latest flights and prices.
Once in Heidelberg, we mostly explored on foot, but it's also easy to use the trams and buses. We kept our car parked at the accommodation while we explored.
Things To Do In Heidelberg With Kids
There are many fun things to do in Heidelberg Germany with kids – you just read many of them above!
We visited Heidelberg with our three kids aged 6, 10 and 12 and had a lot of fun. While they found the Palatinate Museum a bit dry, it was easy to enjoy the castle and the Old Town.
We also had a great afternoon exploring Heiligenberg. Walking around and finding ruins really captured their imagination and tired them out 😉
We also enjoyed the following half day trip that you may want to consider if you are looking for places to visit around Heidelberg with kids.
Heidelberg Bergbahn (Cog Wheel Train) + Walderlebnispfad (Forest Adventure Trail)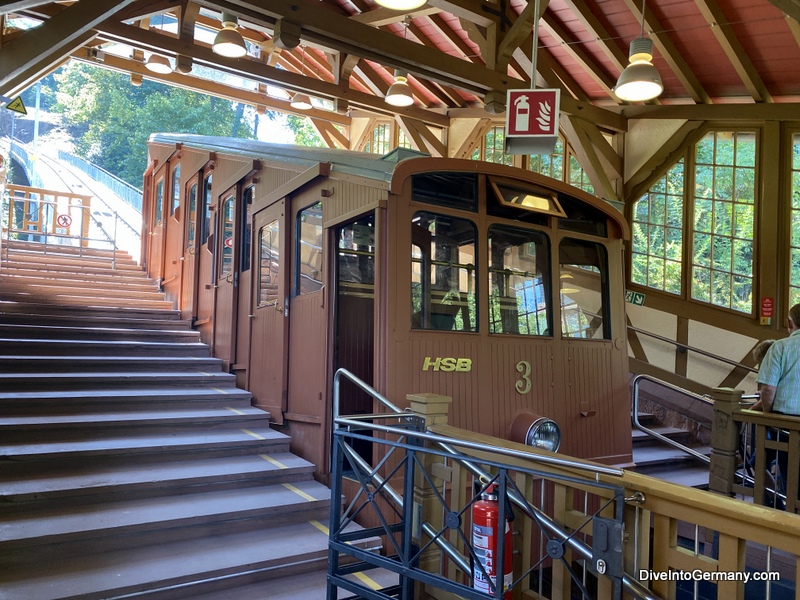 The bergbahn is the funicular railway that you can take to the castle. If you are travelling with kids, why just stop once? I recommend you consider getting back onboard the bergbahn once you finish at the castle and keep taking it up the hill.
You'll need to switch trains at Molkenkur and then keep going up to the top at Königstuhl. The second train (pictured above) is much older and atmospheric and, at times, I wondered if it would actually make it up the steep hill.
From here, there are great views. There is also the Walderlebnispfad (Forest Adventure Trail). It's a good walk for families with lots of interesting stops for kids. It's about two kilometres long in a circular route starting at the hiking car park at Königstuhl by Märchenparadies. It's quite flat and we did this hike very easily.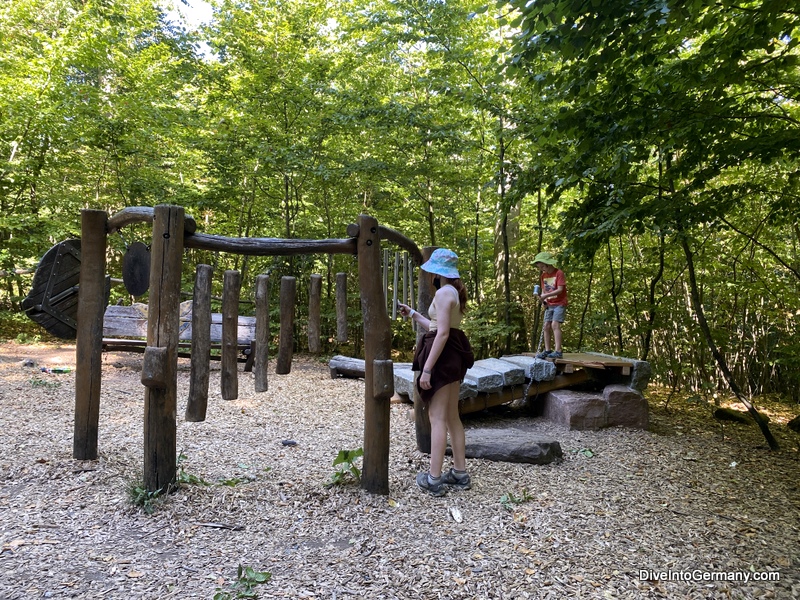 To keep kids interested, there are playgrounds, wooden xylophones and many activities to do along the way. It's really a lovely walk.
We found the walk easily enough by heading up to the car park from the bergbahn, although we were a little confused after this. Basically, start by walking exactly round the outside of Märchenparadies as the path goes by this on three sides then follow the path onwards.
Once you finish the walk, you could also go to Märchenparadies (Fairy Tale Paradise) – a small, older-style amusement park. It's definitely a different experience and not like amusement parks we are used to, but it is fun. It's shut over winter.
Final Words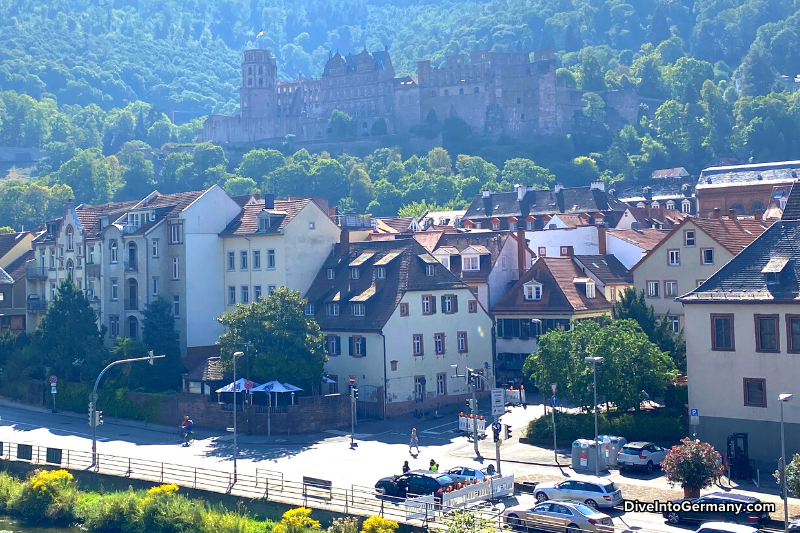 I hope you have found this guide to Heidelberg Germany attractions interesting and useful to plan your own visit to this great destination.
Heidelberg is a beautiful city with a long and interesting history and it's fun exploring the places to go in Heidelberg. We'll definitely be back!
Read more guides to visiting Southern Germany here. You can also find our guides to nearby Freiburg here and Baden-Baden here.