Going on a Rothenburg Ob Der Tauber trip and want to know all the best things to do in Rothenburg Ob Der Tauber? We have you covered! Below you will find our guide to all the best Rothenburg tourist attractions to plan your ultimate trip.
Driving Germany's Romantic Road or simply in Bavaria looking for fun places to visit? Look no further! Rothenburg ob der Tauber is a gorgeous town that is worth adding to your itinerary.
On your way into town, you'll feel like you've gone back into time with a defensive system of more than 40 towers which have existed for centuries. This feeling will only intensify as you walk around the Old Town.
With half-timbered houses, gorgeous patrician houses, flower boxes and more, this Old Town is as beautiful as it looks on Instagram. In fact, I think it may be more beautiful as you wander off the main roads and away from the more insta-famous spots.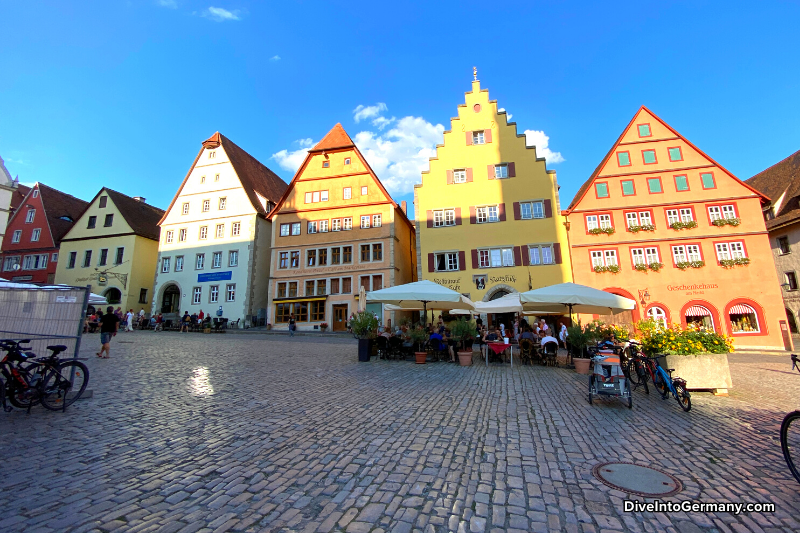 There is no doubt that Rothenburg is a tourist town, but there's a reason it's so popular and, even if you visit on a busy day, there is so much to enjoy and love about this place. Stay longer than a day if you can though! It's even nicer when the day trippers leave.
In saying all that, we visited for a couple of days in the middle of August and I was actually surprised by how few people there actually were. So don't be afraid to visit at peak tourist times.
Below, you will find our full Rothenburg Ob Der Tauber travel guide with everything you need to know about the best places to visit in Rothenburg Ob Der Tauber as well as the best places to stay for your ultimate vacation in Rothenburg!! There is also a handy map of all the things to do Rothenburg Ob Der Tauber offers.
You'll also find special sections on things to do in Rothenburg in December and a full itinerary for a Rothenburg Ob Der Tauber day trip as well as what works if you are travelling with kids.
Let's start!
Traveling to Germany? Click here to download your free Germany Trip Planning checklist. We'll help you get ready for your trip! 
An Introduction To Rothenburg Ob Der Tauber
Located a little over an hour's drive east from Nuremberg or two hours south east of Frankfurt, Rothenburg Ob Der Tauber is a Medieval gem that you won't want to miss. With a population of just under 11,000, it's home to one of the most picturesque Old Towns anywhere.
Rothenburg Ob Der Tauber simply means Rothenburg above the Tauber River which flows below the Old Town. Around 970AD, the first settlement appeared here when the Parish of Detwang was founded in the Tauber Valley, just below where Rothenburg was eventually founded.
In 1070, Rothenburg Castle was built by the counts of Comburg-Rothenburg on the mountain above the River Tauber. Fast forward to 1170 and the city of Rothenburg was founded with the centre being Marktplatz and Jakobskirche (St James' Church). The fortifications started being built at this time with the walls and towers built in the 13th century. From 1194 to 1254, the area was governed by representatives from the Staufer dynasty.
Initially, it was governed by royal officials, but over time, a patrician upper class formed a council and became the civil administration which came with royal privileges. Rothenburg became a free imperial city in 1274 and stayed this way until 1803. It was basically autonomous by the end of the 14th century.
After this time, things began to unravel for Rothenburg starting with the departure of the Jewish community who were driven out by 1521. The social unrest around the Peasant's Revolt also did no favours to the town. In 1544, Rothenburg embraced the Lutheran Protestant Reformation and the town lost much of its political influence although its rich land helped it remain important economically.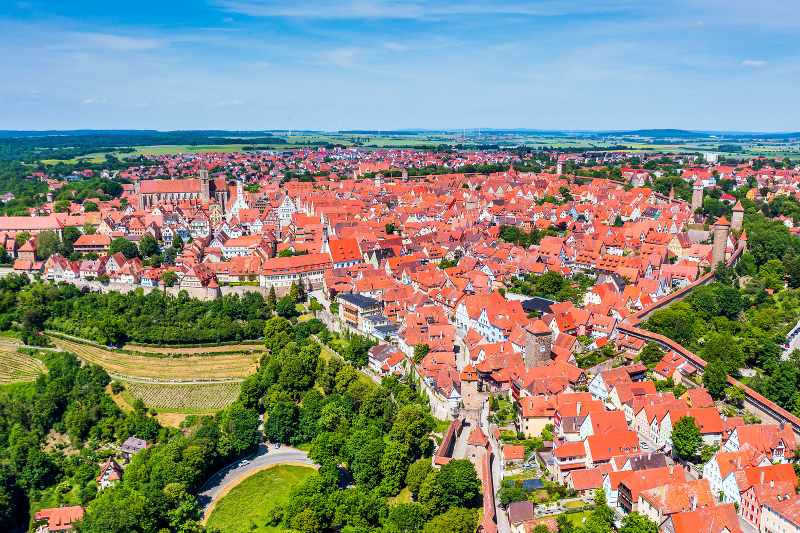 This changed by the Thirty Years War (1618-1648). It was captured several times including in 1631 when the Catholic Johann Tserclaes, Count of Tilly quickly defeated Rothenburg. After they left, the town was poor and practically empty. Add in the bubonic plague outbreak in 1634 and Rothenburg has lost its power, money and much of its people.
This is also part of why Rothenburg looks like it does today – the town stopped growing which preserved it how it was in the 17th century.
Rothenburg lost its free imperial city status when the town fell to the Kingdom of Bavaria thanks to Napoleon's reallocation of land and only started to economically recover when it was connected to the German railway in 1873. Tourism also started to play a part in the town's economy thanks to the "old German" architecture.
Industrialisation also came to Rothenburg. The town started prospering again and the population increased.
From 1933, Rothenburg was used as an example by the Third Reich as the perfect example of German culture. Unfortunately right at the end of World War II, Rothenburg was bombed and around 45% of the Old Town was destroyed. Thankfully, it has been rebuilt beautifully.
Today, local industries include the manufacture of machinery and plastics and publishing. Tourism also plays a big part in the local economy.
Top 14 Things To Do In Rothenburg Ob Der Tauber Germany
Here are the best Rothenburg things to do. Read through and select the ones that fit your interests and timeframe. If you only have a day trip to Rothenburg Ob Der Tauber, find our one day itinerary below.
Note that I sort these things to do in Rothenburg Germany based on geographical location starting with the central Old Town and Marktplatz and then listing the closest Rothenburg Germany things to do while working our way further away. The order isn't based on what I think are the most important attractions.
Altstadt (Old Town)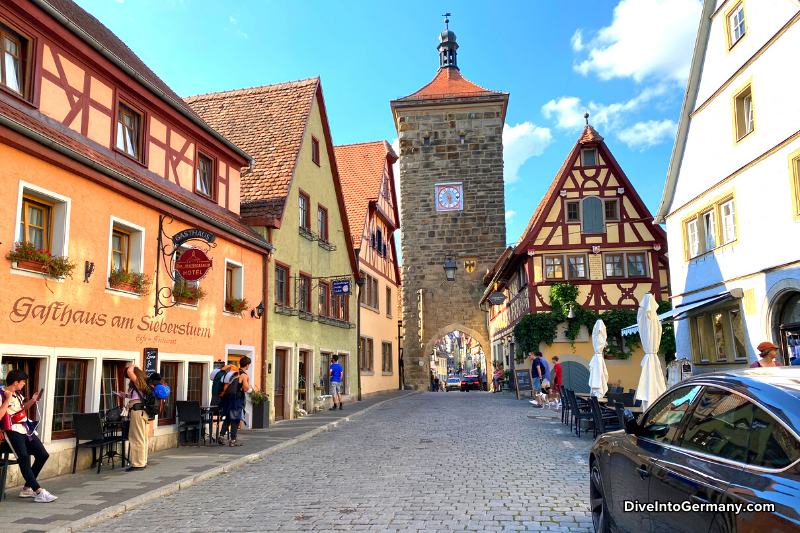 Far and away the number 1 thing you will want to pick from the answers to what to do Rothenburg Ob Der Tauber is to explore the Old Town. It is just stunning!
Most items in this list of Rothenburg places to visit are in the Old Town so you'll see a big chunk of it just by walking between them. However, don't just walk between the main attractions in Rothenburg Ob Der Tauber – try to get lost and explore everything this Old Town has to offer.
The less busy routes are often the prettiest and wandering around, trying to avoid the crowds, will definitely reward you.
Checking out the architecture, walking round the walls – it's all part of the experience. Keep reading for lots of tips of what to do while you are doing this.
Marktplatz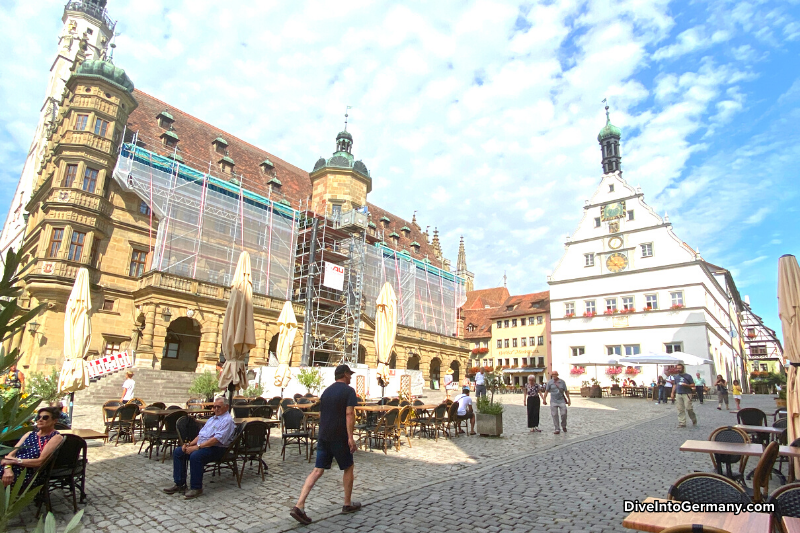 Marktplatz (Market square) is the centre of town and is surrounded by beautiful buildings. Many historic events have taken place here. The Town Hall is here, timber-framed houses and the Georgsbrunnen (George Fountain) which has been here since 1446. It's over a well eight metres deep.
This is a great place to sit back and have a drink at one of the cafes while you take it all in.
Rathausturm (Town Hall Tower)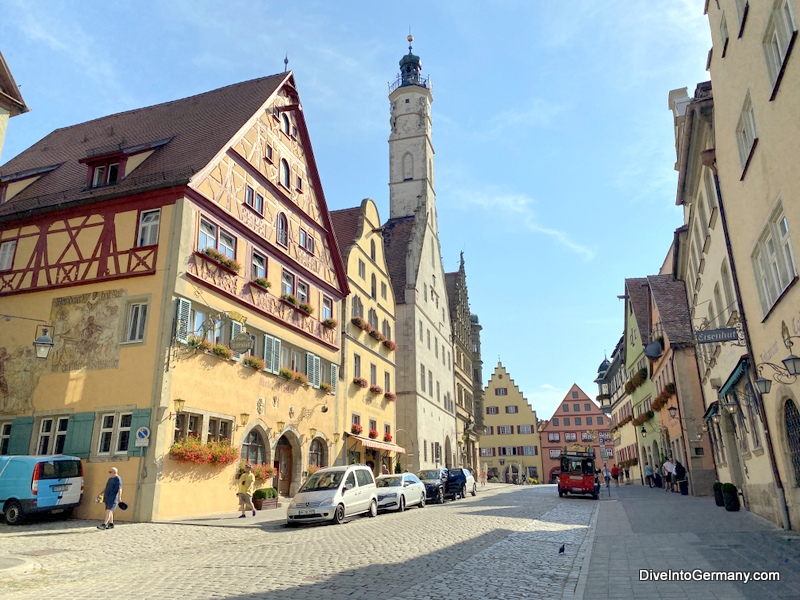 Located on Marktplatz, Rothenburg's Town Hall (Rathaus) has two parts. It started being built in Gothic style in the 14th century before being completed with a Renaissance building in 1578. It makes for quite a sight.
Here, you can find the Town Hall Tower which you can climb for great views over the surrounding area. There are 220 steps. They are steep, especially the last part which is like climbing up a ladder with a couple of rungs missing.
Our 6 year old did it fine, but he did hesitate for awhile at the very last "steps". It's worth the pain 🙂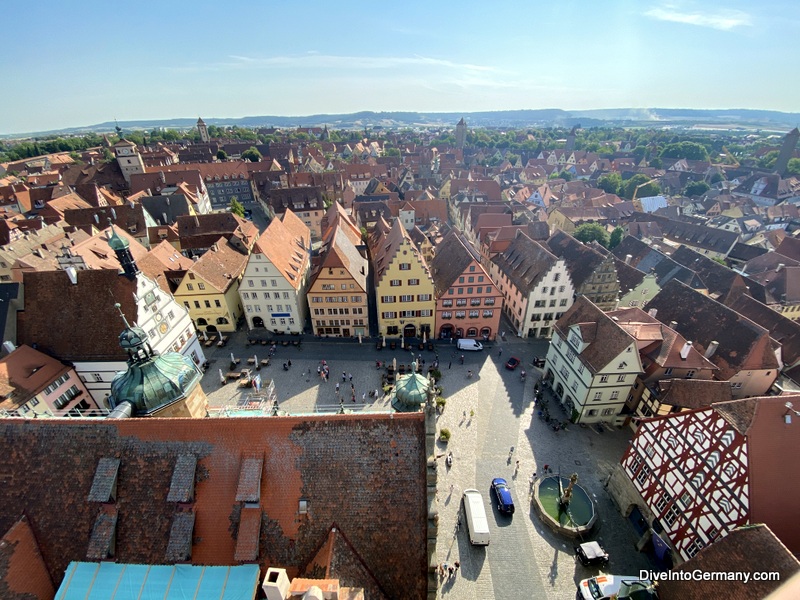 It costs a few euros and is generally opened daily in the warmer months and during the Christmas Market. It's open on weekends otherwise.
Note that it's a little confusing to work out how to access this tower. Under the Old Town Hall, there's a walkway. Part way along this is an entrance to an elevator. Go up the elevator to level 3 and walk to the end of the floor. From here, you can start climbing up the tower. You don't buy your ticket until just before the top.
Historiengewölbe (Historical Vault or Museum Zur Stadtgechichte Or Rothenburg Dungeon)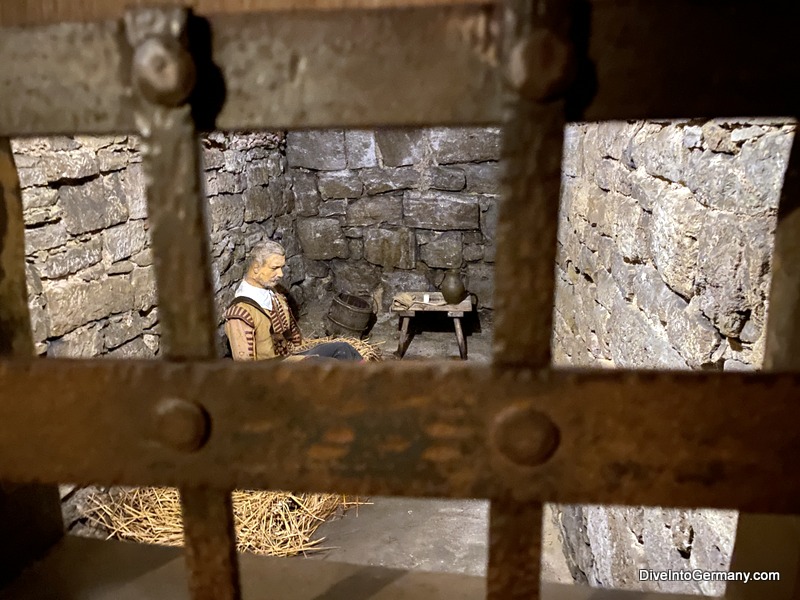 Also called Rothenburg Dungeon or Museum Zur Stadtgechichte (City History Museum), this is where to head to see another side of crime and punishment in Medieval times with a visit to the old jail cells or to learn a little more about Rothenburg during the Thirty Years' War.
This one of the Rothenburg Ob Der Tauber things to do is located deep under the Town Hall with the main feature being jail cells from the former dungeons. The entry is via a low, narrow passage that's dark, wet and cold. All of this helps to add to an understanding of how it may have felt to be lead to a cell here.
In front of the cells is a wooden stretching bed. This was added later as no one is believed to have been tortured here. It's definitely not somewhere you would want to end up though!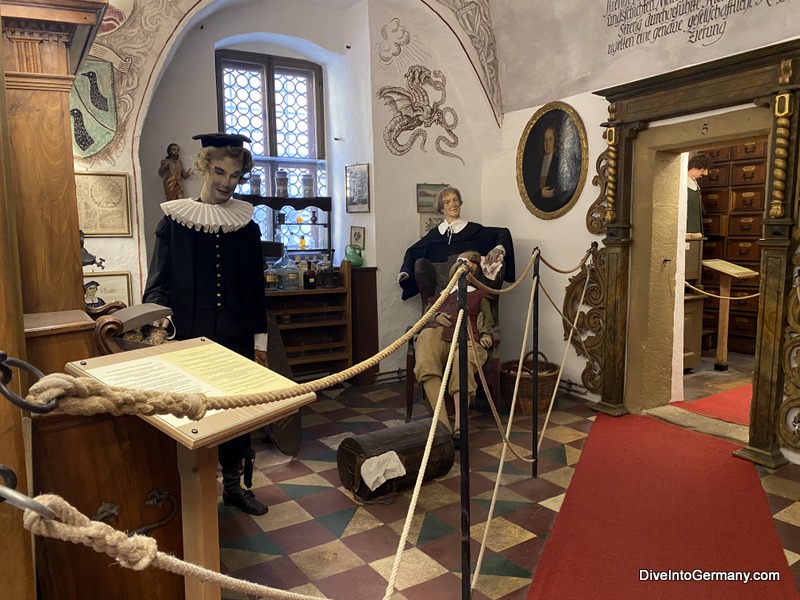 There is also a museum above the dungeon which exhibits ancient weapons, flags, uniforms and other artifacts from the Thirty Years War and also tells part of the story of what happened during this war, particularly in 1631.
Most things are in English, but the museum is on the cramped side and I don't recommend visiting if it's busy. It's hard to read any of the signs if there's someone else in the room with you.
A visit here doesn't take long.
Deutches Weihnachtsmuseum (Christmas Museum)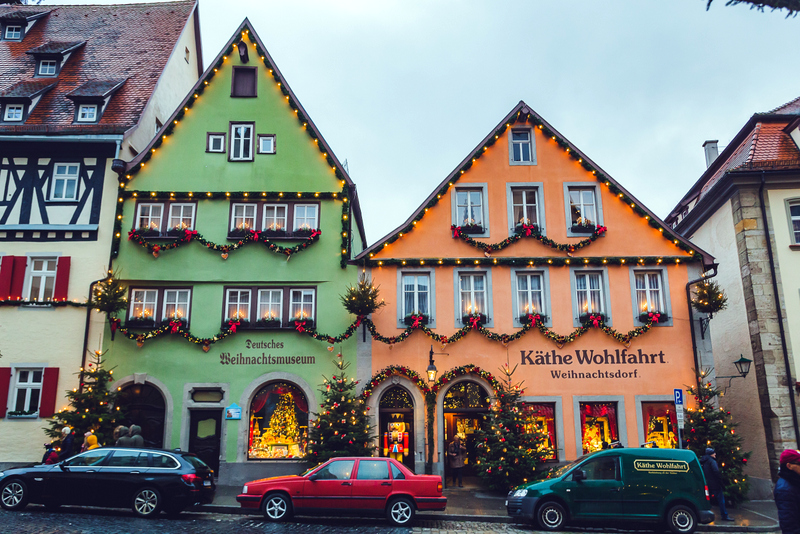 Things to see in Rothenburg Ob Der Tauber don't get more festive than this! The Deutches Weihnachtsmuseum is the ultimate place to visit for anyone who loves Christmas.
Käthe Wohlfahrt Weihnachtsdorf is a popular Christmas chain of stores that open year round. It was founded in Rothenburg which makes this the best place to visit it especially as the Christmas Museum is also here. The shop has many handcrafted and beautiful items.
The Christmas Museum follows the history of Christmas customs including decorations with many displays on this. It's more a look-and-read museum so it's more of an adult than kid museum, but it is more interesting than I expected.
There is an entry fee for this museum. More information is on their site here.
Mittelalterliches Kriminalmuseum (Medieval Crime Museum)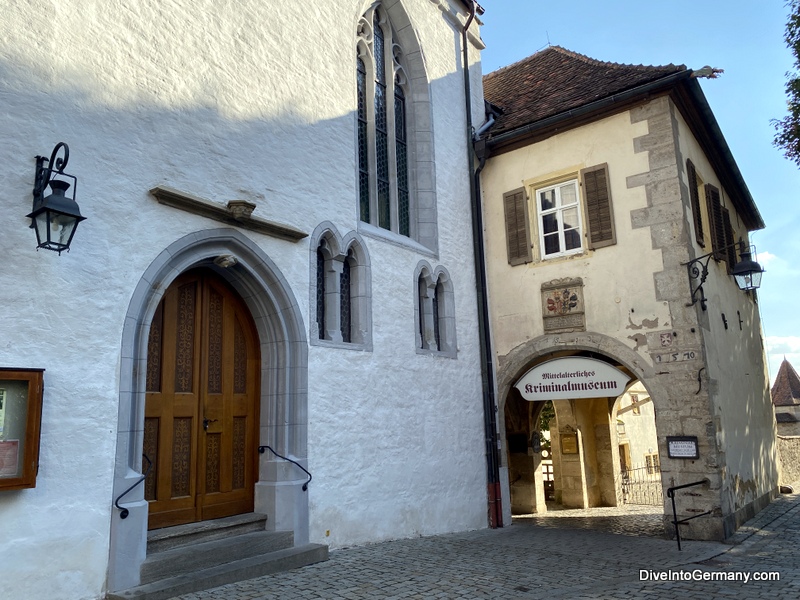 The top things to do in Rothenburg Ob Der Tauber don't come more macabre than this! Located in the historic former St. John's Commandery, this building is a piece of history itself and was built between 1393 and 1410.
But while the building is 600 years old, the museum covers over 1,000 years of the legal history of Germany and Europe – with a focus on interrogation (torture), crime and punishment.
There are over 50,000 exhibits which bring this to life with torture and punishment instruments, original documents and a collection of seals. You can learn about how trials were conducted, religious inquisitions, witch hunts and the history of police and courts.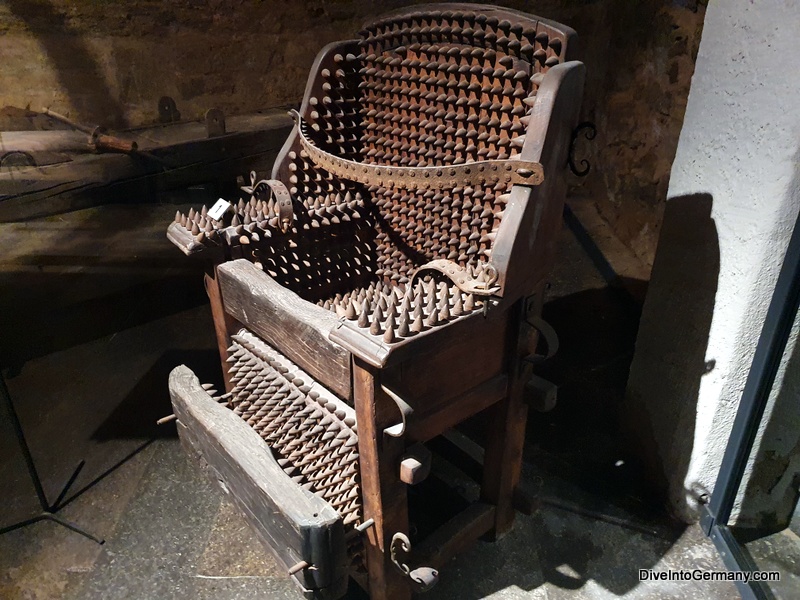 The main attractions are the Medieval torture and punishment devices including an iron maiden, chastity belts, masks for gossips, beer-barrel pens for drunks, cages for cheats and much, much more. I personally found the criminal cases that caused sensations at the time the most interesting.
It's the biggest museum of its kind in Europe and is far more than a place where you can feel sick learning about old torture techniques.
Plönlein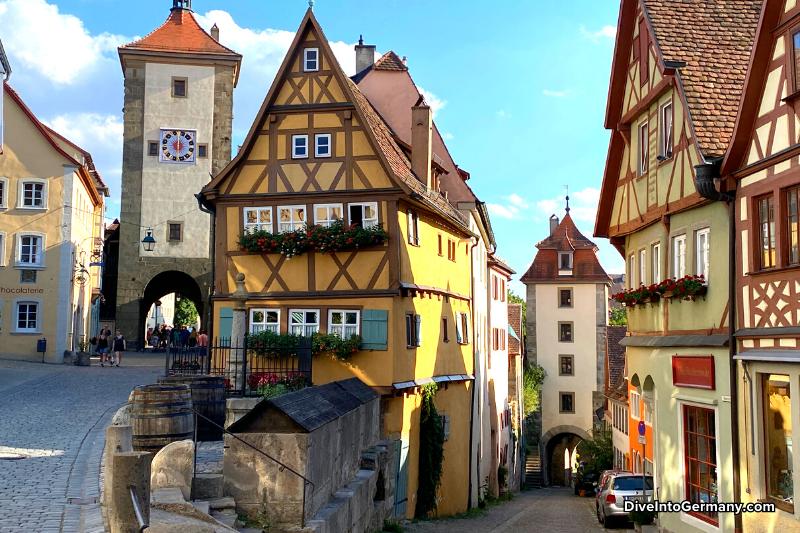 The most photographed building in Rothenburg must be the yellow timber-framed house pictured above at the fork in the road.
While this pretty, crooked house is the centre of any of these photos, Plönlein actually means "small square at a fountain" and so refers to the small fountain in front of this building as well and the two towers that you can see to the left and right of the building.
It can be found at the fork on Untere Schmiedgasse, and it is very picturesque with the half-timber and stone houses. Whether it's the prettiest spot in Rothenburg is debatable – there are many great spots and this one is more likely to be crowded.
However, whether you think it's the best or not, it's impossible not to list visiting this spot as one of the top Rothenburg Ob Der Tauber tourist attractions.
Alt-Rothenburger Handwerkerhaus (Old Rothenburg Craftsmans House)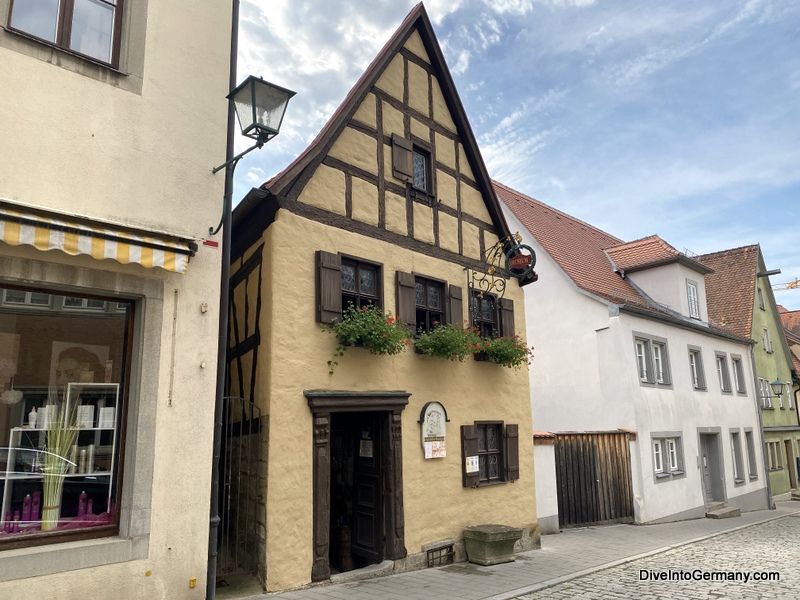 For something completely different, add the Old Rothenburg Craftsmans House to your list of what to do in Rothenburg Ob Der Tauber Germany.
This house is over 700 years old and has been preserved how it was without the interior being modified. For a small fee, you can enter and see the old furniture and homewares as well as displays of the workshops of craftsmen including cobblers, weavers, bread making and more.
It's all very well preserved for a building so old and I did find it interesting and worthwhile. However note that there is not much information in English with just a small brochure to read (there is far more information if you speak German).
Jakobskirche (Church Of St James)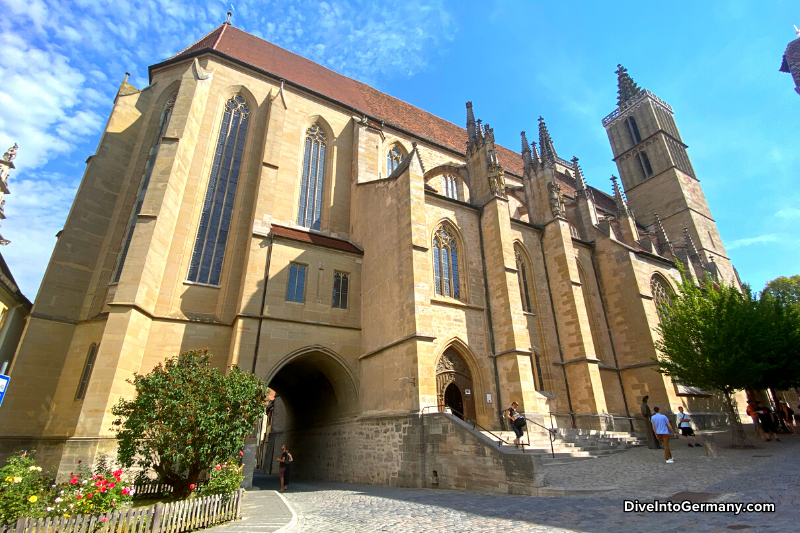 One of the top things to do in Rothenburg Germany is to visit Jacobskirche or St James' Church in English. Construction on this Lutheran parish church began in the 14th century and was completed in the 15th after taking 170 years to complete.
It has some great stained-glass windows as well as the top attraction, Tilman Riemenschneider's 16th century Heilig Blut Altar (Altar of the Holy Blood). This carving is a masterpiece, and it is worth coming into the church just to see this.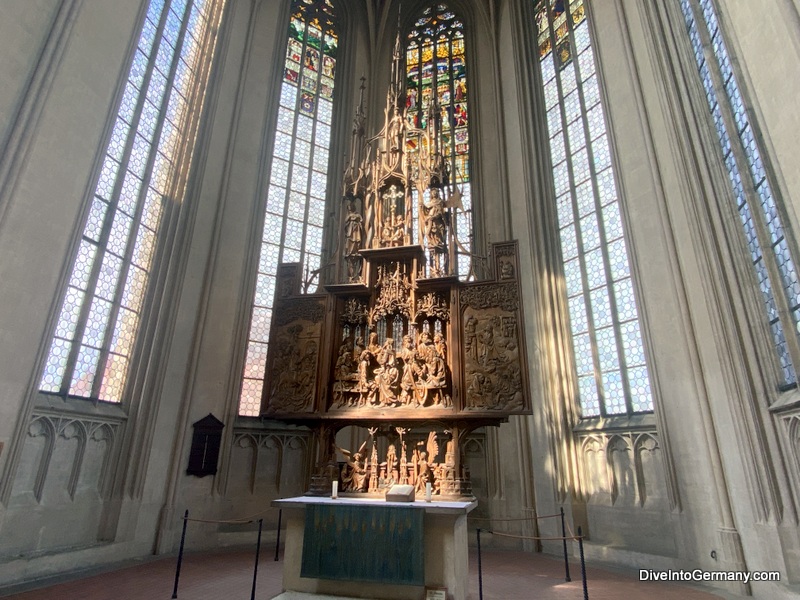 It was built for the reliquary which is a cross with a rock-crystal capsule. You can find this cross above the central scene of the Last Supper. It is said to be home to a few drops of Christ's blood. It dates back to 1270 and is one of the most important religious relics in Germany.
There is a fee for this church but it's well and truly worth it. There are many beautiful parts and brochures are available in many languages to help explain what you are seeing.
While I often feel churched-out in this part of the world, this church does feel like a special one that should be high on your list of things to do in Rothenburg.
RothenburgMuseum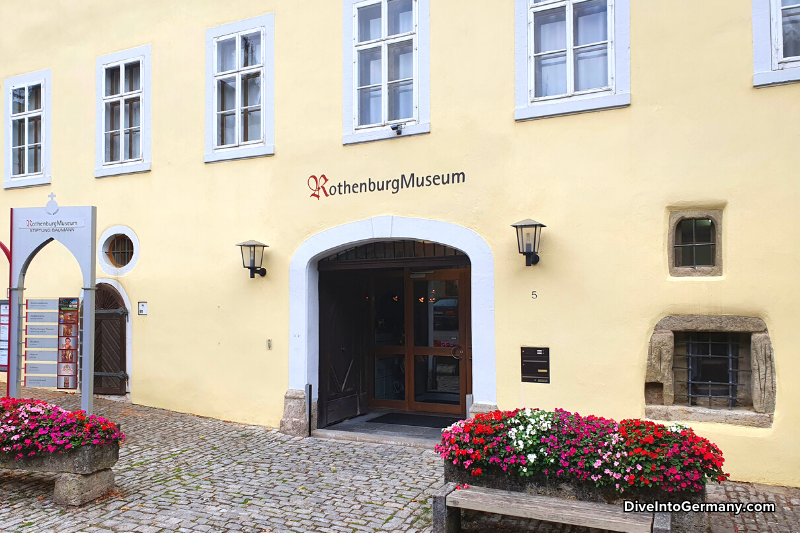 Also known as the Imperial City Museum, the RothenburgMuseum is located in a 13th-century Dominican convent which is still home to Gothic cloisters and the convent kitchen. However, you are most likely to add it to your list of best things to do in Rothenburg Germany due to everything you can find here at the museum.
Here, you can see many items from Rothenburg's past thanks to exhibits on weapons and armour, ordinary clothing in the past, coins, art, ancient stone carvings and Jewish liturgical ornaments. You can also visit the old kitchen.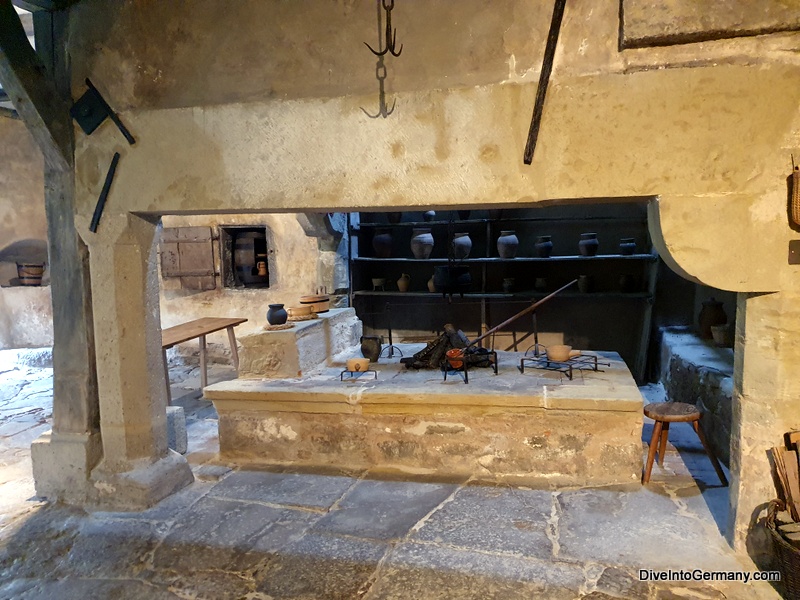 Unfortunately, there's no real context and we didn't find we learned much. Not everything was in English, but it seemed like overall information was missing in German too.
However, the building itself is a real highlight. You can see what it's like in a half timber house that hasn't been modernised extensively.
If you need a break, you may also enjoy the Klostergarten (Monastery Garden) behind the museum.
Stadtmauer (Town Walls)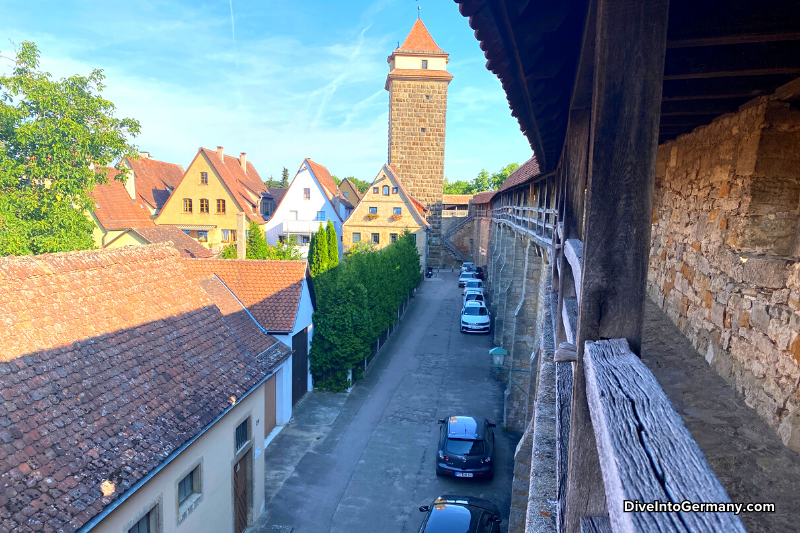 While there is much to love about Rothenburg, my pick of the fun things to do in Rothenburg Germany is this – walking around the Town Walls. It's just such a great way to see more of this town and really take in just how much it feels like you've gone back in time.
The walls were built in Medieval times to protect this Imperial Free City and all up, there is over four kilometres of covered walls and 42 defensive towers, most of which are along the Town Walls or the six gates into the city.
The walls have been restored and have information boards so you can learn as you walk around and take in the views. Known as the Tower Trail, it's recommended to allow 2.5 hours to walk around, read the boards and take everything in. You'll want to keep stopping.
Do note that you aren't always walking on top of the walls. Sometimes, this isn't possible and you walk next to them.
You can also buy a special brochure created in collaboration with Rick Steves from the Tourist Information Centre to help you learn more as you take this walk.
The best views are from the tower at Rödertor (coming up next) or from the walls on the western side of town over the Tauber valley.
The walls are free and always open.
Rödertor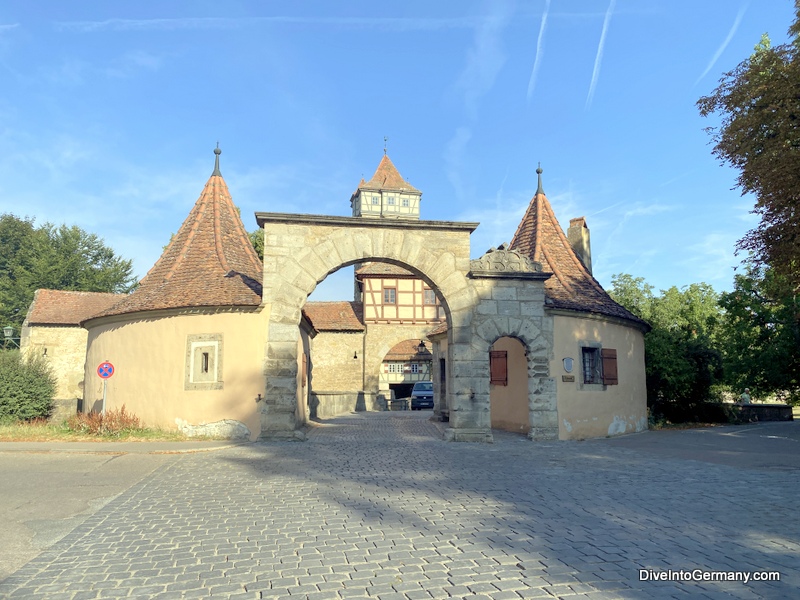 There are six gates into Rothenburg's Old Town and they make for an atmospheric way to enter the city. My favourite one is this one of the things to do around Rothenburg Ob Der Tauber, Rödertor. It's located on the eastern side of town.
If you like, pretend you are visiting in peaceful times when you would be welcomed by the custom huts you can see on each side of the gate with pointed roofs. You'd then take a walk through this outer bailey area which was used for stables and storage, cross the moat and approach the main tower.
This main tower was also a signalling post and you are able to climb it today for some great views. In fact, this and the Town Hall Tower described above are the only towers you can climb in Rothenburg. Spend five moments to soak in the area and have a look around before climbing the tower.
Burggarten (Castle Garden)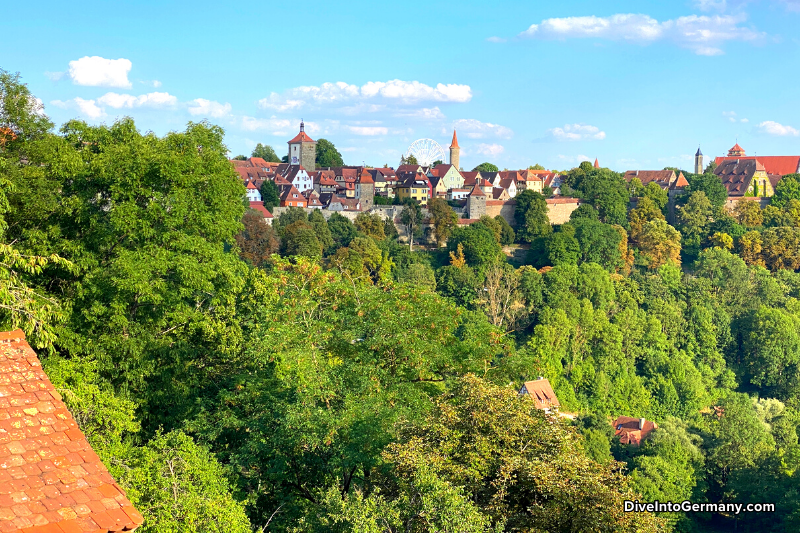 For wonderful views and some time chilling, head to Burggarten. While the castle it was named after, Stauferburg, was destroyed by an earthquake, you won't mind while you are enjoying the views. Find it just outside Burgtor (city gate) on the western side of the Old Town.
As you walk through the gardens, there are wonderful views of the Tauber Valley as well as back to the Old Town. This is definitely one of my favourite stops in this city. It's just so pretty, especially looking back over the Old Town like pictured above.
There is one building left from Stauferburg, Blasius Kapelle (St Blaise Chapel). It was converted from the castle's great hall. It's now a memorial for the two world wars. There is also an information panel which tells the story of the function and structure of the castle grounds.
There's a formal garden from the 17th and 18th centuries which has statues of the four seasons.
It's a pretty area to explore and makes for a nice change when exploring the Old Town.
Dinkelsbühl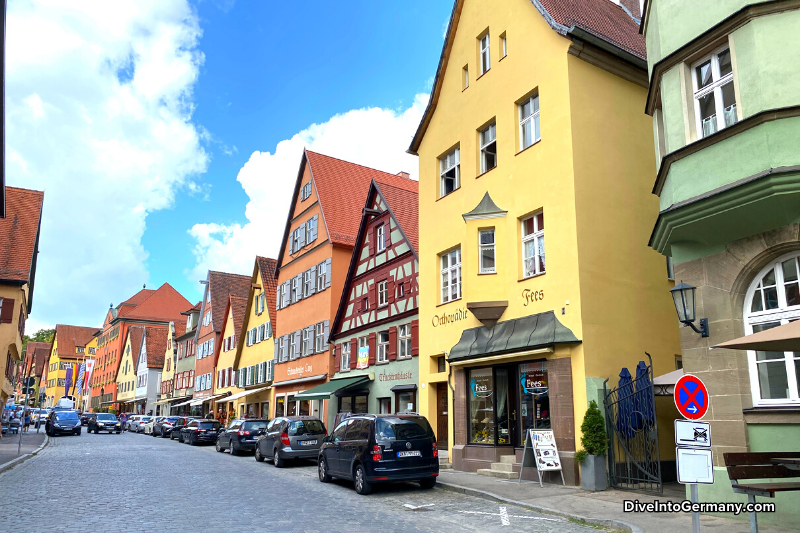 If you are looking for day trips from Rothenburg Ob Der Tauber, consider Dinkelsbühl!
This similar sized town is another beautiful stop on the Romantic Road about a 35-minute drive from Rothenburg. It has an extensive Old Town still surrounded by its 10th-century walls. It suffered little damage in the Thirty Years War and World War II so much of its Old Town is original or dates back many centuries.
Its attractions are more low key than Rothenburg – you can enjoy the Haus Der Geschichte (House Of History) to learn more about the history of the town, but otherwise, you'll want to spend your time exploring as much of the Old Town, its walls and gates as you can. This is the place to wander and soak it all in.
It's my top choice of things to do near Rothenburg Ob Der Tauber.
Click here to read our full guide to Dinkelsbühl.
Best Things To Do In Rothenburg Ob Der Tauber In December
While the Rothenburg Ob Der Tauber places to visit listed above are possible in winter time, there is also a Rothenburg to do item which you mustn't miss in December…
Rothenburg Ob Der Tauber Christmas Market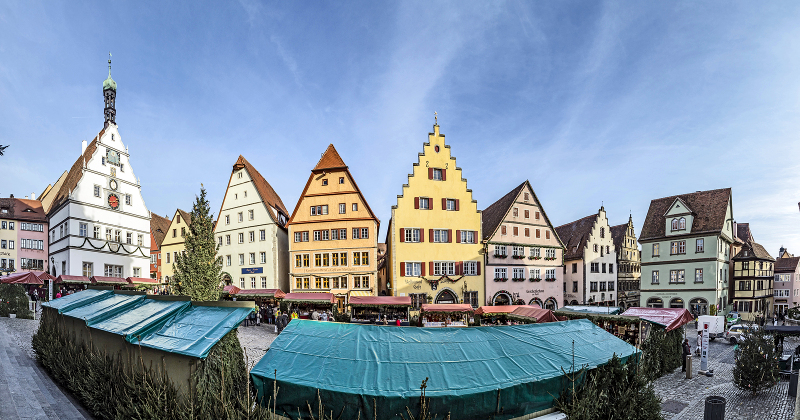 Rothenburg Christmas Market is definitely the #1 thing to do if you are here in the month leading up to Christmas when this market takes place.
Over 50 stalls will tempt you with local food and drinks and, of course, crafted Christmas gifts. Of course, you can also visit Käthe Wohlfahrt which is in full swing.
In addition to the Christmas market, the town itself is nicely decorated and it's a very festive time to visit Rothenburg.
You can read more about the next Christmas market as well as get the latest dates here.
What To Do In Rothenburg Ob Der Tauber In One Day
Only have one day in Rothenburg Ob Der Tauber? What a shame! But it's ok, it's still worth going to Rothenburg Ob Der Tauber if you only have one day. Many people visit Rothenburg Ob Der Tauber on a day trip.
With one day, I recommend you read the above and pick your favourites. You can do most things if you rush.
Or you can copy my itinerary of things to do in Rothenburg in one day:
Head straight into the heart of the Old Town at Marktplatz
Climb the Rathausturm (Town Hall Tower)
Explore the Mittelalterliches Kriminalmuseum (Medieval Crime Museum)
Visit Jakobskirche (Church Of St James) especially the Altar of the Holy Blood
Settle down for lunch somewhere atmospheric
Take your photo at Plönlein
Walk around the Town Walls taking it all in
Take some pictures at Burggarten (Castle Garden) or learn more about Rothenburg at the Rothenburg Museum
Rothenburg Attractions Map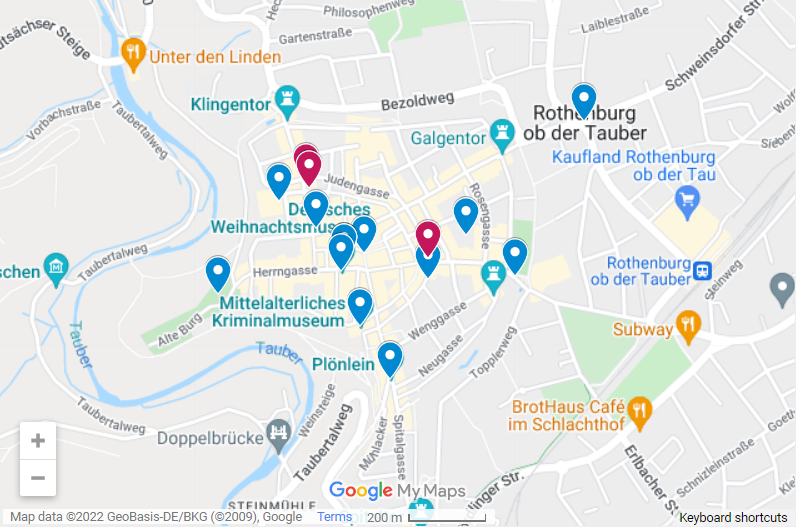 Best Place To Stay In Rothenburg Ob Der Tauber
When it comes to where to stay in Rothenburg Ob Der Tauber, there is a great range of hotels and other accommodation options. You won't have any problem finding somewhere to stay.
Below I've listed a few different places to consider depending on what type of accommodation you are looking for.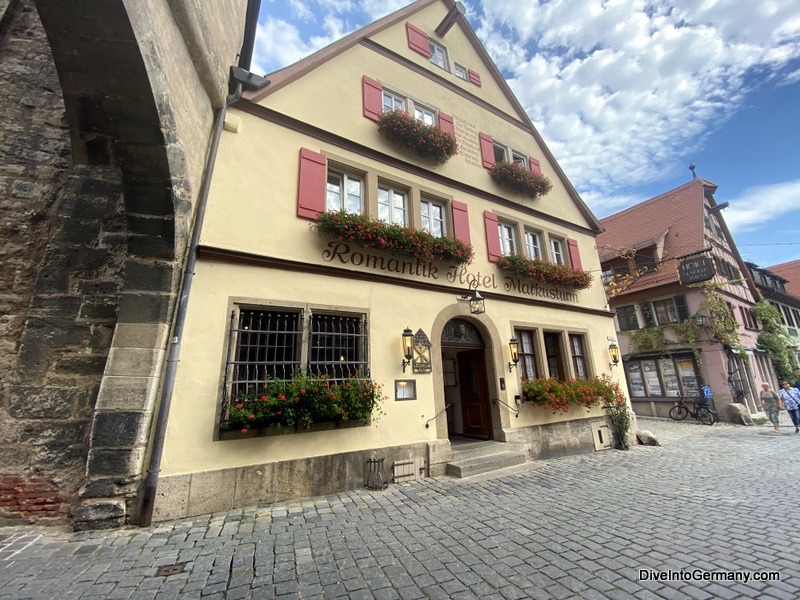 Located in a central spot in the Old Town just moments from Marktplatz, the Romantik Hotel Markusturm is a fabulous place to stay. It's located in an historic customs house dating back to 1264 so you'll feel the Old Town vibe even in your room.
With a range of room types from classic doubles to family rooms with living areas and one bedroom apartments, there's sure to be something to suit. Rooms come with flat-screen TV, seating area and a kettle at a minimum with many having living areas and apartments having kitchenettes. Rooms have either a modern or antique style – some are simply gorgeous.
Facilities here include optional buffet breakfast, a restaurant, free wifi and paid parking nearby. There are also meeting facilities.
Click here for the latest prices.
Located in the north-west of the Old Town close to Jacobskirche and a short walk from Martplatz, Hotel Schwarzer Adler is an atmospheric and more budget friendly option for your Rothenburg stay. The building itself will help you feel like you are staying at a traditional inn.
Rooms vary from singles to doubles with various sizes and inclusions. All have private bathrooms and flat-screen TVs, but they are generally small.
There is an optional breakfast for purchase, free Wifi and paid parking nearby.
Click here for the latest prices.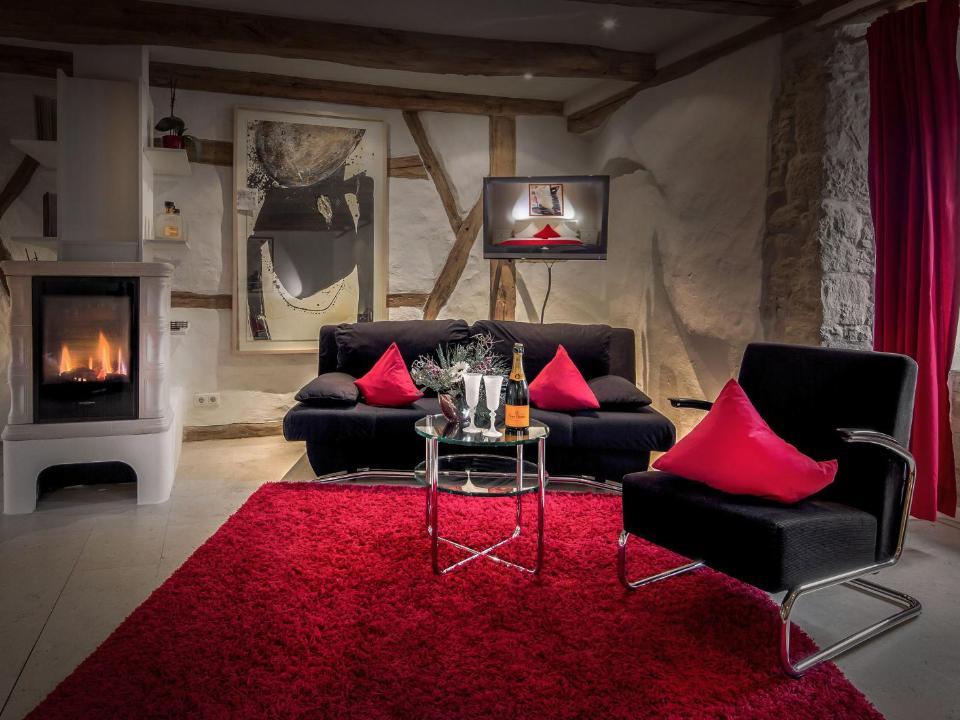 If you prefer the convenience of an apartment in the north-west of the Old Town by Jacobskirche, look no further. Gästehaus Edelzimmer is the perfect option.
There are a range of studio and apartment options which have all been completely renovated and house traditional furniture. They look beautiful. All come with a kitchen or kitchenette as well a seating area with TV and bathroom. There is even a two bedroom guesthouse option where you are the sole occupants of a 400 year old building.
Breakfast is usually included and a huge plus for the Old Town is that parking is free.
Click here for the latest prices.
Find more of the best hotels in Rothenburg Ob Der Tauber here or read our full review of this family hotel option here.
How To Get To Rothenburg Ob Der Tauber
We travelled to Rothenburg by hire car which made it very easy to get here. It's easy to find, and there are various parking lots around the outside of the Old Town where you can park.
More information on parking here. We parked in P1 which wasn't crowded at all, even when we visited in August.
You can hire a car to get you there by clicking here.
There are regular trains and buses here. You can find timetables and all your options here. From the train station, it's only 550 metres to Rödertor (one of the gates to walk into the Old Town) or a kilometre to Marktplatz.
Once in Rothenburg Old Town, we found it easy to explore on foot.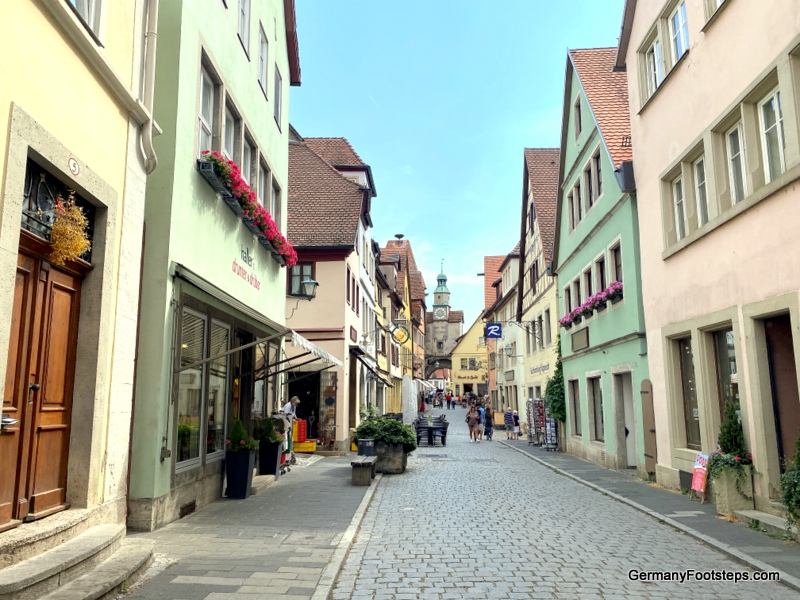 Rothenburg Ob Der Tauber With Kids
Rothenburg is just so picturesque, even picky kids are likely to enjoy it! We travelled here with our 6 year old and had fun strolling the city walls, visiting the Christmas shop and getting lost in the Old Town.
There are a couple of playgrounds around the walls which helped break up the day for him. He found the town hall tower tricky but then was so proud of himself for getting to the top.
We left our kid behind for the Medieval Crime Museum, but otherwise explored everything with him. We had a lot of fun!
Final Words
Rothenburg Ob Der Tauber is truly a gorgeous town which is worth your precious travel time. While I hear it get crowded and touristy during the day, it's worth it!
Ideally stay over for a few days (like we did) so you can explore it at all times of day and in the evening. It's such a lovely place to just hang out and you won't regret it.
Check out all the best hotels in Rothenburg Ob Der Tauber here and read more guides to visiting Southern Germany here. Or read this guide to nearby Nuremberg or this guide to nearby Bamberg.