Going on a Bamberg trip and want to know all the top things to do in Bamberg Germany? We have you covered! Below you will find our guide to all the best attractions in Bamberg to plan your ultimate trip.
One of the most beautiful cities in Germany, Bamberg is a must-visit for lovers of beautiful architecture. Built on seven hills and bisected by many rivers and canals, the whole Altstadt (Old Town) is a UNESCO World Heritage site and deservedly so. You'll love wandering the narrow Medieval streets as you discover everything Bamberg has to offer.
It's also a university town which adds extra liveliness to its streets and cafes and there are many breweries that call Bamberg home producing Bamberg's famous smoked beer.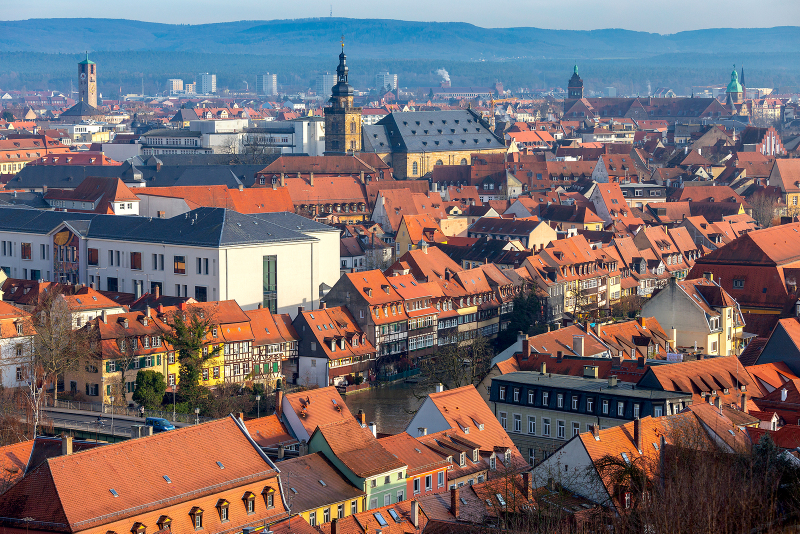 While many visit Bamberg as a day trip, it's even more fun to stay longer exploring the streets after the day trippers has left. This is a pretty city and not overcrowded like some Bavarian places of interest. We loved exploring here.
Below, you will find our full Bamberg travel guide with everything you need to know about the best Bamberg tourist attractions as well as the best places to stay for your ultimate vacation in Bamberg! There is also a handy map of all the things to do Bamberg offers.
You'll find special sections on things to do in Bamberg in December and a full itinerary for a Bamberg day trip as well as what works if you are travelling with kids.
Traveling to Germany? Click here to download your free Germany Trip Planning checklist. We'll help you get ready for your trip! 
An Introduction To Bamberg
With a population of over 77,000, you can find Bamberg in the northern part of Bavaria. It's situated very close to where the Regnitz and Main rivers meet.
First mentioned in 902, it was the home of the Babenberch castle and the Babenberg family. In 1007, Henry II (Heinrich II), who had become King of Germany and would become Holy Roman Emperor, made Bamberg the seat of a new diocese of Bamberg in the hope that this would help convert the pagan Slavs in the area.
Bamberg had great prosperity from the 12th century and the architecture of Bamberg influenced northern Germany and Hungary. From the 13th century, bishops became princes and ruled Bamberg with many monumental buildings constructed.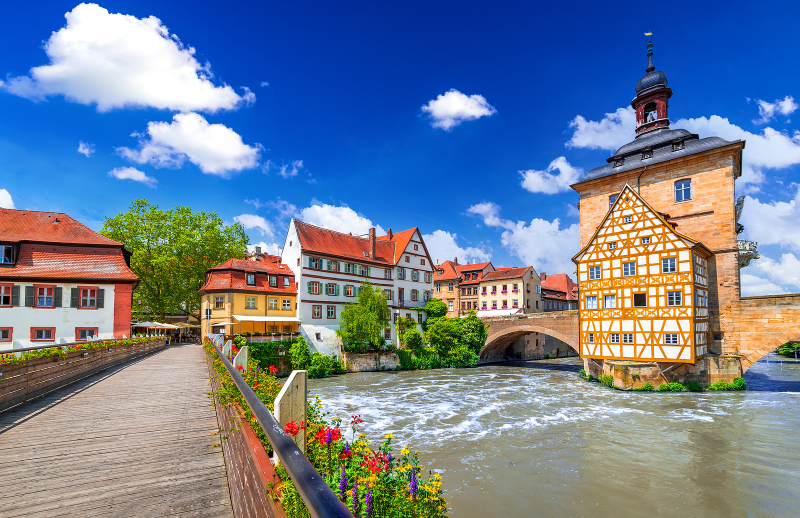 Between 1626–1631, the Bamberg Witch Trials were one of the biggest in the world with some of the biggest mass trials and executions seen in Europe. They took place during the religious Thirty Years War between Protestants and Catholics in an area on the border of these territories.
In 1802, the city became part of the Bavaria when church lands were secularised. In the 19th century, Bamberg became the centre of Enlightenment in southern Germany with many philosophers and writers living here.
Bamberg was largely spared damage in World War II, and in 1993, the Old Town of Bamberg became UNESCO World Heritage listed thanks to its cultural influence.
Today, Bamberg manufactures food, electrotechnical equipment, textiles and clothing. Brewing is also important and tourism plays a part in the local economy.
Top 13 Things To Do In Bamberg Germany
Here are the best Bamberg Germany attractions. Read through and select the ones that fit your interests and timeframe. If you only have one day to visit the Bamberg things to do, find our one day itinerary below.
Note that I sort these things to see in Bamberg Germany based on geographical location starting with the central Old Town and Bamberg Cathedral and then listing the closest Bamberg Germany things to do while working our way further away. The order isn't based on what I think are the most important attractions.
Altstadt (Old Town)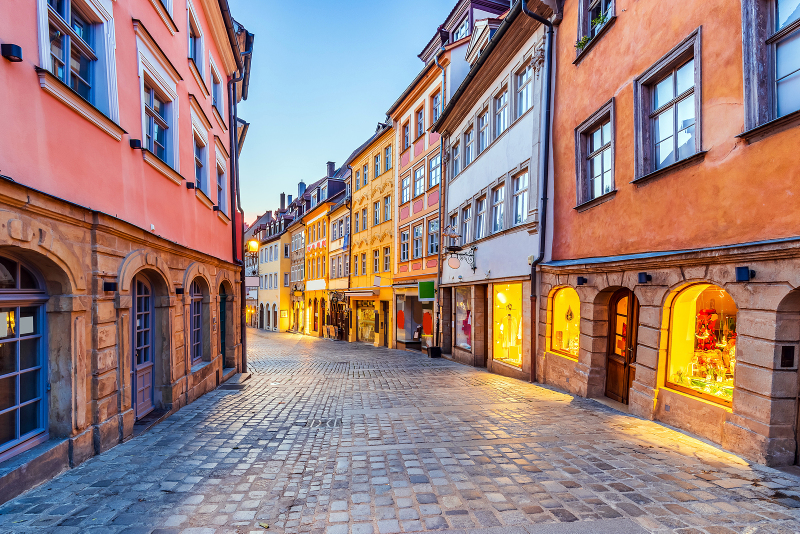 The first place you'll want to head when exploring Bamberg is the Old Town. This UNESCO World Heritage listed area is definitely the highlight of Bamberg.
Narrow Medieval streets, tall historic buildings and centuries old churches await you. The lack of damage in World War II means that most buildings are original as well. There's a fun mixture of styles and things to look at.
Many of the Bamberg Germany tourist attractions listed below are in this area but also take some time to just wander wherever you want and really take it all in. There are also many great shops, restaurants and bars here to enjoy so take your time.
Bamberger Dom (Bamberg Cathedral)
Bamberger Dom is the place to head for fantastic Medieval architecture and works of art. Located on Domplatz (Cathedral Square), it's right by a few of the upcoming things to do as well so it's easy to visit all of them together.
Founded by Henry II in 1004, the current appearance is from the 13th century after the original and its successor burnt down. It's a mixture of Romanesque and Gothic styles. There are four towers and a choir at each end.
There are many treasures in this church including the Bamberger Reiter (Bamberg Horseman), a statue located on top of a column and dating back to the 13th century. It looks over the tomb of Henry II and his wife, Kunigunde. This tomb was carved over 14 years by Tilmann Riemenschneider.
There's much more to enjoy in here too and it's well worth adding Bamberger Dom to your list of Bamberg things to see.
Diözesanmuseum (Diocesan Museum)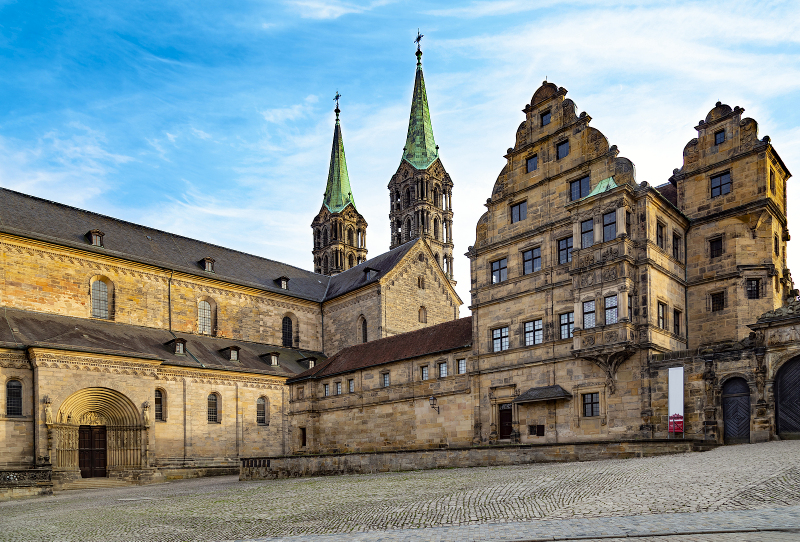 Located adjacent to the cathedral in the diocesan chapterhouse is this museum where you can explore the elaborate collections of the cathedral's treasure.
While much has been lost over time, there is still a lot to see here which will give you an insight into the wealth and power that Bamberg's diocese had.
There are three permanent collections of cathedral treasure, imperial robes and textiles and cloister as well as temporary exhibitions. I found the old emperor's robes the most interesting with former robes worn by Henry II and his wife Kunigunde as well as the 11th-century Pope Clement II. There are also many stone sculptures worth looking at in the cloister collection.
For entry, you can buy a ticket just for here or better value is to buy a Domberg ticket which gives you entry to this as well as the upcoming Historisches Museum and Neue Residenz.
Historisches Museum (History Museum)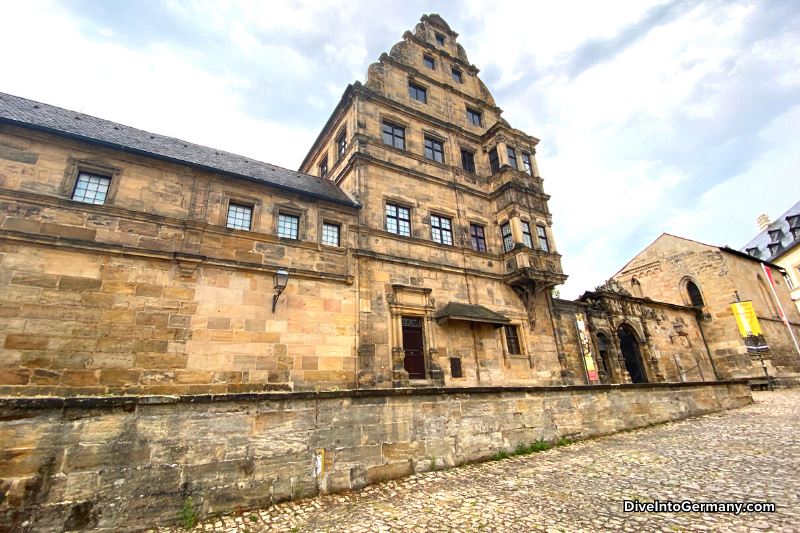 Located on the other side of Bamberger Dom is the Alte Hofhaltung (Old Court Hall) which is a former prince-bishops' palace. It is home to the History Museum.
This museum details the history and culture of Bamberg from pre-history to today. It has an art gallery as well as a permanent exhibit called In the Flow of History. The River Regnitz as Bamberg's Lifeline which is the place to head to learn more about the history of Bamberg.
A recent addition to the permanent exhibits is about Jewish life in Bamberg and details the history and culture of Bamberg's Jewish inhabitants over the centuries including what it is like today.
There is also a time and space exhibit with clocks, observation and surveying instruments from the 16th to 18th centuries.
The art gallery is home to many works like by Lucas Cranach the Elder, Pieter Breughel and Otto Modersohn.
Note that this museum often closes over the winter.
Neue Residenz (New Residence)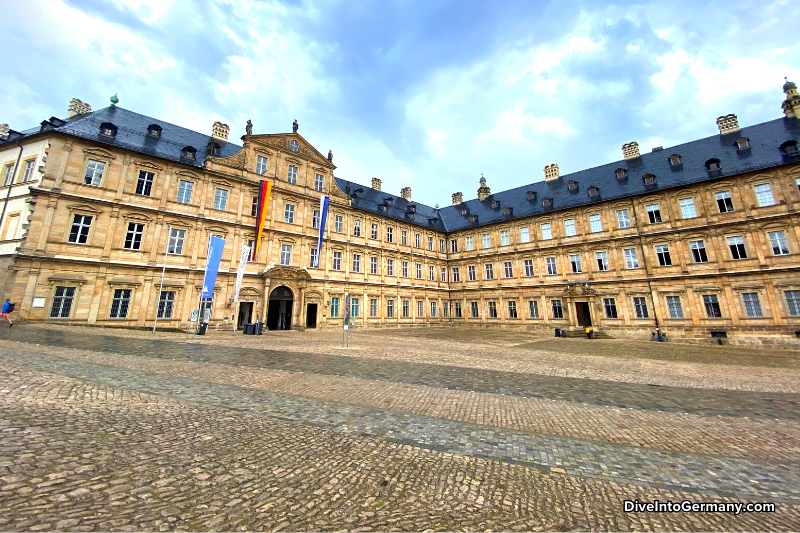 Also located by Domplatz, this huge palace became the home to Bamberg's prince-bishops when they moved from the Alte Hofhaltung. Construction started in 1604 and the prince-bishops stayed here until secularisation in 1803. It's the largest palace in Bamberg with two original Renaissance wings and the later added Baroque extensions.
Here you can find 40 lavish rooms with stucco ceilings, rugs and furniture from the 17th and 18th centuries. The central Imperial Hall is especially worth checking out with chandeliers and frescoes. The Prince Bishop's Apartment can only be visited on guided tour but you can walk through the rest.
To get an idea just how grand this palace is, watch an overview in the following 1-minute video.
On-site is also a branch of the Bavarian State Gallery and you can see works by Lucas Cranach the Elder, Hans Baldung Grien and many others.
You are not allowed to take photos or video inside.
Rosengarten Bamberg (Rose Garden)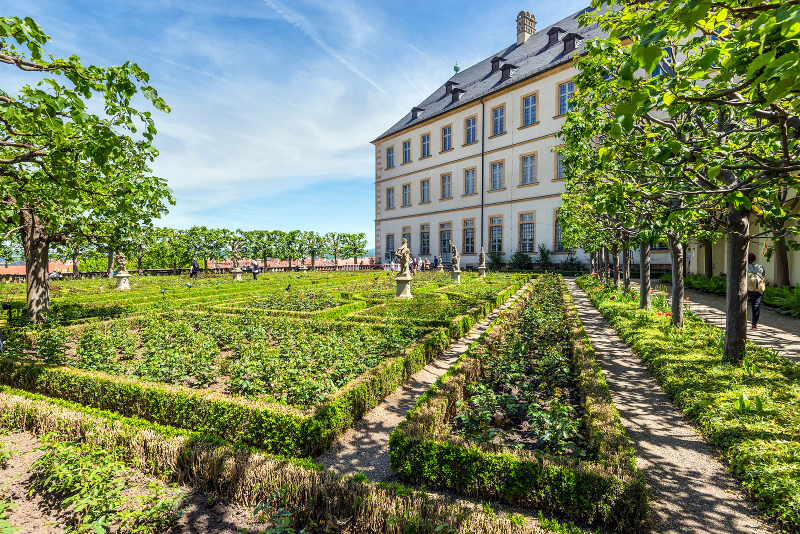 Located at the Neue Residenz, this garden is a definite must-stop on your Bamberg itinerary even if you decide not to go in the palace.
Located at the back of the building, the formal rose garden is just beautiful (watch the video above for more views). At the back wall of the rose garden are great views over Bamberg as well.
It started as a Renaissance garden but, in the 1730s, it took its current Baroque look. There are about 4,600 roses with low hedges, statues, a fountain, benches and lime trees.
It's just beautiful.
Altes Rathaus (Old Town Hall)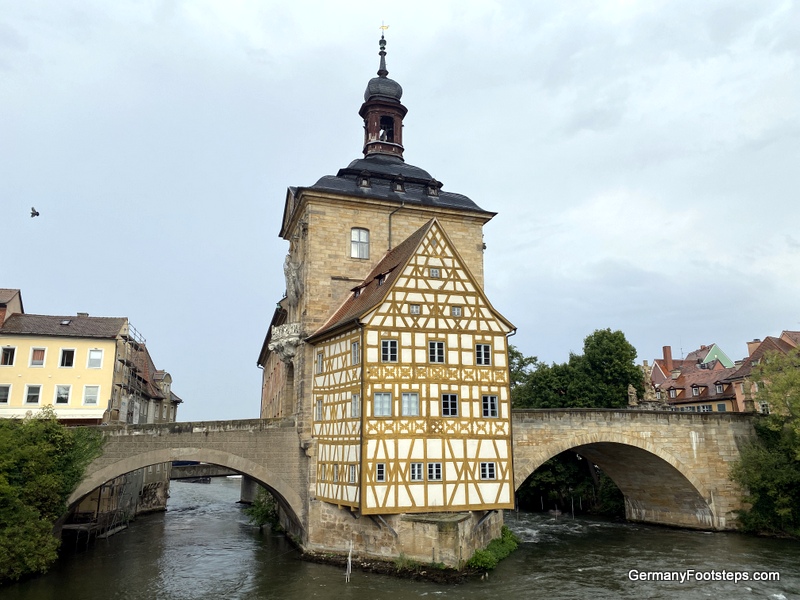 Surely the most photographed image of Bamberg, the current Old Town Hall was built from 1461 on an artificial island in the Regnitz River. The original town hall at this location was first mentioned in 1385 but burned down in 1460.
The story goes that it was built here because the local bishop would not give the locals any land for it so they built it on the river at the boundary of the merchant and Episcopal cities.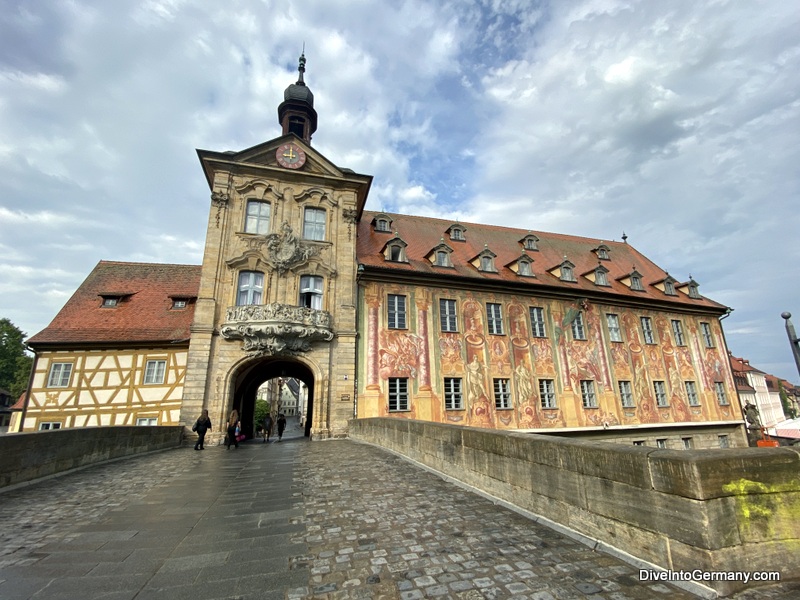 It was given a Baroque look in the middle of the 18th century. It's particularly known for its frescoes on the outside. Inside, there is a collection of fine porcelain.
There are bridges on either side of the town hall and, at the very least, you'll want to come have a close up look at the building and frescoes. It's a surpisingly magical spot.
Make sure you take your own photo of this awesome site not just right at the Town Hall but also on the bridges either side which also give you great views. This is an absolute must do attraction in Bamberg.
E. T. A. Hoffmanns House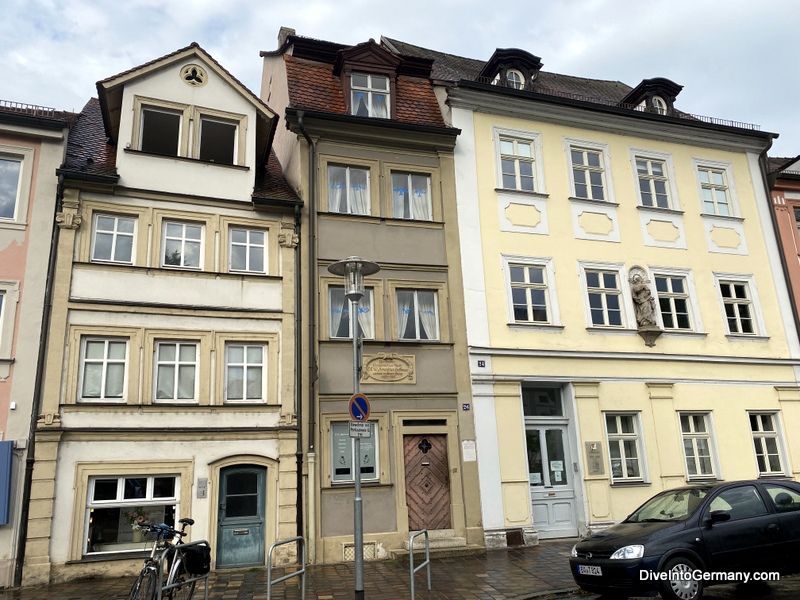 From 1808 to 1813, the prominent author, E. T. A. Hoffmann, lived on the second floor and loft of this narrow house on Schillerplatz. Today, it's a museum with some of his old home furnished how it might have been during Hoffmann's time.
The other rooms are filled with informative displays which aim to tell the story of the author's life and work.
There are various installations which relate to his work. You can see a theatre box with scenery from his opera, Undine, or an interactive truth microscope with a motif from his fairytale, Master Flea. You can also listen to recordings of his work.
In the courtyard is an "enchanted garden" which references his story, the Golden Pot and links botany and literature.
This attraction is best enjoyed if you are familiar with E. T. A. Hoffmann, but it can be enjoyed if you are not.
Obere Pfarre (Upper Parish)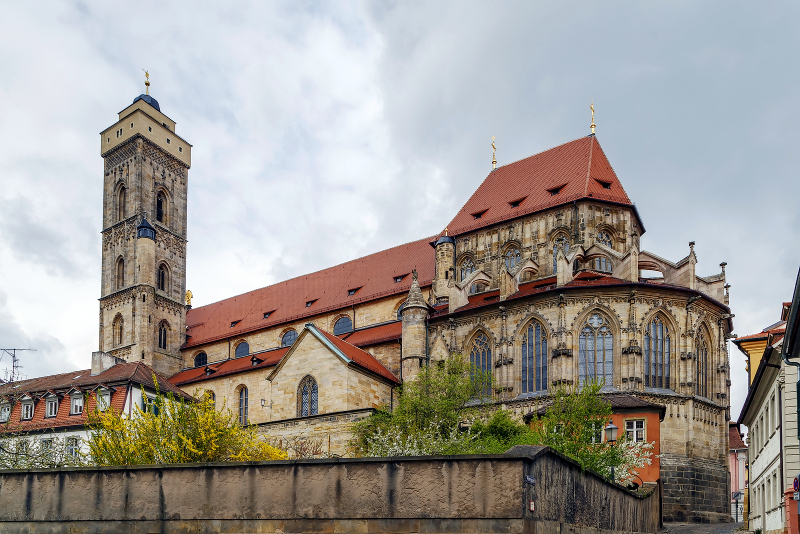 Called Obere Pfarre or Upper Parish by locals, the Church Of Our Lady is Bamberg's only pure Gothic church founded in the 14th century. It still has fittings and architecture from this time. The foundations of the late Gothic choir are from 1375, but the simple nave was added 50 years later.
The interior is stunning with a nave and two aisles with Baroque furnishings. Tintoretto's painting, "The Ascension of Mary", is worth a look.
The square tower you can see pictured above was built as a city watchtower and then later added to the church.
It's a beautiful church and well worth a look, especially inside.
Klein Venedig (Little Venice)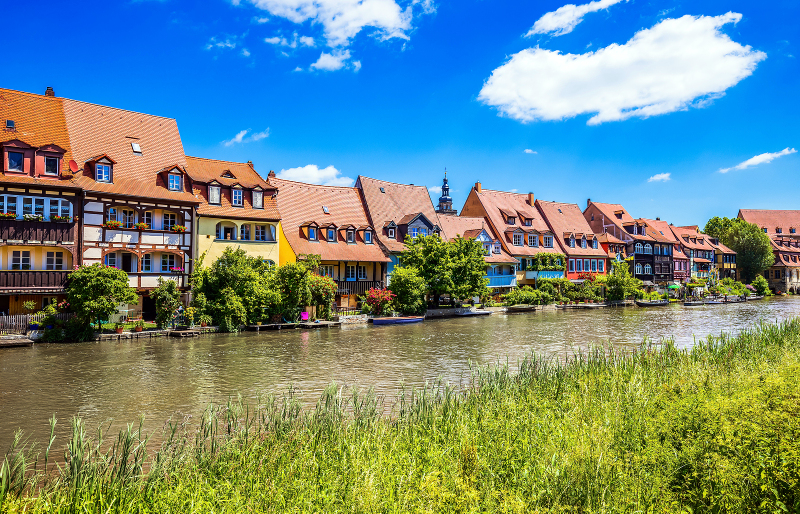 Not far from the Altes Rathaus on the northern side of the River Regnitz is the former fisherman's district known as Little Venice. It's quite picturesque with half-timbered buildings from the 17th century and little gardens.
On the opposite side of the river, you can get great views of this which are made all the prettier when the buildings reflect on the river.
You can enjoy this via a river cruise or simply walk along the opposite bank or sit and relax while you take it in.
Kloster St Michael (St Michael's Monastery)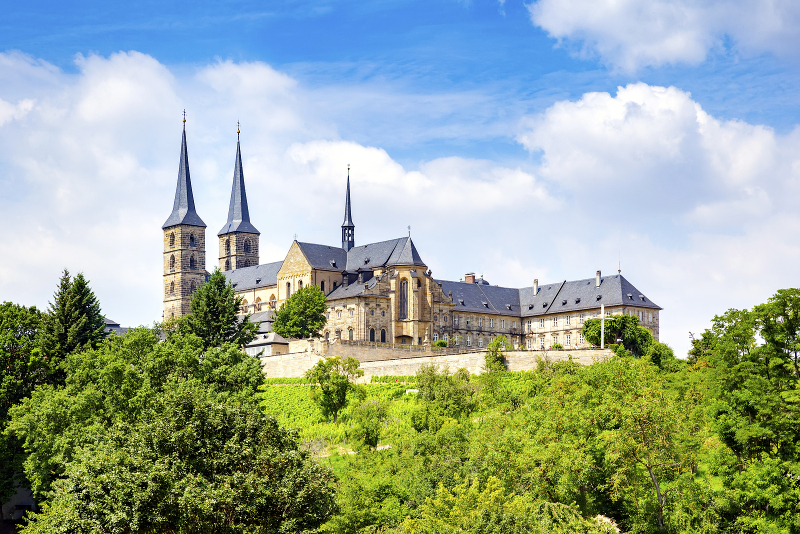 Above Domplatz is the former monastery of St Michael which is now an aged care home. It makes for quite a sight up the hill and it makes for one up close as well!
The Kloster St Michael was founded in 1015 although the first church was destroyed by an earthquake in the 12th century. At this stage, a Romanesque church was built. A fire in 1610 meant another rebuilding, this time in neo-gothic style. In the 18th century, it was altered with a Baroque facelift and that's what you will see today.
The monastery church is gorgeous with its Baroque architecture and Baroque art inside. The facade, the tomb of St Otto and the neo-gothic reticulated vault are all worth a visit. As is the fresco displaying 578 plants and flowers on the vaulted ceiling.
There are great views of Bamberg from the terraced gardens behind the church which are worth a wander.
At the time of publishing, the church was undergoing restoration work and is not open to the public. You can click here to check if it's open for your visit. There is an information centre on site where you can learn more about this attraction and the restoration works taking place.
Fränkisches Brauereimuseum (Franconian Brewery Museum)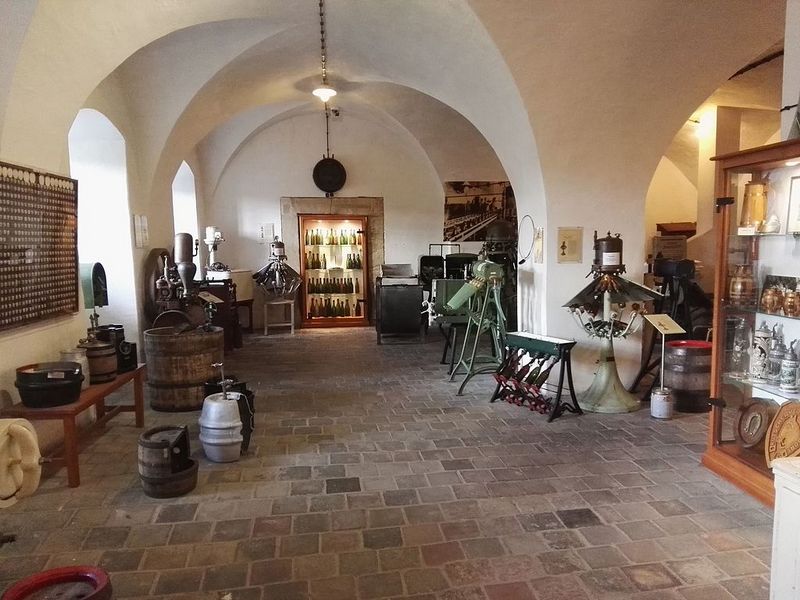 Beer lovers won't want to miss the Fränkisches Brauereimuseum as they are exploring Bamberg to learn all about the beer creation process both now and in the past.
Located in the restored vaults of the former Benedictine brewery at Kloster St Michael, this is the oldest brewing site in Bamberg with a history dating back to the 11th century making this the perfect home of this museum.
With over 1,800 exhibits, there is plenty to see here as you learn about how the local beer is fermented, malted, bottled, stored and more over five levels. You'll come out an expert in Franconian brewing traditions.
If you're feeling thirsty by the end, there is the opportunity to try some local beer.
It's generally shut over the winter and you can find more information on their website here.
Nuremberg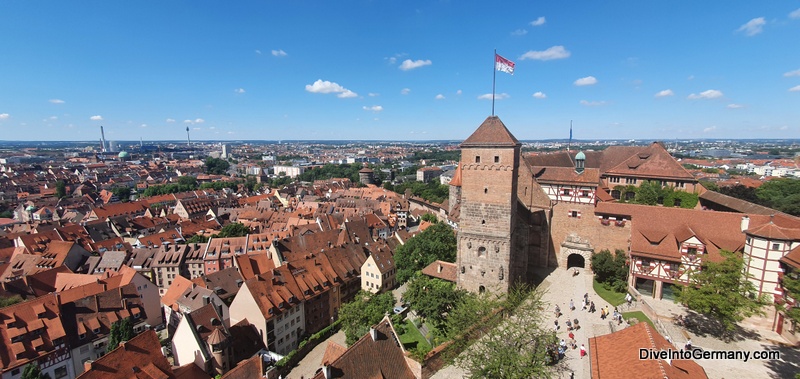 If you are looking for quick and easy day trips from Bamberg, Nuremberg is a great option. It's less than an hour's drive or train ride away.
Nuremberg is Bavaria's second largest city and there are so many interesting things to do here that you can easily fill a day (or five).
Start by exploring the Old Town which is full of attractions like the Kaiserburg (Imperial Castle), churches, underground tunnels and museums.
World War II history buffs won't want to miss the chance to visit the site of the Nuremberg Trials or the Nazi Party Rally Grounds.
Families will want to consider the huge Deutsche Bahn Museum or Playmobil FunPark.
There is so much to choose from so if you take this option, make sure you click here to read our full guide to Nuremberg (including a one day itinerary).
Best Places To Visit In Bamberg In December/Winter
While most of the things to do around Bamberg Germany listed above are possible in winter time (although note that the Historisches Museum and Fränkisches Brauereimuseum are usually shut), there is also an extra fun thing to do in Bamberg which especially takes place in the winter months…
Bamberg Christmas Market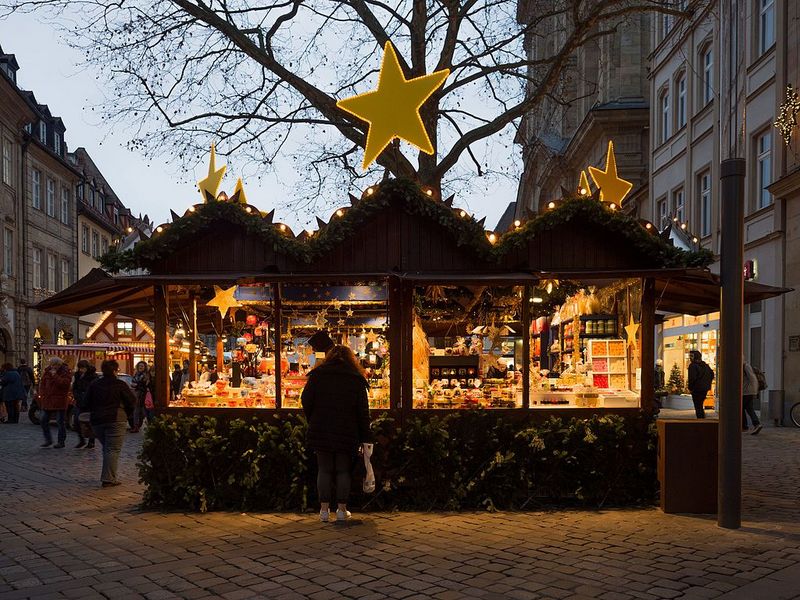 The Bamberg Christmas Market is the perfect place to head in December when the Maximiliansplatz area is turned into Bamberg's biggest Christmas market. This is also home to a large Franconian half-timber nativity scene which shows various Christmas scenes.
The market takes place during Advent which means it begins the Sunday nearest to November 30 and continues until Christmas.
You can expect traditional stalls selling Christmas gifts, arts and crafts, traditional food and more.
On the first weekend of December, there is also a craft Christmas market around Elisabeth Church.
What To Do In Bamberg In One Day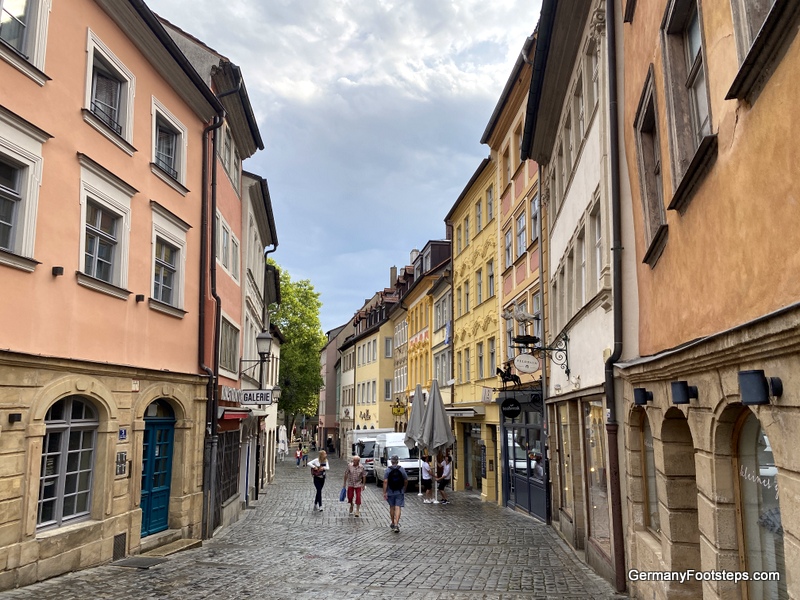 Only have one day in Bamberg? What a shame! But it's ok, it's still worth going to Bamberg if you only have one day and many people do a day trip to Bamberg.
With one day, I recommend you read the above and pick the places most of interest to you for your day. The attractions are not far apart (apart from the day trip to Nuremberg) so you can fit in what's most important to you.
Or… You can follow my one day Bamberg itinerary here!
Start at Domplatz in the Old Town and check out Bamberger Dom
You could spend half a day here also visiting the Diözesanmuseum (Diocesan Museum), Historisches Museum (History Museum) and Neue Residenz (New Residence). Visit whichever of these most interest you or all of them
Check out the Rose Garden behind Neue Residenz and the views over Bamberg
Take a walk to Obere Pfarre (Upper Parish) and explore inside and out
Next stop is photos of Altes Rathaus
Continue along the river for photos of Klein Venedig (Little Venice)
If you have time and the church has reopened at Kloster St Michael (St Michael's Monastery), head here to finish your day exploring the church and views over Bamberg
Bamberg Attractions Map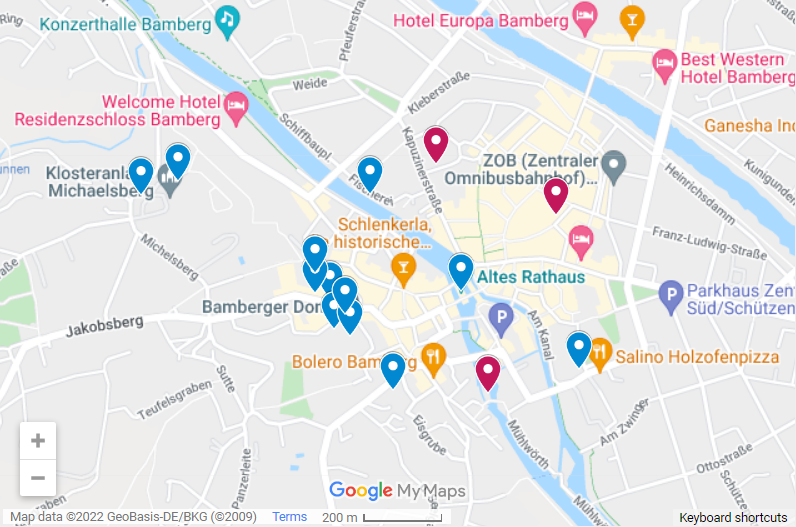 Best Place To Stay In Bamberg
When it comes to where to stay in Bamberg, there is a great range of hotels and other accommodation options. You won't have any problem finding somewhere to stay.
Below I've listed a few different places to consider depending on what type of accommodation you are looking for.
If you want more options, you can use this map to help you find hotels and home rental accommodation around Bamberg.
Looking for the best hotel in Bamberg that is well located and atmospheric? You have found it!
The Hotel Nepomuk is just 6 minutes walk from either Bamberger Dom or Altes Rathaus right on the water in a gorgeous, half timbered house. You can enjoy all of Bamberg's attractions from here.
Rooms are either inside this historic building or in a modern annex but in either option, you'll have modern furnishing, a desk area, free wifi, flat screen TV and possibly great views. Rooms range from economy twins to two bedroom suites which also have a living area, whirlpool bath and great river and Old Town views.
Facilities include valet parking, a bar and Eckerts restaurant right on the river.
Click here for the latest prices.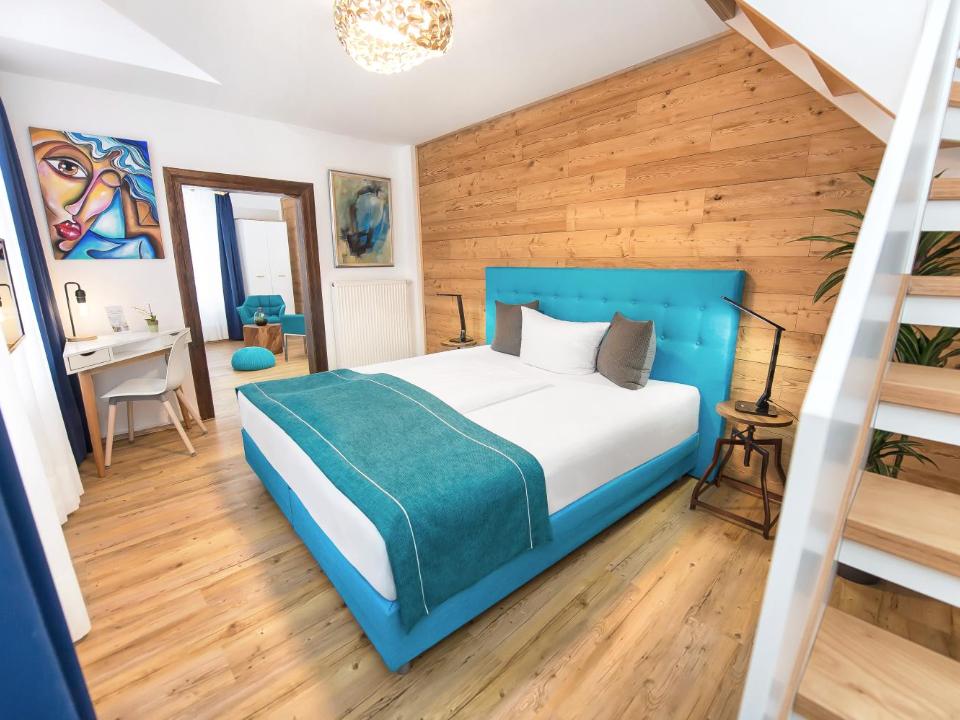 Hotel Wohnbar is located 7 minutes walk north of Altes Rathaus and it's easy to explore Bamberg from here. It has 12 rooms and apartments and is usually a great price for a centrally located hotel.
While it's in a historic building, the inside was renovated in 2010 and it's modern, bright and cheerful. The rooms range from double to triple and family (four person) rooms. They are all on the small side but come with flatscreen TV, free wifi, some type of sitting area and toiletries. Most have coffee machines and minibar too.
The rooms look great and each have their own style, but some are double level and there aren't any elevators in this hotel which is worth considering if you don't enjoy stairs.
Breakfast is available for an extra fee which is highly regarded. There is also a cafe on-site. Parking is available for an extra fee nearby. Bicycles are available for hire.
Click here for the latest prices.
Limehome Bamberg Keßlerstraße is located just a 5 minute walk north east of Altes Rathaus and is a great place to stay if you want self-catering accommodation in Bamberg.
Rooms range from single suites to double suites with the biggest option also having a sofa bed for a third person. They include seating areas, flat-screen TVs and kitchens with dining areas including fridge, stove, toaster and coffee machine. They are all stylish and well presented.
There is no parking or elevators.
Click here for the latest prices.
How To Get To Bamberg
We travelled to Bamberg by hire car which made it very easy to get here. It's easy to find especially coming from Nuremberg like we did.
You can hire a car to get you there by clicking here.
There are regular trains and buses here. You can find timetables and all your options here. Popular destinations are Munich, Nuremberg and Berlin.
The closest airport is in Nuremberg.
Once in Bamberg, we found it easy to explore on foot.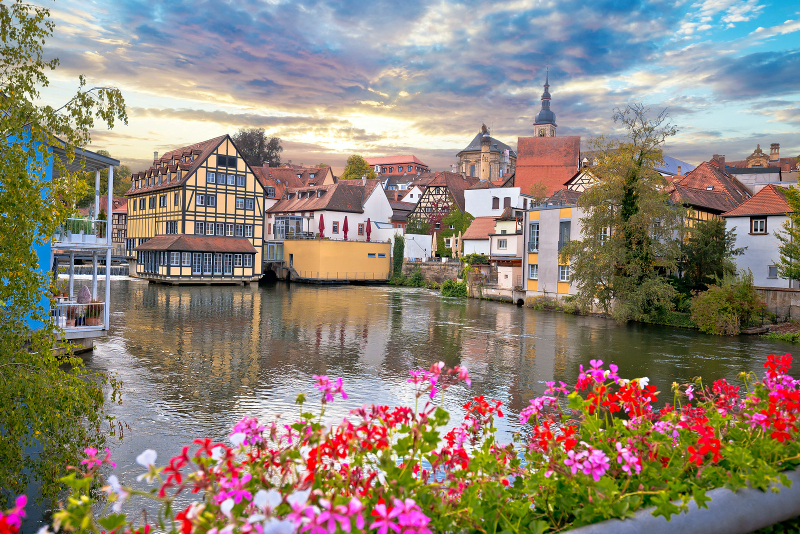 Bamberg With Kids
Bamberg is a fun place to explore with kids if they love narrow streets and the beautiful scenery of Old Towns. The river and canals make this a scenic and fun place to walk around. Our kids also enjoyed looking at the Altes Rathaus and seeing inside the Neue Residenz.
For something a bit different that the kids will enjoy, consider a Venetian style gondola ride on the Regnitz River. Find more information here.
For some time out, you could visit the Bambados pool and sauna complex. More information here.
Final Words
Bamberg is a beautiful and fun place to explore with an awesome UNESCO World Heritage listed Old Town. I hope you enjoy exploring it as much as we did.
I also hope you find this guide to things to do in Bamberg super useful for your own exploration.
Read more guides to visiting Southern Germany here. Or read this guide to nearby Nuremberg here or Rothenburg Ob Der Tauber here. We visited Bamberg on our way to Quedlinburg here.