Going on a Dinkelsbühl trip and want to know all the best things to do in Dinkelsbühl? We have you covered! Below you will find our guide to all the best attractions in Dinkelsbühl to plan your ultimate trip.
If you love beautiful Old Towns, you won't want to miss Dinkelsbühl! This Bavarian town still surrounded by its 10th-century walls is a great example of how towns looked in years gone by. With little damage from the Thirty Years War or World War II, there are many original buildings to explore.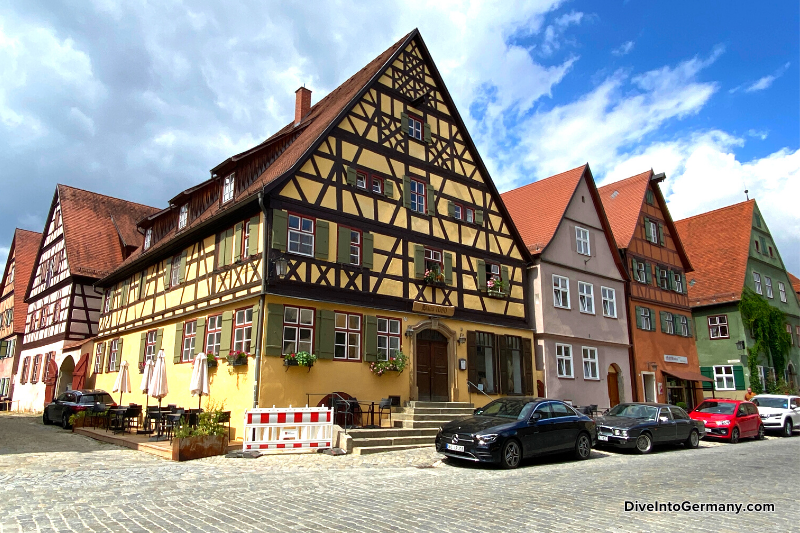 It's a colourful Old Town with a lot of charm and well worth a stop especially for people exploring the Romantic Road or anyone who is a sucker for a fairy tale village 🙂
We really loved visiting this town. It's gorgeous but without the number of tourists of a Rothenburg. It feels quite authentic.
Below, you will find our Dinkelsbühl travel guide with everything you need to know about the best places to visit in Dinkelsbühl as well as the best places to stay for your ultimate vacation in Dinkelsbühl!! There is also a handy map of the places to visit in Dinkelsbühl as well as some information about visiting Dinkelsbühl with kids.
Traveling to Germany? Click here to download your free Germany Trip Planning checklist. We'll help you get ready for your trip! 
An Introduction To Dinkelsbühl
With a population of about 11,000 people, Dinkelsbühl is located in the state of Bavaria about two hours north west of Munich or an hour and a quarter drive south west of Nuremberg. It lies on the Wörnitz River and is a cute place to visit on a half or full day trip or even for a couple of days.
Dinkelsbühl traces its roots back to the 8th century when Carolingian kings founded a residence here. First mentioned in documents in 928, a hill fortress was erected here to protect a shallow point in the Wörnitz which was a popular crossing point and an intersection of two trade routes.
You can still see the 10th-century walls and 12th-century towers today.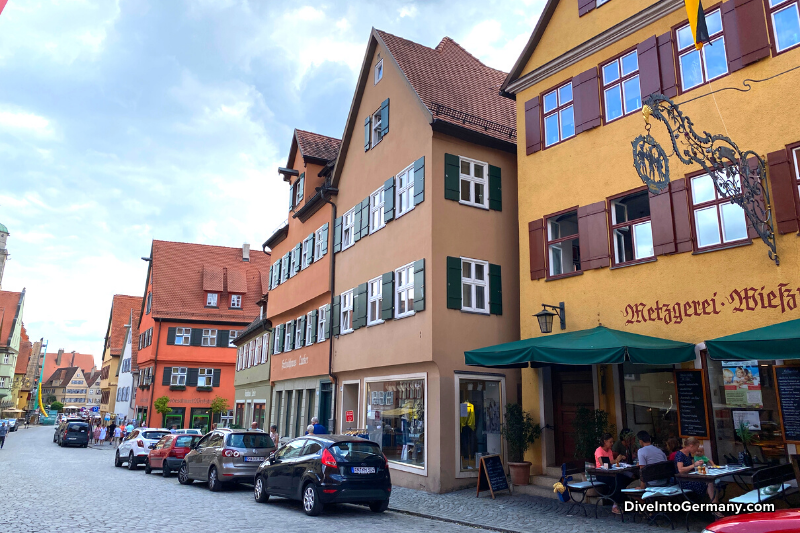 In 1273, Dinkelsbühl became a free imperial city of the Holy Roman Empire. The town prospered in the 14th and 15th centuries thanks in part to a distinctive woollen cloth manufactured there and given special privileges by the King Lugwig IV. Wealthy merchants and aristocrats built tall, gabled houses setting the scene for what you can see today.
Dinkelsbühl withstood eight sieges in the Thirty Years War (1616-1648) before surrendering to Swedish troops in 1632. The town was brought to the edge of economic ruin but after the surrender, it improved again. The Kinderzeche festival mentioned below has its roots in this time.
The surrender in the Thirty Years War and Dinkelsbühl being spared bombing in World War II has led to one of the most authentically Medieval towns in Germany.
Top 10 Things To Do In Dinkelsbühl Germany
Here are the best Dinkelsbühl attractions. Read through and select the ones that fit your interests and timeframe. If you only have one day to visit Dinkelsbühl tourist attractions, find our one day Dinkelsbühl things to do itinerary below.
Altstadt (Old Town)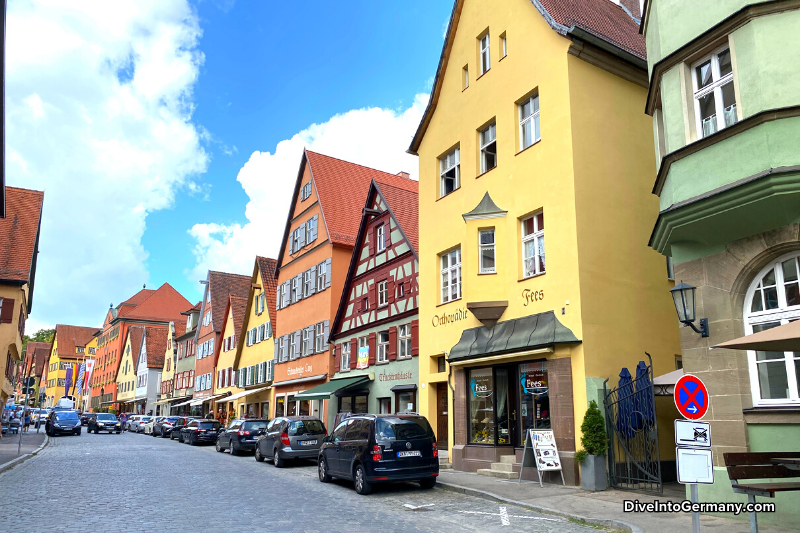 A visit to Dinkelsbühl is all about the picturesque Old Town and definitely the best thing to do in Dinkelsbühl is to wander the Old Town after passing through one of the old city gates and try to get lost.
Most of the buildings are from the 15th and 16th centuries when the woollen cloth trade led to economic success. The town was never planned which is why you'll notice the Marktplatz is small and Weinmarkt is a rectangular shape rather than the big open plazas seen in many other German towns. They seem like regular streets really.
Weinmarkt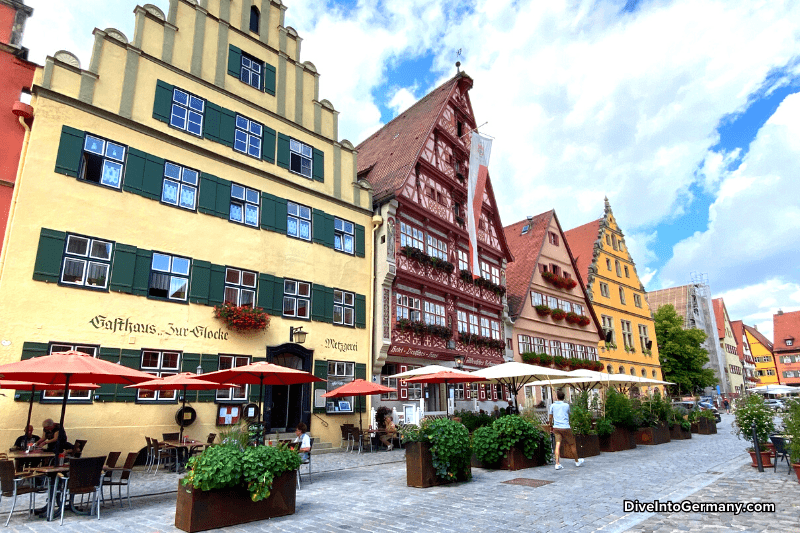 The best view of buildings in the Old Town is from Weinmarkt, especially the row of gabled buildings. They are from the start of the 17th century and are brightly coloured.
This small plaza should definitely be included in your wanderings around the Old Town. Ideally, stop for a drink and soak it all in.
Münster St Georg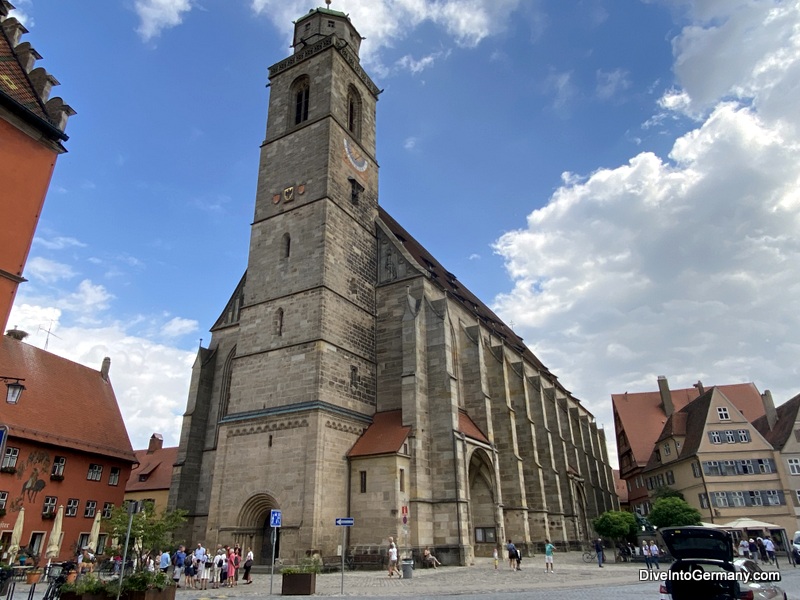 Located in the middle of everything by both Marktplatz and Weinmarkt is the Gothic Hall Church, Münster St Georg. It was built in the 15th century to replace the Romanesque church that stood here before. The porch tower, however, dates back to this earlier version and is from the 1220s.
The stunning inside is worth a look with six alters, a fan-vaulted ceiling and plenty of art. At the northern end of the choir is a tabernacle which is from 1480. It's all very grand and impressive.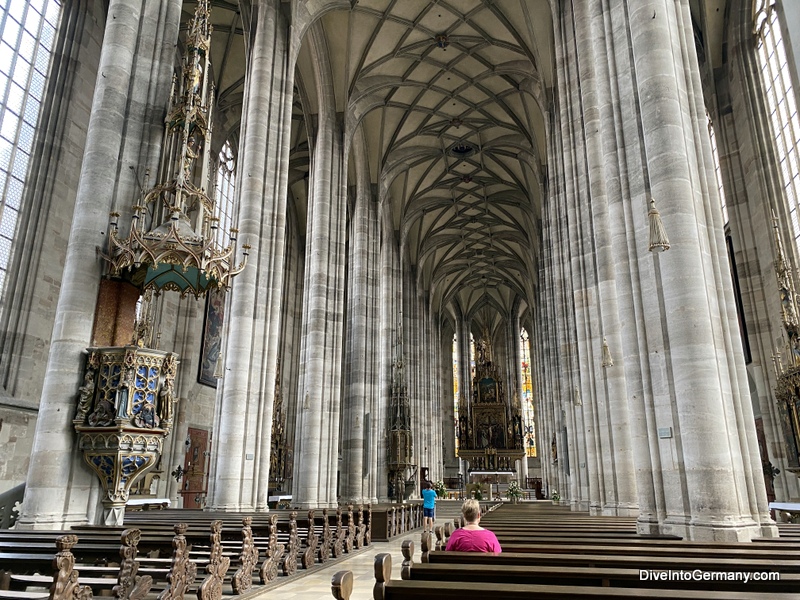 Entry is free but a good move is to pay a small fee to go up the top for a look over Dinkelsbühl and the surrounding countryside. This seems to have limited opening hours, however.
Haus Der Geschichte (House Of History)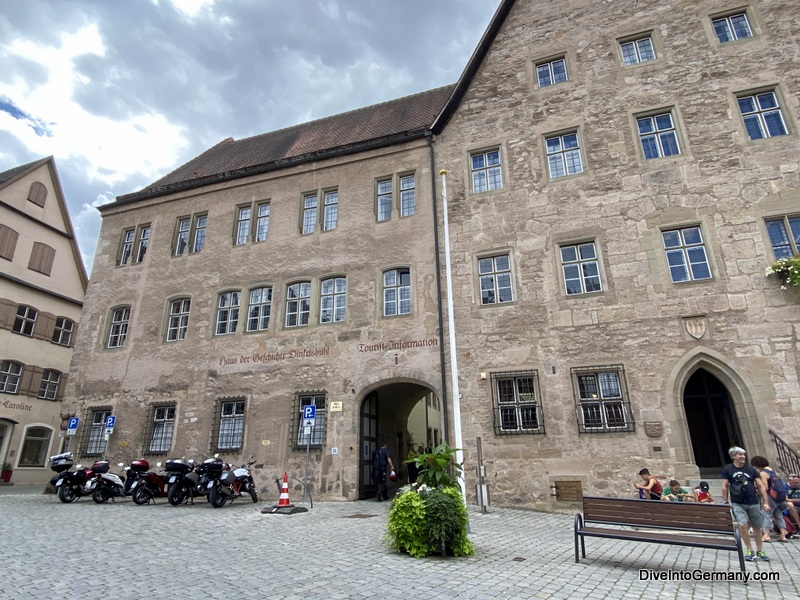 The House of History is the place to head to learn all about Dinkelsbühl's history. Located in the Old Town Hall, which is a complex of buildings from the 14th to 16th centuries, there are engaging exhibits which take you through more than 800 years of history.
There are paintings, armour, weapons, religious art and tools from the manufacturer of woollen cloths. Many things are covered including the 30 Years War and the witch trials that took place right here in the 17th century.
This city museum is one of the better ones we have been to with colourful exhibits and plenty of information. Only German is used within the museum, but audioguides with an English option are included in the small entry fee. While this doesn't tell you everything that's covered in this museum, it gives you plenty of information so I didn't feel like I needed anything more.
Museum Of The 3rd Dimension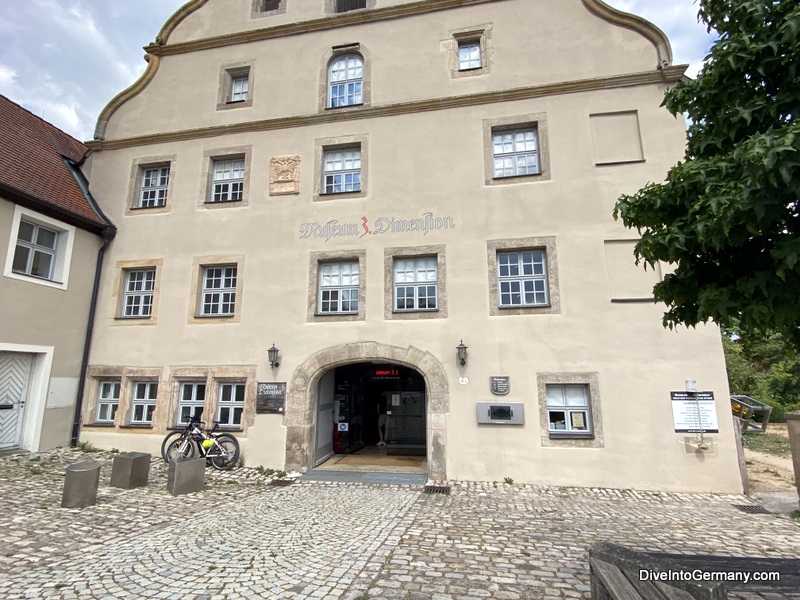 For something a bit different (especially if you have kids that are over German Old Towns), consider visiting the Museum Of The 3rd Dimension. Just outside the eastern gate (Nördlinger Tor), there are three levels of stereoscopes, 3D and holographic images, optical illusions, magic eye images and more.
This museum is inside the Stadtmühle (Town Mill) which was built after Emperor Charles IV allowed Dinkelsbühl to operate a second mill in 1378. It was restored for this museum and is a beautiful building.
Rothenberger Tor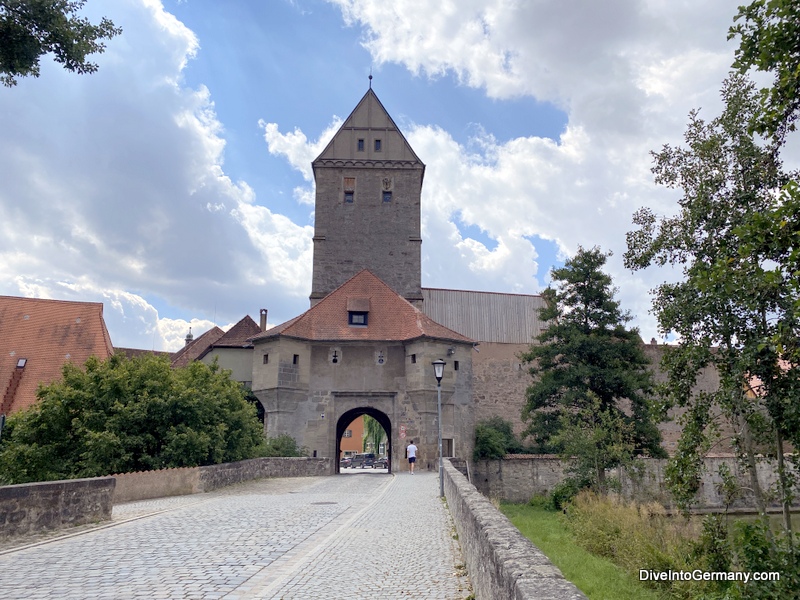 There are four old gates around Dinkelsbühl and entering via one of them is part of what makes a visit here so special. You do feel like you are going back in time!
The Rothenberger Tor is on the northern end of town and has stood for more than 600 years. It once controlled what was quite a busy highway in Medieval times. While today it's more for ornamental purposes, you'll appreciate taking a look from outside the Old Town of this big tower.
Segringer Tor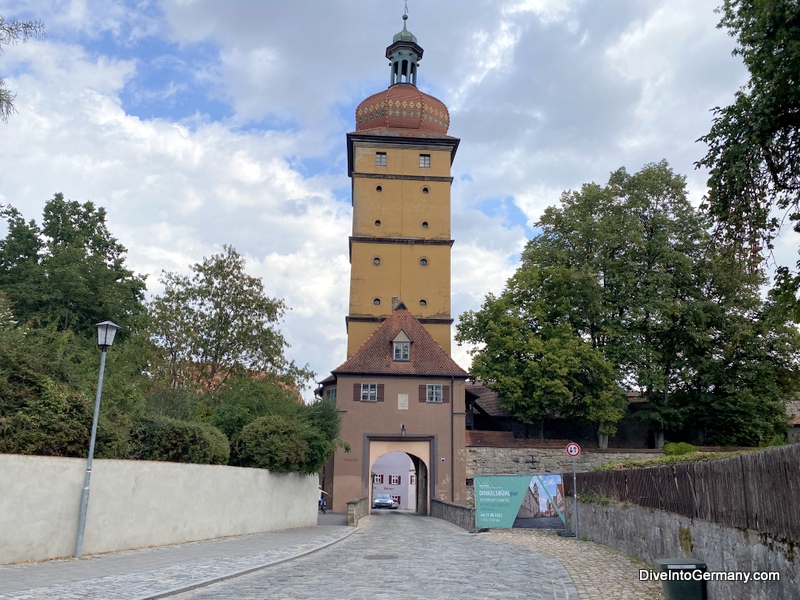 On the western side of the Old Town is another old gate worth checking out, Segringer Tor.
This part of the Old Town is less popular which can make it more fun to explore and the street that leads into the centre of the Old Town from here, Segringer Straße, has attractive gabled houses.
The onion dome on top is quite different to the design of the other gates. This is because the original gate collapsed in 1648 after a siege in the Thirty Years War and was reconstructed with a Baroque look.
Stadtpark (Town Park)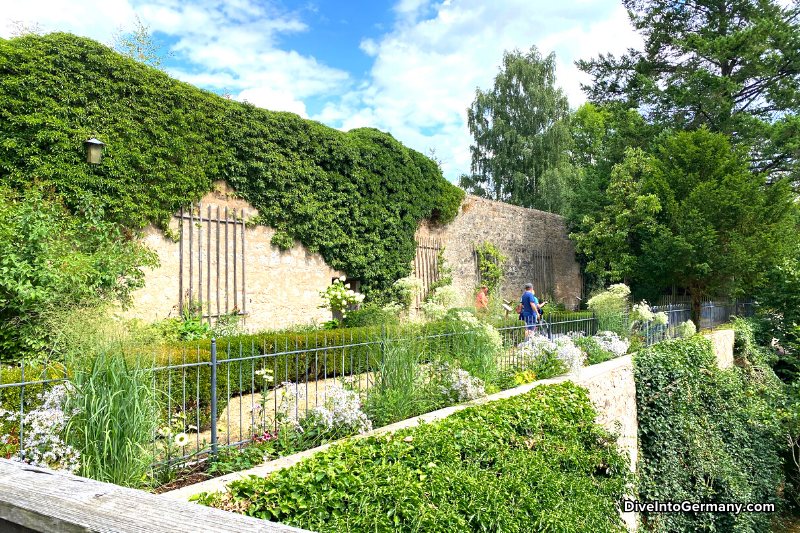 Taking the place of Dinkelsbühl's old moat is this band of parkland and water. It's a pretty area by the town walls near Rothenberger Tor and it's worth walking through part of it to explore the walls more and to enjoy the parkland. There are trees, flowers, ponds and more.
In the warmer months, there are also weekly concerts in the park at the Music Pavillion on Sundays. Find more details here .
There's also great parkland round the southern end of the walls near Segringer Tor. If you have the time, take a walk around the outside of the walls as well.
Rothenburg Ob Der Tauber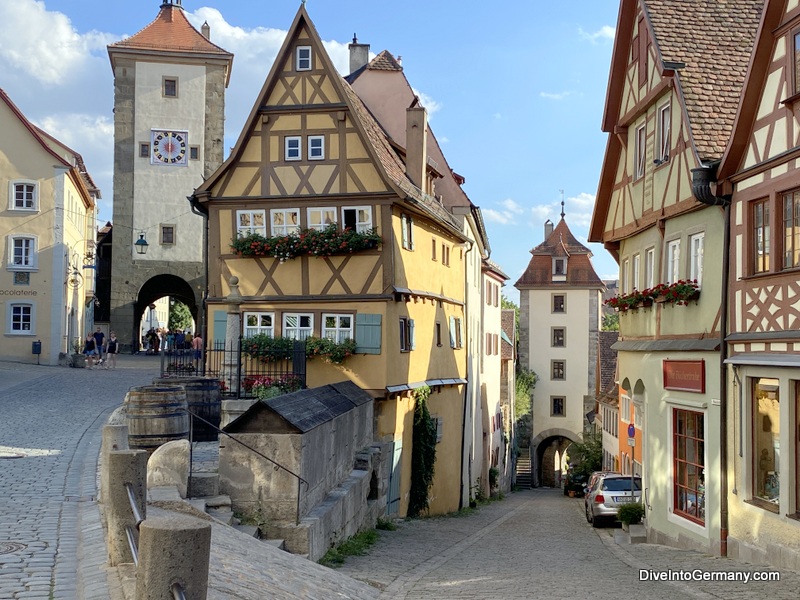 If you are basing yourself in Dinkelsbühl, a great place to head for a half or full day trip is to nearby Rothenburg ob der Tauber, another picturesque (albeit far more touristy) town about 40 minutes drive away.
Rothenburg ob der Tauber is the ultimate fairy tale town on the Romantic Road. With towered walls, webs of lanes and beautiful buildings everywhere, it's a picturesque Medieval town where you will also feel like you have gone back in time.
Some highlights of a visit here include the:
Mittelalterliches Kriminalmuseum (Medieval Crime And Punishment Museum) – Learn all about Medieval tools of torture and punishment in the biggest museum of its kind in Europe
Deutches Weihnachtsmuseum (Christmas Museum) – This big year-round Christmas store also has a Christmas museum which traces the customs and decorations of Christmas over time
Stadtmauer (Town Wall) – If you have the time, take a walk both on and around the 2.5 kilometres of unbroken walls that encircle Rothenburg ob der Tauber for great views of this town
Read our full guide to Rothenburg Ob Der Tauber.
Kinderzeche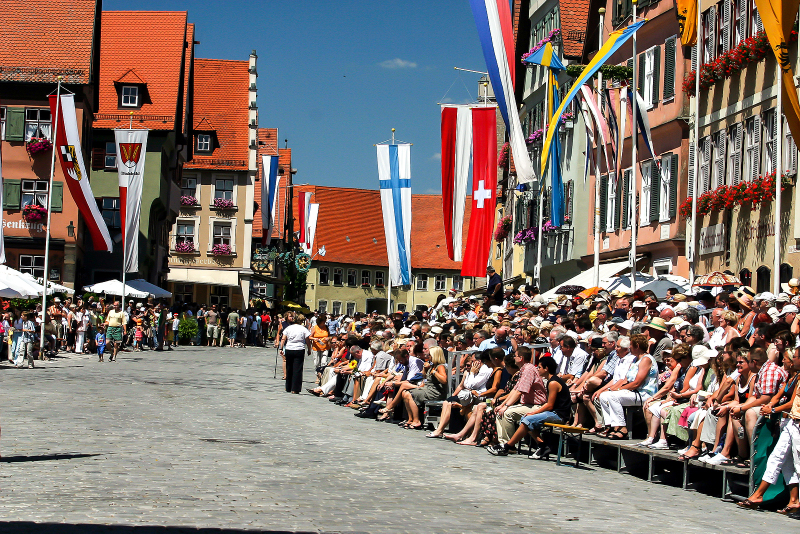 The biggest event in Dinkelsbühl is the Kinderzeche which takes place in the third week of July for ten days. This celebrates the fact that Dinkelsbühl survived the Thirty Years War without significant damage.
The war took place from 1618 to 1648 and destroyed big parts of Germany. The legend goes that Dinkelsbühl survived because the watchman's daughter led the other children out of the gates when the town surrendered and begged the Swedes to spare the town from ransacking. They agreed and the town was spared.
Today, the children of Dinkelsbühl are celebrated with Kinderzeche which includes re-enactments of what took place, a parade, lots of music and other celebrations. Kids who dress up also get sweets in coloured bags.
Best Things To Do In Dinkelsbühl In December
While most of the things to see in Dinkelsbühl Germany listed above are possible in winter time, there is one extra fun thing to do in Dinkelsbühl which is especially for the winter months.
Dinkelsbühl Christmas Market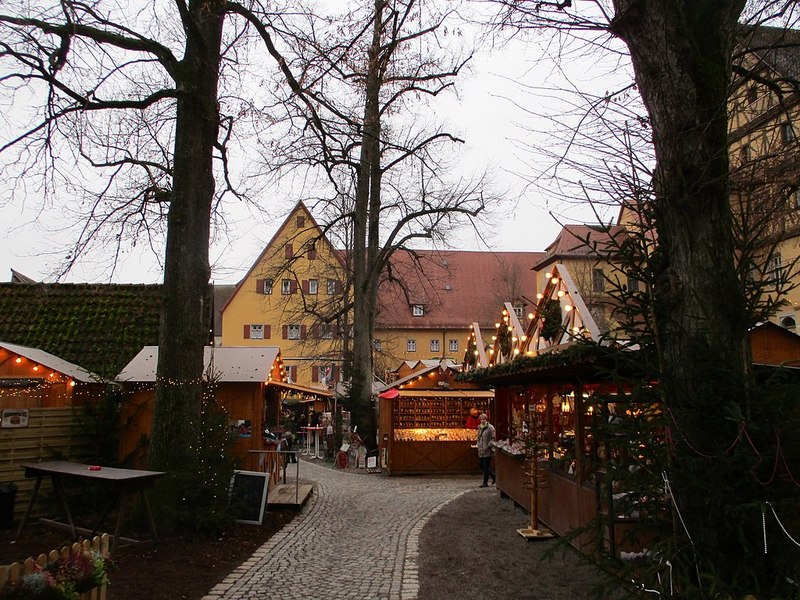 Like many towns and cities in Germany, Dinkelsbühl comes alive in December with its annual Christmas Market which usually runs from late November to late December.
It is held at the Spitalhof Courtyard near Rothenberger Tor.
The town itself is decorated as well, and it's a magical place to be in December.
What To Do In Dinkelsbühl In One Day
Only have one day in Dinkelsbühl? What a shame! But it's ok, it's still worth going to Dinkelsbühl if you only have one day. In fact, many people day trip here and it's long enough to do everything in the Old Town above. Of course, you'll only get to attend Kinderzeche or the Christmas Market if you are in town at the right time.
With one day, I recommend you walk around everything you can. Try to hit the town gates mentioned above, check out the walls from inside the Old Town and around Stadtpark. Go to Weinmarket, Münster St Georg and spend some time in Haus Der Geschichte learning Dinkelsbühl's history.
The only place you might want to give a miss is the Museum Of The 3rd Dimension depending on whether it's of interest to you or not.
Dinkelsbühl Attractions Map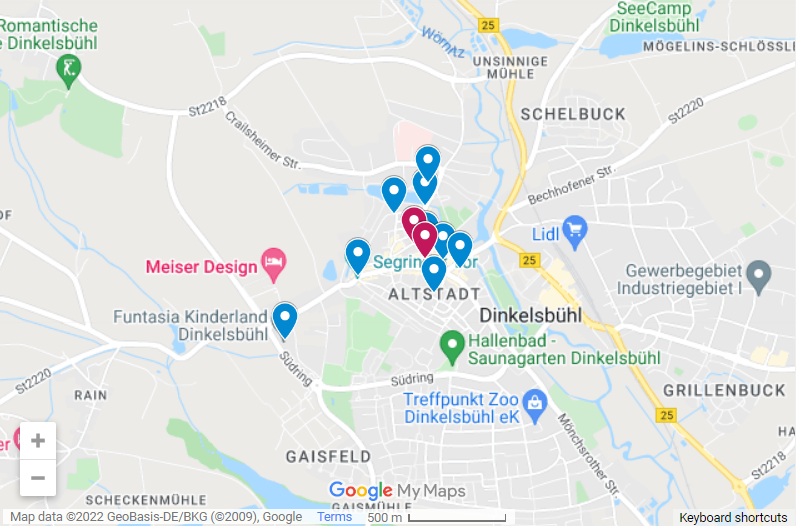 Dinkelsbühl Hotels – Best Options
When it comes to where to stay in Dinkelsbühl, there is a great range of hotels and other accommodation options for a smaller town. You shouldn't have any problem finding somewhere to stay but you should book ahead at peak times.
Below I've listed two places to consider. Both get excellent reviews and are in central locations with good rooms. Just one slightly wins on location (on Weinmarkt) and one has extra stylish rooms. Your choice!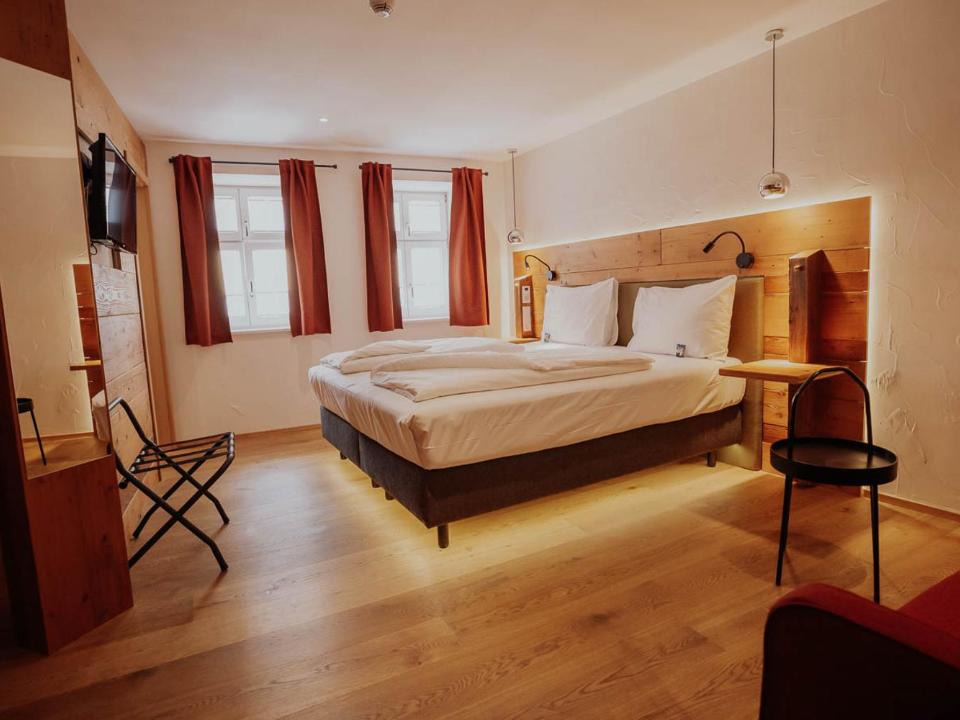 The Altstadtmittehotel Sonne in Dinkelsbühl is a great accommodation choice.
Located just off the Weinmarkt, you can easily explore the Old Town from this hotel which is located in a refurbished building from 1480.
Rooms range from doubles and kings to suites. All rooms have air conditioning, a seating area, a flat-screen TV, tea and coffee making facilities, a safety deposit box and a private bathroom with toiletries. They are all stylishly decorated with comfortable beds. Some rooms also have nice views.
On-site is a restaurant with buffet breakfast and regional cuisine. There is an elevator, wifi and parking can be arranged nearby.
The Altstadtmittehotel Sonne is also connected to the Gasthaus Hotel Sonne. Here, guests can also access the Franconian inn with beer garden and the el'Paso Mexican-Diner and Bar.
Click here for the latest prices.
For a location that can't be beat on Weinmarkt, stay at Hotel Deutsches Haus. Located in a beautiful patrician house built in 1440, you'll feel like you're part of the Old Town.
Rooms range from doubles to suites and family rooms that sleep four. They are all spacious with wooden furniture including some antiques. Rooms also all come with included breakfast, in-room safe, cable TV, bathrooms with showers and bath tubs and more.
There is a restaurant on-site which serves top-rate modern Franconian cuisine. A huge plus for drivers is free valet parking.
Click here for the latest prices.
How To Get To Dinkelsbühl
We travelled to Dinkelsbühl by hire car which made it very easy to get here. There's on street parking and some smaller car parks round the outside of the walls which aren't hard to find. We parked in P3 for free. It was convenient.
You can hire a car to get you there by clicking here.
Otherwise, you'll need to catch a bus to Dinkelsbühl as, although there is a train station here (regardless of what your guide book might say), barely any trains stop here.
There are regular buses from nearby towns including a recent direct one that runs infrequently from Rothenburg Ob Der Tauber. You can find timetables and all your options here.
Once in Dinkelsbühl, we found it easy to explore on foot.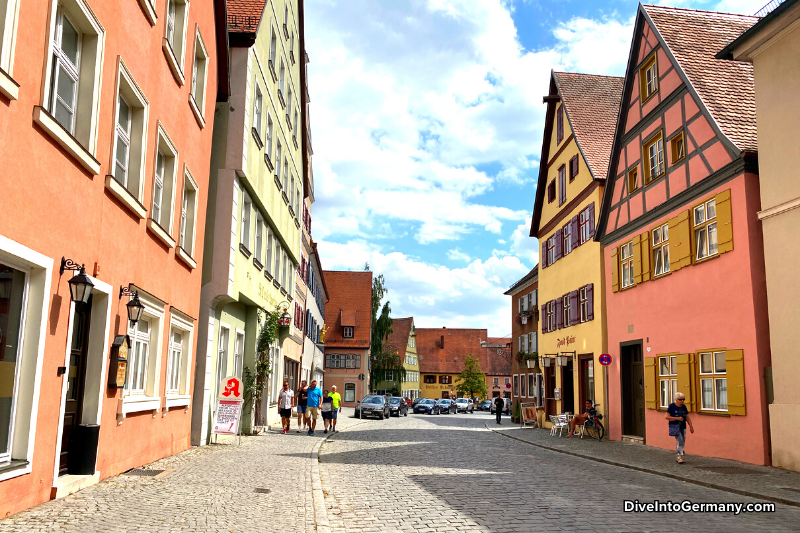 Dinkelsbühl With Kids
Dinkelsbühl is a beautiful place to visit with kids because it's a beautiful place!
The lack of must see attractions can make it an easier place to visit with no long museum visits for them to tolerate. They are likely to enjoy the 3D museum and exploring the town walls.
We also found a great playground on the outside of the walls at Spielplatz "Bleiche" near Rothenburger Tor.
For kids who need to let out some serious energy, consider the following!
Funtasia Kinderland
This indoor play centre is designed for kids of all ages with plenty to do so they can let off some steam after some Romantic Road cruising.
There is a free fall slide, a "ninja course", trampolines, bouncey castle, ball pool, air hockey, fun electric cars and much more.
You can find more details on their site.
Final Words
Dinkelsbühl is a fantastic place to visit with a colourful, authentic Old Town that's fun and picturesque to explore.
While it's not filled with must-visit attractions, there is plenty to do here for a fun half or full day trip. Actually, I think it's a pro that there aren't many must see places as it means plenty of time for strolling and just enjoying your surroundings.
I hope you have found this guide useful and are ready to get out there and explore Dinkelsbühl!
Read more guides to visiting Southern Germany here. Or read this guide to nearby Nuremberg or this guide to Heidelberg.