For a pretty stop in your way into or out of Baden-Baden or as a nice walk from the city itself, consider visiting Hohenbaden Castle Baden Baden.
If you are thinking about visiting here, want some background history or want to know everything there is to know about visiting Hohenbaden, you are in the right place! We'll share everything you need to know below based on our research and our visit to this castle.
Located just on the outside of town, this castle was once a magnificent palace of the Margraves of Baden. While today, this no longer the case, the evocative ruins are still worth visiting. It's a fun place to explore.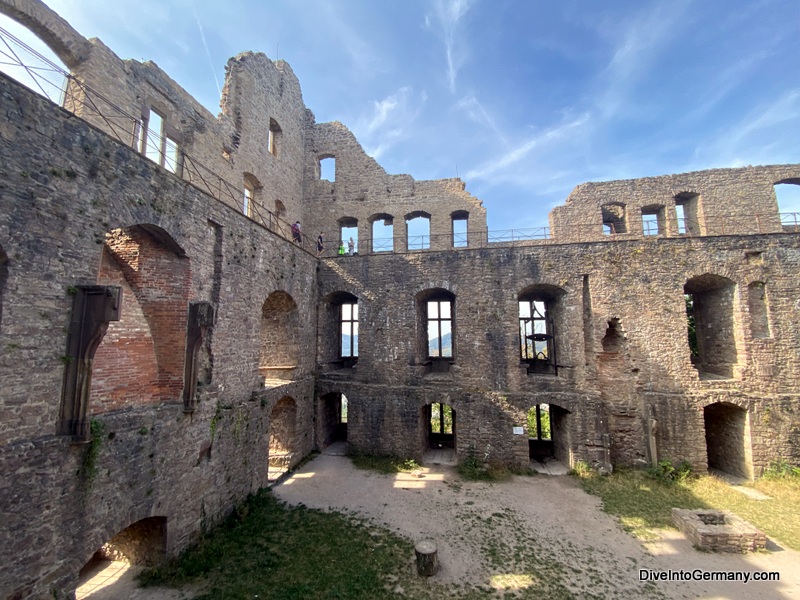 Sometimes, I think ruined castles can be more interesting than the intact ones. They can seem more magical and can work the imagination in fun ways. Altes Schloss Hohenbaden (or Hohenbaden Old Castle) definitely does this!
Below, is your in depth guide to visiting this castle.
You can also find our full guide to Baden-Baden here.
Traveling to Germany? Click here to download your free Germany Trip Planning checklist. We'll help you get ready for your trip! 
Altes Schloss Hohenbaden History (Old Castle Hohenbaden)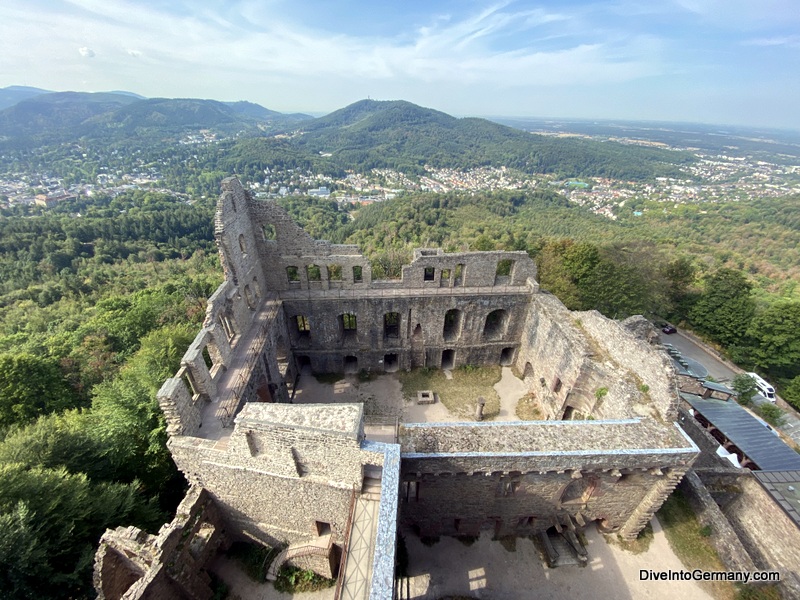 Hohenbaden Castle was built in 1102 to be home to the Margraves of Baden. It was a grand palace with 100 rooms in its heyday in the 15th century.
Known as Altes Schloss (Old Castle) locally (and this is what you'll see on street signs), the oldest part of the buildings are on the southwestern side of the hill on a crest. The newer, lower part of the castle was built by Margrave Bernhard I in the late 14th century.
In 1479, the Margraves moved to Baden to a more comfortable palace and this castle was abandoned. In 1599, it was destroyed by fire and left in ruins. Thankfully, there are still parts to see today though.
Interest in the castle increased when Baden-Baden became a popular destination in the 19th century.
Hohenbaden Castle Review
We visited Hohenbaden Castle on a sunny morning in late August with our three kids aged 6, 10 and 12.
The site surprised me by being quite big and expansive. You can spend half an hour at least exploring these ruins both on the ground, underground and also from on top. For a place that was left in ruins so many hundreds of years ago, it surprised me how much was intact.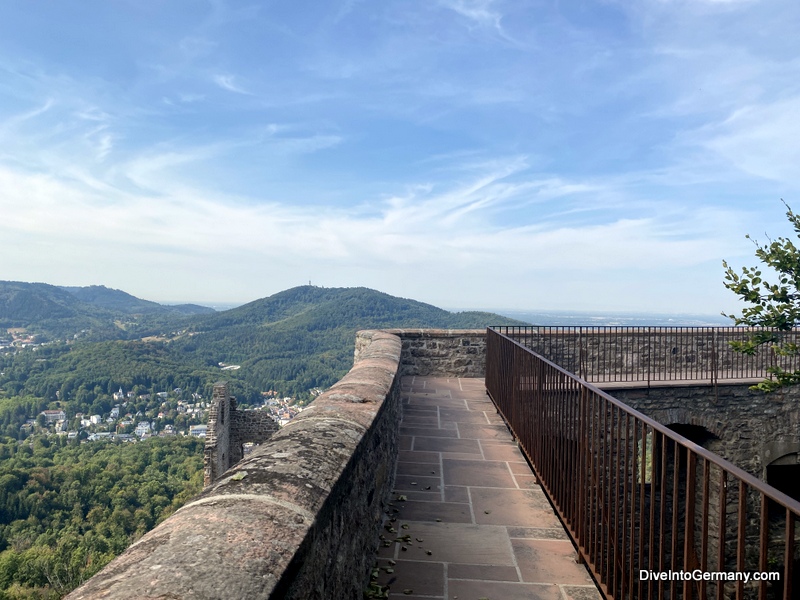 There a quite a few stairs but you can decide yourself how many you walk up. I do recommend exploring everything though. It's fun! And there are great views over Baden-Baden and the Black Forest with some viewing terraces as well as plenty of walkways.
Underneath are what appear to be old dungeons.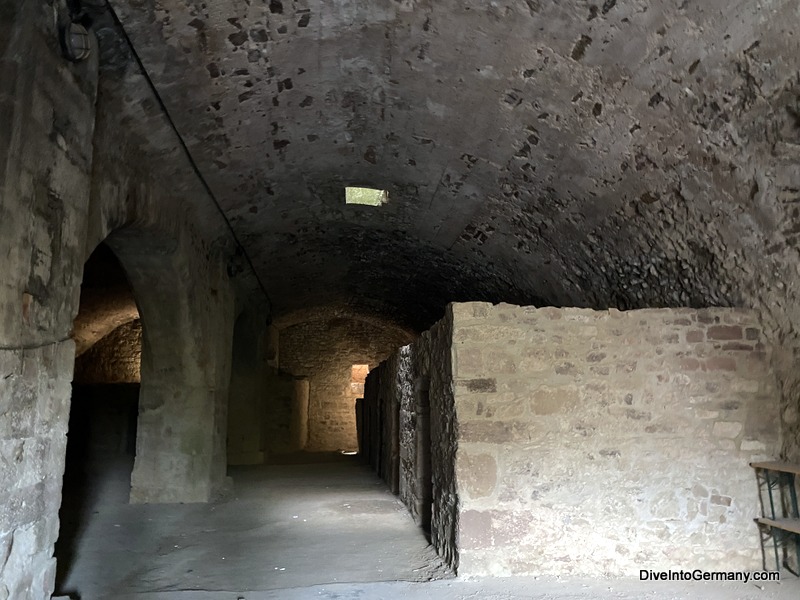 There are a couple of information boards but not much information, unfortunately.
We had a great hour hanging out here, exploring and taking it all in.
There are some pretty trails behind the castle if you want to explore further with some great viewpoints.
Eating At The Castle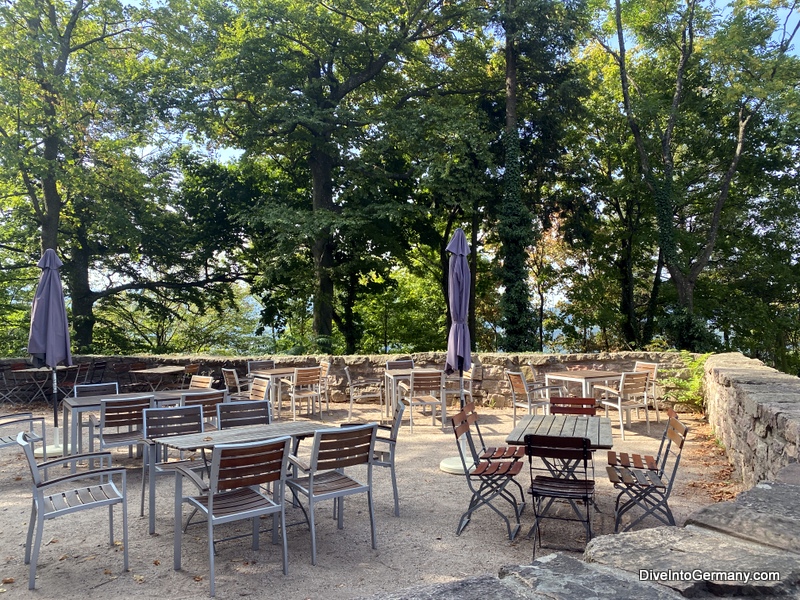 Before visiting, I read that Fidelitas Restaurant that used to be here has moved to the centre of Baden-Baden and changed names to Petra's Food & Wine.
However when we visited, I was happy to find there is now a Fidelitas kiosk with tables and chairs at the front of the castle. While it wasn't open when we visited (a Tuesday morning), it looks like a great spot to stop for some food and a drink.
Hohenbaden Baden-Baden Location (And How To Get Here)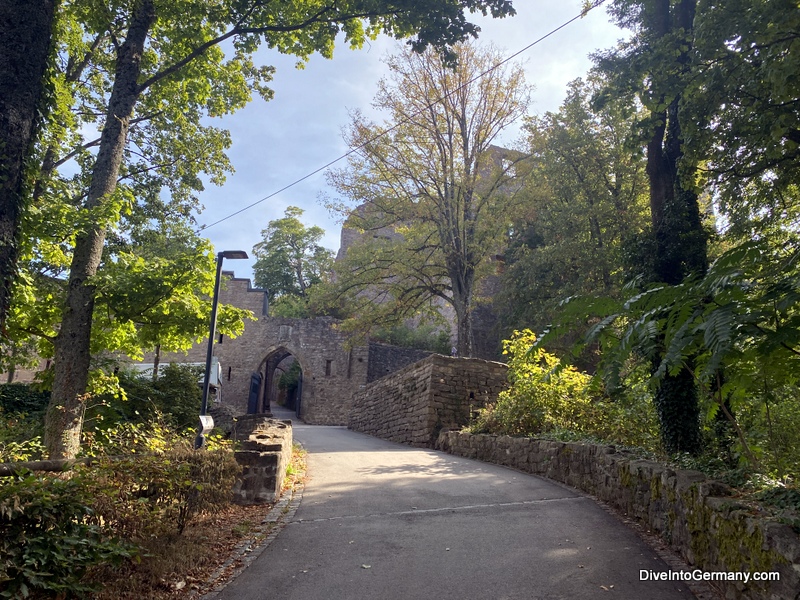 Hohenbaden is a couple of kilometres north of the Old Town of Baden-Baden just out of town.
The easiest way to reach Hohenbaden is in your own car. There is parking at the site below the ruins.
You can also walk here in about 45 minutes from Marktplatz. It's a pretty walk although there are some steep parts. It's not convenient to get here on public transport.
Address: Alter Schlossweg 10, Baden-Baden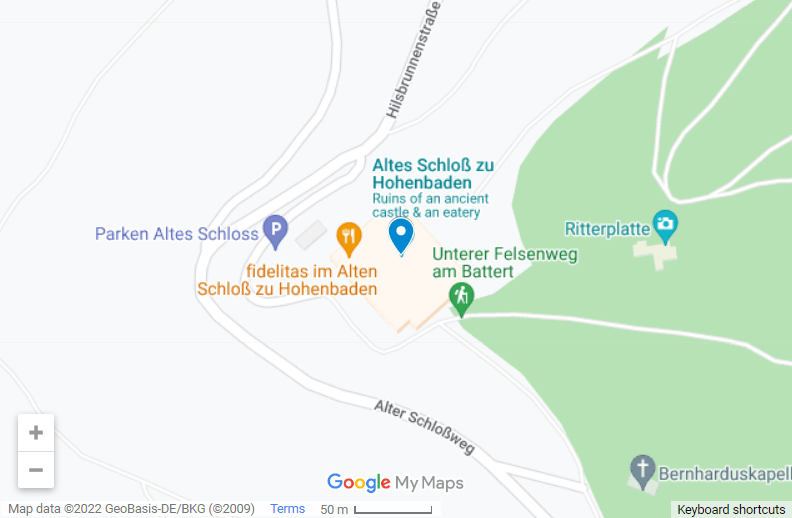 Hohenbaden Castle Entry Fee?
There are no fees to explore the castle and it's open year round.
Final Words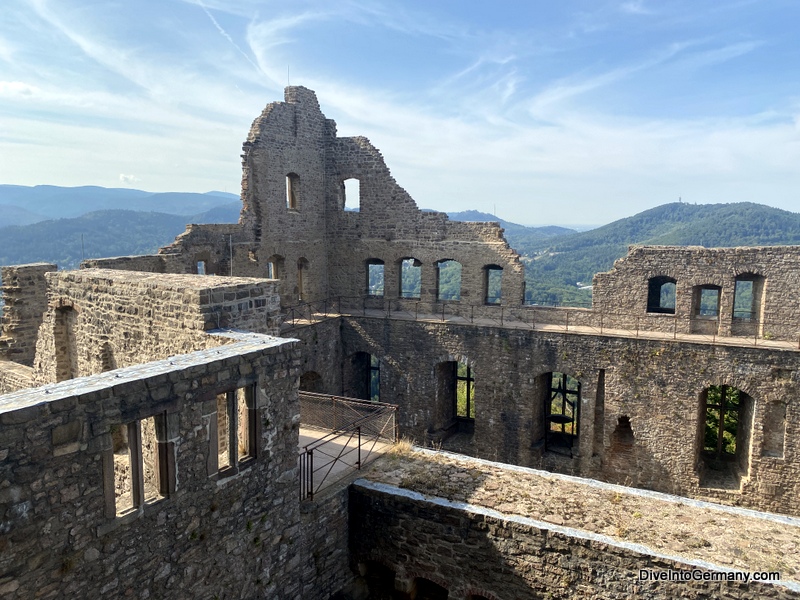 Hohenbaden is a pretty place to visit and it's fun to wander the ruins and imagine what the castle would have been like. It captured both my imagination and my kids' imagination and we had a good time here.
The views over Baden-Baden are very good as well.
If you driving in or out of Baden-Baden, it is definitely worth the ten minute detour to stop by here.
Looking for more? You can also find our full guide to Baden-Baden here, accommodation options in Baden-Baden here and all our guides to travelling southern Germany here.