The number one tourist attraction in Celle has to be Schloss Celle/Celle Castle. Even in a country full of castles, this one stands out and is definitely worth your time.
Located on the edge of the Old Town of Celle, a visit here is easy while you are exploring this area. Originally built around 980, it's still stunningly beautiful even if you only see it from the outside. Once one of the residences of the Duchy of Brunswick-Lüneburg, it's the largest castle in southern Lüneburg Heath.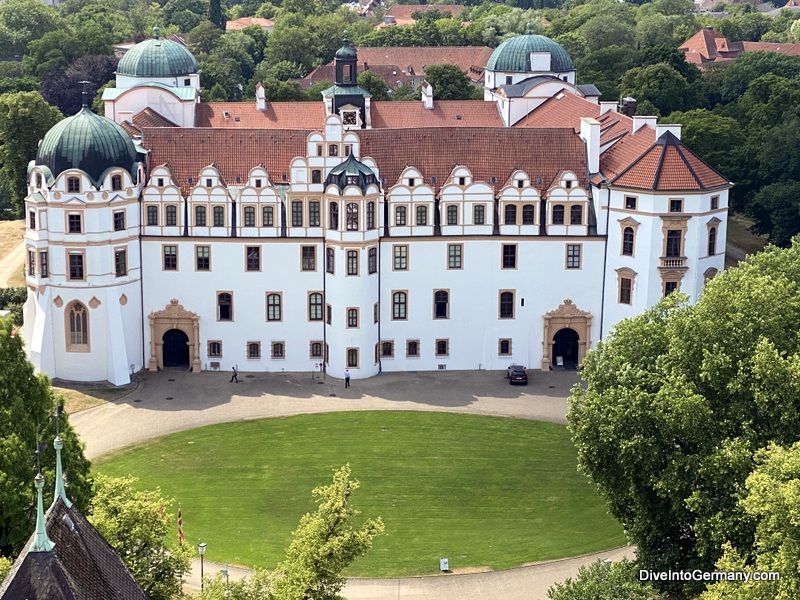 Today, you can explore the inside and the outside. It's an interesting mix of Baroque, Gothic and Renaissance design and you can see this different eras playing out as you look around.
If you want to learn more about this Schloss in Celle to see if it's worth your time or to understand what you can see here, keep reading! I'm going to share everything you need to know about Celle Schloss so you can have an awesome visit here.
You can also find our full guide to Celle here.
Traveling to Germany? Click here to download your free Germany Trip Planning checklist. We'll help you get ready for your trip! 
Schloss Celle History
Originally built around 980, Celle Castle started life as a fortified tower that guarded a crossing over the Aller River. It was expanded by Otto II in 1292. There are still parts of the building from this time in the cellar and under the watch tower.
The castle itself was first mentioned in documents in 1315 as "Castrum Celle".
In 1378, after the Lueneburg War of Succession, the Duchy of Brunswick-Lüneburg moved in. They extended the home and made it into a glorious Celle Palace. Extensions continued until 1478 and the Chapel that you can see today was inaugurated in 1485.
Improvements kept occurring. From 1530, Ernst I had Renaissance style decoration added to the building which was a four-winged castle with a square courtyard. In 1670, Duke George Wilhelm updated the castle to make it more modern and so the building and grounds would remind him of Italy.
In 1705, Duke George Wilhelm died and the rule of the Dukes died with it. The principality passed to the Kingdom of Hanover and Celle Castle stopped being a Residence. It stood empty for awhile.
In 1772, the former Danish Queen, Caroline Mathilde, moved in after she was banished to Celle. She maintained a court here until 1775 when she died.
In the 19th century, Celle Castle was a summer residence for the Hanover royal family at times.
During World War I, it became a detention camp ran by the German Army for officers.
Today, it's open to visitors.
Celle Castle Review
We visited Celle Castle with two of our kids aged 6 and 12 in late June.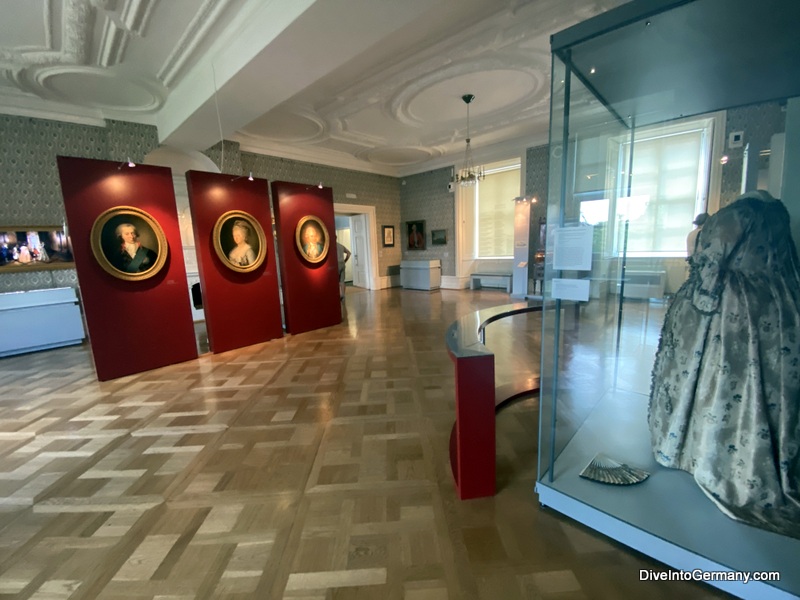 The first thing we noticed was the beautiful gardens. The castle is in such a beautiful setting. Of course, we also noticed how grand, big and beautiful the castle looked with its Baroque and Renaissance features.
With an entry ticket (more information below), you can visit the ResidenzMuseum. Here, you'll find former state apartments as well as exhibits on clothing, weaponry and other items from the past. There are some English explanations, but it's mostly in German.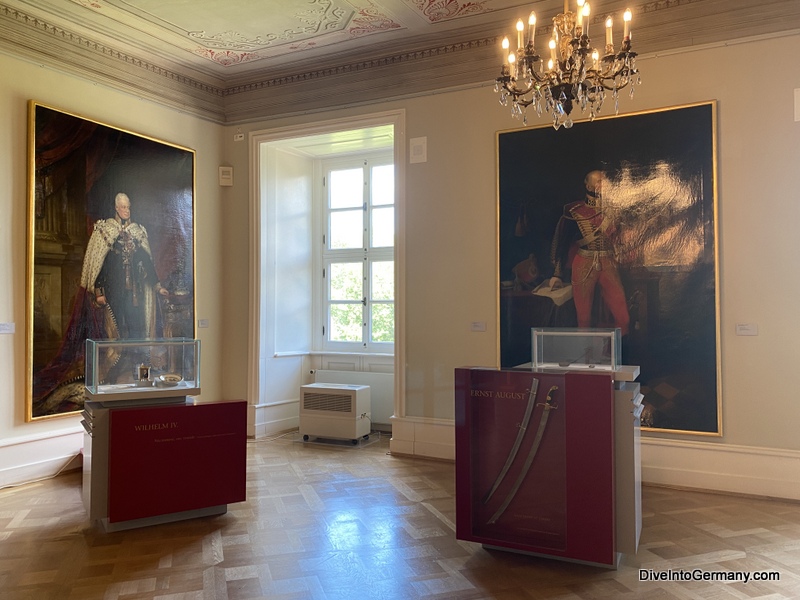 I did not get a huge amount of this until we visited later on the tour and if you are doing a tour, visit here after (instead of before like we did) and then you can visit any part you want to see again or not bother returning if you feel you have seen enough.
There is also an upper level part to this museum which wasn't visited on the tour. This is home to an exhibit called The Path Towards Political Participation. It talks about how power has changed over centuries from Dukes to today's democracy and how social and political participation has changed over that time.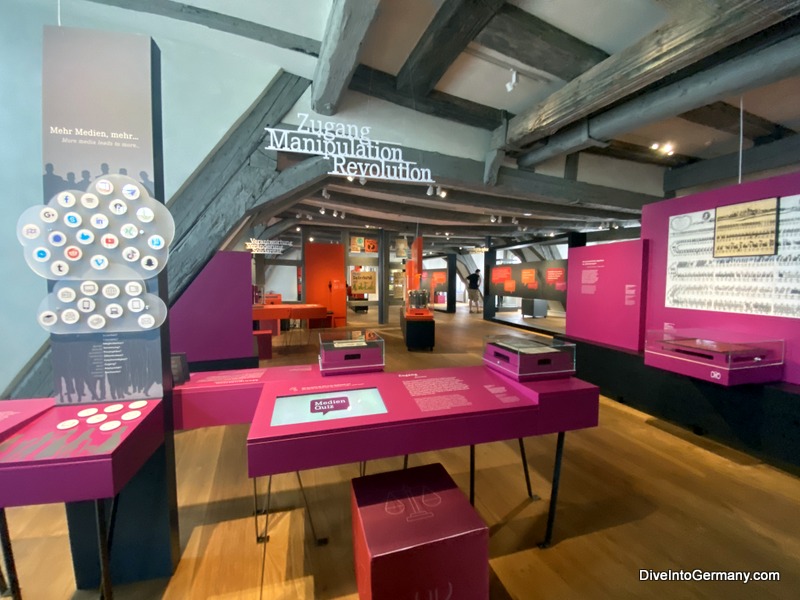 This exhibit is better signed in English and is interesting if you have the time. It also relates these themes to regional history. There are also some activities for kids up here.
But really, you need to do the tour. Ideally, you should arrange this in English if you do not speak German.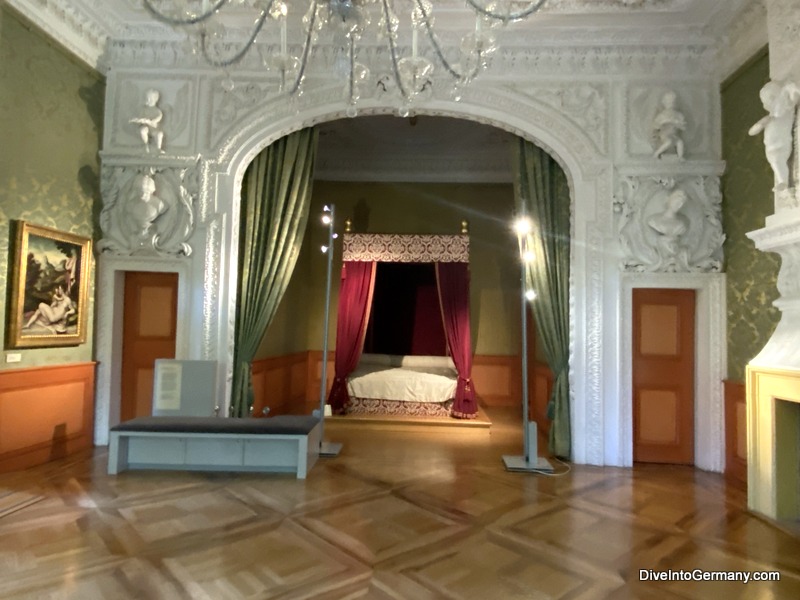 You can only visit the great places in this castle on a tour. This includes the amazing Chapel, the 19th century kitchen and the Palace Theatre which is the oldest Baroque theatre still in use in Europe. The Chapel is the only religious building north of the Alps that has a completely preserved Renaissance interior.
You also get to visit the State Rooms which was more interesting than I expected.
Even if you don't speak German, it is worth doing one of these 60-minute tours to see more of the stunning palace.
We signed up for the tour even though we don't speak German and then got lucky. No one else was on the tour so for a small extra fee, we were able to have it in English.
Note: You can book a private tour to be in English in advance. I highly recommend this. Contact Celle Castle here to arrange this.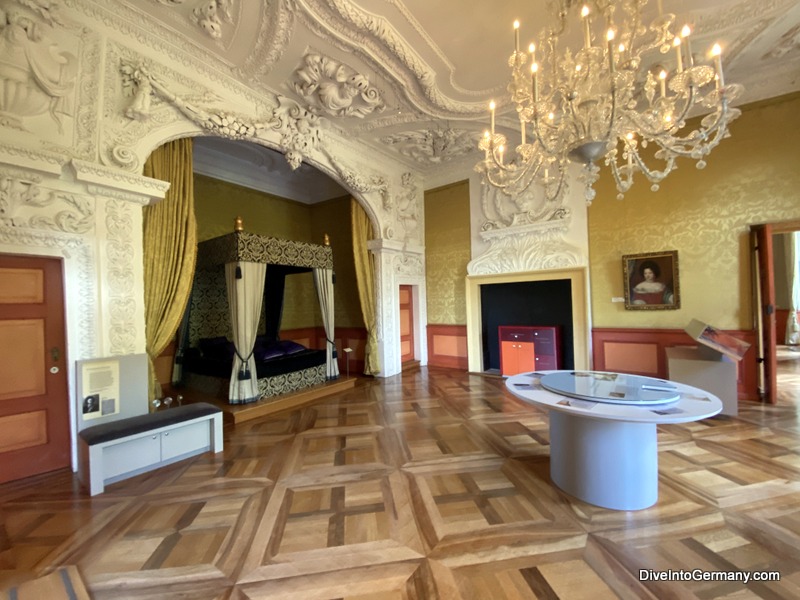 The tour guide was great so I am so glad this happened.
We started with a tour of the State Rooms where we saw the Duke's and Duchess' bedrooms including their "love staircase" doors. There were also other rooms and displays.
The rooms were ornate and the ceilings, in particular, were gorgeous. We also saw some things we won't forget, like what their teeth would have looked like thanks to no teeth brushing or dental care. Quite horrifying! Hopefully, the kids are keener to brush their teeth now. 🙂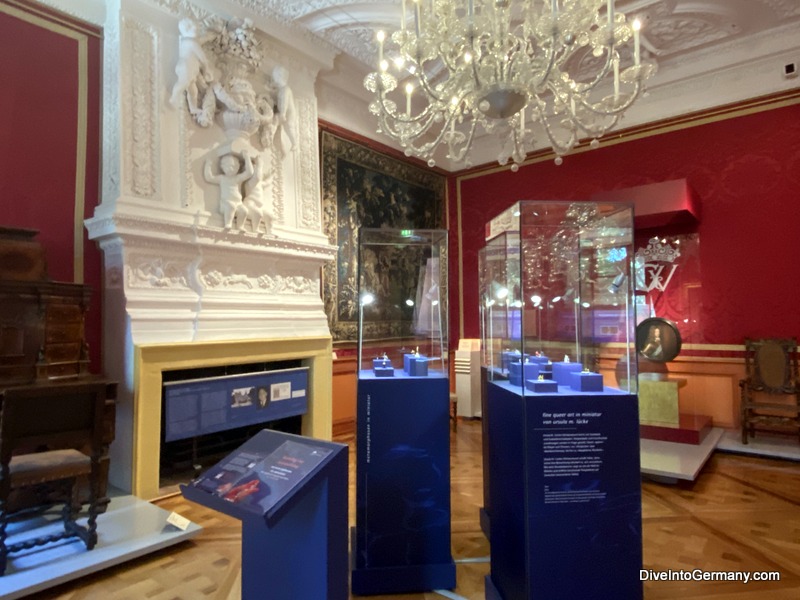 Next up were parts of the museum we had visited earlier but this time, we received more family history (which added on to what we learned in the State Rooms) and more about Caroline Mathilde. The guide was good at helping us keep track of all the rulers and children.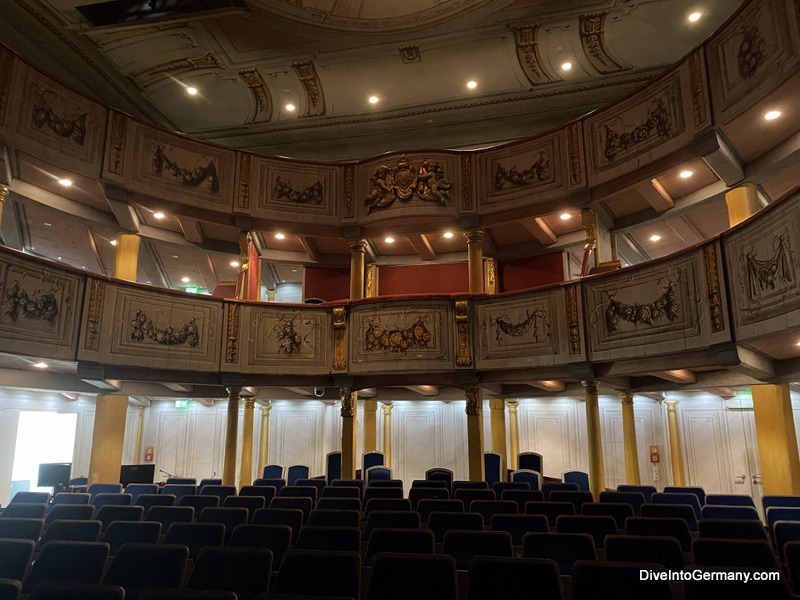 We then headed to the Schloss theater Celle. Like stated above, it's the oldest Baroque theatre still in use in Europe. It would be a great place to watch a show. They also had a stage set up in the castle courtyard for shows during the summer.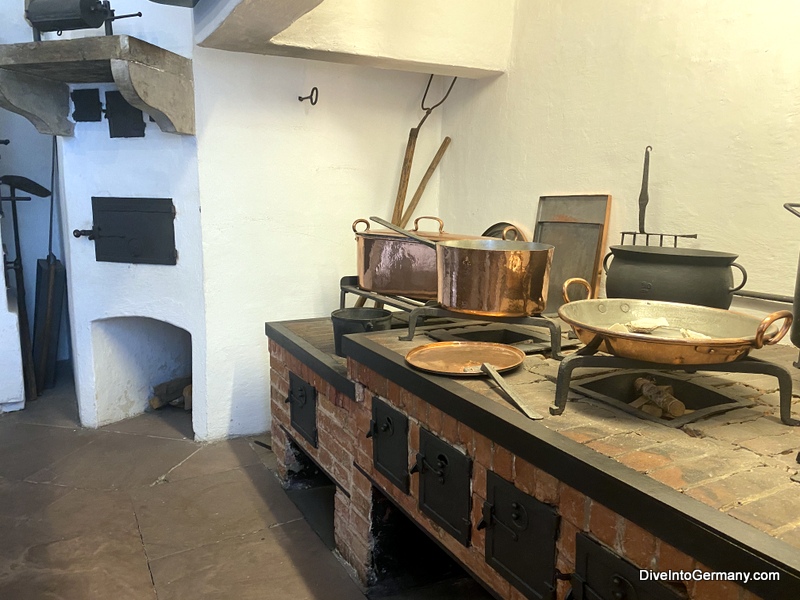 Then, it was the kitchen. This seemed relatively modern for the time with warming shelves and more.
Finally, we visited the spectacular chapel. Honestly, it would have been worth listening to an hour of a language I didn't understand just for this, but I am glad I got extra explanation in English. It was much more decorative and ornate than I am used to seeing in this part of the world. It looked more like what you see in Italy.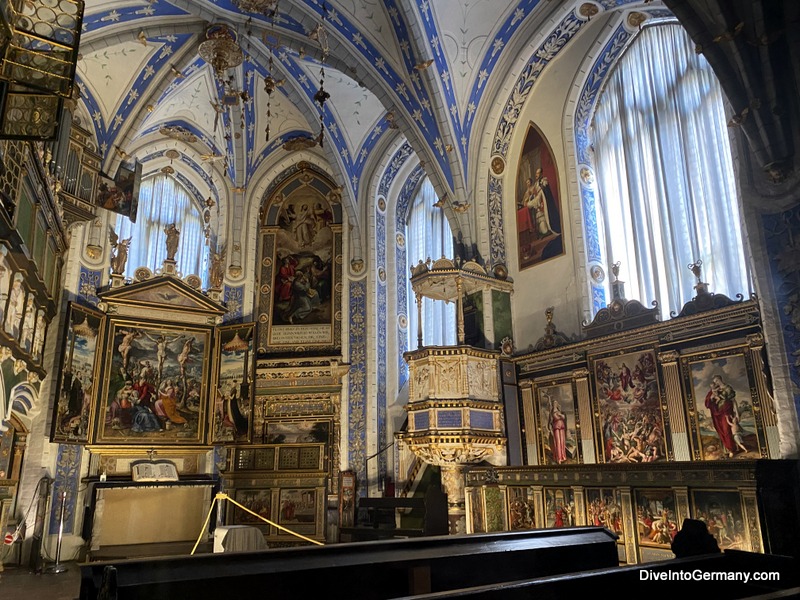 All in all, we enjoyed our visit here. Our kids were bored at times, but they behaved and my husband and I learned a lot and enjoyed the castle.
Celle Shloss Location
Celle Castle is located on its own island next to Celle's Old Town. It's just over a kilometre from the main train station in Celle. There is no parking at the castle, but there are many parking lots nearby.
Address: Schloßpl. 1, 29221 Celle, Germany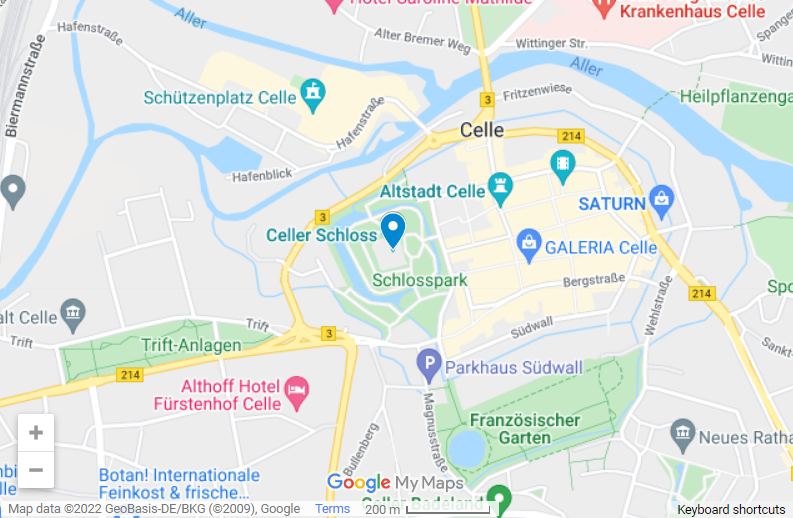 Celle Castle Entry Fee And Tours
While you can enjoy the grounds of Celle Castle for free, you do need to pay to go inside.
You have two options – a ticket for the ResidenzMuseum where you can just see the parts open for self guided tour or a ticket that includes a tour.
When we visited, admission was 8 Euros for the museum for adults with kids free. If you include a tour as well, it's only an extra Euro.
The tours run three times a day or hourly on Saturdays. They are only in German.
It's also possible to book your own private tour which can be in English. This starts at 33 Euros and you have to pay for admission on top of this.
Schloss Celle is open daily year round except Mondays.
Note, you can't take bags in but there are lockers on site which require a deposit of a 1 or 2 euro coin.
Final Words
Celle Castle is an excellent place to visit. It's just gorgeous
We enjoyed our tour and it really is necessary, in my opinion, since the museum doesn't show you the best parts.
The only downside is that there aren't public English tours, and there isn't more information in the museum in English. However, we still would have found it worth visiting even if we hadn't been lucky enough to receive an English tour.
Looking for more? You can find our full guide to Celle here and all our guides to travelling northern Germany here.