If you are a railway buff or travelling with kids, you will want to consider Deutsche Bahn Museum and should have it on your list of things to do in Nuremberg.
Part of the Nuremberg Transport Museum, Deutsch Bahn Museum is the place to head to learn about everything transport.
This massive museum over 6,800 m² covers everything you ever wanted to know about rail history in Germany as well as having plenty of interactive displays, old trains and more that bring it all to life. And that is only the inside part! You'll also find 15,000 m² of outdoor exhibits including even a vintage train platform.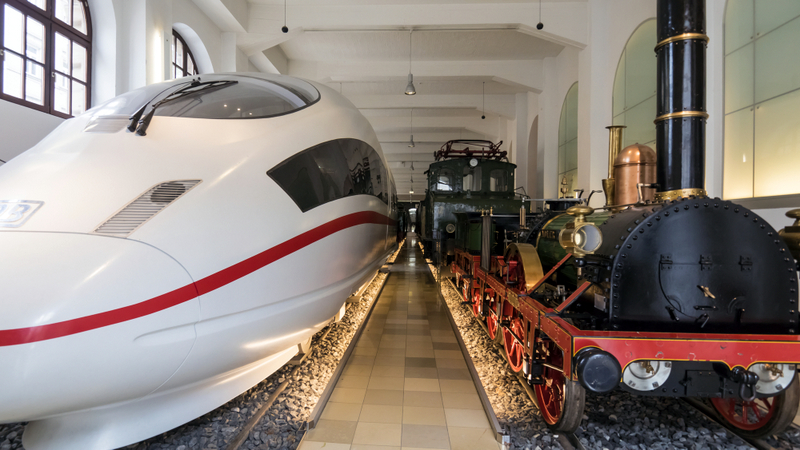 It all makes for a very fun and interesting day out. However, it was a little ruined for us when one of the three levels was only in German. It is worth visiting still, for sure. However, having the right expectations (and the information below) will help make sure you go in knowing exactly what to expect so you can have an awesome time.
Wondering if you want to visit the Deutsche Bahn Museum? If it's suitable for your kids? What you will find there?
Keep reading, because below I cover everything you need to know about the Deutsche Bahn Museum including whether it's worth going and our full review from our visit here.
You can also find our full guide to Nuremberg here.
Traveling to Germany? Click here to download your free Germany Trip Planning checklist. We'll help you get ready for your trip! 
What Is Deutsche Bahn Museum?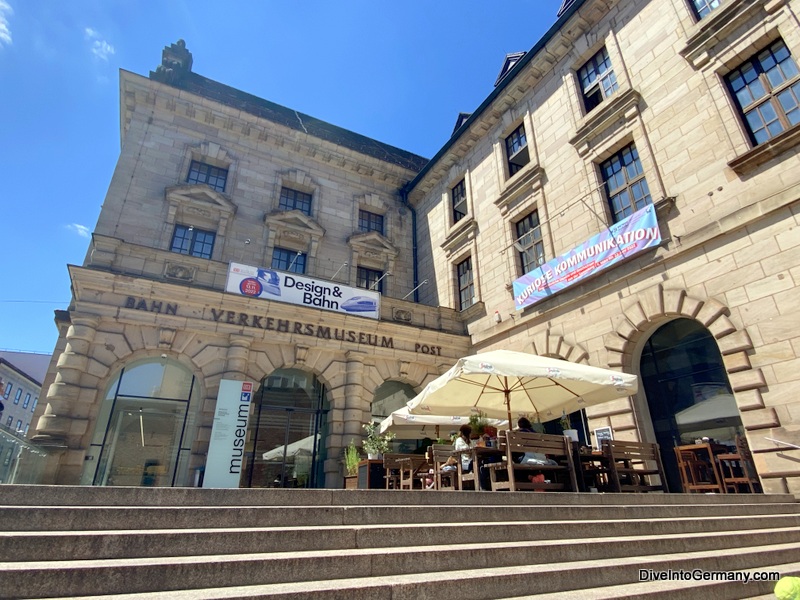 Deutsche Bahn Museum is actually the world's oldest railway museum after having opened in 1882. Its main building is in Nuremberg – which is what this article is about – but it also has two branches in Koblenz and in Halle a. d. Saale.
Nuremberg was the site of the first passenger train journey in Germany between here and Fürth so this is the perfect location for this thorough and engaging transport museum centred on trains and railways.
It's part of the Nuremberg Transport Museum along with the Museum of Communications which is about the postal and telecommunications history in Bavaria.
The main exhibit centres on the history of Germany's railway system with plenty of information and items that all relate to this from its beginnings around 1800 to today as well as what the future may bring.
There are 40 old train carriages and engines here including the oldest surviving passenger coach in Germany, a replica of the first steam locomotive in Germany and a model of what is to come. There is a cool model railway as well.
There are many treasures and a ton of information as well as KIBALA, an area created for kids. Here, there is so much for kids to do and learn including their own miniature train that the kids can take around parts of the museum. They can also try out different jobs on the railways and more.
While there is plenty to see and experience with the permanent exhibitions, there are also temporary exhibitions, talks and more.
Deutsche Bahn Museum Review
We visited Deutsche Bahn Museum with our two kids aged 6 and 10. Below, I'm going to cover what we found at this museum and what we thought of it split up into the different exhibitions. I concentrate on the permanent exhibitions.
I found this museum hard to navigate because there were no guides in English. Many other languages have guides so I used a Spanish one as my Spanish is much better than my German, but I did feel that this helped me miss out on a couple of things.
The History Of The Railway In Germany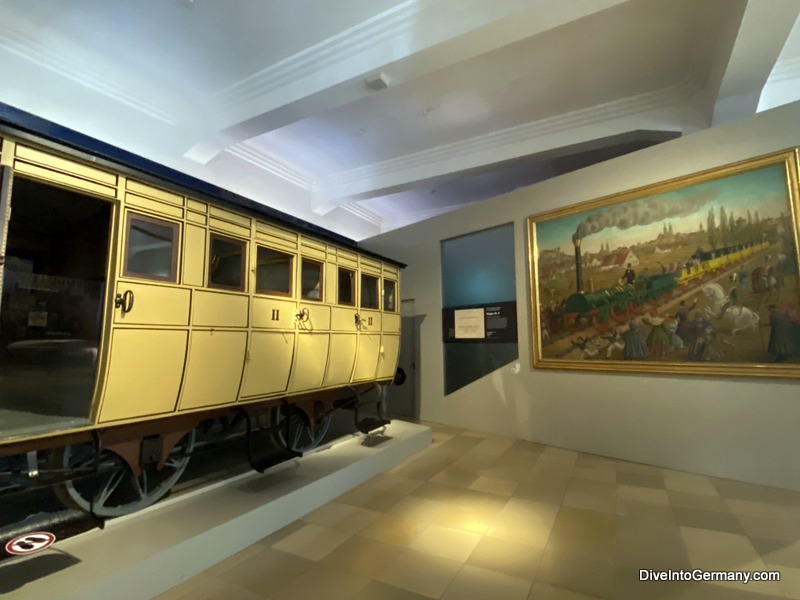 This is the main exhibit in this museum and where I suggest you head first. There are two floors dedicated to the 200 years of German railway history and how it has affected economy, society and culture.
It starts with the first line that opened in 1835 between Nuremberg and Fürth, talks about the golden era of rail at the start of the 20th century, the impact that rail had in World War I and II and what has happened with railways in Germany since. It covers a lot!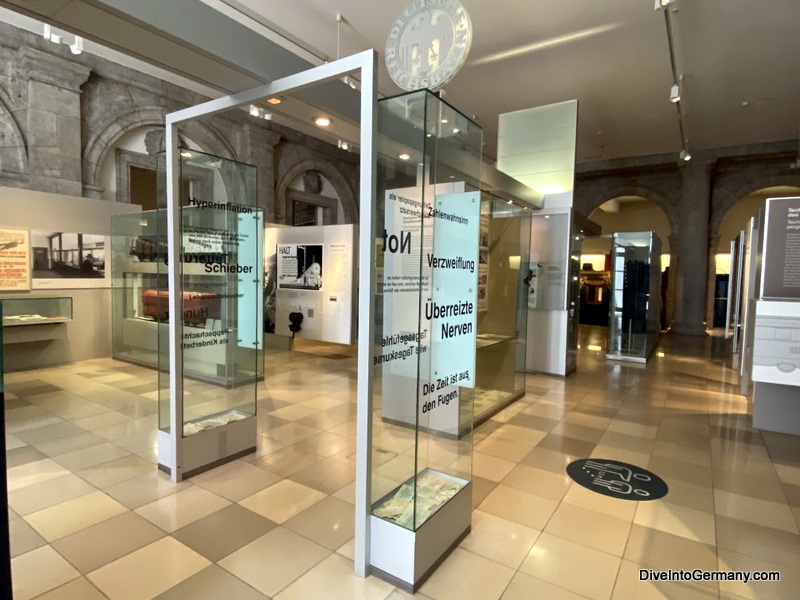 However, there is one huge problem with this exhibit if you don't speak German – the entire ground floor, which covers 1800-1945, is only in German. It looked so interesting that I was very disappointed by this.
Of course, there are many pictures as well as train carriages, engines and more so you can still see items, like oldest passenger coach, but be aware you can't read most the information.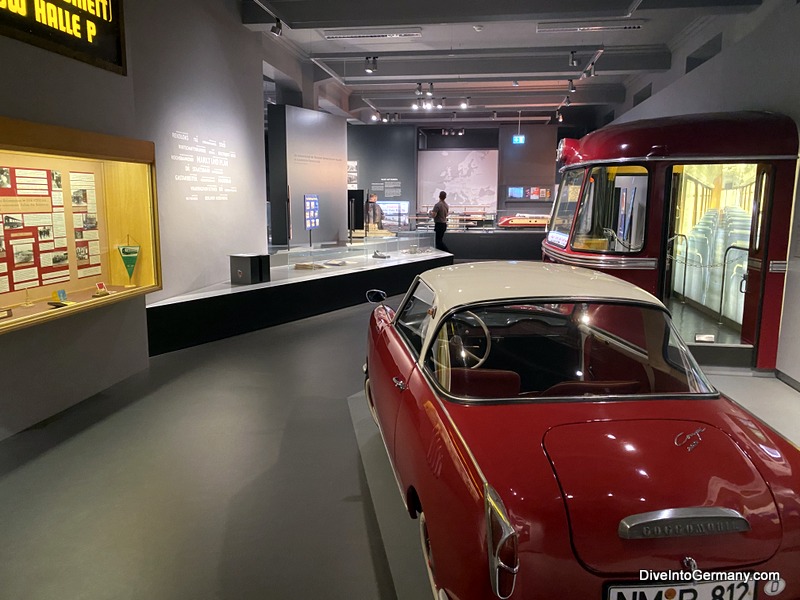 This ground level does have some trains to see which is fun. I like what I assumed was the royal carriage.
The exhibit continues for most of the first level too continuing from 1945 to now and this has the main items in English as well. I enjoyed it, but it was boring for the kids.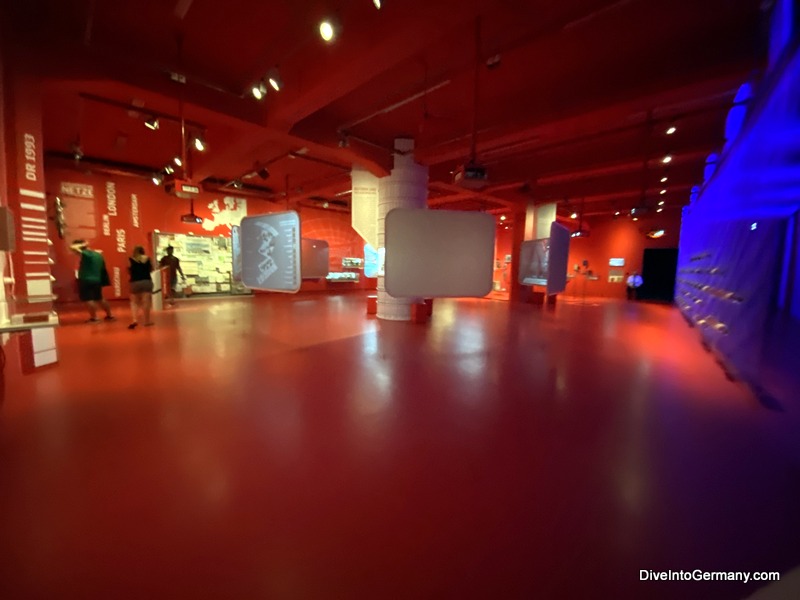 Locomotive
This exhibit came into being in 2021 and is a 20-minute video installation that you can watch. Three films run next to each other at the same time showing railway scenes from hundreds of films.
I would have liked to take a moment to watch this, but the model railway was calling so we rushed through.
Modellarium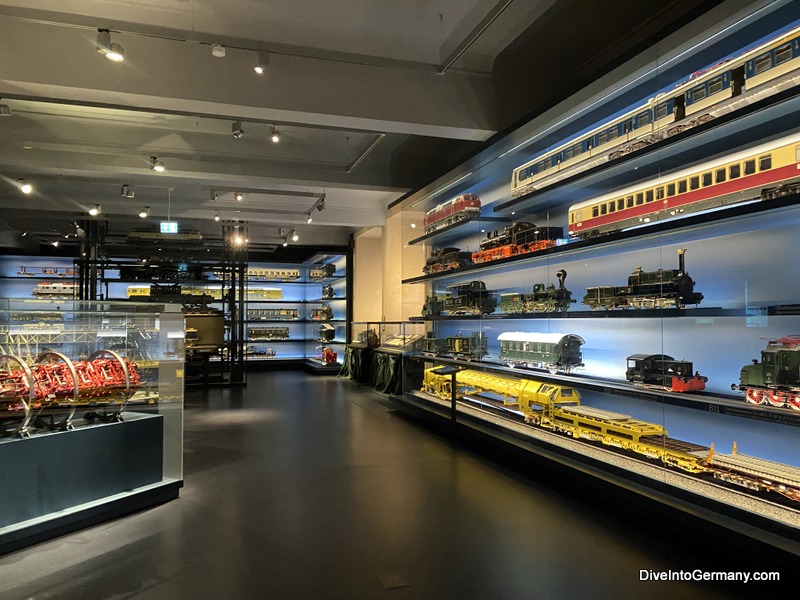 If you love model railways, you'll love all the models here – there are over 2,000.
Also located on the first floor, there is a huge array of models building up to my personal highlight of this museum – the model railway.
Model Railway Display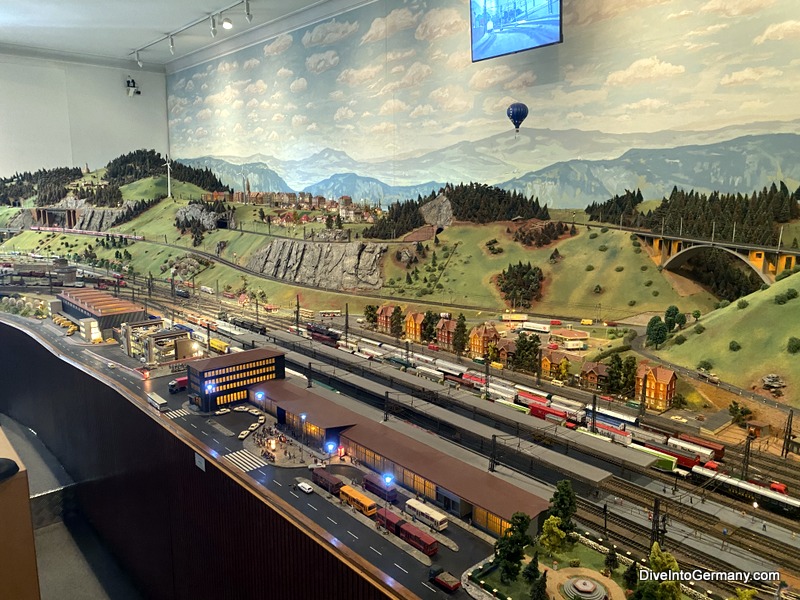 After you see all the models in Modellarium, head here to see some in action! There is 500 metres of track with up to 30 trains with everything kept as realistic as possible. It's very very cool.
It's run once an hour or every half hour in busy times. There seems to be tons of trains, many tunnels and other scenery and it's very cool. Make sure you get there.
Bahnhofszeiten
Also a more recent exhibit, Bahnhofszeiten came to life in 2020. It talks about stations and how they can be centres of public life and not just somewhere to catch a train. The interactive exhibits show how stations have changed over time.
It's fun and also on the first floor.
Museum Of Communication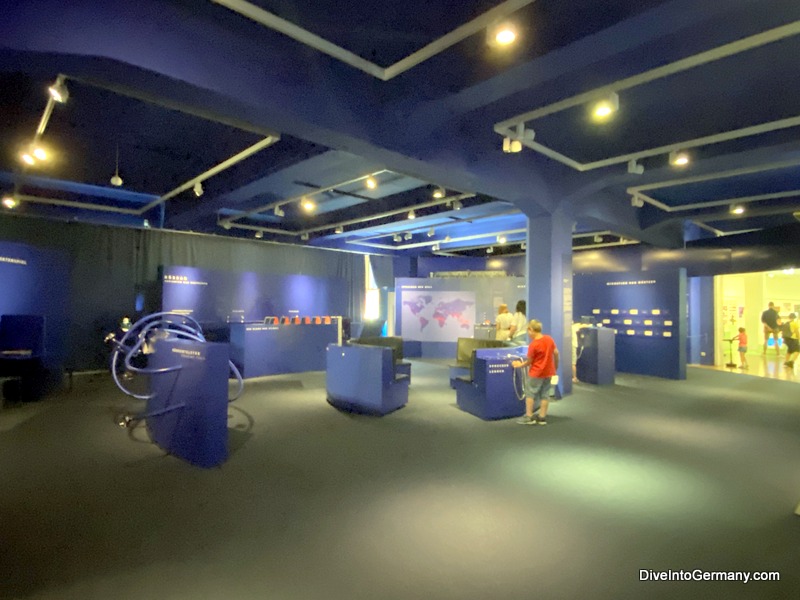 If you have kids, it's now time to hit the second floor which is much more squarely focused on children.
It starts with the Museum Of Communication exhibits that are much more hands on than other areas with plenty to learn and experience from the first telegraph messages to the internet.
We ran out of time to really experience this properly as the kids loved the next section, KIBALA, too much to want to leave it, but it looks cool!
KIBALA (Main Kid Space)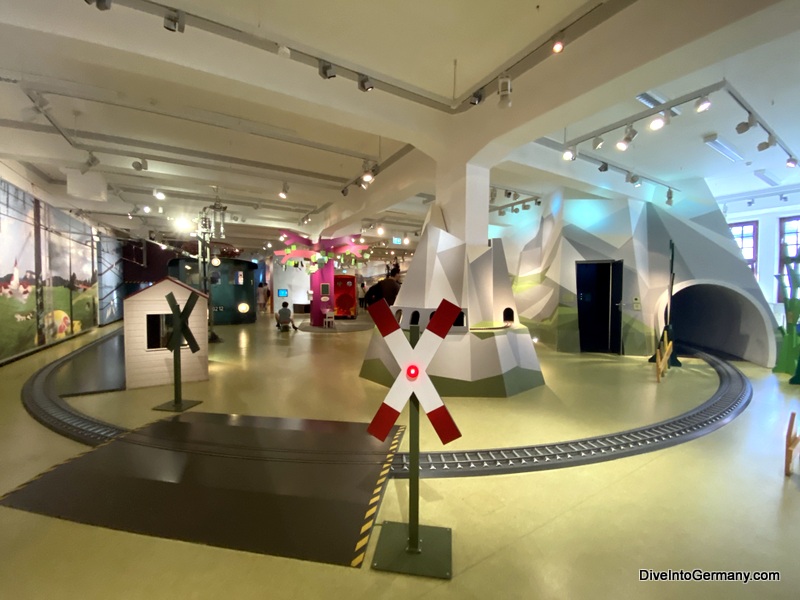 The KIBALA area is fantastic. It is made for child role play with so many things to do, explore and act out.
There are plenty of trains and tracks to play with, carriages to sit in and explore and a small train that takes the kids round the tracks every half hour. The kids were especially excited by the latter but it turned out we were given a special ticket for this when we arrived and I had it on me at a different part of the museum when they tried to take their ride so they missed out which seemed a little harsh.
My youngest enjoyed "driving" his own ride-on train around. My oldest became a waiter to me in the first class carriage and both tried out being kings in a royal carriage. So many things to do.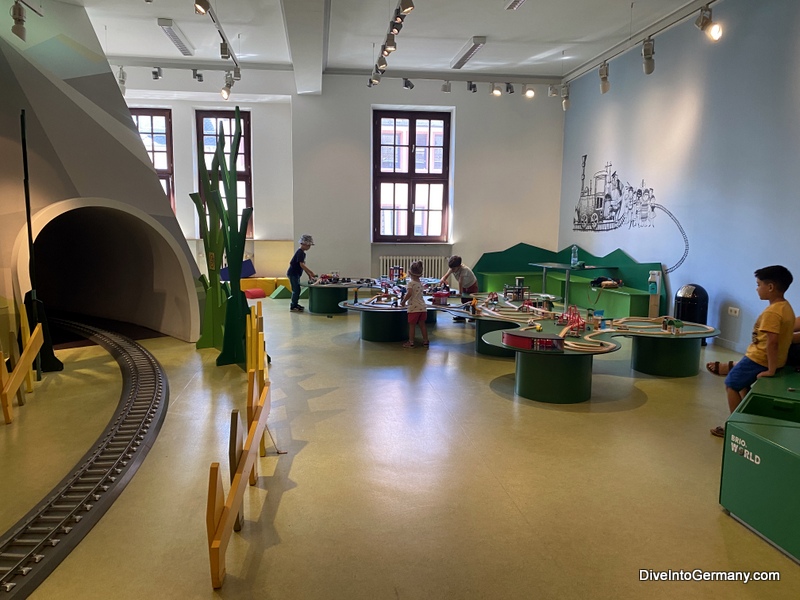 Time-Travelling With Grandpa Adler
This is an interactive, hands-on exhibition about the story of the first locomotive that ran a passenger service in Germany, Adler. It has been created with younger kids from 3 years old in mind.
However, it's all in German and I didn't find it worked for us which was fine as there are plenty of activities my kids enjoyed on this level.
Outside Display Area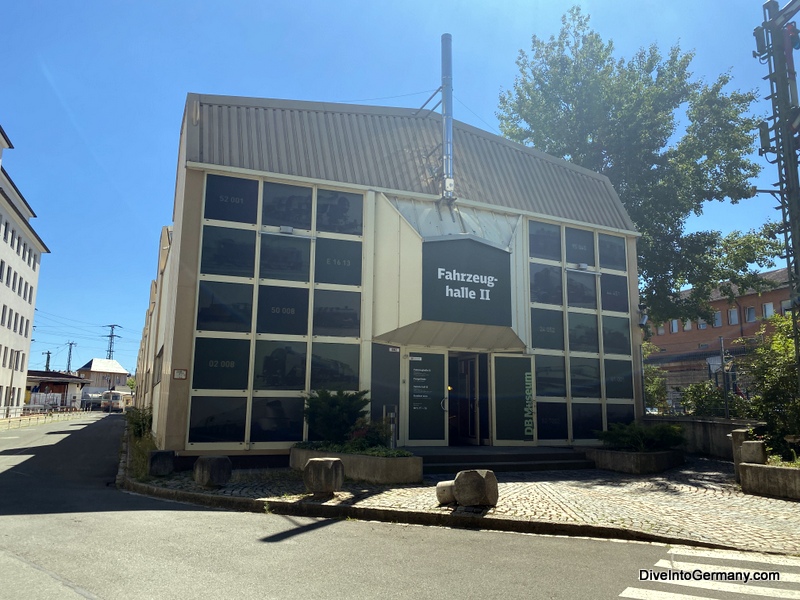 This area of outdoor exhibits is sure to be your favourite part of Deutsche Bahn Museum if you love trains.
There are original carriages, engines and tracks and signals to show how the railway system has changed over time. In the warmer months, you can also take a light railway ride around a small part of the grounds. We arrived just in time for this and it was quite a cute ride.
There's also an original platform.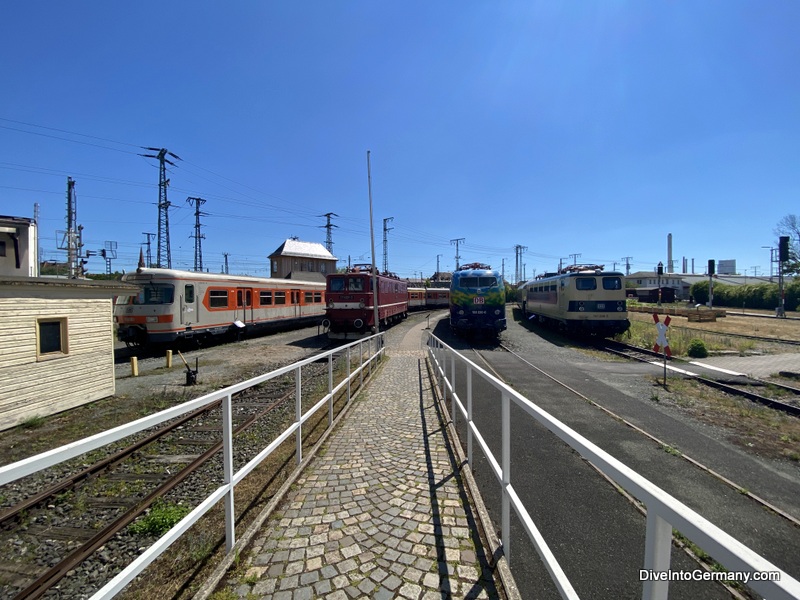 Thanks to no instructions when we got our tickets and no English guide to visiting, we were lucky we found this. I took guesses and used Google translate on my guides in other languages to work it out which was annoying.
You can find a door on the ground floor at one of the ends where the trains are located. If you exit this and cross the road, you'll see it.
I was a little disappointed by this area as there weren't that many trains. I have seen far more in other train museums.
Deutsche Bahn Museum Location
It's very easy to get to Deutsche Bahn Museum. It's just a few minutes from the west exit of Nuremberg Main Station or it's located by Opernhaus station.
It's also just outside the Old Town and we visited here in conjunction with a trip there.
Address: Lessingstraße 6, 90443 Nürnberg, Germany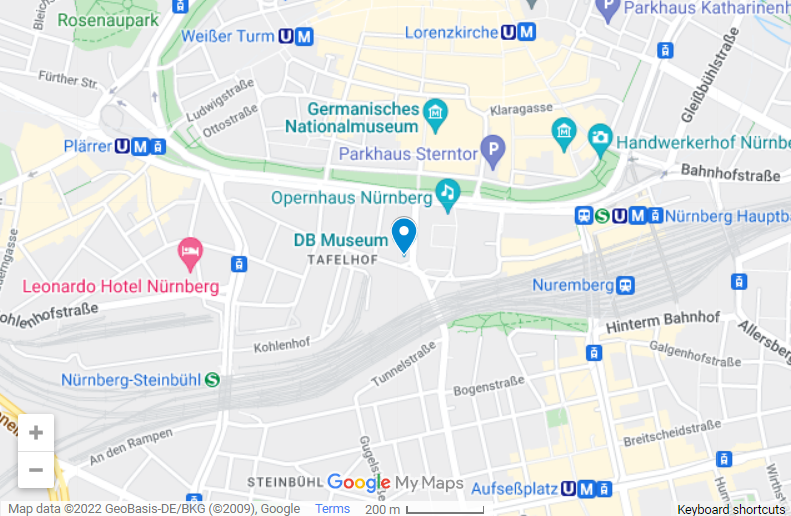 Deutsche Bahn Museum Entry Fee
Entry cost 7 Euros for an adult and 14 Euros for a family when we visited.
Deutsche Bahn Museum is closed on Mondays.
Final Words
Deutsche Bahn Museum is an excellent place to visit if you are a railway or history fan or are travelling with kids. It's great for families.
The top floor is like kid heaven and our kids had great fun here. Other than the model railway, nothing much interested them on the first two levels but adults will enjoy these parts – although there is little point visiting the ground floor unless you speak German.
My visit was somewhat ruined by not knowing in advance that 1/4 of the museum would not have any English (well technically, the bigger headings were in English but that was more of a tease than a help), but hopefully you being pre-warned will help with that. There is plenty to still see and read here, but because of this, I would only recommend DB Museum for rail fans or families UNLESS you speak German.
If you speak German, definitely go. It looked very interesting.
Families will love the top level and that makes up for the lack of English descriptions especially since kids will probably not be interested in those exhibits anyway.
I hope this DB Museum review helps you have a great trip here.
Looking for more? You can also find our full guide to Nuremberg here, our review of the Novotel Nuernberg Centre Ville which is a great accommodation option nearby here, our review of Playmobil FunPark here (nearby and also great for kids) and all our guides to travelling southern Germany here.