Looking for somewhere super fun around Nuremberg to visit with your kids and wondering if Playmobil Funpark Zirndorf could be the perfect spot? Or already decided to go to Playmobil Funpark and want some tips to have the most fun on your visit?
You are in the right place! I recently visited the Playmobil theme Park with my kids and had a great time at this beautiful, fun place.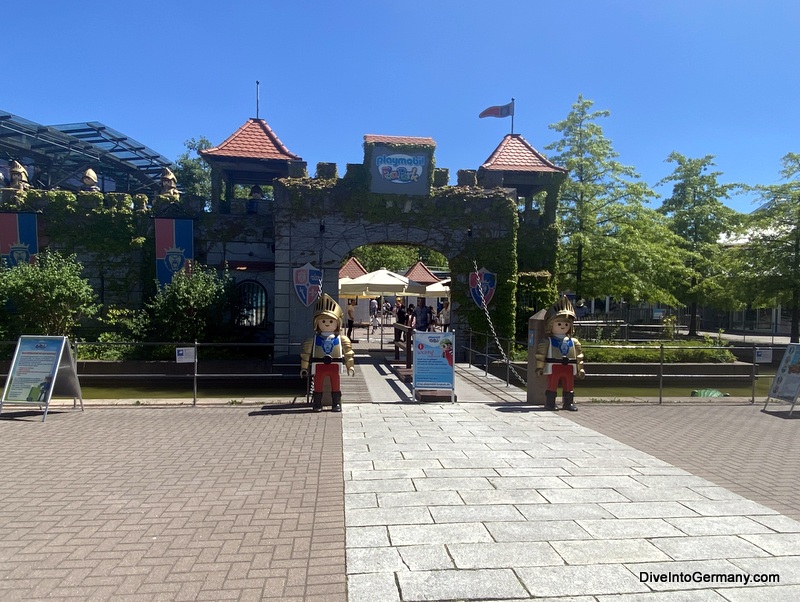 While not a theme park like you might imagine – there are no thrilling rides and it's not like an amusement park – this theme park is great for fans of Playmobil or younger kids that will enjoy the activities here which are more low key. In some ways, I think it's better described as an indoor play centre and outdoor playground taken to a whole new level and better that you've seen before.
It's the perfect place for 2 – 10 year olds to let off steam and have an awesome day. In fact, I think it can be far better than a traditional theme park for this age group.
So what can you expect when you visit here?
Below, I describe and review absolutely everything you can find here including all the attractions and activities, the Playmobil Funpark Zirndorf shop and the Playmobil Funpark hotel as well as plenty of tips and tricks for your own visit.
You can also find our full guide to Nuremberg here.
Traveling to Germany? Click here to download your free Germany Trip Planning checklist. We'll help you get ready for your trip! 
What Is Playmobil Funpark Zirndorf?
As stated above, Playmobil Funpark Zirndorf is not a traditional theme park with amusement park style rides. It's more a big playground with tons of activities and a big indoor area as well.
This low key amusement park with Playmobil theming was a total winner for our six year old with amazing playgrounds, pedal boats, water play area, castle area, go karts and more. What I liked about it is nothing is that fancy (think cool playgrounds rather than rides) so it actually works incredibly well for younger kids.
It's open year round with just the indoor part open in winter. Kids 10 and under may think that Playmobil Funpark is the winner when it comes to places to see near Nuremberg. Ours did!
If it's warm, make sure you take your swim suit for the wet areas.
Honestly, you could easily spend all day here. We went for around six hours and did everything we wanted but did have to cut things short at times. It's just so much fun.
This video is a nice quick overview of what you will find here:
What Age Is This Playmobil Amusement Park Best For?
The Playmobil Fun Park Zirndorf is aimed at 3 to 10 year olds. Since my kids are 6, 10 and 12, I analysed it a lot beforehand as I was concerned my older kids would be bored here and worried they may not be allowed on a lot of the attractions.
It was perfect for my 6 year old as I expected. My 10 year old enjoyed it more than I expected but I think he may not have as much had he not had the younger sibling with him. Regardless, it did work for his age.
My 12 year old opted out and did some other things in Nuremberg instead with my husband. This was the right call. She would have been bigger than any other kid I saw here.
For 3 year olds and younger kids, they won't be able to do everything, but there is plenty they can do. I'm sure even a two year old could have fun here which is why I put from 2 to 10 above. However, I don't think I would take anyone 2 years old or younger unless they had older siblings.
This park is great in that many of the areas have things to do perfect for older kids and things perfect for younger ones so everyone can be happy.
Playmobil Funpark Zirndorf Review
Unlike many theme parks, there aren't lands as such. More like different activity areas. So I have split this up by group like activities together that are located around the same spot.
We visited on a weekend at the start of July which I imagine is a busy time. It was a hot day (30 degrees) and I was very glad we were there at 9:10am. It was fun until lunch and then I found it a bit trying in the heat. Some areas have great shade, others not so much. There isn't always great seating for parents to watch the kids either.
The crowds started about 10:30am and were still going strong when we left just before 3pm. You can see this in my pictures. Earlier on, we sometimes had things to ourselves. Later, there are too many people for me to get a good photo.
This wasn't really an issue though except for the few things that had lines. Thankfully, we did most of these first thing which is what I recommend (Pirate Rafts, Paddle Boats, Police Cars and Fairyland Gems).
A map is useful. Only German ones were available on entry when we got there. I found an English map later in the Hob-Centre. Actually, I didn't hear any English the entire day.
Hob-Centre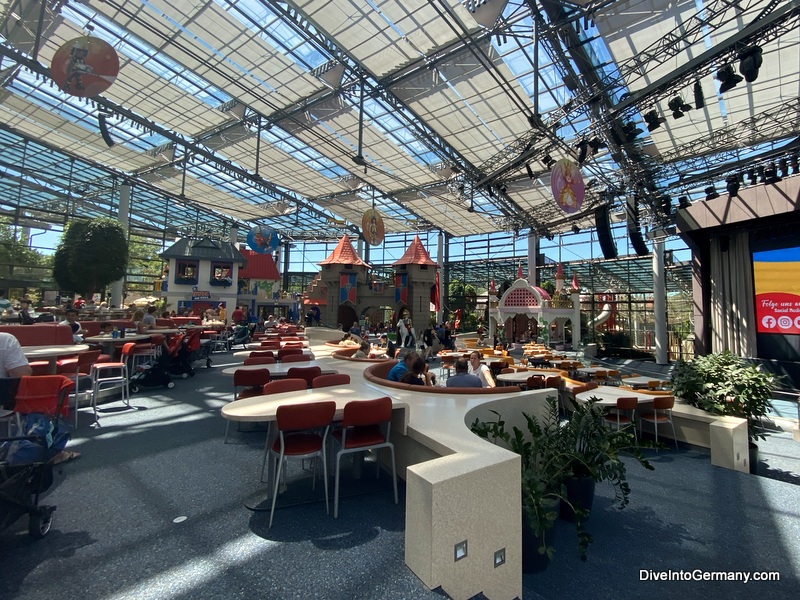 The Hob-Centre is a massive, 5000m² indoor play area. There is a lot to do in here.
There are some great scenes set up – like a Viking's Ship and a Knight's Castle and tons of Playmobil to play with. My kids weren't that familiar with Playmobil but quickly got into it.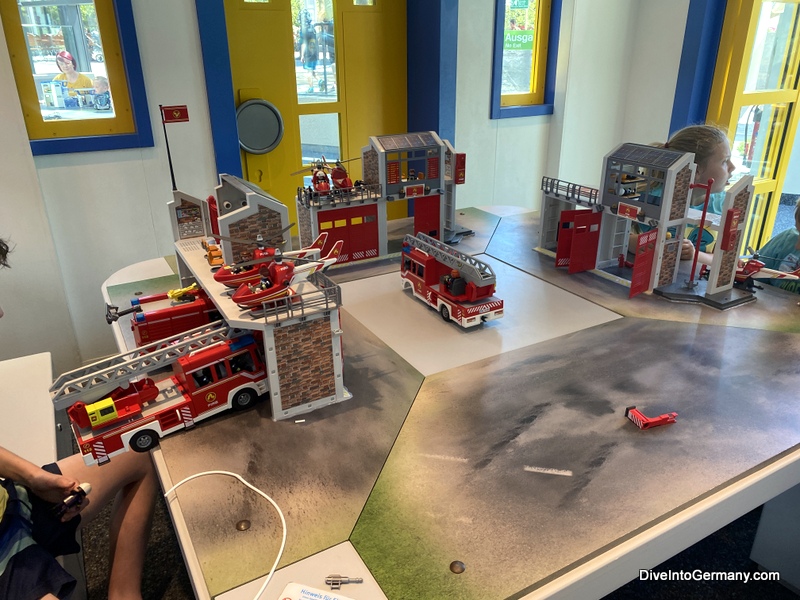 There is also a big climbing and playground area and they have events such as concerts and discos. Not that I saw any mention of this when I was here. The playground area was open to the outside and one of my kids' favourite play areas in the park (which says a lot, there are many awesome ones).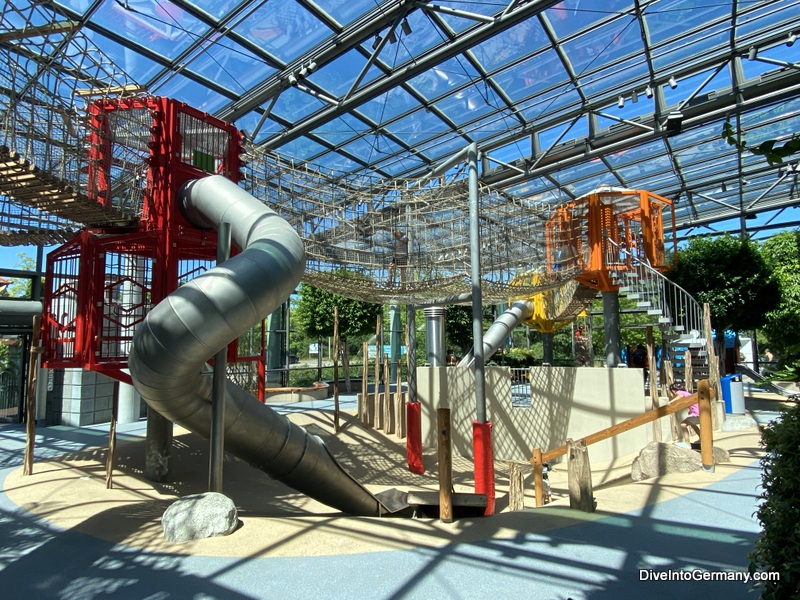 You can also find a cafe with coffee and cake if you need to take a timeout when the kids are playing.
Action Park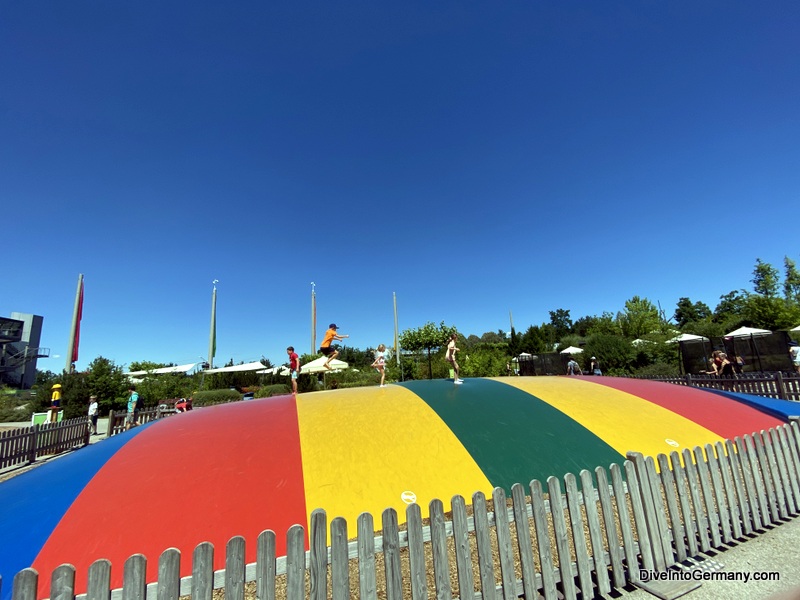 Action Park is a big outdoor play area aimed at all ages. There's a big jumping pillow, two trampolines, a mini Ark, a huge Ludo game and a water play area perfect for babies/young toddlers.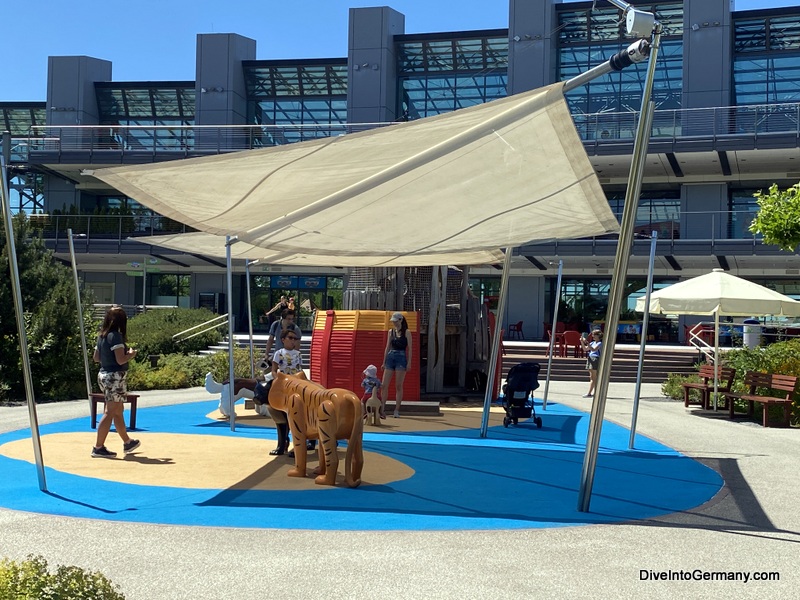 We didn't explore this much as we got here after lunch. There is little shade and it's so hot! I'm sure on a cooler day, it would be fun though.
Mini Golf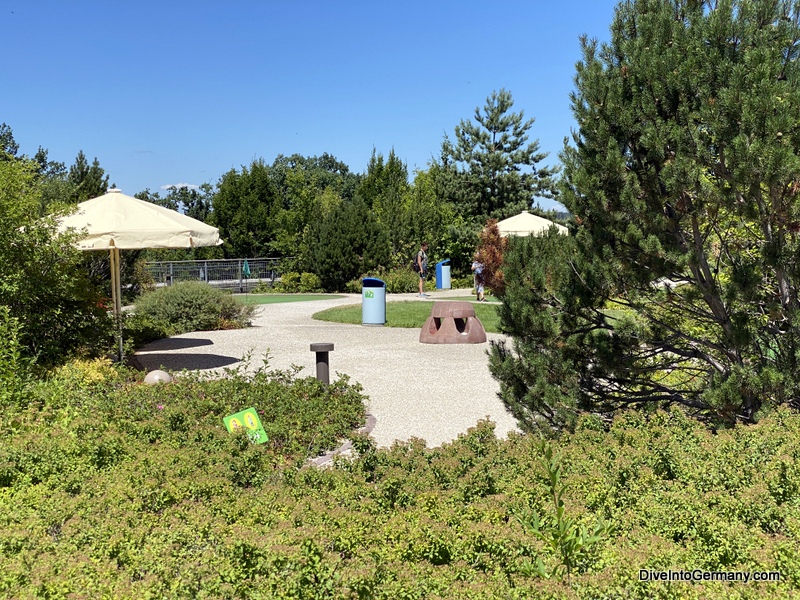 There is an 18 hole mini golf course which is well set up and looks like lots of fun.
Mini golf is an extra fee, and it doesn't have the same opening hours as the rest of the park. In fact, it was only open a couple of hours in the middle of the day when we visited.
Since it's an extra fee and there is plenty to do at the park, we skipped this.
Fairyland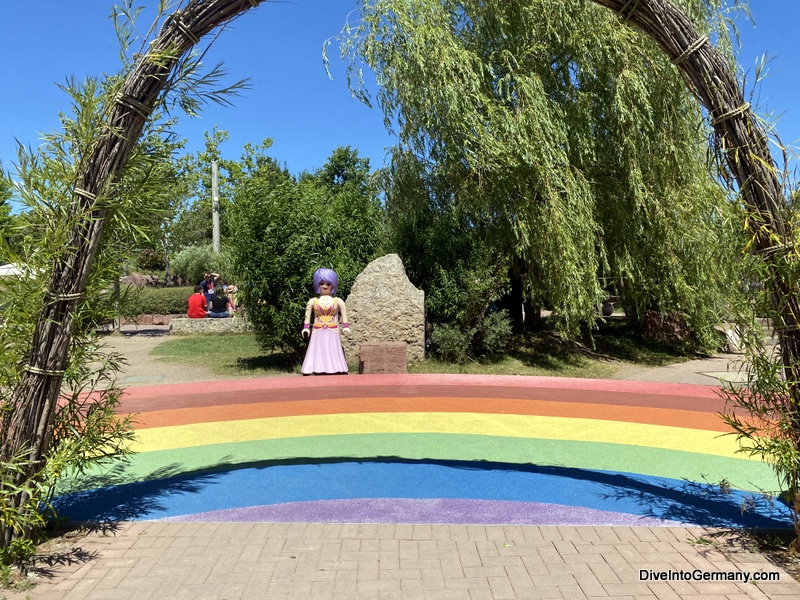 This pretty little area has a rainbow path, unicorns, fairy and elves. There are large shells with tiny plastic toys floating inside which were popular to hunt for. In fact, this was one of the few attractions with a line.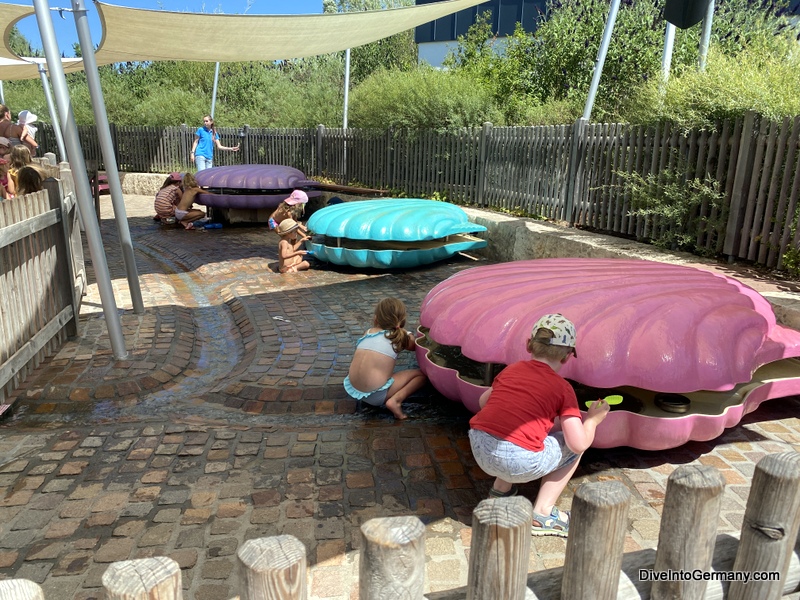 The kids can also wash and brush the unicorn's hair and there are some water play areas too.
Power Paddle Boats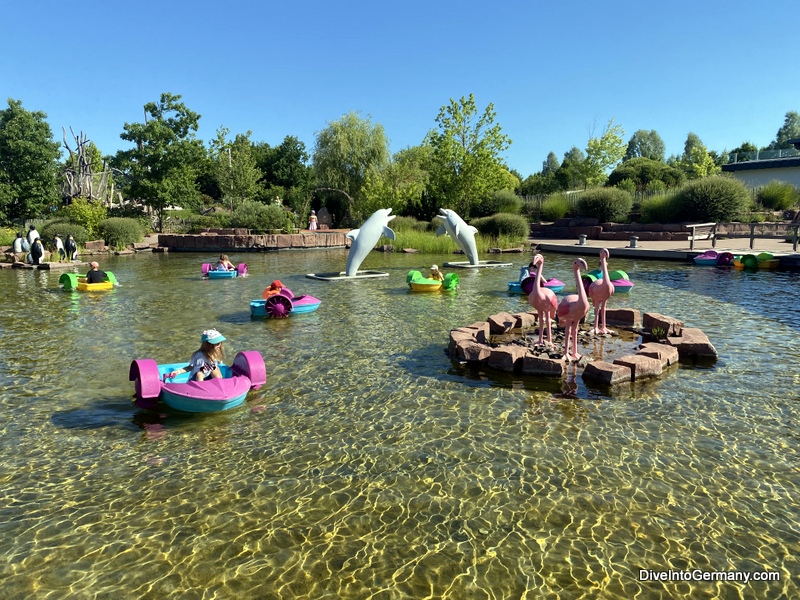 The paddle boats were definitely a favourite for my kids.
There's a 1000 m² water area and 15 paddle boats where kids 4+ can steer and power their own boat with hand cranks. Adults don't go on this ride which made it extra enjoyable for my kids. My 6 year old was very impressed with himself.
It's beautifully presented, like everywhere, with penguins, flamingos and dolphins to steer around.
Later in the day, this had quite a line. We were happy we went there nice and early when it was to visit and play for as long as we wanted.
Octa Climbing Nets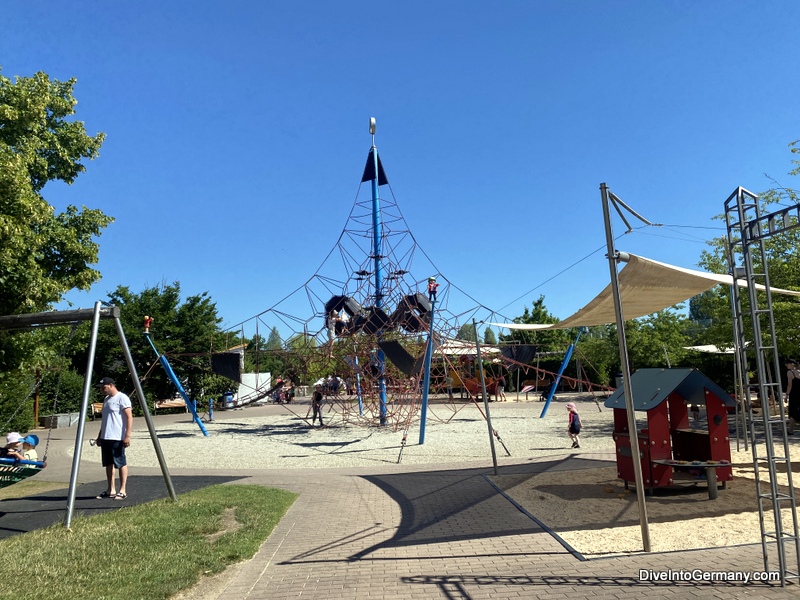 This is an area in Playmobil Park Germany with big climbing nets. It was perfect for my older kids.
Police Station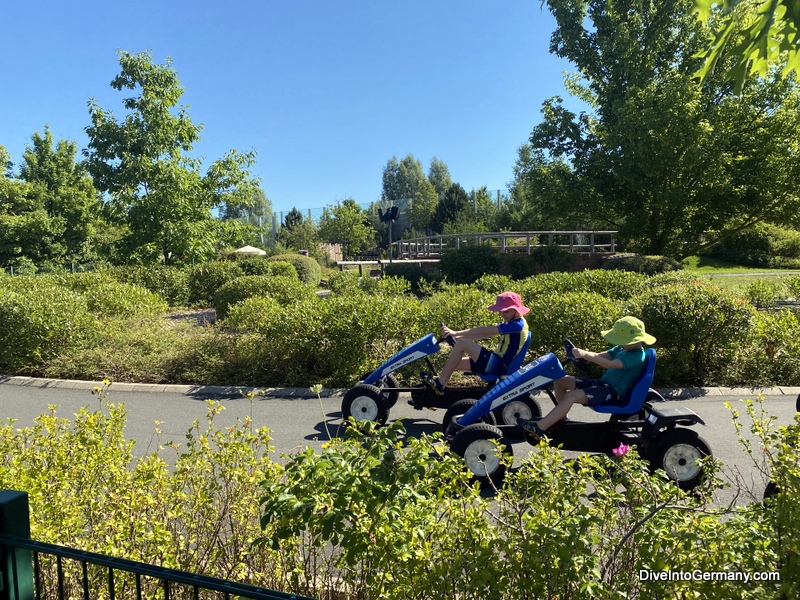 Older kids (6 years+ and over 125cm), will definitely want to head to the Police Station where there is a pedal-powered, go kart track to drive around your own "police car".
This was the absolute favourite thing to do for my 10 year old. My just turned 6 year old found it hard to operate and nearly gave up initially but then had it working for him. It may be better for 7+ year olds unless your 6 year old is used to riding similar things.
This was the one thing that even had a line early on although we did not wait long. Lots of adults were using it too which helped grow the line.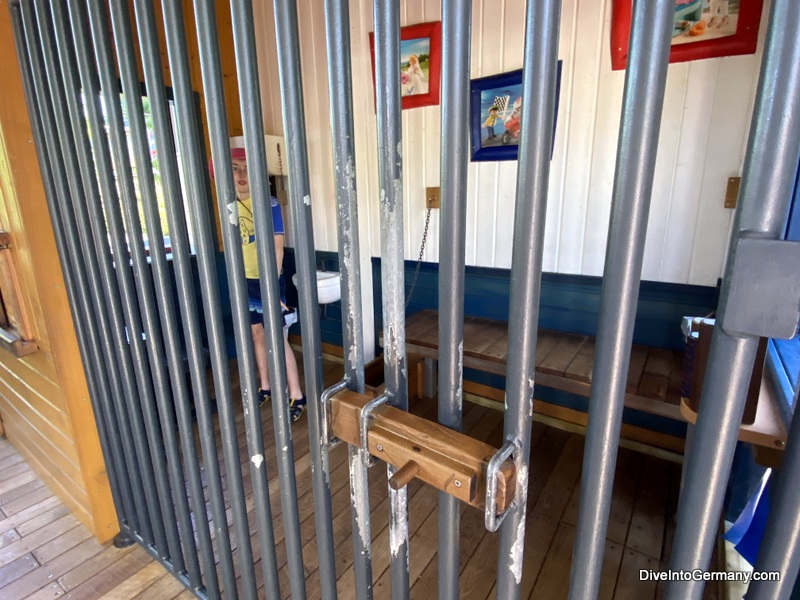 There is also a prison cell (with secret escape hole), mug shots, a helicopter to climb into and more so even if you don't use the go karts, there is fun to be had here and younger kids can play while the older kids use this attraction.
Balancing Course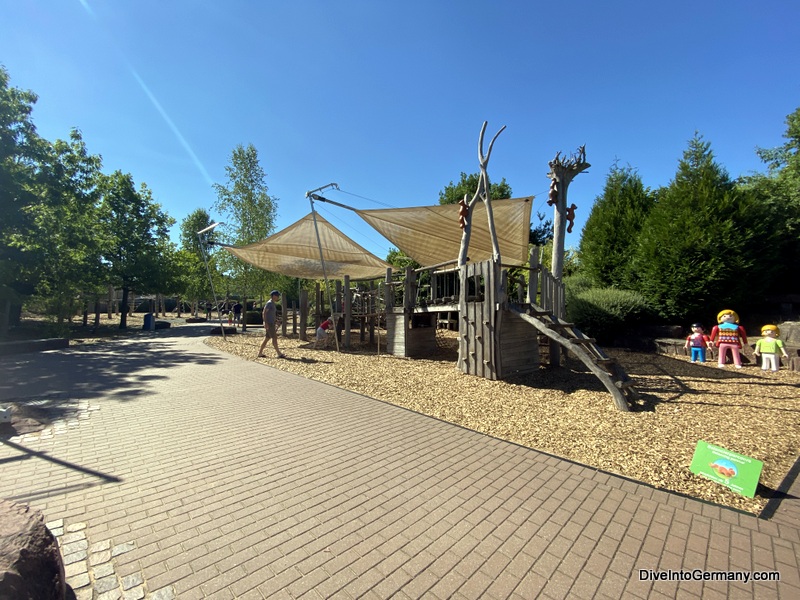 This area is all about climbing and balancing with four routes for different ages.
We only played here for about 5 minutes as we can do similar things at home, and there are so many things to do here. It was fun and well made though.
Western City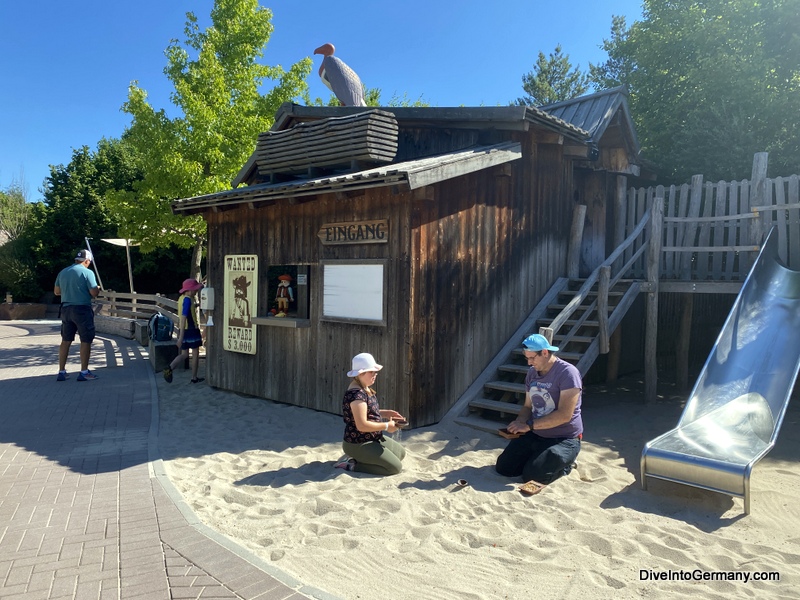 This little area is western themed and the kids can pretend to drive a stage coach or dig for gold and gemstones in a sand pit.
My kids absolutely loved digging for "gems" and were proud of what they found. It's possible to buy a little plastic chest for 1.50 Euros to put them in. I had a zip lock bag on me just for this which is helpful.
There's also a burger snack bar here.
Farm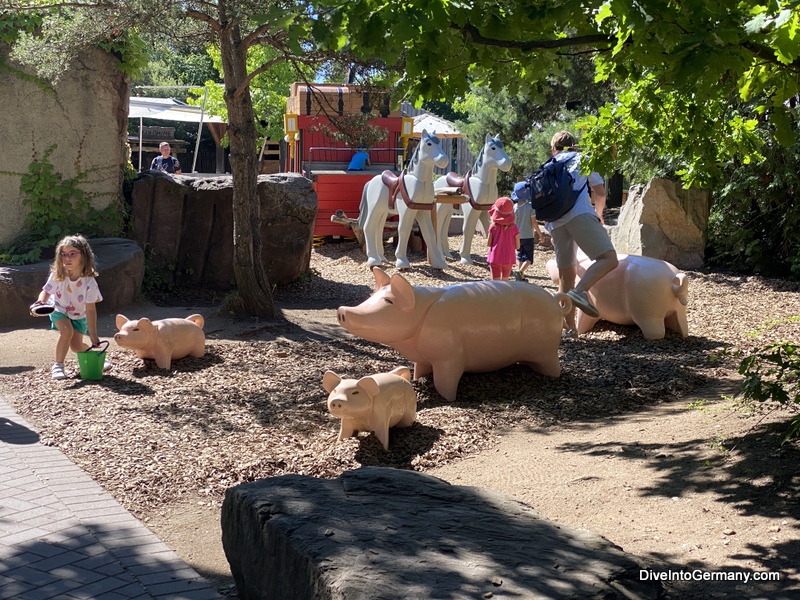 This area was one of my favourites as I loved the theming and how well it was set up. The idea was to teach kids about different jobs on a farm.
There are big Playmobil animals. Kids can brush horses and "milk" cows – they actually have "udders" to pull and water comes out.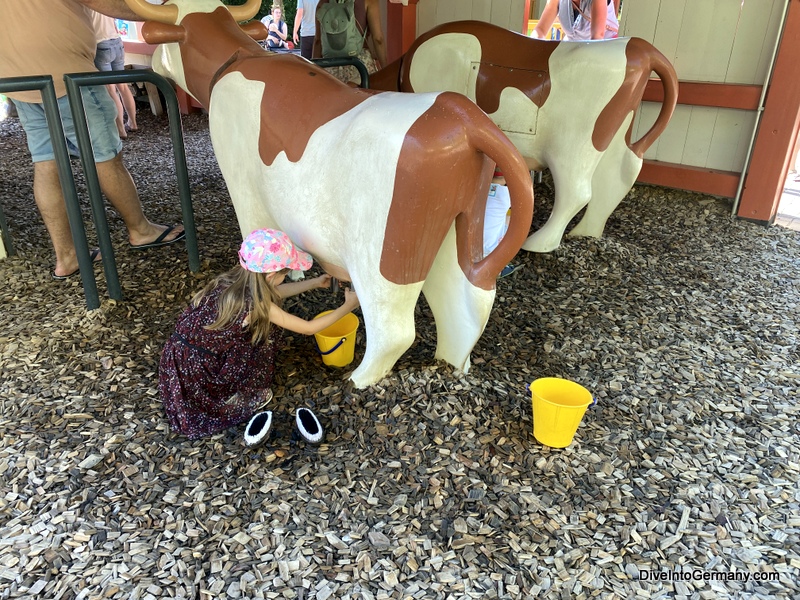 The kids would "milk" the cow to get some water then use this to clean the other animals.
There are also pedal tractors to ride around, but that's best suited to kids under 6. My kids felt a bit big to be able to pedal them.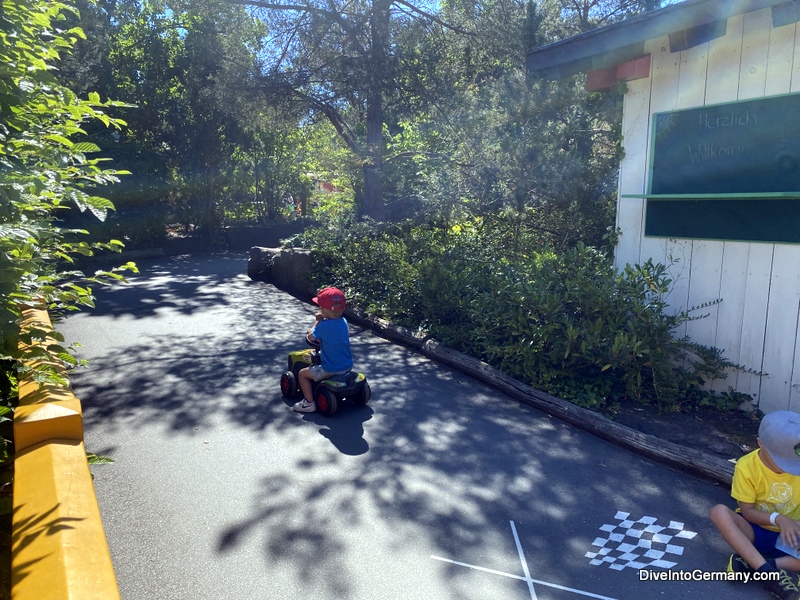 Mermaid Kingdom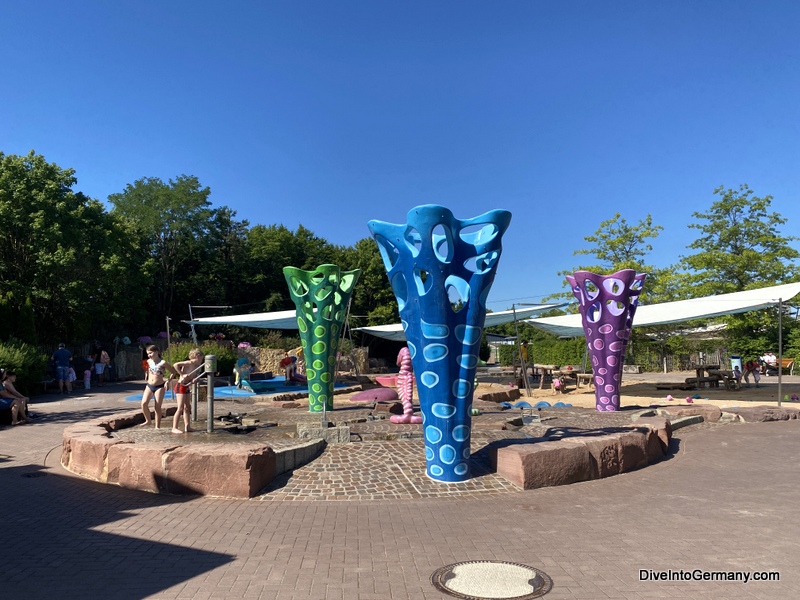 This wet area is lots of fun with sand, water and many things to play with. It's definitely aimed more for younger kids with my 10 year old finding it a little boring. He didn't last long before he returned to the water playground.
There are water channels, pumps and wheels to play with and it's extra fun if it's a warm day. Although, it got very busy while we were there.
There are big Playmobil mermaids, of course, and the kids can style their hair.
Noah's Ark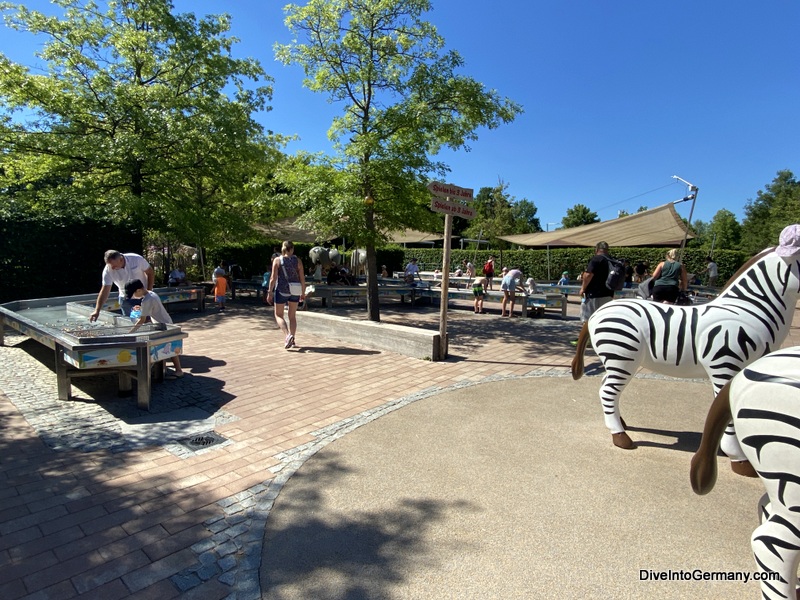 Not surprisingly, this area has a big Noah's Ark, which you can climb, on surrounded by animal figures.
Behind the ark is more fun with a giant water play area on a raised area with a big channel with toys, ships and more to play with.
This is particularly a great area for toddlers and older babies as there is a separate area for under 3s as well where they can do similar things.
My big kids also had a great time using the boats to rescue all the Playmobil figures that seemed to be drowning in here.
Kids are likely to get wet here so I personally would get the swim suits on and visit here before visiting Mermaid Kingdom and the Water Area (so they are relatively dry while playing here but it doesn't matter if they get wet). These areas are all close together.
Water Playground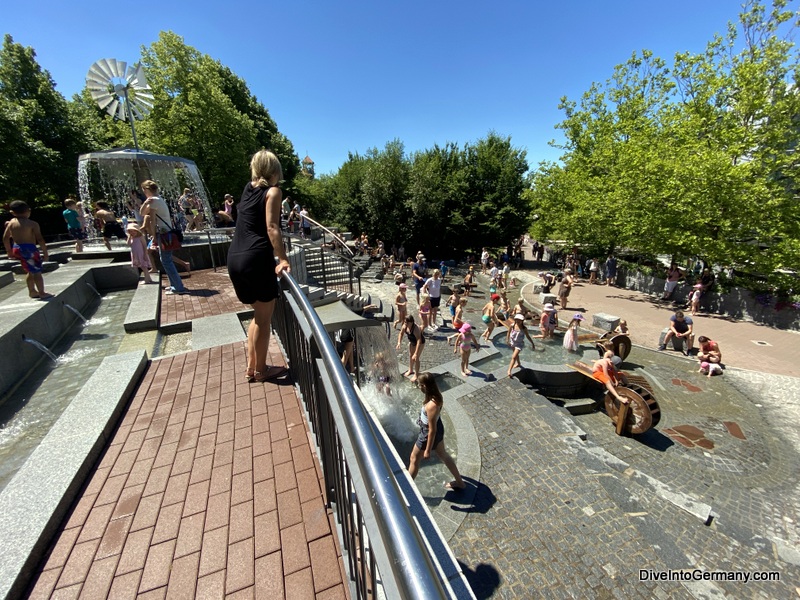 This is the place to splash and cool down. It's great fun on a hot day with many channels and fountains.
It's not what I think of when I think of a water playground, but it is a lot of fun and my kids spent over an hour here and still didn't want to leave.
The only sour part is my 10 year old got told off multiple times by German parents who seemed to not like him playing here in the same way all the other kids did – just using barriers to block channels and un-block them as designed.
While I don't understand German, he does and wasn't impressed at all by this. It was a shame as it somewhat ruined it for him and he had just as much right to play there as the younger kids (maybe more since all the other wet areas were aimed at toddlers and preschoolers). It was very confusing for us.
Knight's Castle And Tournament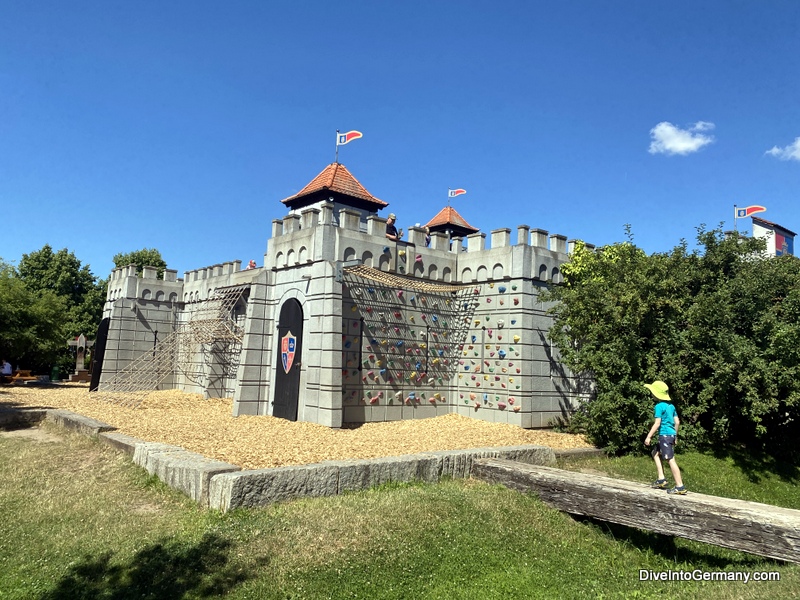 This area is another contender for one of the top parts of the park, in my opinion. It has fantastic theming with a great big Playmobil knight's castle.
The castle is super cool. You can climb up nets, find a secret underground passage, visit the throne room and mirror room and climb up to the 10 metre high tower for great views. There are big knights, a king, queen and a troll.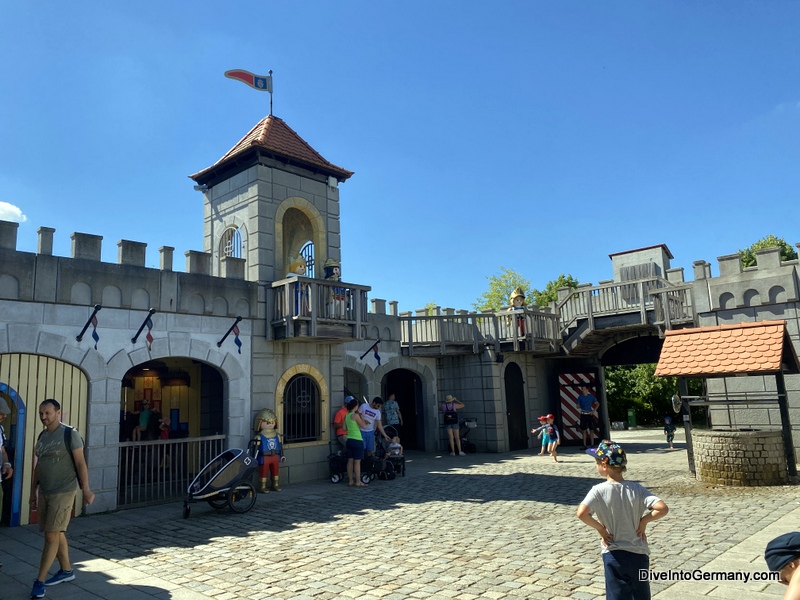 Next to the castle are the Knight's Tournament grounds. I read that here there are some dress ups and lots of fun activities for the kids. However, this was not the case when we visited and it was empty with nothing to do.
The Knight's Castle was a winner though. The kids could have played here for quite awhile but after 20 minutes, I got grumpy and moved us on as there was a big lack of seating and not much shade.
Pirate Ship And Area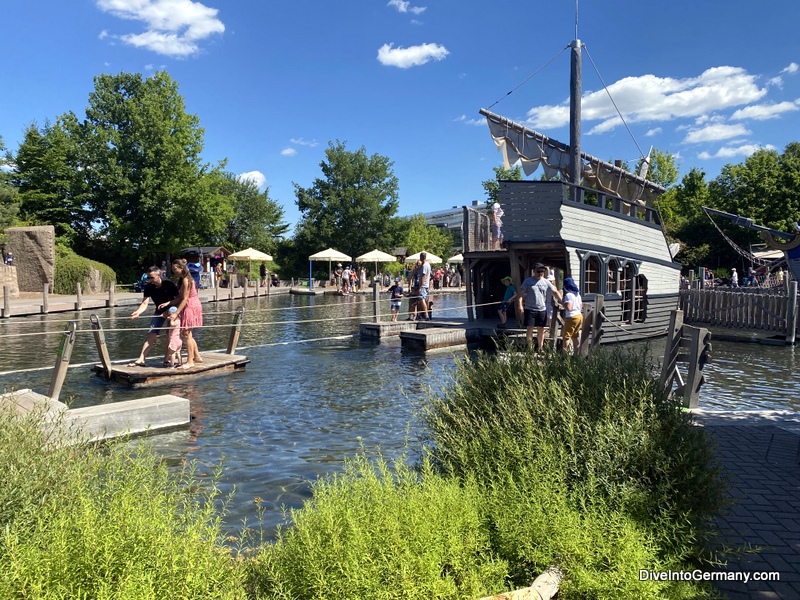 Another absolutely fabulous area, Playmobil's two pirate ships are set on a lagoon. You can climb on them (there's climbing nets up high) and there's plenty to play with as well with a kitchen area, decks and more. There are water cannons to shoot, moving bridges and you can dig for gold and gems in the sand.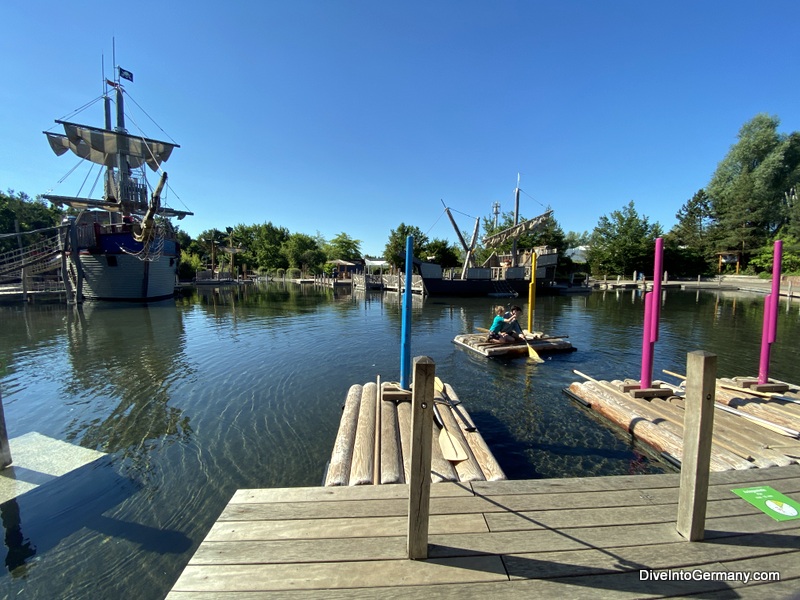 There are fun raft boats to row around. We went here first which meant we had no problems getting one, BUT it also meant the kids didn't have anyone to watch to see how it's done.
Then suddenly lots of people arrived and sadly the adults steering the other ones showed them no consideration, and they were jostled around by all the other rafts in the same starting area at once.
I feel like this should have been a win but it just wasn't for us. By the time the other rafts left them alone, they were fed up, disappointed and upset and we moved on.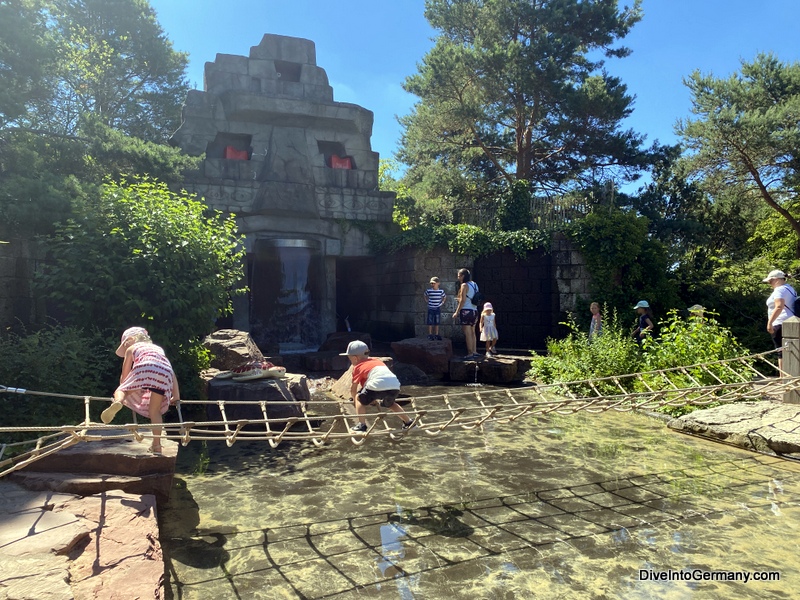 The Pirate Lagoon area was very cute and fun. There is a lagoon to climb over and a waterfall to go behind. My kids really loved some obstacle courses leading here from up the hill too.
This is also where you'll find more gem and gold fossicking.
Tree House And Dinosaurs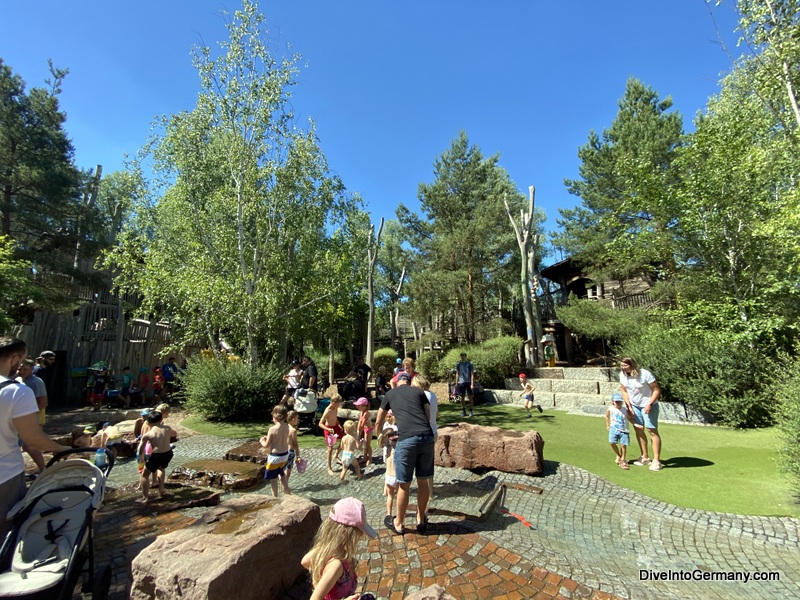 This area is also great and one not to be missed for dinosaur lovers. It's another area with plenty to climb, a little bit of water play and plenty of fun to be had.
There are tree houses the kids can reach via climbing courses. There are various levels of difficulty to keep it fun for different ages.
The largest tree house is set up as a research station with a telescope and tools. There's a rope ladder up to a crow's nest that's around 8 metres high. Add in some underground tunnels as well, and there is plenty to explore here.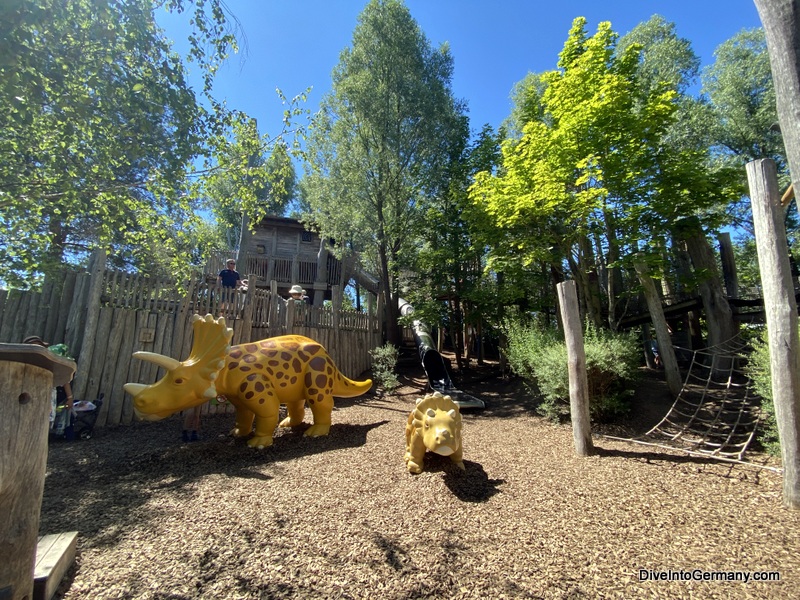 And that's not even mentioning the dinosaurs! There's a 4 metre tall Tyrannosaurus Rex as well as a Triceratops mom with a baby, a dino nest and more.
Finally, there's also a small stream of running water with toy fish and boats. This is great for toddlers while the bigger kids explore all the tree houses.
My kids loved playing on the climbing courses, and this was one of their favourite playgrounds along with the one at the HOB Centre.
Slide Slope
There are some massive slides here to enjoy.
We did a quick ride down each one and moved on. While there's nothing wrong with this area, there's just too much other cool stuff that's more worth your time 🙂
Eating At Playmobil Funpark in Zirndorf
You can take your own food into Playmobil Funpark and this can be a great option if you want to save money and for snacks as your kids will get hungry from all this activity.
There are also some eating options here and they are a very reasonable price.
There are a few restaurants as well as a cafe and "snack points" and stalls which are a quick and easy way to get some food around the park that you can sit and eat.
For restaurants, you can eat at a shady beer garden, a pizza and pasta restaurant or a pub. The beer garden is a pretty setting and it's my top pick. The pub is also good and the kids will love the kids' meals that include a Playmobil toy. These main places are all around the HOB Centre as is the cafe with cakes and coffee.
We were going to eat at the Beer Garden but then we went past the Pizza and Pasta outlet which is nearby. Since, it was basically empty, we decided to just eat there.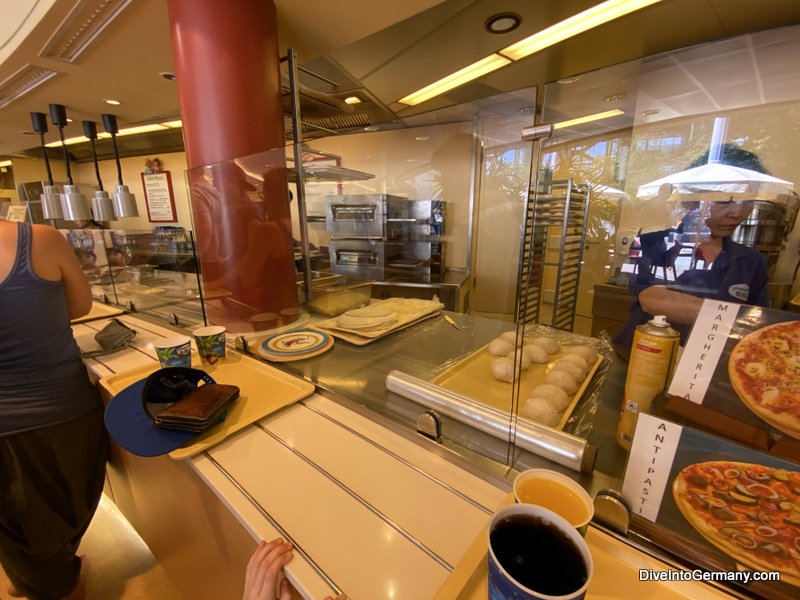 I wish we hadn't. The food was very average. The kids didn't even want to eat their pasta which is a first. It was cheap, but I'd rather quality.
What was super annoying was that you have to pay a deposit for any cups, plates and bowls. This turned out to be 2 Euros for each item. So for 3 of us, it was a 12 Euro deposit.
The super annoying part was trying to get this refund back. It turned out it wasn't in that area and we had to carry it past a busy pathway, into the Hob Centre and then I wandered around there trying to work out where to take it as there were no signs I could understand.
It was awkward especially while I had to carry all our stuff and direct the kids. I felt very lucky my kids weren't younger. I don't know how I'd do it with toddlers or a pram.
For a place built for younger kids, this really wasn't or it assumes everyone visits with two parents. Or they are hoping you will give up and they'll make extra money.
There is also a bratwurst stall, a couple of ice cream stops and a burger, crepe and hot dog snack points sprinkled across the park. Not all were open when we visited.
Finally, if you really want to make a day of it, you can head in for the family breakfast. You need to reserve this in advance and it's a big breakfast buffet from 8am – 10am.
Playmobil Funpark Zirndorf Shop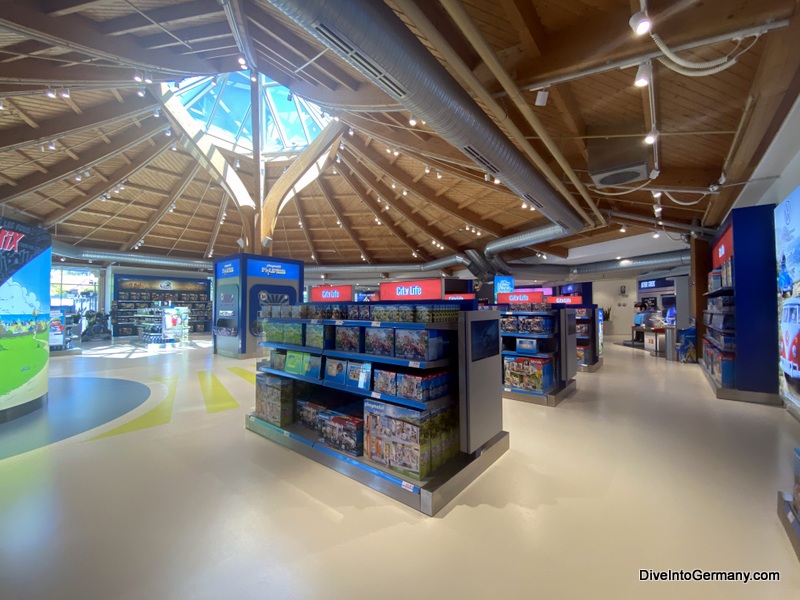 Playmobil Funpark is just so fun that you are probably going to want to take home your own special Playmobil souvenir and, of course, this place makes it easy.
There is the Playmobil Shop which offers many, many choices. It's way too cool and I had to really hold myself back!
There is pretty much anything you can imagine. It's really hard to pick just one thing. I also found the prices discounted and reasonable.
There is also a LECHUZA shop on-site. This is the company that manufactures Playmobil figures and you can buy their planters here at a discount. We didn't visit this shop.
Playmobil Funpark Hotel
Right next to the Playmobil Funpark is the Playmobil Hotel!
There are 28 family rooms all Playmobil themed and it looks unreal.
Unfortunately, the Playmobil Funpark Zirndorf hotel was already fully booked when I found out about it, so I can't say what it is like. You can find more information on their site.
Playmobil Park Zirndorf Location
Playmobil Funpark Germany is located in the town of Zirndorf about 25 minutes drive southwest of the centre of Nuremberg. There is plenty of parking and the fee depends on the time of year. In park summer season, it is 5 Euros. It's cheaper at other times.
It's also possible to get here from Nuremberg by taking a train and then a bus. You can find more details here. It doesn't take long.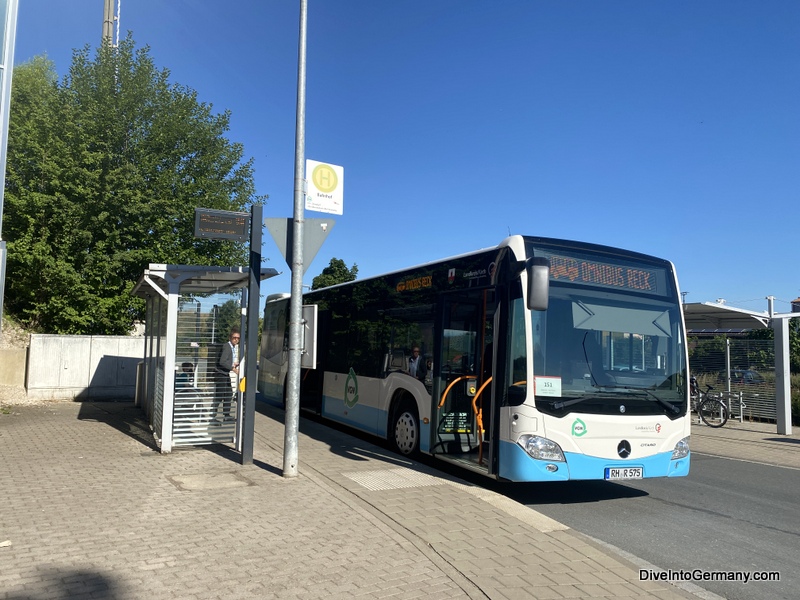 We did this, and it was very easy. I'm glad we didn't drive. The only downside is that bus 151 that we took only runs once an hour so you'll want to keep an eye on the schedule and the time.
Address: Brandstätterstraße 2-10, 90513 Zirndorf, Germany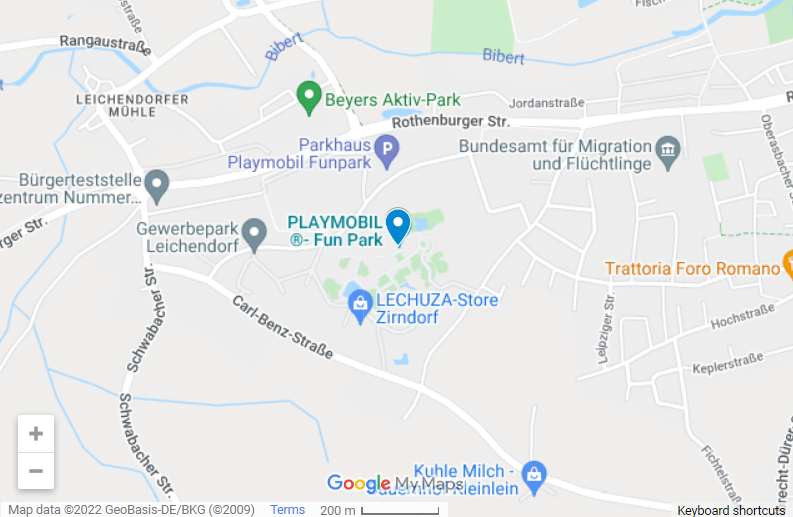 Zirndorf Playmobil Funpark Entry Fee And Opening Hours
When we visited in July, Playmobil Funpark Zirndorf tickets were 15.90 Euros per person from 3 years old. Unfortunately, there are no family tickets available. There's an extra charge to play mini golf.
At this time in summer, opening hours were 9am – 7pm. There was a slightly cheaper ticket if you arrive after 3pm.
Playmobil Funpark winter opening hours are less, but the inside attractions at the park still open (the outside ones are shut).
Final Tips For Your Visit
You should take swim suits, towels and an extra change of dry clothes. Water, hats and sunscreen (in warmer months) are a must. Snacks and water are a great idea too although you can buy whatever you need here
My kids wore their bathers to the park (shorts and rasher shirts) which worked well
If you find yourself without dry clothes, there are dryers you can use
There are storage lockers at the HOB Centre
There are wristbands when you enter the park that you can write your name or your kids name on along with a phone number which is a great way to go in case you lose anyone. We had to ask to find this though
The first hour and last hour are meant to be the best time to visit any attractions where you would like less crowds. We found this to be the case. I recommend these times for the things you are likely to have to line up for. We went on the power paddle boats, the pirate rafts and police go karts easily in the first hour
We ate enough on the way there that we were able to have a late lunch. This also meant less people at the activities around lunch time
Do the water activities in a row. They are near each other so this is easy. I write more about this in the relevant activities above
There are some extras around the park which have a small cost associated, like buying something to put the "gold" you find. We didn't feel the need to buy any of them
Take some zip lock bags so you don't need to buy anything to put the kids "gems" etc in
If you want to stay at the Playmobil Hotel, book far in advance
Final Words
The Playmobil Funpark Zirndorf is a really fun place to visit.
It was a total hit with our 6 and 10 year olds. Actually, it was a total hit with me too.
It's a well presented, fun place to be that's unique among all of the attractions we have been to.
Everything is done very well and they are good at keeping things simple, while adding in extra fun. Like milking the cows at the farm and having brushes so kids can use it clean the animals. All very easy, all extra fun.
If I have one complaint other than the silly lunch deposit scheme, it's that there should be areas for parents to park these big karts that seem to be popular in this part of the world.
Many families were pulling along these karts, often very big ones, fast behind them with no care given to any kids but their own. My 6 year old got smacked with them a few times when they turned corners with him walking behind them. They'd never even notice.
They also made it hard to walk around some areas as the areas got busier, and they seemed to be everywhere. I would love it if Playmobil FunPark didn't allow them in areas where they weren't really suitable, like the Tree House area, with some parking areas outside.
Otherwise, though, I really loved it all.
You can find more information and book your tickets on their site.
You can also find our full guide to Nuremberg here and all our guides to travelling southern Germany here.