If you love food, there can be no better way to explore a city than a walking tour while tasting lots of local delights. And that's what we decided to do when we visited Leipzig.
We didn't have long in Leipzig so it seemed like a great way to learn a lot quickly in a very enjoyable way that would stop our kids complaining since they would keep getting plied with food!
We don't often do food tours as they can be prohibitively expensive for a family, but the Leipzig tours were a great price so we decided to give it a go.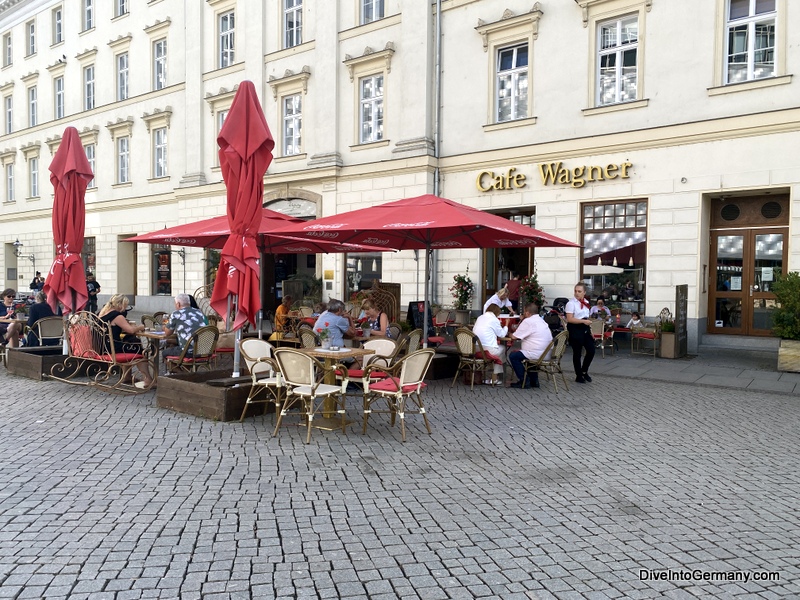 So, was it good? Should you take one of the Leipzig food tours?
Short answer: yes!
But keep reading for all the details, what to expect and what we ate! You can also see a video overview.
You can also find our full guide to Leipzig here.
Traveling to Germany? Click here to download your free Germany Trip Planning checklist. We'll help you get ready for your trip! 
Leipzig Food Tours Background
We signed up with a company called "Leipzig Food Tours" which you can find here. Unfortunately, their site is in German, but Google translate is your friend 🙂
They have two tour options, both of which take three hours, are a maximum of twelve people and require about a mile of walking.
The Classic Tour is in the city centre round the old and more famous parts. This is what we did.
There is also the Eisenbahnstraße tour which is in East Leipzig in a multicultural area where you'll have more multicultural tasting.
Tours run in all weather and you get 5-6 tasting stops in each tour.
At the time we took our tour, they were 42 Euros for an adult and 25 Euros for a child (4-12 years old). They ran Thursdays to Saturdays, 11am for the Classic and 4pm for the Eisenbahnstraße.
While you could technically do both tours in one day, I think this would be hard work as it's very filling 🙂
Leipzig Food Tours Review
We did this tour with our three kids aged 6, 10 and 12.
The tours are primarily in German but you can request them in English. My husband and I do not speak any German (although our older kids do), so this is what we did. Our guide spoke perfect English so this wasn't an issue.
Note that the tours aren't all the same and differ a little all the time, so if you sign up for one, don't expect exactly the tour we received. It should give you a great indication though!
Our tour started at 11am at Cafe Wagner. We were very lucky to find no one else was doing the tour that day so it was just the five of us and our friendly and knowledgeable guide.
She walked us around the Old Town and we had six stops for food and plenty of information in between the stops about what we were seeing and Leipzig in general. She answered any question we had and was very helpful.
Below, I am going to walk you through our stops, but like I just said, we did get other information along the way. It's a great way to see and learn more about Leipzig.
I also let my stomach get the better of me, so I didn't always get the best photos as I wanted to be eating and drinking and not taking photos 🙂
The food and drinks mentioned were all included in the price and were a mixture of traditional dishes plus modern dishes. They didn't always have exact names (or our guide didn't know them) and I failed a bit taking notes in my rush to eat. So forgive me when I'm not precise.
Stop 1: Cafe Wagner – Dumplings And Vodka
Our first stop was our meeting point at Cafe Wagner.
The tour started great with some fried dumplings. Dumplings are one of my favourite foods so I devoured these quickly!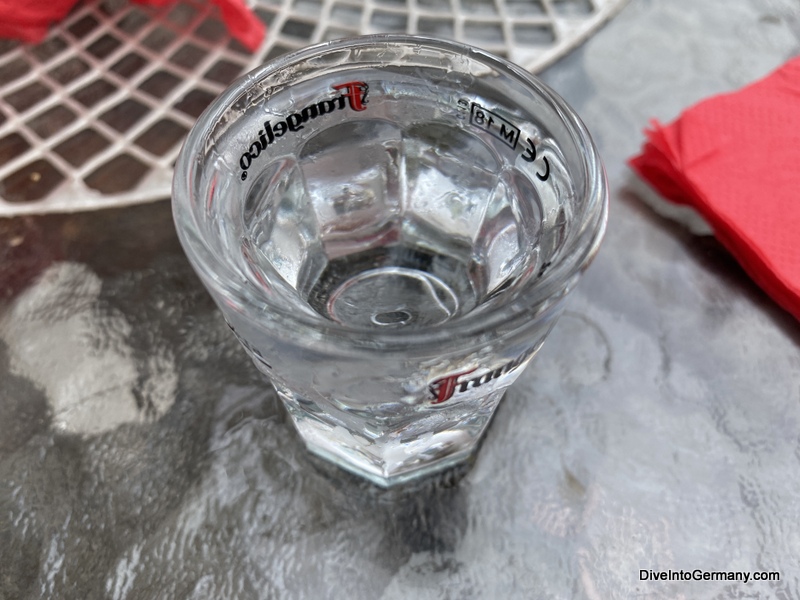 We were also given bottles of water to take on our tour and the option of chilled vodka shots. It was a great start to the tour.
Stop 2: Handwerksbäckerei & Café Kleinert – Leipziger Lerche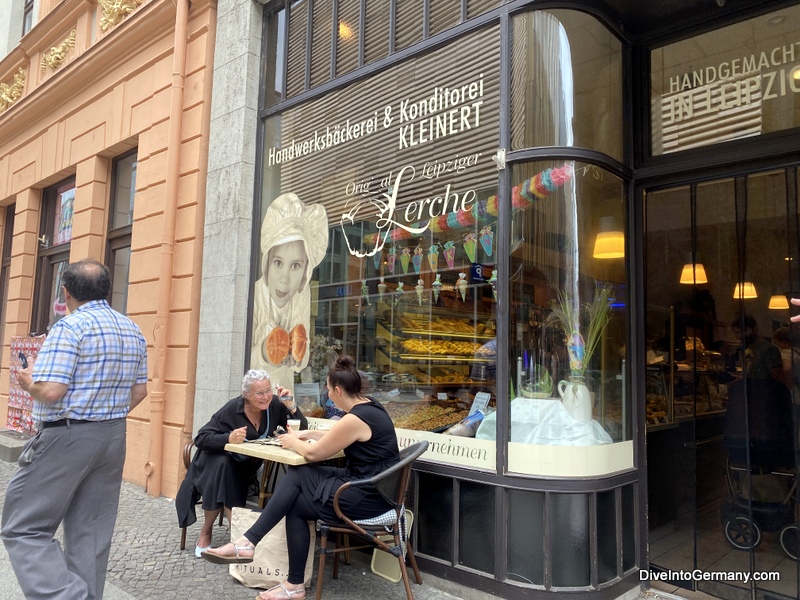 Our next stop was at the bakery, Handwerksbäckerei & Café Kleiner. This is home to the best Leipziger lerche which is a famous dish from here.
We learned all about where it came from (initially made with birds which became nearly extinct so they switched to sweeter fillings) and we tried four different types – marzipan, coffee, pistachio and chocolate. We were also given one to take with us.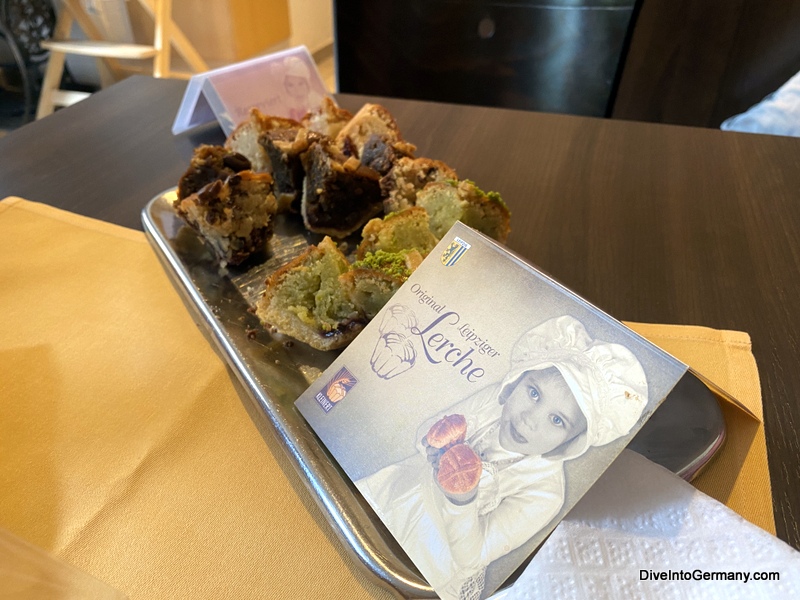 They worked well for the kids and we also enjoyed them, although the marzipan one was a little sweet for me.
Stop 3: Steigenberger Grandhotel Handelshof – Interesting Spoons And Wine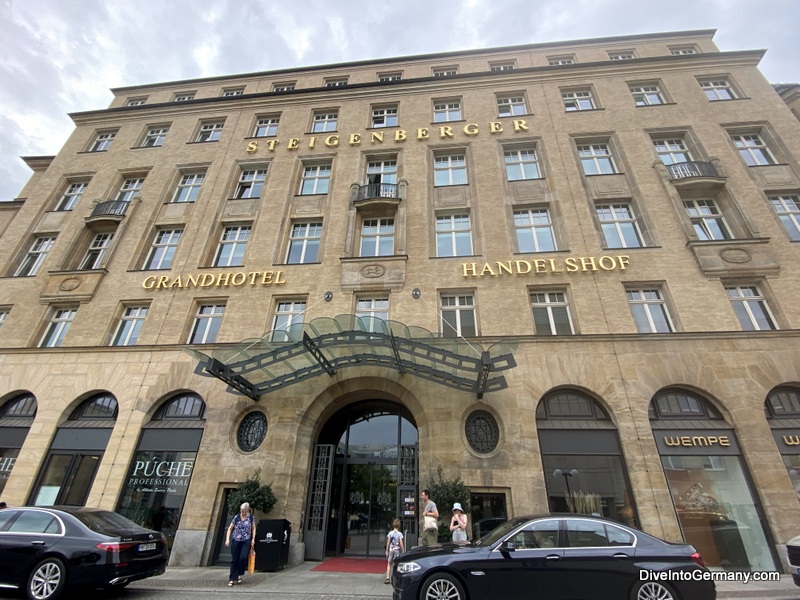 This beautiful hotel was a great place for our next stop, although it did give us a little hotel envy. It's where the rich and famous stay in Leipzig and it's definitely on my list for next time!
The restaurant was closed when we visited but open for us which made it extra special.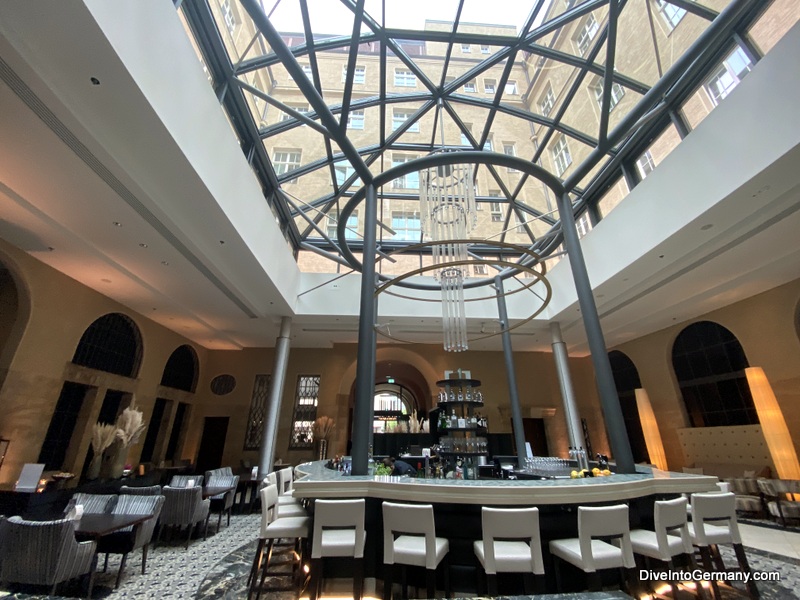 Here, we each had a small plate with two spoons with various concoctions on them as well as a chocolate truffle.
Each spoon and had some meat and various other ingredients and flavours. I particularly liked the duck with mango, chili and more. It was absolutely delicious and I'm one who usually shies away from duck.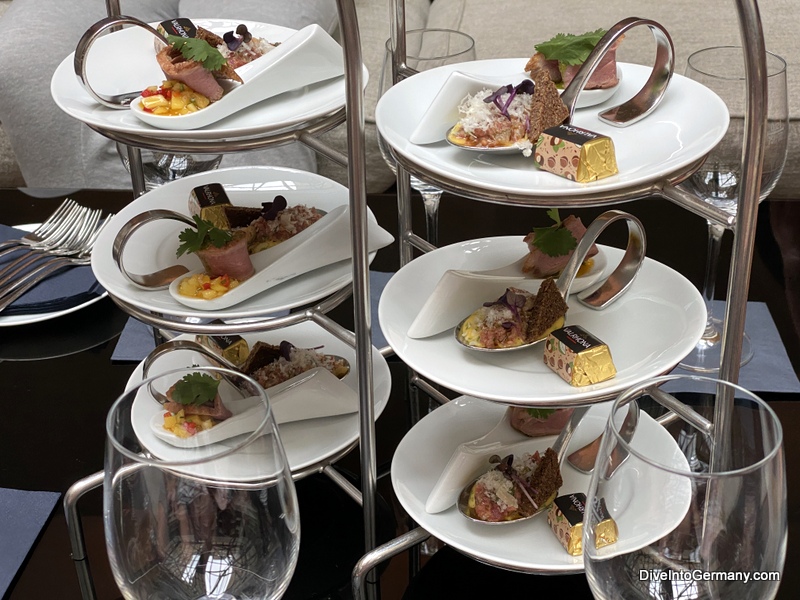 We also had a glass of wine and the kids were able to have non alcoholic wine which they had never had before. They couldn't stop giggling as though they were doing something wrong which was fun to watch.
Stop 4: Barthels Hof – Burgers And Beer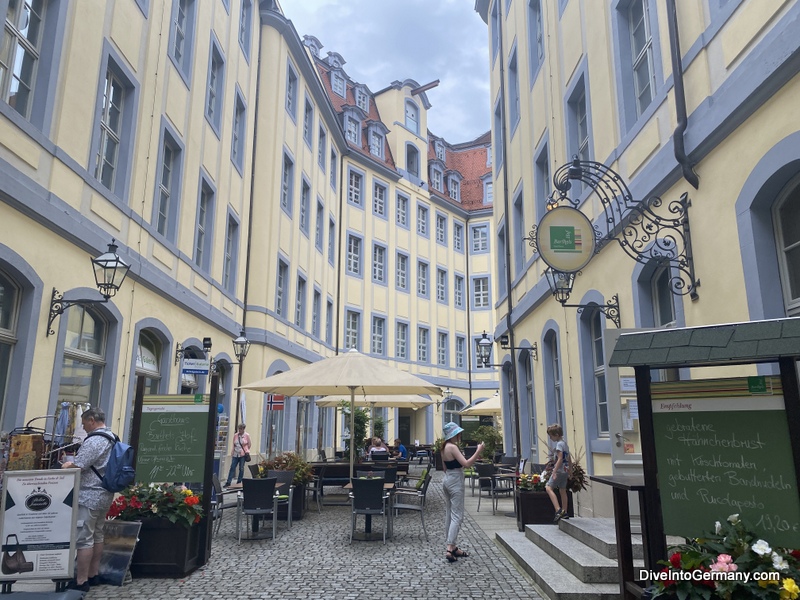 Our next stop was at one of Leipzig's many passageways and courtyards. We learned all about the history of this one and how it was used for horse entry during Leipzig's famous trade fairs. It's beautiful.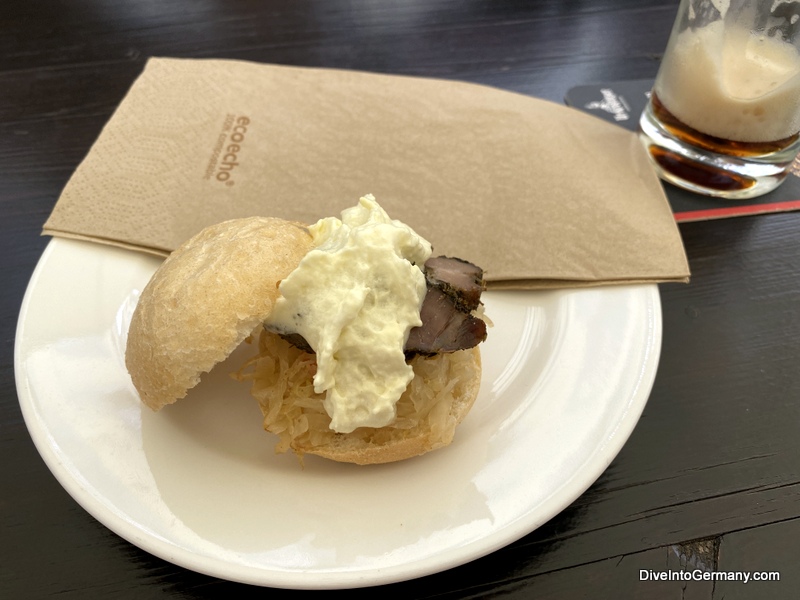 The main burger sauce was a mixture of mustard and cream which actually worked very well along with the meat and sauerkraut. It was a great burger. I just wish it was bigger!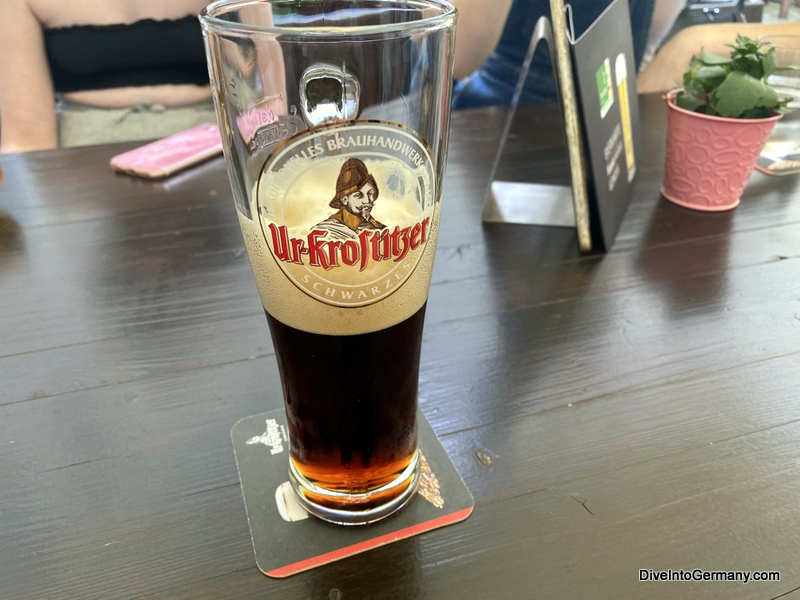 We also had some traditional beer. I'm not usually a dark beer drinker but this one was delicious.
Stop 5: Lerchennest – Potato Soup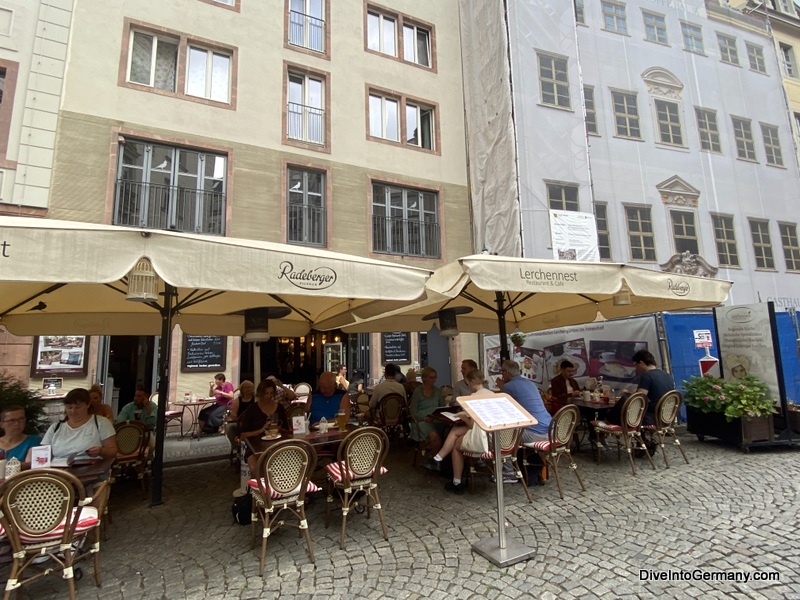 Our next one of the Leipzig food spots was Lerchennest.
This busy cafe has a great ambience and friendly staff who gave our kids some colouring in and games to play with to pass the time while they made our delicious potato and sausage soup. It's just what my tummy needed to finish filling me up.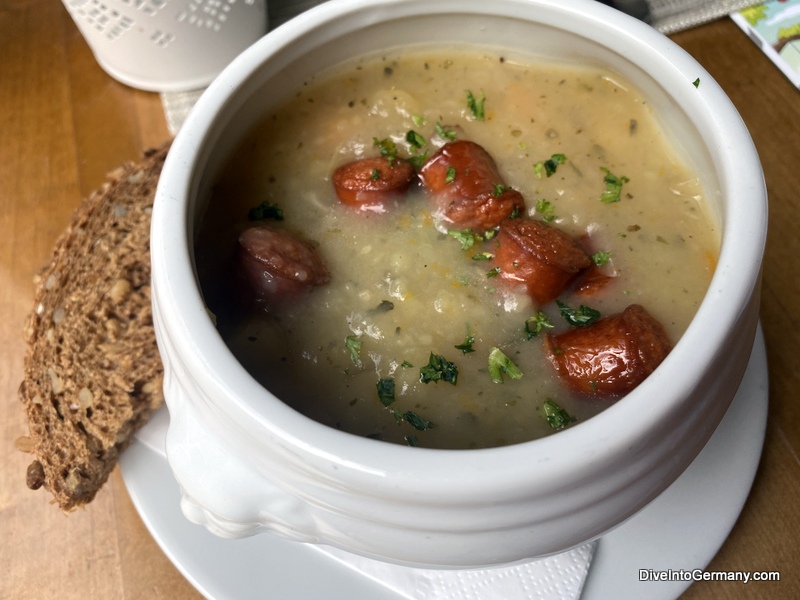 Stop 6: Bohemian Kids – Sandwiches And Coffee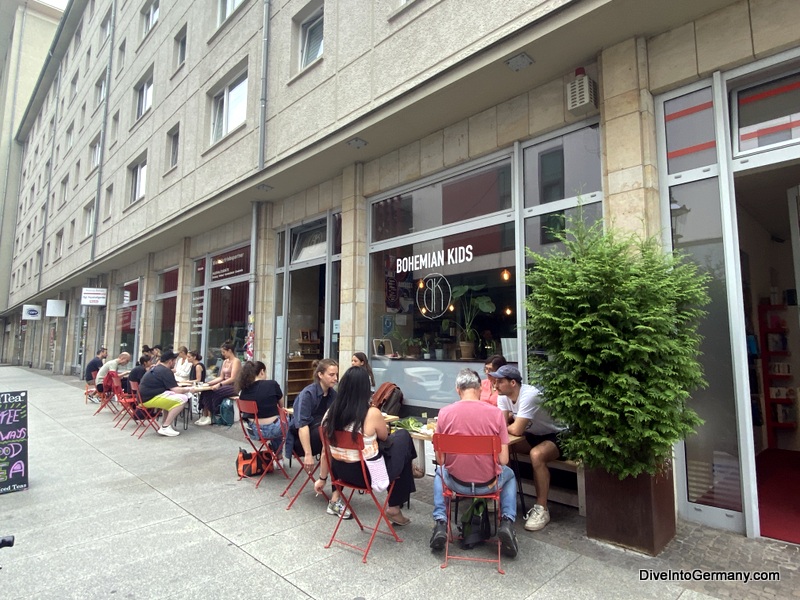 Our final stop was probably the one I was least excited about as it's all about coffee and I don't drink coffee. However, it actually ended up being my favourite stop!
The people here are very passionate about coffee and this came across. One of the staff members taught me so many interesting facts about coffee and it really made this part of the tour.
They also loved we were from Melbourne (thanks to its excellent coffee reputation), but then it puzzled them even more that I don't drink coffee 😀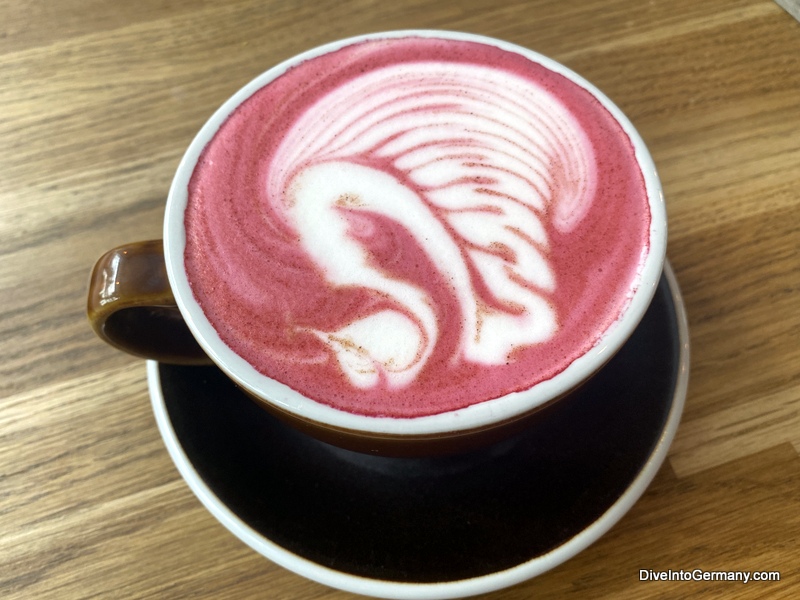 My husband doesn't usually drink coffee either but doesn't mind it. He tried their special espresso plus soda water drink and enjoyed it.
What was great is that they made pink lattes for me and the kids which were coffee free. They tasted great, and it was nice to be able to have a drink in a coffee shop for once that wasn't hot chocolate! It was beautiful and lots of fun.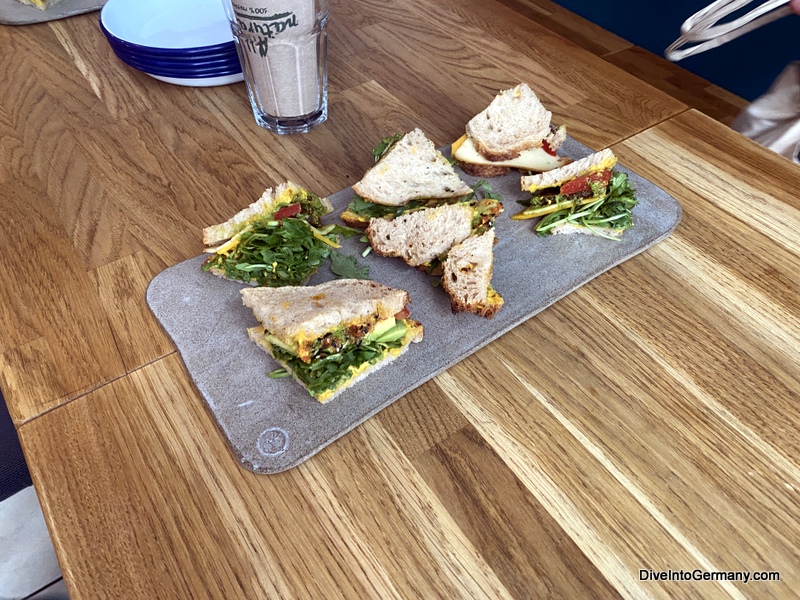 They also gave us two platters of delicious sandwiches, although we struggled to eat them after everything else.
It was a great way to end the tour which ended up taking a little over the scheduled three hours.
Leipzig Food Tour Video Overview
You can watch an overview of our tour (and the food) here:
Final Words
We had a great time on our Leipzig food tour although we were ready to collapse and nap afterwards after all the great food!
The kids loved it as well and it was a great way to explore, get information about a city and have a fun time with food in a way that was very kid friendly. Do note these tours are aimed at adults though. Kids are welcome, but if your kids get bored easily, don't like sitting a lot or don't like trying different food, this may not be the right tour for them.
For adults, I unequivocally recommend Leipzig Food Tours. It's just so much fun and so good. I also think the price is very reasonable.
They cater to food intolerances and preferences, although I think people who can eat everything are likely to have the best experiences.
If you are looking for Leipzig sightseeing tours or Leipzig tours in English, also consider a food tour. It's a great way to sightsee.
Definitely take a Leipzig Food Tour when you are in Leipzig.
Looking for more? You can also find our full guide to Leipzig here, accommodation options in Leipzig here and all our guides to travelling eastern Germany here.