Going on a Leipzig trip and want to know all the top things to do in Leipzig? We have you covered! Below you will find our guide to all the best attractions in Leipzig Germany to plan your ultimate trip.
One of the major cities in the eastern part of Germany, Leipzig has a long history as an important trade and cultural centre. It's well known for its musical past as well as the role it played in the Monday Demonstrations and a peaceful end to the German Democratic Republic.
Leipzig is also becoming increasingly known as being a hip centre and "the new Berlin" and there are many reasons to visit here as a tourist.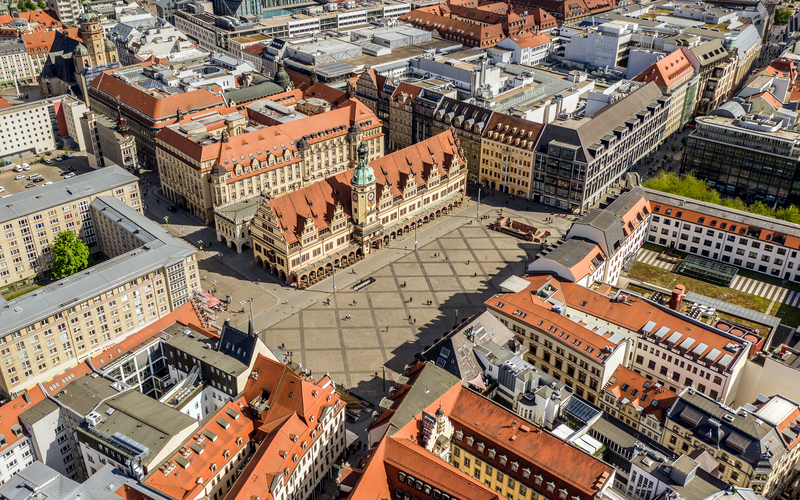 From learning more about the Monday Demonstrations and life in East Germany to appreciating Bach's music and learning about Leipzig's Medieval past, there are many answers to what to do in Leipzig and plenty of fun things to do for a few days.
And even thinking beyond the attractions on offer in Leipzig, it is worth a visit here. Leipzig in a fun and vibrant city with plenty to take in and enjoy and we very much enjoyed our time here.
Below, you will find our Leipzig travel blog with everything you need to know about the best places to visit in Leipzig, things to see in Leipzig in winter and Leipzig with kids as well as the best places to stay for your ultimate vacation in Leipzig!! There is also a handy map of all the Leipzig things to do and a one day itinerary if you are short on time.
Traveling to Germany? Click here to download your free Germany Trip Planning checklist. We'll help you get ready for your trip! 
An Introduction To Leipzig
With a population of over half a million people (and over a million in its larger urban zone), Leipzig is located about 185 kilometres southwest of Berlin in western Saxony. It's located in a fertile basin that is intensively farmed.
Leipzig first showed up in records in 1015 AD with the name Urbs Libzi. It was well located in the middle of a plain where two major trade routes of central Europe met which helped bring development of the town.
However, it's believed the area had been first settled in the 5th century BC. Slavic immigrants built a permanent settlement in the 6th century which was called Lipzk in around 800.
1175 was a big year as it's when the city of Leipzig was officially established.
Leipzig prospered with its two annual markets at Easter and Michaelmas declared imperial fairs in 1497. Leipzig was given economic privileges which helped it grow further – like towns within 15 kilometres were not allowed to hold their own markets.
By around 1700, Leipzig was a major commercial centre with a great network of roads into the town. While its geographic location had been central to its growth, it also had a downside with several battles taking place in Leipzig or nearby including the Battle Of Leipzig (or Nations) in 1813 as part of the Napoleonic Wars.
Leipzig's economic growth also lead to cultural growth and Leipzig is especially known for its printing industry and musical past thanks to Johann Sebastian Bach and many others. It's still a musical hub today.
Trade was the most important economic activity and when the first long distance railroad in Germany opened in 1839 between Leipzig and Dresden, things grew even further.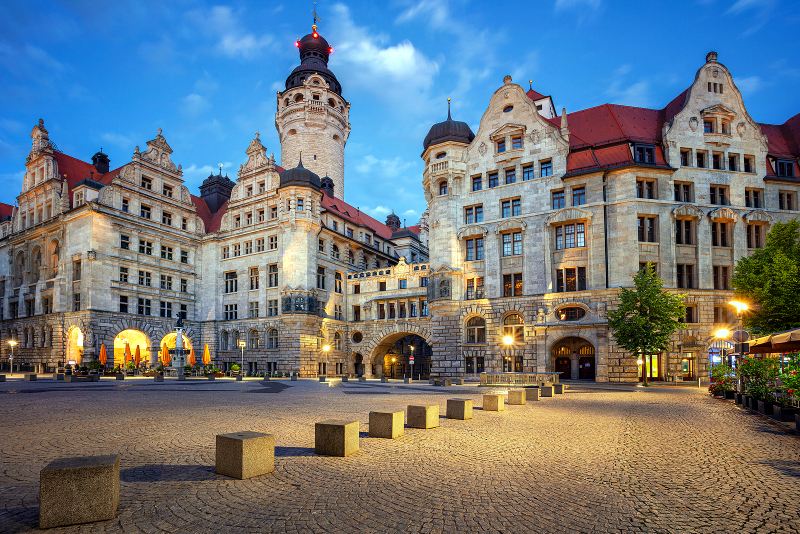 About a quarter of Leipzig was destroyed in World War II. After the war, it became part of the German Democratic Republic (East Germany) and the city was rebuilt. Leipzig's trade fairs returned but being part of the German Democratic Republic was not great for Leipzig with its mix of industries and services before the war thinned out so it was left with primarily heavy industry.
Leipzig played a role in the reunification of Germany and is known as the Stadt der Helden (City of Heroes) because of this. The Monday demonstrations took place starting on the 4th September 1989 and were weekly peaceful mass protests against the East German government.
While they didn't just take place in Leipzig, they started here before growing to other cities and towns in the country and kept growing in size. They were integral in the reunification of Germany.
The time after this was hard for Leipzig with the heavy industry in the area largely closing and within six years, 90% of jobs in the industry had gone. Many people left Leipzig at this time.
In 2000, an urban-renewal plan saved Leipzig from decline and managed to reverse it by improving the historic centre of the town, improving urban infrastructure and attracting new industry.
Today, Leipzig is a major industrial centre and a transport hub. It's reversed its fortunes and again is an important economic centre. It's one of Germany's fastest growing cities and is known for being hip and as "the new Berlin". It offers a lot for tourists and it's a fun place to explore.
Top 17 Things To Do In Leipzig Germany
Here are the best things to do Leipzig offers. Read through and select the ones that fit your interests and timeframe. If you only have one day to visit Leipzig Germany attractions, find our one day places to see in Leipzig itinerary below.
Old Town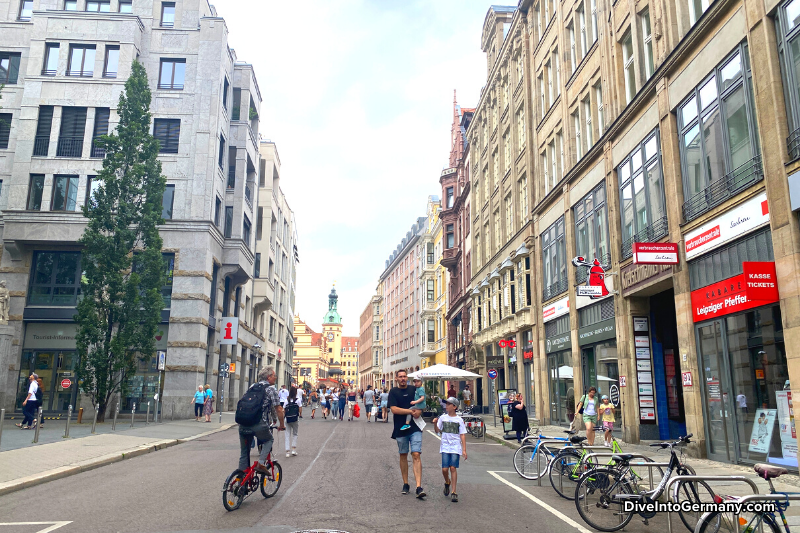 The best place to start exploring Leipzig is definitely in its Old Town. Thanks to not being as decimated as many other cities in Germany in World War II, it has more pre-war buildings than most.
Marktplatz (next on this list of Leipzig things to see) is the perfect place to start and many of the attractions in this list are located in the Old Town.
The Old Town is compact and this makes it perfect for tourists. You can see and experience a lot on foot without much walking. It makes things very easy.
So take some time to stroll around and examine the architecture and take in the vibe while visiting the Leipzig things to do below that interest you most as you explore.
Marktplatz (Market Square)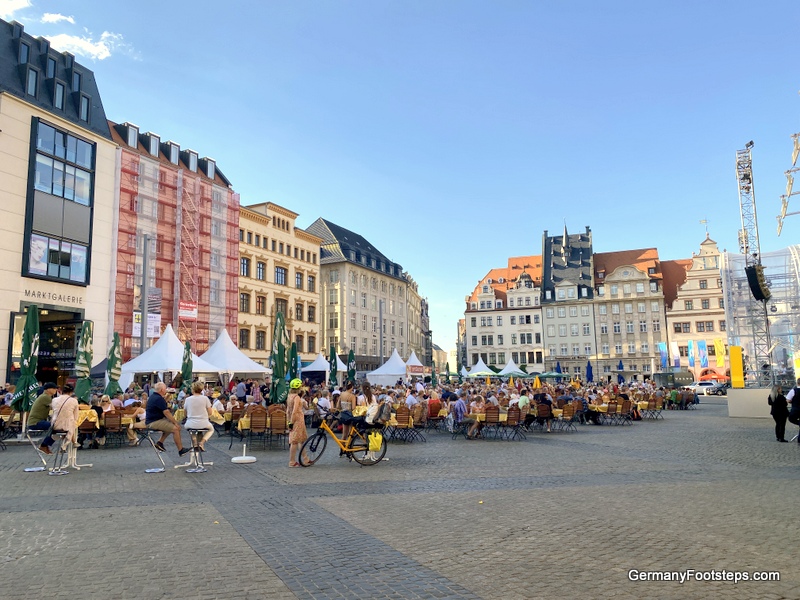 The heart of the Old Town, you definitely won't want to miss this as you explore Leipzig. Take a seat, have a drink or a meal and soak it all in!
The architecture around the square is a blend of old and new. You'll notice the Old Town Hall (more below) and the 16th century Alte Waag building is also worth checking out.
Many events take place in this square and if you plan your visit well, you may get to enjoy ones like the Christmas Market, Easter Market or the Wave-Gothic-Treffen, a big festival for "dark music" and "dark culture". There are also weekly produce markets.
Leipzig Altes Rathaus (Leipzig Old Town Hall)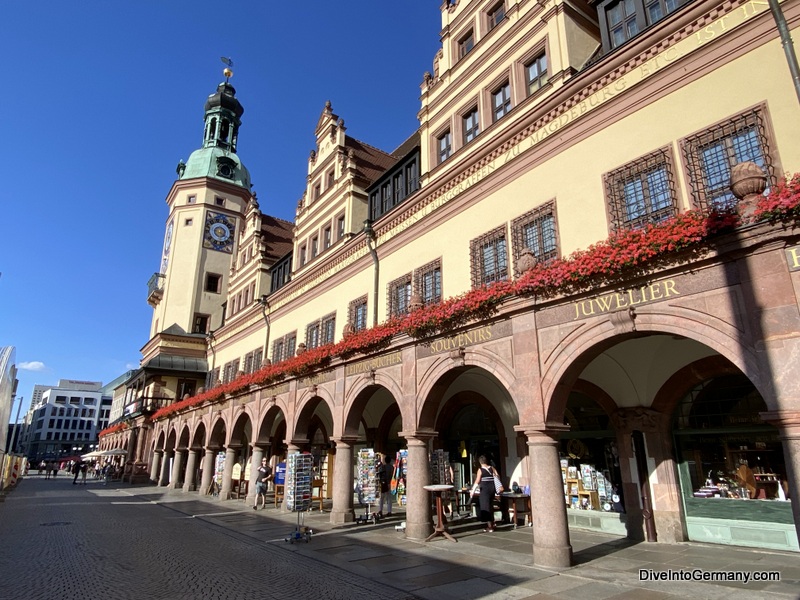 My favourite building in Leipzig, the Altes Rathaus (Old Town Hall) was built in 1556-1557. It's a great example of German Renaissance architecture and is quite a landmark with its windows, gables and tower.
Restaurants are at home on the ground floor and the city history museum (coming up next on this list of Leipzig places to see) is inside. Visiting the museum is the best way to see the interior and period decoration.
But whether you want to go inside to the museum or not, examining the outside should definitely be on your list of things to do in Leipzig today.
Stadtgeschichtliches Museum (City History Museum)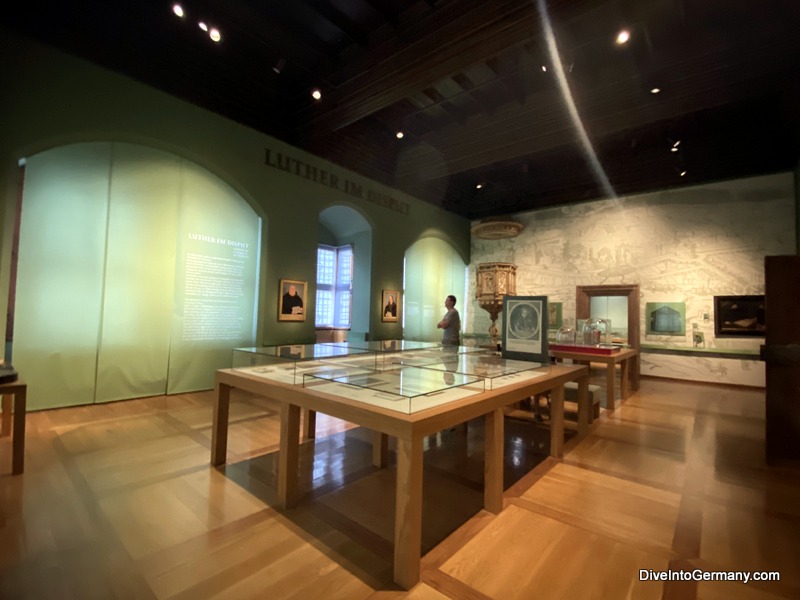 The best way to see inside the Old Town Hall, Stadtgeschichtliches Museum is worth visiting in its own right. This is the place to go to learn all about Leipzig's history from Medieval times to now. Leipzig has a very interesting history, and I enjoyed discovering it here.
There are two floors with around 2,000 exhibits detailing this history as well as attic and dungeons. In the dungeon, you can learn about justice in the Middle Ages including torture equipment and weapons as well as some example criminal cases. The first floor is focused on the Middle Ages with the next floor focused on more modern times.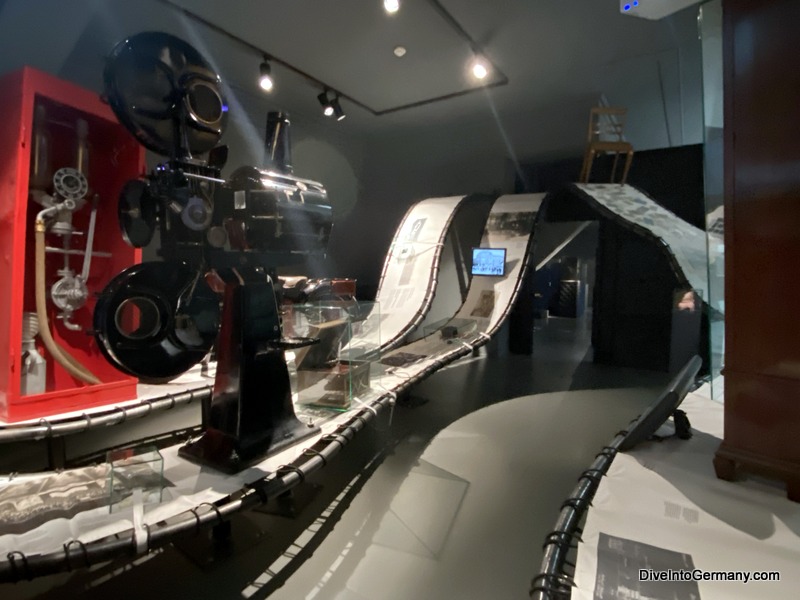 I enjoyed seeing a dress made from money in the 1920s thanks to rampant inflation and in protest to some of the events going on at the time. There is also a historic model of Leipzig from 1822 which is worth a look.
There is another part of this museum at Haus Böttchergäßchen which is just a few minutes' walk away. Here are temporary exhibits also related to the history of the area. There is also a children's museum. See the things to do with kids section below for more information on this attraction.
You can buy a combined ticket for both places.
I found this museum very much worth the time with lots of interesting information and exhibits.
Zeitgeschichtliches Forum (Forum Of Contemporary History)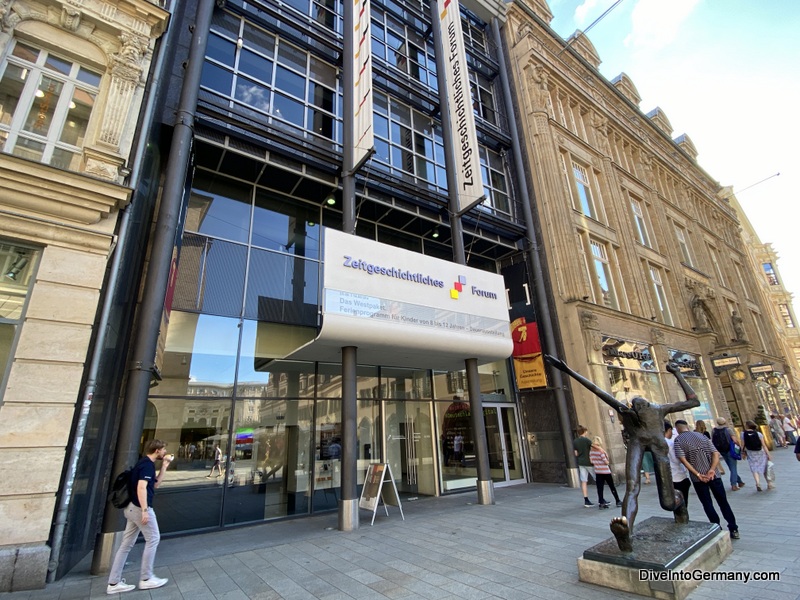 If you are looking for free things to do in Leipzig and are interested in the German Democratic Republic (otherwise known as East Germany), head straight here! It's just a tiny walk from Marktplatz.
This free museum covers everything in the history of this country from 1949 to reunification. There are over 3,000 exhibits which cover all aspects of life including personal accounts, propaganda posters, archived documents and art and media.
It also, of course, covers everything you need to know about the downfall of this regime including the resistance movements that lead to the Monday Demonstrations and the fall of the Berlin Wall.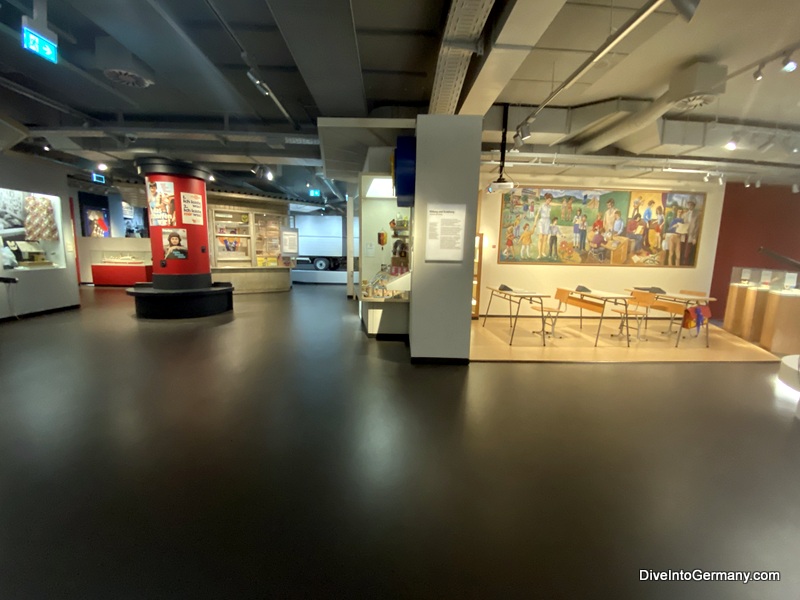 There are also exhibits about life in this region after reunification.
It covers a lot of information and it's very well done. While I did find as an English speaker I did miss out on some aspects of the museum, there is plenty in English to keep you busy here for a couple of hours and it's very much worth the stop.
Nikolaikirche (Church Of St Nicholas)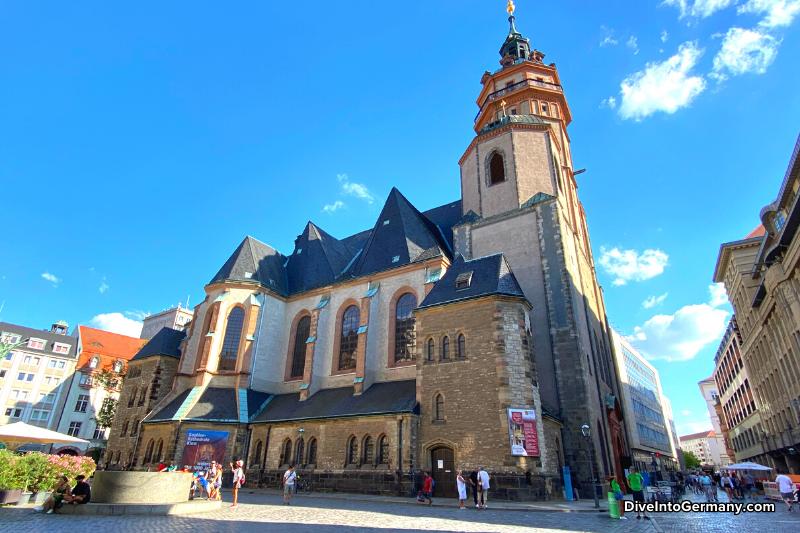 Even if you are not a church person, make your way to Nikolaikirche, a church with a big past.
Construction started on this church in 1165 in a Romanesque style, but it was turned into a Gothic hall church in the 16th century. In the 18th century, Baroque elements were added and the church has had a neoclassical interior since 1797.
While it's a pretty church, it's more about the events that have happened here that ensure its place on this Leipzig Germany things to do list.
Firstly, Johann Sebastian Bach was the music director here and at Thomaskirche (more below) between 1723-1750. Several of his works were premiered here.
In recent times, this church played an important part in the end of the German Democratic Republic. Starting in 1982, every Monday the church has held a prayer for peace. This still continues today.
However, more importantly is that these prayer sessions lead to the Monday Demonstrations in 1989 when candlelight demonstrations started following the prayers. This helped lead to the reunification of Germany.
There is a single column in front of the church to commemorate this movement.
Entry is free and I highly recommend you wander inside and say your own prayer for peace even if you aren't religious.
Museum der Bildenden Künste (Museum Of Fine Arts)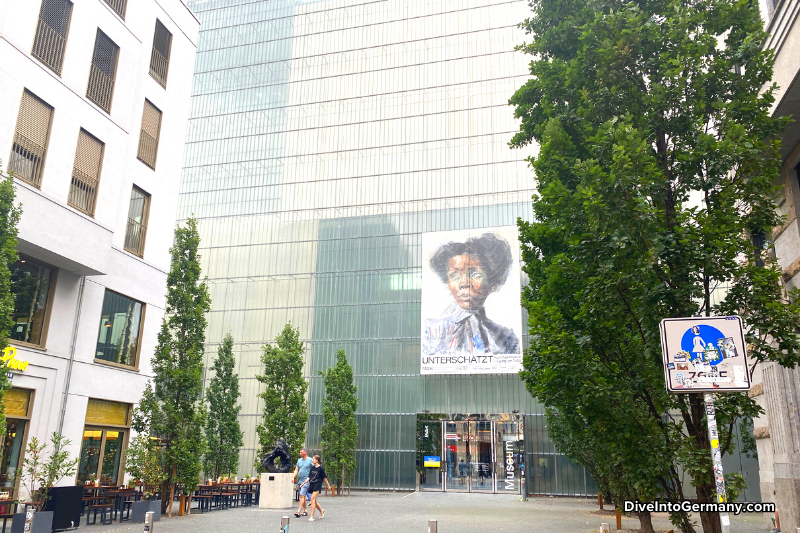 Art loved will want the Museum der Bildenden Künste at the top of their list of fun things to do in Leipzig. This fine art museum is a short walk from everything on this list so far and has a huge collection of paintings from the 15th century to today including works by Monet, Munch, Frans Hals, Cranach and more.
There are also rooms dedicated to local artists, Neo Rauch, Max Klinger and Max Beckmann.
It's not just about the inside either, the building itself is interesting and is like a glass cube.
You need at least a couple of hours to visit here.
Museum in der Runden Ecke (Museum In The Round Corner)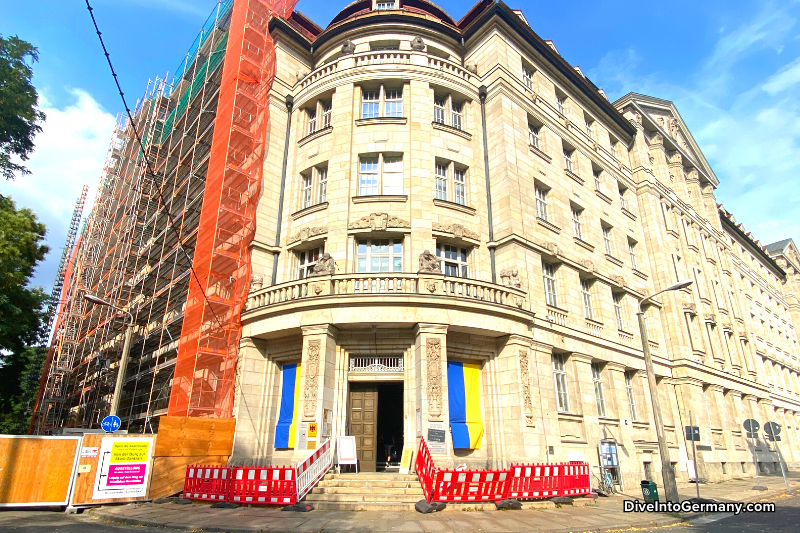 Also known as the Stasi Museum, this is the site of the Stasi (secret police) headquarters in Leipzig. Today, it's the place to go to learn about how the Stasi operated to surveil, arrest and recruit people.
The museum is on the first floor and much of the interior has been kept how it was in 1989. You can see how they operated, their jail cells (like above) and much, much more. While it is a smaller museum, there is a lot crammed in.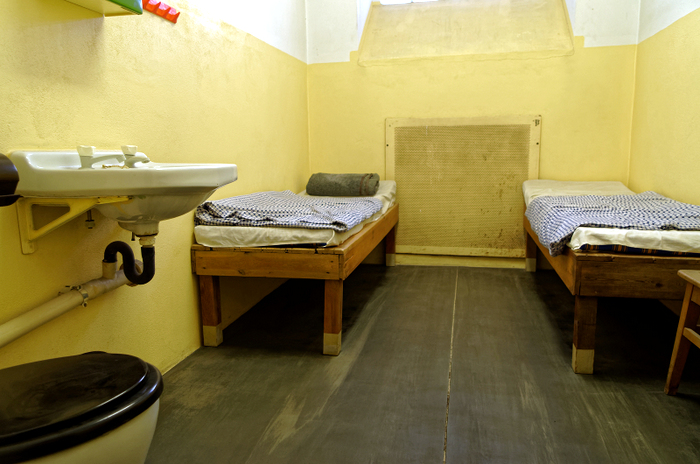 There are many exhibits like confiscated correspondence, uniforms, listening devices, secret cameras and more as well as information to help you understand how it ran and the methods they used. It's quite mind blowing some of the things they did to keep tabs on people.
Information is in German so make sure you pick up an English audio-guide so you get the most out of your visit. The audio guide has a small charge.
Thomaskirche (St Thomas' Church)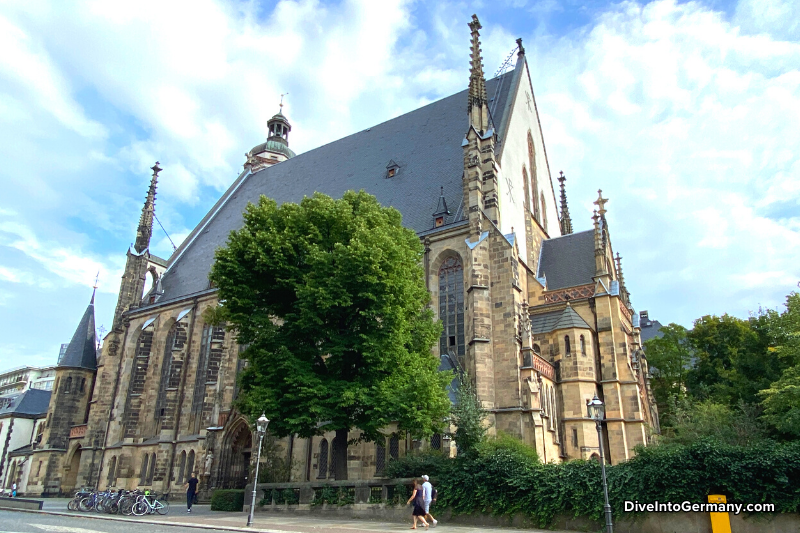 Thomaskirche is a beautiful 13th century Gothic church although it's best known for its similar Bach legacy to Nikolaikirche. Bach performed at both.
His remains were buried here in 1949 beneath a bronze plate in front of the alter. There is also a statue of him out the front. When I visited, there was also a small exhibit about Bach, but it was only in German.
It wasn't just Bach who played a part in Thomaskirche's musical history with Mozart playing the organ here in 1789 and Richard Wagner was baptised here.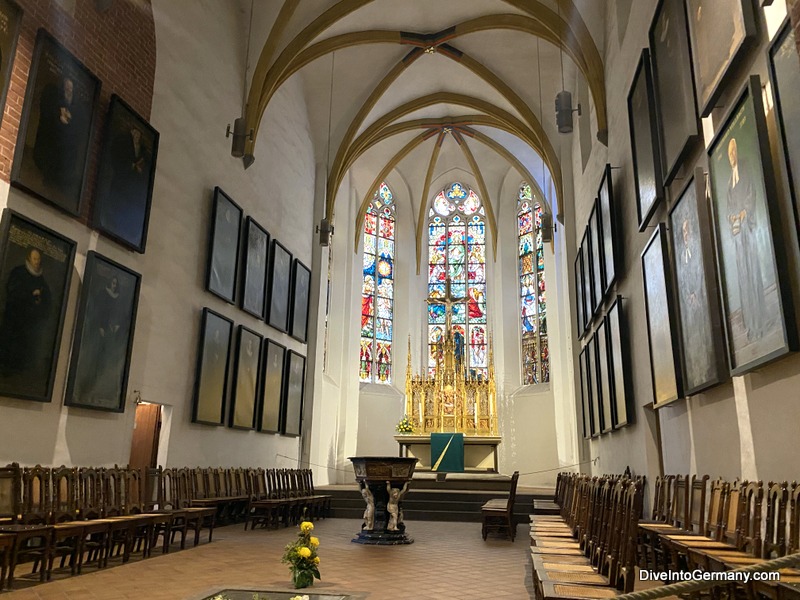 The boys choir at Thomaskirche is over 800 years old and is still one of the most celebrated in the world.
The church's tower is 60 metres high with the structure from the 14th century. You can climb the tower as part of a tour. You can find the latest details here.
Bach-Museum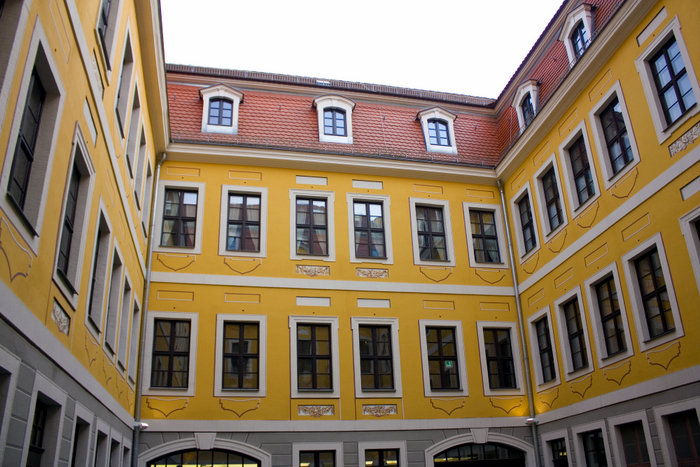 While you are taking in the sights at Thomaskirche, your next stop on this things to see Leipzig list is across the road at the Bach-Museum. As you can guess, it's all about the life and work of Johann Sebastian Bach, perhaps Leipzig's most famous resident.
It's interactive with a range of items from his old instruments, to learning his family tree (many were musicians) to listening to his music.
The biggest draw of this attraction is the "Treasure Room" where hand-written, original manuscripts by Bach live in glass cases.
Augustusplatz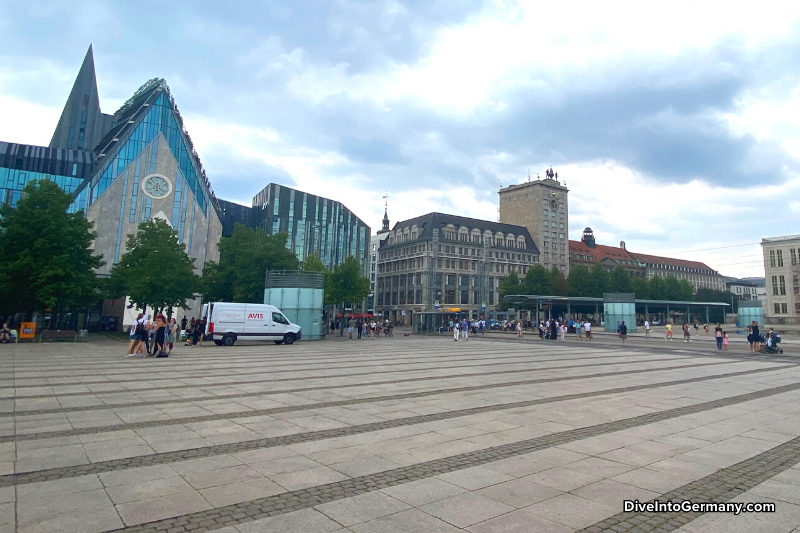 Leipzig's largest square, Augustusplatz is a great addition to your list of cool things to do in Leipzig to see the surrounding buildings.
While the square itself is not that special, it hosts many markets and festivals throughout the year. It's also home to the tallest building in Leipzig, City-Hochhause (which is coming up next), Gewandhaus (concert hall) and the opera house.
It's definitely worth walking through here during your exploration of Leipzig.
City-Hochhaus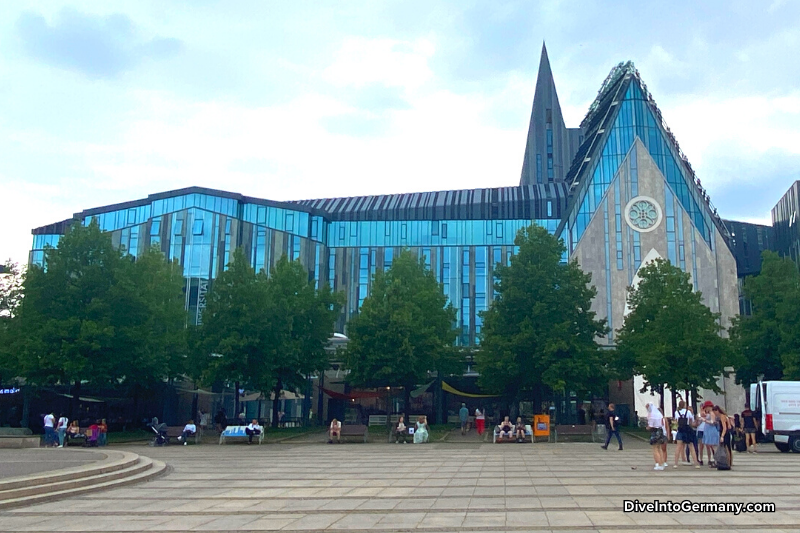 City-Hochaus is located on Augustusplatz and is the tallest building in Leipzig at 142 metres tall.
What's more interesting for visitors is that it has a viewing platform on the 31st floor with great views over Leipzig. On a clear day, you can even see far beyond Leipzig.
For an even better experience, there is a restaurant as well, the Panorama Tower Plate of Art. You can also have a drink while you check out the views.
You can see the latest opening hours for the viewing platform and more information about the restaurant here. There is a charge to visit the viewing platform.
Museen Im Grassi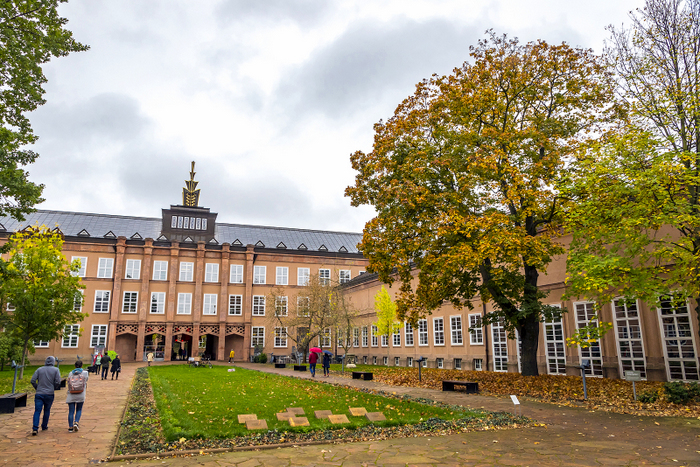 Museen Im Grassi is a university run collection of museums with three great options. It's to the east of the Old Town about a 15 minute walk from Marktplatz, less from Augustusplatz.
It's home to the Museum für Musikinstrumente (Museum of Musical Instruments), Museum für Völkerkunde (Museum of Ethnography) and Museum für Angewandte Kunst (Museum of Applied Arts). Each has its own entry fee.
Art Deco and Art Nouveau lovers will enjoy the Museum of Applied Arts with ceramics, furniture and glassware from the 1920s and 30s to the present day.
The Museum of Musical Instruments has pieces from the 16th to 20th century. There's also a fun, interactive sound laboratory.
The Museum of Ethnography has a huge collection with pieces from all over the world.
Völkerschlachtdenkmal (Monument to the Battle of the Nations)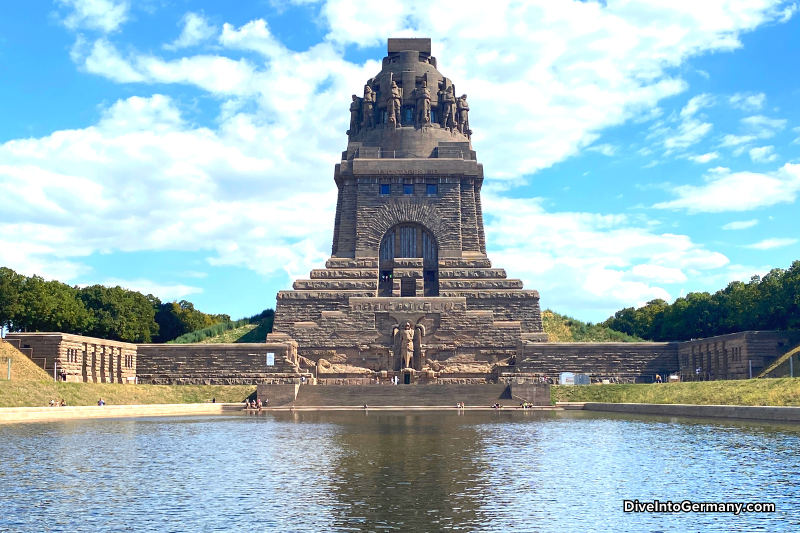 The Völkerschlachtdenkmal is massive monument in honour of the Battle of Leipzig (also known as the Battle of Nations) that occurred here in 1813. This battle was the largest in Europe before World War 1 with over half a million soldiers fighting and about 20% dying. It resulted in a decisive defeat of Napoleon destroying French power in Germany and Poland.
The monument was built in 1913 for the 100th anniversary of this battle, and it is BIG at 91 metres tall. I was blown away by the size when we first sighted it a couple of kilometres away. Closer, it is even more striking. Photos just don't do justice to how big it is.
It's well worth adding this to your list of places to visit near Leipzig for all of these reasons. I've never seen such a grand war memorial. For a small fee, you can enter the monument and the attached museum.
Inside is a huge crypt with statues representing fallen soldiers, a short film and there are two viewing platforms.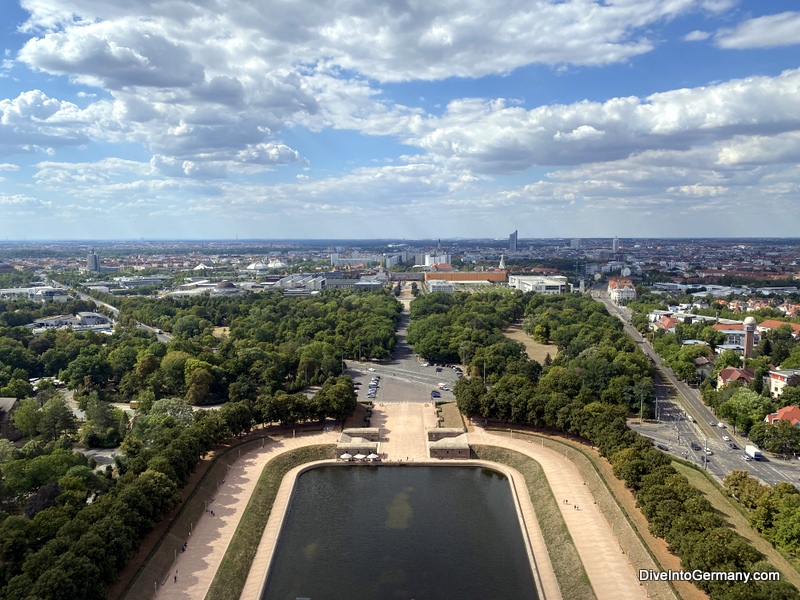 The lower platform has a lift, but the upper one requires walking up a spiral staircase. It's tight and there are even traffic lights to tell you went you can enter! Views are great though and even the lower platform has great ones if you don't want to do the stairs. However, note that you need to walk up a few floors before you get to the elevator.
Hot tip: There is a toilet at the entrance to the site which is 80 cents to use. Go to the ticket office for a free option.
Südfriedhof (South Cemetery)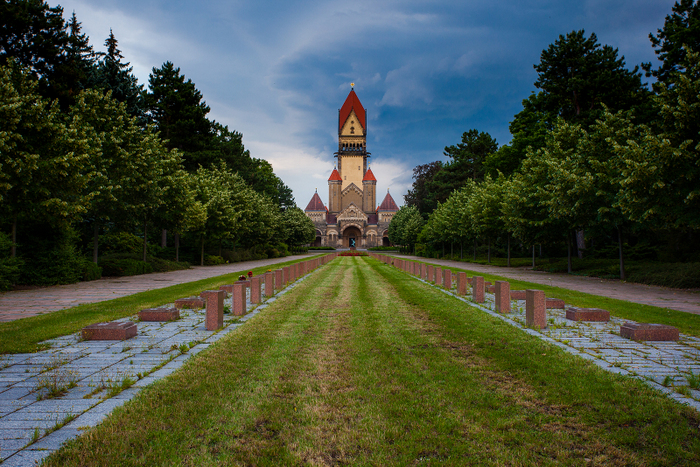 If you are looking for unusual things to do in Leipzig, head straight to Südfriedhof, the largest cemetery in Leipzig.
Südfriedhof is a big, beautiful park with shrubs, squirrels, foxes and more including what looks like a castle (but it's a crematorium).
Many of Leipzig's famous residents are buried here, and there is also a monument to antifascists killed by the Nazis.
It's located next to Völkerschlachtdenkmal.
Asisi Panometer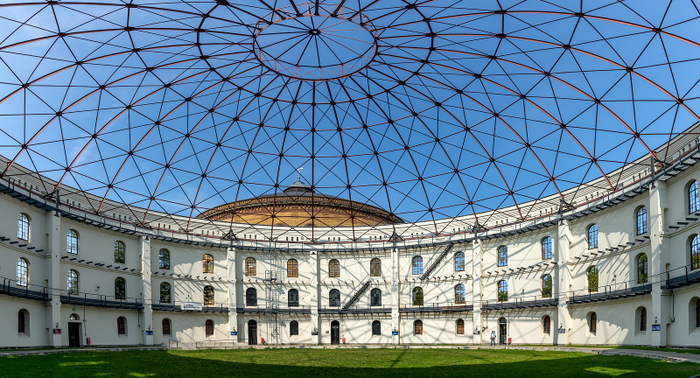 Located south of the centre is one of my favourite of the things to do around Leipzig, the Asisi Panometer. At 50 metres tall and 57 metres in diameter, this gasometer is big with a brick shell. Today, it shows the world's largest panoramas.
This attraction was formerly a gasometer that was no longer used – until Austrian artist, Yadegar Asisi, came along. Using paper, pencil and computer technology, he created huge panoramas (30 metres by 105 metres in circumference) which show here.
They are huge, monumental scenes that change every couple of years. Past images have been the Titanic, Battle of Leipzig, the Amazon and more.
At the time of writing this, it is Carolas Garten (Garden) all about the nature in our garden. An exhibit accompanies each panorama on the same topic.
Accompanying each panorama is also small exhibition on the given topic.
You can also find Asisi Panoramas in a few other cities in Germany like Dresden and Berlin. You can read our full review of the Dresden Panometer here which will give you an idea of what to expect.
Leipzig Food Tour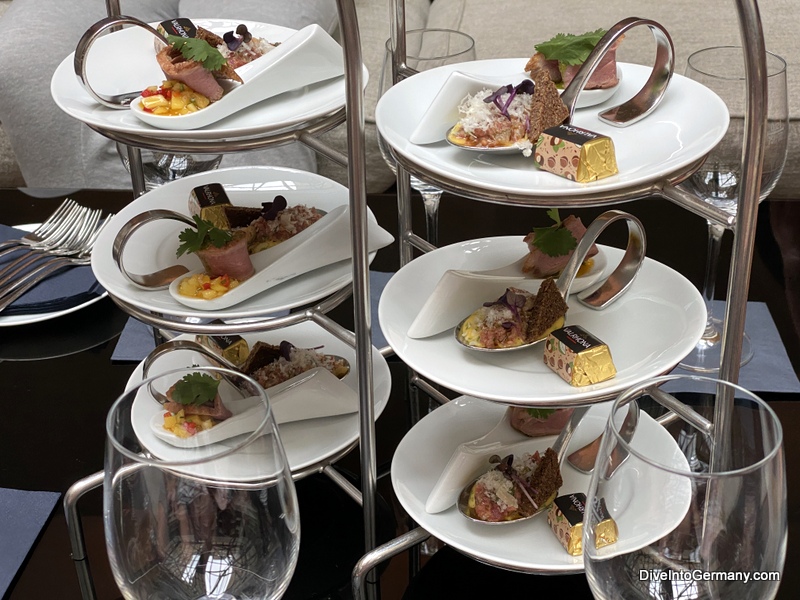 If you have the budget and the time, I can't recommend taking a Leipzig food tour enough. We did this on our recent trip and it was a great way not just to taste lots of local food and drink, but also to learn more about the city.
The three hour walking tour had us stopping six times for food and drinks while the guide taught us a lot about the city both on our stops and as we wandered around. It was great!
You can find out more information about taking a Leipzig food tour (including all the food we ate) in our full review here.
Best Things To Do In Leipzig In Winter
While most of the things to see in Leipzig Germany listed above are possible in winter time, there are also some fun things to do in Leipzig Germany which are especially for the winter months.
Leipzig Christmas Market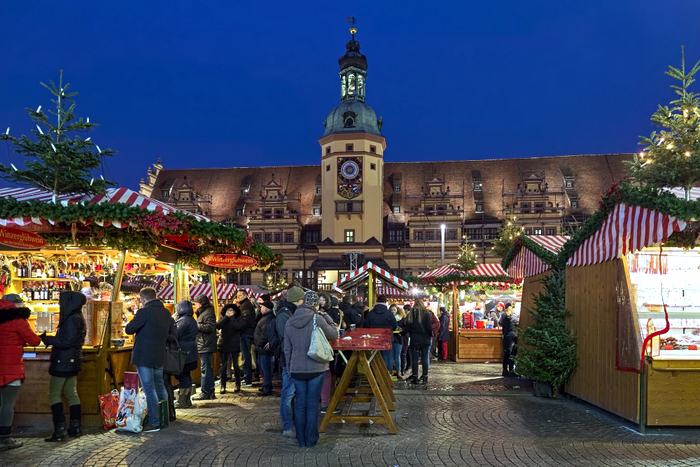 When it comes to places to go in Leipzig in December, there is a massive standout attraction – the Leipzig Christmas Market. Located in and around Marktplatz, this market runs for about a month before Christmas and started in 1458.
It's one of the largest Christmas Markets in Germany with over 250 stalls. There's local food, art and craft creations and more. There is also a traditional performance of trombonists every evening on the balcony at the Old Town Hall.
You can also find Christmas Markets at Augustusplatz, behind the Old Town and by Nikolaikirche. Leipzig is a great place to come for Christmas Markets.
Oper Leipzig (Leipzig Opera)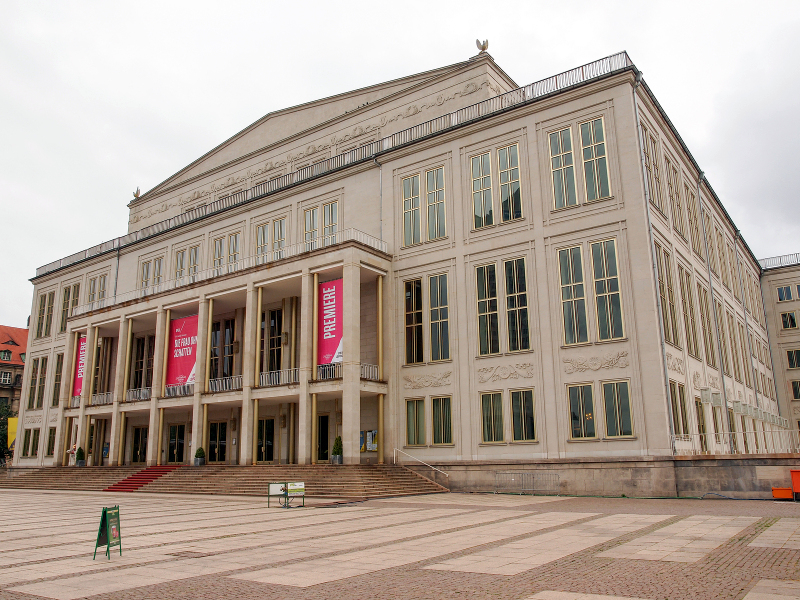 While you don't have to wait until winter to visit the opera house and take in a show, this can be a great time to prioritise it. It's a fantastic inside option or if you are looking for things to do in Leipzig at night. Leipzig has a long and proud muscial history after all.
At Oper Leipzig, you can attend the opera, ballet or musical or more.
The Gewandhaus Orchestra is particularly well regarded so try to visit a performance by them.
Find more information about the latest performances here.
What To Do In Leipzig In One Day – Leipzig Itinerary
Only have one day in Leipzig? What a shame! But it's ok, it's still worth going to Leipzig if you only have one day.
With one day, I recommend you stick to the Old Town attractions. There is a lot of interest here, and you can have a fabulous day exploring.
I recommend you:
Start at Marktplatz and visit the Stadtgeschichtliches Museum (City History Museum) in the Old Town Hall to learn about Leipzig's history
Take a short walk to Zeitgeschichtliches Forum (Forum Of Contemporary History) to learn about the German Democratic Republic
Visit Nikolaikirche (Church Of St Nicholas), the starting point of the Monday Demonstrations
Choose between the Bach-Museum, der Bildenden Künste (Museum of Fine Arts) or the Museum in der Runden Ecke (Museum In The Round Corner) depending on if you are a Bach fan, would prefer to see art or learn about the secret police
Visit Thomaskirche (St Thomas' Church)
Finish the day at Augustusplatz and take a ride up to City-Hochaus' viewing platform
Things To Do In Leipzig With Kids
We visited Leipzig with our three kids aged 6 – 12. While kids can definitely enjoy the top 16 Leipzig attractions above, there are also a couple of attractions below they may especially enjoy.
From the above attractions, ones that worked particularly well were the Asisi Panometer – it's on such a grand scale, just so impressive – and the Museum in der Runden Ecke. They found it interesting to see what the Stasi were up to. It really sparked their imaginations!
Kinder Museum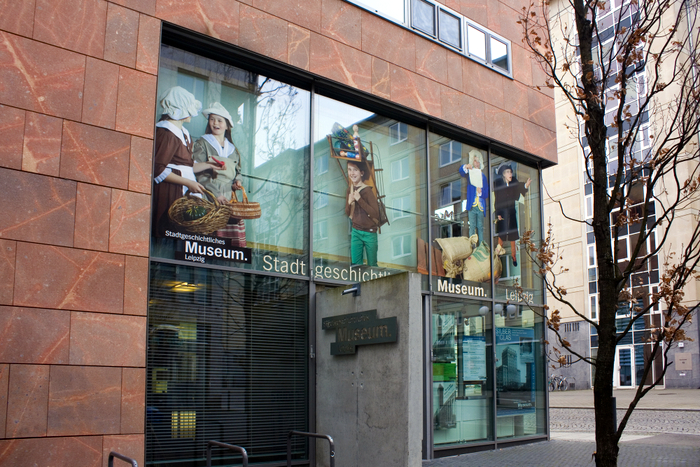 Located in the Haus Böttchergäßche part of the Stadtgeschichtliches Museum (more information about this above), the Kinder Museum is a great place to visit if you are travelling with kids.
Here you will find the interactive exhibition, Children Hold A Trade Fair, which helps children understand the history of Leipzig and its status as a trade fair city.
It's aimed at 6 – 10 year olds and has six themed areas with kids being able to do things like touch and weigh goods, dress up as merchants and traders and learn old currencies. They can also play old games.
It's a fun, educational experience.
Leipzig Zoo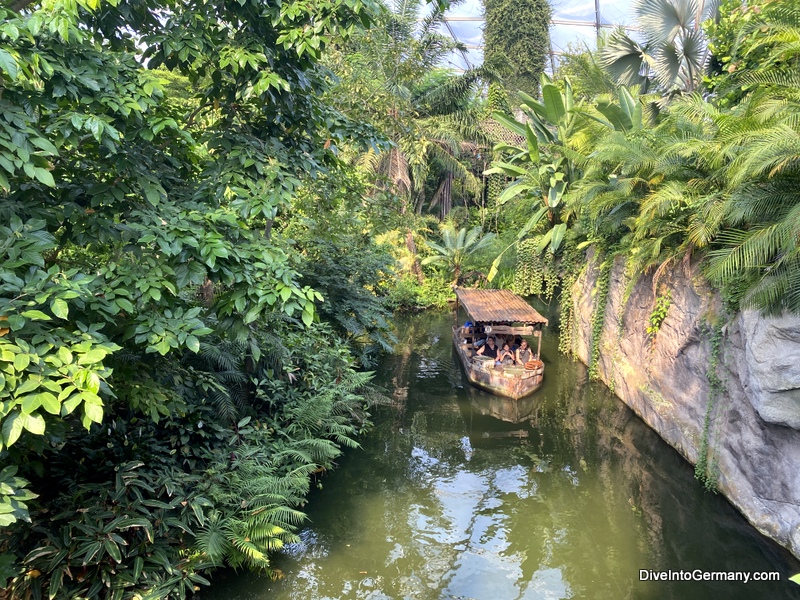 Leipzig Zoo is huge and quite impressive. If your kids love zoos (or you!), this should be high on your list of things to do near Leipzig.
It has themed areas like Africa, Pongoland and Asia. What's really cool is the Gondwanaland biome. This is a massive indoor area that's been set up to mimic the tropics with a temperature of 25°C and humidity set as well.
This allows a whole lot of tropical plants and animals to live and thrive. You can explore via a jungle trail, in the treetops with suspension bridges or by boat. It's very impressive, although I must admit that we didn't spot many animals.
The boat is a small extra fee but worth it, even if you don't speak German like us (so don't understand the presentation at the beginning).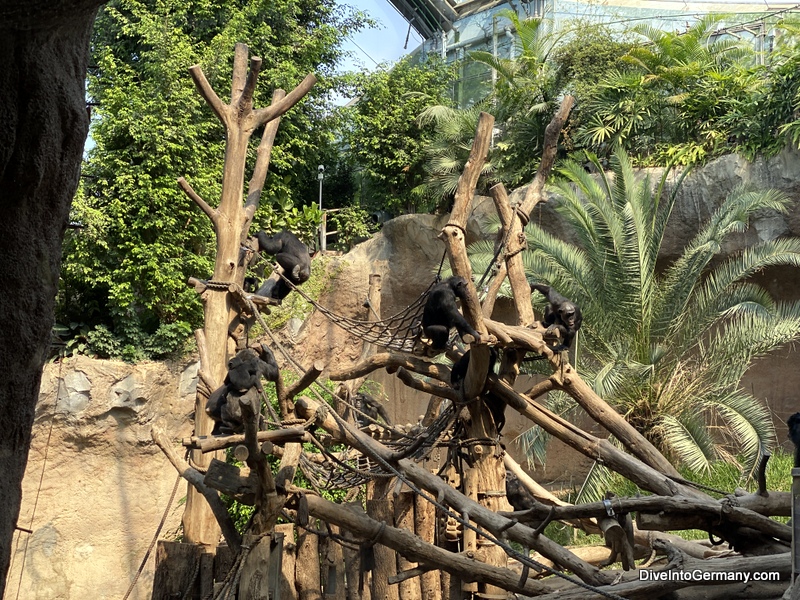 While Gondwanaland is the highlight, there are plenty of other cool things to see at this zoo. I especially liked Pongoland (apes, gorillas, etc) with the chimpanzees being especially fun to watch.
We have been to many zoos around the world to the point where I can be quite blase about visiting zoos now. However, I did not feel blase at this zoo. It's great.
It's located walking distance from the Old Town to make a visit here even easier.
Best Place To Stay In Leipzig
When it comes to where to stay in Leipzig, there is a great range of hotels and other accommodation options. You won't have any problem finding somewhere to stay.
Below I've listed a few different places to consider depending on what type of accommodation you are looking for.
This luxury hotel is moments from Markt Platz and the Old Town Hall in an unbeatable position. It's the best place to stay in Leipzig. Housed in a former exhibition building, you're surrounded by history.
The 5-star rooms and suites all have flat-screen TVs with satellite channels, tea and coffee making facilities, toiletries, bathrobes and most have seating areas. The rooms range from superior doubles to presidential suites and are all well appointed.
Facilities include a restaurant, bar and, my personal favourite, a 2 floor Spa World with saunas, steam bath, gym and massage and beauty treatments. There is also parking for an extra fee.
Click here for the latest prices.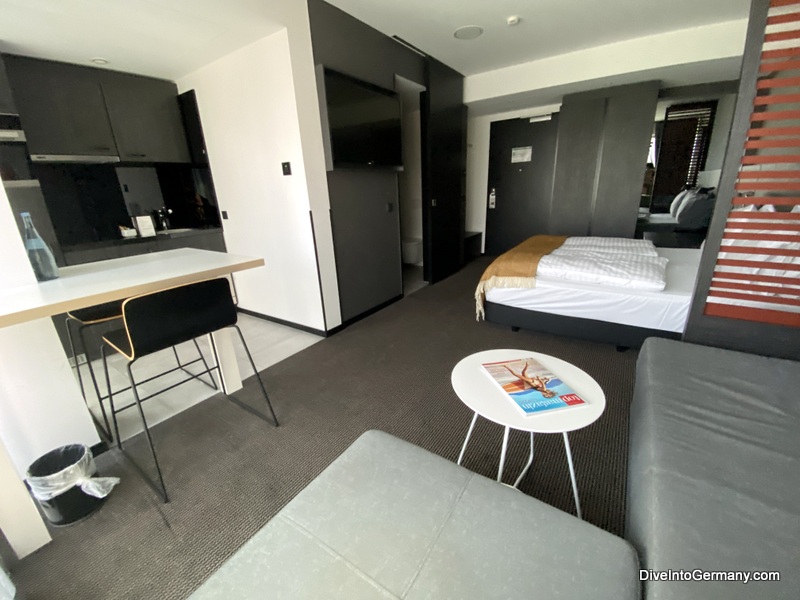 If you would prefer apartment-style accommodation in Leipzig's Old Town, this is the best option for you! Just a few minutes walk from the main train station and around the corner from the Fine Arts Museum, it's easy to explore Leipzig from here.
The hotel is located in an historic Brühlpelz building and rooms are either studios or one-bedroom apartments. They all have seating areas and fully equipped kitchens as well as tea and coffee making facilities and washing machines. The upper floors also have great views.
What I love about this hotel is that there is a great range of facilities as well – many apartment hotels focus on just their rooms and also don't have restaurants, room service, a gym and a pool. But the Adina Leipzig has all of these things! They also have parking available nearby for an extra fee.
Click here for the latest prices or find our full review here.
This hip, modern hotel is the place to stay in Leipzig for something different. Located to the east of the Old Town about a 5-minute walk from Augustusplatz, it's easy to explore from here.
Designer rooms are twin and doubles (some with a sofa bed) with a range of extras depending on which you pick. For example, the Penta Playerpad room could have a Playstation, a football table or a pinball machine! You can also chose a room with lounge access for unlimited snacks and drinks in the evening and breakfast included.
Facilities include a large pool with a sauna area and gym. There is also a restaurant and bar which they invite you to treat like your living area. Parking is available for an extra fee.
Click here for the latest prices.
Find more of the best hotels in Leipzig here.
Leipzig Attractions Map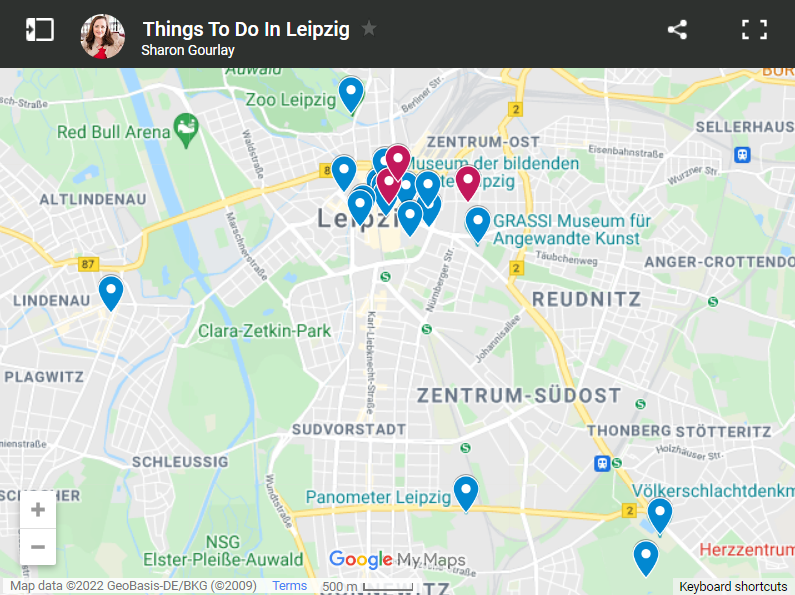 How To Get To Leipzig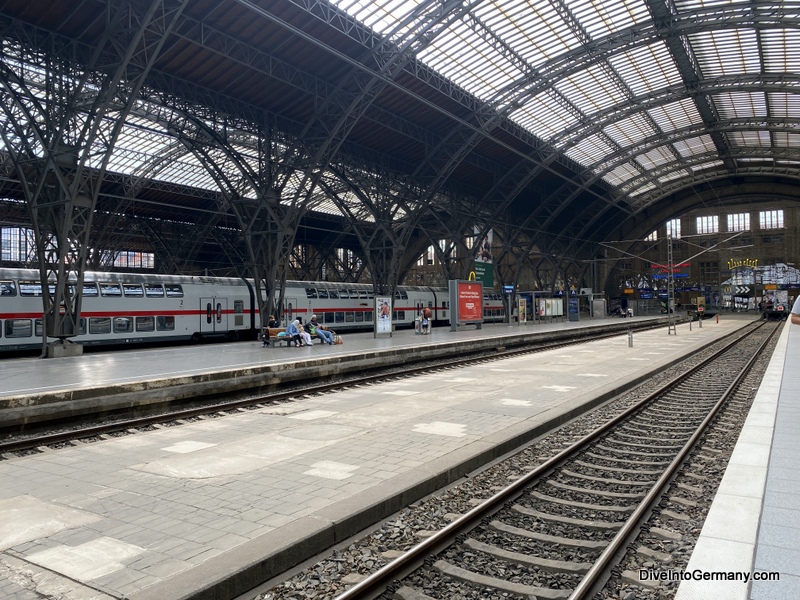 We travelled to Leipzig by hire car which made it very easy to get here. It's a major city, and it's simple to find.
You can hire a car to get you there by clicking here.
There is also an airport with flights within Germany and Europe.
Click here to see the latest flights and prices.
There are regular trains and buses here. You can find timetables and all your options here.
Once in Leipzig, we found it easy to use public transport, although most of the time, we explored on foot. There is a wide range of trams, buses and trains and one ticket can access what you need. You can find more information here (use browser translate tools).
Most tram and bus stops and train stations have ticket machines and you can also buy them aboard trams and buses. You can also use the LeipzigMove app to buy tickets. Find more information here.
Final Words
Leipzig is an interesting and fun place to visit with some great attractions. I particularly enjoyed learning about the old German Democratic Republic here and I look forward to visiting the massive Christmas Markets next time.
But most of all, I really enjoyed just hanging out in this city. It certainly lives up to the hype in its nickname Hypezig. It ended up being one of my favourite places in Germany and it's worth a spot in your itinerary.
Whatever you chose to do when you visit, I'm sure you'll have a great time!
Check out all the best hotels in Leipzig for your great stay here, read more guides to visiting Eastern Germany here or find our full guide to nearby Dresden here or nearby (and gorgeous) Quedlinburg here.