Looking for a unique attraction which shows you the history of Dresden in an informative, different and fun way?
Consider visiting the Dresden Panometer!
The Dresden Asisi Panometer shows 360° panoramas that are 27 metres high and 105 metres in circumference. The idea of pictures so big blew my mind a little and I knew I had to go to see it for myself.
I especially loved the idea of seeing Dresden's past – how it look before rebuilding at the end of World War II and how it looked even earlier, before it was flattened in the War at the height of the Baroque period.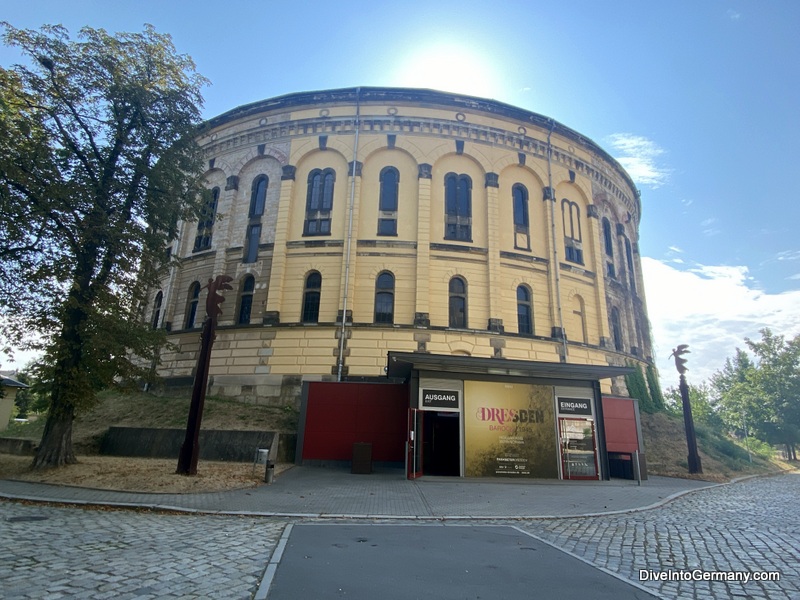 So is it worth it? Should you make your way to the Dresden Panometer?
Below, I cover everything you need to know about the Dresden Panometer including exactly what it is like to visit here.
Let's start!
You can also find our full guide to Dresden here.
Traveling to Germany? Click here to download your free Germany Trip Planning checklist. We'll help you get ready for your trip! 
What Is The Dresden Panometer?
The Dresden Panometer was created by the Austrian artist, Yadegar Asisi – the same person who created the Asisi Panometer in nearby Leipzig. He used the hollow interior of a disused telegraphic gasometer to display these massive panoramas.
The images are 27 metres tall and 105 metres in circumference.
The images shown vary over time. At the time of publishing, you were able to see images of Dresden in the middle of the 18th century (Dresden Baroque) under Augustus the Strong or in 1945 with the effects of the bombing in World War II (Panometer Dresden 1945) – what you see depends on the time of year you go.
So note that you can't pick which show – it'll be determined by the date you visit.
Whatever you see, there are exhibits with further information about the times pictured in addition to the main panoramas.
You can get a great idea of what you'll find at the Dresden Panometer in the following short video:
Dresden Panometer Review
When we visited, Dresden Baroque was showing. It was fantastic to see this period of Dresden's history and to learn more about it.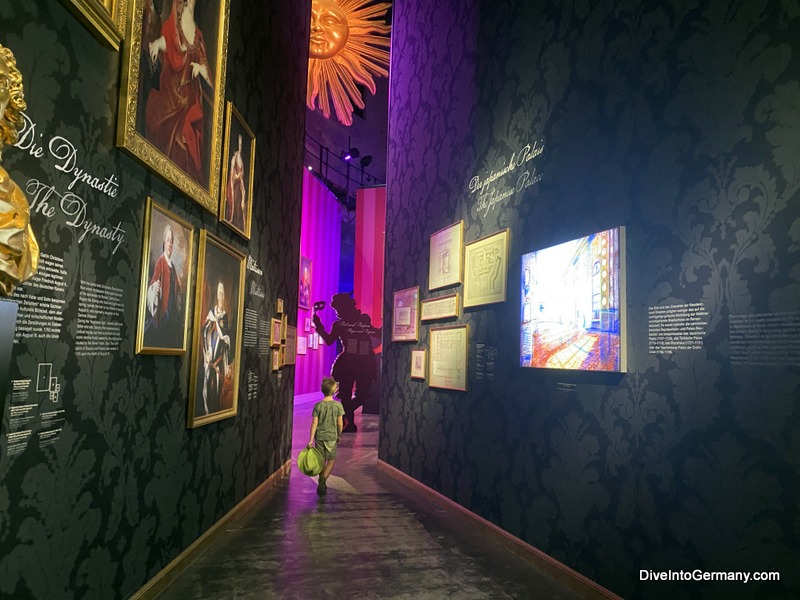 The experience starts with a small, but informative museum-like section with exhibits on this period of Dresden's history at its most affluent time with lots of information about Augustus the Strong, his family, the construction that took place around then as well as aspects of life at this time.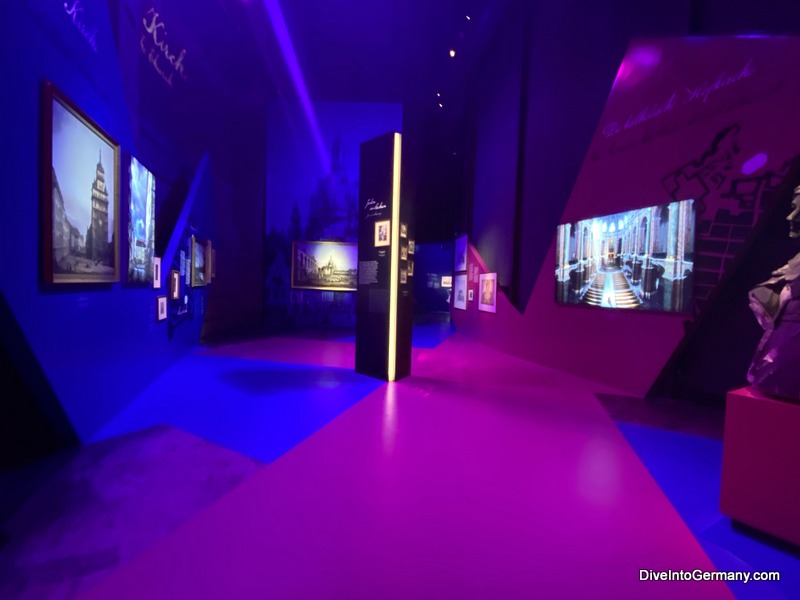 Of course, this is all just a precursor to the main event – seeing the huge panorama of Dresden.
It took my breath away when I walked into this area that shows Dresden between 1695 and 1760.
The panorama is huge. But, more importantly, I think, is that it's also very detailed. There is simply so much to see.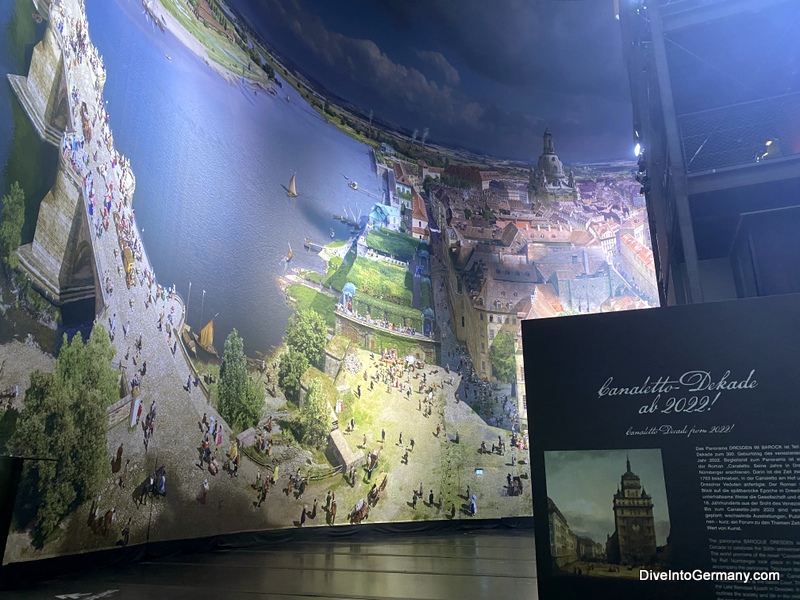 It doesn't just show the buildings and scenery of the time, but also shows daily life with so many things going on in the image. It even shows visitors to the city such as Casanova and Bach as well as a market and much more.
The image is centred on Dresden Cathedral as the central spot. There is a tower in the middle of the room which you can climb to 15 metres tall – so it's like you're climbing up the cathedral tower.
Each level in the tower gives you a different view of the panorama and I noticed different things at each level. You do need quite awhile to take it all in from the ground, from the top of the tower and several levels in between.
You can hire binoculars from the ticket office which I recommend if you want to really take your time and absorb it all.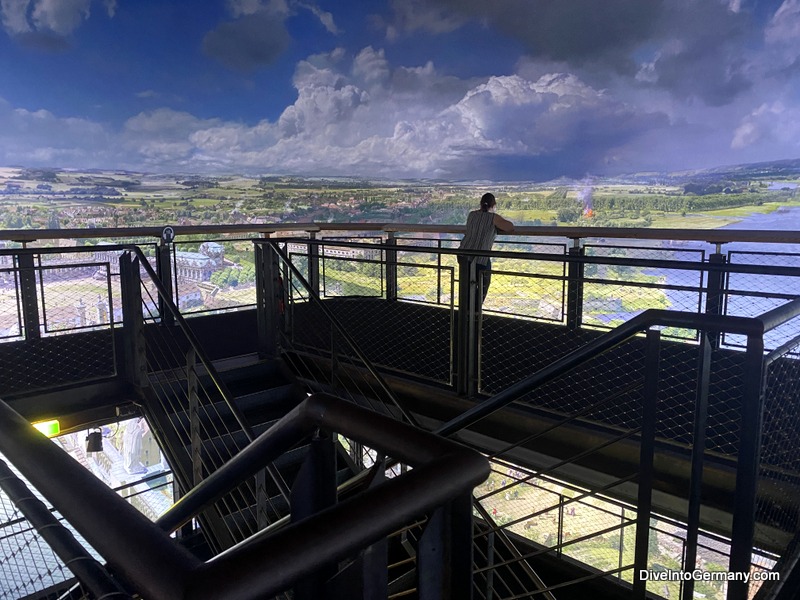 What's also very cool is that it cycles between night and day. So at times, you are seeing day views, at other times, night. While the actual image doesn't change, the lights dim and lights come on in the scene. It does give you a different view and different things to notice.
My only (very minor) complaint is that I wish they didn't keep it so realistic and had much longer day time compared to night. It's 100% worth seeing it in the night-time. However, once I saw it in the night once, I really just wanted to see it in daylight so I could focus on the detail.
There are information boards around this area with more information. Some on the ground level highlight particular parts of the panorama and they are especially worth reading and finding what they are talking about in the image.
If you can pull yourself away from the panorama, there are a couple of final exhibits on how it was built – like how they worked out what should be in the image and what Dresden would have looked like then. It's quite interesting and includes a film.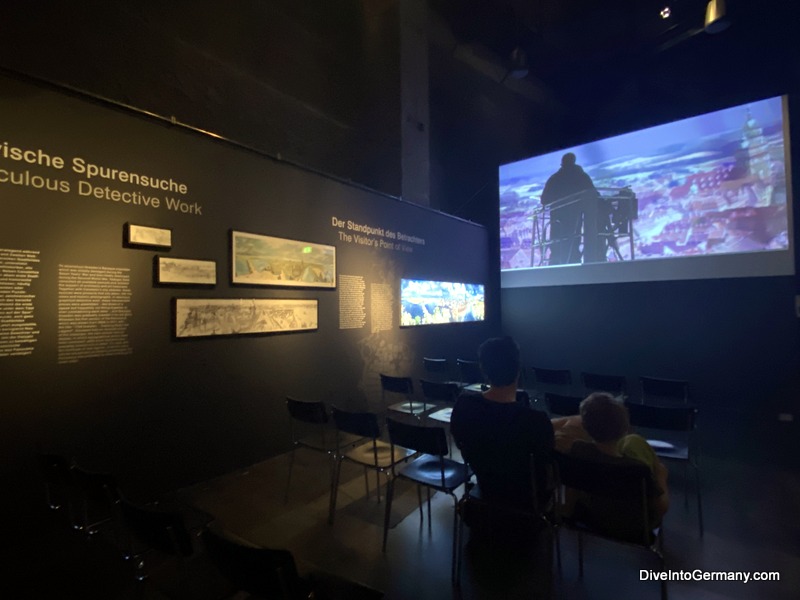 There are also small panorama images of Dresden from 1935, right after the bombing in 1945, in 1955 and 2015. They make for quite an interesting contrast.
Finally, there are touchable screens with more information about life in Dresden during the Baroque period but unfortunately, these are only in German so we skipped this. Everything else was in English as well as German though.
It's incredibly interesting to see these images after a day wandering around Dresden to compare now with then.
The panorama itself is definitely the highlight. I came for the novelty factor, but I left wishing every city had an attraction like this. It was amazing and a great way to learn some history and have some insight into times in the past.
We visited here with our 6 year old son. It worked great for him too as he was hypnotised by the image which meant more time than we usually get at attractions to check everything out!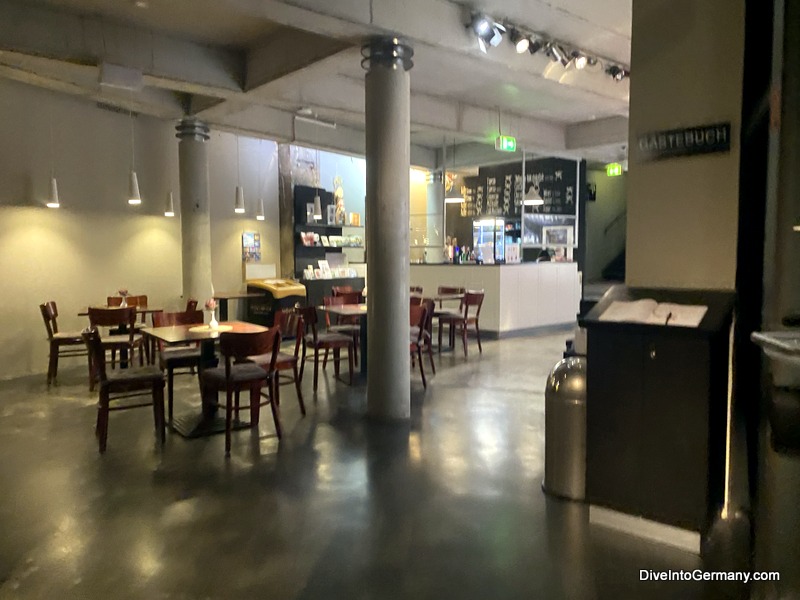 There is a small cafe at the end.
Asisi Panometer Dresden Location
The Dresden Panometer is located about five kilometres southeast of Dresden's Old Town. There is parking on-site if you are driving. Otherwise, it's easy to get here on public transport, and there are regular trams from the Old Town area.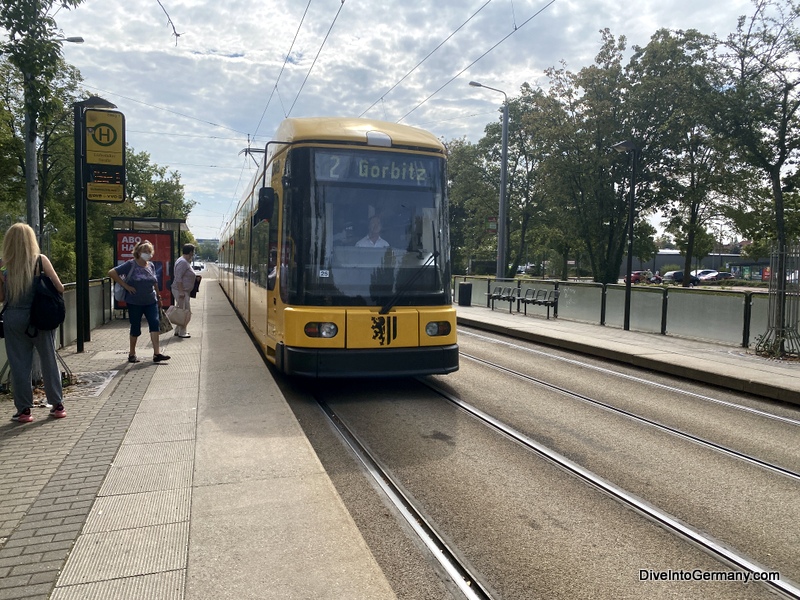 It's about a ten-minute walk from the closest stop which is how we got here.
Address: Gasanstaltstraße 8B, Dresden 01237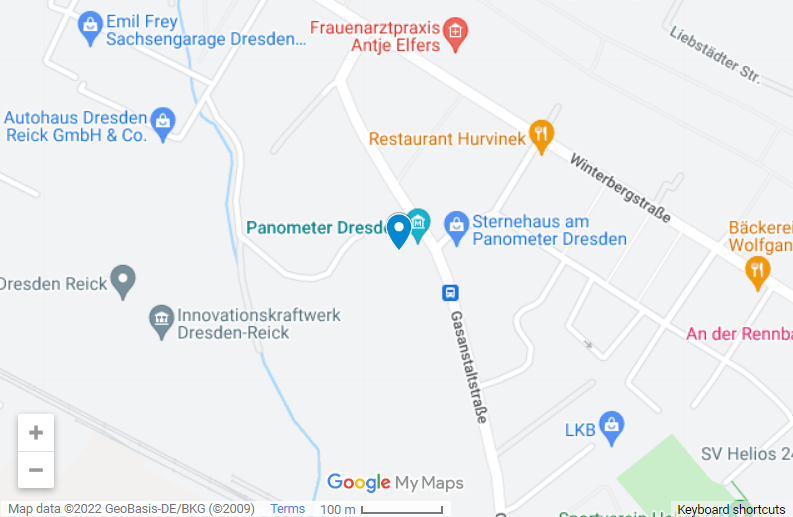 Panometer Dresden Tickets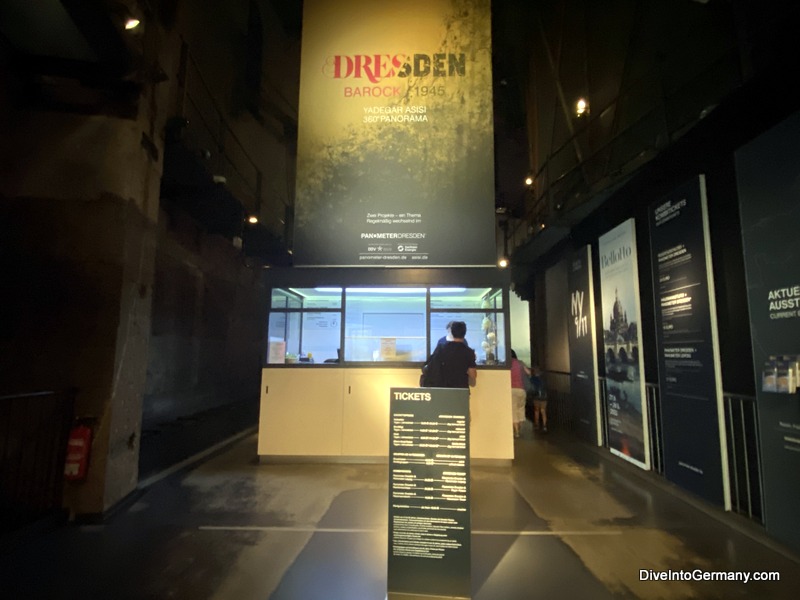 At the time of publishing, tickets cost 13 Euros for adults and 6 Euros for kids. There's also a family ticket.
You can buy tickets in advance on their website.
Final Words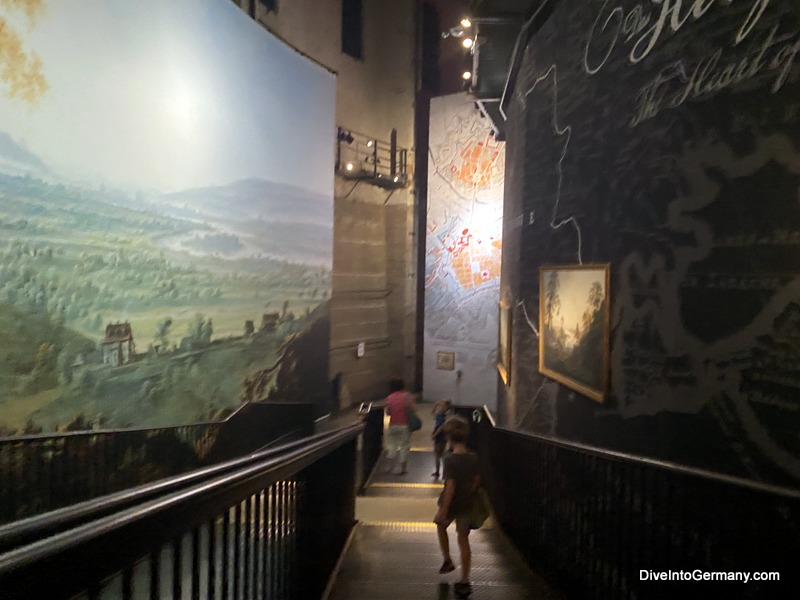 The Dresden Panometer is a great place to go to visualise Dresden in times gone by compared to how it is now.
It's really an innovative and interesting way to explore history and how things used to be. I very much enjoyed visiting here and would love to return to see the 1945 exhibit.
Definitely place this on your list of attractions to see in Dresden!
Looking for more? You can also find our full guide to Dresden here, accommodation options in Dresden here and all our guides to travelling eastern Germany here.