Looking for great value accommodation in the heart of Leipzig with great facilities and plenty of space?
Look no further! The Adina apartments Leipzig are exactly what you are looking for.
One of my favourite chains, the Adina Apartments are great. They don't just offer handy apartment style accommodation in great spots but also have a range of facilities that aren't common for apartment-style accommodation.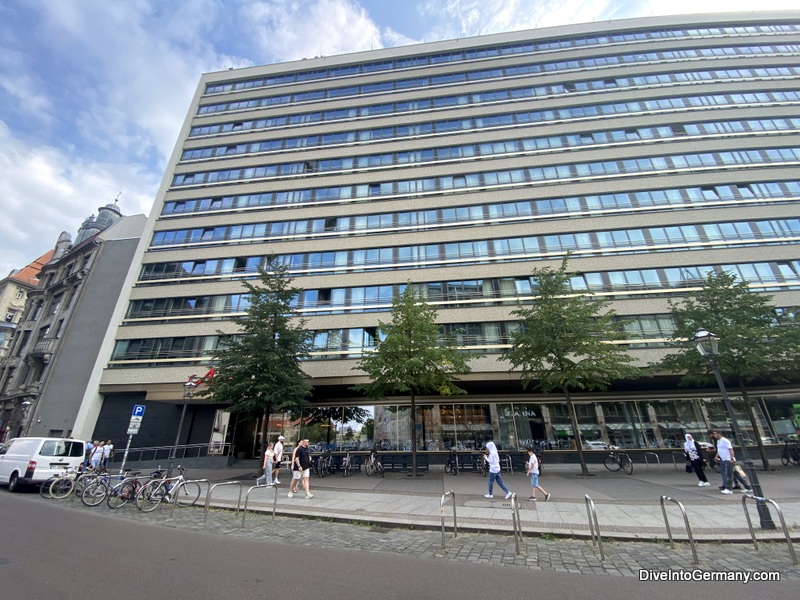 This is why I always seek out Adina Apartments in Germany, especially since we travel with kids.
So how about the Adina Apartments Leipzig? Are they good? Do they live up to the brand? Should you stay there? Let's find out!
Click here to see the latest prices.
Traveling to Germany? Click here to download your free Germany Trip Planning checklist. We'll help you get ready for your trip! 
Adina Apartments Leipzig Review
The Adina Apartments Leipzig are housed in the historic Brühlpelz building.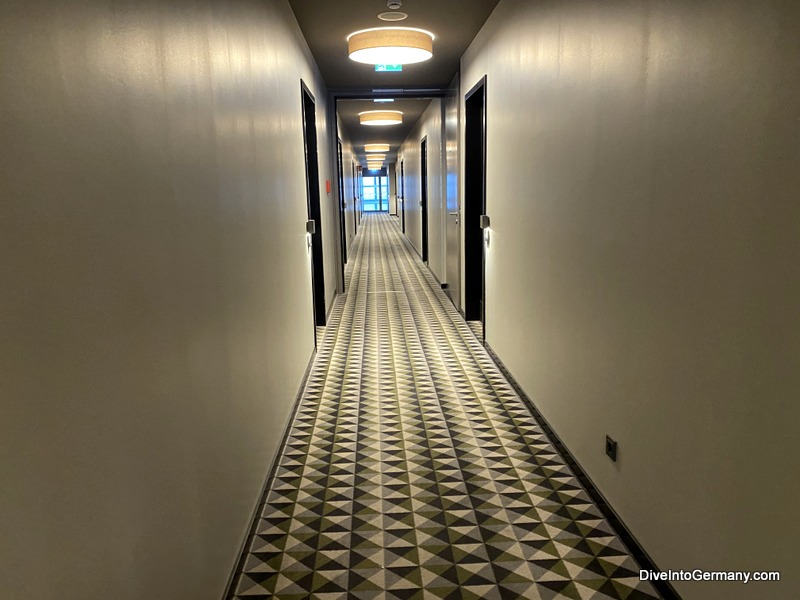 Location
The Adina Apartments Leipzig are in a great location just a few minutes' walk from the main train station and a few minutes' walk from the main square, Marktplatz. All attractions in the Old Town/central area can be reached on foot by here and public transport is easily accessible.
There are many shops and restaurants surrounding this hotel and it's in a great location. It really did feel like we could be anywhere we wanted in moments.
There's also a small playground right next to the hotel.
Address: Brühl 50, Leipzig 04109
Rooms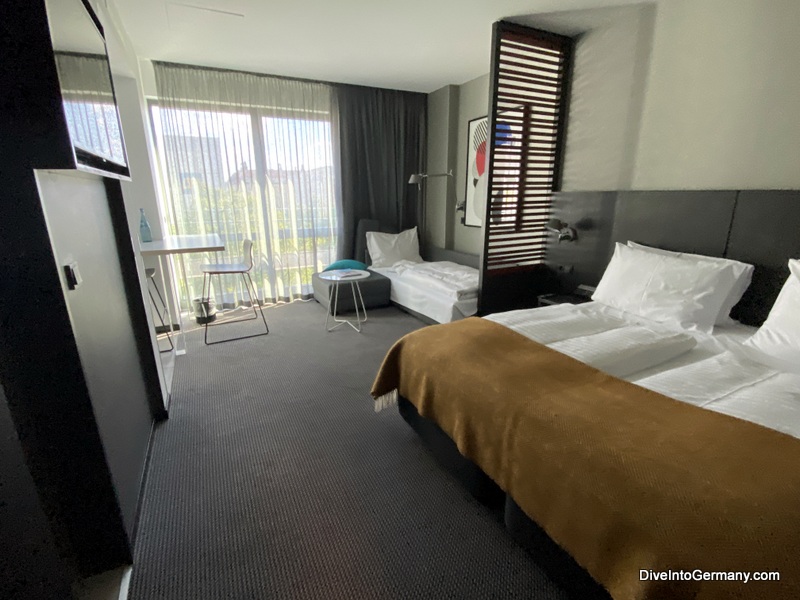 All rooms at the Adina Leipzig are apartment style. They come in one bedroom and studio options that can either be standard or premier.
All options have a living area, fully equipped kitchen including stove, oven, dishwasher, a dining area, washing machine and private bathroom. The studios are smaller with everything in the one room apart from the bathroom. The one bedroom apartments have a separate bedroom.
The premier options are very similar and the same size but are on higher floors with better views and offer a few extras like bathrobes.
Our family of five stayed in two studio rooms. We had an extra bed in one (which is basically making up the lounge suite) for an extra charge. The rooms were next door to each other. I don't think they have connecting rooms.
Click here to see the latest prices.
Studio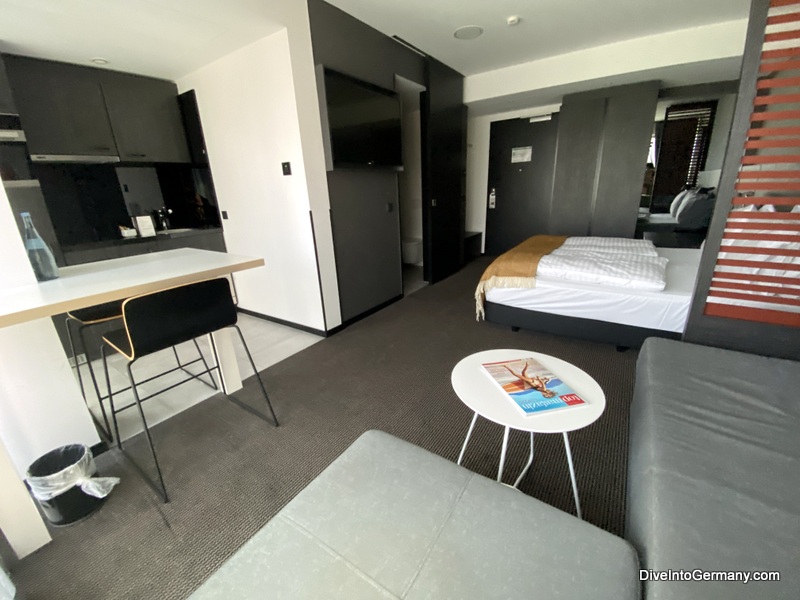 Our studio apartments were identical. They had a separate bathroom and then an open plan bedroom/living/dining/kitchen. It was a little smaller than I expected to contain so much but the space is used well and I didn't feel like the room was squished.
The bedroom area has enough cupboard space, a king sized bed, TV and little bedside tables including a phone.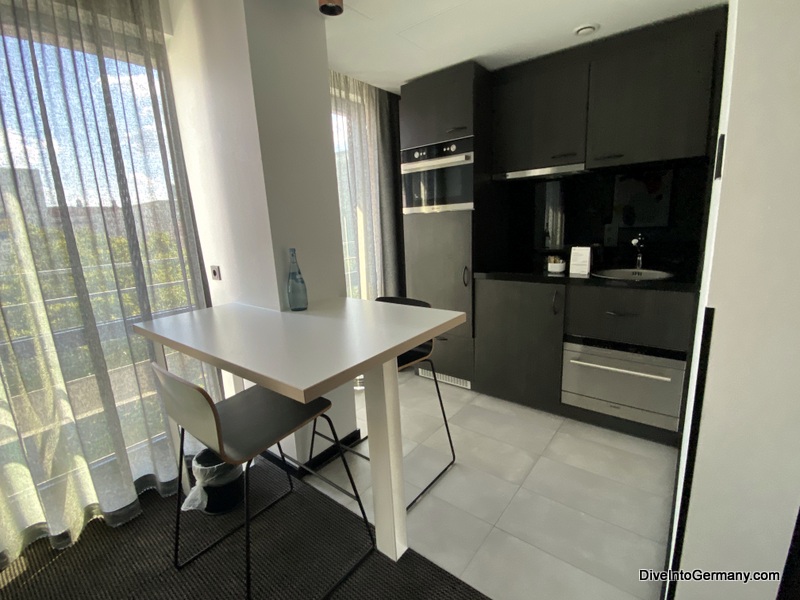 The living area is a big L sized sofa with coffee table (that can be converted to an extra bed for a child). The dining area is a high table with two high chairs.
The kitchen is small but had everything we needed to cook and clean.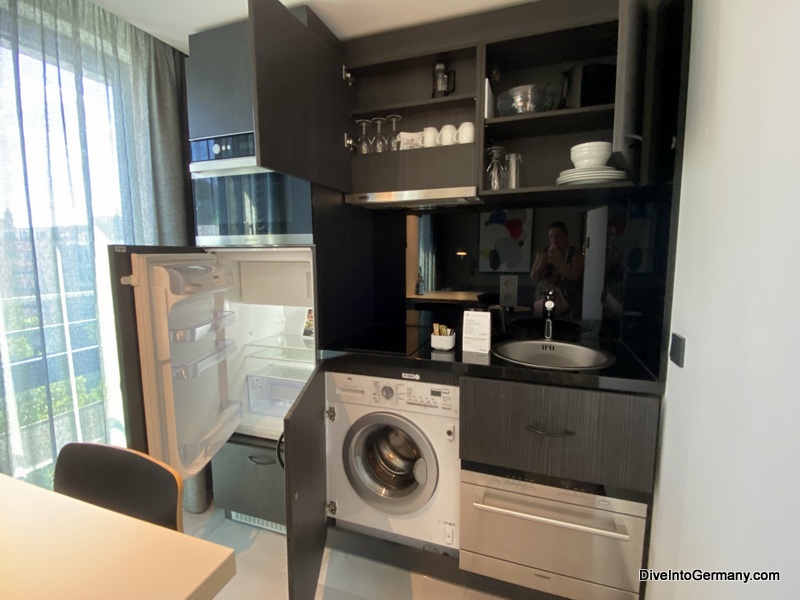 The kitchen is also home to a washing machine. A fault is that there is no dryer and nowhere to really hang your clothes when they are wet. This was annoying for us as a family of five with plenty of washing, and I think some apartments may have a combined washer/dryer. They really all should have this.
The bathroom has a shower, toilet and wash basin. The shower is big and I loved the long shelf at the basin. Shampoo, hand soap and body lotion is supplied.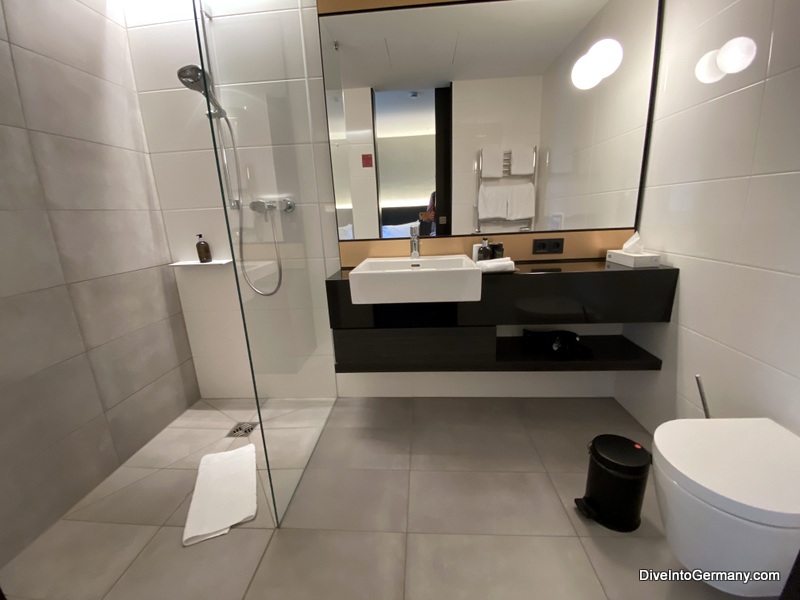 The room has climate control, but it didn't work that well. We stayed in summer and the rooms stayed quite warm despite being on highest setting. More annoying was our second day, they must have turned it off at a master control. At 9pm when it was still really hot in our room and our kids couldn't sleep, we rung up to find out they could turn it back on.
You can open the windows for fresh air – but this does also let in noise. This was minimal when they were shut, even on a Saturday night when there was quite a crowd outside. It's a great spot and I liked taking in the plaza behind the hotel which we had a view of.
Overall, I liked these rooms and they are incredible value.
Facilities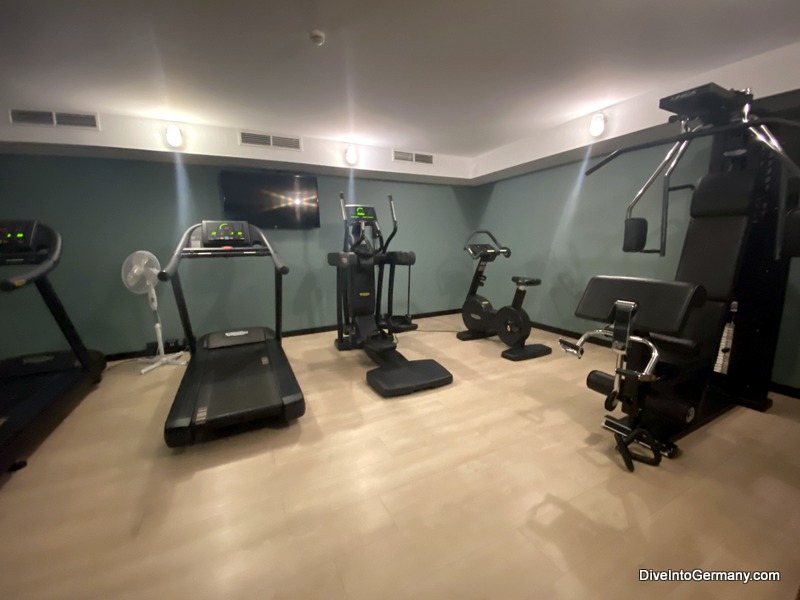 One of the many things I love about Adina Apartments Leipzig is there great range of facilities. Usually when we stay in an apartment, we miss out on the extras hotels can have but not here.
There is a gym, sauna and indoor pool – at least, supposedly there is a pool area.
The pool was shut during our stay after an incident with a guest they were cleaning up after. Unfortunately, they first notified us about this eight months previous to our stay when I booked the hotel and I would have expected it to be "cleaned up" by then. I have to wonder if they plan to open it again. If you have stayed and the pool is open, please let us know!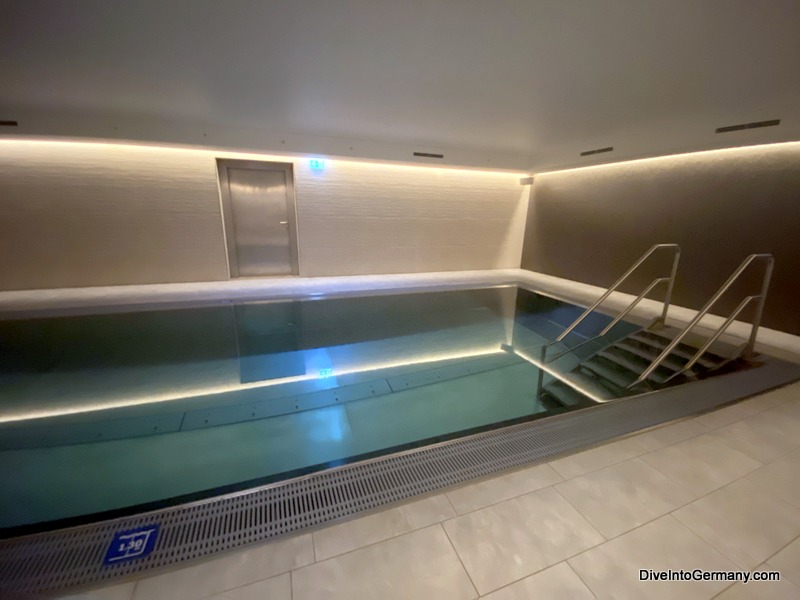 There is also free wifi at this hotel (great speed) and meeting rooms.
Unfortunately, there is no parking. We parked at the recommended spot which is the nearby shopping centre, Höfe am Brühl. This is only a couple of minutes walk and we were able to park for 11 Euros for every 24 hours when we stayed. It's the next best thing to parking on site and we had no problems with this.
Dining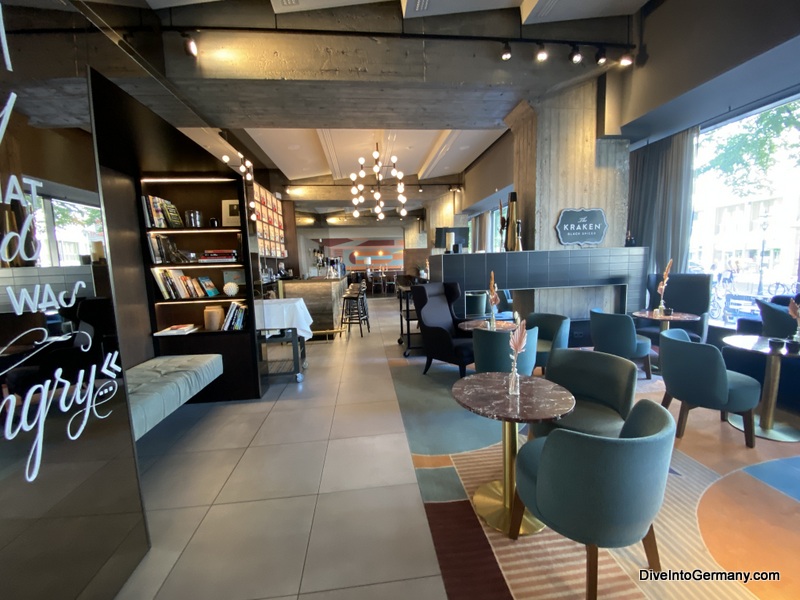 There is a restaurant on-site, the Alto Restaurant and Bar. You can eat a buffet breakfast here and it is also open for lunch and dinner or a cocktail or two.
You can also order room service pizza. These cost just under 10 Euros when we stayed here.
There's also a small snack bar where you can buy snacks and drinks and take them up to your room (instead of having your minibar stocked).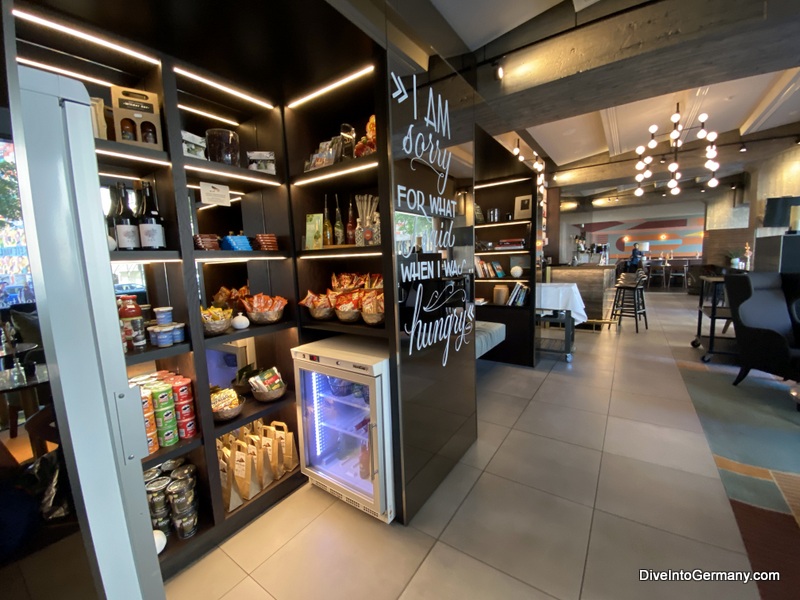 Final Words
I really enjoyed staying at the Adina Apartments Leipzig. It's just so easy staying here! I love how well equipped the rooms are with full kitchens and washing machines while we still have all the facilities of a hotel with pool, dining and more. Add in the great location, and you can't beat the Adina Apartments Leipzig!
The service was also fabulous and I found the staff great to deal with.
My only small gripe is that I wish they had two bedroom apartments as our family of five had to stay in two different rooms. And I wish that they had dryers in the room or at least some type of drying rack to dry our clothes and didn't make us ask to get air conditioning.
Even paying for two rooms, the Adina is a great price, and I would definitely stay here again.
Click here to see the latest prices.
Looking for other accommodation options in Leipzig? Find our full hotel guide here. You can also find our full guide to things to do in Leipzig here and all our guides to eastern Germany places here.