If you're planning to take a day trip to Salzburg from Munich, you're in for a treat. Salzburg is an incredibly charming Austrian city just across the Germany-Austrian border. In this article, we tell you exactly how to take a Munich day trip to Salzburg with all your options for an easy and fun trip.
Below, we have everything you need to know including whether it's worth taking Salzburg day trips from Munich, the distance Munich to Salzburg, the best way to get from Munich to Salzburg including how to take a train to Salzburg from Munich, a Munich to Salzburg bus or what it's like to drive Munich to Salzburg.
We also give you plenty of information on the best way to enjoy your day trip with a list of the best Munich to Salzburg tours. If you travel independently, we share our best Salzburg day trip itinerary so you can follow that and make the most of your time in Salzburg.
Traveling to Germany? Click here to download your free Germany Trip Planning checklist. We'll help you get ready for your trip! 
Is It Worth Taking A Munich To Salzburg Day Trip?
Salzburg is an incredibly scenic city and there are many things to do here. If you travel Munich to Salzburg for a day trip, unfortunately you won't be able to see everything in just one day.
However, taking one of the Munich day trips to Salzburg listed below is a better option than not visiting at all!
You can certainly get a sense of the city's vibe in one day, as well as visit some of the main highlights. It also depends on what you want to see. We've written more below on how to get the most out of your day trip tour from Munich to Salzburg.
How Far Is Salzburg From Munich?
The distance between Munich and Salzburg is about 145 kilometres heading southeast. This journey typically takes 1.5 to 2 hours by car or bus, but this can be impacted by heavy traffic and the exact route you take.
How far is it from Munich to Salzburg by train? It is typically the same as by car. If you leave from Munich Central Station and arrive in Salzburg Main Station, the journey typically takes between 1.5 to 2 hours.
Exactly How To Take A One Day Trip From Munich to Salzburg
You basically have four options for getting from Munich to Salzburg. You can…
Take a Munich to Salzburg train
Take a bus from Munich to Salzburg
Drive across the border
Join a tour
Three of the options above – driving, or taking a bus or train – are independent. A tour is another option where the planning is done for you.
Which option is best? Read on!
Munich To Salzburg Map
Below is a map for getting from Munich to Salzburg Austria so you have an idea of the Munich to Salzburg distance and path involved.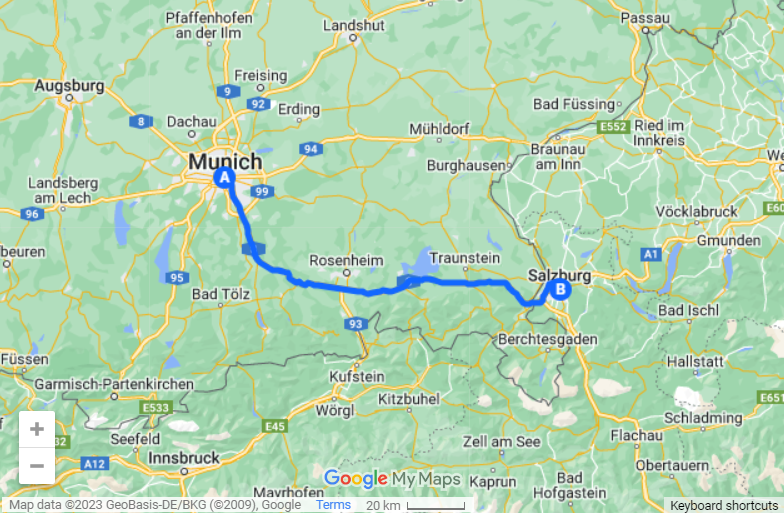 How To Travel From Munich To Salzburg By Train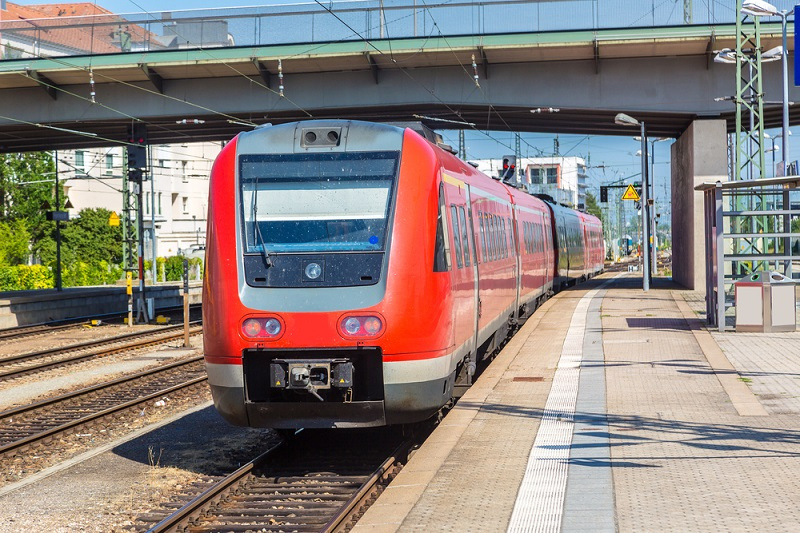 It is very easy take a train from train from Munich to Salzburg. Trains from Munich to Salzburg depart from Munich Hauptbahnhof (Munich Central Station), and there are several rail operators to choose from.
The journey typically takes just under 1.5 hours if you take the fastest Railjet high-speed train. This is covered by the Eurail Pass. These trains are comfortable and have WiFi, entertainment and sell food and drinks.
There are other options including regional trains which take between 1.5 to 2 hours to cover the same distance. Regional trains are covered by the Bayern Pass (Railjet is not), so this is your best option if you have this pass.
You'll arrive in Salzburg Main Station, from which it's just a short walk to city centre.
Click here to see all your train options and prices.
Travelling From Munich To Salzburg By Bus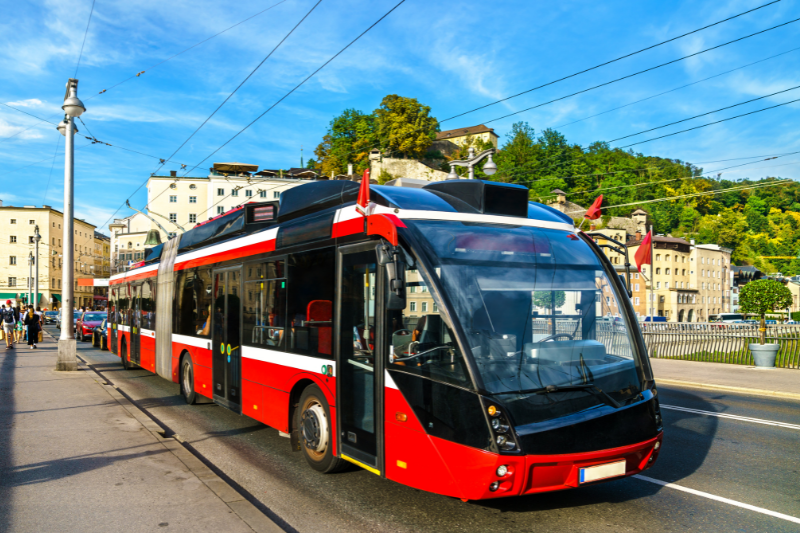 You can also take the bus Munich to Salzburg. Flixbus buses depart from Munich Central Station and the journey typically takes between 1 hour and 50 minutes, and 2 hours and 10 minutes.
The price is quite affordable and buses have conveniences like WiFi, power outlets and a toilet. There are services running throughout the day from 4:05am to 11:40pm at night.
One of the disadvantages is that the bus arrives in Salzburg South, so you'll need to take a train, bus or taxi to the city centre.
Click here to see all your bus options and prices.
Driving From Munich To Salzburg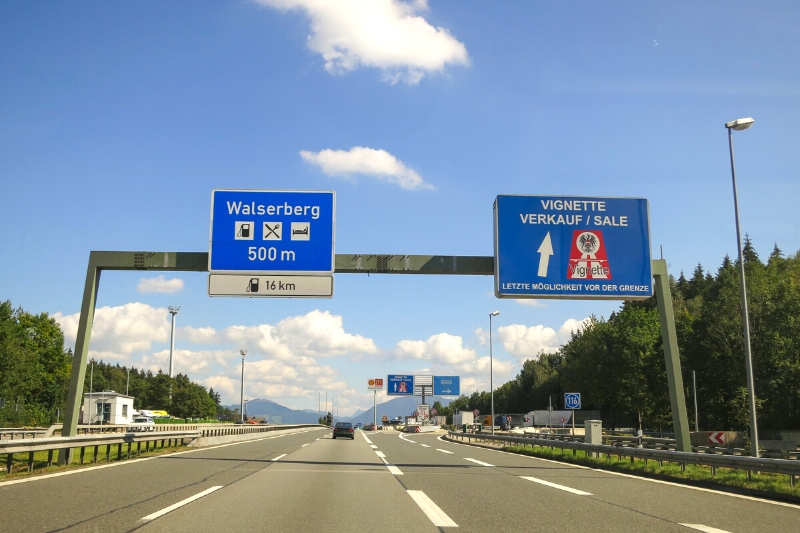 As stated the driving distance from Munich to Salzburg is about 145 kilometres (depending on where you start) and takes about 1.5 to 2 hours. It is quite a scenic drive from Munich to Salzburg but the driving time can be impacted by traffic which can stand still in both cities.
The benefit with driving is that you have a bit more freedom to explore and can even visit nearby towns (if you have the time). With the train being so easy, I wouldn't recommend a Munich to Salzburg drive unless you really want to. Parking can be tricky and fuel prices are expensive which can make the journey by car quite pricey.
Having said that, the drive is easy. From Munich you'll simply head on the A8 autobahn until you reach the Austrian border, where you will continue on the A1 for a short while before you exit to Salzburg.
Can you drive from Munich to Salzburg without a vignette? Yes, if you don't plan on visiting other parts of Austria. A vignette is required in Austria to drive on toll roads. The short stretch from the border to Salzburg is exempt from needing a vignette.
If you plan to explore further, you'll need to purchase one. You can do this at the border.
Click here to see rental car options and prices.
Why Book A Salzburg Tour From Munich?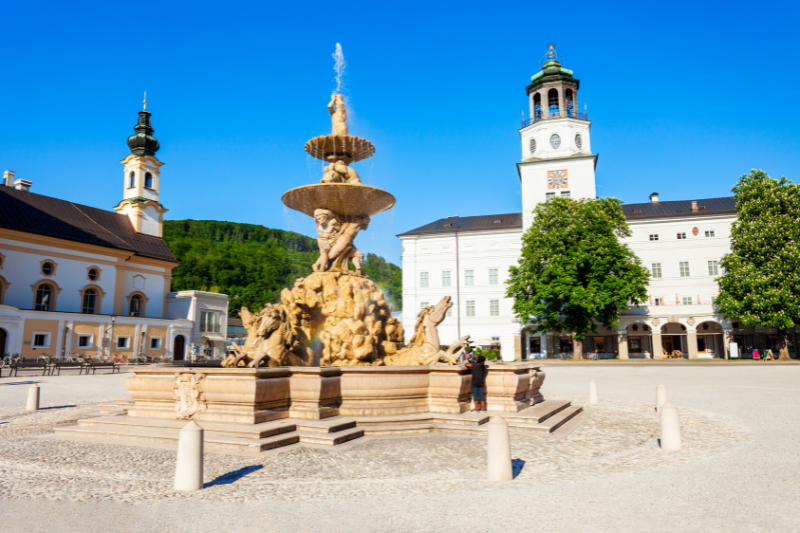 For day trips from Munich to Salzburg, a tour is the best option. Getting from Munich Germany to Salzburg Austria and back again can take over 4 hours, not to mention planning your visit and getting between attractions. When you just have one day, you don't have any time to waste.
Tours to Salzburg will include your transportation from Munich to Salzburg, they will have the entire itinerary planned for you, will take you between attractions and often include entry prices to attractions.
You can also pick a tour that focuses on the attractions that interest you. With only one day, tours are the best way to explore Salzburg.
Compare All The Best Munich Tours To Salzburg
Here's a quick comparison of all your Munich to Salzburg day trip options.
You can read more about each of these options below.
Best Tours From Munich To Salzburg
Here's a short review of all your Munich to Salzburg tour options. Simply pick the one that most appeals and click the link under it to see the latest price, availability and to book in.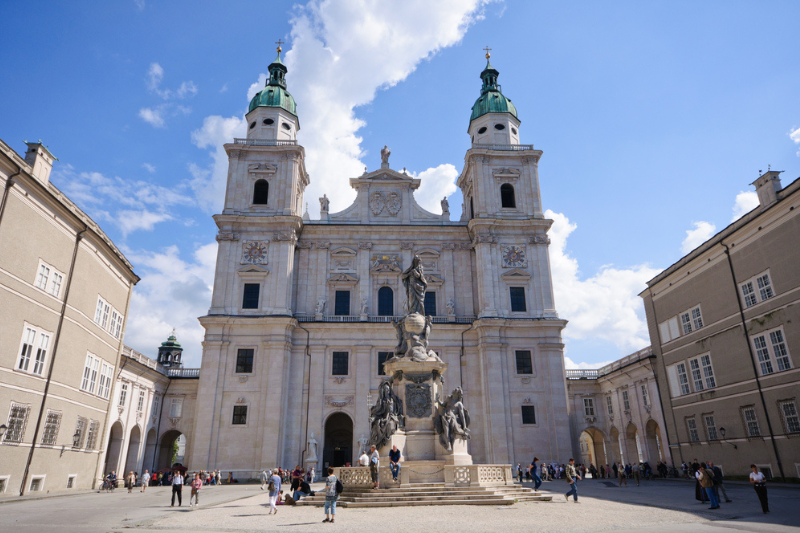 This small group tour offers the perfect mix with a guided tour and time for independent exploration. The tour starts just near Munich Central Station at 9am at the Radius Tours Office, where you'll make your way to the train to Salzburg.
Once you arrive in Salzburg, your guide will take you on a 1.5 hour city walking tour. This guided city tour includes information on the history of the city and important sites like Mozart's residence and The Sound of Music sites. After this you'll have 3 whole hours to explore the city and its sites independently. This is enough time to get lunch, see the Salzburg Cathedral and fit in a visit to the impressive medieval Festung Hohensalzburg fortress.
Return train tickets are included, so the Salzburg to Munich train is also covered. When the train from Salzburg to Munich arrives, the tour concludes either at the tour office or Munich Central Station.
Click here to see the latest prices.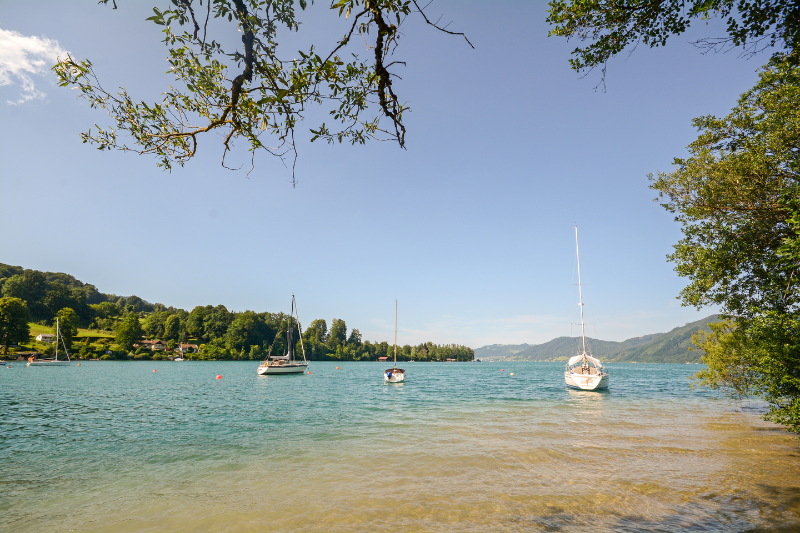 This is the perfect tour if you want to venture further and see the Lake District and the town of St Wolfgang. This tour meets at a bus stop near Munich Central Station at 8:10am for an 8:30am departure.
After the scenic drive to Salzburg, you'll go on a short 30 minute walk through the city to orientate yourself, and then you can explore with free time to spare. Time is limited but there's enough time to see Mozart's House, the Mirabell Gardens and Old Town.
The bus then takes you to Lake Wolfgang passing through Lake District. Explore for 30 minutes and then take an optional boat ride (for a fee) between April and October.
Fitting so much in results in a cramped tour. However, this is still a good tour for seeing the beautiful scenery around Salzburg with limited time.
Click here to see the latest prices.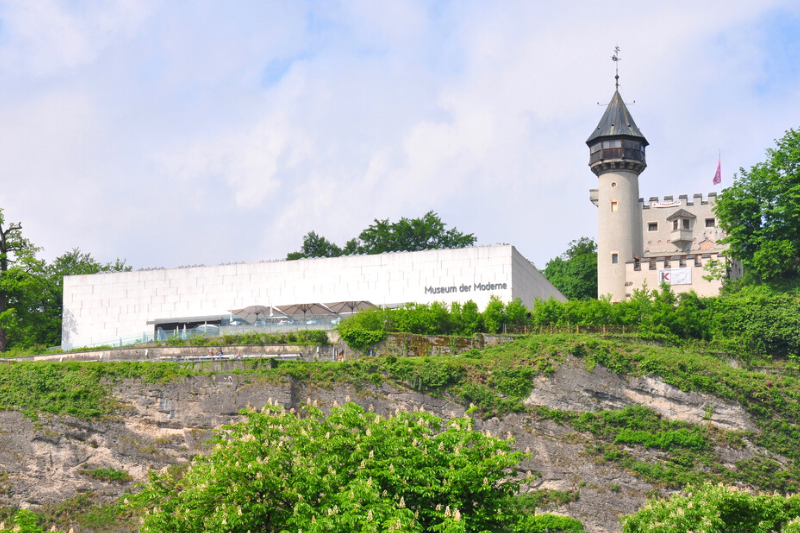 Salzburg is known by many for the city where The Sound of Music was filmed. This private tour explores the best of the movie spots and more. The tour stops at over 20 spots for exploring, photo opportunities, and for getting a real sense of Salzburg in just one day.
Just some of the spots visited include the Salzburg Cathedral, the 400 year old Trick Fountains Hellbrunn, Museum der Moderne, the Mirabell Palace and Gardens, Mozart's residence and much more. You'll explore further with a visit to the Salzburg Lake District and Lake Wolfgang and see the more stunning Sound of Music sites.
As this is a private tour, you can also customise it to your interests. You won't need to worry how far is Munich to Salzburg as you'll be driven in luxury minivan with hotel pickup and drop off included.
The total tour time is around 11 hours. It's a full on day and not cheap, but totally worth it to get the best out of Salzburg in a day.
Click here to see the latest prices.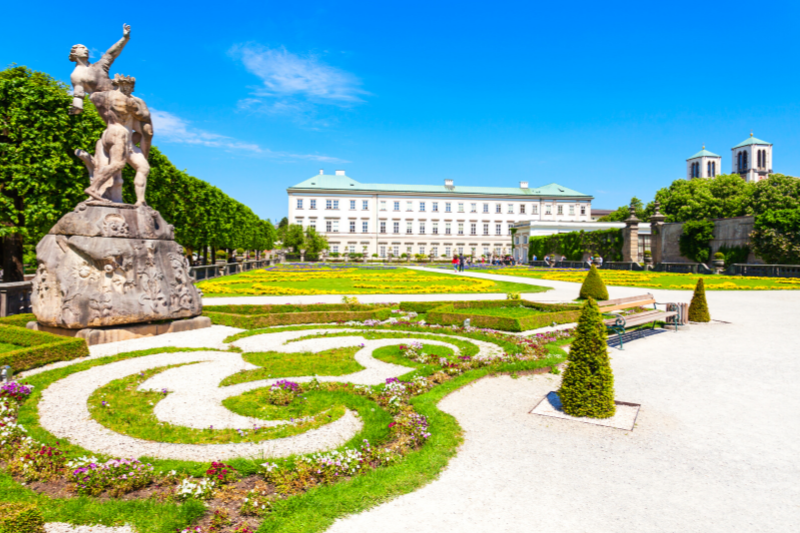 This semi-private tour is a full on 12 hour day that let's you enjoy the best of Salzburg's central attractions. This tour scores extra points for its smaller group size, and for being an all inclusive tour. Transport, lunch, café stops with cake and coffee, and even alcohol are all included in the price.
Enjoy the alpine scenery and see many of Salzburg's top attractions like the Mirabell Palace and Gardens, a stunning site with the palace dating back to 1606. See the famous Salzburg Cathedral and Fortress Hohensalzburg, among many other sites.
Your guide will connect you to Salzburg with plenty of historical insights. This tour is fabulous for enjoying a more local side of Salzburg, as well as for ticking off the top tourist attractions.
Click here to see the latest prices.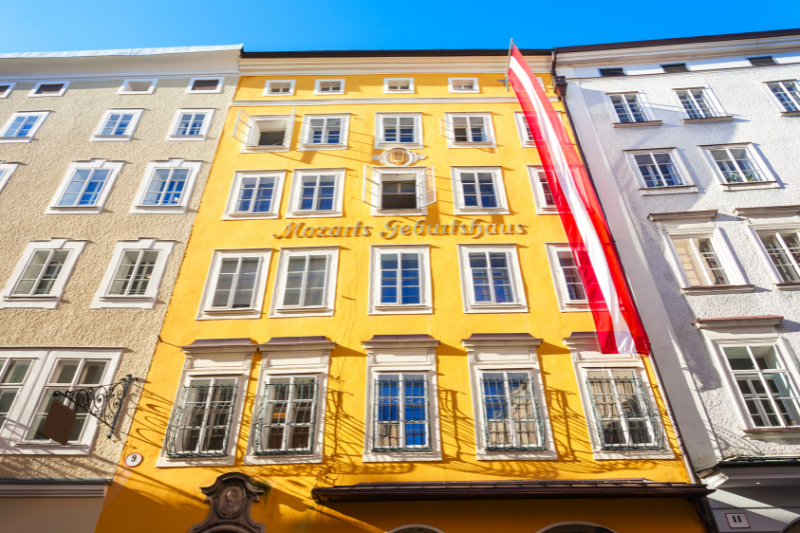 This is a top tour for ticking off all things Mozart and Sound of Music related! Meeting at 9am, you'll head to Salzburg with your small group via a regional train. Once you arrive, your insightful guide will take you on a 1.5 hour guided tour to acquaint you with Salzburg.
Once grounded, you'll enjoy 3 hours of free time to explore the city. This tour included tours of Salzburg Cathedral and Mozart Residence, stops at a local restaurant, Mirabell Palace and Gardens and the Sound of Music World Museum.
This is a top choice for navigating through tourist crowds and saves you the hassle of doing this yourself.
Click here to see the latest prices.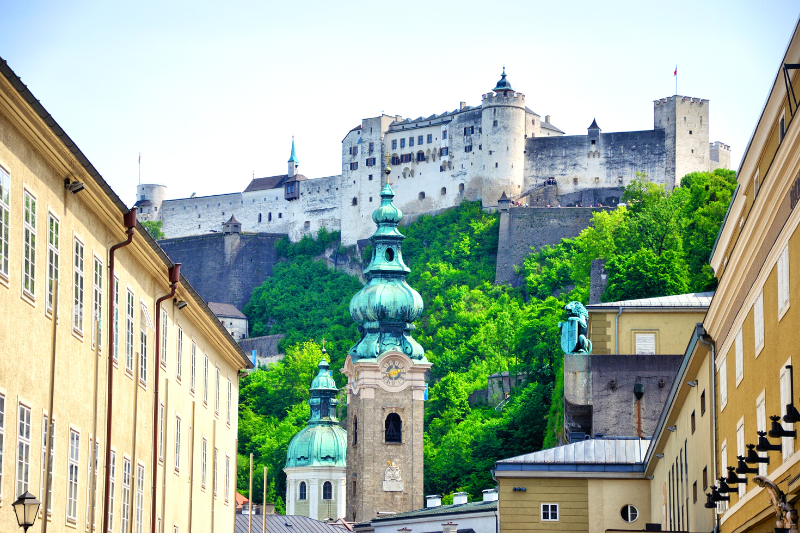 If a private tour driving Munich to Salzburg is what you're looking for, this is one to consider.
With this road trip Munich to Salzburg, you can choose a hotel pickup and be taken to Salzburg via the scenic, mountainous route. You won't need to worry how far from Munich to Salzburg as all the transport is organised for you.
This tour includes a 5 star rated local guide and takes you to top spots around Salzburg including one of the best Sound of Music filming locations- Mirabell Gardens – as well as Hohensalzburg Fortress, Collegiate Church and other Sound of Music filming locations. You'll also see the wonderful Salzburg Cathedral.
The downside is that this is a very expensive tour and lunch is not included. The better option is the private tour above, but if that's booked out, this one could be your go to.
Click here to see the latest prices.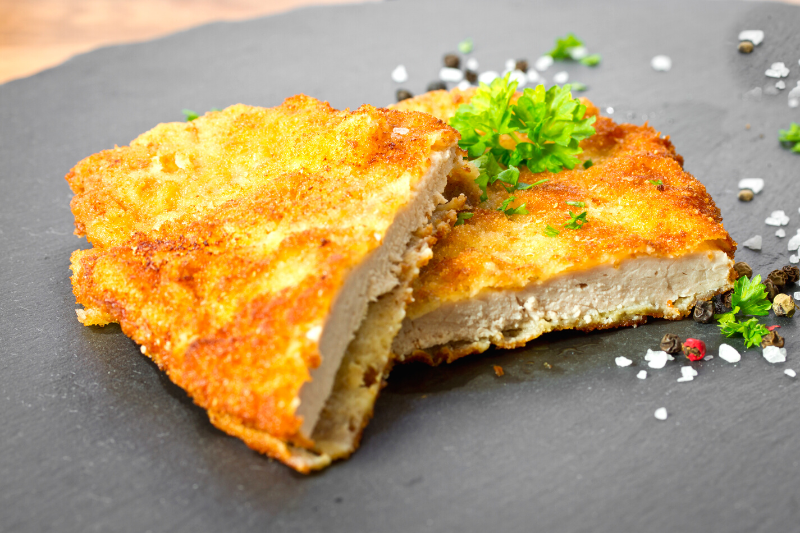 Food is a great way to immerse yourself in a culture and this is true in Salzburg. With this tour you'll get to sample some of the best flavours around Salzburg including many which are centuries old. It's a fascinating look into Salzburg's history.
You'll sample Austria's famous chocolate cake at Cafe Sache, sip local beer, taste delicious schnitzel and more. The tour price includes includes lunch, snacks and drinks.
History is a big part of this tour and you'll also enjoy a guided tour of both Mozart's Birth House and Fortress Hohensalzburg. There's also ample time to walk and discover this beautiful city yourself.
The tour departs Munich Central Station and returns there with round rail transfers included.
Click here to see the latest prices.
Munich Salzburg Day Trip Itinerary
If you decide to make your day trip to Salzburg from Munich independently, you need to come up with an itinerary to make the most of your day.
To make this easier for you, you can use the following for your day trip Munich Salzburg itinerary. It assumes you arrive in Salzburg about 10am and leave about 5pm.
Fortress Hohensalzburg
Visible from all around Salzburg, this stunning castle started as a fort around 1077 before being transformed into a castle in the early 16th century. It is an imposing site, perched on top of the hill and offers great views of the city from above.
We recommend starting your day trip here as it gets busy throughout the day. It can be reached either on foot or by the Fortress Funicular in under a minute. Spend about an hour exploring the interior of this medieval castle before heading back to the Old Town.
Old Town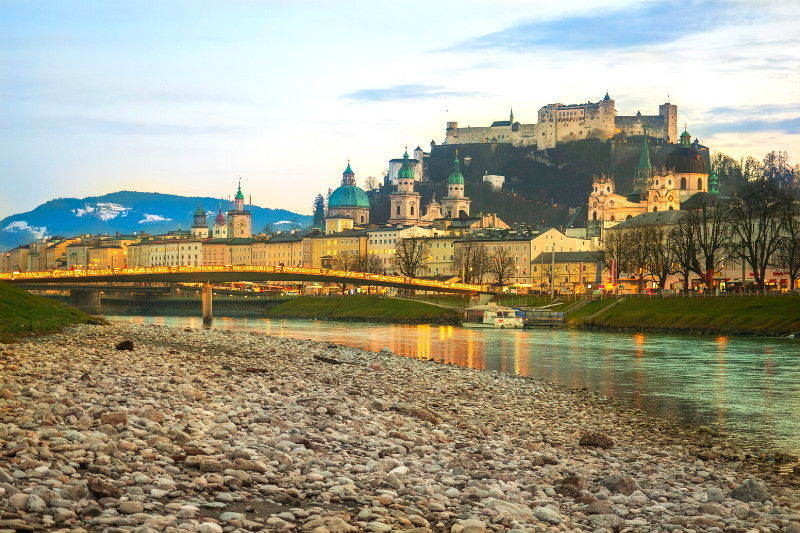 Designated a UNESCO World Heritage Site, it's worth spending some time walking around here. Most of the tourist attractions are centered in this part of town.
Salzburg Cathedral
This is one of the top attractions in all of Salzburg. Located in the Old Town, the site has housed a cathedral since the 8th century. The current cathedral was built in the early 17th century.
It is an incredible architectural piece both inside and out with an intricate design, high ceilings, white marble walls and stunning frescoes.
The Salzburg Cathedral sits beside Residence Square, the largest in Salzburg and is worth wandering around.
Getreidegasse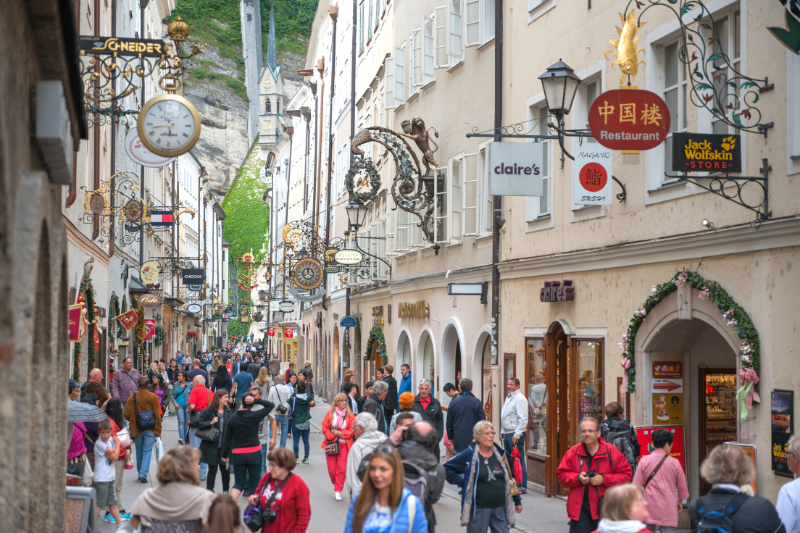 This is the main shopping street of Salzburg and is located in the Old Town. It's a busy street with plenty of shops and foot traffic. There are decorative signs above most of the shops which are worth looking out for. This is also where the birth house of Mozart is located.
You'll also want to stop at Cafe-Konditorei Fürst on this street. This chocolate shop is famous for selling Mozart Balls – a pistachio, nougat and marzipan chocolate ball. A must try!
Mozart's Birthplace
For classical music or history lovers, a visit to Mozart's birthplace is a must. Even if you're not a lover of those things, it's still worth seeing as it's located on the aforementioned shopping street of Getreidegasse.
Mozart's family lived on the third floor of this building. Today, there's a small museum inside with old furniture and information on his life and music.
Lunch
With so much exploring you're sure to work up an appetite. We recommend trying some of the more local dishes whilst in Salzburg such as Tafelspitz, which is boiled beef, or schnitzel (crumbed and fried meat).
There are many top rated restaurants in the Old Town like Zipfer Bierhaus or Sternbräu. Wash it down with a beer, and then head to a local café for a dessert of chocolate cake and coffee.
Mirabell Palace And Gardens
This is a famous Sound of Music filming location and one of the most visited spots in Salzburg.
Built in the early 17th century, this stunning palace is still partly accessible inside and worth visiting. The garden outside the palace is equally stunning to walk around and the site of some famous Sound of Music scenes. You'll want to see Pegasus Fountain, the Musical Steps, the Gnome Garden and the Hedge Tunnel.
Sound Of Music Tour
You may also consider joining a four hour Sound of Music Tour. These tours are super popular and take you to some of the top filming locations like Lake District, Hellbrunner Street, Leopoldskron Palace and more.
Whether you can do this tour will depend on how quickly you get through the list above. You might need to choose between Mirabell Palace and Gardens and Fortress Hohensalzburg if you want to fit it in.
Travelling Back To Munich From Salzburg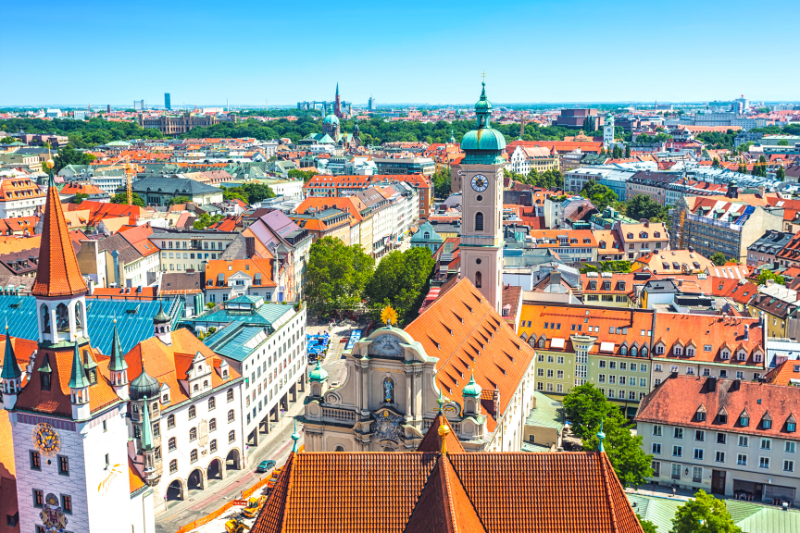 If you choose to do a Munich to Salzburg day tour, you won't have to worry about this. But otherwise, you need to travel back again.
You can choose to drive, bus or train again. It's easiest to pick the same method as you took to get here.
If you drive from Salzburg to Munich, you'll follow the same route as you came. From Salzburg, drive on the A1 until you reach the border, and then continue on the A8 until you cover the distance from Salzburg to Munich.
If you're travelling via bus, the last FlixBus departs Salzburg South at 8:55pm.
Trains depart Salzburg from Salzburg Main Station. The last train to Munich departs at 11pm, but the express trains, including Railjet, leave earlier than that. It's best to plan ahead.
Final Words
We hope we have answered all your of questions like how far is Munich from Salzburg and how to do a day trip here.
Visiting Salzburg is probably one of the top day trips you can do from Munich, and whilst you can't cover everything in Salzburg in one day, having a good plan (or tour) will help you to make the most out of your day trip to Salzburg.
Enjoy!
Find more information on all the best things to do in southern Germany here.