Heading to Frankfurt am Main but only have a day? Want to know exactly what to see in Frankfurt in 1 day so you can make the best use of your time and have the best experience possible? We have you covered! Below you will find our guide to all the best places to visit in Frankfurt in one day to plan your ultimate stopover or day trip.
A finance and business powerhouse, parts of Frankfurt can feel like a different world to the rest of Germany with skyscrapers, one of the world's largest stock exchanges, business trade fairs and more.
There are also parts of Frankfurt that may be just what you are looking for on your German adventure. Taking a walk through Frankfurt's Römerberg shows the traditional, beautiful side or slide into an apple wine (apfelwein) tavern for this Frankfurt favourite.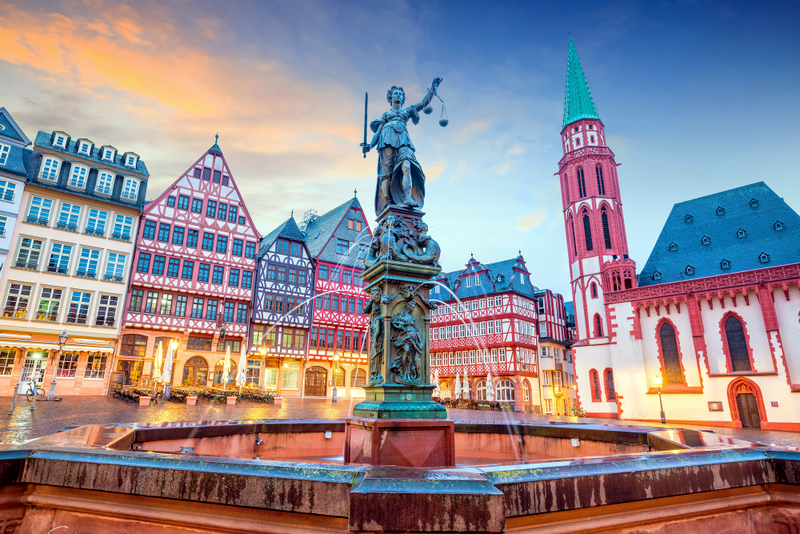 Frankfurt is also known for its beautiful parks and riverside paths, and it has an impressive collection of museums. All up, there is a lot here for tourists. If you are looking to explore Frankfurt in a day, your biggest question can be what to leave out as there's plenty of things to do in Frankfurt.
Frankfurt is also home to a major airport and if you find you have a long transit or are flying here before you hop on a train or bus somewhere else, you may only have a day in Frankfurt. While that's a shame, it's also awesome as at least you have a day!
Sometimes, planning a day in a place can be even harder than planning longer as you have to be so fussy about what you chose to see. That's why I have done all the hard work for you.
Below, you will find my exact one day in Frankfurt itinerary with all the best things to do in Frankfurt for a day as well as the best places to stay for your ultimate Frankfurt stopover. I also include some changes if you are visiting Frankfurt in winter as well as what works well if you visit Frankfurt in one day with kids.
There is also a handy map of your Frankfurt one day itinerary.
Traveling to Germany? Click here to download your free Germany Trip Planning checklist. We'll help you get ready for your trip! 
An Introduction To Frankfurt
Frankfurt am Main has been the site of settlements for at least a couple of thousand years with evidence of Celtic and Germanic settlements dating back to at least the first century BC. Around 83AD, it became a Roman garrison town.
It starts being mentioned in documents in the 8th century as it started becoming an important centre in the Holy Roman Empire. In 1152, Frederick I was elected king in Frankfurt and from that point, it became the place where German kings were selected.
Its importance to business and trade only increased as international trade fairs started here in the 12th century. A stock exchange was opened in 1585.
From 1372 until 1806, Frankfurt was a free imperial city. There was an interruption at this time when Napoleon I first made it the seat of government for the Confederation of the Rhine and then the capital of the Grand Duchy of Frankfurt. After Napoleon fell in 1815, it reverted back to being a free imperial city. It was the capital of Germany from 1816-1866.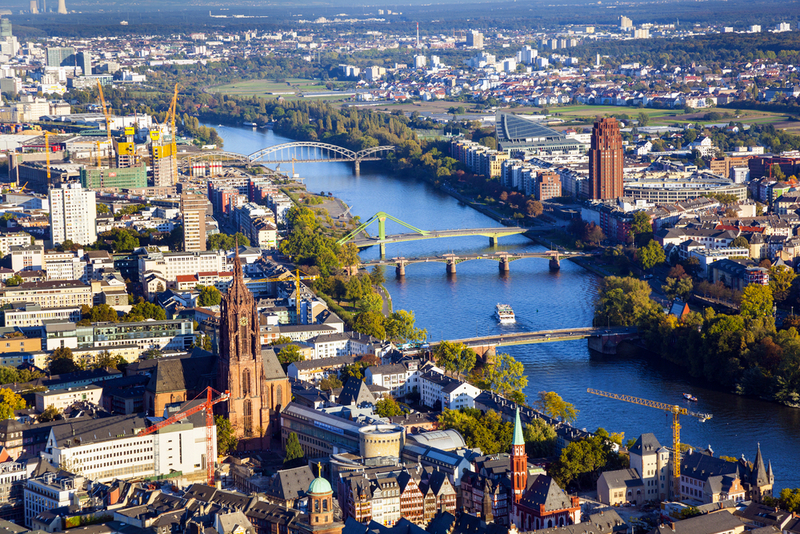 At this point, it was taken over by Prussia before returning back to Germany.
Frankfurt was badly damaged in the March 1944 Allied bombing raids with about 80% of its medieval centre destroyed. The area around the Römerberg has been reconstructed, but much of the city was rebuilt with modern buildings.
Today, Frankfurt is a business and financial hub home to the European Union's Central Bank, a large stock exchange and many trade fairs. Many things are manufactured here including automobiles, chemical and pharmaceutical products and machinery.
You can read more about Frankfurt's history here.
What To See In Frankfurt In One Day
Here are the best one day Frankfurt attractions. To make it extra easy for you, I suggest you visit everything listed in the same order as I have written it.
I assume you want to pack a fair bit into your 1 day in Frankfurt. If you like to take things slower then remove a stop or more so it seems like a pace you would be happy with.
Let's start!
Stop 1: Explore Römerberg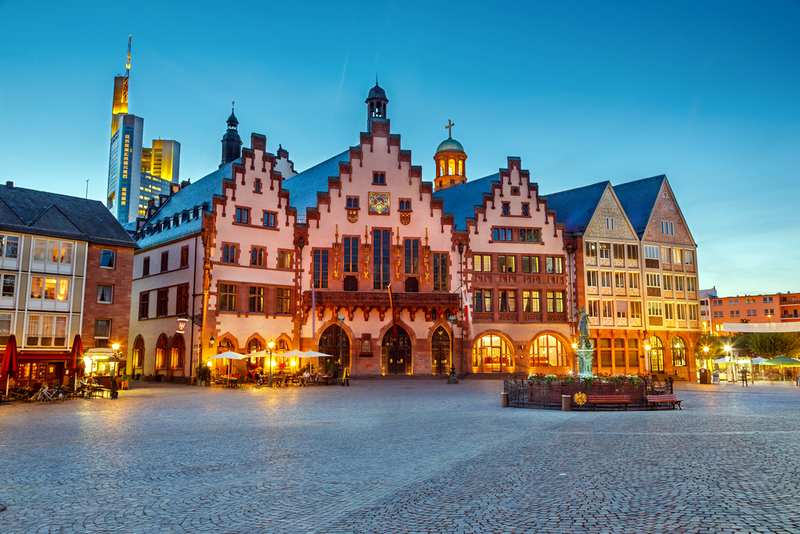 The best place to start your Frankfurt one day trip is in the heart of Frankfurt's Old Town. You won't want to miss Römerberg, the medieval public square. It's home to reconstructed, half-timbered buildings which are just gorgeous.
Römerberg translated means Roman mountain.
It's also home to Römer, the old town hall. It consists of three 15th century houses that you'll want to take a photo of. This was once the place where celebrations took place during elections and coronations of emperors.
These days it's home to the mayor and a registry office. It is possible to enter Kaisersaal (Emperor's Hall) when events aren't taking place.
Also at Römerberg is Gerechtigkeitsbrunnen (Fountain of Justice).
Most of the traditional buildings in the Old Town are around this square,
Stop 2: See The Views From Frankfurter Dom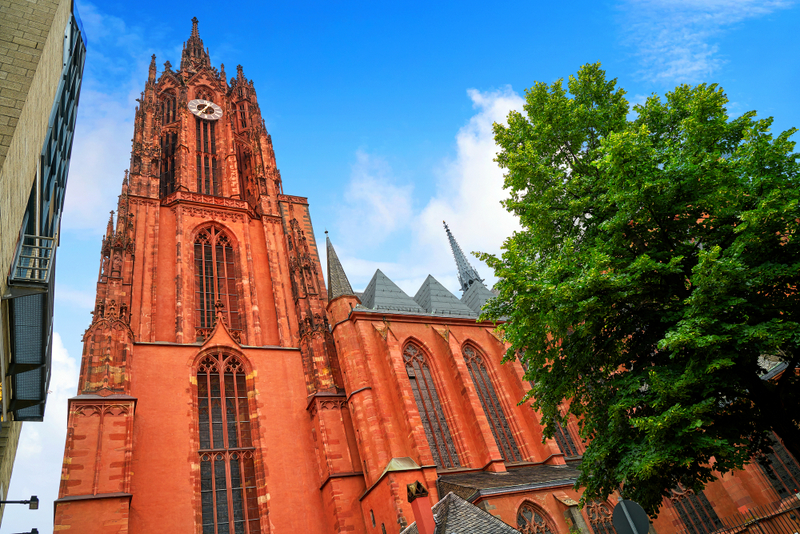 Your next stop in this list of what to do in Frankfurt for a day is only a few minutes walk away at the Frankfurter Dom (which means Frankfurt Cathedral also called Kaiserdom and St. Bartholomew's Cathedral).
This massive, red-sandstone cathedral has a 95 metre tower which dominates the skyline. Built in Gothic style from 1356 to 1792, Holy Roman Emperors were crowned here.
Rebuilt twice, after fires in 1867 and the bombings in WWII, it's a stunning site. It's worth walking inside to appreciate the interior including carved altars and pieces of Saint Bartholomew's skull. I also highly recommend you climb the 328 steps up the tower for great views which is a small extra fee.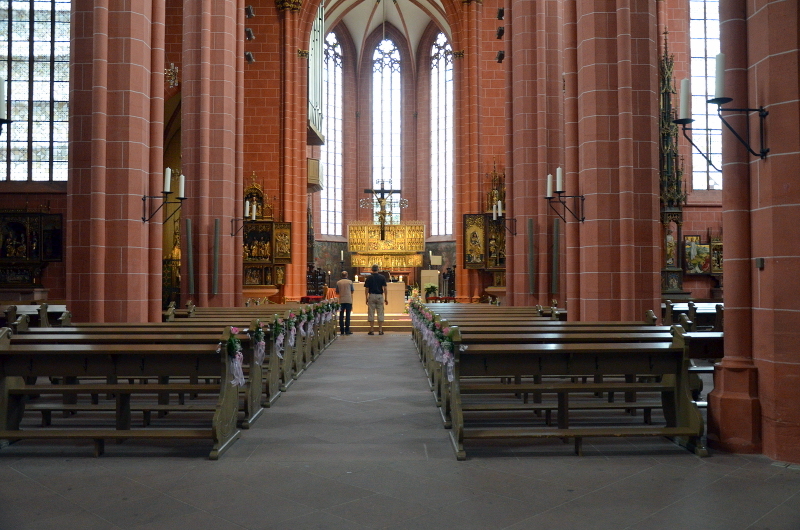 There's also an onsite museum, Dommuseum. with a small collection of religious objects.
This church generally opens at 9am. Fridays are an exception.
Stop 3: Walk Over The Eiserner Steg Bridge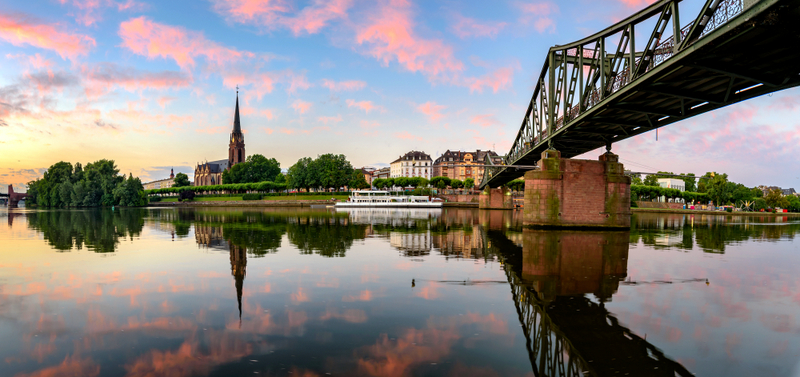 Next up is a short walk to the river and the Eiserner Steg Bridge. This area is home to a pedestrian friendly walkway with nice views across the river to more of Frankfurt.
The Eiserner Steg Bridge was the city's second bridge across the Main River. It's a popular landmark thanks to it modern metal design which was rebuilt at the end of WWII.
Walking across this bridge will give you some great views along the river as well as each side. There are also many locks locked here on the bridge by couples.
Stop 4: Take A River Cruise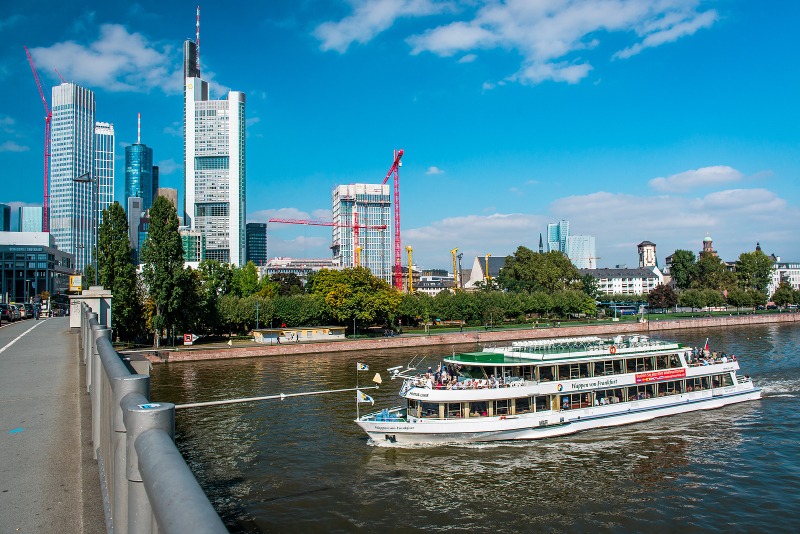 It's time to cross back to the Old Town side of the river ready for your next adventure – a 50-minute river cruise.
Primus Linie cruises depart from the eastern side of the Eiserner Steg Bridge on Mainkai.
On this cruise you can see more of Frankfurt while travelling on the Main River. Boats go both up and down stream so if you only have 50 minutes to spare, you'll have to decide which direction most appeals to you. You can also do both on a 100 minute circuit.
This a quick and easy way to see more of Frankfurt.
You can check out the latest timetables and book here.
Stop 5: Visit A Market For Lunch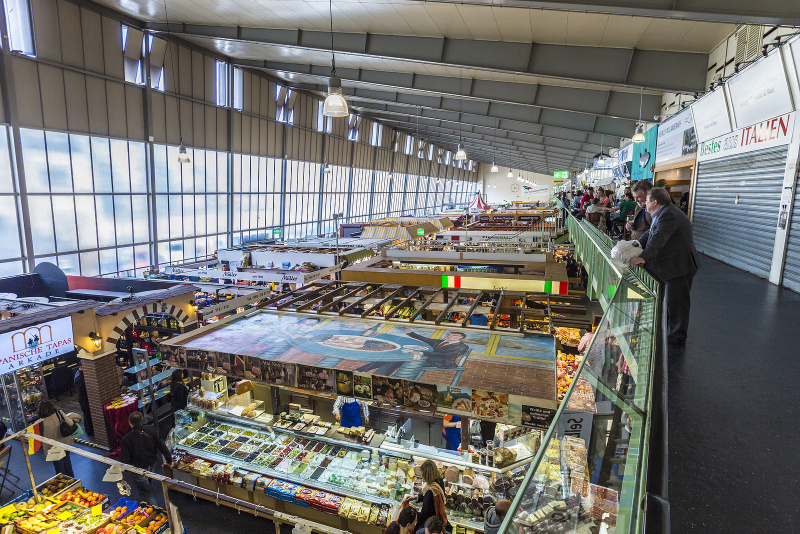 By now, your stomach is probably rumbling but since you're only on a Frankfurt 1 day trip, we're going to combine sightseeing with lunch at the Kleinmarkthalle, just a 5-minute walk away.
Kleinmarkthalle is a bustling, 1,500 square metre market started in 1954 with many types of food and goodies from pastries to sausages to pretzels to fruit and vegetables. It's fun to explore and shop here and you're sure to find something quick, easy and delicious to eat for lunch.
You can pick up supplies to have a picnic back down by the river.
If your Frankfurt one day tour is on a Sunday or public holiday, unfortunately, Kleinmarkthalle isn't open. There are many restaurants around here though, so pick one that takes your fancy.
Stop 6: Learn More At A Museum
Frankfurt is home to a whole host of museums but when you're just looking for places to see in Frankfurt in one day, I recommend sticking to one that you can explore properly this afternoon.
Below are what I think are the best two options for your one day trip Frankfurt, so pick the one that interests you most.
An exception to this is if your one day in Frankfurt, Germany falls on a Monday. On Monday, most museums, including the ones below, are shut. On a Monday, visit Goethe-Haus instead.
This is a five minute walk from Kleinmarkthalle and is the birthplace of Johann Wolfgang von Goethe. Today, it's set up similar to how it would have been when his family sold it. There are tours and exhibits as well as a museum next door with paintings from Goethe's era.
Städel Museum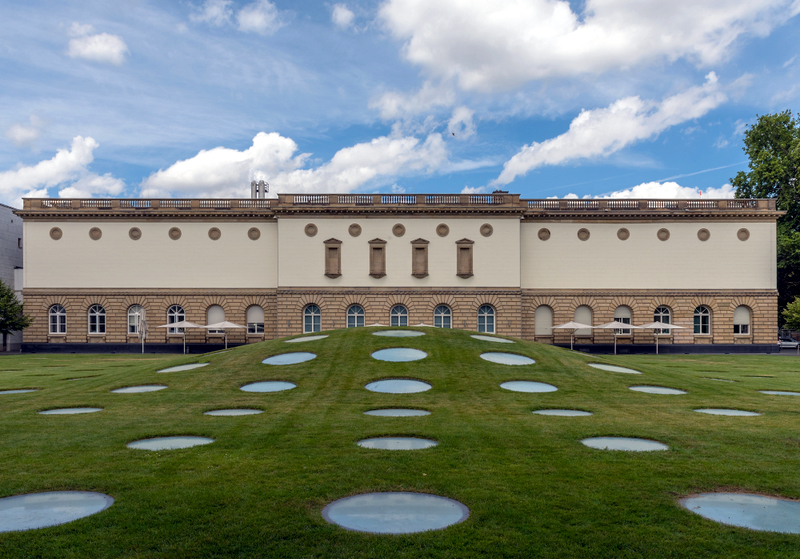 Located about an 18 minute walk from the market (less if you ate by the river), Städel Museum is home to one of Germany's best classic art collections. Its European collection is superb with pieces from the Middle Ages to today.
This museum was founded in 1815 and has many big names including Rembrandt, Rubens, Cezanne, Picasso, and Monet. There are also temporary exhibtions which can be quite popular.
It's best to book ahead to ensure you don't waste time stuck in a line.
Historisches Museum Frankfurt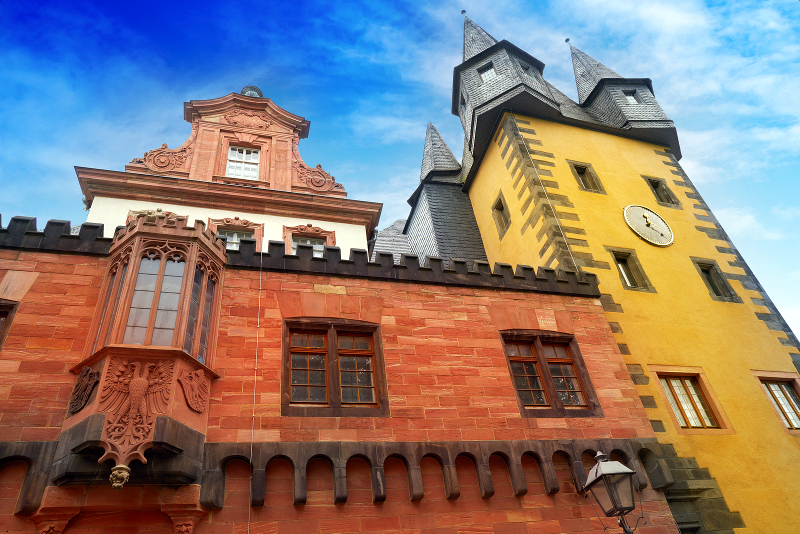 The Historisches Museum Frankfurt is back by the Eiserner Steg Bridge. Frankfurt's oldest museum, this is the place to pick if you want to learn more about the history of Frankfurt.
The buildings themselves are very interesting – the museum is housed over five buildings with a square opposite the Main River. The buildings range in age from 800 years old to 2017 – the perfect way to walk you through all of Frankfurt's interesting past.
It's a big museum with plenty to see and you won't get through it all in a couple of hours so get some information on arrival so you can make sure you hit your preferred parts.
My favourite part is Frankfurt Once? It aims to discuss how Frankfurt residents lived and what makes Frankfurt the way it is by looking at many different aspects of life like finance, science, toys, media, furniture and more.
Frankfurt Now! is also interesting with an exploration of what it's like to live in Frankfurt now, what's special about Frankfurt and what the future may hold. There's also a cool scale model of the city.
Stop 7: See Frankfurt From The Main Tower Observation Deck (If Time)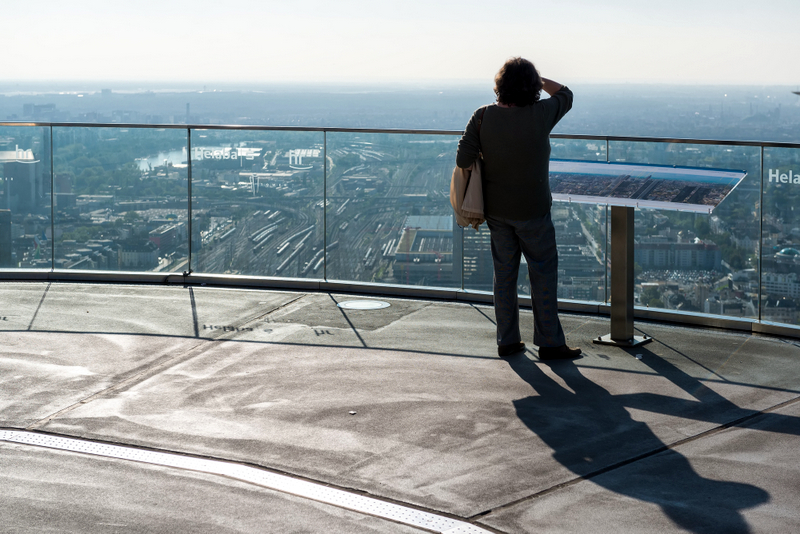 If you have time after your visit and it's a clear day, here's another thing to add to your Frankfurt what to see in one day list. About a 15-minute walk from either museum option is Main Tower, a 200-metre high skyscraper with a viewing platform.
A lift ride to the top only takes 45 seconds so you'll soon be seeing Frankfurt from above.
For something special, you could also eat dinner in the restaurant here on the 53rd floor. It's pricey but you can't beat the views. There is also a lounge if you want to have a drink while you take in the views.
Find more information here.
Stop 8: Spend The Evening In Alt-Sachsenhausen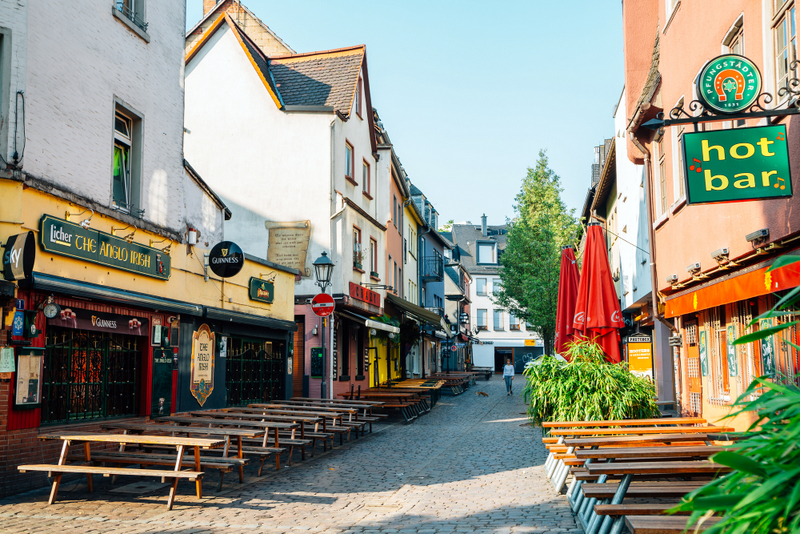 If you haven't had to leave Frankfurt already, great! This last one of the things to do in Frankfurt Germany in one day is lots of fun 🙂
Head to Alt-Sachsenhausen (Old Sachsenhausen) for dinner and some apfelwein (apple wine)
Alt-Sachsenhausen has some gorgeous parts with cobblestone streets, winding laneways. There are plenty of places to eat here, but what you are looking for is an apple wine tavern where you can try some traditional food and try Frankfurt's famous apfelwein, the German version of apple cider.
You can try Adolf Wagner, Apfelweinwirtschaft Frau Rauscher or Ebbelwoi Unser – or explore until you find somewhere you want to stop.
One Day In Frankfurt In December/Winter
While most of the things to see in Frankfurt in one day listed above are possible in winter time, there are also some fun things to do in Frankfurt which are especially for the winter months. Primarily the Christmas Market. You won't want to miss this if you are in town at the right time.
Unfortunately, the river cruises do not run as often in winter time. At the time of publishing, they were only running on weekends from January to early March. You can check here for current schedules.
When the Christmas market is running, I would start with visiting the museum in the morning then heading to the Christmas market at lunchtime and eating here instead of Kleinmarkthalle. It is in Römerberg so you can explore that at the same time and head to Frankfurter Dom.
After this, you can visit Eiserner Steg Bridge and do a river cruise.
Essential Stop: Christmas Market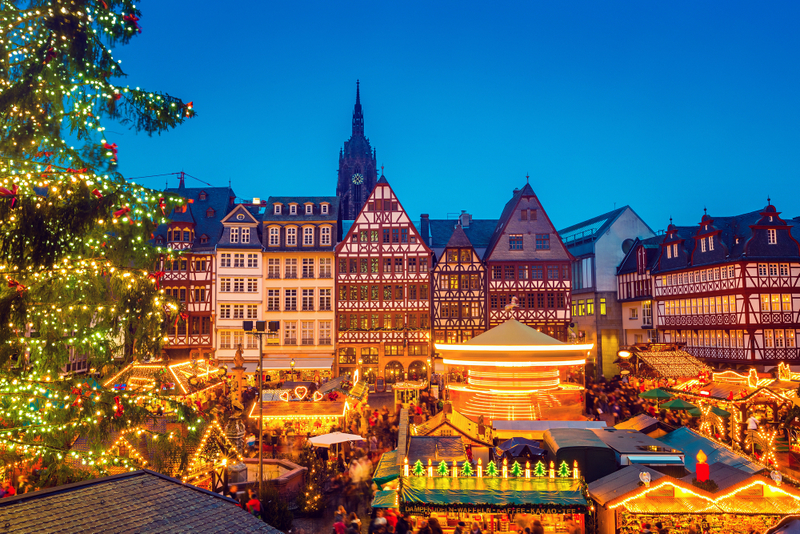 An unmissable answer to what to do in Frankfurt in one day is the Frankfurt Christmas Market. It runs for a month before Christmas usually around 22 November – 22 December but make sure you check the dates if you are around at this time.
This is one of the oldest Christmas Markets in Germany dating back to 1393! It's also one of the biggest (with over 200 stores) and the best with plenty to explore and enjoy including special hot apfelwein and Bethmännchen (marzipan and almond biscuits).
The only danger is that you only have 1 day in Frankfurt Germany and you may not want to leave this attraction!
Frankfurt Itinerary 1 Day Map
Below is a map of everything we have covered in this guide to the perfect one day trip in Frankfurt.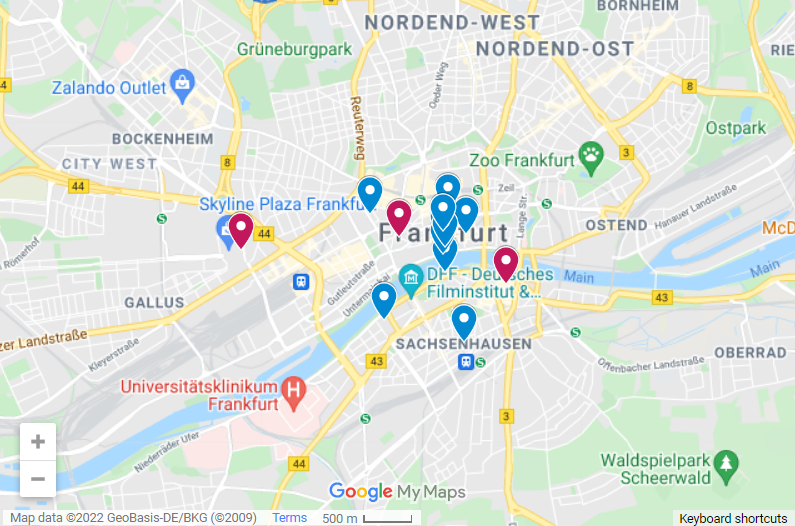 Best Place To Stay In Frankfurt
When it comes to where to stay in Frankfurt, there is a great range of hotels and other accommodation options. You won't have any problem finding somewhere to stay – although it can get busy when big trade fairs are on so it is recommended to book in advance.
Below I've listed a few different places to consider depending on what type of accommodation you are looking for.
If you want more options, you can use this map to help you find hotels and home rental accommodation around Frankfurt.
Located in the Old Town just 7 minutes walk from Römerberberg and close to the river and a useful station is the 5-star Steigenberger Frankfurter Hof. You will love a stay here!
With over 300 rooms with traditional and modern decor, luxury is the name here. Rooms range from superior double and twin rooms to presidential and royal suites. All come with air conditioning, flat-screen TVs and first class toiletries. Even the cheaper rooms come with a desk area and sitting area.
There is a gym, 24 hour room service, three restaurants and a bar. You can have breakfast included in your room rate. The star attraction among the restaurants is the Michelin-starred Restaurant Français which is perfect for a special night in the hotel.
My favourite part of the hotel, however, has to be Steigenberger Frankfurter Hof's Spa. You can book from a selection of massages and beauty treaments or just relax in the Turkish bath. There's even a traditional barber shop.
Paid parking is available close to the hotel.
Click here to see the latest prices now.
For great value prices and a convenient location walking distance to the main Frankfurt train station to get you to the airport easy, Adina Apartment Hotel Frankfurt Westend can't be beat. It's also close to shops and Frankfurt Exhibition Centre.
This is especially a good choice if you like apartment-style accommodation. The rooms vary from studios to two bedroom apartments and I love staying here so we can self cater. There are also washing machine facilities in each room to make your stay even easier. Some rooms have views.
There's a gym as well as parking for an extra charge. There is also a restaurant and bar on-site.
Click here to see the latest prices now.
If you are looking for somewhere unique to stay in Frankfurt in a pretty spot in Sachsenhausen, consider the Libertine Lindenberg.
This option considers itself both a hotel and a shared living space and has communal areas that you can use to meet other guests or to cook your own meals.
Libertine Lindenberg categorises their rooms based on size which range from 19m2 to 25m2. All rooms are doubles with bigger rooms having seating areas as well. All have flat-screen TVs and Netflix access and are beautifully decorated.
On-site is a shop selling organic groceries and a "living room cafe". There is a recording studio as well and you can tune into the in-house radio station. For more active guests, there's a gym and free bike hire.
Click here to see the latest prices now.
Find more of the best hotels in Frankfurt here.
How To Get To Frankfurt And Around
Frankfurt is very well hooked up to the rest of Germany, Europe and the world and you should have no problems getting here.
Frankfurt Airport is a major international airport and it's easy to catch a train into the city from here in less than 15 minutes. If you are just in transit for a day, there is luggage storage at the airport if you need it.
There are regular trains and buses here. You can find train timetables here.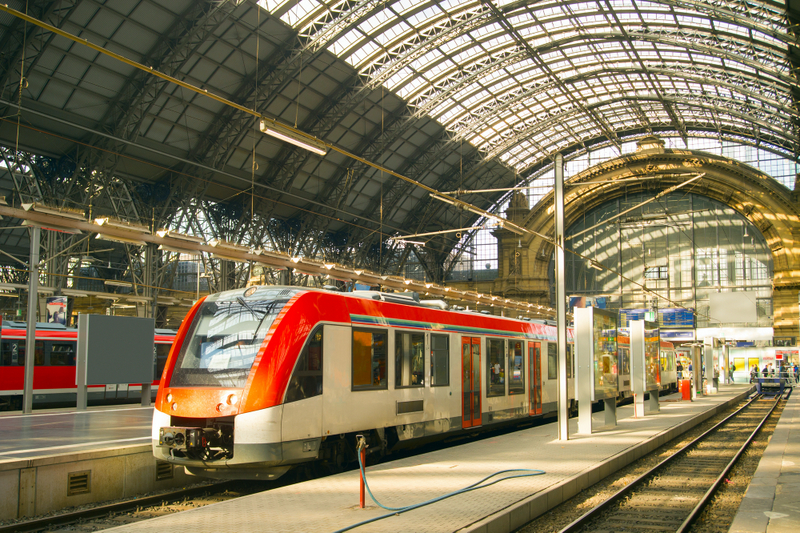 You can also hire a car to explore Germany. We flew into Frankfurt then hired a car for our onward journey.
Click here to check out car hire deals.
Once in Frankfurt, there are many public transport options, although we found it easier to explore by foot most of the time with distances being short and transport not usually going exactly between the places we wanted.
You can also read our full guide to getting from Frankfurt to Trier (or vice versa) here.
Frankfurt With Kids
Frankfurt is a great place to explore with kids and they'll enjoy many of the attractions above.
We travelled to Frankfurt with our three kids aged 5 – 11 years old and had no problems. They enjoyed the river cruise especially and we had a good time at the Historisches Museum Frankfurt by concentrating on the Junges Museum (Young Museum) which is part of this museum.
This is specifically aimed at children and is interactive with themes more aimed at their interests. It's not just for young children either, like some childrens museums, with different exhibits aimed at different age groups. However, they also enjoyed the Frankfurt Once? and Frankfurt Now! exhibits at the Historisches Museum.
Final Words
I hope you have enjoyed this guide to Frankfurt places to visit in one day and you're now all set for your trip. You can copy it exactly for a fun day out in Frankfurt.
Check out all the best hotels in Frankfurt for your great stay here or read more guides to visiting Western Germany here or our guide to Oberwesel in the nearby Rhine Valley here or Bacharach here.