Going on a Bremen trip and want to know all the best things to do in Bremen? We have you covered! Below you will find our guide to all the best attractions in Bremen Germany to plan your ultimate trip.
When we were looking for places to visit in Northern Germany on our way to Denmark, somewhere jumped out at us pretty quick – Bremen. I found it on lists of Germany's prettiest Old Towns and, once I looked it up myself, I was sold.
Located at the end of Germany's Fairy Tale Road, Bremen is a reasonable sized city with over half a million people. It also lives up to its reputation with a gorgeous Old Town on the Weser River and there is a great collection of places to see in Bremen.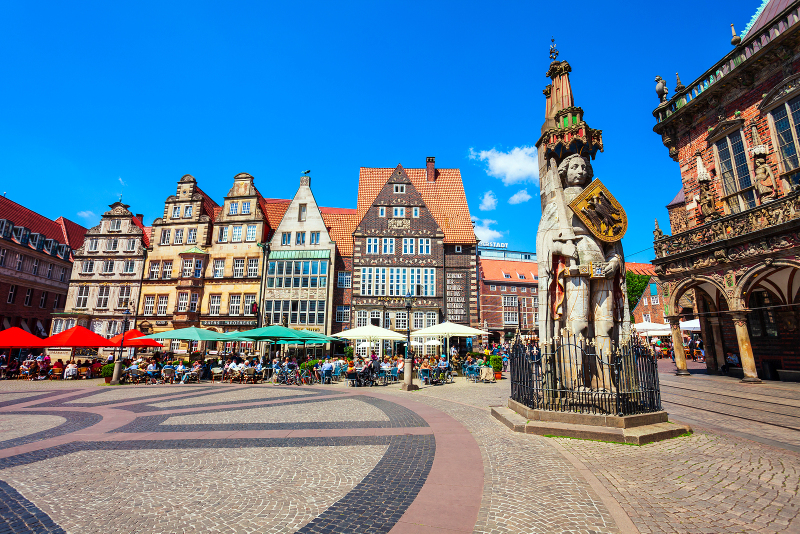 From fairy tale statues to museums to churches to wandering the riverside walk and Old Town, Bremen is an easy, vibrant, fun and beautiful place to visit.
Not far from Hamburg, it is possible to visit Bremen on a day trip. However, this is a beautiful place that is worth your time if you can spend longer. We spent a few nights and I wish we had more time to continue to soak it all in.
Bremen is a great destination at any time of year. It has what is reputed to be one of the best Christmas markets in Germany and there's plenty to explore in summer too.
Below, you will find our Bremen travel blog with everything you need to know about the best Bremen things to do, what to do in Bremen surrounds as well as the best places to stay for your ultimate vacation in Bremen!! There is also a handy map of the things to do Bremen offers.
So let's start so you have as good a time in Bremen as we had!
Traveling to Germany? Click here to download your free Germany Trip Planning checklist. We'll help you get ready for your trip! 
An Introduction To Bremen
Settlements in the Bremen area date back to 100AD. At its beginning, it was known as the "Rome of the North" and was used as a base for bringing Christianity into Scandinavia.
It shed its religious background becoming an Imperial City in 1186 and then joining the Hanseatic League in 1260. Starting with a few towns in northern Germany, the Hanseatic League grew to be a confederation of nearly 200 cities in 7 modern-day countries. This league was a powerful policital trading block with arrangements like free trade, protection against pirates and bandits and diplomats among its members.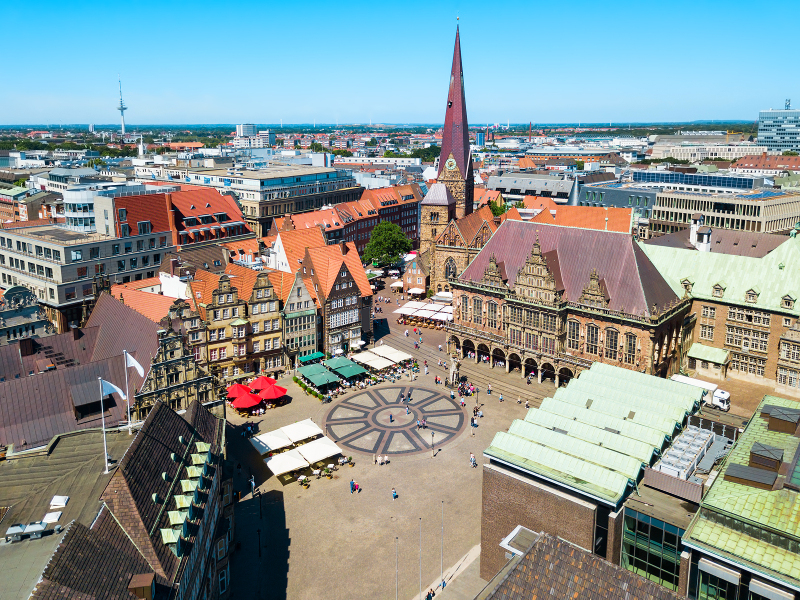 Over time, they even developed a common legal system and armies to keep the area safe and flourishing. This lead to mutual prosperity in the region.
You can read more about the Hanseatic League here.
Bremen's location on the Weser River enabled it to be a key trading post in the league with much international trading taking place here. It thrived and, in fact, stayed in the Hanseatic League right until it ended in 1862 as Germany was being founded.
Even today, Bremen is known as the Free Hanseatic City of Bremen and forms its own state (the smallest in Germany).
Top 21 Things To Do In Bremen Germany
Here are the best Bremen attractions. Read through and select the ones that fit your interests and timeframe. If you only have one day to visit Bremen tourist attractions, find our one day Bremen places to visit itinerary below.
Bremen's Old Town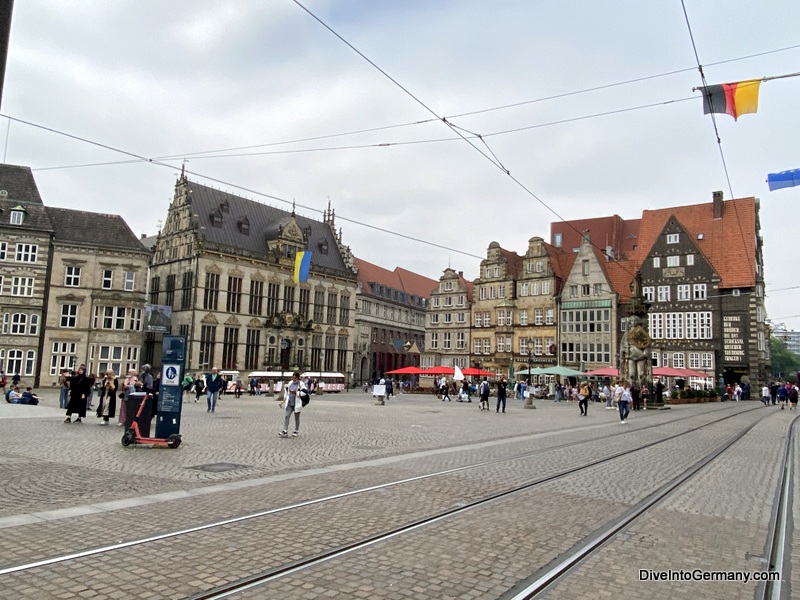 If there is one place you will absolutely want to head when you visit Bremen, it's Bremen's Old Town. This is definitely #1 on our list of Bremen top 10 tourist attractions and you can't go wrong wandering around this area.
In fact, many of the places below are in the Old Town so you can enjoy the Old Town as you visit your pick of the top things to do in Bremen.
This Old Town is 1200 years old and is located on the banks of the Weser River. It's a joy to walk the cobblestone streets surrounded by history. It's compact and easy to walk around.
I recommend you take your time, have a leisurely meal in the streets in warmer months and really soak it in.
Rathaus (Town Hall)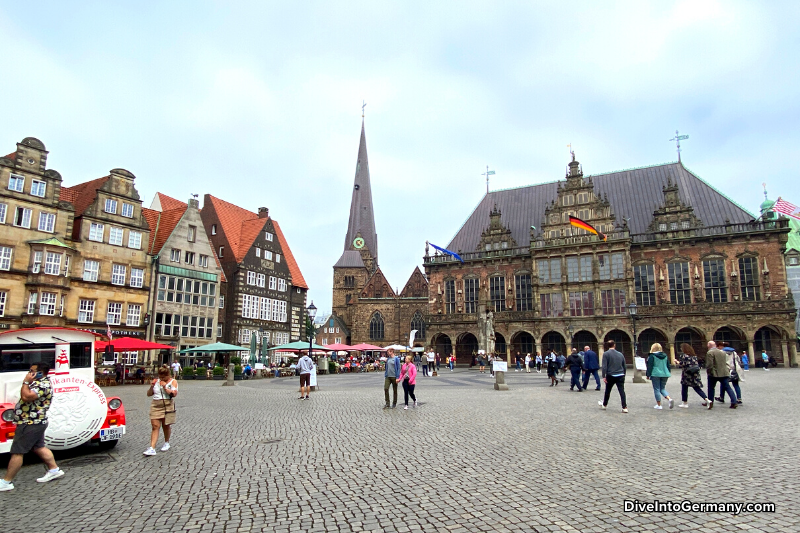 The heart of the Old Town, Markt Platz (Market Square) is a great place to head on your Old Town wander. This is where you will find Bremen's UNESCO World Heritage listed Town Hall.
Over 600 years old, its known for its mix of Gothic and Renaissance features thanks to originally being built in 1410 in Gothic style and then having a Renaissance facade added in 1612. This actually makes it the only European town hall built in the late Middle Ages that has survived in its original form for this long.
It's a well preserved, gorgeous building which helps celebrate Bremen remaining largely autonomous for centuries. The inside is just as fabulous with the Upper Hall being a fantastic ceremonial venue where the council used to meet.
There's also a cellar underneath which is home to Germany's oldest cask of wine.
It's possible to go on a guided tour of the inside which takes about an hour and helps explain the magnificent history of the building. It's also possible to eat a meal in the restaurant, Ratskeller, in the wine cellar.
Roland Statue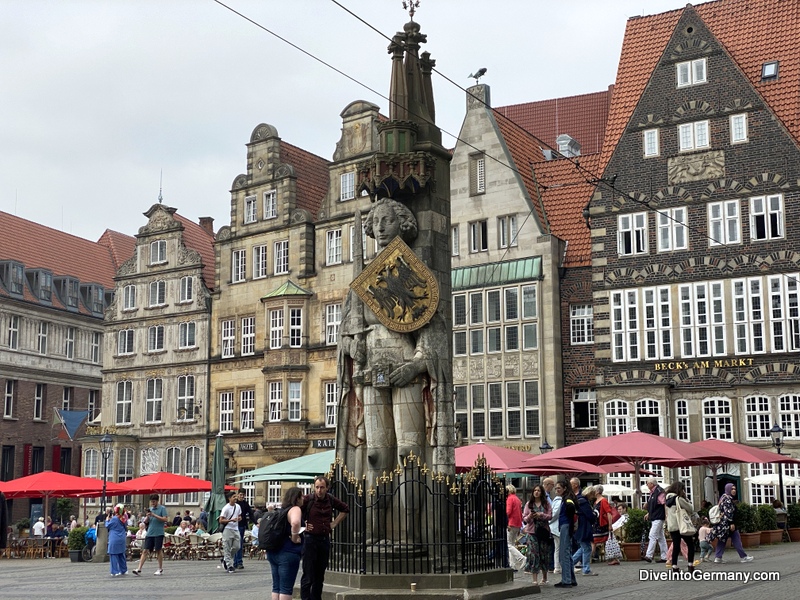 The Roland Statue is located outside the Rathaus and was erected in 1404 after its wooden predecessor was destroyed. It is part of the Rathaus' UNESCO World Heritage listing.
Roland is a symbol of freedom and trading rights and, while there are Roland statues in many German towns, this one is considered one of the most beautiful and oldest examples.
It's over five and a half metres tall and when you add in the baldachin, it's over ten metres tall. I was surprised by the height of this impressive statue – photos don't do it justice.
It's a popular item on the Bremen things to see list and you won't want to miss it.
Town Musicians Of Bremen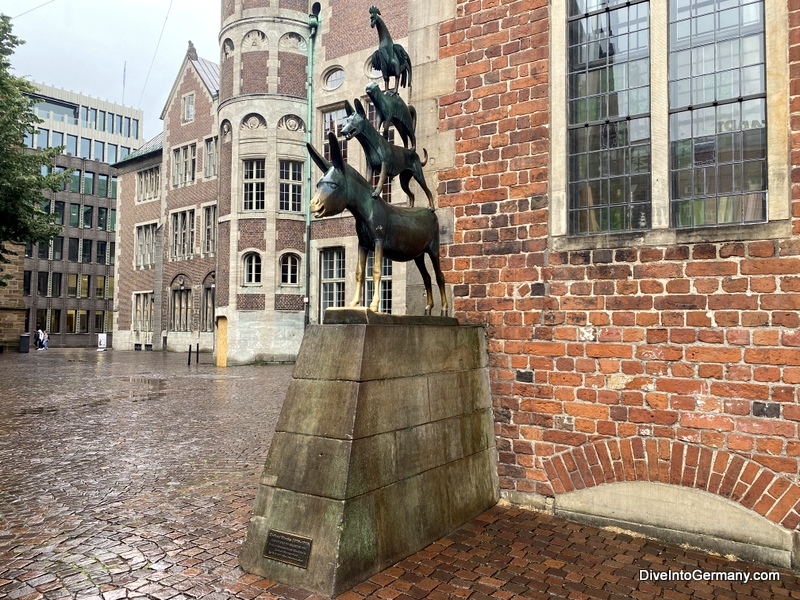 After our journey along the Fairy Tale Road to get to Bremen, we certainly weren't going to miss an opportunity to see this statue of the Town Musicians of Bremen which comes from the Brothers Grimm's fairy tale, the Bremen Town Musicians (Die Bremer Stadtmusikanten) published in 1819.
You'll notice images around town of a donkey, dog, cat, and rooster and they come from this fairy tale.
The best way to celebrate this past is by visiting this statue and rubbing the donkey's nose or hooves. It'll ensure you have good luck and visit Bremen again!
You can also find a circle plaque and coin slot where you can pay to hear the animals make sounds.
This statue is also located in Markt Platz to the left of the Bremen Rathaus. It was created by Gerhard Marcks and you can learn more about his work below.
Dom St Petri (And Bleikeller)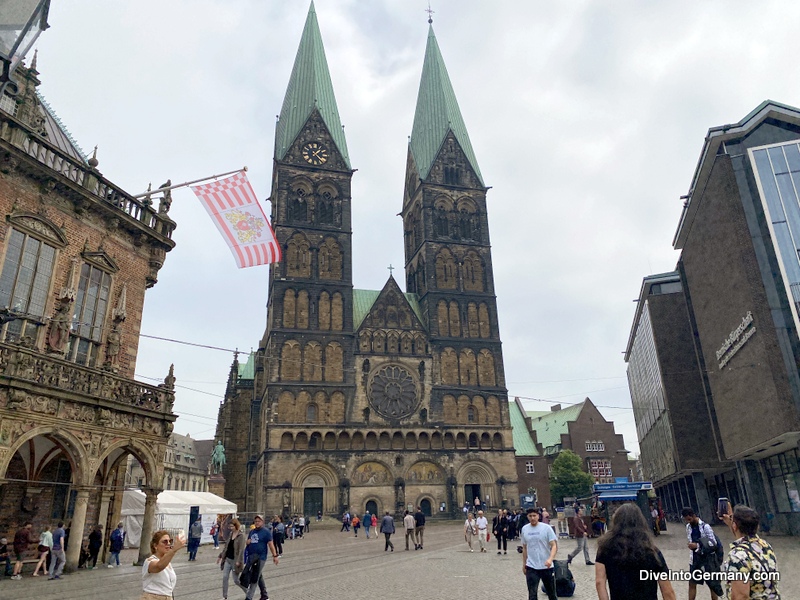 The Bremen Cathedral, Dom St Petri, is also located at Markt Platz. This protestant church was originally built in 789, although much of the current building dates to the 13th century.
This cathedral is quite large and it's worth venturing inside. There are many organs, tombs and crypts with some famous Germans having been buried here. It has a silent beauty that I really enjoyed.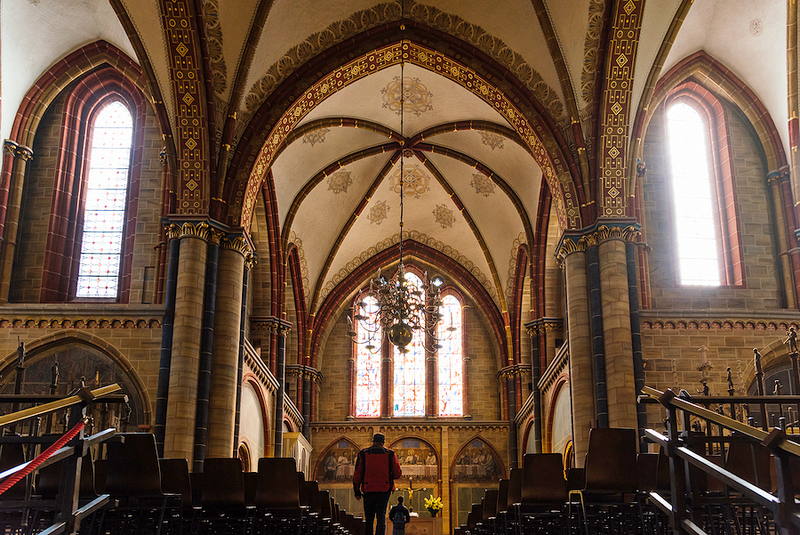 In the warmer months, you can also climb 265 steps to the top of the south tower for great views of the Old Town. However, this does seem to be closed randomly as it was shut the days we were in Bremen with no explanation or sign of when it would open again. Next time!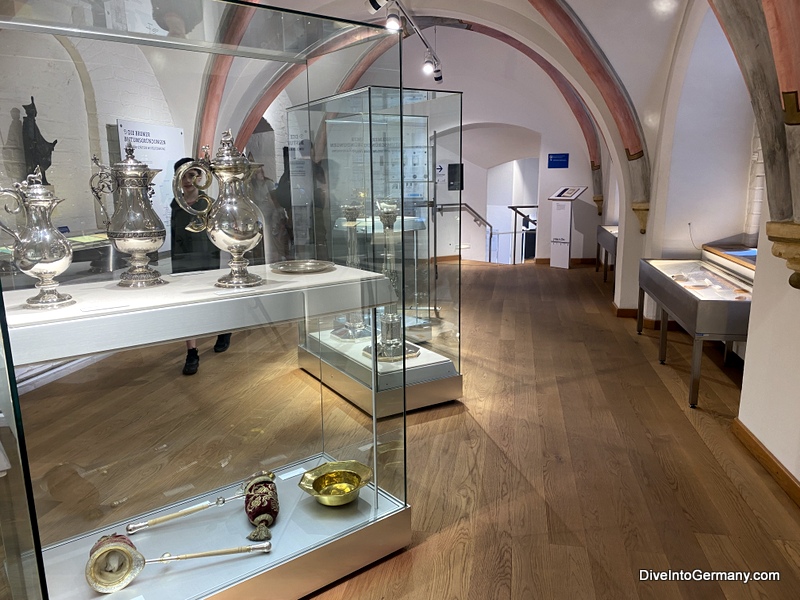 There's also a small Cathedral Museum located in the Bleikeller (cellar) which shows the history of the cathedral as well as religious artefacts from a 1970s dig. It's also home to eight well-preserved mummies which are the remains of medieval archbishops.
It's free to enter (as is the church).
Kirche Unser Lieben Fraue (Church Of Our Lady)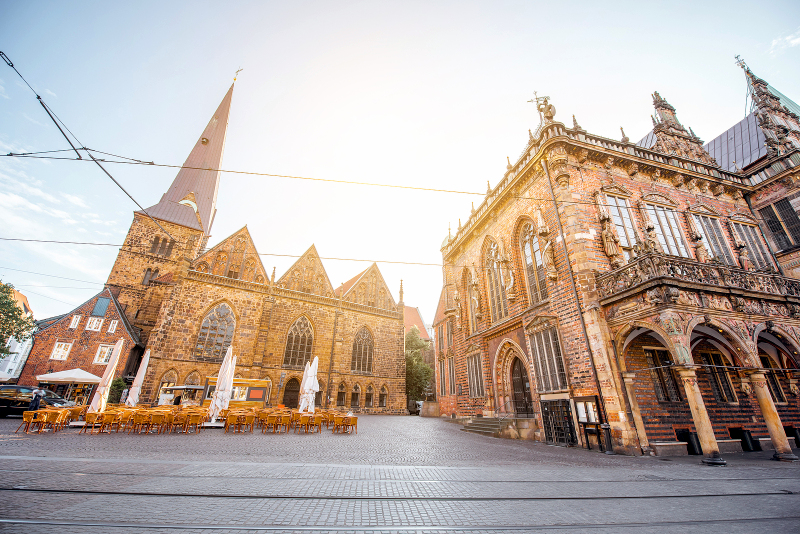 This smaller church was also built around the 13th century on the remains of an older building. The crypt is from 1020 which makes it the oldest built space in Bremen.
The Church of Our Lady is behind Bremen Rathaus and easy to visit as part of your exploration of this area. Inside are beautiful murals and as well as the old crypt and many beautiful painted glass windows.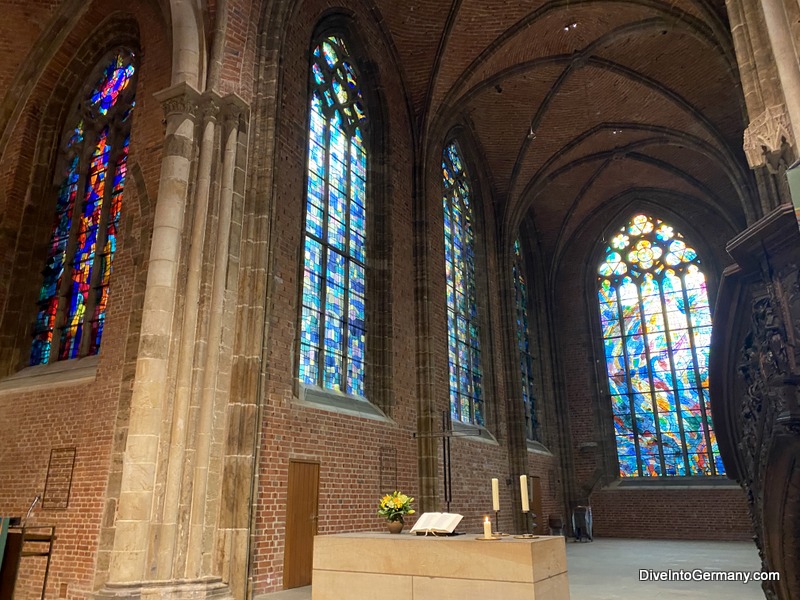 I didn't find many people in here despite the crowds outside, and it was a great way to escape exploring for a moment to relax and reflect in a beautiful space.
It's another of the Bremen Germany things to do to appreciate and learn more about this city.
Böttcherstraße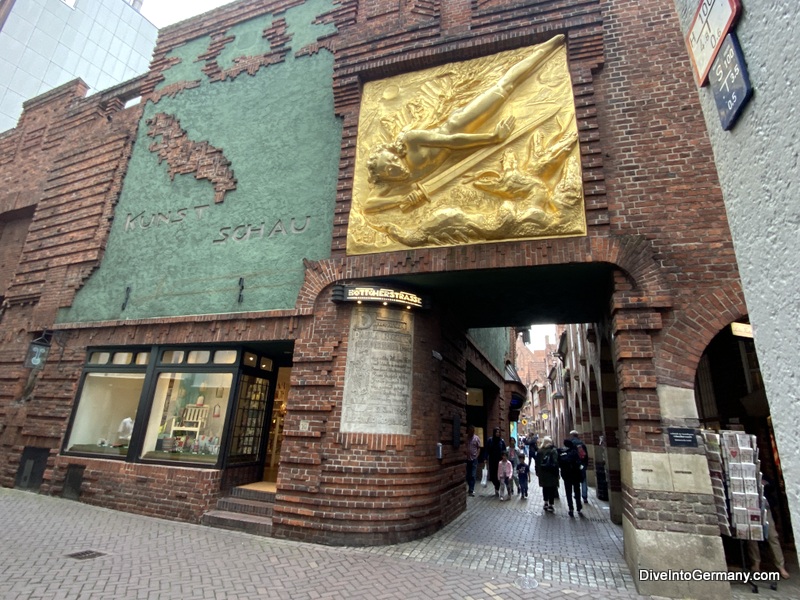 Once you have finished exploring and enjoying Markt Platz, another great part of Bremen's Old Town is Böttcherstraße. It's just to the south and connects Markt Platz to the river so at one point, it was very important.
Today, this 100 metre long medieval lane is a great example of expressionist architecture (although there is a mixture of architectural styles) after it was transformed in the 1920s by the coffee merchant, Ludwig Roselius.
The red-brick houses have a mix of facades and there are fountains, statues and more. There are also some great Bremen attractions on this street which are described more below. There are some great shops, bars and cafes. Have a seat and enjoy the atmosphere.
But whether you have time to visit these attractions or not, it's well worth the time to wander down Böttcherstraße.
Haus Des Glockenspiels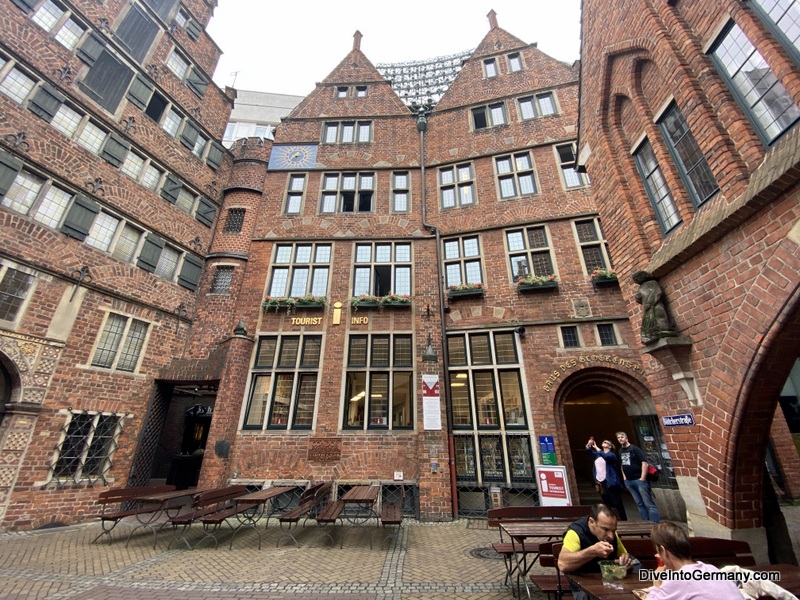 One of the things to do around Bremen that you'll find on Böttcherstraße is Haus des Glockenspiels (Glockenspiel House). This is the place to be just before the hour between 12 – 6pm in the warmer months.
At this time, thirty porcelain bells ring playing the tunes of old folk songs lasting over eight minutes!
While the building already existed, the bells were added in 1934. Ten expressionist panels were also added of important German and other voyagers like Robert Fulton, steamboat inventor, and Christopher Columbus.
I must say that I was a little underwhelmed. The bells weren't as loud as I expected and they didn't move or anything. Add in the small space and big crowd and I wouldn't say this is a must hear.
Paula Modersohn-Becker Museum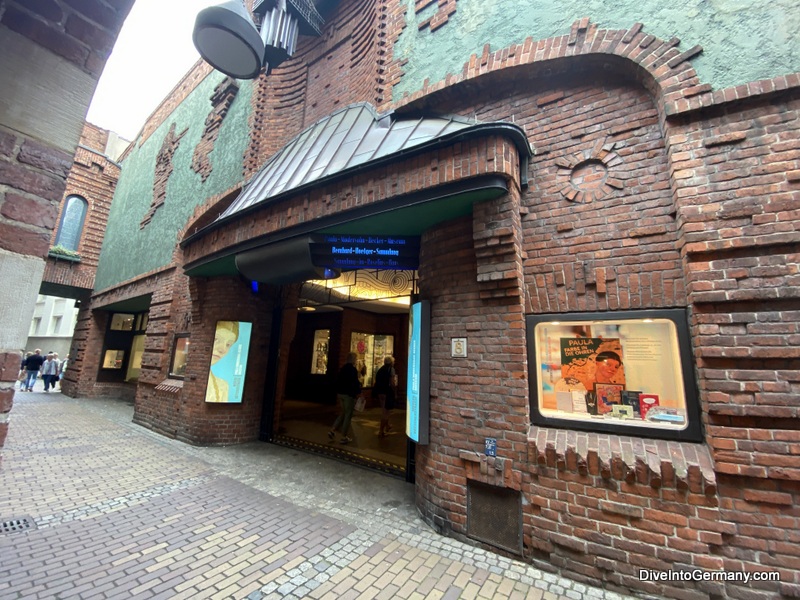 Also on Böttcherstraße is the Paula Modersohn-Becker Museum. Paula Modersohn-Becker was an artist (1867-1907) who was an early expressionist. This is the first gallery in the world that was dedicated to the work of a female artist.
Here, you can find some of her work as well as photos and documents relating to her as well as works by other artists.
The building itself is a great example of Brick Expressionist architecture.
Ludwig Roselius Museum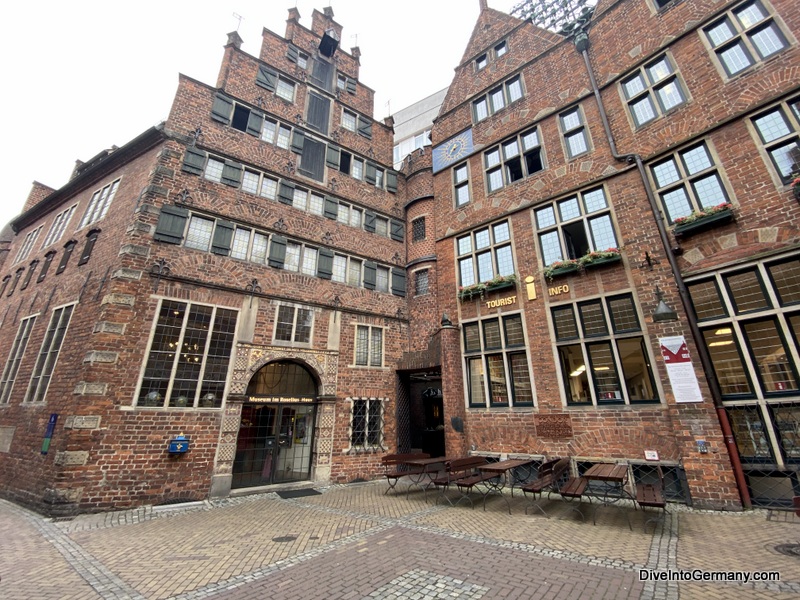 Another art museum on Böttcherstraße, the Ludwig Roselius Museum is where you can find the private art collection of Ludwig Roselius. As stated above, he is the one who is responsible for transforming this street.
This building is the oldest on the street, dating back to the end of the 16th century. Roselius added the crow-stepped gable when he developed the street.
He has quite an art collection as well as many ornaments. The most important pieces are Lucas Cranach's Portrait of Martin Luther and his wife, Katharina von Bora and the Group of Mourner, sculpted in 1515 by Tilman Riemenschneider.
Schlachte Riverside Walk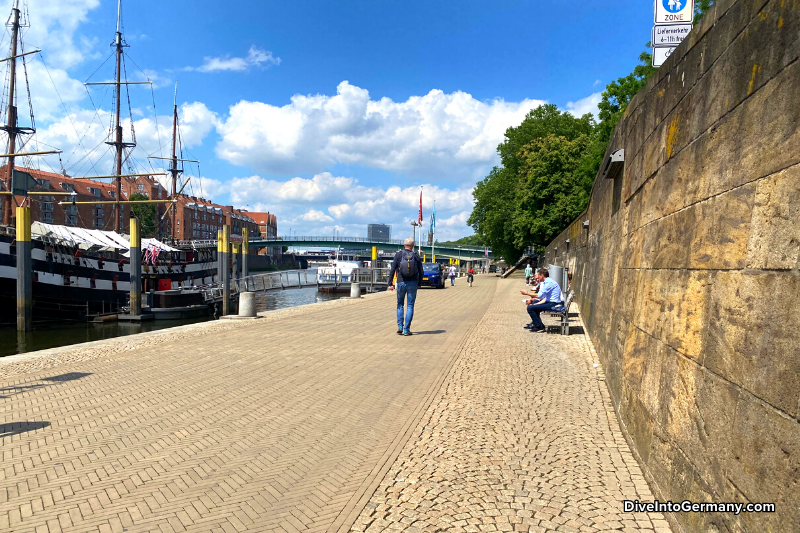 After you've enjoyed Böttcherstraße, why not enjoy a riverside walk. This riverside walk is on the banks of the Weser River in the Old Town. It's a pedestrian zone with a wide range of restaurants, bars and biergartens.
This area started off as the city's original port and harbor. When railways were introduced and freight size increased, much of the harbour traffic moved to the coast and this area stopped being used.
After rejuvenation efforts, this area was transformed into a great area to spend some time. It's also a popular choice of the things to do in Bremen at night where you can enjoy a meal and a beer.
There's also many boats where you can take for a cruise on the Weser. It's a nice place to take a walk.
Schnoor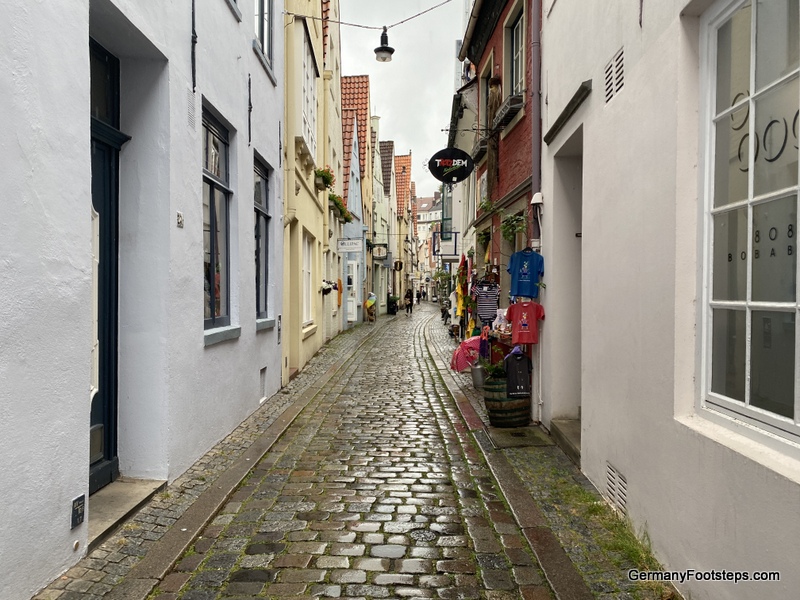 The oldest neighbourhood in Bremen, you won't want to miss a wander around Schnoor (or Schnoor Quarter as it's often referred). This area is gorgeous with classic winding alleyways, wooden houses (some of which date back to the Medieval Ages) and many shops, galleries and restaurants.
This used to be home to Bremen's fishing community and was one of the poorest parts of the city. This is where much shipping equipment was made and Schnoor refers to workshops where rigging was manufactured.
Luckily, this area was largely undamaged during the World Wars and there's some great preserved buildings.
Wandering around here is one of my favourite answers to what to do in Bremen Germany thanks to all the pretty houses. It's really a very special area.
Wallanlagen Park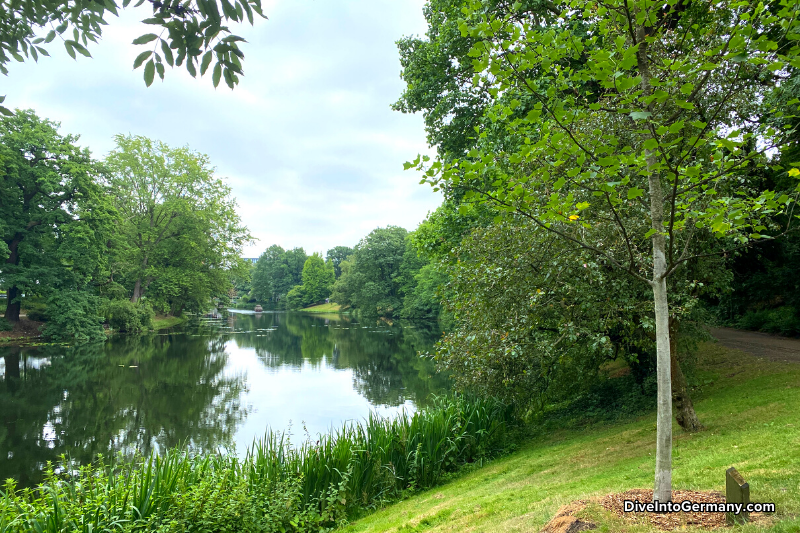 The perfect way to add some green in your day (especially if you are looking for free things to do in Bremen) is Wallanlagen Park. Simply head north of the Old Town to find this beautiful part of Bremen.
This park dates back to the 18th century when it was built on the site of Bremen's old city walls. Next to it is a moat. Thanks to this, it's an odd, zig-zagging shape but it does make for a great park with fountains, flowers and sculptures.
It's also home to a picturesque windmill, originally built in 1699, although today's windmill was built in 1898.
There's a restaurant inside if you want to dine at one of the more unusual things to do in Bremen.
It's a great green escape from the city and it's interesting how in just a moment you can go from the hustle and bustle of the city to a great relaxing expanse of green.
Weserburg Museum Für Moderne Kunst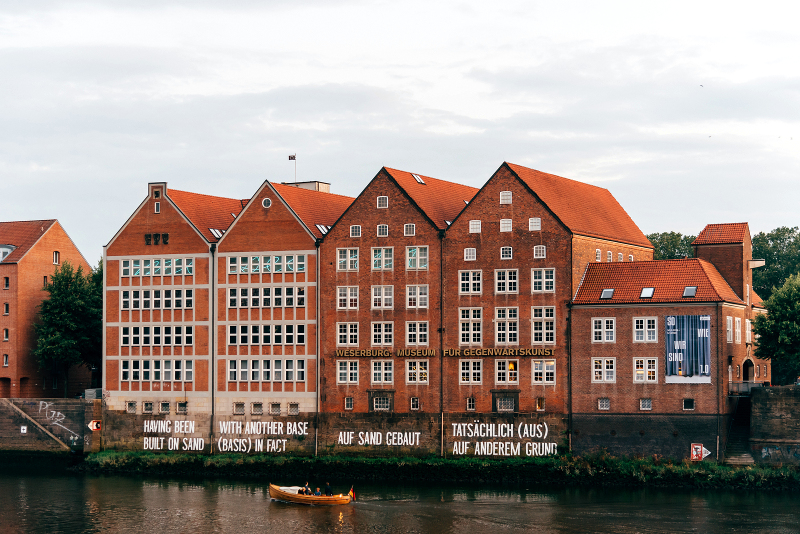 The Weserburg Museum Für Moderne Kunst (Weserburg Museum of Modern Art) is located on an island in the Weser River just a short walk from the Old Town. Over five floors, it showcases work from German and international artists with pantings, sculptures, photography and videos.
There are no permanent exhibitions here so the works on display are regularly changing and come mainly from private collectors.
Modern art lovers will definitely want to add this to their list of things to do Bremen Germany.
Kunsthalle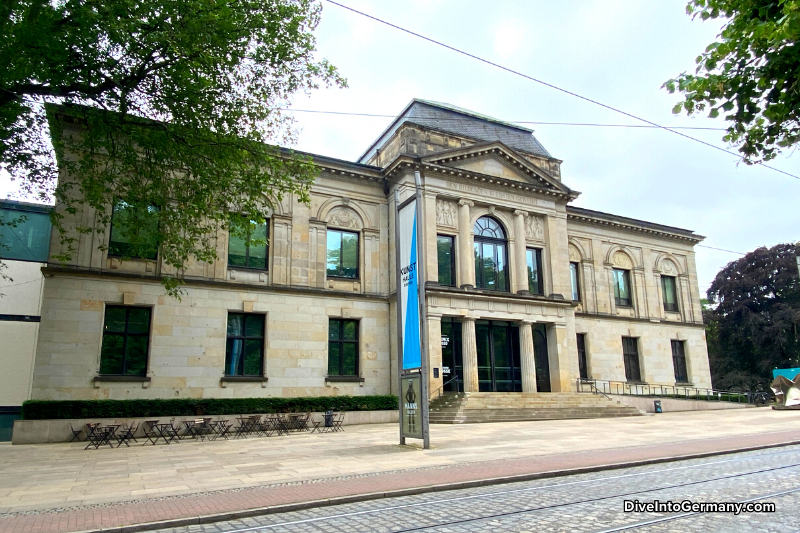 Another one of the attractions Bremen offers for art lovers is Kunsthalle located on Bremen's "Culture Mile", a short walk from Markt Platz.
Kunsthalle has been home to art for over 150 years and contains an overview of European art starting at the 14th century. It promises visitors that they'll take a journey through 700 years of art history.
This is an impressive collection with masters of the German Renaissance such as Albrecht Dürer and a focus on French and German art in the 19th and 20th centuries. There are masterpieces by Masolino, Monet, Van Gogh and more.
There are also contemporary art exhibitions and regularly changing exhibits.
This is definitely one of the first places to head if you love art.
Gerhard Marcks Haus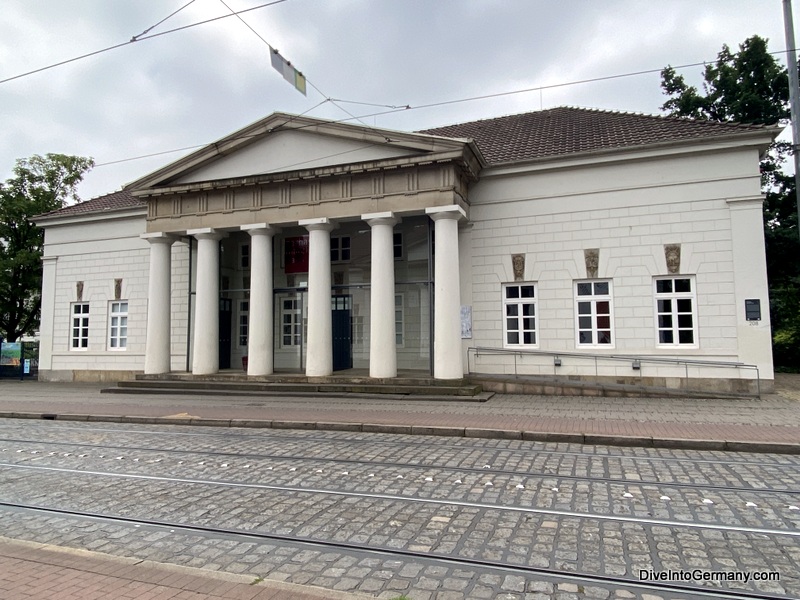 Bremen is not short of art attractions and here is another one for fans of the Bremen musicians sculpture. Gerhard Marcks is one of Germany's best sculptors and you can find more of his work here.
Born in Berlin in 1899, Marcks was labelled a "degenerate" artist by the Nazis in the 1930s and couldn't display his work until the end of World War II. In 1966, a foundation was established in Bremen to preserve his works. In1971, this museum was opened with over 400 of his sculptures, 1,200 prints and 12,000 drawings.
It also displays works from other modern and contemporary sculptors.
Gerhard Marckts Haus is moments from Kunsthalle and the building that it calls home was built with the Wilhelm Wagenfeld Haus (more below) in 1825 to operate as a gatehouse and prison.
Wilhelm Wagenfeld Haus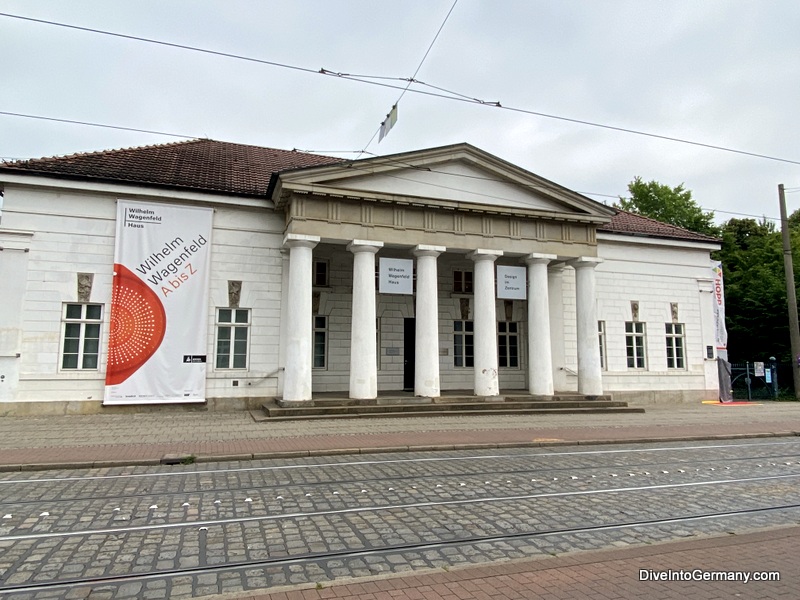 Wilhelm Wagenfeld Haus opposit Gerhard Marckts Haus is the place to go to examine questions about design and culture.
Wilhelm Wagenfeld was an important German industrial designer. This museum explores his work.
Universum Science Centre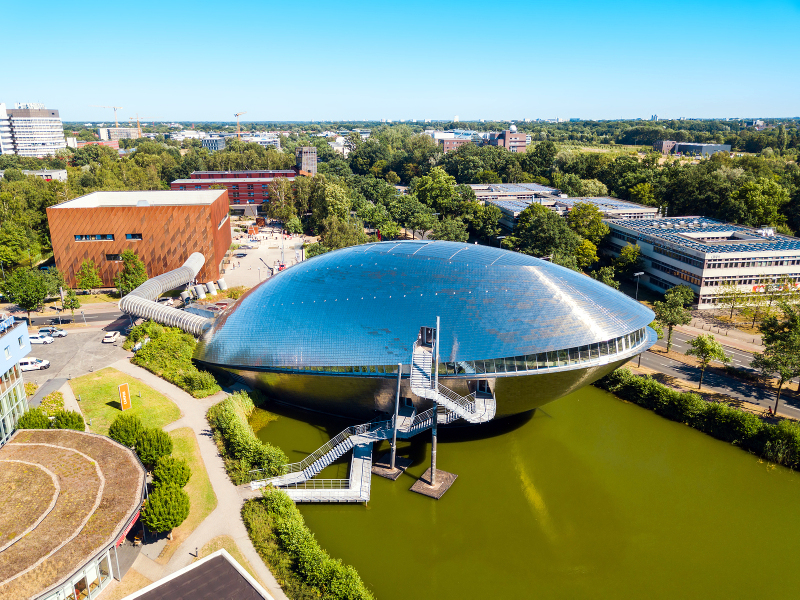 This science museum is perfect for families and space fans plus anyone will enjoy the unique archictecture of its home.
Over 4,000 square metres of interactive science exhibitions wait for you here from learning how a polygraph machine works to learning about wind and water in the outside spaces.
Bremen is home to a strong aerospace industry, and this is the place you can make a virtual trip to the stars or the ocean floor.
Universum Science Centre is an easy light rail ride from the centre of Bremen.
Beck's Brewery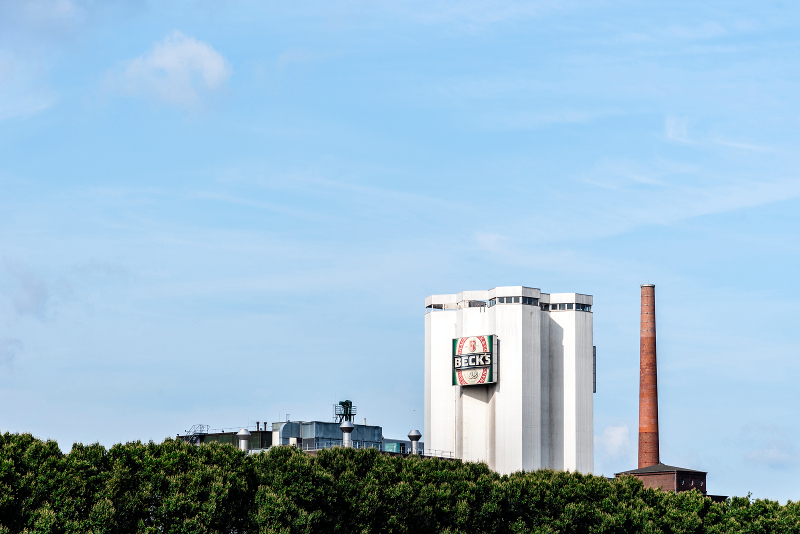 Perhaps Bremen's most famous export, Beck's beer calls Bremen home and you can visit the Beck's Brewery while you are here.
Established in 1873, around 3,000 bottles of Beck's beer are opened every minute!
You can visit this Bremen Brewery on a 3-hour guided tour as long as you are aged 16+. The tour includes a walk through their museum, the raw materials room and the brewhouse. You'll also see silos, fermentation tanks and their laboratory.
Naturally, the tour finishes with beer tasting.
Click here for more information and to book a tour.
Weser River Cruise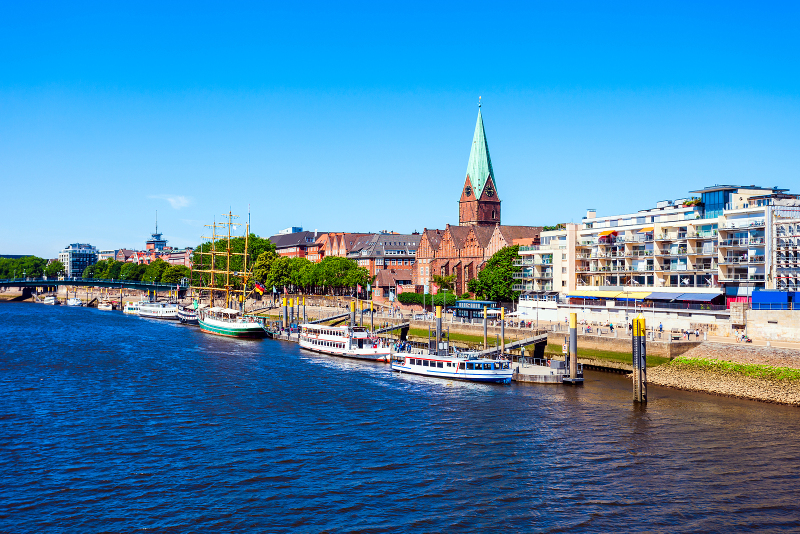 Bremen wouldn't exist without the Weser River and a cruise is the perfect way to see and learn more about Bremen.
There's a variety of cruising options with a good choice being a 75-minute Weser and harbour tour which leaves a few times a day by Halöver departing from Martini Pier in the Old Town.
Bunker Valentin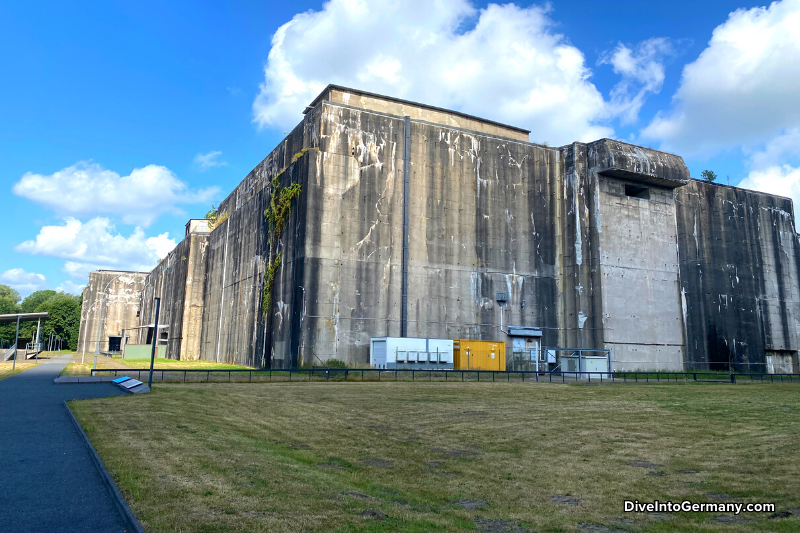 For something completely different, head to this one of the best things to do near Bremen.
Located about half an hour drive northwest of Bremen is this fascinating submarine factory built during World War II.
In 1943, the Nazis started building this massive concrete bunker where they hoped to safely build submarines. This huge bunker is around 426 metres long, 97 metres wide and up to 27 metres high. The walls are 4.5 metres thick. Sadly, it was built by up to 12,000 POW and slave-labourers from concentration camps and many died during construction.
Allied bombing damaged the bunker before it was completed and then the war ended before a single submarine was ever built here.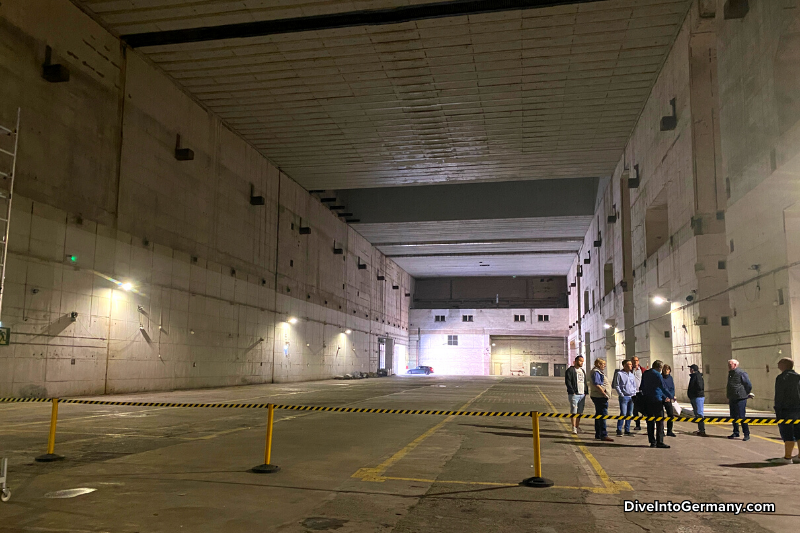 Despite this, it makes for one huge thought-provoking site representing the futility of war.
There is a 1.5 kilometre path around and through the bunker and you can take a self-guided tour while you learn about the site and hear the story of the survivors via an optional audio guide. There's also information boards around the site. You can also join a tour on request.
You can read our full review of visiting Valentin Bunker here.
Bremen Things To Do In December/Winter
While most of the things to see in Bremen Germany listed above are just as possible in winter time, there is also an extra fun thing to do in Bremen which is especially for December.
Bremen Christmas Market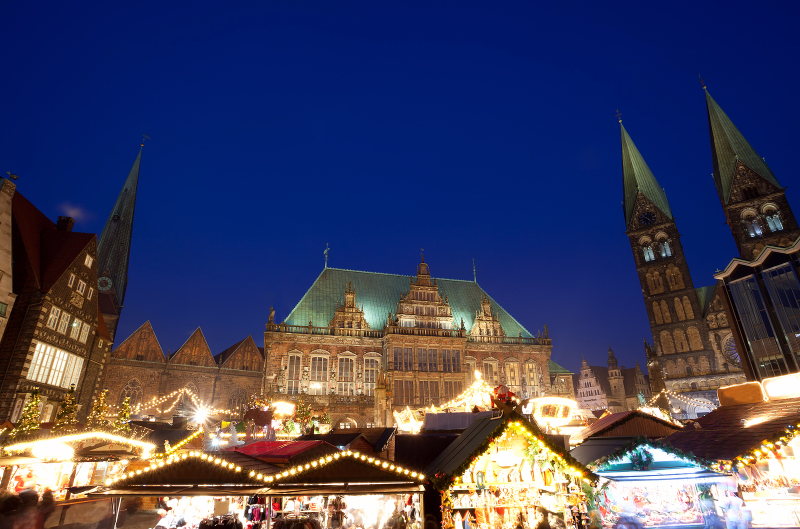 When it comes to the best things to do in Bremen Germany in December, there is an easy stand out for the absolute best place to head – the Bremen Christmas Market.
Running from the end of November to the end of December, the area around the Town Hall, which is already a UNESCO World Heritage Site, is home to the Bremen Christmas Market, one of our favorites in Germany.
Over 160 stalls call this market home and it's in a gorgeous setting in the Old Town. So grab some roasted almonds and a glühwein and soak in the Christmas atmosphere.
What To Do In Bremen In One Day
Only have one day in Bremen? What a shame! But it's ok, it's still worth going to Bremen if you only have one day.
With one day, I recommend you stick to the Old Town and immediate surrounds. You can visit most of the Bremen best places to visit mentioned above in this area except you'll have to work out which art museums most interest you as you won't have time for them all.
I recommend you head straight to the Old Town and explore the following on foot:
Start at Markt Platz at the Rathaus
Visit the Roland and Town Musicians Of Bremen statues
Go inside the Dom St Petri and visit its museum if it interests you
Visit the Church Of Our Lady
Head down Böttcherstraße picking one of Paula Modersohn-Becker Museum and Ludwig Roselius Museum
Either eat lunch around here or find a place as you stroll the Schlachte Riverside Walk
Choose between Weserburg Museum Für Moderne Kunst, Kunsthalle, Gerhard Marcks Haus and Wilhelm Wagenfeld Haus
Finish the day falling in love with the Schnoor Quarter
Places To Visit In Bremen Germany Map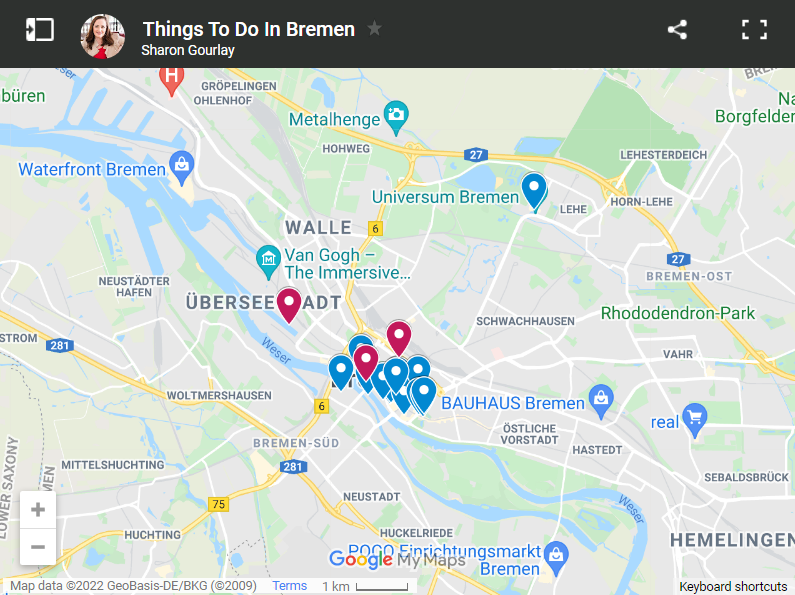 Best Place To Stay In Bremen
When it comes to where to stay in Bremen, there is a great range of hotels and other accommodation options. You won't have any problem finding somewhere to stay.
Below I've listed a few different places to consider depending on what type of accommodation you are looking for.
Just a few minutes walk from the Old Town, 4-star Designhotel ÜberFluss is perfect for anyone who wants a top, trendy hotel in a fantastic location.
Spacious rooms are designed with décor by Charles Eames and Tom Dixon and range from double rooms to suites including family suites which sleep up to four. All rooms include kitchenettes with refrigerators, flat-screen TVs with streaming service and toiletries. They are beautiful.
Some rooms have river views.
Facilities at the hotel include a spa with indoor pool and sauna, gym, wifi and French-Italian restaurant. Parking is available at an additional charge.
Click here to see the latest prices now.
This contemporary hotel is just a short walk from the Old Town and Wallanlagen Park.
While it doesn't have a ton of facilities, the rooms are modern, clean and a great price. They range from double rooms with desk area to superior rooms with seating area to a deluxe room which adds in a balcony. There are also single and quadruple rooms.
There's a restaurant on site which serves breakfast. Parking is available for an extra charge.
Click here to see the latest prices.
I couldn't help but book this accommodation option after I saw it on Booking.com on our recent trip with our three kids. Staying in a yacht at Bremen's Marina was too fun an option not to do it!
This boat is well equipped with three (tiny) bedrooms which sleep two each, a kitchen, bathroom with toilet and sink and a living/dining area. There's TV and wifi.
As you would expect, it's squishy for five and everything is small, but the fun factor makes up for that! Besides, there's plenty to do in Bremen so you won't be spending so much time here.
The downside is that the shower is in the Marina building.
It's about a 30 minute walk into the centre of the Old Town or you can catch a light rail. It's not far from the start of the Schlachte Riverside Walk.
Click here to see the latest prices.
Find more of the best hotels in Bremen here or our full review of the Best Western Bremen City here.
How To Get To Bremen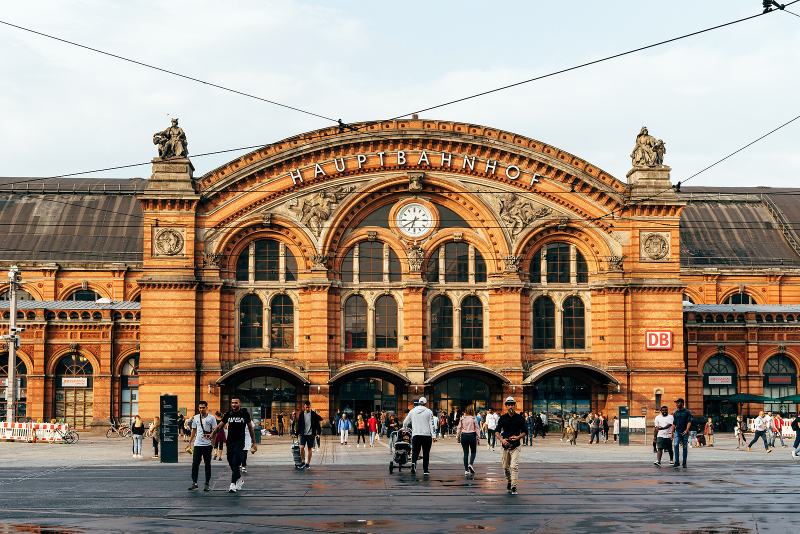 We have travelled to Bremen by both hire car and train. It's simple by car if you are in the area. It's at the end of the Fairy Tale Road and it's easy to find.
You can hire a car to get you there by clicking here.
There are regular trains and buses here. You can find timetables and all your options here.
We took an ICE train from Hamburg and were here quickly and smoothly. In fact, we even had our own area at the front of the train!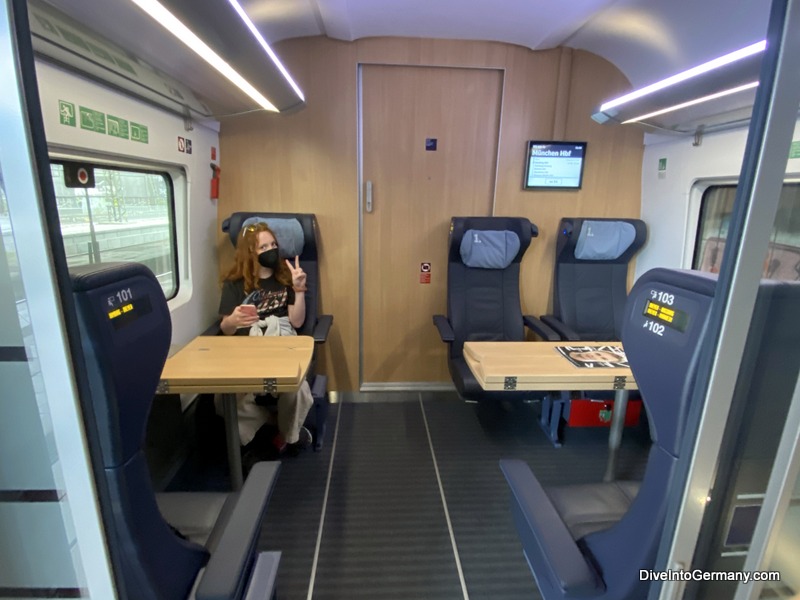 There is also an airport in Bremen with flights to other destinations in Europe and Germany. Hamburg is also not far away and has a bigger airport.
Click here to look up flights to Bremen.
Once in Bremen, we found it easy to use the light rail, although most of the time, we explored on foot. We drove out to Bunker Valentin. Look out for day trip tickets which get cheaper the more people in your group.
Bremen With Kids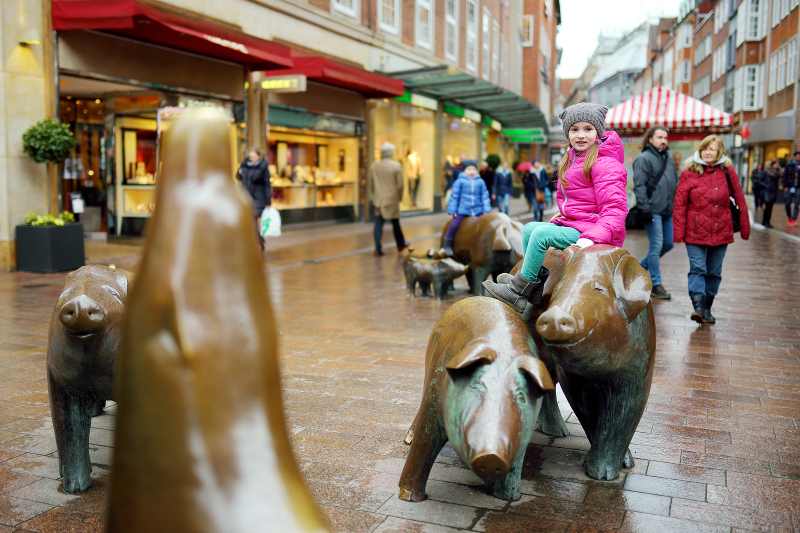 Bremen is an easy and fun place to visit with kids. We visited with our three kids aged 6-12 and had a great time. We made sure we watched the Town Musicians of Bremen on YouTube before visiting and the kids had fun looking out for the animals as we wandered around.
The Universum Science Centre is particularly a winner with kids, but really my kids just enjoyed soaking up the Old Town as much as I did. It's a pretty place to visit!
Final Words
Bremen is a beautiful and fun place to visit. It's Old Town is just gorgeous and it's easy to want to spend hours just having a drink soaking it all in.
While I wouldn't say Bremen is packed full of must-visit attractions, there are tons of things to do and enjoy in Bremen.
If you are lucky enough to visit in December, the Christmas Market is definitely the place to head. Otherwise, wander the Old Town and Schnoor, visit the attractions that interest you and enjoy.
You can check out all the best hotels in Bremen here for your great stay and read more guides to visiting Northern Germany here. Or read this guide to Hameln – we visited Hameln (of Pied Piper of Hamelin fame) on our way to Bremen. It's another great Fairy Tale Road stop! Looking for something else fun to do nearby? Read our review of the German Tank Museum here. You can also find our guide to Lübeck here.